If you've got the square footage and are able to invest in the biggest bed on the market, an Alaskan king bed is a great choice. It's a custom mattress that may be quite heavy. You will need a custom frame to support your mattress. You may need to plan ahead because there may well be a wait for your new bed.
Alaskan King Bed Mattress
Alaskan King Bed Frames
Skye Ridge Wooden Bed Frame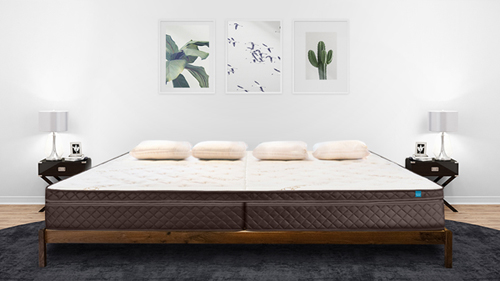 Platform Bed from Alaskan King Bed Company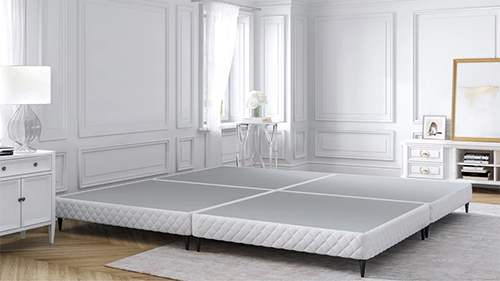 Kingship Comfort Bed Frame RestrightMattress.com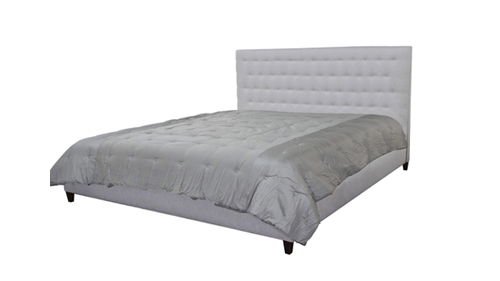 What Is Alaskan King Bed?
An Alaskan bed is a 9 foot by 9 foot bed. Generally, these are either a layered foam or a hybrid mattress. Though a hybrid mattress will be a bit lighter than a layered foam, it's still quite a large and heavy bed.
That being said, an Alaskan king can be quite a statement piece and a great investment for your family. If you love to co-sleep and your children or pets are running out of room, an Alaskan bed may be just what you need.
Alaskan King Bed Size Chart
As noted above, these mattresses offer 81 square feet. It's critical that, when reviewing a larger than a standard mattress, you also review your access options so you can get the mattress into the space, and your frame options.
With such a large bed, it may be tempting to make it a floor mattress. However, air has to be able to reach the underside of this bed.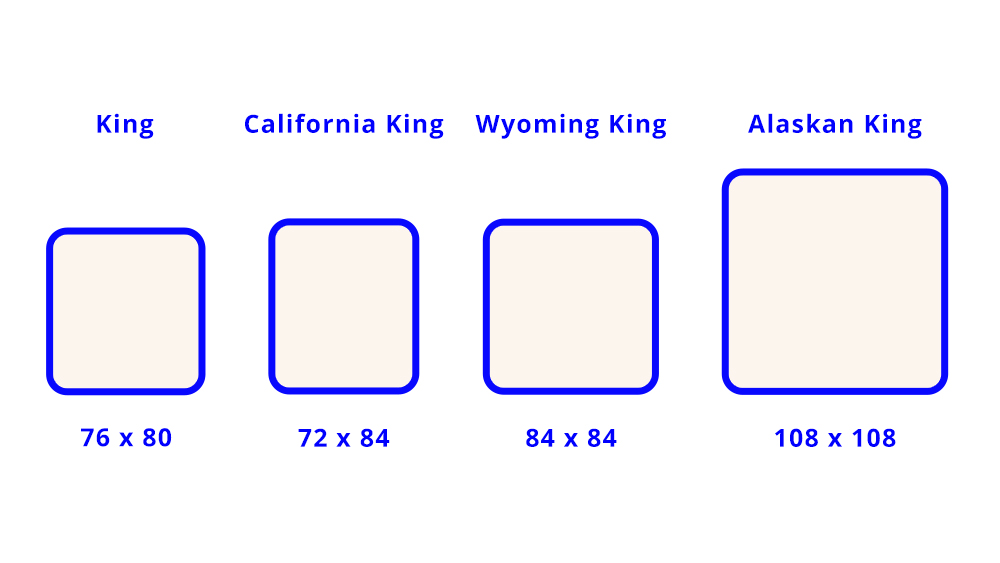 Alaskan King Bed Price Range
This bed is definitely an investment. However, if you have already invested in a home with a large enough bedroom, adding an Alaskan sized bed will likely be a good investment. You can expect to spend at least $2,500 for this mattress and a basic frame. If you don't know how to assemble your frame, hire someone to put it together safely. A quality frame is critical as these beds can be extremely heavy.
Where to Buy Alaskan King Bed Mattress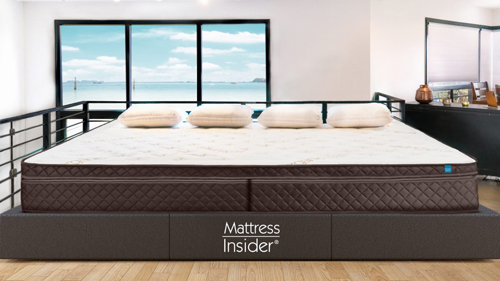 The Alaskan King Bed From MattressInsider is a great choice for someone who needs a bed big enough for the whole family. Not only is this mattress built for comfort thanks to the multiple layers, including both foam and coils, but this mattress is built to breathe. The top layers are made of organic cotton and non-toxic gel and latex foam. The support base features firm foam to support that soft cotton, coils to compress and support you, and very firm support on the bottom layer to protect the mattress from any sliding damage. While a mattress with a smaller surface area will vent more easily from the sides, this mattress has to vent through the bottom for moisture reduction. Your Alaskan king mattress will be safer and more comfortable with plenty of ventilation.
Pros
This mattress has no outgassing odors thanks to the natural top
Your MattressInsider mattress comes in pieces so it's easy to rotate
Both the top and bottom layers have some flex to make it easy to get this up the stairs
Cons
This mattress is heavy; try to get it delivered to the room you need
This mattress cannot be set on the floor
You will need a slatted frame; if you put this on a box spring, most users will need stairs
Alaskan King Bed From MattressInsider
Two structures make up this mattress: A soft top and a firm base.
The soft top is made of up organic cotton, gel foam, and latex.
The base has firm foam above the coil and even firmer foam below the coils to prevent friction damage.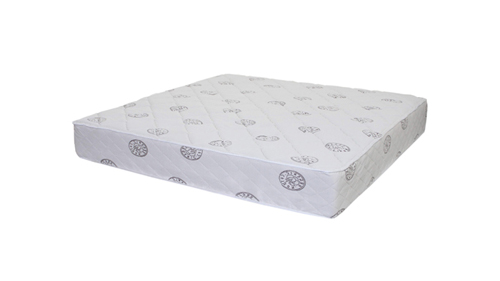 The Organic Cotton Supreme 2 Memory Foam From RestrightMattress.com is a single multi-layer foam mattress. It has an organic cotton cover, a 3 inch layer of gel foam for cool air movement, another 2 inch layer of Dunlop natural latex for durability, and a 7 inch layer of supportive high-density foam. This mattress is built to both breathe and last. It's 9 feet by 9 feet of durable comfort that will last for years.
Pros
Your Rest Right comes with a 15 year warranty
This mattress comes rolled very tightly for easy moving
There should be very little outgassing thanks to the natural foam layers
Cons
Depending on density, this is a 300 pound mattress
The whole mattress will be only one density; you have no customization options
Organic Cotton Supreme 2 Memory Foam From RestrightMattress.com
You can get this mattress in soft, medium, and firm to suit your sleeping needs.
The top layers of this mattress are built to breathe and the bottom layers are built to last.
This mattress comes in a box that is only 33 inches wide.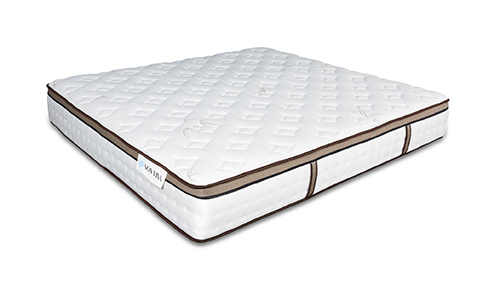 Those seeking an ideal night of sleep will love all the options from Von Viva Oversized Mattresses. Depending o your needs, you can design a mattress that uses wool or knits cover. The top layer can be memory foam or latex, and the core can be either high density or high resiliency foam. You can also get a mattress that offers more firmness to the right or left, or from shoulder to hip on either side of the mattress. While the cover is continuous, the core of the mattress can be moved separately.

Pros
Great flexibility to move this bed around
Inner foam sections can be replaced or upgraded
You can easily move this bed to your new home or bedroom
Cons
Over time, the different sides may wear at different heights and look "off" when made up
This bed has to be supported by slats and needs airflow
The foam components may be challenging to fit together as they don't slide
Von Viva Oversized Mattresses
If you have any physical challenges, you can get a mattress designed to cocoon your body.
The cover options are all designed to breathe.
If your household is tough on mattresses, you can get different sections of the mattress replaced as needed.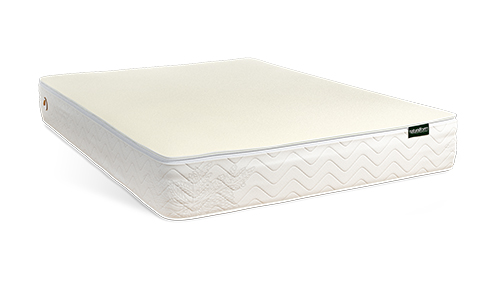 For those who struggle with allergies, the Naturalform.com line of mattresses may be an ideal choice. You can enjoy a variety of firmness levels in this mattress line, and each of these mattresses have a wool cover. Wool covers are naturally resistant to dust mites and the Naturalform.com mattress covers can be removed and laundered. The firmness is adjustable and you can get a mattress with a thin layer of foam on top of the innersprings if you need a lower profile mattress, or you can go with a thicker layer of foam to support your body weight.
Pros
Firmness controls at your fingertips
The pressure relief coils move with you, rather than just dispersing your weight
The wool cover breathes and wicks away moisture
Cons
You will need a slatted frame to let this mattress breathe
Washing the cover can be fiddly, make sure you follow the instructions
This mattress comes in two pieces of just under 100 pounds each; get help
Naturalform.com
Removable wool cover does a great job of helping you breathe easy.
If a layer or a portion wears out, you can replace it and avoid having to find a new mattress.
You can be confident in your purchase thanks to the 100 night trial and the 10 year warranty.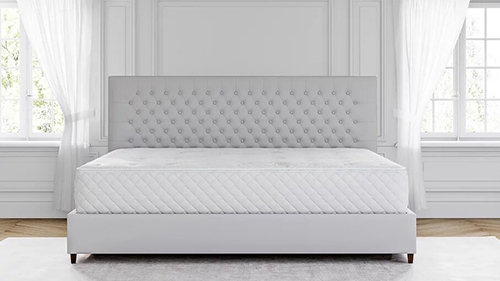 When you're ready to invest in an Alaskan bed for the long term, the Original from Alaskan King Bed Company is your new bed. The Original Alaskan King is incredibly stable. You may have room for the whole family, but you won't feel them bouncing around unless they're very close. Your entire body will be gently held when you stretch out on the organic topper. The layers of foam relief will help your body relax and keep your spine in proper alignment while you sink into the deepest layer of healing sleep.
Pros
The top of this mattress is plush, organic cotton
There is some loft to the top of this mattress if you like a more plush look when the bed is made up
If you need more cushion on top, you can move up the line of these beds to a cashmere top
Cons
This mattress cannot be flipped thanks to the plush top
Because these mattresses are so large and heavy, there is a risk of damage in shipping
These mattresses are thick; they work best on slats rather than a box spring
The Original from Alaskan King Bed Company
The original mattress has an organic cotton cover for a soft, soothing sleep.
The layers of the mattress will keep you cool as it wicks away moisture and heat.
This mattress is incredibly stable; your cocoon will protect you from feeling the bounce and motion of other sleepers.
Alaskan King Bed Mattress Bed Frames Reviews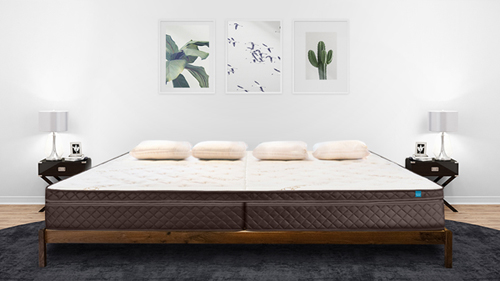 Your Alaskan bed mattress will look terrific on your Skye Ridge Wooden Bed Frame. This bed frame is a platform and will not serve as a tray for your mattress. You will have 12.5 inches of clearance under this platform, though there will be two center supports to keep your mattress nice and level.
Pros
You can easily add a headboard to this simple frame
This will support your Alaska king mattress with plenty of airflow
There are two center beam supports to keep your mattress stable
Cons
Because the beds are so large, the storage option is really only available on the sides
You will need a large room to roll out any storage tools
The corner posts may be damaged by vacuuming or mopping
Skye Ridge Wooden Bed Frame
Beautiful wood finish and joinery on the corners of this simple elegant frame.
This bedframe has a corner post and will suit most any bedroom decor and existing furnishings.
This frame is tall enough to allow you some storage under the bed.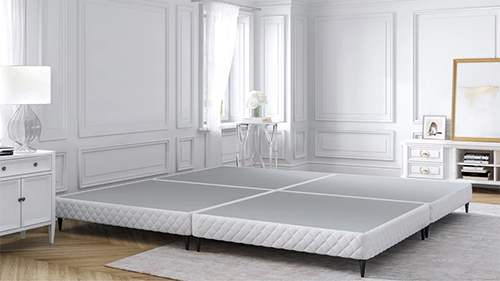 If you love the look of mid-century modern furniture, the quilted Platform Bed from Alaskan King Bed Company is an excellent choice. This frame is constructed in four separate panels and each section has four legs each. This bed will not sag or move around under your Alaskan bed mattress.
Pros
This frame will be easier to put together than a single piece and very sturdy
The platform is 13 inches tall, so getting up from this bed will be easier than a lower frame
The 6 inch legs offer a nice amount of clearance
Cons
If you need storage, this bed may not work
There's no headboard with this frame; the quilted sides may look odd without a tufted headboard
Visually, each side of this bed has four legs but they're not evenly spaced
Platform Bed from Alaskan King Bed Company
The round legs of this frame add a lovely mid-century touch.
The softly quilted sides add a touch of luxury.
Cleaning under this bed will be easier; your robot vacuum will easily turn around the round legs.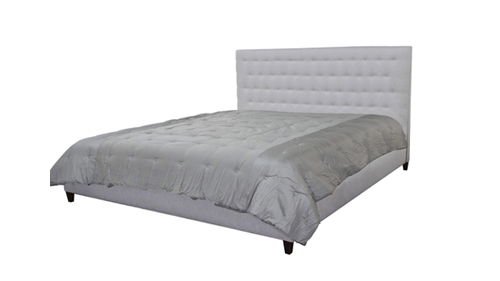 The Kingship Comfort Bed Frame RestrightMattress.com is a box frame with a headboard. Your mattress frame will come with slats, which is critical to good air movement. The square frame and tapered legs offer a variety of styles and look sharp together.
Pros
This tufted headboard is easy to clean
The short, low legs allow space for cleaning
The color options of this fabric covered headboard can add a lot of flexibility to your decor
Cons
Your Alaska king mattress will be heavy and this bed will make it more so
If you need under bed storage, this is not your frame
The headboard is tall. Measure carefully
Kingship Comfort Bed Frame RestrightMattress.com
The tall, tufted headboard balances the real estate that this bed take up.
The tall, square frame that holds the slats that support the mattress are upholstered to protect your legs when you need to get out of bed.
You can get this in a variety of colors to suit your decor.
Where to buy accessories for Alaskan King Bed?
Your Alaska king will need sheets and mattress protectors to suit your specific needs. If you are sleeping with children or pets, you can ruin a very expensive mattress without a moisture barrier and protector.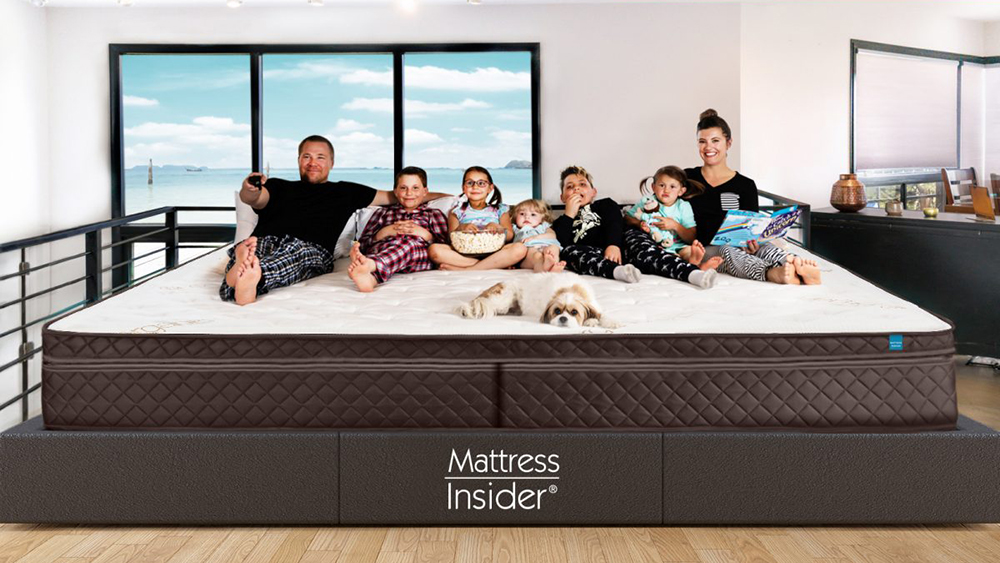 Alaskan king sheets will also be a large investment. Again, if you are bedding down with pets and children, you will need multiple sets of sheets as laundering these will take more drying time than a crib sheet. If you're not confident that your co-sleepers will be continent, consider putting a baby box or a dog crate in the middle of the bed. You've got the space.
Things to Consider Before Buying Alaskan King Mattress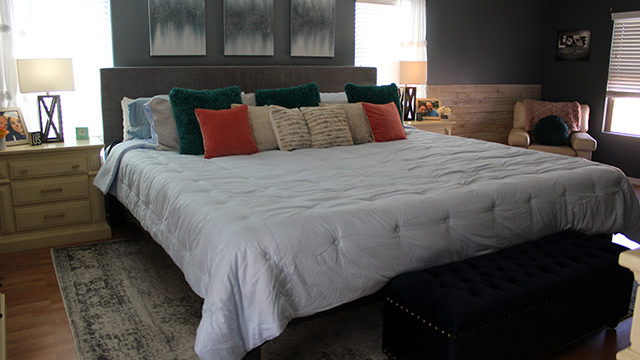 Comfort
If you and your sleeping partner can comfortably sleep on the same density mattress, you can easily make a single Alaskan bed work. However, if you need different densities and firmness, you may want to make the bigger investment in the Von Viva mattress.
Size
A 9 foot by 9 foot bed is going to take up the majority of a standard bedroom. Unless you have a larger than standard bedroom, you may find that your bed takes up too much real estate. If you're not sure, consider stacking empty boxes in the space where your bed will go go be sure an Alaskan king will work.
Price
An Alaskan king mattress is definitely an investment. However, good quality sleep will make it easier for you to maintain a healthy heart and brain through the end of your days. If you're not sleeping well, it can actually shorten your life. If you are working to be healthier than you have been in the past or are especially concerned about genetic risks, this investment may well be worth it.
Portability
Carefully study the dimensions of your boxed mattress. Consider building yourself a cardboard box that matches those dimensions so you can carry this through your home, including up the stairs and through small hallways, before you buy. You will probably need to hire someone to carry the mattress to the bedroom; you don't want to find that out on delivery day.
Things to Consider Before Buying Alaskan King Bed Frame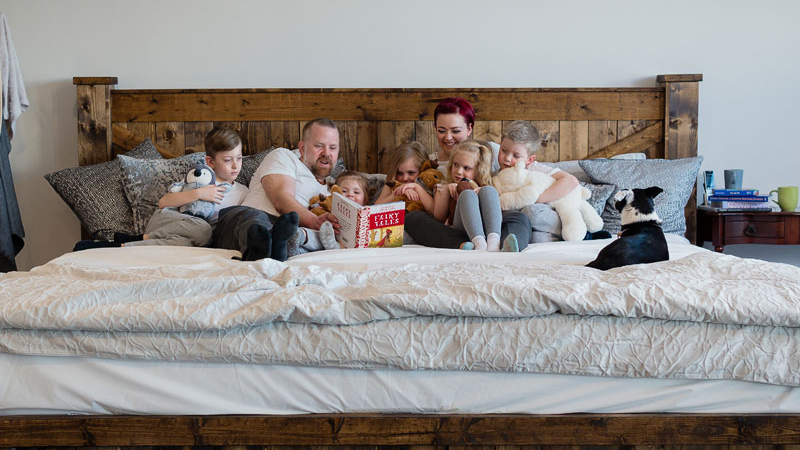 Comfort
A platform will probably be more comfortable than the frame bed. These large beds can be tough on the back of the leg when you get out of the bed.
Size
You will want to be sure that the center of this bed is properly supportive before you put the mattress on the frame. Moving an Alaskan king mattress can be extremely challenging.
Price
These mattresses are not inexpensive. Putting them on a frame that doesn't allow the mattress to breathe is setting yourself up for bacteria and mildew. Get the best frame you can afford that suits your decor.
Ease of Setup
Your Alaskan king will take time to set up. If you're not confident in the process, hire someone to help. The key to comfort on your new Alaskan king mattress is to not have to figure out a way to hoist it off the frame if the frame fails. Do it right at the start.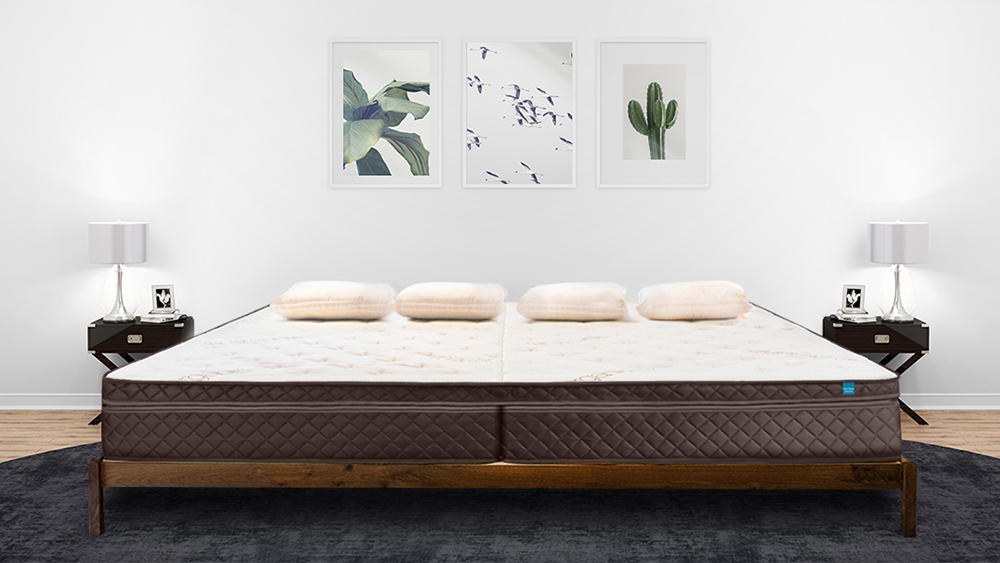 FAQ
What is the recommended room size for an Alaskan King bed?

You will want a room that is at least 16 x 16.

Where can I buy an Alaskan King bed?

Because these mattresses are so large and heavy, you will want to buy yours from the bed manufacturer directly.

What is an Alaskan King Bed size?

An Alaskan king bed is 9 feet by 9 feet.

How much is an Alaskan King Bed?

An Alaskan king bed will cost upwards of $2,000 with the frame.

How many people can sleep on an Alaskan King?

A twin is 3 feet by 6.5 feet, or 19.5 square feet. If one person can sleep in a twin, four people can fit in the 81 square feet of an Alaskan king.

What's the biggest bed in the world?

Per Guinness, the largest bed was 86 feet by 53 feet. The biggest bed you can buy from a manufacturer is the Alaskan king.

Who is Alaskan King Bed For?

The Alaskan king is for whoever has the space for it. Why not?
Stretch Out and Sleep In!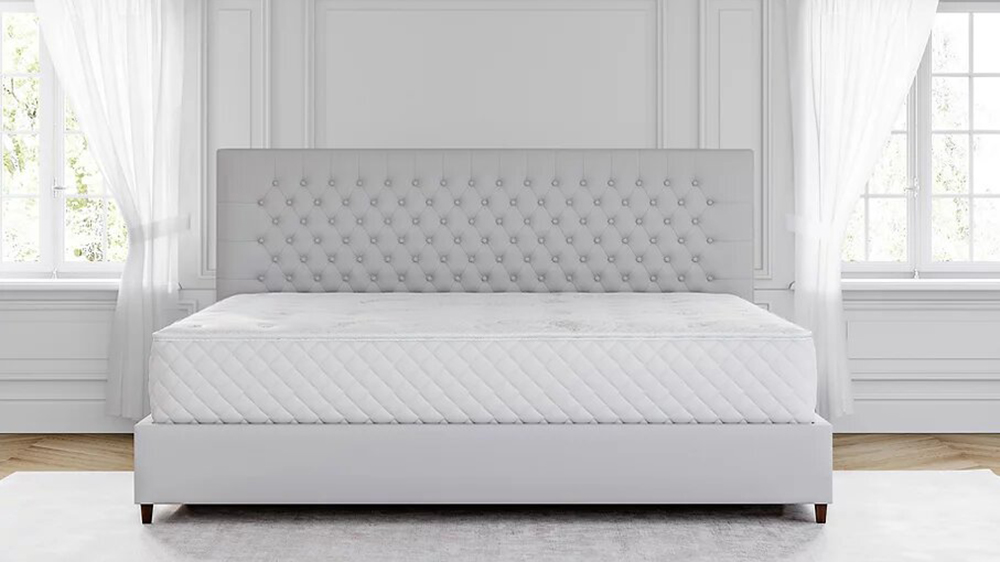 In the right bedroom, your Alaskan king bed will be an oasis of comfort and calm. You will want to carefully measure not only the bedroom space but the access; if you need to move your Alaskan King Bed From MattressInsider up a flight of stairs or around tight corners, you may need help moving this very heavy bed or very large frames. Because this will probably come compressed, you will want to make sure that you don't open the box until you have it in your bedroom. Do make sure to check the box to make sure your mattress hasn't been damaged in shipping.