Bedroom furniture and décor have long been the pinnacle for interior design. After all, no one wants to spend their time in a dull, drab, and all-around utterly boring bedroom. Since you are going to spend about half of your life sleeping, you might as well do it in comfort and fashion.
Creaking metal bedframes and big, bulky wooden ones can take up a lot of space. Minimizing the amount of space a bed frame consumes opens up more room within your bedroom. There are options for sleeker and more sophisticated space-saving designs, and none is cooler in appearance than a floating bed.
Why get a floating bed frame? There sure is a lot of hype surrounding them. But the hype comes from a lot of satisfied consumers. But which floating platform bed is the right one for your bedroom? Let's take a look at some of the options that exist and go over how to pick out the best one for your sleepy-time needs.
What Is a Floating Bed Frame?
Let's first answer the question "What is a floating bed frame?" The floating bed frame is one that looks as though it is not supported by traditional metal legs or wood. The legs are actually placed closer to the center of the frame so as to seem invisible.
In terms of design, a floating bed looks minimalistic yet sophisticated. They often work well in smaller bedrooms since they do not take up a whole lot of space. Of course, they also work well at creating space in larger bedrooms too. And, contrary to what you might think at first sight, they are just as sturdy – if not more so – than a regular metal or wooden bed frame.
Why Buy a Floating Bed Frame?
Floating bed frames are not only cool to look at, they have a functional design that helps save space in tight quarters. Of course, being fashionable does not hurt. But having extra options for furniture arrangements and other pieces of bedroom décor is truly nice. You can use the space beneath the bed for storage, and the built-in slats mean that you will not need to spend money on a separate box spring for your mattress.
Want to go a little wild and install some lighting elements beneath the bed to create more ambience? You can! This allows you to brighten up an otherwise dark room, and this kind of extra lighting looks cool and modern.
Also, floating bed frames are totally safe and comfortable. When they are adequately moored, their safety is a sure thing. They are sturdily built and can support hundreds of pounds of weight. There is no danger of collapse regardless of whether the bed has recessed legs or is attached to the wall.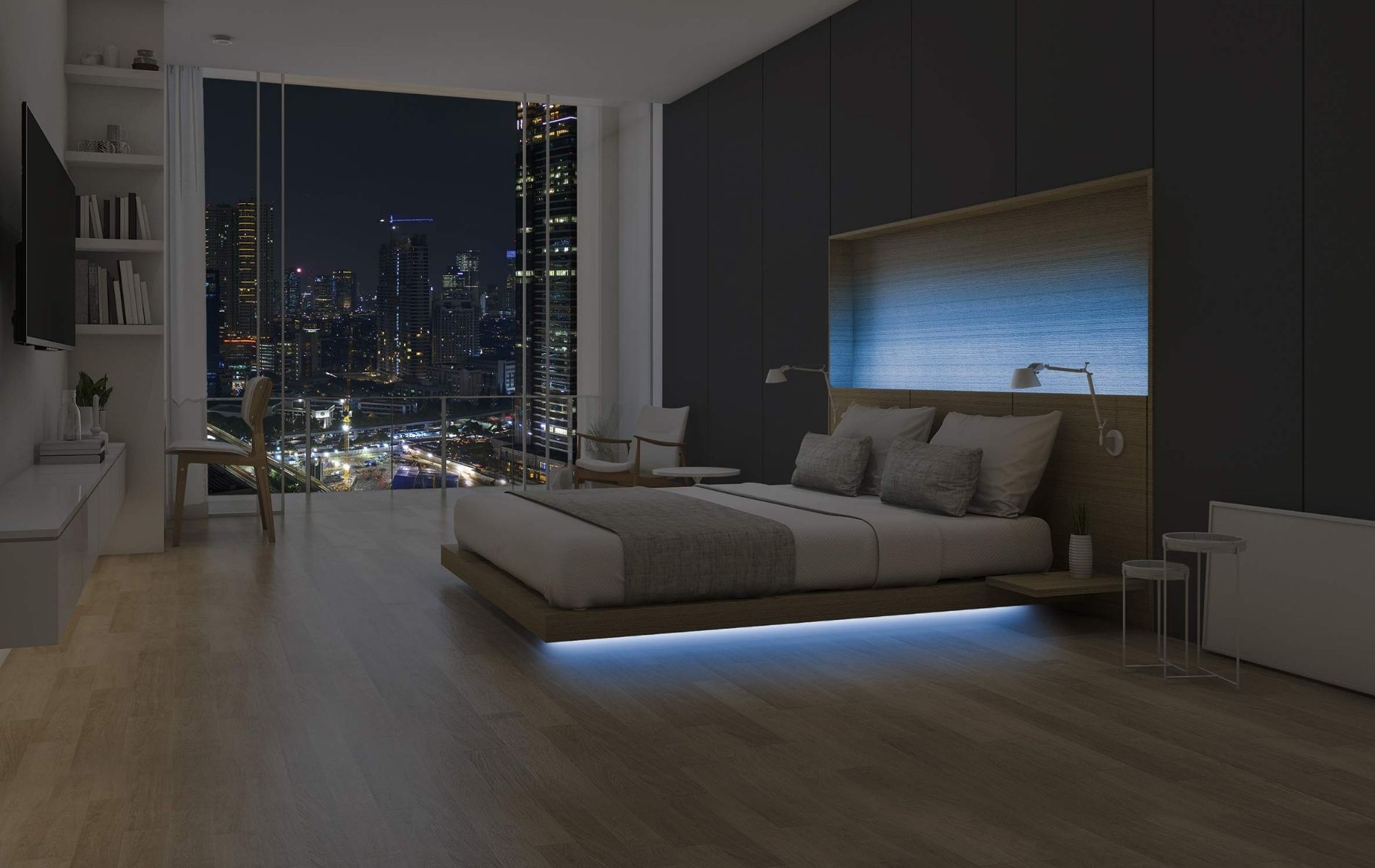 Why They're More Beneficial Than Regular Bed Frames
Regular bed frames offer relatively little leeway for storage and tend to take up excess space in a room. Floating beds cost anywhere between $300 and $1,000, so their price is pretty much on point with brand new traditional bed frames. But, with floating beds, you can get way more creative. There are a number of styles to choose from, including the floating platform bed.
A floating platform bed has at least four legs and is constructed with metal or wooden slats that support the mattress. A wooden slat offers a ton of support and eliminates the need for a box spring. A better overall sleep environment is created due to reduced allergens, mold, and dust mites. Plus, climbing in and out of them is a lot easier for both humans and pets.
Floating Bed Frame Reviews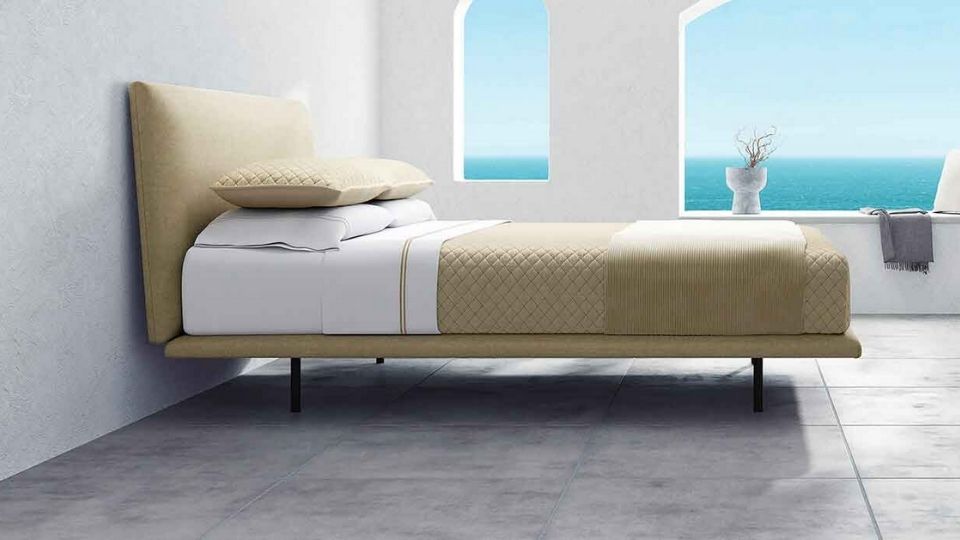 If you are looking for an incredibly sturdy and functional floating bed, then the Saatva Sydney should be right up your alley. This low-profile platform bed is best for those seeking a superbly supportive inner box spring and who want multiple firmness levels to select from.

Regardless of your body type or preferred sleeping position, this mattress can work for you. You just will have to watch your budget since this bed can run over $1,000. But you definitely feel the quality packed into every fiber of it. The mattress cover is made from organic cotton; it is not removable and is antimicrobial. Soft and luxurious, the mattress cover can easily be cleaned should something get spilled on it.

The top layer is designed as a Euro-top for maximum comfort, and the middle layer has memory foam for a proper amount of support. Below that are individually wrapped coils which isolate movement better than your average box spring. Finally, at the bottom, there is a thick steel coil innerspring system that adds even more support.

Select your preferred mattress height from either the 11.5″ custom slim model or the 14.5″ premier luxury model. And don't worry about being too heavy for this bed; the mattress can accommodate hundreds of pounds, making it ideal for couples. Mattress sizes range from Twin up to California King. The floating bed frame is more than able to accommodate these sizes and comes as Taupe Vintage Velvet, Graphite Vintage Velvet, and Natural Linen.
Pros
Mattress has a supportive inner box spring
Multiple firmness levels to choose from
Works well for couples
Sturdiness and durability
Cons
Mattress does not have memory foam feel
Not terribly plush
Saatva Sydney
Three different fabrics for the bed frame
Lifetime warranty from the company
180-night home trial to see whether the Saatva Sydney will work for you
Current Promotion
Get up to $350 off
Save Now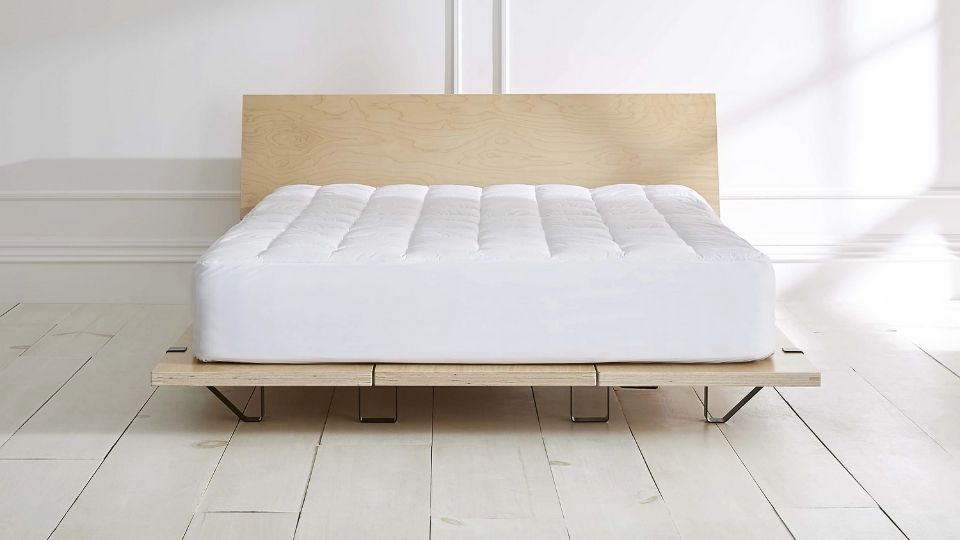 Simplistic in its design, the Floyd Platform Bed is able to provide you with a lot of versatility. This modular platform frame bed has panels that you can easily remove or add to change the bed to a Twin, Queen, or King. At 7.5 inches tall, it gives you 6 inches of clearance beneath the bed for storing items.

The frame is constructed from a mixture of Baltic birch plywood and powder-coated US steel, providing ample durability and stability to the design. Its appearance is a unique combination of Scandinavian and Japanese design elements. Also, take note that emissions standards are met by the panels, which are TSCA Title VI certified.

Worried about assembly? Well, take heed: There are no tools required! Assembly is quick and painless, and the frame is lightweight enough for maneuverability. Before buyers pay, they can select from Room of Choice or White Glove delivery. Room of Choice means a team will bring the still-boxed frame into your preferred room and leave it there for you to assemble. White Glove means that they will glove up and assemble it for you and disposing of the packaging materials.

The cost will increase if you decide to add the headboard and/or under-bed storage. Due to its design, this modular platform bed does have a higher-than-normal price point for floating bed frames.
Pros
Easy to assemble and move about
Panels can be moved to accommodate a mattress sized Twin to King
Unique Japanese/Scandinavian design
Can be assembled for you if you so choose
Cons
Higher-than-average price
Only two wood/color options available
Floyd Platform Bed
Modular design
Choices between birch and walnut wood
Optional headboard and under-bed storage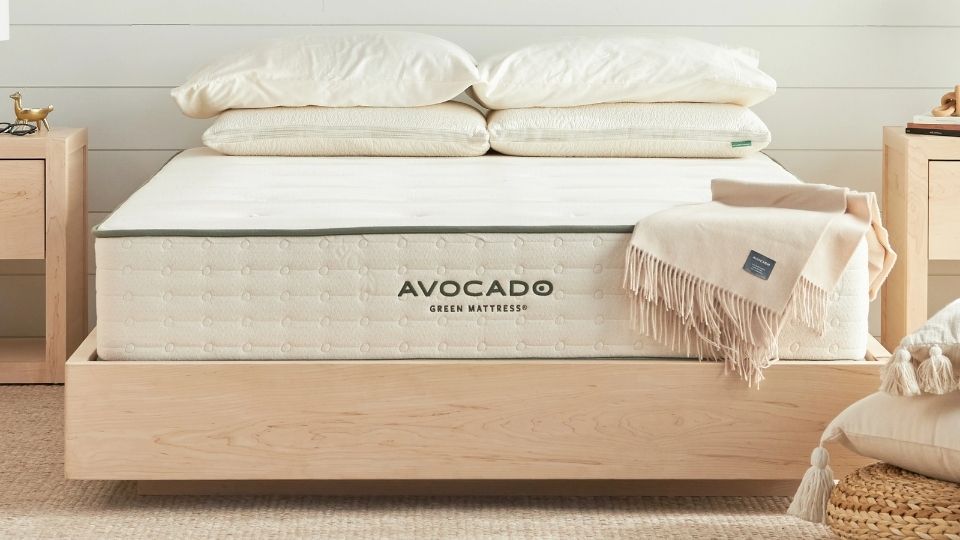 If it is luxury you want, then the Avocado Malibu Floating Bed Frame is an absolute stunner. Avocado manufactures environmentally-friendly high-end beds. Take this floating bed for example. It is manufactured from pure maple and lacks any finishes or toxic chemicals. The maple has a look that evokes a sense of naturalness and beauty. And, of course, it can easily be paired with any assortment of bedroom decor. The Forest Stewardship Council has assigned multiple certifications to this bed, showing just how dedicated the company is to sustainability.

You can put a Queen, King, or California King mattress on this bed, but it will not accommodate a Twin or Full. If you do not wish to assemble it yourself, you can opt for White Glove delivery. When you buy this frame, you get a 10-year warranty that covers any structural defects. You can opt to schedule a free appointment via Zoom to see all of Avocado's products in a showroom.

This low-profile bed is indeed very low to the ground. It sits less than 6 inches above the ground, but because of its base, you will not get much in the way of under-bed storage.
Pros
Can fit a California King mattress
Made in the USA
FSC-certified design
A pure maple material design
Cons
Cannot fit a Twin mattress
Expensive
No under-bed storage
Avocado Malibu Floating Bed Frame
100% hardwood (maple) construction
FSC-certified design
Ability to accommodate a Queen, King, or California King mattress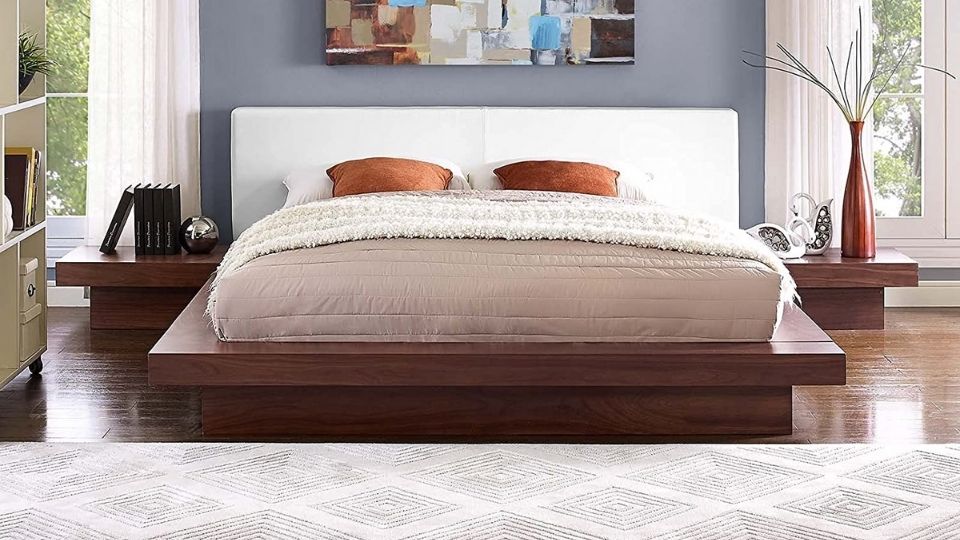 Looking for something modern and upscale? The Modway Freja Faux Leather Upholstered Platform bed combines a sophisticated design with sleek, angular lines that catch the eye and won't let it go. The chic wooden finish is what truly makes this floating bed aesthetically pleasing. The smooth wood grain veneer has a highly glossy finish, making it look more expensive than it really is.

You can choose to buy this as a three-piece set or as a Queen sized frame. Getting the three-piece set gives you the floating bed frame, a headboard, and two nightstands. Getting this combo adds more storage area options and fills the void you might have in your room. Place a nice lamp or your beloved alarm clock atop these nightstands for easy access.

Just make sure that you have enough space for this big, bulky frame. It is somewhat difficult to assemble, and the structure can be hard to move once assembled. You will also have to be okay with there being no under-bed storage space.
Pros
An eye-catching design
An available three-piece set
A glossy wooden finish
Faux leather or upholstery options
Cons
No under-bed storage
Hard to assemble
Queen size only
Modway Freja Faux Leather Upholstered Platform
Sleek, low-profile design
Made from wood
Options for this faux leather or upholstery
Available three-piece set
Ability to support memory foam and innerspring mattresses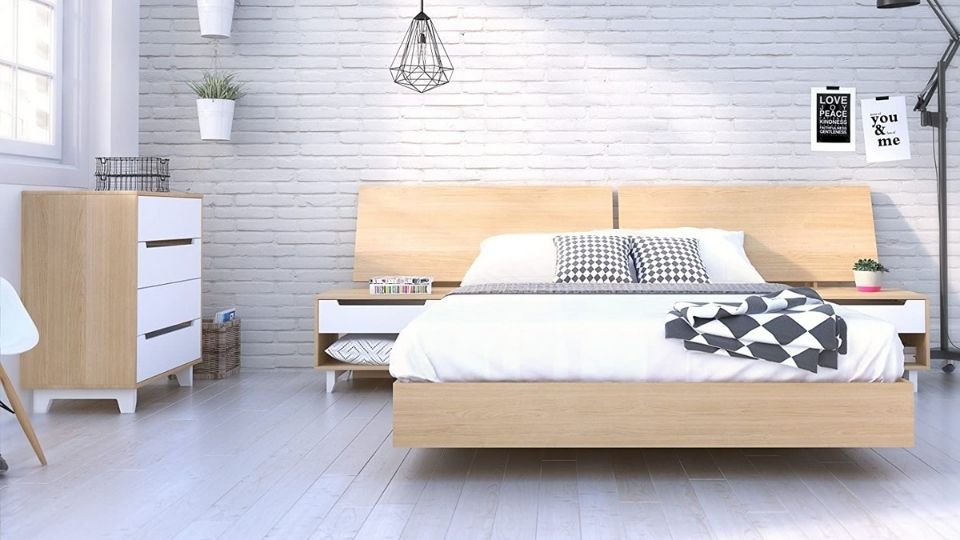 If you are shopping on a budget, the best minimalist design around comes in the form of the Nordik Platform Bed. Manufactured by Nexera, the Nordik Platform Bed made in Canada using CARB II/FSC Certified particle board and MDF materials.

This bed measures in at 11.75 inches in height and has a 500-pound weight limit, making it ideal for couples. The slats are made of solid wood, making it easy to handle and assemble, not to mention how much strength and durability it lends to the design. There is no headboard option included with this bed, but you also do not need a box spring for the bed. Just go into it knowing that this bed can only accommodate Queen size mattresses.

The bed frame itself is easy to assemble, but you might want to read the directions in their entirety first in order to avoid perplexing upside-down black rails. Even with a 75-pound memory foam mattress slapped on top, the frame does not creak or groan under pressure. Also, this floating platform bed allows you to put up LED lighting around it for extra ambience in your room. It might take a few tries before you get your preferred angle with the lighting strip, but the final effect can look simply stunning.
Pros
Can be easily assembled
Made in Canada with CARB II/FSC Certified particle board and MDF materials
Natural Maple laminate finish
Under-bed storage space
Cons
Only has 1-year warranty coverage
Amazon reviewers claim it emits foul odors
Best Minimalist Design – Nordik Platform Bed
500-pound load capacity
Ability to be easily cleaned
Gorgeous wooden slats that make for easy assembly
Things to Consider Before Buying a Floating Bed Frame
Mattress Size
Among the chief things to consider before you buy a floating bedframe is your preferred mattress size. Many of these floating beds can accompany sizes as small as Twin and as large as California King. But not all of them do. In fact, there are some that are exclusively one size (mostly Queen).
If you already have a mattress, then you will need to shop based on that mattress' specs. Mattresses do not come cheap, so using a good one you already own can lend to you getting the floating bed frame you really want.
Also, remember that certain mattresses are only recommended for a particular style of bed. Not every mattress will be compatible with a floating bed frame. You will additionally want to look into warranty coverage for both a new mattress and the bed frame. Warranty coverage varies greatly, so the more you can get, the better off you are.
Warranty
Again, warranty coverage is something that cannot be stressed enough. As you can see just by looking at the beds listed above, warranty coverage can range from just one year to lifetime coverage. And there are usually certain stipulations and things that can and cannot be covered. For example, structural abnormalities can be covered while certain accidents cannot. Every manufacturer has different standards for their warranties, so be sure you read through them before you decide to buy.
Storage Space and Bed Height
Some floating beds are better at saving space than others because they offer more storage space. Many offer clever storage solutions that can be placed on the underside of the bed, but some have large, solid bases that detract from the amount of storage space available. Most beds are 14-17 inches in height, so the amount of space beneath the bed can greatly vary.
You will also need to consider the fact that the lower height can create some knee and back stress for you. Some people need higher positions so that they are not straining to get into and out of bed each day. Your mobility needs should be factored into your buying decision.
Shipping Returns
Some companies are more generous with returns than others. That is why we recommend looking for a bed that offers an in-home sleep trial period. This allows you to test the bed out and see if it is going to work for you. If it doesn't, you can simply return the model and get your money back.
Similarly, you should be looking for a good shipping policy. Finding one that provides White Glove service is optimal since that eliminates the assembly work for you. These beds can be incredibly hard to set up and do not always come with clear-cut instructions, so having someone do it for you is optimal.
Things we like and do not like about Floating Bed Frames
Things we like
The biggest thing we like about floating bed frames is that they leave a lot of space underneath for storage. Eliminate clutter in your bedroom by putting items in storage options underneath the bed.
You can more easily accessorize bedroom space with one of these beds. The frames tend to go with a bunch of different bedroom décor.
Cleaning underneath the bed is much easier than it is with a traditional bed frame. Vacuums can reach underneath without much hassle so that you can actually get the space clean.
Some frames come with below-bed LED light strands or can at least have them bought separately installed. This makes for a cool lighting effect that can brighten up your room.
Some models have built-in slats that save you money on having to also buy a box spring mattress.
Things we do not like
It is easy to feel uncomfortable about sleeping on a bed that has supports you cannot easily see.
Only low-profile models are made, so those with weak knees or bad backs might struggle with getting in and out of these beds.
Cheaper models tend to give way after a few years of use. This means you will need to spend more to get more support and longevity.
A lot of floating bed frames are only available in one size and cannot be adjusted to accommodate others.
Floating Bed Frame Alternatives?
There are some alternatives to the standard floating bed frame. You can go for a more traditional box spring, a storage bed, a regular bed frame, or a platform bed. Let's take a brief look at these alternatives.
Box Spring
A box spring isn't a frame, of course, but it is a standard type of mattress that a lot of people still swear by. It is there to give additional support to the top mattress. It can be used without a proper bed frame though, and it acts as a wooden frame with springs enveloped in fabric. It is a cheaper option and is typically low maintenance.
Storage Beds
Storage beds come with compartments or drawers built under the sleeping platform. They can come in a wide variety of sizes, prices, and materials. Drawers can be accessed from underneath the mattress or by pulling from the sides. If you are someone who needs extra storage space, this can really come in handy.
Platform Beds
Platform beds have visible support legs, unlike their floating bed counterparts. Otherwise, they tend to look quite similar and also feel about the same to lay on. Many of them come with an attached headboard and do not require that you use a box spring mattress.
Bed Frames
A general bed frame is non-adjustable structure that are usually easy to put together and hold a box spring and top mattress. They can come in a huge array of sizes and materials, so you get a lot of variety in choice. Their wood and metal builds generate a lot of airflow and create quite a bit of ventilation.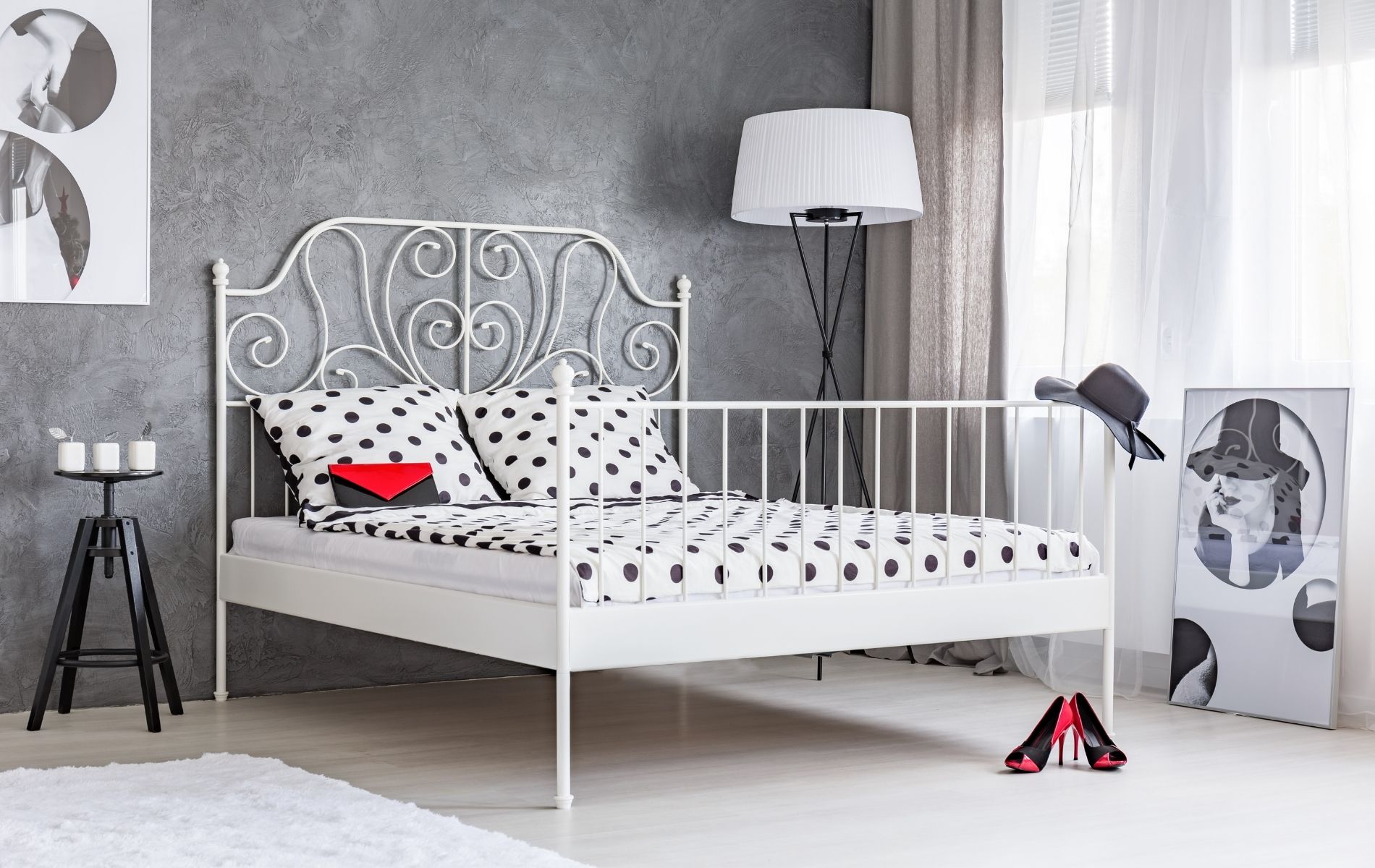 ---
FAQ
Is Floating Bed Frame For You?

A floating bed is ideal for most people. Those with limited mobility might appreciate the low profile and ease of getting on and off the mattress. Those who need the extra space can benefit from a floating bed too.

Are floating beds safe?

They are structurally sound and are built to safely hold hundreds of pounds in weight. The more expensive the model, the sturdier it is likely to be.

Are floating beds stable?

Floating bed models are designed for stability. Stabilizing structures tend to be placed closer to the center of the bed, but this actually enhances durability and stability.

Are Floating Beds Comfortable?

The average floating bed is comfortable to sleep on for most people. They offer about the same amount of comfort as general beds.

Are floating bed frames sturdy?

These bed frames are sturdy, often built from strong wood. While you cannot easily see the support base, it makes the entire frame sturdy.

What Is The Weight Capacity Of Floating Beds?

The average weight capacity for a Queen size bed is 500 pounds. Depending on mattress size, weight capacity could be more or less than that.

How does a floating bed not tip over?

Floating bed frames are firmly planted by their sturdy support bases. They provide a low center of gravity with their low profiles, so they will not tip over.

Does your mattress warranty specify what kind of foundation you need?

Most owner's manuals will list which foundations can be used with a particular mattress. If you do not see one listed, contact the manufacturer and ask.

How does a floating bed frame actually "float"?

They do not actually float. These bed frames just give the illusion of floating by placing the support toward the center of the bed.

Does the floating bed come with a warranty? Sleep trial?

Most floating bed models come with a warranty, but coverage will vary. Some offer sleep trials, but others do not.

Does the floating bed support your weight?

Most floating bed frames can support the weight of at least one average sized adult. Weight capacity depends on bed size.

Do you need to move often?

You do not need to move these bed frames often since it is easy to clean underneath them. When you need to move them, many can be easily transported.
---
Some Final Thoughts to Sleep On
Floating bed frames are a stable and durable alternative to general bed frames. They also offer a sleeker, more modern, and space-saving design. None does such a good job of checking all our boxes than the Saatva Sydney. With the accompanying Saatva mattress placed atop it, the Sydney is one of the most comfortable and graceful-looking frames out there.
Saatva Sydney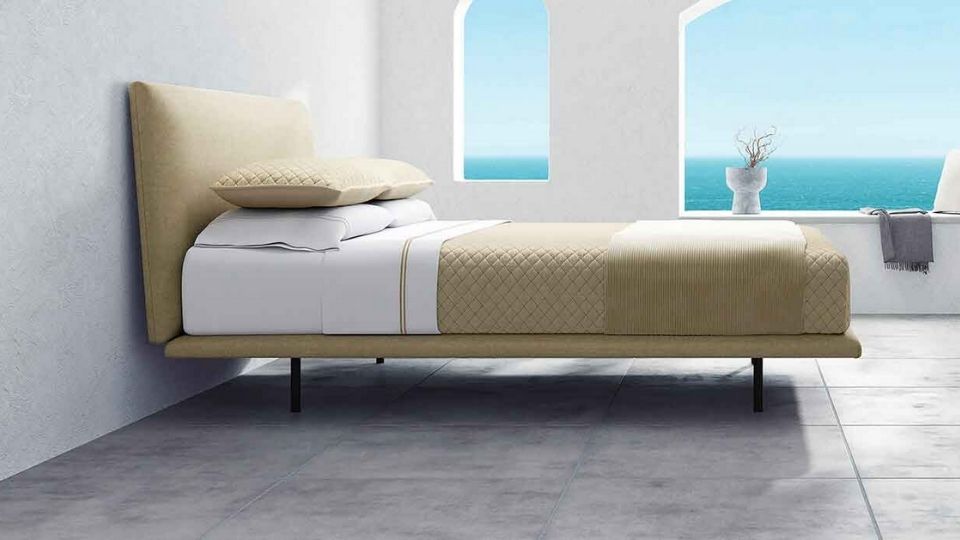 This model does not need a box spring or foundation to support it. The solid platform base is held in place by slender metallic legs placed closer to the center of the bed than what you get on general bed frames. And you can take your pick from three eye-catching fabrics, any of which makes a real statement in any given bedroom. The headboard provides cushioning for your head and looks just as chic as the rest of the bed frame.
All in all, a floating bed can make for a stunning addition to your bedroom. They are easy to clean, easy enough to move, and – if you get White Glove shipping – easy enough to assemble and place.
---