Those who love a minimalist look will love a quality floor mattress. These comfortable beds can also be extremely beneficial for those who need to stay mobile. A floor mattress is a wonderful choice for a child who is uncomfortable transitioning from a crib to a big-kid bed.
Finally, if you yourself are a restless sleeper, prone to rolling out of bed, or moving from a large bed to a twin bed, you can be confident that your sleep will be hazard-free on a quality floor mattress. Here we will take a look at the best floor mattress options you can buy.
Why Buy a Floor Mattress?
A floor mattress offers great flexibility in a small home. If you are in a studio apartment and need a comfortable spot to sit as well as a bed, your floor mattress can serve as a sofa as well as a sleeping space.
Investing in a floor mattress for children sharing a room can make it easier for both fun and play. If space is especially tight, you can put a vinyl shower curtain under the floor mattress and easily slide it under a bunk or twin bed.
A floor mattress can also be easily used on a DIY Captain's bed. If you are in your first apartment or a dorm room and really short on space, you can invest in a couple of short drawer units, a piece of plywood, and some ingenuity to build yourself a bed with storage.
While a coil mattress may compress and become uncomfortable over time, a foam mattress that will work on the floor will be an excellent sleeping spot over a piece of plywood.
Additionally, a good floor mattress is a great solution for guests! So look for the best floor mattresses available.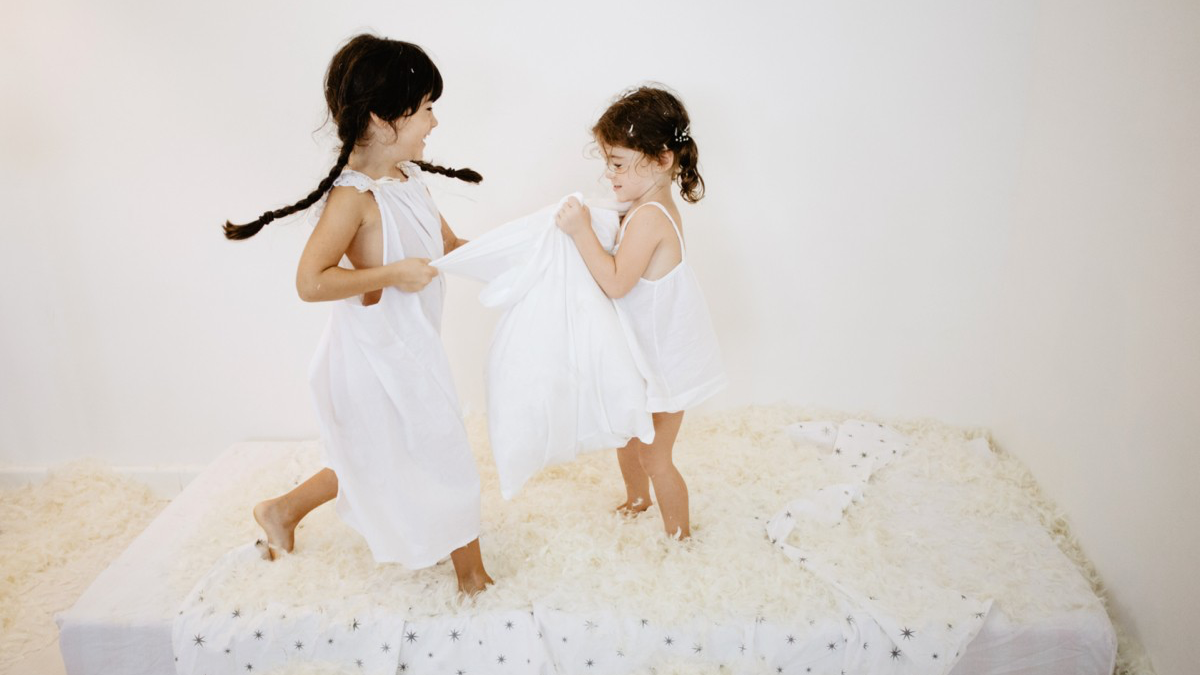 8 Best Floor Mattresses Reviews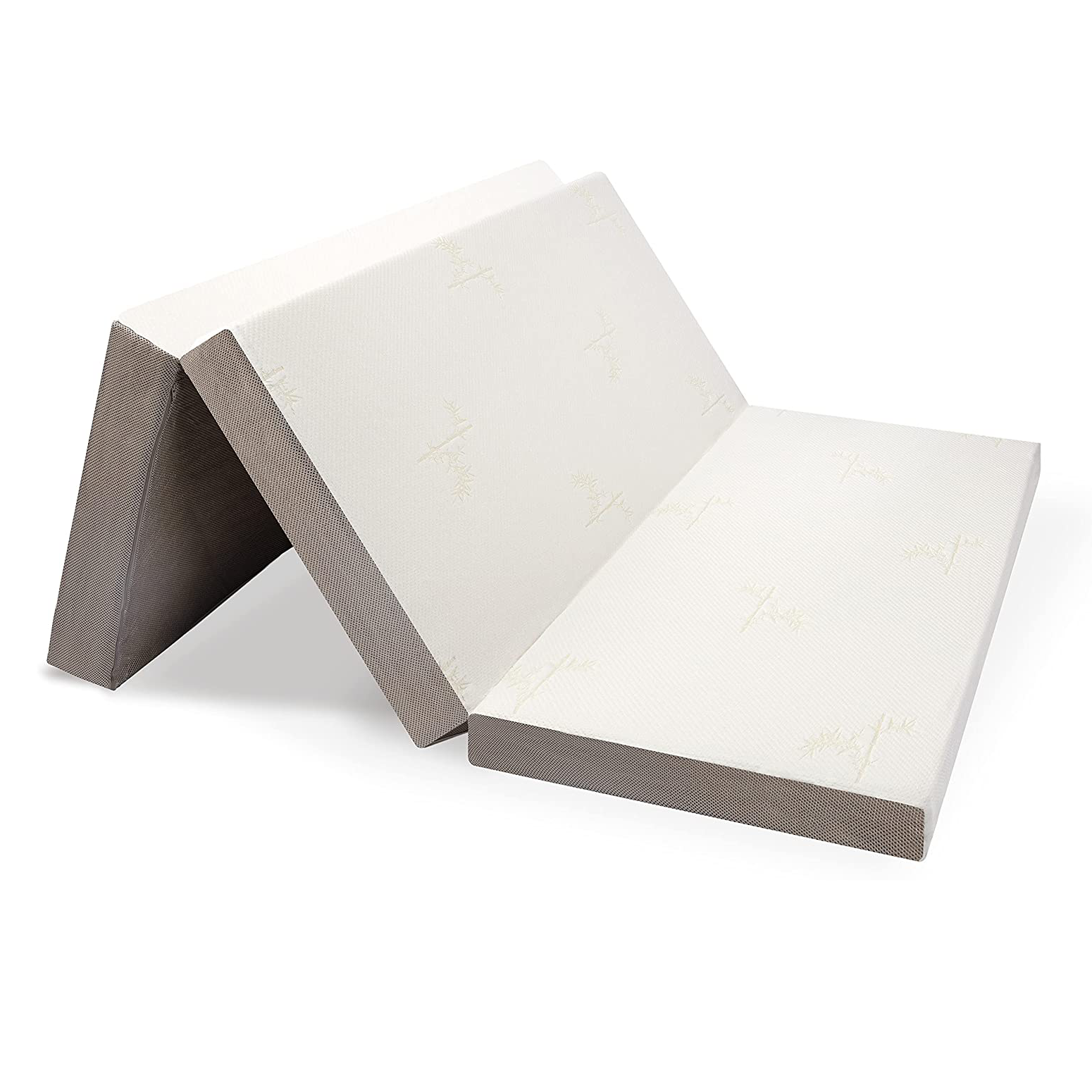 One of the handiest features of the Milliard Tri-Folding Memory Foam Mattress is that this mattress is incredibly soft. If space is especially tight, you can easily fold this up and stand it against the wall. The soft bamboo top makes sure that you can enjoy a sturdy, gentle fabric for many comfortable nights on your mattress. While floor mattresses can absorb moisture from a cool floor, the breathable mesh on the sides of this mattress will allow air to move through the foam. This foam mattress is built in layers and offers 4.5 inches of firm support on the bottom and 1.5 inches of softer memory foam where you can rest your head. This top layer of foam covered with soft bamboo fabric means that you can rest in comfort.

One of the best floor mattresses on our list.
Pros
Great flexibility and durability for unexpected guests
Can be a chair or a bed
Offers firm support with a top layer of softness
A supportive steel frame encases the wooden slats
Cons
The cover is off-white. Keeping this clean and dry will take care
Takes 72 hours to fully expand
Milliard Tri-Folding Memory Foam Mattress
Best floor mattress
Quickly folds down for easy lounge use
The soft washable cover; side mesh allows great airflow
Memory foam provides great support and warmth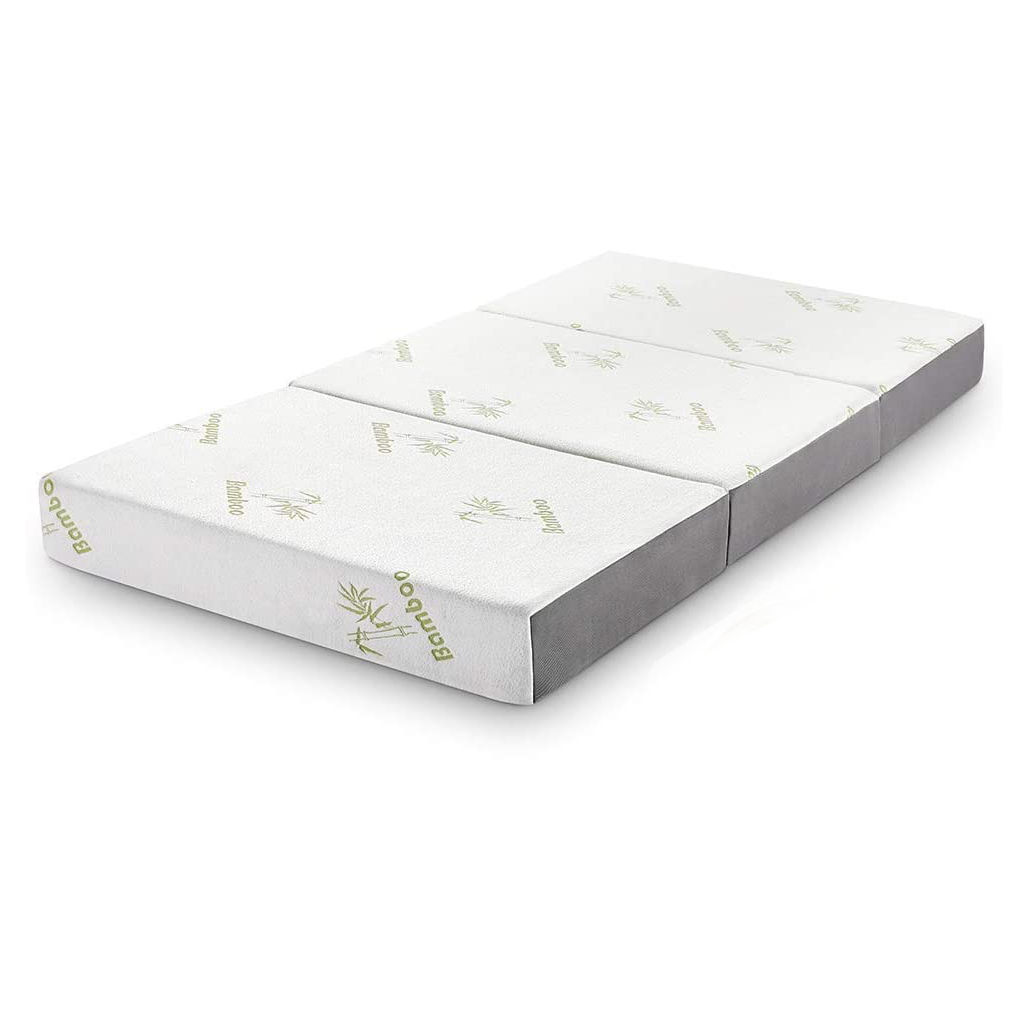 If you love bamboo fabric, you will also like the Inofia Memory Foam Tri-Fold Mattress.

When folded, this full-sized mattress can easily be tucked under a table or a desk, measuring 18 inches thick, 52 inches wide, and 25 inches long. Of course, the proof is in the rest quality, and the Inofia Memory Foam offers many benefits! It is a great runner to the best floor mattress.

This memory foam mattress has a 4.5 firm foam base, a1.5 inch softer foam comfort level, a fire barrier on the lining, and a bamboo cover. Finally, you have time to make sure this mattress is your best choice. You will enjoy 100 nights to try out the mattress and a 10-year warranty.
Pros
Runner up to best floor mattress
Great flexibility and durability for daily sleep or play
Sized to use standard sheets
Offers plush support
Cons
Some people found fiberglass in their mattresses
Decompression takes quite a bit of time
Inofia Memory Foam Tri-Fold Floor Mattress
Quickly folds down for easy storage and lounge use
The cover is fire resistant
Memory foam provides great support no matter your sleep position
If you need a spare bed for camping or guests, the rollable floor mattress from Better Habitat SleepReady is a terrific choice. These types of floor mattresses once unrolled, this 3-inch foam mattress will mold to you as it's warmed by your body.

The longer you lay on it, the better this rollout mattress feels. It's also a great spot to work out if you need more cushion than a yoga mat. When you're finished with it, you can easily roll up this mattress and buckle the cover closed. There's also a zippered bag for long-term storage of this comfy, handy mattress.

As an arthritis sufferer who occasionally needs a bit more cushion, I can attest that this floor mattress would also be a great mattress topper during cold weather or during the rainy season!

If you need Rollable this one is definitely on best floor mattresses list.
Pros
Great comfort, flexibility, and durability for unexpected guests
Can be rolled up small for storage
Offers firm support for exercise, sleep, and play
Cons
Really too thin to sleep on for an extended stretch of time
Rolling takes practice
Slight odor when you open the mattress bag
Better Habitat SleepReady Floor Mattress
Quickly rolls down for easy storage in the bag
Pretty terry cover is soft, decorative, and easy to wash
Non-slip bottom for exercise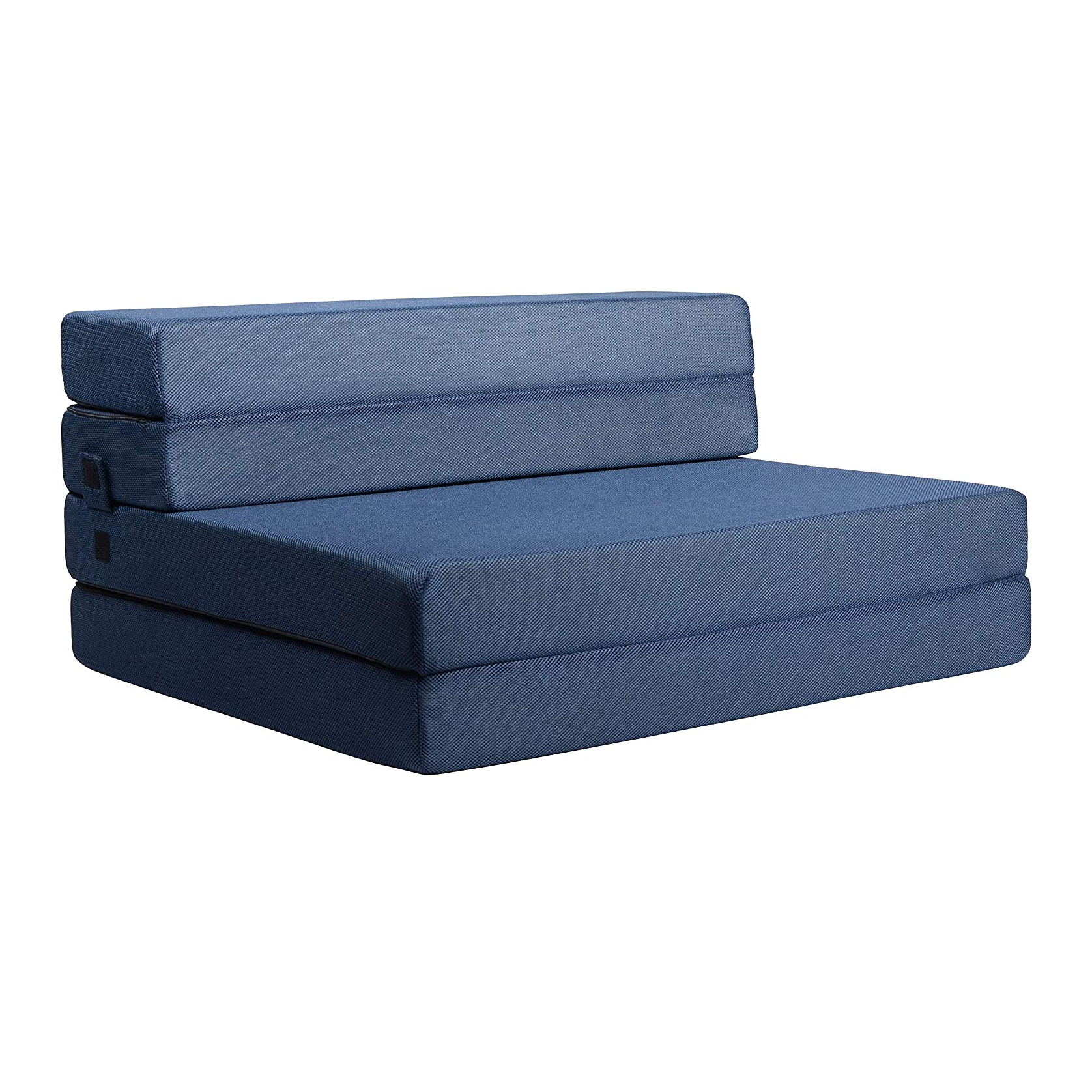 If you're looking for a foldable mattress that will also be firm enough to function as a sofa, the Milliard Tri-Fold Foam Folding Mattress and Sofa Bed for Guests is an ideal option. This firm mattress is covered in a breathable mesh fabric in a pretty navy blue. Fully folded, it's a great spot to hang out, watch TV and socialize. Fully stretched out, this full-size mattress is 4.5 inches thick and quite comfortable. This is a great option for anyone who needs to

downsize
move without much help
move furniture up a tight stairwell or in a standard elevator
Where else can you get a 28-pound sofa? The Milliard foam products will stand the test of time and work well for a small apartment or a guest room.
Pros
Easy to move on your own
Can be a sofa or a bed
Offers firm support
Cons
May be too low for some guests
Fabric is a bit fibrous, but bedding will reduce any sense of scratchiness
Velcro fasteners may lose «grab» over time
Milliard Tri-Fold Foam Folding Mattress and Sofa Bed for Guests
Quickly folds down when you need a bed instead of a couch
Cover is both decorative and easy to wash
Memory foam provides great support whether lounging or laying down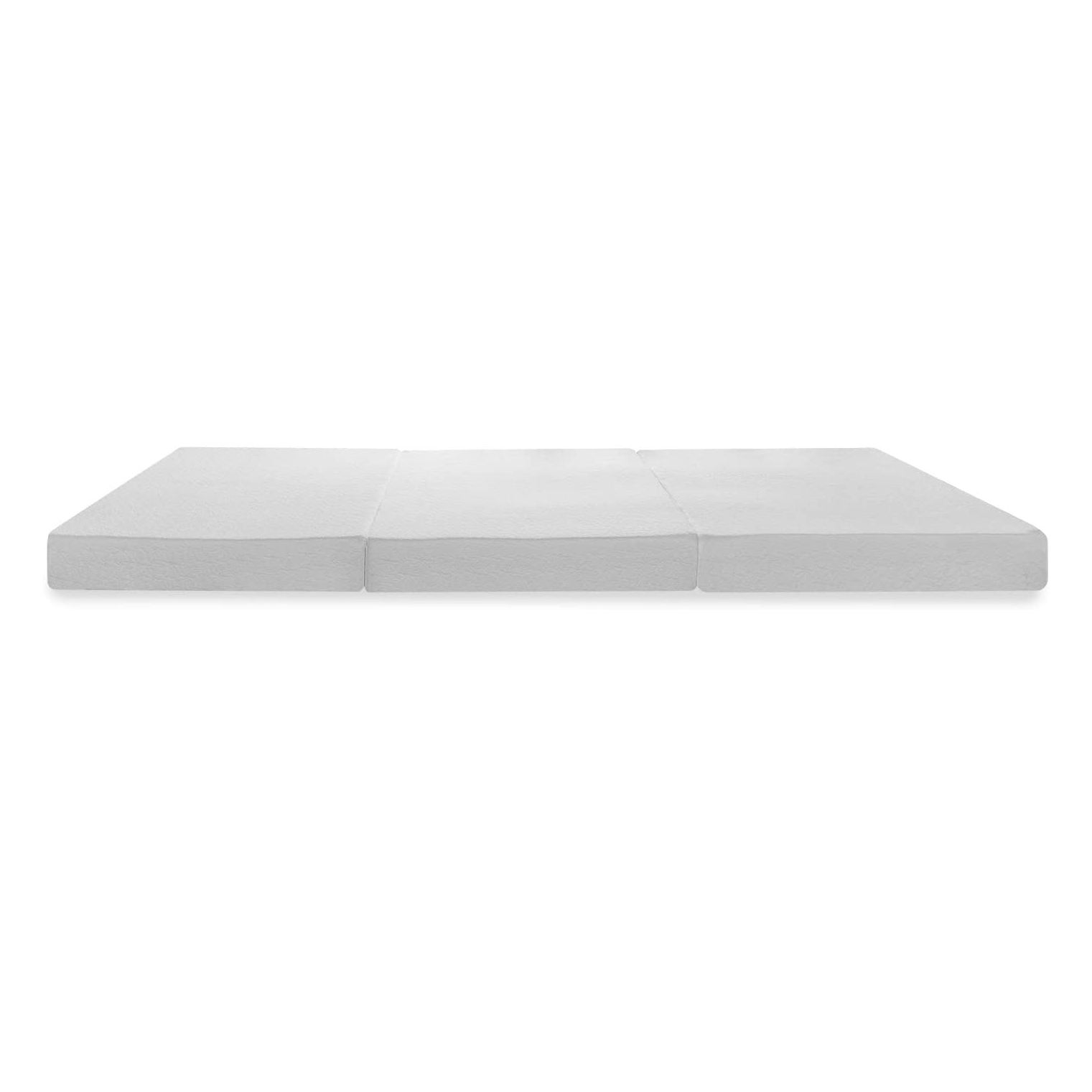 When looking for floor beds for adults, layered foam is often the key to comfort. The 4 Inch Trifold Memory Foam Mattress Topper with Cover, CertiPUR-US Certified a foam mattress is a terrific option that will be easy on your body and your budget. This floor mattress for sleeping can serve as a guest bed, a mattress topper, or a floor lounging chair fully folded. This Best Price Store version has a 2.5-inch high-density firm foam base with a 1.5 memory foam layer on the top. As your body warms the foam, it will flex. The firm foam base means that you won't ever feel the floor through this versatile mattress. The bottom is slip-proof and the cover is a soft poly-jacquard. Fully folded, this queen mattress is 80 inches by 33 inches by 12 inches once it opens up. The manufacturer does recommend that you allow this product to open up fully for 72 hours once you open up the container. You can easily spot clean the jacquard cover. Washing this foam mattress is not recommended, so you might consider adding a breathable cover before you put the sheets on this mattress.
Pros
Great flexibility and durability for overnight guests
Can be a chair, play space, or bed
Very good price for a bed
Cons
The white cover is rather thin and will be hard to keep clean
High-density layer is only 2.5 inches; you may feel the floor if you're a side sleeper
4 Inch Trifold Memory Foam Mattress Topper with Cover, CertiPUR-US Certified
Quickly folds down for easy storage or use as a lounge seat
The cover is both decorative and removable for washing
Memory foam provides great cushioning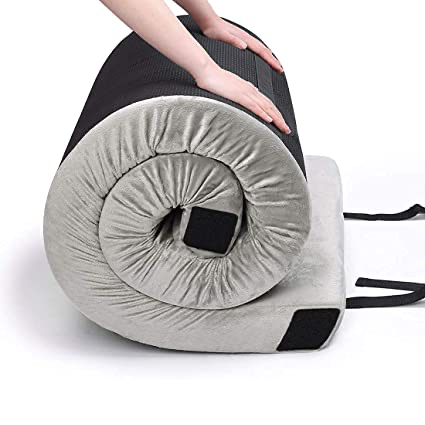 If you're planning a camping trip or an RV vacation, the rollable Willpo Memory Foam Camping Mattress is a great addition to your gear. This foam unit is layered. The total mattress thickness is 2.75 inches. The bottom 2/3 of this floor sleeping mat is high-density foam and the top 1/3 is more flexible memory foam. The bottom of the pad features a no-slip, waterproof fabric and the top is a soft water-resistant poly. The whole cover can be unzipped and washed at the nearest laundromat so you can pack it back in your camping gear before your next trip! This low-loft mattress is also a great workout mat, a helpful mattress pad, and a warm, cozy play mat for children. Finally, if your camping cot is just a bit too hard, this foam camping mattress can make your next camping trip both restful and relaxing. The only bad news related to this useful camping mattress is that your pet will commandeer it the first time they sleep on it. However, that washable cushion may make turning this mattress into a dog bed a great choice.
Pros
Great flexibility and durability for kids and pets
Has straps that make rolling and securing this mattress uptight
Comes with a carrying case
Cons
A fairly firm mattress that may be uncomfortable if you sleep on your side
No gel layer. If you're camping in the heat, this bed may be uncomfortably warm
Willpo Memory Foam Camping Floor Mattress
Quickly rolls up quite small for easy storage
The cover is both waterproof on the bottom and water-resistant on the top
Memory foam provides great warmth in your tent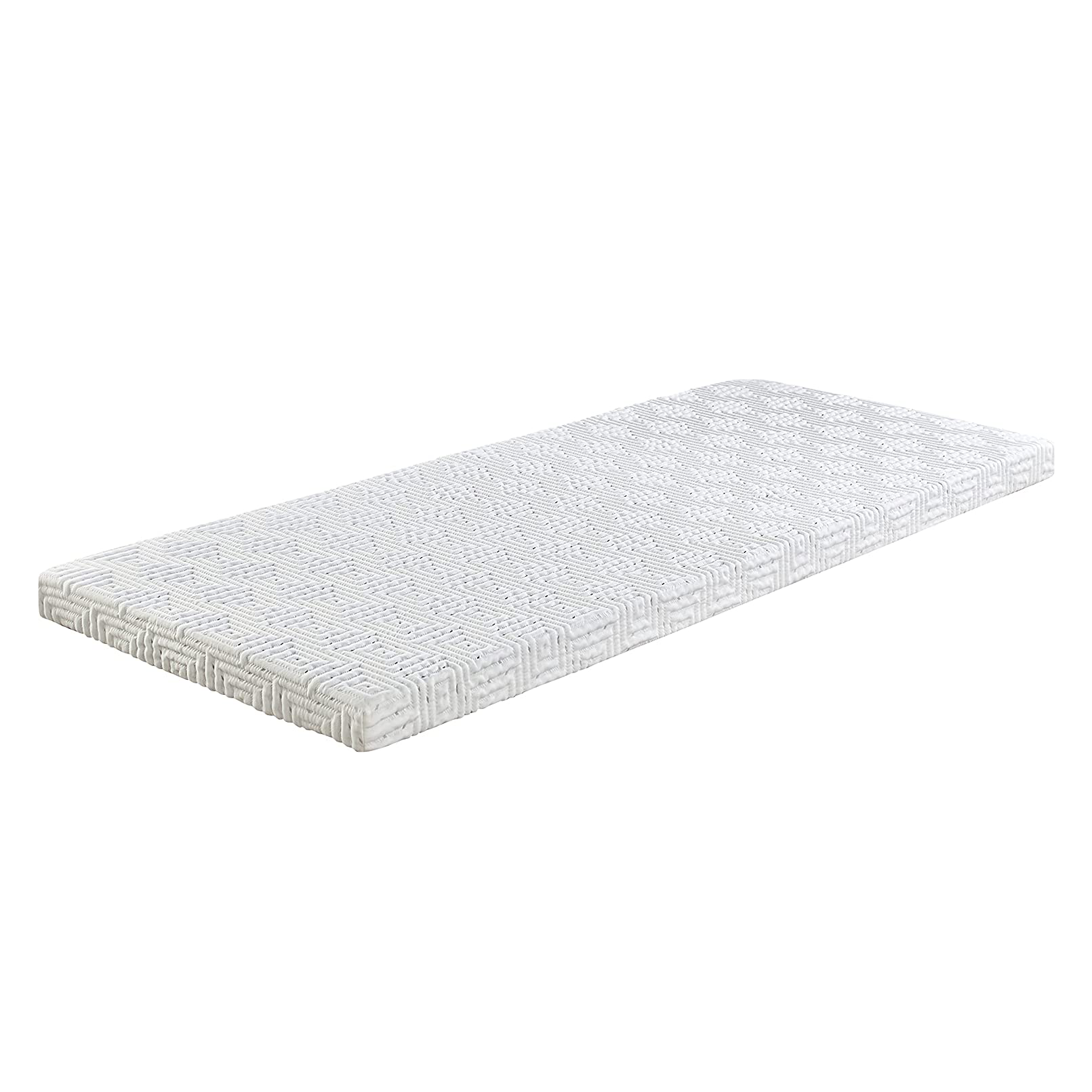 If you've been sheltering in place for a while with your children, you know how important it is to have a spot for your little ones to play on the floor. A workout mat that will reduce compression as you stretch, practice yoga or do Pilates can also be extremely helpful. You need a Simmons BeautySleep Siesta Memory Foam Mattress—Best Roll Up Floor Mattress! This extremely handy roll up foam mattress is 3 inches thick and has an easily removable cover that you can put directly in the washing machine. When you don't need it, you can roll this mattress into a 12-inch cylinder that's just 30 inches wide. This can easily tuck inside a child's closet to serve as a guest bed when they have friends over or a play mat when it's cold outdoors. This gel memory foam can also work as a mattress topper if you need a bit more cushion. Like all quality gel foams, this will compact down tightly when you roll it up. In fact, it will come from the factory compressed very tight. Give it three days to expand before you try to get any comfort from this mattress.
Pros
Rolls down into a tight spot
Functions well as a mattress topper
Cons
The cover is off-white and will get dirty quickly
Really too thin to sleep on unless you are used to the floor
Needs three days to expand but comes in a 12-inch roll
Simmons BeautySleep Siesta Memory Foam Mattress—Best Roll Up Floor Mattress
Quickly rolls up down for easy storage
The cover is removable and easy to wash
Gel foam provides comfort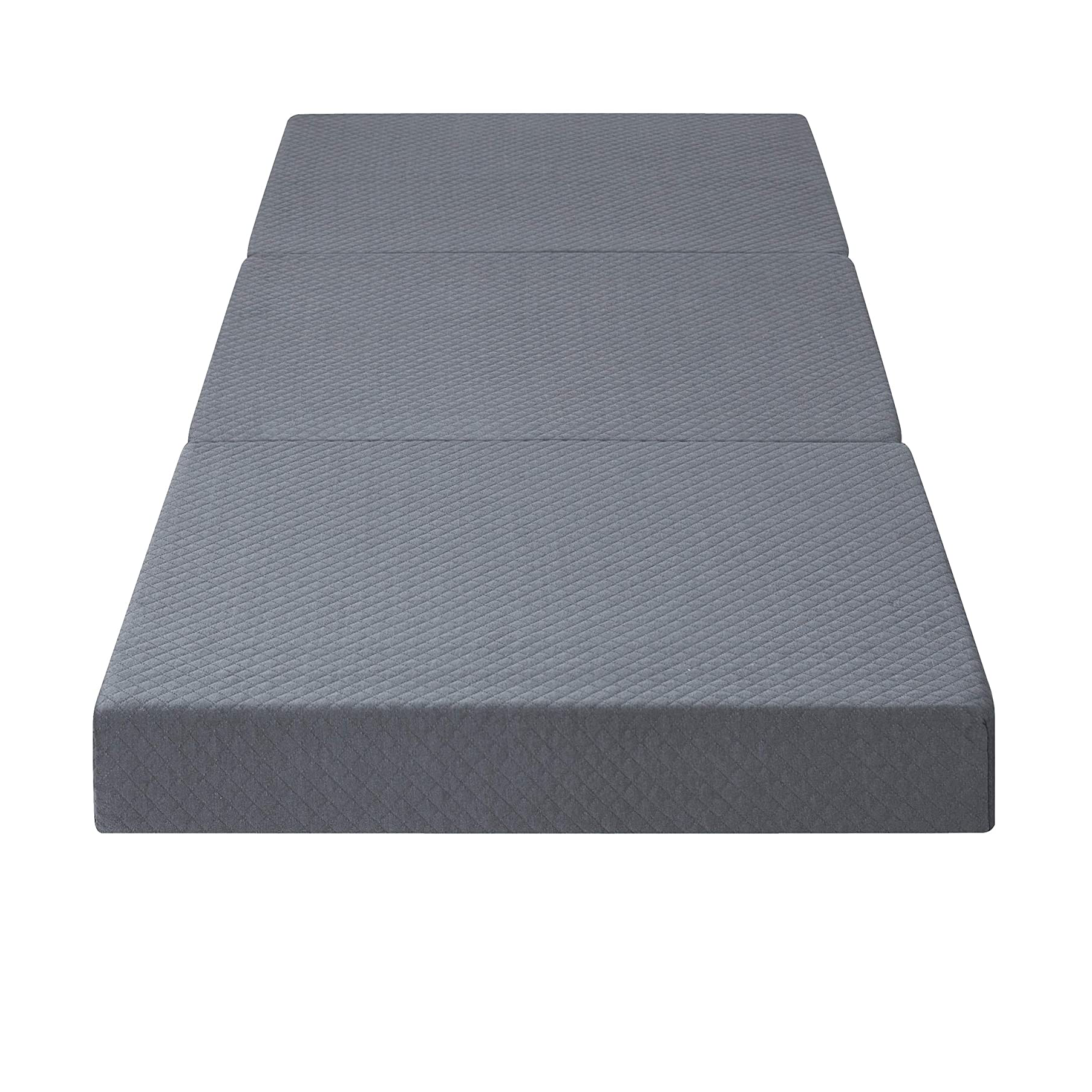 If you need a foldable floor mattress that you can also use as a chair or a play spot, the Olee Sleep Tri-Folding Memory Foam Topper is an excellent choice. The grey cover is easy to remove and wash up when needed, and the dark color means it won't show every footprint if your children love to climb. This foldable twin mattress is just over ten pounds. It would be a great mattress topper for another twin. The Olee Sleep Tri-Fold is 75 inches long, 25 inches wide, and four inches thick. When folded, it's 25 inches by 25 inches by 12 inches high, or you can flip up one panel to serve as a back and enough an 8 inch cushioned seat. Your Olee mattress can serve as a guest bed for visitors, a play spot for your children, and an exercise mat. For the price, this little mattress offers a lot of versatility.
Pros
Great flexibility and durability for unexpected guests
Can be a chair or a bed
Offers firm support
Cons
The zipper may fail. Consumers should test this before they use the product
Takes 72 hours to fully expand
The bottom of this mattress cover may be slick; don't use on a vinyl mattress as a topper
Olee Sleep Tri-Folding Memory Foam Topper
Quickly folds down for easy storage
The cover is both decorative and easy to wash
Memory foam provides great support
Common Types of Floor Mattresses
Foam
As noted above, foam mattresses are quite popular among those in minimal and small spaces. Layered foam will give you more comfort and warmth. Basic firm foam is terrific for play and exercise. You can easily boost the comfort of a basic foam mattress with a down alternative or cooling gel cover.
You can get a foam mattress as a foldable or rollable unit. Foldable foam mattress units get more use and are at greater risk of wear. Generally, rollable mattresses are quite a bit thinner.
Cotton
Old school futons have long been used as floor mattresses. Properly cared for, a quality futon will stay fairly comfortable, though there is very little bounce or squish to these mattresses. If you are comfortable sleeping on a pad, a futon is a good choice.
It should be noted that a futon or a cotton sleeping mat will likely be much heavier than a foam mattress. If you don't have the strength to roll up your futon, flip it and fluff it up, a foam mattress may be a better choice.
Air
An air mattress can be quite useful for guests or as a temporary bed. However, air mattresses really don't tolerate long-term use. Unless you have the time to deflate it each day, you may wear out your air mattress even faster. These mattresses also have little support and are cold to sleep on.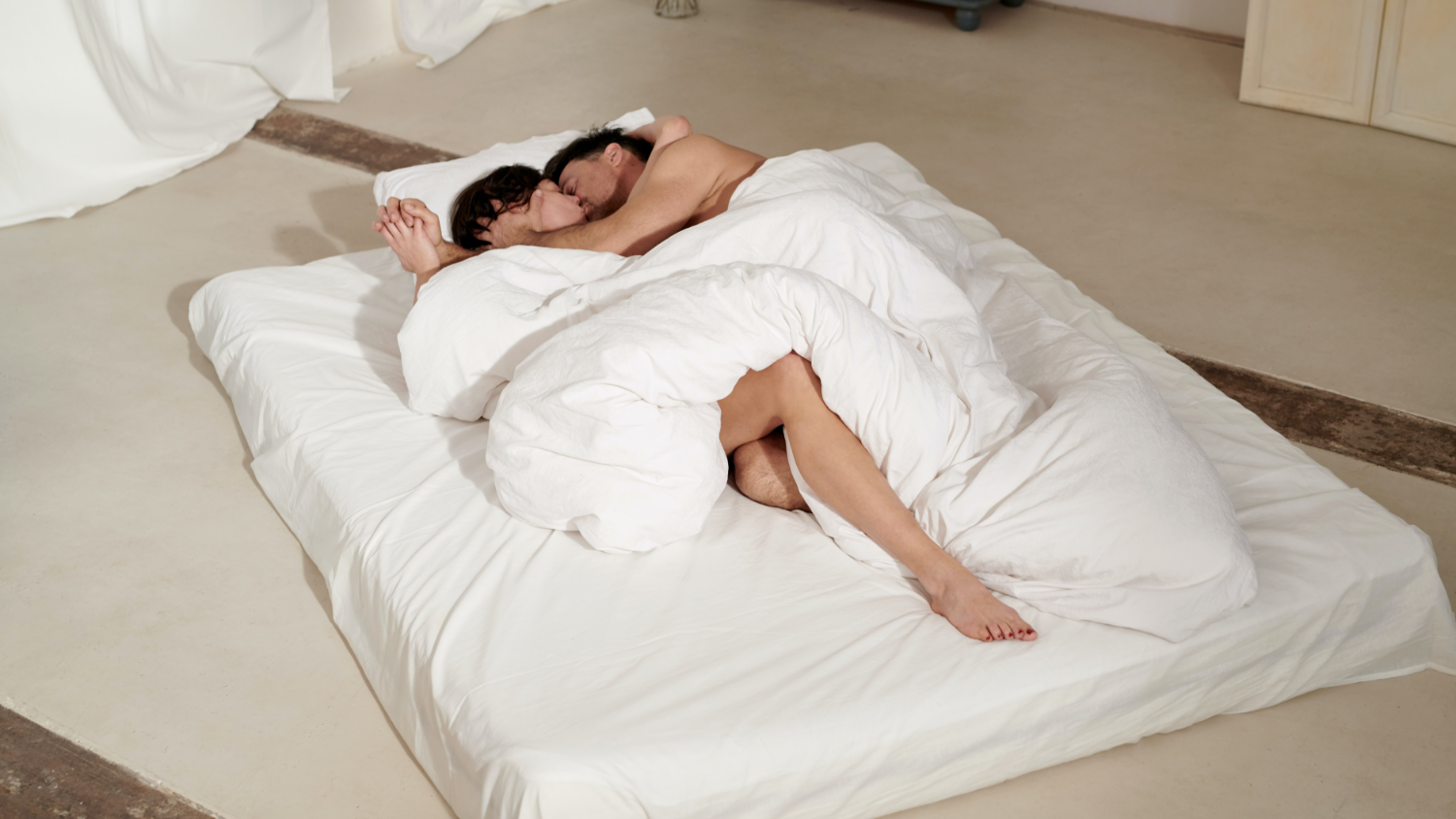 How to choose the Best Floor Mattress
Access
Who will have access to this mattress? If you need to sleep on this mattress, it can't be a play mat. If your kids need a play mat, you probably don't want to invest in a high-end, thick foam mattress of layered memory foam. If your pets will be sleeping on it, make sure you invest in a waterproof cover to cut down on dander and dust that may damage the mattress over time.
Needs
If you need your mattress to also serve as your only chair, understand that foam will compress over time. Be ready to replace it once it starts to lose loft. As possible, flip your mattress.
Heat
If you're an especially hot sleeper, make sure you invest in cotton bedding for your foam floor mattress. A cooling gel topper can also be a good investment. Cooling foam gel shouldn't take away from the squashiness of your foam mattress, but it will protect you from overheating.
If you're a cold sleeper and your floor is cold, you might want to put down a small cot frame to give you airflow under the mattress. This will cut down on moisture as well as any cold seepage from the floor.
Space
Many people living in small spaces or those who don't have much furniture because they're just starting out in life use a foam mattress as a bed and a lounging space. If you're also eating in your lounge space, make sure you add a waterproof cover. A simple option if your budget is tight is to
fold the mattress into "lounge" position
cover the whole chair with a discount shower curtain
cover that with a throw
Of course, if you have a big spill, you may still end up with a stained or wet mattress. However, the shower curtain should give you enough protection to get things mopped up before the mattress gets saturated.
Cleanliness
Most foam products are inherently hypo-allergenic. However, you may choose to cover your new mattress with a hypo-allergenic cover if you are sensitive to
The foam floor mattresses above all have covers. Some are furniture-grade covers in deep colors that will not show dirt. Others have ivory or off-white color that needs to be covered with bedding. Most of the covers above can be removed and laundered.
If the mattress itself gets dirty or wet, the first step is to spot clean. Get as much of the dirt off the mattress by blotting with a damp cloth. If your mattress got wet, the critical step is to dry it out. Elevate the mattress and set a fan near it to dry it out. Remember that protecting your mattress will be much easier than cleaning it.
Protect it for the Long-Term
Use a moisture-proof or moisture resistant cover if you're going to use the mattress for anything but sleeping. Get in the habit of flipping your mattress each time you change the sheets if you're using it on a daily basis. If your mattress is on a cold floor, get in the habit of flipping it on its side to release any condensation that may build up under the mattress.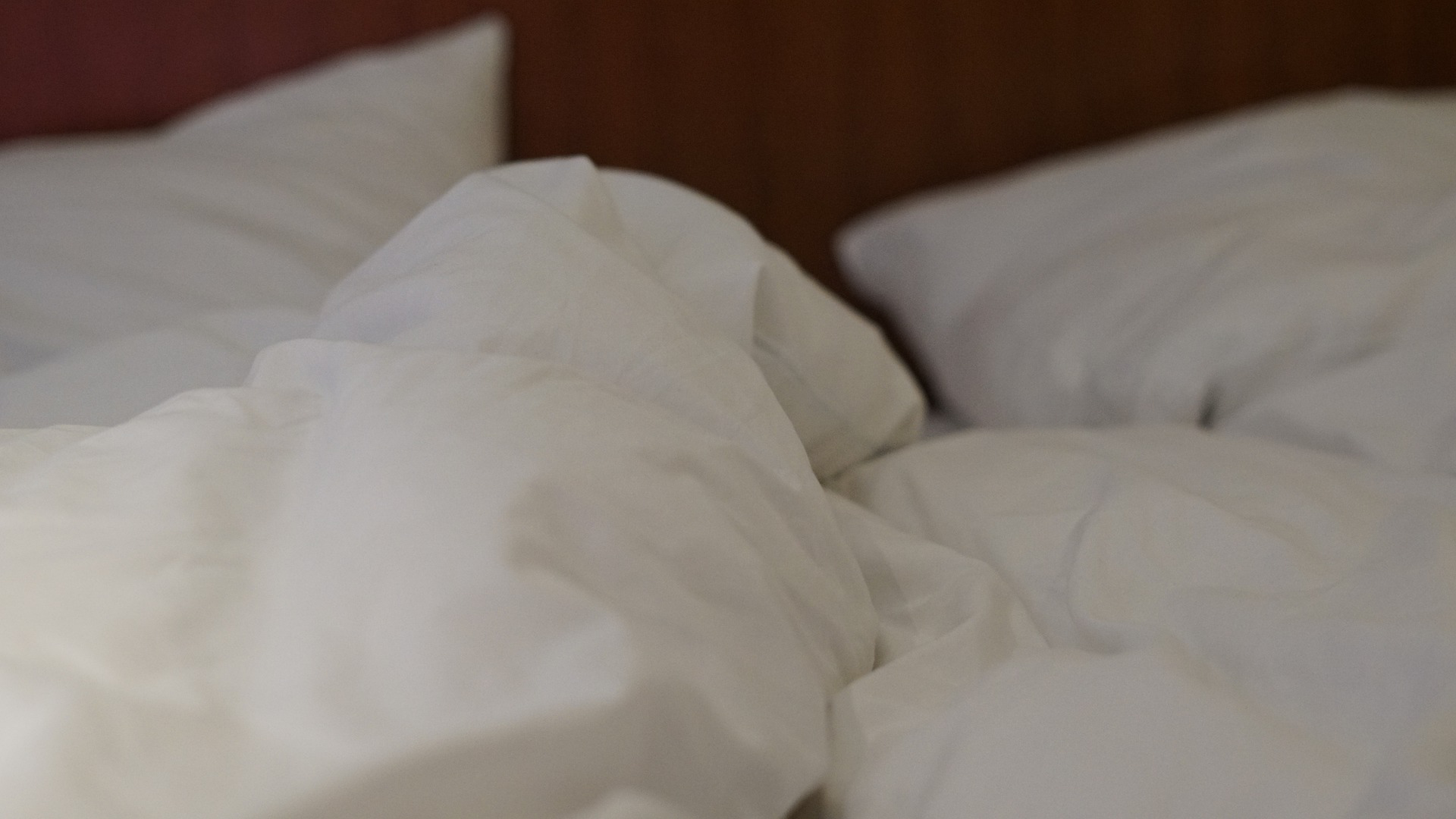 Benefits and Downsides
Things we like
A quality foam floor mattresses can give you a lot of flexibility as well as a great night's sleep. If you are moving into your first apartment or dorm room, take a good look at your storage needs and your available storage space.
For those who are taller or shorter than average, a tri-fold foam bed can be used as the cushion of a chair or couch that suits you perfectly. As noted above, you can build a DIY bed with storage underneath it out of a foam mattress. Two small dressers, a piece of plywood to match the size of your floor mattresses, and you have both a wardrobe and a place to sleep. When it's time to move, the whole unit can come apart and be moved in one elevator trip!
Things we do not like
Your foam mattress will tolerate pressure better than a coil mattress. While an innerspring has to be on a box spring or it will compress down and start to fail, a foam mattress will come back if cared for properly. If you get a layered foam mattress, consider flipping it end to end to avoid any compression spots if this mattress will be your daily sleeping and lounging spot.
Alternatives to Floor Mattresses
If you can't find foam floor mattresses that work for you, you have other options. You can blow up an air mattress. Be aware that air mattresses do not work as a play space, or at least not for long. In addition, air mattresses can be cold. Finally, a floor mattress turns into a bouncy house if you are a restless sleeper.
Futons are the furniture crossover from days of yore. It should be noted that futons are often stuffed with cotton. They need to be on a frame as moisture will condense inside your futon mattress.
You might have good luck on a cot or a rollaway bed. A cot can serve as a base for a camping air pad, which will be warmer than an air mattress. Rollaway beds tend to be heavy and you may feel the bar supports under you as you try to sleep.
Finally, if your walls can handle the weight, you can put up a hammock. If you sleep on your back and your low back can handle the curve, a hammock can actually be quite comfortable. However, you will need extra bedding to protect yourself from the chilly air.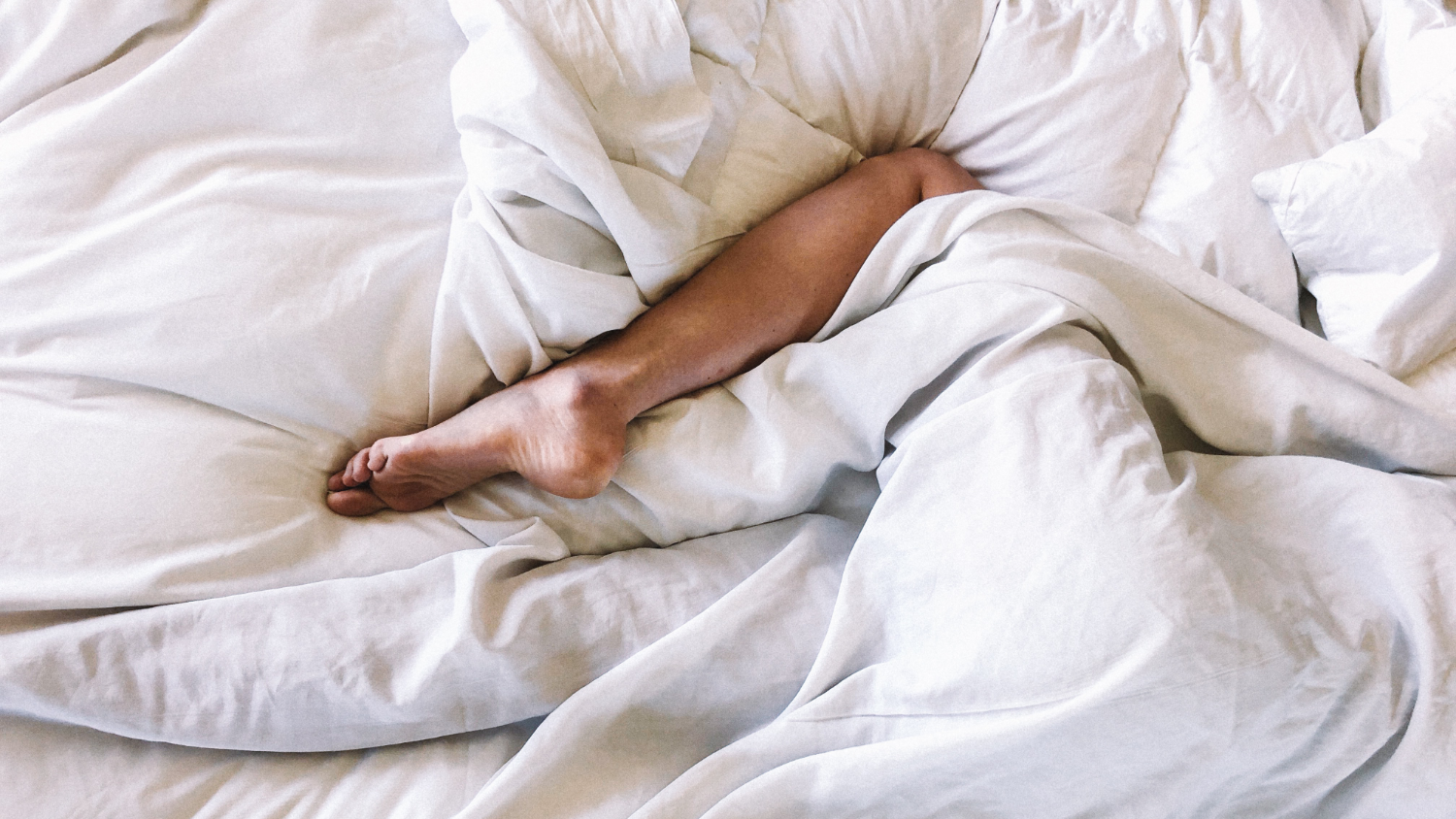 FAQs
What is a Floor Mattress?

A floor mattress is a foam mattress that supports and warms the sleeper with no need for a frame or a box spring. Some are rollable and some are foldable.

 Are floor beds comfortable?

Floor beds can be extremely comfortable. If you need more cushion than a standard foam mattress, consider getting one that layers both firm foam on the bottom and memory foam on the top for a bit of squish.

How much should you pay for a floor mattress?

Depending on the size you need, you should be ready to pay between $150 and $200 for most of the floor mattresses on the market. Features that will add to the cost include covers, foam layers, and carrying cases.

How long does the Floor Mattress last?

You can get a floor foam mattress with a 10-year warranty. You can also get one with a no-hassle return policy for 100 days after purchase. To make sure your mattress lasts, do your best to protect it from dirt and moisture.

What is a better foldable or rollable mattress?

It depends on the amount of space you have. If you need both a chair and a bed, get a foldable mattress. If you have a very small amount of space, such as in a dorm or a micro-studio, you may need a rollable mattress.

Can you wash a Floor Mattress?

The covers can be spot-washed. Some of the covers listed above can be removed and laundered. However, the foam mattresses should not be saturated.

Is It Okay to Sleep on a Mattress on the Floor?

Of course! Everyone has a different firmness need, so the thickness of your floor mattress will need to be appropriate to your tolerance. If the floor is cold in your space, make sure you have fleece or down under you to avoid being too chilly.

 What to place under a floor mattress?

A floor mattress can be directly on a solid surface or a carpet. As the mattress warms, there is a possibility of moisture buildup if the floor is especially cold. If you're on concrete or a solid wood floor, consider investing in a foldable cot frame to allow your mattress to breathe.

What is the healthiest sleeping position?

Experts recommend that sleeping on your back is the healthiest position. However, if you are prone to snoring, you may need to experiment with pillows to get the best head elevation. Your partner will let you know what pillows aren't working. Most people sleep on their side, which can be healthy if you keep your spine carefully aligned. Experts do not recommend sleeping on your tummy because you have to twist your neck to breathe.
Sleepy Yet?
Reading about mattresses may have put you in need of a nap. If you're ready to invest in a great floor mattress that will help you rest fully in comfort, whether in your guest room or in your studio apartment, we recommend you invest in the Milliard Tri Folding Memory Foam Mattress. You will be able to enjoy plenty of support thanks to the firm layer, flexibility thanks to the memory foam layer on top, and warmth thanks to the yummy bamboo cover. This cover can be easily removed for washing when needed as well.
Milliard Tri-Folding Memory Foam Mattress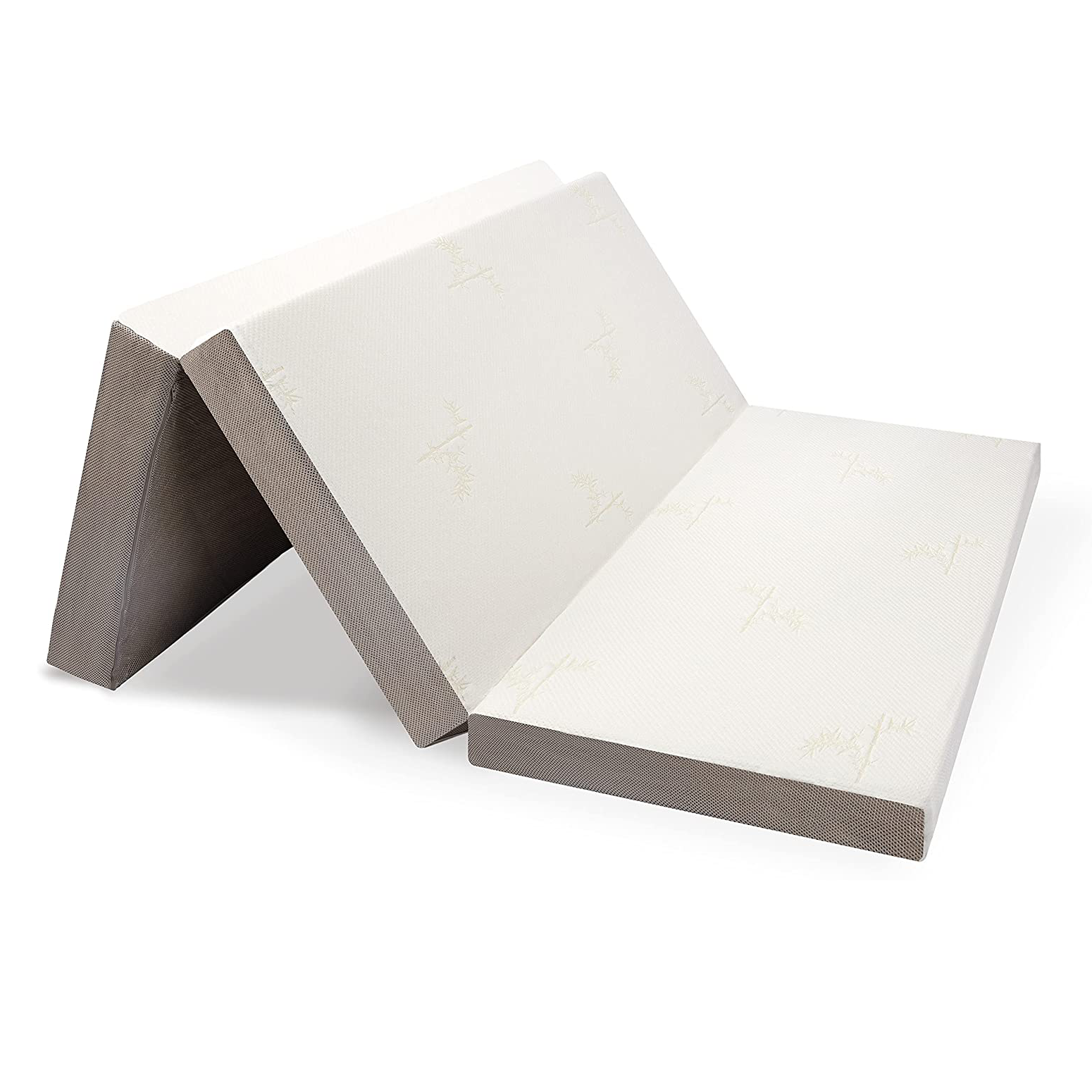 A floor mattress can be an excellent sleeping tool and a wonderful spot to lounge. You don't need to feel like you're camping when you live on a floor mattress. This mattress is only 28 pounds, will easily pack into your car for your next moving adventure, and will hold up for years to come. If you plan to travel with this mattress, you can add a waterproof cover for your Milliard. You can also get a carrying case for this wonderfully comfortable bed.