Your mattress can have a huge impact on the quality of your sleep. Mattress material make-up, density, and firmness can all help you feel rested or wake up feeling battered. The size of your mattress can also impact your sleep.
Your height, weight, and the sleeping partners who need to share the bed with you will all impact the size of the mattress you need.
Mattress Sizes and Dimensions Chart
From largest to smallest, the mattress sizes listed in this chart can give you a good start on what mattress dimensions will work best for you.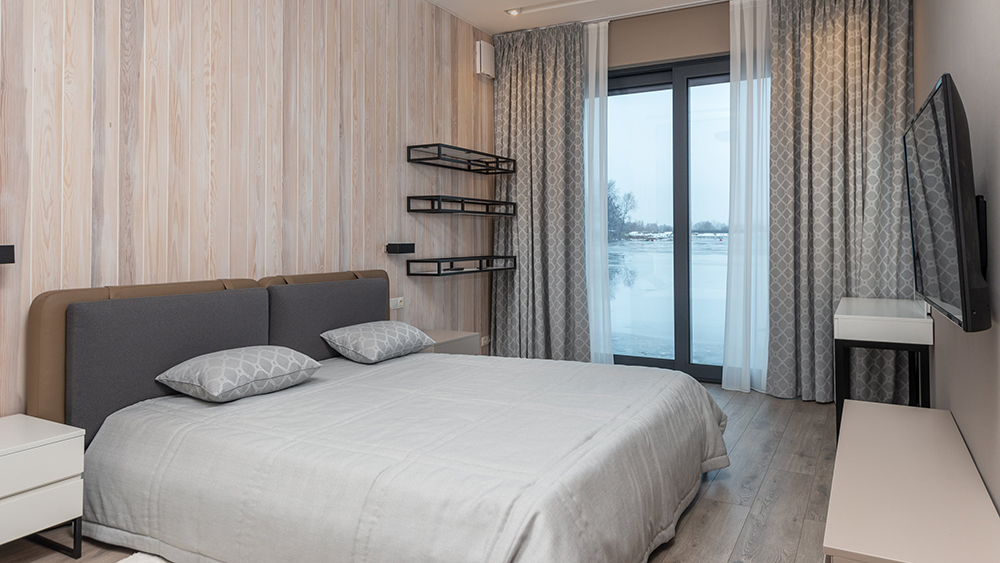 Mattress Sizes One-By-One
Studying the bed size chart above can give you a good start on determining the best bed size for you and your household. The square footage of your bedroom will matter a great deal when determining the best bed sizes throughout your home. Additionally, it's a good idea to consider under-bed storage. The bigger the bed, the harder it will be to get under it if you plan to store bins or drawers under the bed.
From largest to smallest, the biggest bed size in square inches is the King-sized mattress. If you're a bit taller, the California King may be more comfortable. It's 4 inches narrower, but 4 inches longer. Your bed dimensions will have a huge impact on your comfort and sleeping security if you are tall or a restless sleeper. Waking up on the edge will be extremely unsettling, and bumping your feet against the footboard or feeling them dangling will be equally troubling.
California King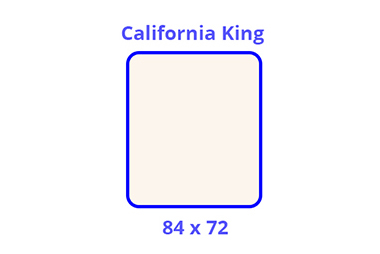 | | |
| --- | --- |
| Mattress Size, inches | 72 X 84 |
| Mattress Size, cm | 183 X 213.5 |
| Recommended Room Size | 12 feet by 12 feet |
For those over six feet tall, this size can be quite comforting. It is a bit narrower than a standard king-sized bed. The California King got the name from designers who thought that homes in California would have room for a 6 foot by 7-foot bed. Early on, they were mostly owned by famous athletes and movie stars, but now anyone can get a California King as long as they have a large enough bedroom. It's important to put your California King in a big enough space that you have at least 3 feet of clearance all the way around the bed, or at least down the sides if you want to access the under-bed space for storage. Two three-foot-long bins will fit back to back, but if you can only pull them out two feet, your storage options will not be effective.
Pros
Plenty of room for your clan, especially if you're tall.
Cons
Again, your bedroom will need to be at least 12 feet by 12 feet.
Bedding may be more expensive, and getting storage bins to fit effectively may be a challenge.
Long bins won't pull all the way out unless you have even more square footage.
---
King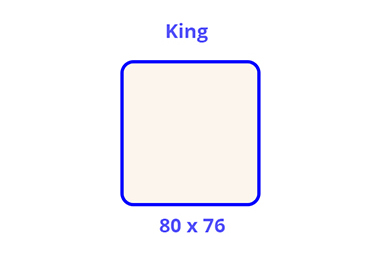 | | |
| --- | --- |
| Mattress Size, inches | 76 X 80 |
| Mattress Size, cm | 193 X 203.5 |
| Recommended Room Size | 12 feet by 12 feet |
If you and your partner like a bit more personal space and you have the space in your bedroom for this much real estate, a king-sized bed is quite comfortable. Do be aware that King bed sizes often need extra support down the middle. If your mattress is foam and on a flat platform, make sure you also have a way to reduce moisture buildup between the mattress and the platform.
Pros
Lots of room for you, your partner, and your pets.
Cons
You will need a bedroom that is at least 12 feet by 12 feet, and even if you have that, your options for additional furniture will be limited.
---
Olympic Queen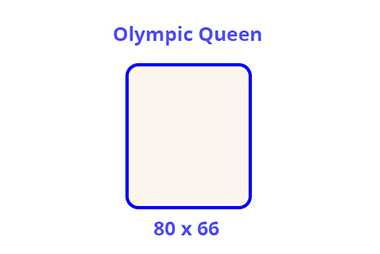 | | |
| --- | --- |
| Mattress Size, inches | 66 X 80 |
| Mattress Size, cm | 167 X 203.5 |
| Recommended Room Size | 10 feet by 10 feet |
If your bedroom can't support the full footprint of a king-sized bed but you need more space than a standard queen, the Olympic queen at 66 inches wide by 80 inches long is a terrific choice. Like any new mattress size, getting fitted sheets to fit can be a challenge. However, while these bed sizes don't require that much more floor space, the extra six inches of width can end the battle for elbow room between a loving couple. When you're ready for more blankets, go ahead and invest in either King-sized blankets or, if blanket theft is a point of contention, go ahead and get two Queen-sized blankets so you can enjoy your favorite weight and fabric with no tussling.
Pros
If you really need a King to keep the peace between you and your partner but you just don't have the room, an Olympic Queen can be a terrific choice.
Cons
This new size means the bedding may be more expensive. However, those extra six inches of width can be quite nice.
---
Queen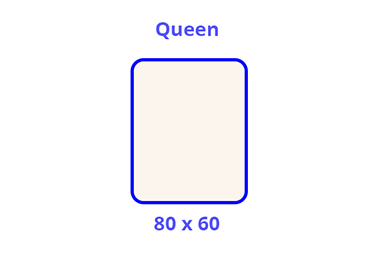 | | |
| --- | --- |
| Mattress Size, inches | 60 X 80 |
| Mattress Size, cm | 152 X 203.5 |
| Recommended Room Size | 10 feet by 10 feet |
This is an ideal bed for couples who like more closeness or for a single person sleeping with pets. Queens have long been the most popular mattress. It's an upgrade from the Full, which used to be the most common of the mattress sizes. If you need a box spring, make sure you measure carefully before purchasing. If your staircase has a turn, a queen-sized box spring may not fit up the stairs. Like a King, you may need center support and a foam mattress may need a mesh base or webbed bottom to prevent moisture build-up.
Pros
This is a nice size for couples and loads of room for a single. Because this is the most popular bed size, the bedding is readily available.
Cons
If your home or bedroom is small, this bed can still be tough to make. The box springs may not fit through a standard stairwell.
---
Full XL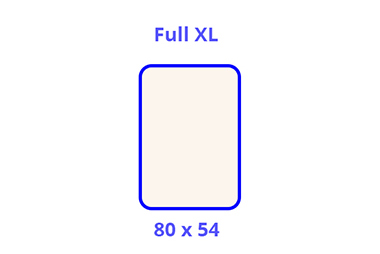 | | |
| --- | --- |
| Mattress Size, inches | 54 X 80 |
| Mattress Size, cm | 137 X 203.5 |
| Recommended Room Size | 9 feet 6 inches by 10 feet 6 inches |
A full XL is a great choice for a taller single sleeper at 54 inches wide and 80 inches long. If you need more room, particularly if you sleep with pets, but don't have a lot of square footage in your bedroom, the full XL can be an ideal choice. While the bedding for a Full XL may be more costly at the beginning, this size is becoming more popular and availability is growing. For a tall single sleeper who needs a bed they can push against the wall and still easily makeup, the Full XL is an excellent choice.
Pros
If your sprout just keeps sprouting, the full XL is a terrific option for taller folks. You can get a more plush and comfortable mattress than would be available in a twin.
Cons
New bed size so the bedding may be more expensive. Frame options may be quite limited.
---
Full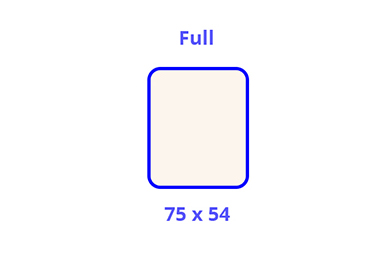 | | |
| --- | --- |
| Mattress Size, inches | 54 X 75 |
| Mattress Size, cm | 134.5 X 190.5 |
| Recommended Room Size | 9 feet 6 inches by 10 feet 6 inches |
If you're under six feet tall and a single sleeper, or a smaller couple who enjoys closeness, the standard full mattress is a great choice. This mattress size is quite popular, so if you need to look for a used frame, headboard or footboard, your selection will be much larger. Many smaller homes were sized for a full-sized bed in the bedroom, so if you live in an older home and want a bed that doesn't take up the whole room, you can easily find a full-sized bed that offers plenty of comfort without requiring a lot of real estate.
Pros
This used to be the most popular mattress size, so frames, headboards and footboards are available all over the place.
Cons
This bed may be too small for a couple or a single with a menagerie of pets.
---
Twin XL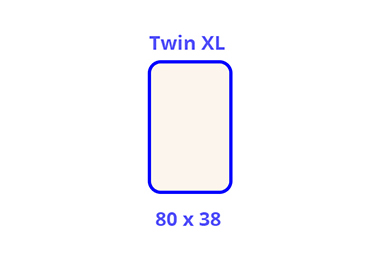 | | |
| --- | --- |
| Mattress Size, inches | 38 X 80 |
| Mattress Size, cm | 96.5 X 203.5 |
| Recommended Room Size | 9 feet 6 inches by 10 feet 6 inches |
The twin XL is a terrific choice for children and for taller adults who don't mind a narrow sleeping space. This mattress is 38 inches wide and 80 inches long. You may need an adjustable frame to make this mattress work. Your twin XL will also be lightweight enough that you can move it to the floor for exercise. You can get a tri-fold twin XL that you can stash in the closet for overnight guests as well. The twin XL has long been a dormitory staple, so bedding options are easily available.
Pros
Tall single sleepers with a small home will love this mattress.
If you're handy, you can DIY yourself a Captain's bed with the right storage drawer units.
Cons
Restless sleepers may wake up on the edge.
Transitioning down to a twin can be especially challenging.
---
Twin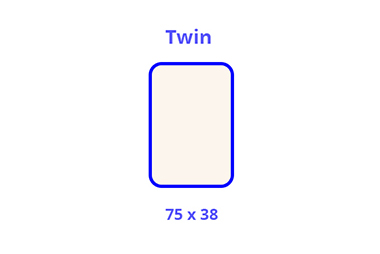 | | |
| --- | --- |
| Mattress Size, inches | 38 X 75 |
| Mattress Size, cm | 96.5 X 188.0 |
| Recommended Room Size | 7 feet by 10 feet |
A standard twin is 75 inches long and 38 inches wide. For most children and shorter adults, this bed is an ideal choice. This size can function well as a daybed, on a trundle or even as a couch stand-in with the right base. You can also get great quality tri-fold mattresses for a twin bed, so you can use this bed as a floor mattress, a chair, or a lounge spot. While twin mattresses are a bit more basic and not always available with all the cushion and padding options, updating your twin with an add-on feature is quite simple. If you're a solo sleeper in a small space, a twin is an easy choice to start.
Pros
A standard twin mattress can be a great transition bed for a growing child.
If you get a foldable mattress, you can easily turn this into a floor mat for exercise when your child moves to a full-sized bed.
Cons
It can be hard to get a twin bed with plenty of cushions, a pillow top, or other plush features.
If you need your innerspring, you may need a bigger mattress.
---
Small Single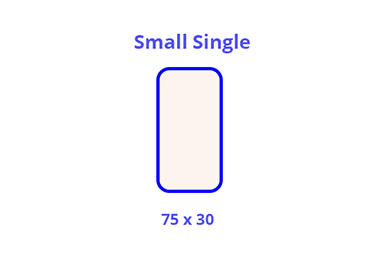 | | |
| --- | --- |
| Mattress Size, inches | 30 X 75 |
| Mattress Size, cm | 76.2 X 190.5 |
| Recommended Room Size | 7 feet by 10 feet |
A small single is a standard size for a child's bed. If your child wants a car bed or a themed child's bed, this is probably the mattress you will need to keep your child comfortable. As a general rule, the mattress that comes with a themed child's bed will not be the highest quality, so if your child needs a bit more cushion and plumpness, such as if they're a side sleeper, updating the mattress is a wonderful addition to a very special bed!
Pros
The small single is ideally suited to themed kid's beds.
Once your child outgrows the car, the train or the princess bed, this can become a play mat or a workout mat.
Cons
Because these fit into themed beds, the mattress and the bedding can be pricey.
---
Crib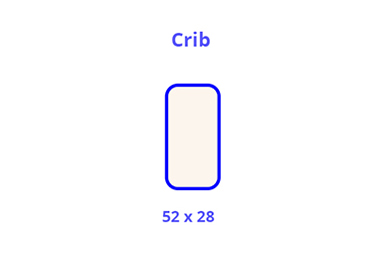 | | |
| --- | --- |
| Mattress Size, inches | 27.25 X 51 |
| Mattress Size, cm | 69.2 X 129.5 |
At the smallest end of the bed sizes chart, the crib mattress offers plenty of comfort for an infant or toddler. It's just under 28 inches wide and just over 51 inches long. Most crib mattresses are quite firm and waterproof. Too much bedding and softness can be risky to your baby, so a firm mattress is a terrific choice. Modern crib mattresses are also available in a moisture-resistant foam that still breathes, which reduces the heat that can build up on a vinyl-topped mattress. The older vinyl mattresses also had a bit of a crackle when the baby moved, which could waken a light sleeper. Crib mattresses are surprisingly heavy, so try not to get one that fits too tight inside the crib as changing the sheets can be tough when things get wet or messy.
Pros
If you have a crib, your crib mattress sizes and densities are standardized enough that you shouldn't have to do a lot of shopping or measuring for the right fit.
Cons
Crib mattresses are dense, rather hard, and waterproof. When you're ready to get rid of the crib, you may need to toss the mattress.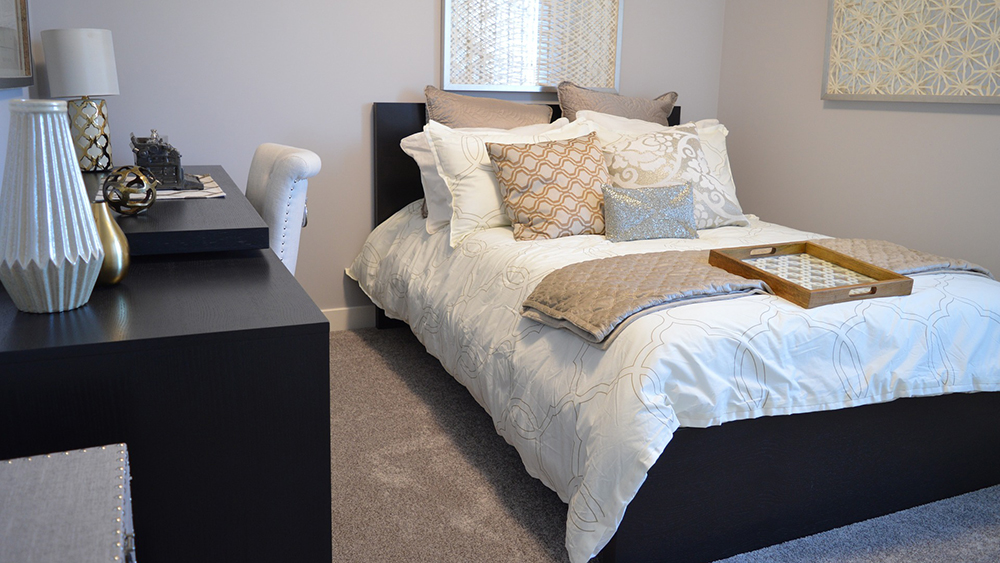 How to Choose a Mattress Size
Bed sizes are extremely personal, as are mattress materials, densities, and accessories.
Your Height and Size
To make sure that you can sleep without any disruptions or challenges from your mattress choice, make sure you lay down on the mattress with your shoes off and stretch your legs out so that you can confirm your feet won't hang off. Bumping your feet all night will lead to very poor quality sleep.
Bedroom Size
Bedroom size is very important for you to feel comfy and cozy. In general, you should have at least 24 inches of space around each side of your mattress. Otherwise, the bedroom will be somewhat uncomfortable to be in.
Storage
Additionally, the real estate under a bed may be needed for storage, so the clearance under the bed is critically important. If you're short in the leg and need a thick mattress, you may need a step down if you want storage under the bed.
Sleeping Partners
How many in your household will use this bed regularly? If you are a single sleeper under 6 feet tall with no pets, a twin mattress may be all you need. If you, your partner, the dog, the cat, and two children all need to sleep comfortably in this bed, the smallest mattress to consider is probably a king. Additionally, you may want to consider supplementary bedding, such as a moisture barrier, to cut down on the risk of mattress damage when sleeping with small children or pets.
Sleeping Comfort
Those who sleep on their sides tend to need a bit more real estate on the mattress and more pillows. A back sleeper may be able to get away with a wedge pillow, and a tummy sleeper may not want a pillow at all, though they will need more legroom than a side sleeper. If you are downsizing mattress sizes because your household is getting smaller, you may want to try a floor mattress for a time. Changes to your sleeping space can lead to restlessness. Going from a Queen to a Twin may seem simple, but having the mattress on the floor lessens the risk of injury if you fall out while adjusting to the smaller bed.
Price and Value
A new mattress can be very costly and can range anywhere from $200 to and over $2,000. Although it's not a good idea to cut your costs to save money, it's still an important factor to consider. When choosing a mattress, do not forget the cost of accessories such as blankets, pillows, and bed frames, for the larger mattresses the costs can really add up.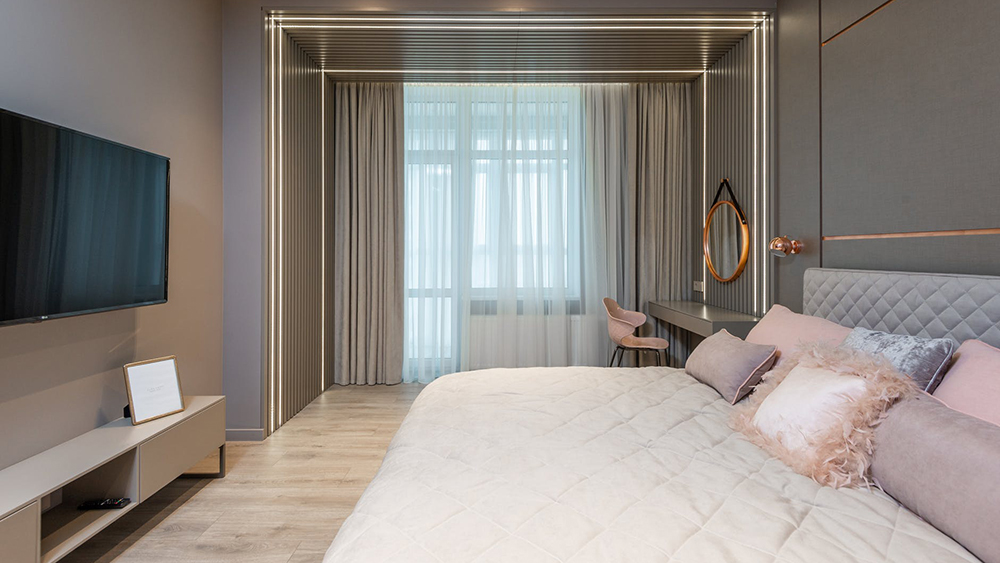 FAQ
Which mattress size is best?

That depends on the size of your body and your bedroom. If your home is a studio apartment, a smaller bed with lots of storage may be the best. If you have a large bedroom and love lots of room for a single sleeper, a queen could be a great choice.

Is Double bed same as full?

Yes, a double and full mattress are both 54 inches wide and 75 inches long.

Is the California king bigger than the king?

The California is longer but narrower. They're within 40 square inches of the same size, but the standard King is just a bit bigger.

Is Queen bigger than King?

Mattress sizes are like playing cards. King is bigger than the Queen.

Is a full size mattress big enough for 2 people?

As noted above, mattress sizes are extremely personal. If the people are not very big and they appreciate closeness, it could work. One restless sleeper could make this pretty uncomfortable, however.

What size bed should I get for my room?

You really need two to three feet of room around the perimeter of your bed, especially if you want to store anything under the bed. If your space is very small, pushing the bed against the wall can work, but don't go too wide with the mattress or making the bed will be extremely difficult.

How thick should a mattress be?

Curiously, mattress sizes with regard to thickness don't necessarily serve as a good indicator of plushness or comfort. If you like a firm mattress, a 4 inch mattress may be enough. If you need more cushion, go for at least 8 inches.

What is the difference between a twin and a single mattress?

A twin and a single are the same size, 38 inches by 75 inches.

How high should a mattress be?

That depends on your comfort level. An elevated mattress with a canopy can give you the design features you want and plenty of storage. However, an overly tall bed without enough room around the bed can be very hard to make up every day.

What is the most common mattress size?

Queen mattresses are most common now. Full mattresses used to be more common. As mattress sizes grow bigger, access to used frames and bedroom sets will get much easier.

What size is king bed?

A King sized bed is 76 inches by 80 inches.

What size is a standard double mattress?

A double bed is the same as a full sized mattress, 54 inches by 75 inches. These mattress sizes can be ideal for a single sleeper.

What's the most popular mattress size?

Queens are the most popular at this time. Queens are also quite easy to find in a foldable mattress, which can double as sofa on the right frame.

What's the biggest size bed you can get?

The hugest bed you can buy is the Alaskan King, which is 9 feet by 9 feet. If your house is enormous and you're over 7 feet, it can be a great investment. For those closer to the average range, both in human and in home sizes, King and California King are the biggest. By the square inch, a standard King is biggest at 6,080 square inch. The California King is longer, but only 6,048 square inches. Your height will determine the best option for you.

What size bed do most couples have?

The most popular bed at the moment is the queen. Because a King takes up so much real estate in your bedroom, unless your sleeping space is quite large, you may find that you and your sleeping partner do quite well on a Queen.
Final Thoughts
Everyone has the ideal bed size, whether for themselves or for the whole population that will be sharing the bed. If you are considering up-sizing your bed, make sure you think about what you want to put under the bed, how much you want to spend on bedding, and how much of a workout you want when changing the sheets.