Do your family members like to surprise you with overnight visits? Got kids whose friends seem to just live at your house? Need something to sleep on when your partner's snoring gets too intense? Just want something comfy to sleep on when you go camping in your tent? Consider investing in an air mattress – they're just that versatile.
Not only are air mattresses handy, but you can set these mattresses up and take them down quickly. Storing them only requires a little bit of space on a shelf. Surprisingly enough, they are comfortable enough to achieve a good night's rest, and you can even find a queen air mattress with separate pumps for you and your significant other.
But which inflatable mattress should you get? Is one pump air mattress better than the others? And just which type of pump system is ideal? Read on to learn all that and more in this review of the 10 best air mattress models on the market right now.
Best Airbed Mattresses Reviews
My top pick for the best air mattress is the SoundAsleep Dream Series Air Mattress. This mattress is available as a twin air mattress all the way up to a king. It has a firm feel to it, and it comes with a one-year warranty for your peace of mind.

Inside, you get Comfortcoil technology that adds support and comfort for a better night's rest. The exterior features a multi-layer 15-gauge puncture-resistant material design aimed at keeping your mattress safe from accidental pokes. Also, the flocked top is waterproof so that nothing will seep down into the mattress' inner chambers.

The sure-grip bottom is designed to keep the mattress from sliding around while it is in use. SoundAsleep's patented EZ Pump has a one-click toggle that lets you inflate and deflate without making too much noise. It only takes 4 minutes to inflate or deflate this mattress.

Some customers have reported deflation after inflating and laying on the mattress for a few hours. It is also more expensive than many other air mattresses out there.


Pros
Has a good amount of height to it
Remains firm over use
Stays secure in place
Pump runs quietly
Cons
More expensive than some models
Might have issues with deflation
SoundAsleep Dream Series Air Mattress
EZ Pump
Sure-Grip bottom
Inner ComfortCoil technology
Another solid choice is the Intex Raised Downy. This queen air mattress is raised 22 inches off of the floor for a good sleeping height, allowing you to get in and out without much effort. This air mattress with built in pump is high powered so that it only takes about 4-5 minutes to get the mattress fully inflated or deflated.

The flocking that covers this mattress is dense and waterproof. You can use it at home for overnight guests or take it camping with you if you have a large enough tent. Its dual chamber design means two people can comfortably sleep on it and adjust the lower chamber to get the extra firmness necessary for a co-sleeper. The upper chamber, meanwhile, acts as the mattress itself. In other words, this mattress functions much like a traditional mattress-and-box-spring bed set-up.

The downside? There is absolutely no warranty on this product. If something happens, you cannot get the mattress replaced. Users also report a "beachball" effect - a chamber becoming defective, causing air to get pushed upward, forming a circular bubble in the top of the mattress.
Pros
Large enough for two average-sized adults
Base creates enough support
Durable, waterproof flocking
Cons
Might experience the "beachball" effect
No warranty coverage
Intex Raised Downy
Dual chamber design
High-powered pump
Thick waterproof flocking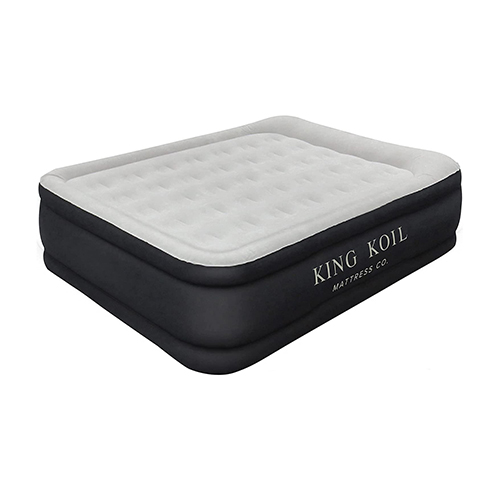 Most air mattresses are not meant for daily use, but the one that manages to do it the best is the King Koil Air Mattress. The King Koil can be ordered in three different heights: 13, 16, or 20 inches. It can also be ordered as a Twin, Queen, or California King size.

The soft flock layering on top is protective, and if something should go wrong, the mattress is covered by a 1-year warranty. But the waterproof top is thick enough to withstand most punctures. It also offers addition spinal support, and the built-in pump has separate inflation and deflation knobs to make for quick inflation or deflation. It only takes about 2 minutes to inflate or deflate the King Koil.

Some buyers have reported leaks within the first few nights of use. Even after multiple replacements within the 1-year warranty period, a few buyers have been left without a mattress that stays inflated. However, these customers note that service reps were professional and quick to respond.
Pros
Comes in three different sizes
You can choose from three heights
Has built-in spinal support
Excellent customer service
Cons
Might deflate quickly
Tears tend to open up on the mattress top around the seams
King Koil Air Mattress
Separate inflation and deflation controls
2-minute fill-up/deflate time
Soft flocked top
Buying on a budget? Yeah, I've been there too. Trying to find a great air mattress for a lower cost isn't easy. But the Intex Pillow Dura-Beam Series Rest Raised Airbed blends functionality with affordability quite effectively. It comes as a Twin or Queen and has two different styles to choose from. The Queen air mattress can hold up to 600 pounds, making it ideal for couples or a few kids to sleep on. Just take note that these mattresses tend to run wider than advertised, so plan your space accordingly.

At the head of the mattress is a built-in pillow for extra neck comfort and support. The flocking is smooth and velvety, offering a comfortable surface to sleep on. The internal electric pump makes for rapid inflation, but there is also a manual one that you can use - it obviously just takes longer.

If you're over 5'10", the mattress might be too short for you. For someone who is about 5'6", it isn't much of a problem. But taller folks' toes will be dangling off the end. Also, a few buyers have had this mattress randomly pop on them while laying on it.
Pros
Affordably priced
Has a built-in pillow
Soft flocked top
Electric and manual pumps included
Cons
Too short for people under 5'10"
Sizes wider than advertised
Intex Pillow Dura-Beam Series Rest Raised Airbed
Electric pump
Manual pump to use as needed
Soft flocked top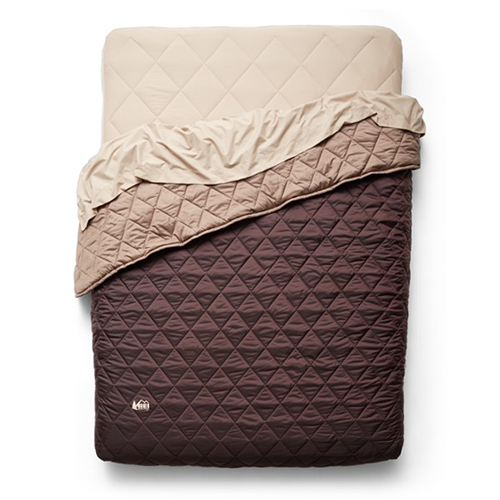 A mattress that constantly deflates will make you one unhappy camper. For those who are avid campers, I recommend the REI Co-op Kingdom Insulated Sleep System. While it is more expensive than the average air mattress, this blow up mattress is designed to keep you warm on those cooler nights. It has a 3.6 R-value for comfort down to 40 degrees Fahrenheit and has a quilted mattress cover to that fits atop the air bed, giving it a plush, softly padded layer to sleep on.

If you prefer to use the manual pump, one is equipped. The mattress weighs just over 15 pounds, so it is relatively easy to pack into its carrying back and take with you to your camping spot. But it is a little bulkier than some air mattresses when folded up in its bag.

Just take note: Some buyers have had to bring extra blankets because the mattress didn't insulate and warm them well enough when nightly temperatures were around 50 degrees Fahrenheit. You might want to pack a thermal sleeping back just in case. A higher R-value might be better suited for those conditions.

Additionally, if you end up being unable to use this bed, it is narrower than the standard size, so its bedding won't fit a standard Queen mattress.
Pros
Can go for about two weeks without re-inflation
Keeps most people warm enough at night in moderate climates
Comfortable bedding
Keeps movements isolated
Cons
Might not keep you warm enough in cooler climates
Bedding won't fit a standard Queen
REI Co-op Kingdom Insulated Sleep System
3.6-R value
Manual pump
Quilted cover
Coleman is known for their outdoor gear, but their SupportRest Elite air mattress is one that works quite well indoors. Coming in at 20 inches, its height makes it so that you can easily get in and out without stress on your joints. This air mattress is ideal for guests since its support lock reinforced construction creates a strong and stable surface to lay on.

Pump it up with the integrated 120V pump. This electric pump just needs to be plugged into an outlet, and it only takes a few minutes to inflate or deflate. If you need to use an extension cord with this mattress, you can. You will need a power inverter if you are camping in the woods, so bear that in mind. This mattress has thick material, but the top feels plush enough for comfort. Should something happen to the mattress, you have a full year of warranty coverage.

The downsides to this Coleman mattress? At 18 pounds, it is heavier than some air mattresses. Carrying it to a camp site that requires a hike is a bit of a chore. Also, this mattress can develop rips along the seams, which results in a deflated mattress.
Pros
Built to be sturdy and supportive
Top layer is soft
Works well indoors or for camping
Has a real bed feel
Cons
Needs a power inverter for outdoor use if no outlet is nearby
Gets rips at the seams
Coleman SupportRest Elite
120V electric pump
Rapid inflation
Support lock reinforced design
Just because you're living on the go doesn't mean you can't sleep in comfort. The FBSPORT Travel Inflatable Mattress is designed to fit the traveler's lifestyle. You can actually inflate it and pop this thing into the back seat of your vehicle or fold the rear seat down and put it in the cargo area. Versatile? Check. Comfortable? Check. Affordable? Double-check. It is one of the most budget-friendly options, which is ideal for folks hitting the open road for a few weeks.

This mattress includes an air pump, and it only takes a minute to inflate. The pump just plugs into your vehicle's standard 12V DC outlet, and the cord is long enough to reach back into your cargo area. The head of the mattress can be raised up to act as a pillow, supporting you as you read or use your laptop in bed. It is also a fantastic dog bed that can withstand doggo claws.

Some people have found that the pump breaks down after just a few uses. There are also reports of leaks springing within a week or two of ownership. Also, the material is made from polyvinyl chloride (PVC), which is far from being eco-friendly. When disposed of in the environment, its high chlorine content can form toxic pollution in the form of dioxins, which are harmful to animals.
Pros
Quick to inflate
Easy to set up in your vehicle
Can be inflated inside a vehicle
Adjustable head/backrest
Cons
Made from PVC
Might rip along the seams
FBSPORT Travel Inflatable Mattress
12V charger
Ability to fit in your vehicle
1-minute inflation time
If you have a budget that allows for just under $200, the Serta Raised Air Mattress has one of the quietest pumps you'll find. Warning: A lot of pumps are loud. The primary pumps allows for quick inflation, taking the mattress to your desired comfort level - plush, medium, or firm. There is also a secondary pump known as the NeverFlat. It continuously monitors air pressure and quietly works to maintain it. This means you should not experience deflation overnight, which is clearly a common problem with air mattresses.

This bed does have a raised height of 20 inches, keeping high enough off of the ground for the average user. An inner coil system provides support for a more level sleeping surface. The flocked top is soft enough to sleep on too.

While this Serta air mattress comes with a two-year warranty (and the customer service is reportedly excellent), you might have to get at least one replacement within that time-frame. The mattress might separate from the pump within a year of occasional use, rendering it worthless. Also, if you order the Queen, it fits more like a Full air mattress instead, meaning that standard Queen bedding will be too big.
Pros
Feels supportive regardless of comfort level
Quick to inflate
NeverFlat air pump maintains air pressure
Has a two-year warranty
Cons
Pump might separate from the mattress after some use
Sized more like a Full air mattress
Serta Raised Air Mattress
Primary pump for quick inflation
Secondary NeverFlat pump
Coil system for support
Not everyone can sleep comfortably on a 20-inch air mattress. If you experience aching joints or lower back pain that makes it difficult to get out of bed, you might want to consider getting an air mattress with a bed frame. And that's why I recommend the Coleman Airbed Cot. On the Queen size, it can support up to 600 pounds, making it usable for couples or several children. The item weight put together is 41.9 pounds though, so it will take some muscle to move around.

That being said, this cot handles uneven ground pretty well. And, if you want, you can just put your sleeping bags down on the cot itself without the mattress. The frame and mattress both fold up and can be carried in the given carrying bag. One of the biggest advantages to this mattress is that Coleman designed it with a soft microfiber material that zippers open so that you cane slide the air mattress inside and then you zip it shut. Just adjust it to the firmness level you prefer.

Taller folks will find that their feet dangle off the end of the bed. If you're 5'11", your feet are wide out in the open. There is a center bar spanning the middle of the frame that you might feel while laying down. It can make some people feel uncomfortable.
Pros
Can hold two people on the Queen
Sits well on uneven ground
Good for temporary in-home use
Makes getting in and out of bed easier
Cons
Not long enough for people over 5'10"
Might have issues with deflation
Coleman Airbed Cot
Pull-out tray with a beverage holder
600-pounds weight capacity on the Queen air mattress
Uses four D-cell batteries to pump it up
I have another Intex suggestion for those who need an affordable airbed. The Intex Comfort Plush Elevated Dura-Beam Airbed is designed for in-home use and features a fiber-tech construction. Its integrated electric pump takes roughly 4-5 minutes to pump up, which is about average for a Queen air mattress.

This mattress is raised 22 inches above the floor, and those few extra inches can make a difference for those needing easier entry and exit. The indented sides are meant to keep your sheets from sliding off, and standard Queen size fitted sheets should fit well over this mattress. This mattress sizes in at 60W x 22H x 80L inches and has a 600-pound weight capacity, so it can fit a couple of adults.

Here are the downsides: It is incredibly difficult for some folks to fold back up. If you have arthritis or neuropathy in your hands, you might need some assistance. Leaks are a common problem for this mattress, but you do at least get one patch kit included with the mattress in case it springs a leak. If the inflation knob isn't locked in firmly to the right for filling, deflation will happen.
Pros
Affordably priced
Sits 22 inches above the floor
Can hold two adults
Standard Queen sheets will fit it
Cons
Hard to fold back up
Inflation knob must be locked into place to avoid deflation
Intex Comfort Plush Elevated Dura-Beam Airbed
Indented sides
22-inch height
Fiber-tech construction
What is an Air Mattress and Why Buy One?
You've just read about 10 different air mattresses and have a fair idea of what they can do. But let's explore their benefits and types in a little more depth.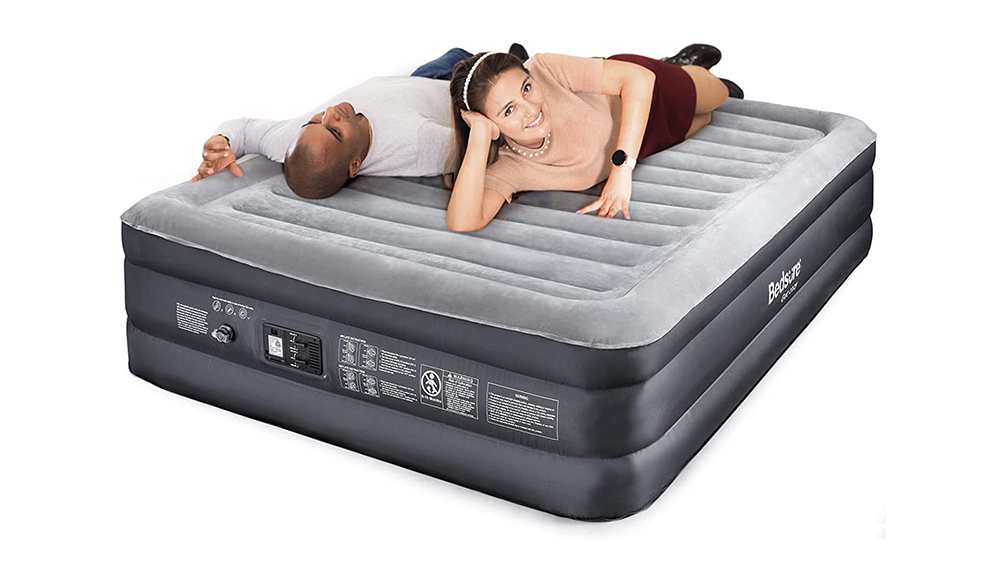 The Benefits of Buying One
No Mattress Sagging
Traditional mattresses often sag over time, whether it is a matter of months or years. Memory foam and spring mattresses alike share this problem. When an airbed starts to deflate, you simply pump more air into it. Aside from occasional overnight leakage, a rip along the seams could cause deflation. A patch can usually fix this problem though.
Adjust Harness
Firm or soften the airbed as much as you need. If you have guests over, show them how to use the adjustment knob or harness to inflate to their desired comfort level.
Sharing With a Co-sleeper
If you share a bed with a co-sleeper, you can get a dual chamber airbed that each of you can set to your desired comfort level. Maybe your lightweight partner likes things soft as a cloud but you prefer a firmer quality because you're a stomach sleeper. That's a major advantage with an air mattress.
No Off-gassing
Many mattress-in-a-box models let off some nasty chemical odors upon unboxing. Those that contain foam are made from chemicals that let out smells for hours – even days – after opening. Since most air mattresses are made from PVC, there shouldn't be any off-gassing.
Back Pain and Arthritis
Air mattresses aren't exactly orthopedic mattresses, and they certainly won't cure your sciatica or arthritis. But some users have found them to be helpful for a few nights away from their traditional mattress. Say your sciatica is flaring up and your firm traditional mattress feels too stiff. An air mattress can be adjusted for more plushness when you need it. Of course, they aren't recommended for long-term use, but in the interim, they can be helpful.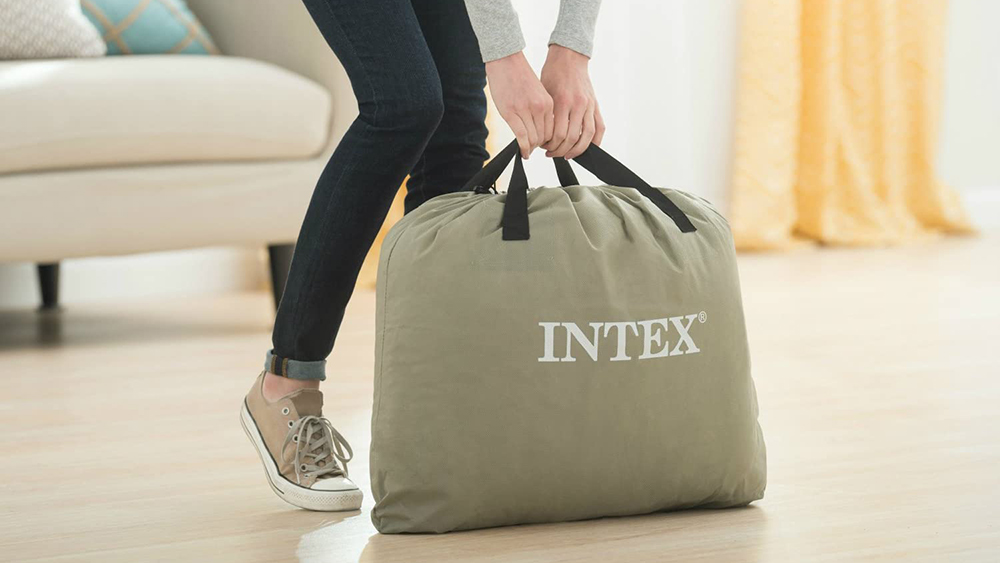 Rapid Inflation
In five minutes or less, your pump air mattress should be fully inflated. And unless you're using a manual pump, you won't be doing much work to inflate it. Simply plug it in and flip the switch. A Queen mattress takes about 4 minutes, and a Twin can fill up in as quickly as a minute.
Safe For Children and Adults
Children can safely sleep on an air mattress. There are no foul odors that kids can breathe in, and the PVC material is strong enough to hold up against some rugged use. There is no significant chance of injury if properly used,
Can Be Used Anywhere
Air mattresses are highly portable and are meant to be toted around for travel. Some are heavier than others, but a 20-25 pound air mattress – which will likely come in its own carrying bag – is compact and easy enough to take on a camping trip or just set up in your own home. Simply store them on a shelf in your closet when not in use.
Types of air mattress pumps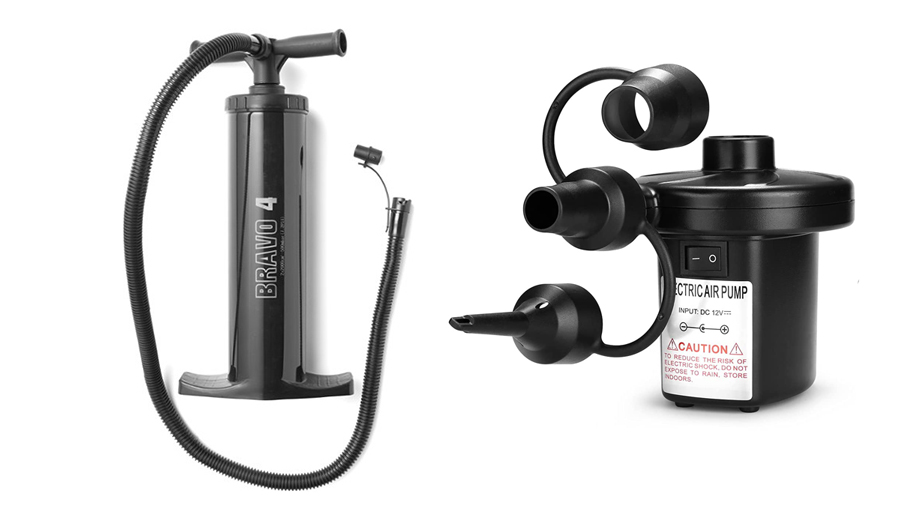 Manual Pumps
A manual pump is one that you operate using your hand or foot to fill up the air mattress. They are ideal for situations in which you cannot access a power outlet but are ultimately tiring and time-consuming to use.
Automatic Pumps
Automatic pumps are built-in electric pumps that inflate a mattress to your preferred firmness then shut themselves off when that firmness level is reached. They will monitor and periodically adjust to ensure the mattress stays at the intended firmness level.
Electric Pump
Electric pumps are the most common type you'll find on air mattresses. They use electricity after being plugged into a wall outlet or your running vehicle to inflate the mattress. These pumps are sometimes separate but are becoming more commonly built into the mattresses for easy use. You will have to re-inflate them yourself by flipping the switch on.
Things to Consider Before You Buy an Air Mattress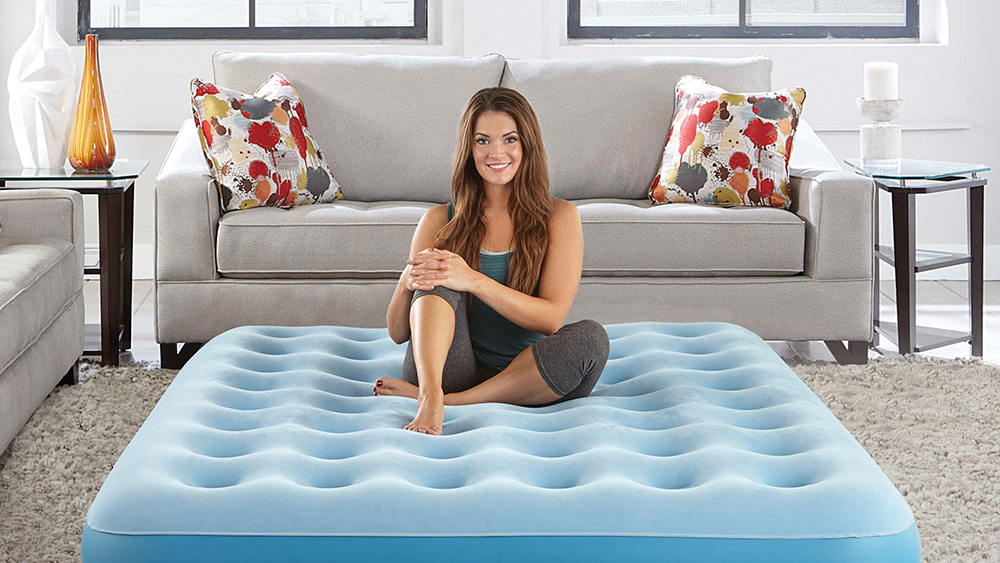 Surface Materials
A flocked top is typical for an air mattress. Soft and velvety, it sits atop the PVC puncture-resistant mattress material for comfort. But it is also sturdy. There can sometimes be a minor odor that comes with it, and allergy sufferers or those with chemical smell sensitivities might not respond to well to the scent.
Internal Reinforcement
Some air mattresses are designed with either fiber beams or coils for interior support. They lend stability and durability to the mattress. Take note of which type of support the mattress offers, but if none is listed, you should be concerned since you'll need that support.
Height
Some air mattresses sit low to the ground, but they aren't as supportive as those that sit 20 inches or higher above the ground. Taller mattresses feel more realistic and might prevent some leakage during overnight use.
Ease of Set-up
Air mattresses normally take little effort to set up. They're often lightweight and can fit in most tents and bedrooms. Unless you're using a manual pump, all you have to do is plug it in and flip a switch to get it inflated. However, you'll need to be able to access an outlet or 12V outlet in your vehicle. An extension cord might be required.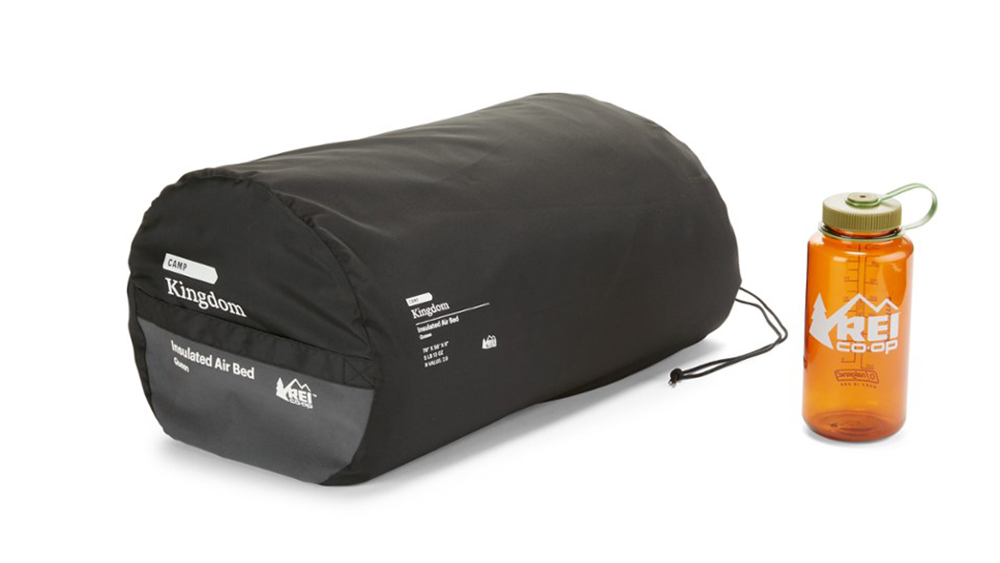 Bed Size
How big is your tent or bedroom you'll be placing the mattress in? They can range in size from Twin to California King, so you'll need to think about how much space you have and how many sleepers you need to accommodate.
The Cost
Twin size air mattresses are typically the most affordable, but you can find a Queen air mattress for under $200. You do often get what you pay for with air mattresses, so plan to pay a little more for better quality. Saving up for a higher quality air mattress can be worth it.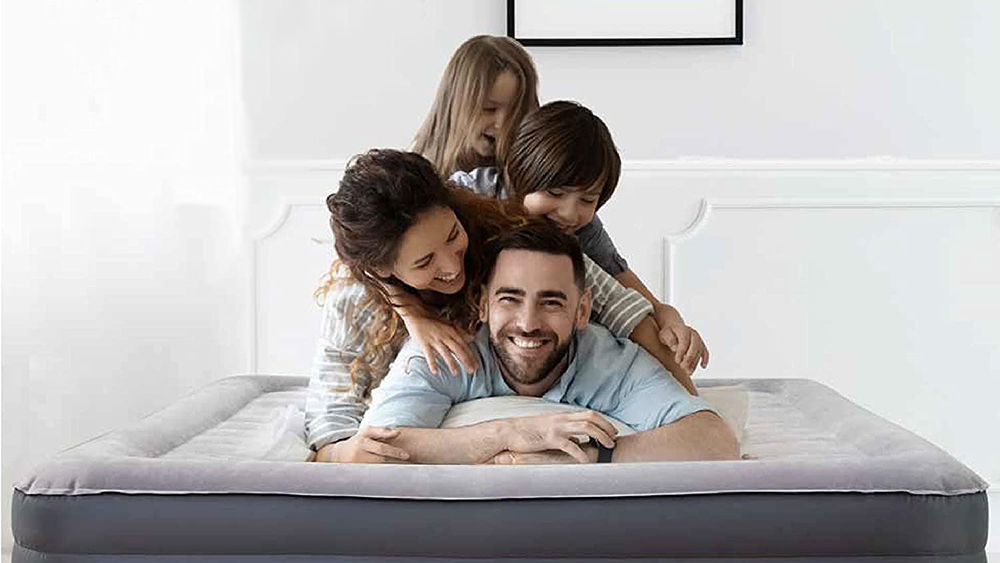 Benefits and Downsides
Things we like
Adjustable firmness
No mattress sagging
Some have two separate chambers
Help with back pain
No off-gassing
Great for travel and in-home use
Rapid inflation
Safe for children
The Not-so-likable
Puncture repairs can be expensive
Some require electrical outlets
Some do not come with warranty coverage
Care and maintenance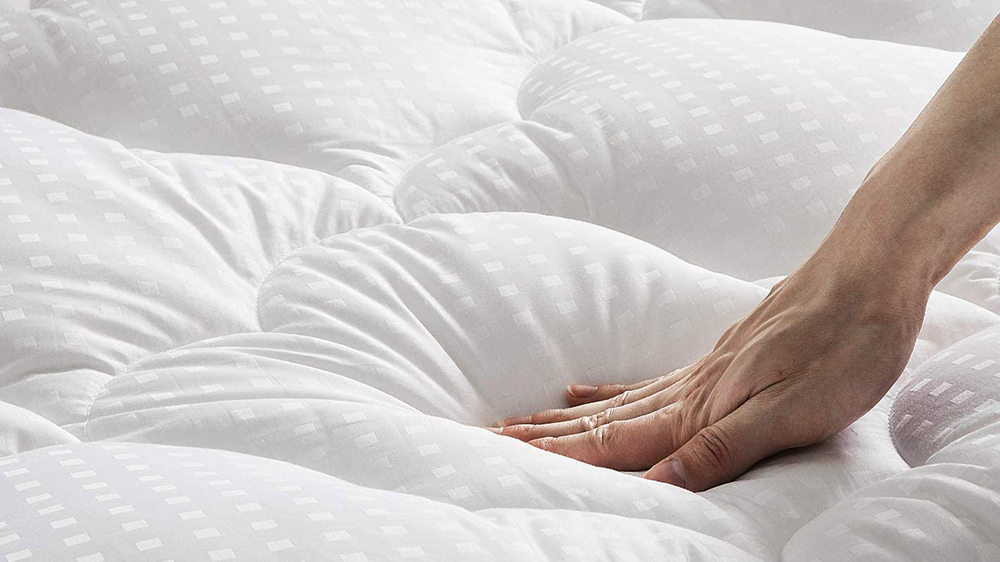 Stretch It Out
These mattresses need to be stretched out for at least 48 hours before use. You'll need to check on it and top it up on air somewhat frequently.
Avoid Fluctuating Temperatures
Avoid air fluctuations at night if you want to keep the air density. Cooler temps will cause the density to lessen overnight, which might make you think the mattress has sprung a leak.
Don't Use It Every Night
Air mattresses aren't meant for nightly use. They can last up to five years if you only gently use them for a week or so at a time. They aren't meant to be full-time replacements for traditional beds.
Add a Mattress Topper
A mattress topper can be helpful can offer extra comfort. It also helps insulate your body at night, letting you sleep warmer than the flocked top on the mattress will.
Cleaning Techniques
An air mattress can be cleaned using water and a mild soap solution. Then simply let it air-dry. Be sure to store your air mattress in the carrying/storage bag that comes with it since this can help keep it safe.
FAQ
How can I make it feel softer?

You can deflate the mattress until you get it to the firmness level of your preference. The fuller it is, the firmer it feels.

How much does an air mattress cost?

An air mattress costs anywhere between $40 and $300. The average cost is about $150. The costlier it is, the likelier it is to have better quality materials and warranty coverage.

How do I clean an airbed or air mattress?

Use a soap and lukewarm water solution to gently scrub it down before air-drying it.

How long does an air mattress last?

They can last for five years if properly cared for.

Why does my air mattress lose its hardness?

It can lose hardness over time due to temperature fluctuations or even leaks around the seams.

How do I keep my air mattress from deflating?

Keep it from fluctuating temperatures. Check for leaks periodically.

How do I fix an air mattress leak?

Air mattresses have repair kits that allow you to patch small leaks.

What is the best quality air mattress?

The best quality air mattress is one with an inner coil or beam design for support.

Are air mattresses good for your back?

They can sometimes help with back pain, but they aren't ideal for long-term pain relief use.

Does my warranty cover a hole in my air mattress?

It can cover some small holes that appear along the seams.

Can you sleep on an air mattress permanently?

You should not sleep permanently on an air mattress. They are best left for occasional use.

Can I recycle an air mattress?

You might have to take it to a recycling center. Due to the PVC material, you should not throw it in the trash.
Air Mattresses: Not Just a Bunch of Hot Air
Air mattresses can provide you with comfort on the go or accommodate guests in your home for a few nights. While not meant for permanent use, an air mattress can be helpful when you need one. Interior chambers can quickly be inflated using electronic or automatic pumps, and these mattresses are usually easy to tote around.
That's why the SoundAsleep Dream Series Air Mattress is our top air mattress pick. Its ComfortCoil technology provides ample support, and its lightweight design makes it easy to carry. Just remember that it needs proper care and storage or else leaks might develop. It stays in place well overnight though and is easy to operate with the aptly named EZ Pump equipped.
SoundAsleep Dream Series Air Mattress