If you're anything like me, you want the best – and most natural – night's sleep possible. But those stinky chemicals that can emanate from memory foam mattresses are hard to stomach.
Let's hone our focus on the benefits of getting a bamboo mattress. They're made from natural products and are not doused in harsh chemicals. No risk for heavy metals or toxins here! And, believe it or not, a bamboo bed is a better choice for the environment. Bamboo trees rapidly grow and can easily be replanted, making them ideal for us environmentally conscious folks.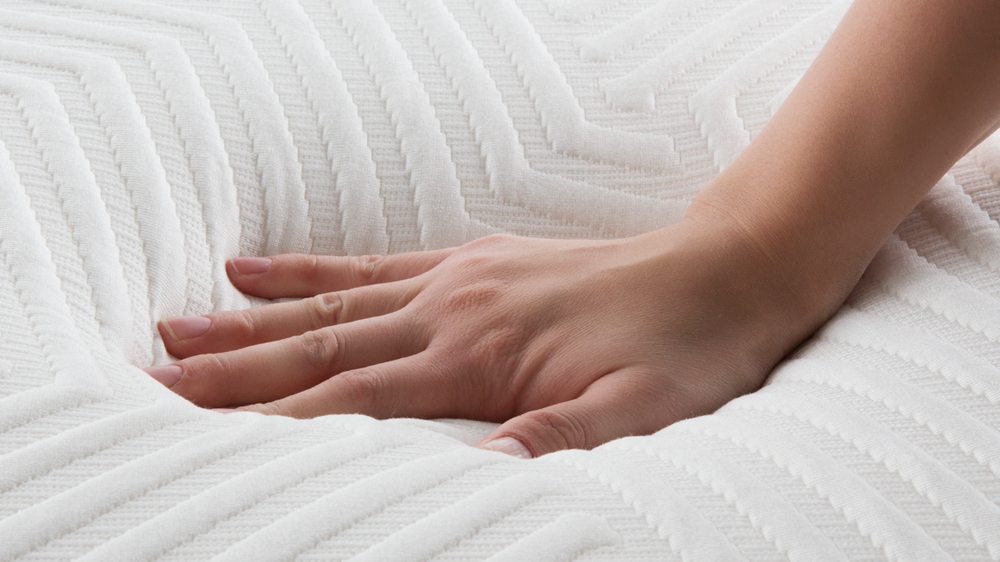 What is a bamboo mattress?
What exactly is a bamboo mattress? Well, it ain't all made out of sticks! There are essentially two types of bamboo beds, and either one can provide a cooler night's sleep without any chemical odors.
Mattress Types
Bamboo Mattress Topper Design
The first type of bamboo mattress is one that is designed with a bamboo topper. This takes your standard bed and places the bamboo mattress topper on top of it. You will find that most of these beds are made from memory foam, latex, a gel-infusion, or are a hybrid. Quite a few of them offer a medium-firm firmness feel.
Bamboo Fiber Comfort Layers Design
The other option is to get a mattress with bamboo fibers built into its comfort layers. This is considered to be a genuine bamboo mattress. Unlike the topper design, it will be more durable and have a plusher level of firmness.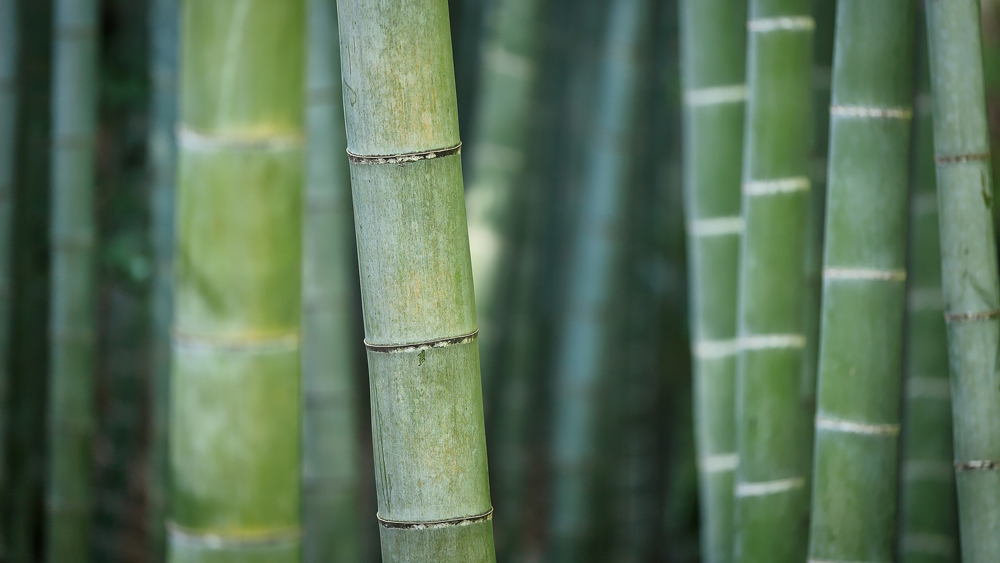 Why Buy a Bamboo Mattress?
So, why exactly should you buy a bamboo mattress? Is it going to be the best option for you? Let's explore reasons to buy a mattress made from bamboo.
Eco-friendly, Natural Materials
First and foremost, bamboo beds are eco-friendly options. Not only can you get a mattress made from it, but you can find a bamboo bed frame to go with it. No chemicals are required during the bamboo growing process, so these products are free from pesticides and other hazardous products. Given how quickly bamboo grows, it is a "green" option.
Safer For Sleeping
These mattresses are naturally resistant to mold, dust, and bacterial growth. Since you cannot just throw a mattress in the washer and dryer, you have to accept that dust and mildew will accumulate over time. On a standard mattress, this is a given. But on a mattress made from bamboo, any growth should happen at a much slower rate. And they do not accumulate dust mites at all, so you won't have to worry about crawling into bed with those each night.
Temperature Regulation
Bamboo is a highly breathable material, so it allows for enhanced air flow. This helps it draw heat away from your body as you sleep. If you tend to sleep hot, having a mattress with natural temperature regulation can help you sleep cooler and more soundly through the night. It can even absorb moisture, which means you won't wake up in a sweat. Placing some bamboo sheets over the bed can make you feel even cooler as you rest.
Hypoallergenic
If you experience a lot of random allergic reactions, a traditional mattress might not be helpful, as it allows for dust and mold build-up. Bamboo won't let that happen at such a quick rate of speed, and it doesn't emit any allergy-tingling chemical smells.
Bamboo Trees Grow Quickly
Bamboo trees are easy to plant and grow. They don't require much maintenance and grow more rapidly than other trees. This makes them more ideal for an environmentally-minded individual. Also, their durability impacts their sustainability.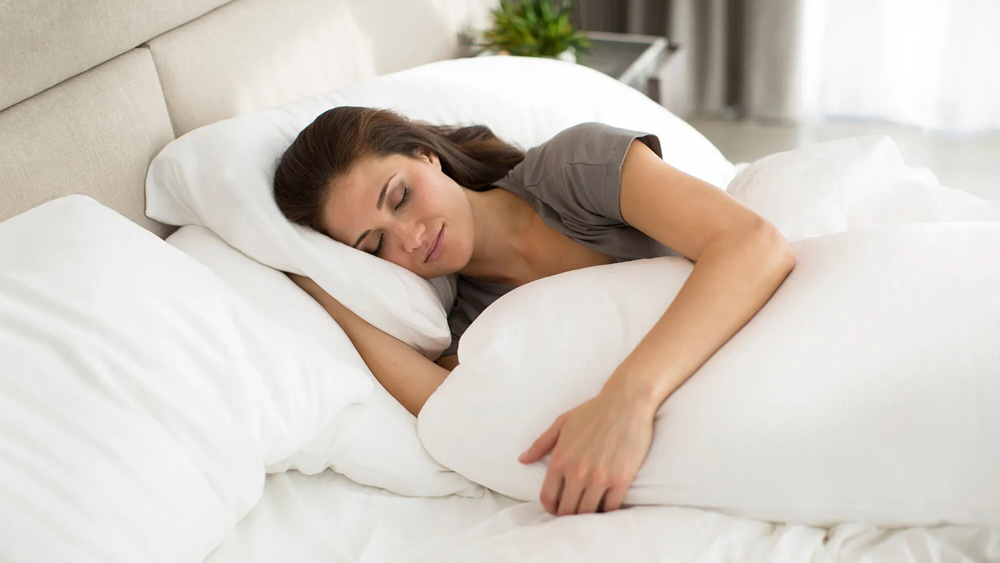 Best Bamboo Mattresses Reviews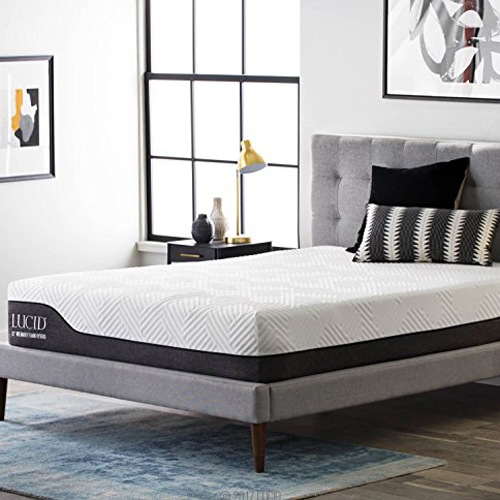 My absolute top pick for the best bamboo mattress is the LUCID Hybrid Mattress. This 12-inch thick bamboo queen mattress is both attractive to behold and downright comfy. Oh yeah, it is also relatively affordable as far as queen-size hybrid mattresses go. While you can spend more to get the matching adjustable base from LUCID, you can just as easily place it atop a platform bed. And, if you need to go down in thickness, there is a 10-inch option available. But the 12-inch should suit most buyers.

This hybrid mattress is made from memory foam that is infused with bamboo charcoal, which eliminates funky chemical odors and gently cradles your body as you sleep. There is also a high-quality transition foam layer that is infused with aloe vera for your daily dose of relaxing freshness. You also get 6 inches of edge support that keeps the edges from sagging downward.

Just a word of caution: A few buyers have reported seeing little specks of fiberglass floating everywhere if you unzip the cover. The company maintains that their mattresses all meet federal and state safety regulations for fire retardants including fiberglass.
Pros
Plenty of edge support
An enjoyably fresh scent
Blends comfort and support
Cons
Fiberglass might come out if you unzip the cover
Might not offer enough firmness
LUCID Hybrid Bamboo Mattress
6 inches of edge support
Layer of aloe vera infusion
Bamboo charcoal infusion
6.5-inch individually wrapped steel coils
Another hybrid bamboo mattress option is the Signature Sleep Hybrid Coil Mattress. This mattress has a thickness of 13 inches with an option available for going down to 10 inches if needed. In addition to a breathable knit cover, this mattress has a pillowtop layer for added comfort. Below that are four layers of high density foam that give all-around support. Inside are individually wrapped coils that reduce motion transfer and provide ample support.

Some buyers say that this mattress does not feel as conforming as other mattresses. Firmness can depend on things like your weight and preferred sleeping position. Since this mattress leans toward the firmer side, it might work better for stomach or back sleepers.

Long-term wear might be an issue, as it is for a few buyers. Also, if you need an extra firm mattress, this one might not quite meet your needs.
Pros
A comfy quilted pillowtop
Motion transfer reduction
Breathability and moisture reduction
Cons
Might not conform to the body enough for side sleepers
Customers have found loose stitching after unboxing
Signature Sleep Hybrid Coil Bamboo Mattress
Plush pillowtop layer
Independently encased coils
Moisture-absorbing rayon made from bamboo material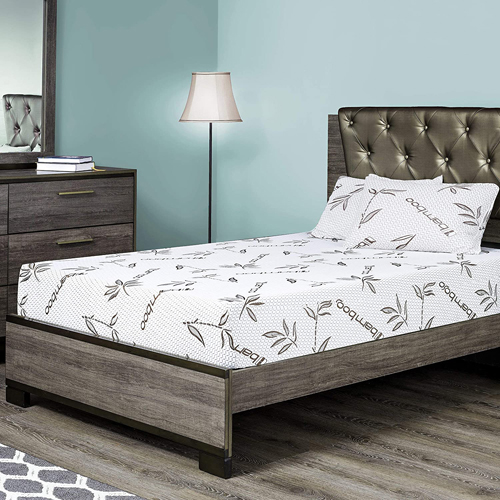 If you are interested in a 10-inch king-size mattress that has a bamboo cover, the Customize Bed Gel Mattress with Memory Foam and Bamboo Cover might prove appealing. It measures in at 76"L x 14"W x 14"T. Being on the thinner side, this mattress is good for folks who like fewer comfort layers and more firmness.

Body support on this mattress is firm enough for back sleepers while side sleepers still get some contouring to lock them in place. However, if you prefer to lay more flatly atop a mattress, you might not enjoy sinking deeply into this one.

This mattress is lightweight and therefore pretty easy to handle. You can easily lift it to place it above a box spring or on a platform bed. Unfortunately, the five-year warranty feels short compared to other warranties that are out there.
Pros
Well-regarded customer service
Size can be customized
Can be used in a RV or camper
Cons
Feels too cushy for memory foam
Might lead to hip and back pain
Customize Bed Gel Memory Foam Mattress with Bamboo Cover
Ultra lightweight foam
Gel infusion into the foam
10-inch thickness
Perhaps a mattress topper is your best option. After all, it is more affordable and means you won't have to replace your relatively new mattress. If this sounds like the solution for you, the LUCID 3 Inch Bamboo Charcoal Memory Foam Mattress Topper might be a good fit for your queen-size mattress. Its therapeutic memory foams works to eliminate pressure points and has enough spinal support to encourage a neutral spine position.

You get three inches of bamboo charcoal, so don't expect any funky smells. And this should help you sleep cooler during the night. The holes in the surface serve to enhance breathability, which is a nice bonus for naturally hot sleepers. The memory foam has a gentle contouring feel to snugly hug your body, making this ideal for side sleepers but still supportive enough for others.

Note that a few buyers have reported their mattress topper not properly unrolling and puffing out. Also, it might wear down within the first few months, according to some buyers.
Pros
Helps encourage a neutral spine for side sleepers
Sleeps cool at night
Comfortable contouring for side and back sleepers
Cons
Might show signs of early wear and tear
Might not unfold and inflate itself accordingly
LUCID Memory Foam Bamboo Charcoal Mattress Topper
Holes for extra ventilation
Three-inch thickness
Memory foam contouring capability
Bamboo Charcoal Mattress Topper
The Warm Harbor Memory Foam Mattress is has four layers of memory foam with two inches of air memory foam. You also get two inches of bamboo charcoal infused into the mattress. This helps keep moisture away from your body and lets you sleep coolly. This can support sleepers who sleep on their back, stomach, side, or combo sleepers.

This mattress has an ergonomic design that lets it conform to your body's shape and weight while also providing a good amount of support. The knit fabric removable cover is breathable and comfortable against the skin. Rotating this mattress on a regular basis will help keep it in good condition, but at almost 70 pounds, it can feel pretty heavy.

The downside? Over time, you might not find yourself laying as flatly on it as you did when it was brand new. This problem has been reported by people weighing under 150 pounds, which should not be the case for lighter sleepers.
Pros
Helps with cooling you at night
Not much in the way of odor after unboxing
Easy-to-remove zippered cover
Cons
Might sink down too much over time
Might cause back pain for some people
Warm Harbor Memory Foam Bamboo Mattress
2 inches of bamboo charcoal infused memory foam
Ergonomic design
Cooling capabilities
Let's face it, many of us are shopping on budgets right now. Fortunately, there are some affordable mattress options out there for us. One of them is literally named the Best Price Memory Foam Mattress, sold by the Best Price Mattress Store. This bamboo memory foam mattress comes with a calming infusion of green tea and a generous price tag.

But there's more. This model is designed with a 2-inch layer of memory foam, a 2-inch layer of pressure relief foam, and a 4-inch supportive layer. That - at least - is how the 8-inch option is designed. You can also get the smaller 6-inch mattress or go all the way up to 14 inches in thickness. It all just depends on your thickness preference. The ventilated pressure relief foam is quite breathable and should help with temperature regulation.

This mattress' cover is made from rich poly-Jacquard fabric. Also, rest assured that the memory foam is CertiPUR-US certified. However, take note that this isn't a very firm mattress. Even lighter sleepers (under 150 pounds) might sink into it, and the edges don't have a dense degree of support like you get on thicker models. After two to three years, you might start to feel the metal bits through the fabric. Also, there is the potential for fiberglass exposure after wear-down.
Pros
Affordably priced
A pleasant odor
Good airflow
Cons
Wears down after about three years of use
Some buyers report fire-stock degradation after a few years
Best Price Memory Foam Bamboo Mattress
Size options from 6- to 14-inches
Modest price tag
Infusion of green tea in the topmost layer
A pricier option is the Cariloha Classic Bamboo Mattress, but it might be worth the upfront cost. (As I always advise, in the mattress world, you get what you pay for.) This eco-friendly, CertiPur-US certified mattress conforms to your body in order to relieve pain from the pressure points.

This OEKO-TEX 100 certified bed mattress is built with enhanced flex-flow base foam that regulates temperature and enhances airflow. You also get a good amount of edge support from the advanced side-wedge since it adds 20% more to the sleeping surface. It is a helpful design that prevents sagging on the sides. Since it is made from bamboo, it can prevent icky odors and offers a hypoallergenic mattress option.

There are a few reports from buyers that the company might not make good on their warranty. Also, some people might experience back or neck pain from sleeping on this mattress if it doesn't have the level of support they need.


Pros
Excellent edge support
Feels firm but conforming for many people
Alleviates pain from pressure points for side sleepers
Cons
Might cause back pain for some
Company might not uphold warranty
Cariloha Classic Bamboo Mattress
Flex-flow base foam
Edge support that adds 20% to the surface area
Odor reduction
Going with a pillowtop bamboo bed can be helpful since it adds more in the way of comfort. The Easeland Bamboo Pillowtop Mattress gives you 10- and 12-inch options in sizes ranging from Twin to King.

Underneath the bamboo fabric top layer, you get the 220g fire resistant barrier. Beneath that is a small layer of air-flow super soft foam, followed by air-flow high density foam. Under that you get the gel-infused memory foam atop the PU foam. 700g of high density felt sits over 8.6-inch individually wrapped coils that offer extra support and firmness. Another 700g of high density foam is placed on the bottom.

Noise-free and breathable, the Easland makes for a peaceful night's rest. Just bear in mind that this is a medium-firm mattress, so it works best for side sleepers. Back and stomach sleepers might need more firmness. There are also a few complaints that this mattress isn't that durable.
Pros
Breathable design
Is not noisy
Medium-firm feels right for most side sleepers
Cons
Potentially not that durable
Might not be firm enough for stomach and back sleepers
Easeland Bamboo Pillowtop Mattress
Two air-flow layers
Gel-infused memory foam
Individually-wrapped coils
The ExceptionalSheets Bamboo Mattress Pad provides an affordable solution for those needing a little extra plushness. Just place this cover over your current mattress. This veteran-owned company designs the pad with a combination of bamboo, rayon, and plush material. State-of-the-art Revoloft fiberfill feels down without any weird poking sensations.

It is, however, only 30% rayon from bamboo. Therefore, it might not have the strong cooling effect you're looking for. Also, even on light settings, it could potentially rip in your wash and get fiberfill everywhere.
Pros
Has Revoloft instead of down feathers
USA-made and veteran-owned
Softens up a firm mattress
Cons
Only made from 30% rayon from bamboo
Might rip in the wash
ExceptionalSheets Bamboo Mattress Pad
Made by a veteran-owned company
Uses Revoloft
30-day money-back guarantee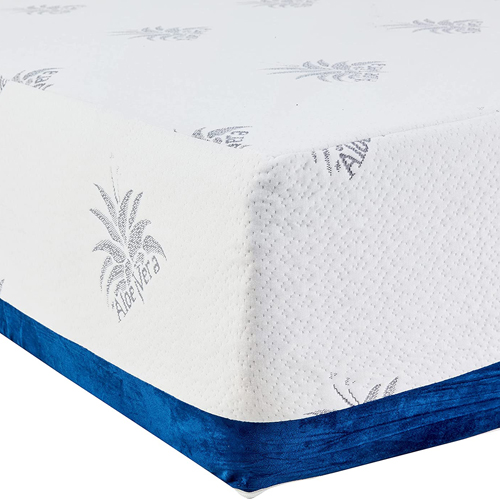 If you need a queen or full memory foam mattress, the Swiss Ortho Sleep Memory Foam Mattress's 13 inches of thickness might appeal to you. It is a medium-firm on the firmness scale and is conveniently delivered to your door.

Below the bamboo cover is a 2-inch layer of gel memory foam. 2 inches of soft PU foam exists beneath that, and 9 inches of PU foam sit below that. You also get non-slip fabric with a zipper. This mattress conforms to your body and offers pressure point relief for side sleepers.

Just know that standard fitted sheets do not work well on this mattress; opt for deep pocket sheets instead. Also, some buyers report a mattress sinking after just one year.
Pros
Unboxing odor leaves within 48 hours
Gel infused memory foam
Pressure relief
Cons
Possible early mattress sinking
Needs deep pocket sheets
Swiss Ortho Sleep Memory Foam Mattress
Medium-firmness
Pressure point relief
Things to Consider Before Buying a Bamboo Mattress
Buying a bamboo bed takes some consideration. You'll want to think about the following factors before making your final decision, otherwise you might end up with a bed you don't enjoy.
Support and Firmness
Plush firmness levels are rarely helpful for a healthy night's rest. They don't encourage a neutral spinal position and won't contour to your body. Depending on your weight and sleep style, medium-firm or firm will likely serve you better.
Certifications
Pay attention to certifications such as CertiPur-US and Oeko-Tex. This proves the company isn't using harsh chemicals or hazardous materials in their manufacturing.
Layers
Just a couple of layers isn't going to cut it when it comes to pressure relief and support. A mattress should have at least three layers, and airflow layers will result in a cooler sleep for you.
Size
Some folks forget that mattress size matters. It has to cater to your height, weight, and any co-sleepers. If you have a co-sleeper, a Twin or even a Full won't give you much space or support. A Queen or King is more ideal for co-sleepers or heavier folks who sleep solo.
Warranty
Here's a rule of thumb I go by with regard to mattresses: The longer the warranty, the more confidence the manufacturer has in their product. A five-year warranty tells me there might be questionable quality. No warranty? Don't touch it. A 25-year warranty is good, and a lifetime one indicates a high-quality design.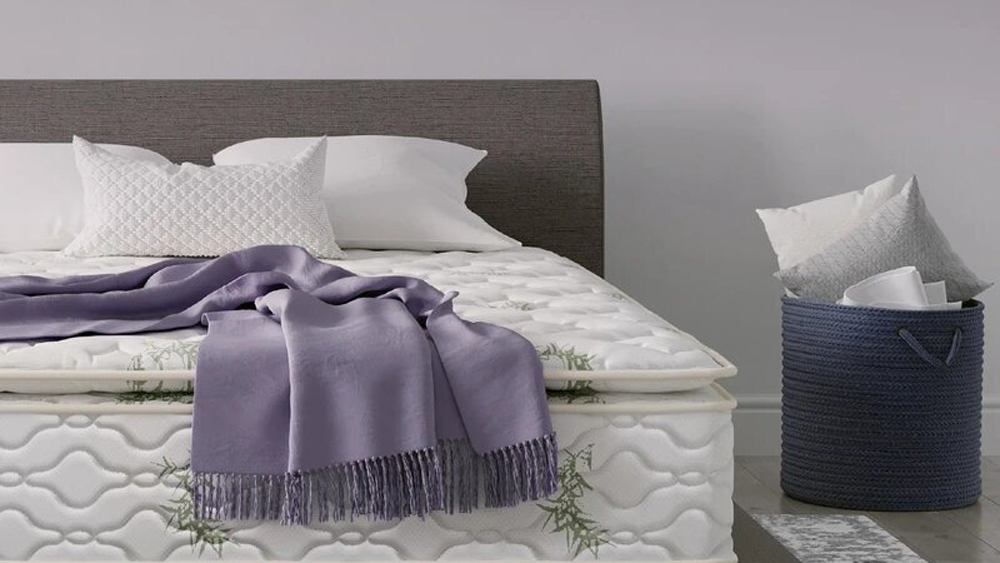 Bamboo Mattress Benefits and Downsides
Things we like
With no pesticides or chemicals used to grow bamboo trees, people with allergies and sinus issues won't get triggered
Bamboo is a sustainable raw material and can quickly be regrown, leading to it being an eco-friendly option
Bamboo charcoal and bamboo toppers are all quite comfortable since bamboo fibers are naturally soft
Bamboo mattresses are naturally moisture-wicking and cooling
The Not-So-Great
Some models that just use bamboo toppers tend to sleep hotter if they are made from memory foam underneath the topper
The plush firmness of mattresses made with bamboo charcoal infusion might not be comfortable for heavy sleepers even when they buy really thick models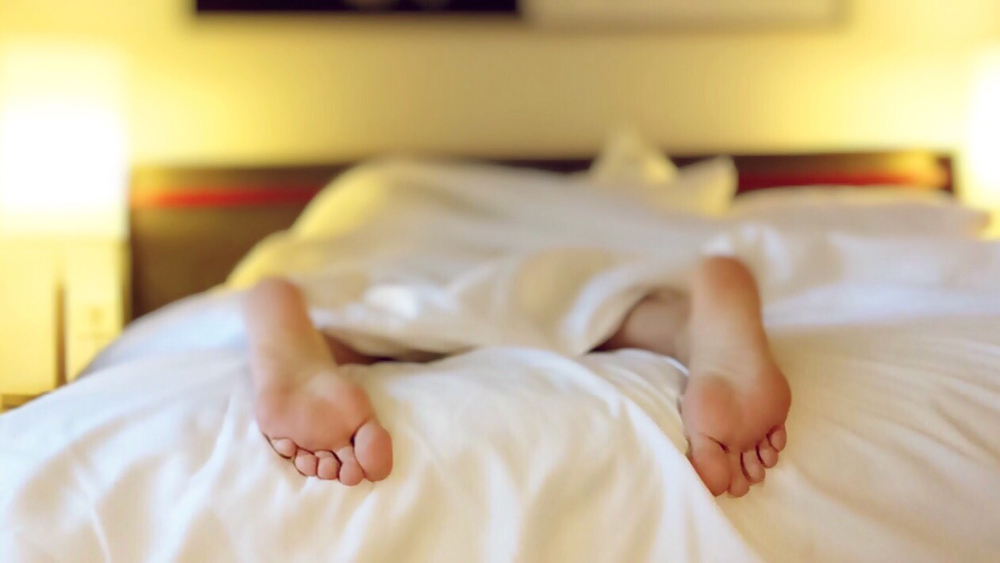 FAQ
What is Bamboo foam?

Bamboo is often infused into a memory foam layer to encourage moisture-wicking and temperature regulation for a cooler night of sleep.

Are bamboo mattresses healthy?

Bamboo mattresses can be healthy if they provide enough firmness to encourage a neutral spine position. They are hypoallergenic, which is helpful for allergy sufferers.

How long does a bamboo mattress last?

A bamboo mattress' longevity will depend on the brand and quality of materials used to manufacture them. Generally speaking, this type of mattress should last at least 10 years, if not a few more.

Is a bamboo mattress good for your back?

A bamboo mattress can be good for your back if it has enough support to encourage a neutral spine position. Look for one that is medium firm to firm for this level of support. A plush one is not recommended for spinal support.

How Do I Know that My Mattress Contains Real Bamboo?

Read through the specifications given by the manufacturer first. One of the chemical extraction processes used in manufacturing creates rayon. Rayon is prohibited from being labeled as bamboo per the US Federal Trade Commission. If a product says "rayon made from bamboo", then it is definitely not pure bamboo material.

Where is Bamboo Mattresses Best Used?

They are best used atop a platform bed. Most do not require a box spring.

Where Can I Buy a Bamboo Mattress?

You can buy this type of mattress from manufacturers online.

How to properly care for bamboo mattresses?

You will have to rotate them to keep them in good shape. Gently wash any stains off the top or place the removable cover in the wash per the washing directions.

Do you need a bamboo mattress protector?

You do not necessarily need one, but they definitely come in handy if you want something that is easy to clean.

What's the warranty policy for the bamboo mattress?

Warranties vary by company. Some companies only offer a 5-year warranty while others have lifetime ones. Remember, warranty length often indicates durability and quality.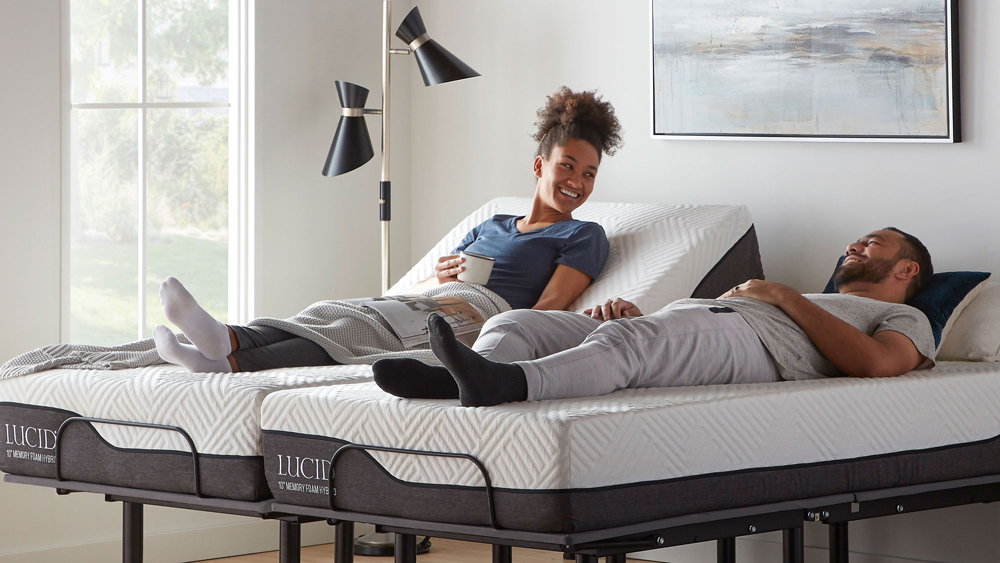 Is Bamboo Best For You?
Bamboo mattresses are hypoallergenic and eco-friendly options available for buyers. They can help draw moisture and heat away from your body as you sleep, and they often do a good job of keeping funky smells and dust at bay. You can go for a full-on mattress of just get a topper – it's your call and will likely depend on your budget.
The LUCID Hybrid Mattress really is the best option I have come across. It is reasonably priced but offers a hybrid design full of support. Its medium-firmness should provide enough contouring and pressure relief to keep you comfy at night and when you wake up in the morning. Its airflow exceeds what you would get on a standard memory foam mattress, so if you tend to sleep hot at night, this mattress might just suit your needs. All in all, it is a model that caters to the needs of a lot of different sleepers.
LUCID Hybrid Bamboo Mattress