In the past decade, the mattress industry has experienced a huge boom thanks to online retail. Instead of going to a brick-and-mortar store and hauling a mattress back home, buyers can order a mattress-in-a-box plus their desired bed frame and bedding. Makes things super easy, right?
Well, mattresses and bed frames aren't always perfect. With online shopping, it is hard to know how comfortable a bed will be until you've actually slept in it a while. You might find your bed needs a little more support at the bottom.
That's where bed slats come in. You can buy slats for bed sizes from Twin to King sizes and install them into your current bed frame. Does it take a little extra work on your part? Sure. But in terms of comfort enhancement, it could be totally worth it.
Let's take a deeper look at how bed slats can improve your sleep quality and which ones are the best the market has to offer.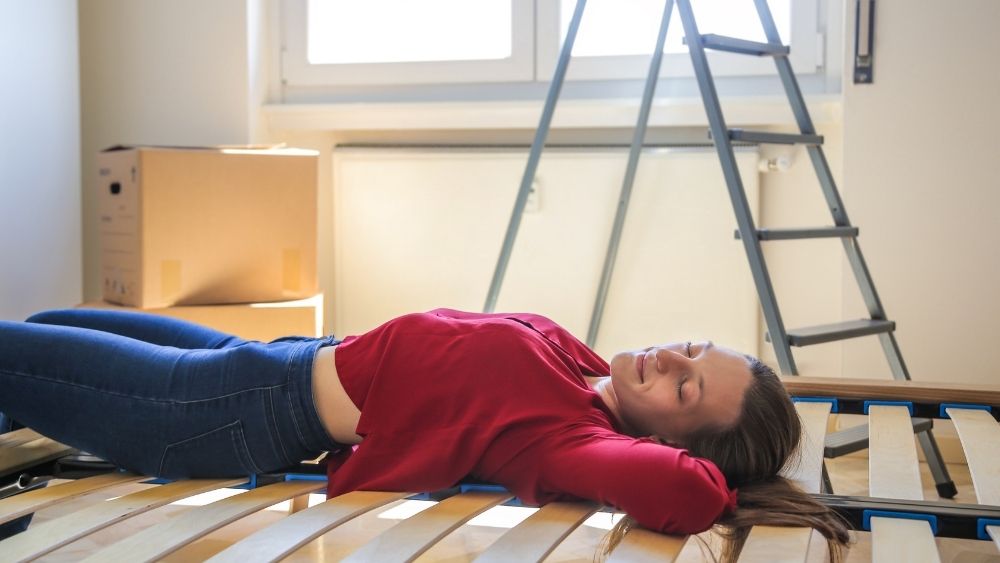 What are Bed Slats?
Slats for beds are pretty much what they sound like – a row of wooden planks that run horizontally across the span of your bedframe, beneath your mattress. They add stability to your mattress, making it more comfortable to sit or lay on. Bed slats are small and lightweight, and they are sold by many manufacturers online.
You can use bed slats in one of two ways. Either you can add them to your current standard bed frame instead of using a box spring or purchase a platform bed with built-in slats. Also, since some manufacturers go cheap on their included bed slats, some people choose to buy their own and use those instead.
How to use Bed Slats?
Here's the deal with bed slats: You have to install them yourself. You have to remove the mattress and place the bed slats across the top of your bed frame. Now, if you are going to buy or have already purchased a platform bed, you do not need to buy slats since they already come with them.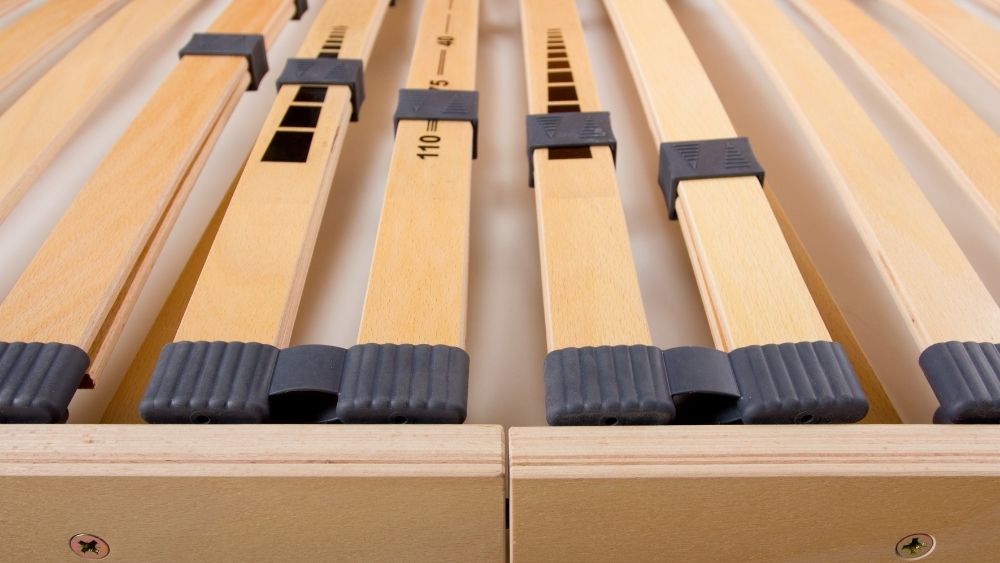 Slats for bed frames even out weight distribution while you are laying on it. This creates a sturdier base and minimizes sagging or soft spots. Just know that bed slats create a lower profile than a box spring, sitting at 1.5 inches as opposed to 5.5 inches. If you like your mattress lower to the ground, this can be helpful.
Best Bed Slats Reviews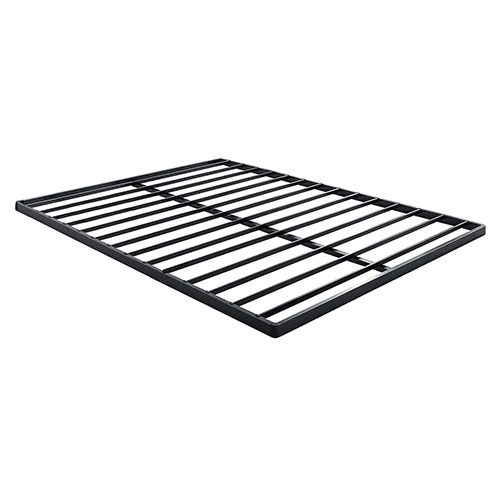 My top recommendation for bed slats comes in the form of the Zinus Gulzar. I know what you're thinking, and no, this isn't a Ghostbusters villain. This quick-locking, 1.6-inch bed slat/bunkie board replacement is able to be integrated into your bed frame, whether you have a platform or traditional steel bedframe. It offers unparalleled support for any innerspring, latex, or memory foam mattress.

Slim in its design, this lightweight slatted board is engineered to have as few nuts and bolts as possible, making assembly quick and painless. The quick-lock system ensures that everything is locked snugly into place to prevent slippage. And, being made of solid steel, the Gulzar is known for its durability.

Note that sizing might be off on these bed slats. If you buy the queen bed slats, you might end up with a product that is too short on all four sides of the bed. Customers are not able to return this item either, so make sure you measure your bed frame before you buy.
Pros
Can be ordered in sizes Twin to King
Doesn't require a bunkie board since it is a sit-on
Five-year warranty is included
Easy assembly with the quick-lock design
Cons
Buyers report that they cannot return it for a refund
Sizing for the bed slats Queen size might be off
Zinus Gulzar
Black painted alloy steel design
1.6-inch profile
Quick-lock design
Another option made by Zinus is the Annemarie. These solid wood bed support slats can be ordered for beds sizing Twin to King. The best part is that there is no assembly required. The Twin size has six slats, the Full size has nine, the Queen size bed slats have 10, and the King bed slats number at 12.

The way you place these bed slats is a little different. You place them vertically from the head of your bed spanning down to the foot of it (instead of horizontally) as a way to maximize support for your mattress. This works well for memory foam, innerspring, latex, or hybrid mattresses and can be used on platform beds, day beds, and bunk beds. A five-year warranty assures you peace of mind should anything happen to your bed frame slats.

These slats are made from plywood, which might be too soft for people who suffer from chronic back pain at night. The mid-section could sink in and exacerbate the pain. As seems to be the case with Zinus slats, there could be size discrepancies. Ordering bed slats Full size might actually be too small for your bed.
Pros
Easy to unbox and place on the bed frame
Five-year warranty is included
Sizes from Twin to King
Works on sleeper sofas and day beds
Cons
Might not be true-to-size
Plywood might be too soft for some people
Zinus Annemarie
Easy assembly
4 inches of space between the slats on the Queen size
Vertical placement.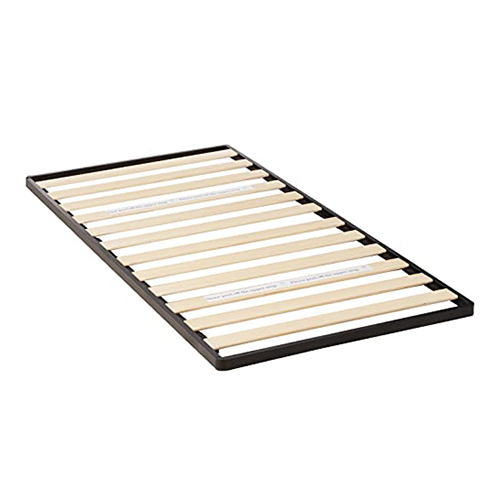 The Zinus Deepak might be more your speed if you want bed slats that you can quickly install. This 1.6-inch wooden bed slat set is lightweight and can easily be installed into your platform bed. Each slat on the twin size model is exactly 2.8 inches with 2.4 inches of open space between them. The frame bars are exactly 0.7 inches wide.

If you want, you can place the Deepak on the floor. Some folks have used it for a little bit of extra height for their floor-bound, frame-free mattresses. All the tools you need for assembly come included with these bed slats as do the directions for how to assemble it. They are nonflexible slats, which tend to work better than flexible ones with a memory foam mattress.

Again, I must caution you about the size discrepancies. Ordering a Queen might fit more like a Full. Also, some buyers have reported missing components. If you contact customer service about a missing Velcro piece (which is essential), you will have to ship the entire product back as a return just to get the Velcro.
Pros
Works well on the ground or on a bed frame
Easy enough to assemble
Nonflexible slats that offer support
Known for quick shipping
Cons
Might not be true-to-size
If one piece is missing, you need to return the entire item for an exchange
Zinus Deepak
1.6-inch profile
All tools included
Nonflexible design for sturdy support.
The Zinus Adrianne is a vertically placed model that simply rolls open. That's right - you just unbox, roll it open, and place it on the bed frame. The slats are connected together with Velcro when they are shipped to you, so all you do is unroll and place. No tools are required.

These sturdy plywood slats are designed to maximize the support offered by your spring, latex, memory foam, or hybrid mattress. It does this without increasing the amount of bulk you get with a box spring. Done using it? Just roll it up and transport it to wherever you need it to go. It won't take up much space on a shelf. There are six slats for twin, nine slats for the full, 10 slats for a queen size, and 12 slats for the king. These closely spaced slats measure at 2.8 inches apart.

If your bed frame does not have a solid support beam in the middle, you could end up having some fit problems. These are advertised as vertical slats, but they actually seem to need to go horizontally. People also report sizing issues on this Zinus model.
Pros
Easy to roll out and place
Works well for multiple mattress types
Stays in place
Doesn't create added bulk
Cons
Actually seems to fit some beds horizontally, not vertically
Sizing might be off
Zinus Adrianne
Roll-out design
Lightweight plywood material
Four size optionsn
Perhaps the Zinus models aren't calling to you. If that's the case, then I suggest checking out the Classic Brands Solid Wood Bed Support. There are multiple size options available, including two sizes for the queen bed slats. These heavy-duty wooden slats made from Southern Yellow Pine are some of the strongest you will find and provide ample stability and support as you rest.

If you want to use them with some of the bed slats you already have, you can cut the fabric that is attached to them to put them between your frame's other slats. It might not look pretty, but the mattress will cover it up. These bed slats are all sourced and manufactured in the USA, and if you do need to make a return or exchange, the company makes the process easy enough.

There are a few causes for concern though. Some slats differ in size from one to the next, so you might get a set with one or two too-short slats. Some might also be too long which will require you to use a saw to cut them down to size. Some folks have had problems with these bed slats cracking after they installed them.


Pros
Strong Southern Yellow Pine wood material
Eight sizes to choose from
Can be used with slats you already have
Made in the USA
Cons
Bed slats might not all be the proper size
Instances of cracking after installation have been reported
Classic Brands Solid Wood Bed Support
Eight size options
Southern Pine Wood material
Made in the USA
Types of Bad Slats
Standard Wooden Bed Slats
You can go one of two routes with bed slats. First, you can get standard wooden bed slats. Extremely common, affordable, and simple, this design is best suited for average and lightweight sleepers. (They aren't very well suited to heavy sleepers though.) You just remove them from the box and lay them on your bed frame, then you have extra support.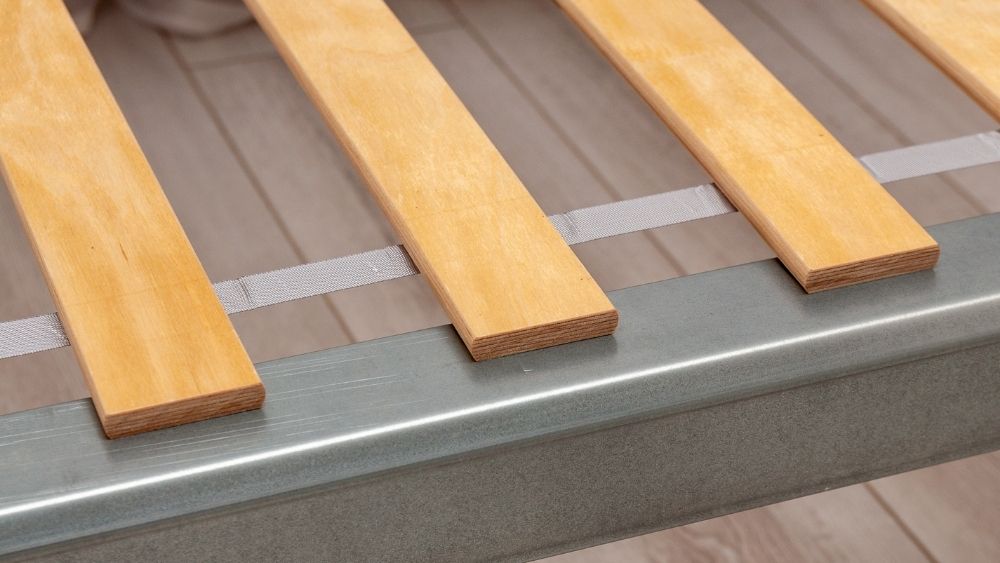 Wooden Bed Slats With Metal Border Support
Heavyweight sleepers (those weighing about 250 pounds or more) need more support than what standard bed slats offer. Wooden bed slats with a metal border for support go over much better. Not only are they more supportive, but they last a lot longer. They aren't as cheap as standard bed slats, but they're still cheaper than a box spring and maintain a low profile.
Things To Consider Before Buying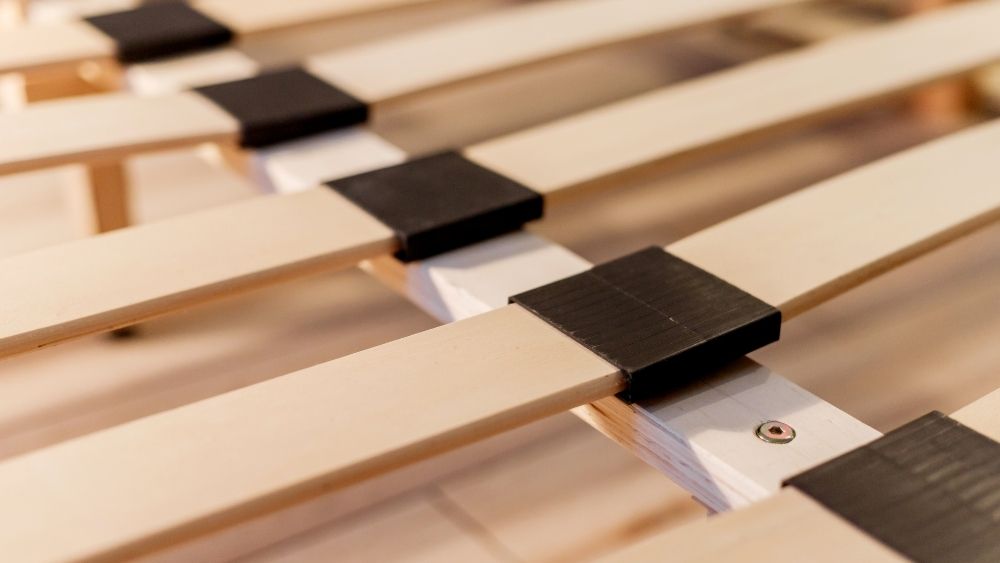 The Size and Fit
Bed slats shouldn't be any more than 1.5″ apart in width. If they are wider than this, you're unfortunately still going to need a box spring. This happens more when people try to make bed slats by themselves; online manufacturers abide by stricter sizing guidelines. Still, there is a chance that a manufacturer will size in a way that does not fit your bed. This is why it is extremely important to measure your bed frame before you buy any bed slats.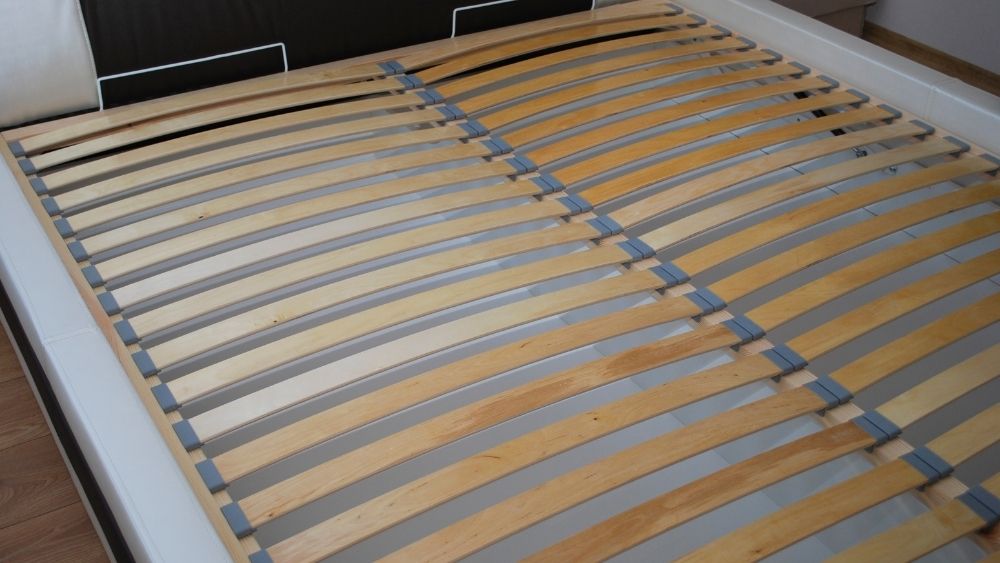 Mattress Height
Keep in mind that your mattress is going to sit lower to the ground when you are using bed slats as opposed to a box spring. Bed slats sit at an average of 1.5 inches in height and can fit directly on top of a regular ol' bed frame or a platform bed. Think about how much height you want versus how much forgoing a box spring is going to give you.
Box Spring or Bed Slats
A box spring sits at about 5.5 inches, creating a higher profile for your bed. If you are a tall person or someone with back or joint pain or stiffness in the morning, a box spring might actually be a better choice.
However, shorter folks who aren't riddled with chronic pain might do better with bed slats. They also work well under bunk beds, making them perfect for kids whose beds need a little extra support because they can't use a box spring.
The Benefits and The Downsides
Things we like
Keeps a low profile
Adds extra support for more comfort
Prevents mattress sagging
Easy to assemble
The Not-so-likable
Sizing problems are common
Might not be helpful for taller people or those with back or joint pain
Alternatives to a Bed Slat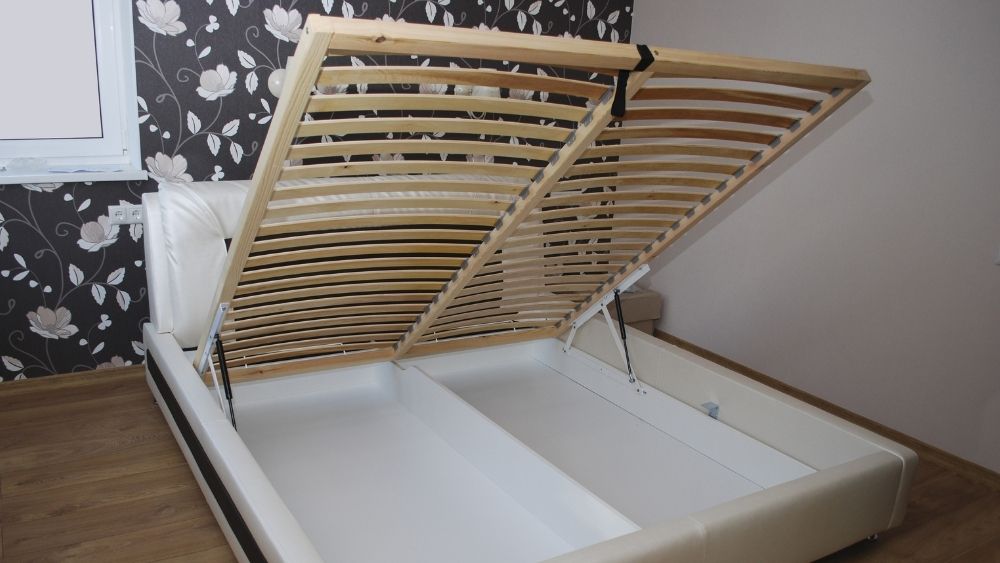 Bunkie Board
A bunkie board is essentially a flat box spring. While providing mattress support, it keeps your bed sitting at a low profile. These boards are relatively inexpensive and extremely easy to put in – even easier than many bed slats.
Box Spring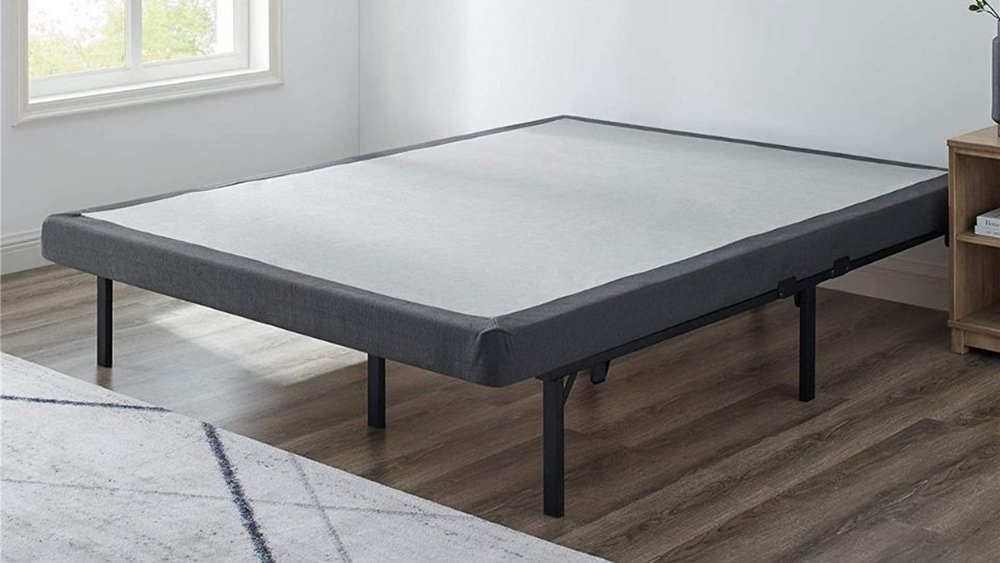 Box springs are still quite common. It is a taller version of a bed slat system and sits at around 5.5 inches. While it is helpful for taller folks, a box spring might not be helpful for short adults or children. Also, they cannot be used in many bunk beds or on futons.
Platform Bed
Platform beds are basically a bedframe and slat system all rolled into one. You just put your mattress right down onto it. There are no box springs required on them.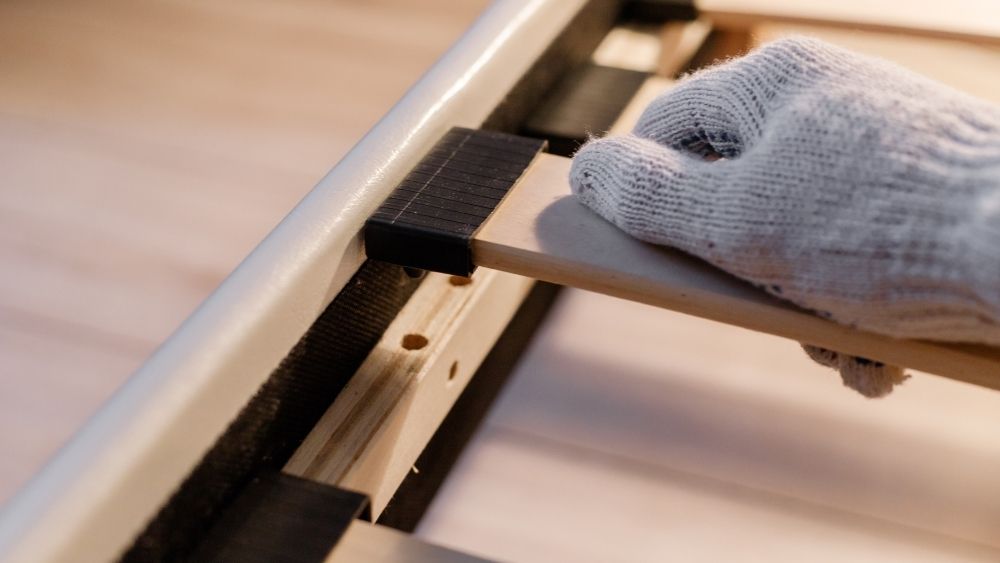 FAQ
Are they easy to install?

Bed slats are easy to install and typically come with all the required tools.

What are the best materials for bed slats?

The most durable material is steel; it has a much longer lifespan than pine wood or plywood.

Do bed slats make a difference?

Bed slats prevent mattress sagging and offer extra support for the mattress. They can make a difference for some people who experience back pain at night.

What's the difference between bed slats and a box spring?

Bed slats are a series of slats that go underneath your mattress. A box spring is a sturdy wooden, cloth-covered frame that contains inner springs for support.

Can I make my own bed slats?

You can make your own bed slats, but it is time-consuming and difficult. You will need to use exact measurements and your own tools.

What size bed slats do I need?

That will depend on the size of your bed frame.
Final Thoughts: Better Sleep With Bed Slats
Bed slats are a practical way to enhance your bed's support. You simply unbox and place them on top of your frame, then situate your mattress atop the slats. Slats resist slippage and prevent the mattress from developing soft, saggy spots. They also give you about 1.5 inches of extra height, maintaining a low enough profile for the average sleeper.
The Zinus Gulzar is my top recommendation because of how many boxes it checks. Affordable? Check. Easy to install? Check. Quick-locking design? Check. Super-cool Ghostbusters villain-sounding name? Double-check. In all seriousness, those are the bed slats to try if you can afford to spend a little extra cash. They should outlast Zinus' five-year warranty, but if they don't, you can always take advantage of that warranty coverage.
Zinus Gulzar