If you're like me, you'll do anything to ensure your child gets a peaceful, relaxing, and rejuvenating full night's rest. And that might happen to include buying them a bed tent. It is something they can use for privacy during the day and relax at night. It's like a whole camping experience right in the security and comfort of your own bedroom!
Sleep disorders are becoming increasingly diagnosed in children, especially among those with anxiety, depression, and who are on the autism spectrum. Some pediatricians and psychologists now recommend parents try bed tents to help ease their children's nocturnal struggles.
Even if your child doesn't have sleep issues, they can still benefit from having a kids bed canopy or tent set up. They make for really cool forts during the day and offer privacy – especially from pesky younger siblings.
Let's take a look at what bed tents are, why you should buy one for your kiddo, and which ones rank high on our list of the 7 best bed tents for kids.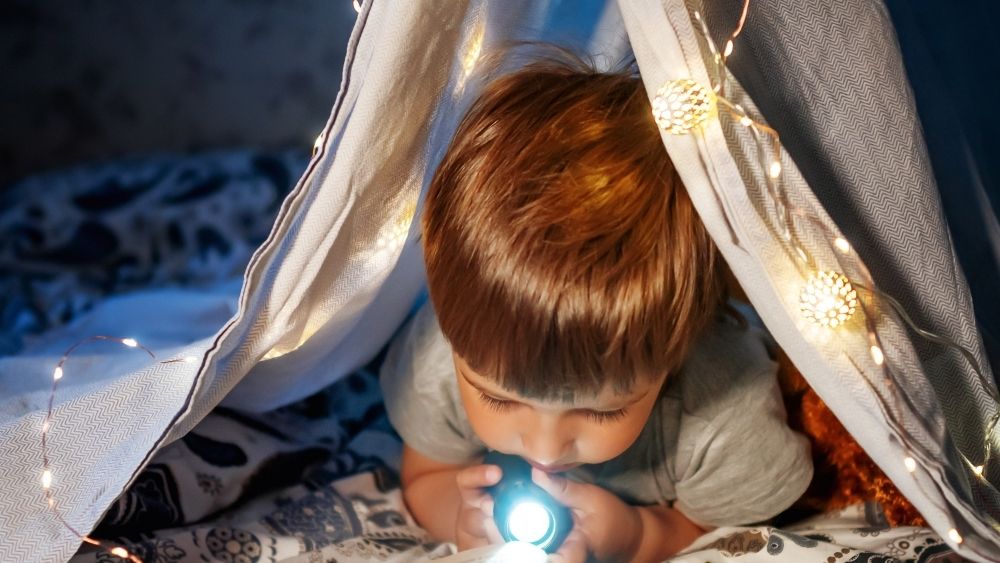 What is a Bed Tent and Why Buy One?
Before we jump into the best bed tents for kids, let's talk about exactly what these things are and why you should consider buying one (or two, or three).
What It Is
A bed tent is basically what it sounds like – a tent designed to be used with a bed. The tent gets securely attached around the bed so that it stays in place as your child rests. Some of these tents come with zippered doors on both sides for easy entry and exit. They're typically made from lightweight materials and are essentially designed for both privacy and – particularly for kids – playtime.
Advantages of Buying Tents For Kids
Bed tents lend privacy to kids who need it. Got a snoopy little sibling to keep at bay? A bed tent might resolve that issue. Bed tents are also known for calming those with anxiety, helping them sleep better at night. For kids with autism spectrum disorders, they create a barrier between the child and triggering stimuli in the environment.
There are other benefits, of course. Tents are good for guests, great to take camping in the back of a pick-up truck, are comfortable, and still provide ample space for moving about.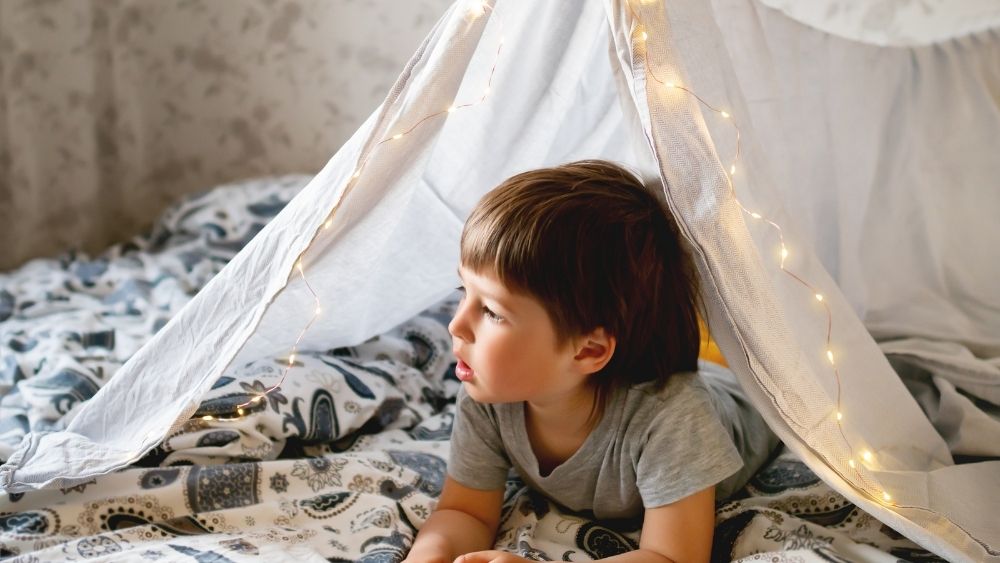 Best Bed Tents Reviews
My top pick for a kids canopy bed goes to the Alvantor Bed Canopy. With this design, you get double side-doors for quick and easy access. The ribs - which are made with fiberglass - on the pop-up frame are flexible and can withstand the bending. Also, with this model weighing less than 6 pounds, putting it together isn't a hassle.

This twin bed tent measures in at 75L x 39W x 47H inches, making it a perfect fit for a bed that size. It doesn't take up much space, which makes it ideal for use in a small bedroom or even a college dorm room. And, when your kid is done using it, you can take it down in just a matter of minutes. Inside, there isn't a ton of light that shines through, which is helpful if your child wakes up due to bright lights coming from outside their window.

The downside? Well, your cats might love it even more than you or your kid do. It's a cozy, dark spot for a cat to take a nice, long nap. (Luckily, cleaning cat hair and other debris off this tent is a cinch.) The one cause for concern is the inclusion of fiberglass. While built to high standards, anything with fiberglass can still pose a risk. If a pole does somehow break, you could end up with fiberglass bits everywhere.
Pros
Lightweight
Reduces light
Spacious enough for adults
Breathable fabric for ventilation
Cons
Risk of fiberglass exposure
You might have to fight your cat or dog for space
Alvantor Bed Canopy
Collapsible design
Light-reducing material
Flexible poles
If your children are sharing a room, the BESTEN Floorless Indoor Privacy Tent on Bed might be a good way to afford them each some privacy - especially for the older child. This twin bed tent topper can easily be set up and taken down, plus storing it in its compact form is simple enough.

Kids sleeping in drafty rooms or rooms in which big windows let in too much light can benefit from having this wind- and light-reducing tent popped up over their beds. It isn't a blackout tent, but it is still helpful if your child likes having a little light to read by.

This tent does come with some rather vague instructions, so setting it up the first time might prove frustrating. Also, the bottom flaps for securing the tent to the bed might not be big enough, depending on the bedframe.

Pros
Enter from one of three doors
Keeps wind and light at bay
Multiple cute color options
All three doors have double-sided zippers
Cons
Instructions might feel vague
Isn't fully light-blocking
BESTEN Floorless Indoor Privacy Tent on Bed
Wind-resistance
Light-reducing polyester fabric
Three-door access
Does your kid really demand their privacy? If so, the Pacific Play Tents Kids Tree House Bed Tent Playhouse is a great option, especially as a boy tent bed. (But it works just fine for girls too.) Day or night, your kiddo can hide away in this tent that tells others to "KEEP OUT!"

This cute, playful tent can be fastened down to a twin bed or anchored outside on the grass for daytime playtime. Your kid can shut themselves in using the Velcro straps after going through the T-style door. The tent's G-3 Super Poles are coated for safety, aiming to prevent breakage. You can use it as a full size bed tent.

Just be mindful that this tent - and most others - is only recommended for ages three and up. Young toddlers risk tripping and might not understand how to get in or out. Some buyers feel that the components are made from cheap plastic materials and have even had to hot glue pieces together.
Pros
Lightweight and portable
A playful design
Fits a full size bed
Easy to get through the door
Cons
Not meant for children 2 or under
Might have cheap plastic parts
Pacific Play Tents Kids Tree House Bed Tent Playhouse
Lightweight at just 2.35 pounds
T-style door
Velcro straps for closing the door
If your kid thinks having a four-post bed is cool, just wait until you put the Mengersi Galaxy Star Four Corner Post Bed Curtain Canopy up on it. It is a bed tent queen sized model, but size options exist from Twin to California King. This tent will likely appeal most to teens and young adults, especially to females. But, guys, this one can look awesome in your room too.

Inside of the box, you will find everything you need to set the canopy up: four sides, a top curtain, a hook, and a rope. You just need to have your own bedframe. You can opt to buy poles and the frame separately from the manufacturer. Otherwise, you're good to go. Just set up by installing the hook on the frame or tying it to the frame with the rope.

The fabric is somewhat thin, which might not be to everyone's liking. Some buyers claim that the hardware is cheaply made as well, leaving the pieces prone to breakage. Using the ties instead of the loops seems to help with drapery droop-age, and you might need to get creative with how you cord things up.
Pros
Designed for teens and young adults
Plenty of space for entry and exit
Soft fabric
Multiple patterns are available per your preference
Cons
Fabric might be thin
Customers report difficulties securing the sides
Mengersi Galaxy Star Four Corner Post Bed Curtain Canopy
Chemical-free design
Sizes ranging from Twin to Cali King
Traditional four-opening design
Need something to block the cold air as your child sleeps or plays? The DDASUMI Warm Tent is able to block cold air from getting in, keeping your little one snug as a bug in a rug. It fits a full size bed, but you can place it on the floor or in the grass outside.

Consumers report that they have been able to make the tent last for at least a couple of years, suggesting a good amount of durability from the materials. Kids can play around in it without causing much damage. Older toddlers (about three years old) can safely use it on their toddler beds.

There are a few reports that the material is thin. Also, you can only get one color option, so you don't have much creative leeway here.
Pros
Keeps cold air out
Still lets enough light in for reading or playing
Easy setup
Durable
Cons
Only one color choice
Thin fabric
DDASUMI Warm Tent
Cold air-blocking design
Lightweight (under 4 lbs.) design
Durable polyester fabric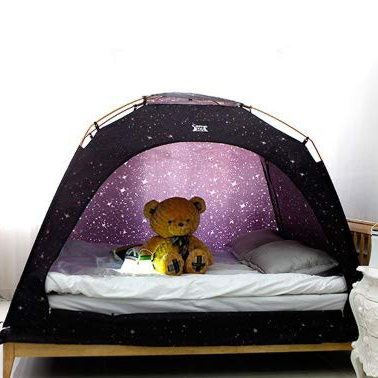 Do you need a small, cozy, and ultra cute tent for your child's twin bed? The CAMP 365 Child's Indoor Bed Tent is inviting, making you feel as though you are surrounded by a starry night sky (or like you're in Jurassic Park if you choose the dinosaur print). It looks nice in any bedroom and is easy to put up and take down.

This tent's 90T Polyester Waterproof Fabric keeps the inside of the tent warm, blocking out cool drafts. Air gets circulated through the top vent, so the air quality will not feel stale as the night goes on.

A few buyers have noted that the ties for the tent broke within several days of ownership. Also, fiberglass will scatter about if one of the poles breaks in the process.
Pros
Keeps the interior warm
Gets kids excited about bedtime
Polyester is waterproof
Easy setup
Cons
Ties might break easily
Risk of fiberglass exposure
CAMP 365 Child's Indoor Bed Tent
Two cool design options
Waterproof
Wind-proof fabric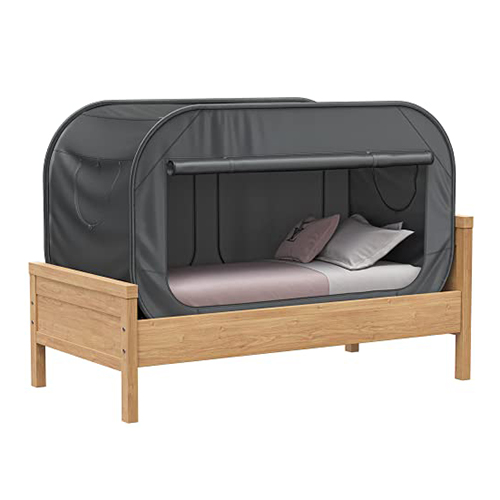 Perhaps cutesy prints aren't your kid's thing. The Skywin Bed Tent caters to just about everybody, sans prints. This twin tent bed is a light-reducing model, so your child will not get inundated by obnoxious streetlights or headlights on passing cars at night.

Instead of the standard polyester fabric you get on other tents, the Skywin has pongee fabric. Pongee is thicker, more durable, and better able to keep wind and light out. The tent has a door on either side and windows fore and aft for ventilation. This soft material is breathable despite being thick.

Some customers report quality control issues. Zippers might break easily, and some buyers never received instructions. The top of the structure needs more support than what is built in.
Pros
Reduces light
Durable pongee fabric
Fits a twin bed
Helpful for those with autism
Cons
Some quality control issues have been reported
Top part lacks supple support
Skywin Bed Tent
Two doors
Two windows
Pongee fabric for light reduction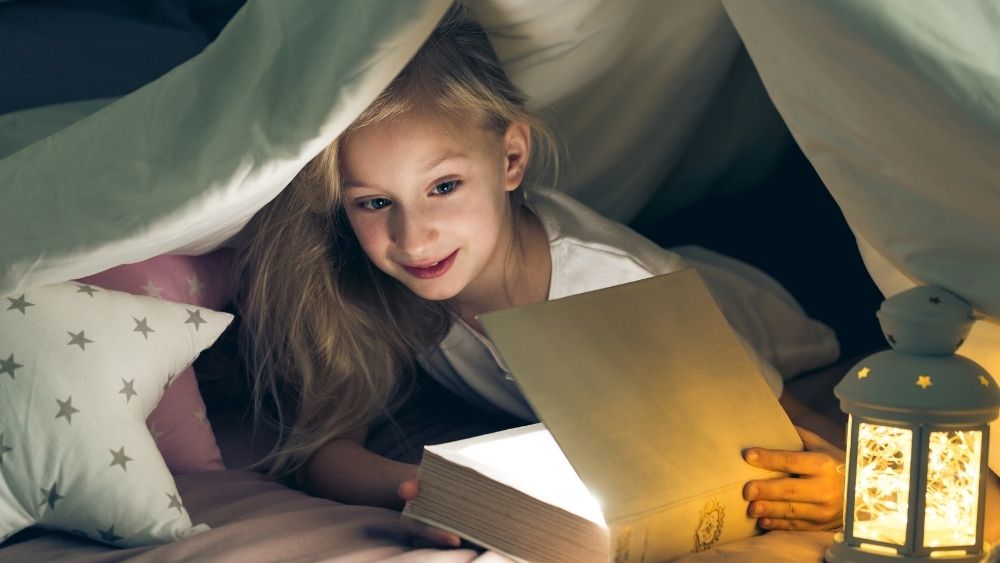 Bed Tent Types
Bed tents come in various shapes, sizes, and styles. Some have roll-up doors while others have flaps. And some, of course, are actually canopies made for four-post beds. Let's go over which styles you can choose from.
Privacy
Privacy beds have fitted sheets sewn to tents, usually with polyester being the chosen fabric. Some have rounded roof shapes and doors on either side. They are helpful for older kids who need privacy or those who have trouble falling asleep.
Mosquito Net
A see-through mesh net gives your child some privacy but ensures that you can still see them. They are well-suited for safari or jungle-themed bedrooms and have decorative vibes.
Tunnel
Tunnel bed tents take up about 3/4 of the bed, allowing kids to crawl through them from the foot of the bed. Offering a good deal of privacy, they're often easier to put up than pop-up privacy tents.
Bunk or Loft Beds
Putting a tent over a bunk or loft bed can give it the appearance of a fort, castle, house, or other type of building. This can turn a double bed into a play area and is helpful for households that are limited on space.
Shaped Bed Canopy
A shaped canopy bed can be hung from the ceiling above your child's head. They're typically more decorative than functional and are probably best left for playtime than bedtime.
Draped Bed Canopy
Draped bed canopies can provide a lot of privacy and deliver a classically cool look. Kids can choose to open the drapes or close them for a good sense of quietude and warmth.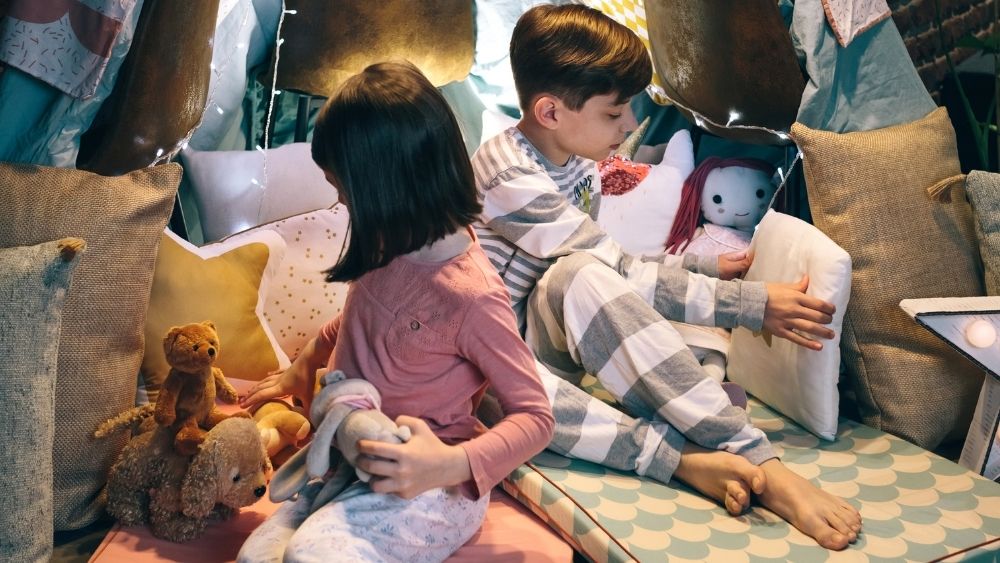 Things to Consider Before Buying a Bed Tent
Materials
Durability varies based on materials use. Many bed tents are made from polyester, which traps in heat. If you live somewhere hot and humid, you might want to go with a breathable cloth option instead.
Size
Be sure you get a size that fits the bed. Measure the space you plan to use the tent on before you buy it. You cannot force a twin bed tent to fit neatly onto a full size bed.
Portability
Bed tents should be easy to carry around and store. Most weigh under 5 pounds. Anything heavier than that could prove more difficult to lug.
Easy Set-up
A bed tent should be easy to install, but some aren't, especially when directions aren't included in the box. Buying a tent that is easy to set up might cost more money but could result in more excitement from your kids.
Price
How much can you afford to spend on a tent? Most range between $70-$100, but high-quality models get more expensive. And you definitely get what you pay for when it comes to bed tents.
Floor Attachment
Tents with floor attachments tend to be all the more secure. Attaching it to the bed isn't much of a problem since there are straps for securing the tent. But, on the floor, you need one with floor attachments for the tent to stay upright.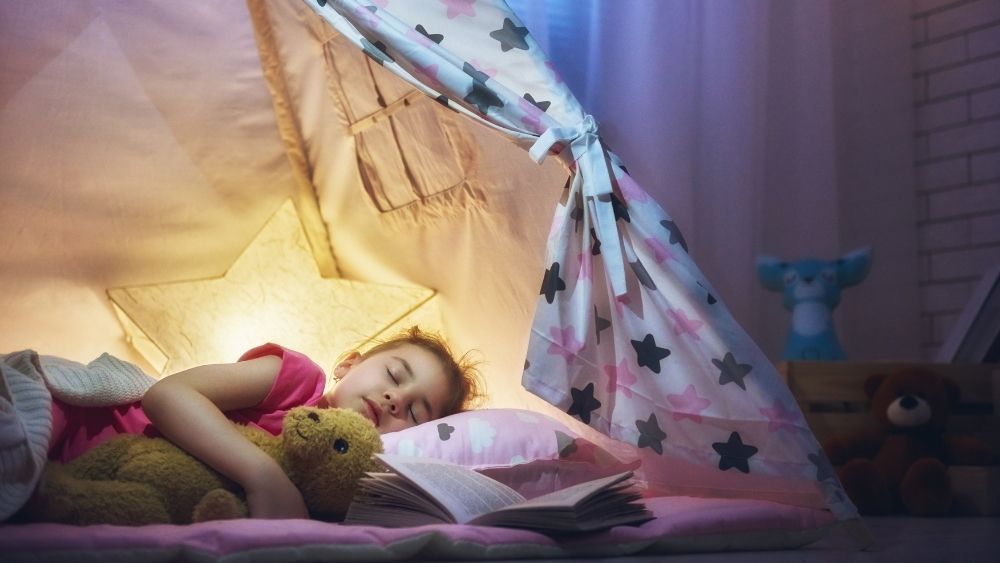 Benefits and Downsides of a Bed Tent
Things we like
They are fun for children, teens, and adults alike.
They reduce triggering stimuli for people with autism, anxiety, and depression.
They help you sleep warmer in a drafty room.
Tents offer privacy for those craving it.
There are plenty of design options out there.
Most models use waterproof material.
The Not-So-Likable
Some bed tents have cheap parts and fabric.
They are not safe for children 2 years old or younger.
Those without floor attachments are definitely not ideal for floor use.
You might have to spend more money to get an easier tent to set up.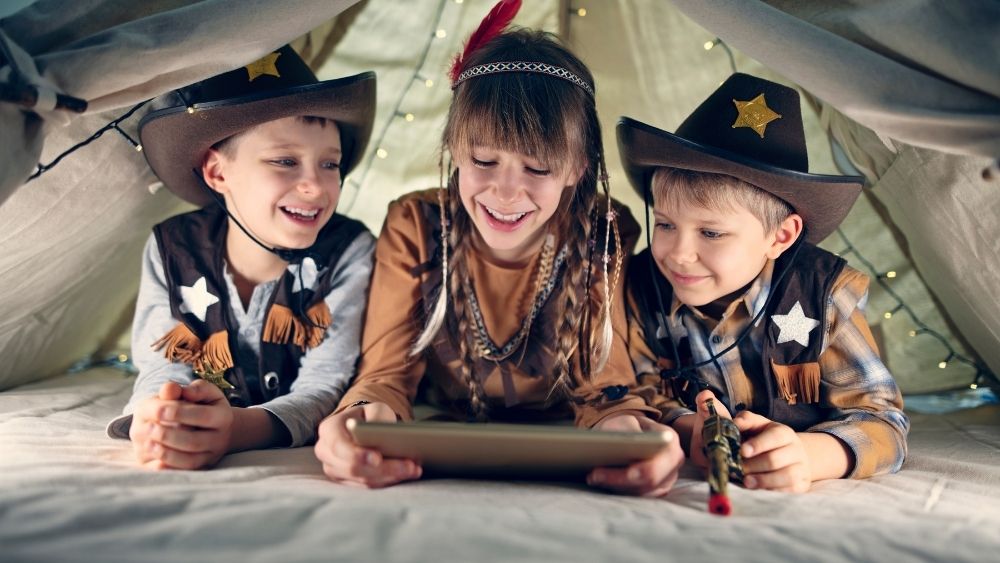 FAQ
How do bed tents work?

Bed tents can be attached to a bedframe and popped up using the included poles that complete the tent's frame.

Are Bed Tents Safe?

Most tent beds are safe for children ages 3 and older. They are not recommended for children 2 or younger.

What is the point of a bed tent?

A tent bed can keep you warmer, block out light, and provide additional privacy for children who need it.

How Often Should I Wash My Bed Tent?

Adhere to the bed tent's washing instructions. Some are machine-washable, but you can also wipe them down with a damp cloth as needed for minor clean-ups.

Which Material Is Best For Bed Tents?

Polyester is good for locking in heat so you can sleep warmer in a cool room. However, cloth tents are more breathable if you live in a hotter climate.

How Do You Use A Bed Tent?

Your child can use this tent to help them go to sleep and stay asleep. It can also be used during the daytime for reading, playing, or just relaxing.

 Do bed tents help with anxiety?

Bed tents are reportedly able to help children with anxiety calm down and relax. All children react differently, so some kids do well with them while others do not.

How Much is A Bed Tent?

The average bed tent costs between $70 and $100. High-quality models might cost a little more.

Do bed tents help sleep?

Bed tents can aid with falling and staying asleep, according to some parents.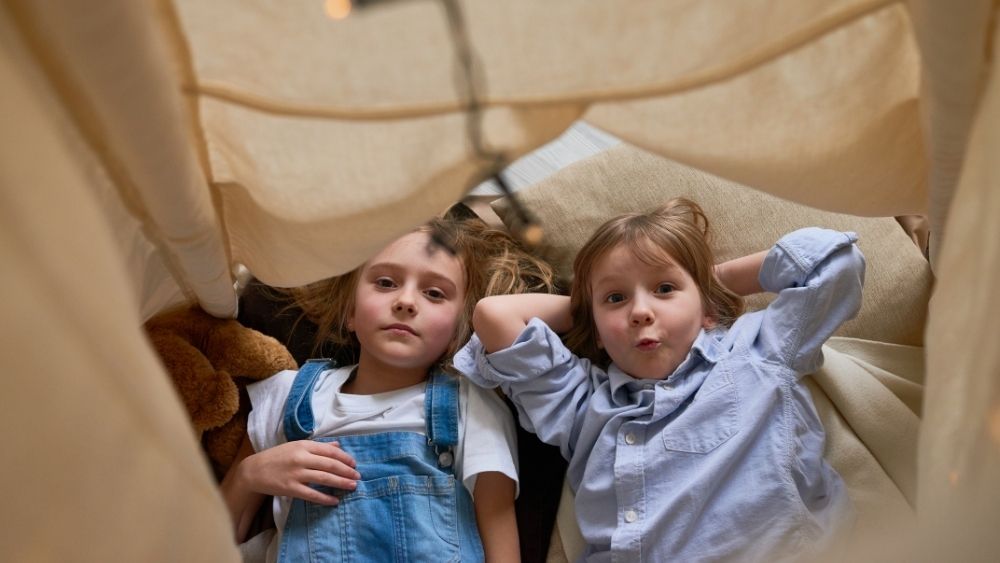 Why Kids – And Adults – Are Taken With Bed Tents
Anyone with a sensory processing disorder will tell you that having stimuli blocked out helps reduce stress and anxiety. Children with autism, anxiety, and depression have reportedly benefitted from having a bed tent. Likewise, children who just need some extra privacy seem to do better with a bed tent, day or night.
The Alvantor Bed Canopy is an outstanding model because it is structurally sound, easy to set up, and offers all-around privacy. It can block some light out and keeps drafts from seeping in without sleeping too hot. Overall, it is a well-rounded option that can cater to children of different ages and needs.
Alvantor Bed Canopy