One of the hardest things to deal with as a parent is your child's sleep. And, if you have twins or two kiddos who are close in age, one might struggle to sleep throughout the night without the other one near.
Or, if you're a college student living off-campus with a roommate, you might need something that will save on space. How are you supposed to resolve the issue when you have restricted bedroom space and/or a tight budget?
A simple but creative solution can be bunk beds. Whether you're looking for stackable bunk beds or traditional ones, there are a ton of options out there. Let's take a look at some of the top bunk beds on the market right now. By the end of this buyer's guide, you should at least have an idea of which will be the best bunk bed for your needs.
Why Get a Bunk Bed?
Saving Space
One of the biggest reasons people buy bunk beds is to save space. Who wants to live in a bedroom that is crowded with furniture? Even in a sizable bedroom, two beds can consume a lot of space. Bunk beds take up significantly less space than even two twin beds.
Saving Money
Beds are expensive. If you have to buy two, they're doubly expensive. Box springs, mattresses, and headboards add up quickly. Those of us shopping on budgets need something more affordable, and bunk beds provide that option.
Learning Life Lessons
Siblings who are close enough in age can learn how to get along and share by sharing a bunk bed. This gives them a sense of closeness too, which is especially crucial if you have twins or multiples.
Having Fun
Kids just want to have fun! And bunk beds are a blast. They make for the coolest blanket forts ever or can be a nice hideaway from the rest of the world when you have a good book you want to indulge in.
Are Bunk Beds Safe for Kids?
Are They Dangerous?
Bunk beds aren't inherently dangerous for most people. They aren't exactly ideal for smaller children, but when older, more responsible children sleep in them, they tend to create relatively few hazards. It is, of course, always important to encourage children of all ages to use their beds appropriately.
Appropriate Ages
If you were to ask an expert their opinion, they would likely tell you that bunk beds for kids should be avoided if the children are six years old or younger. Older children are better able to safely use their bunk beds and have a much smaller risk of falling off the top bunk in their sleep. They are also better able to climb any steps or ladders to get into the top bunk in the first place.
10 Best Bunk Beds Reviews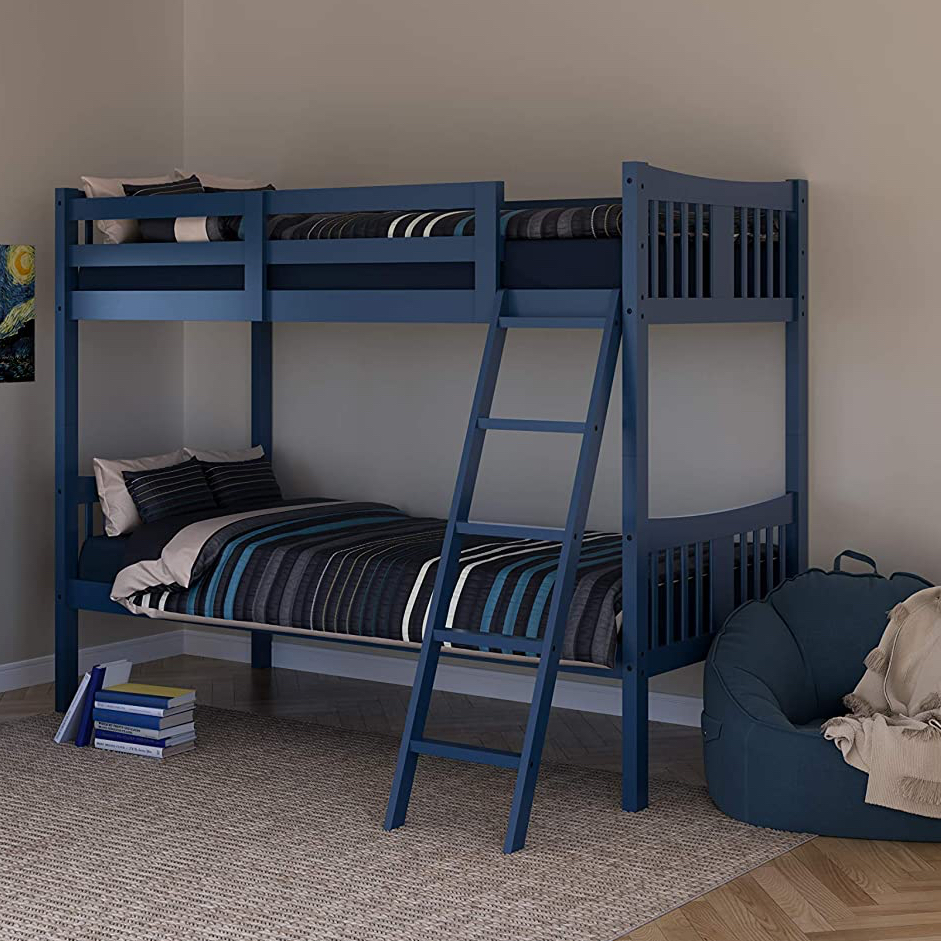 Our top pick for the best bunk bed on the market is the Storkcraft Caribou Solid Hardwood Twin Bunk Bed with Ladder and Safety Rail. This bunk bed is one of the best bunk beds out there since it is made from durable hardwood material - solid rubberwood and composites, to be more precise. This combination allows for a stronger, more durable, and denser construction. It trumps pine wood that is commonly used in other bunk beds.

There is a five-step ladder that is easy enough to get up, and there are full-length safety rails surrounding the entirety of the top bunk. You can also convert this model into two separate beds if you'd like. It can become two separate twin-size beds and is not too heavy to separate and move.

The top bunk has a maximum weight of 225 pounds, which is certainly enough to accommodate the average teenager without becoming unstable. Overall, this bed is versatile and sturdy, which are what most buyers are looking for in a bunk bed. The only potential drawback is that measurements might not sync up. A standard twin mattress (39 inches wide) might not fit these frames, which measure in at 38.5 inches wide. Be sure you measure your mattresses before buying. This one is one of the best bunk beds on the market.
Pros
Durable hardwood build
Able to be separated
Budget-friendly
Safety rails surround the entire top bunk
An easy-to-climb five-step ladder
Cons
Dimensions might not sync up with your standard twin mattress
Buyers report frequently loosening screws
Storkcraft Caribou Solid Hardwood Twin Bunk Bed with Ladder and Safety Rail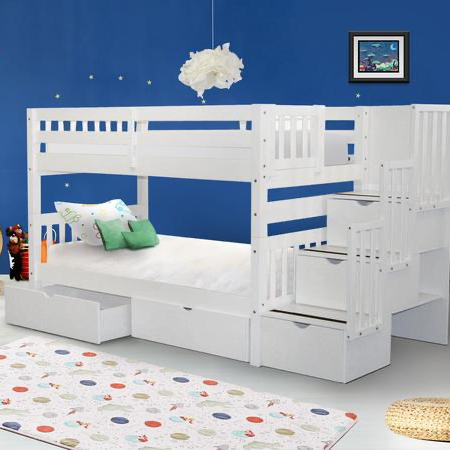 If you have a wide budget margin and want something safe with a ton of storage, the Bedz King Stairway Bunk Beds Twin Over Twin with 3 Drawers model might be just what you want. This bunk bed can be separated into two twin-size beds, although the top bunk will still have an opening in it where the steps would lead up to.

That being said, the built-in stairway is a lot safer than your average bunk bed ladder. A six- or seven-year-old child could easily climb and descend them. And the coolest part is that each step is actually a drawer. On top of that, there are two larger drawers located beneath the bottom bunk. This makes for a great place to store clothing, toys, or books and helps prevent bedroom clutter
.
If super safety is your primary concern the Bedz King can be one of the best bunk beds for you.

The top bunk is limited to 175 pounds of weight, but the bottom bunk can hold 200 pounds. The finish on this bunk bed is child-safe, crafted from sustainably plantation-grown Brazilian pine. Assembly is required, but the necessary tools come included. The stairs can be placed on the right or left, but you will want to determine which side to use before you assemble this bed.
Pros
High quality Brazilian pine wood
Plenty of storage space available
Stairs are safe and easy to use
Can be safe for some younger children
Can be separated into two twin-size beds
Cons
Might be difficult to assemble
Not a lot of head room in the lower bunk
Bedz King Stairway Bunk Beds Twin over Twin with 3 Drawers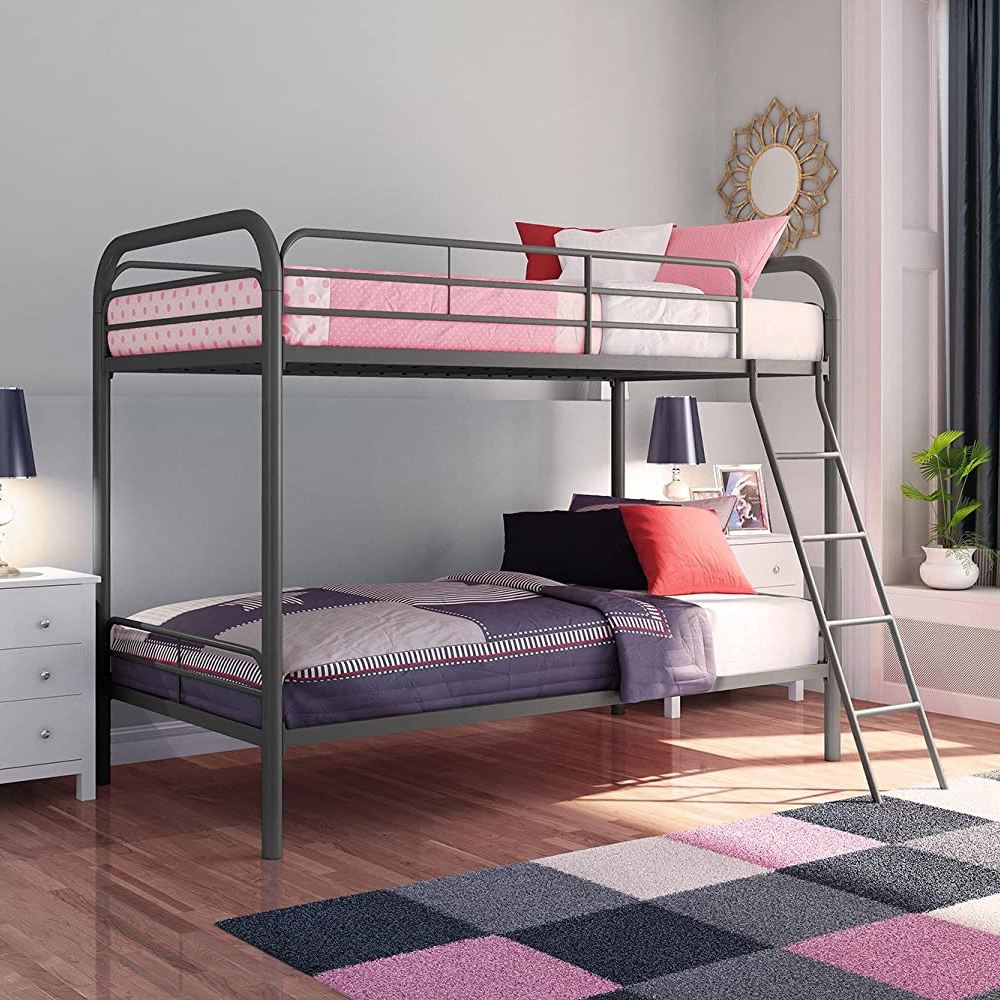 Need something a little more budget-friendly? The DHP Twin-Over-Twin Bunk Bed is a solid option for buyers on a budget. They aren't geared toward younger children, but they work well for teenagers. The frame and ladder are made from metal, and you can select from five different paint color options to fit your bedroom décor.

The top bunk has a max weight capacity of 200 pounds while the lower can accommodate 225 pounds. The slanted front ladder attaches to the bed for a safe climbing angle. The metal material is meant to be able to endure years of hard use by your kids.

Assembly can be somewhat time-consuming. There are around 200 plastic clips that you will need to install. But you can choose to skip installing the slats to support the mattress and still have it hold up. However, you will likely want that extra support to prevent mattress sagging.

Great budget option within cheaper bunk beds on the market.
Pros
A cost-effective option
Top bunk supports 200 pounds
Multiple color choices
Saves a lot of space
Cons
Difficult to assemble
Buyers report some quality issues with the metal
DHP Twin-Over-Twin Bunk Bed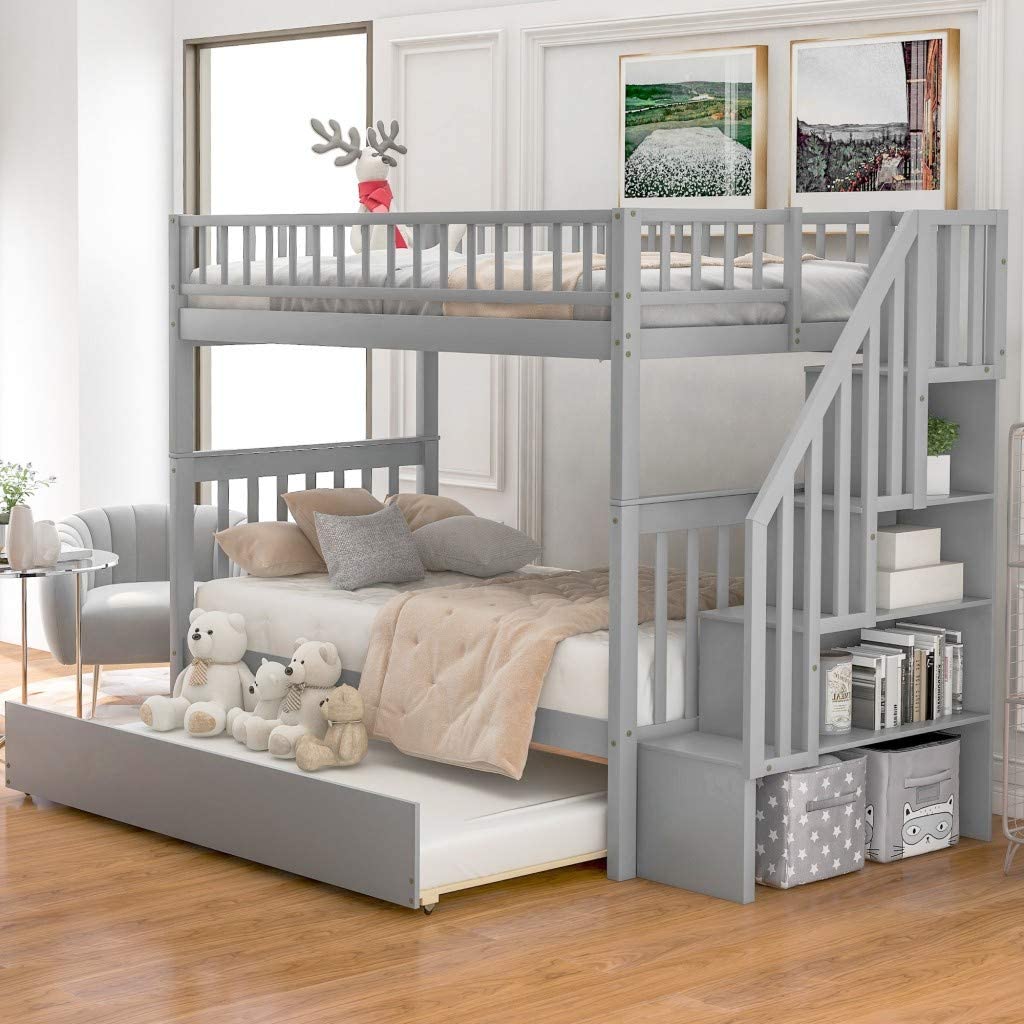 Having stairs can make ascending to and descending from the top bunk a whole lot easier than it can be with a ladder. If you want stairs, check out the Harper & Bright Designs Twin Over Twin Bunk Bed with Trundle. That's right, you can pull the trundle out and use that when your kids have a guest sleeping over.

A great option for bunk beds with stairs and Trundle!

Manufactured from pine wood, this white and gray design works well for boys or girls and pairs well with many bedroom décor styles. It looks a lot more modern than your standard metal frame, and you can find plenty of places for teddy bears and pillows.

Beneath the stairs, there are cubbyholes that can house books, toys, and collapsible fabric bins. You and your kids can get creative with how you style this bunk bed.

No box spring is required for this bed, and the wooden slats offer a lot of support for twin mattresses. You will have to assemble this bed, but assembly is relatively easy despite a few confusing directions in the owner's manual. The best thing about this bed? It is darn difficult to find a bunk bed with stairs at this price point.
Pros
Affordably priced for a bunk bed with stairs
White and grey design works for boys or girls
Plenty of storage areas under the stairs
Wooden slats offer a lot of mattress support
Cons
A few confusing directions for assembly
Rails around the top bunk are slightly short
Harper & Bright Designs Twin Over Twin Bunk Bed with Trundle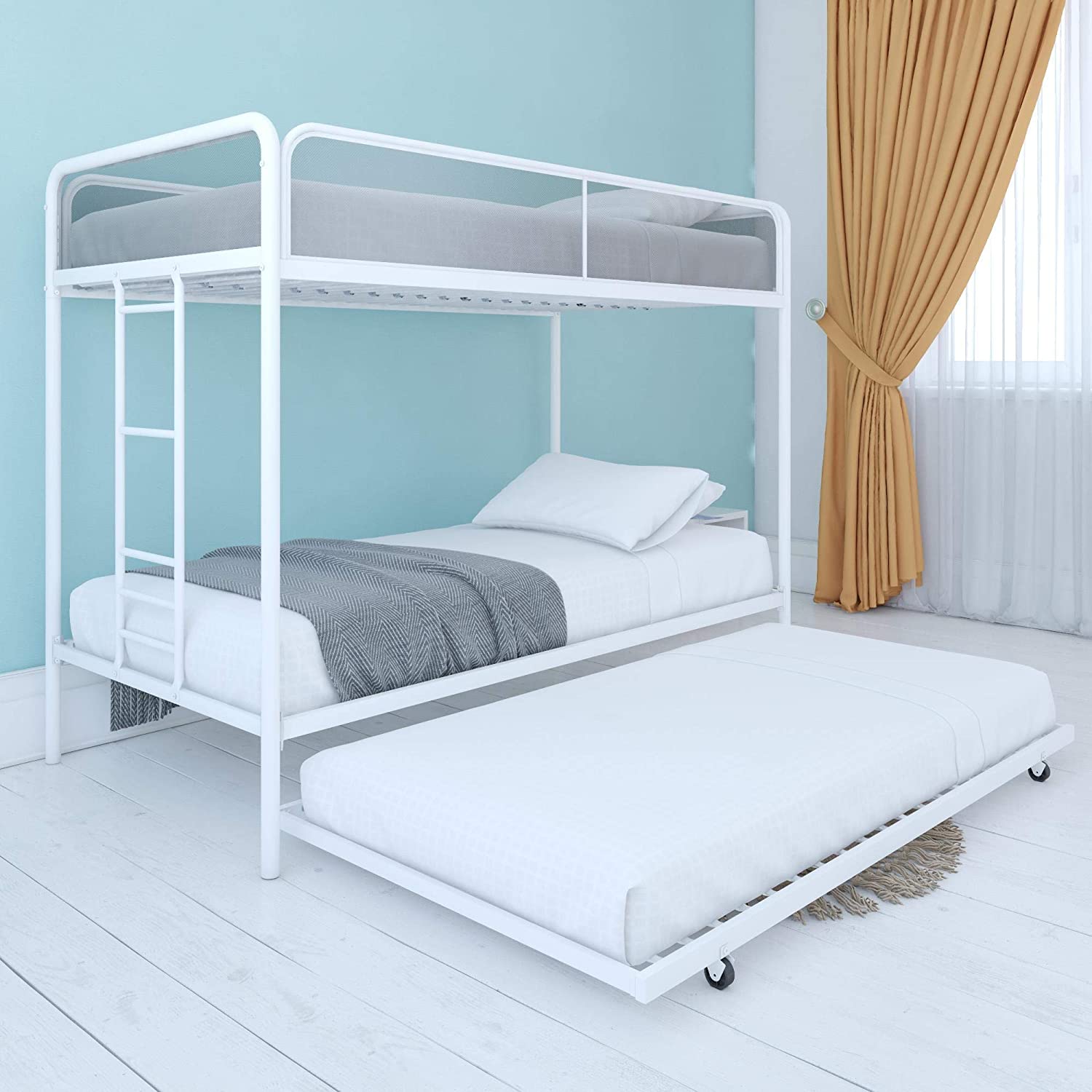 Getting a trundle bed as part of your bunk bed can be helpful if you need to accommodate your children's friends on a regular basis. Perfect for sleepovers, the DHP Triple Metal Bunk Bed Frame - Twin offers space for three sleepers. This trundle bed has wheels on it for easily rolling it out to sleep on. Of course, it might also make for a fun ride if your kids get a little too creative. Two of the casters are lockable though.

This design is composed of guardrails that measure 11.5 inches in full length around the top bunk, an integrated ladder, and secured metal slats. This bed ships in only one box and is an easy model to assemble compared to others like it. This bed accommodates a maximum height of 6 inches for the twin size mattress. A standard size twin mattress will fit these frames.

Customers have reported needing replacement parts on occasion. Unfortunately, it seems as though the manufacturer can be hard to get in touch with regarding this issue. Also, the screws might become loose, and when they do, they get squeaky.
Pros
Easy to assemble
Trundle bed has two locking wheels and two non-locking wheels
Leaves a lot of room even with a low ceiling
Looks good with any bedroom décor
Cons
Reports of poor customer service
Loose screws can be loud
DHP Triple Metal Bunk Bed Frame - Twin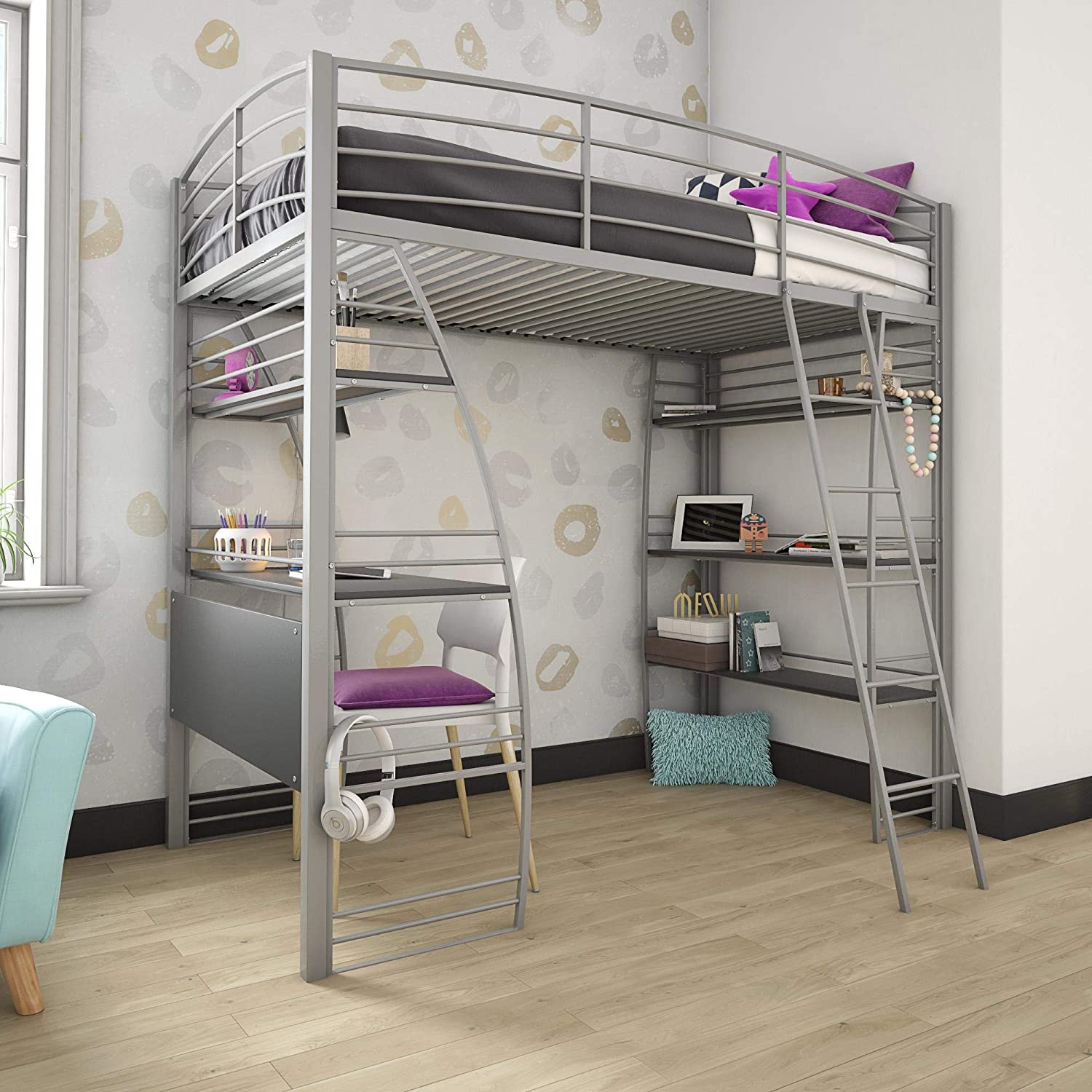 Do you or your teen need a desk included with their bunk bed? If so, the DHP Studio Loft Bunk Bed Over Desk and Bookcase with Metal Frame - Twin can meet your needs. Bunk beds with desks integrated into them help save space. If you have just one teenager who needs a new bed and a desk, or if you need one for yourself, this loft bunk bed meets both needs in a cost-effective way.

The built-in study area has multiple shelves where you can stash textbooks, novels, pens, notebooks, a laptop - just about anything and everything you need for your schooling. There are multiple metal slats and safety rails surrounding the top bunk for safety. Also, the frame will hold a twin mattress as it measures in at 75 inches x 39 inches.

The weight limit is 200 pounds, so this is not meant for bigger adults and is certainly only meant to hold one person. No additional foundation is required, just a separately-sold mattress. Assembly is easy for even one person to manage, but it goes by more fluidly with a helper involved.
Pros
Easy to assemble
A cost-effective furniture bundle
Spacious shelving
Plenty of leg space underneath the desk
Cons
Only accommodates one person
Ladder might be hard on the feet
DHP Studio Loft Bunk Bed Over Desk and Bookcase with Metal Frame - Twin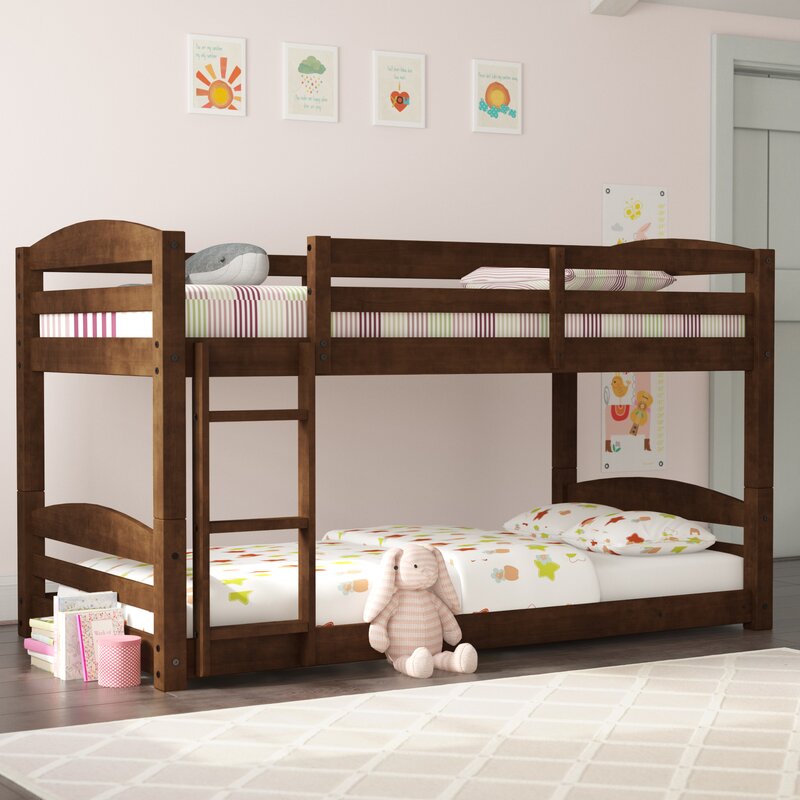 Do you have twin toddlers who need a safe bunk bed they will have a hard time destroying with their crafty toddler ways? The Bellmead Standard Bunk Bed by Greyleigh Baby & Kids offers you just that degree of security while saving on space.

Finding bunk beds for toddlers is not an easy task since many of them present a number of dangers. This bed addresses those issues in style. There is a slat kit included, as well as detachable guardrails and a three-rung built-in ladder for easy and safe climbing.

If you do not have a lot of space in your twins' bedroom, then rest assured that this bed is not bulky. You also get a standard one-year warranty in case something does go wrong with it, and a few buyers have reported the bed experiencing issues within that one-year time frame. The wood has a tendency to crack.

The twin size can accommodate up to 165 pounds on either bunk. Toddlers of various ages and abilities can use these beds and learn how to share while doing so.
Pros
Encourages sharing among toddler siblings
Safe design for toddlers
Chic wooden design
Feels sturdy and secure
Cons
Wood might crack within the first year
Might arrive with dents sustained during transport
Bellmead Standard Bunk Bed by Greyleigh Baby & Kids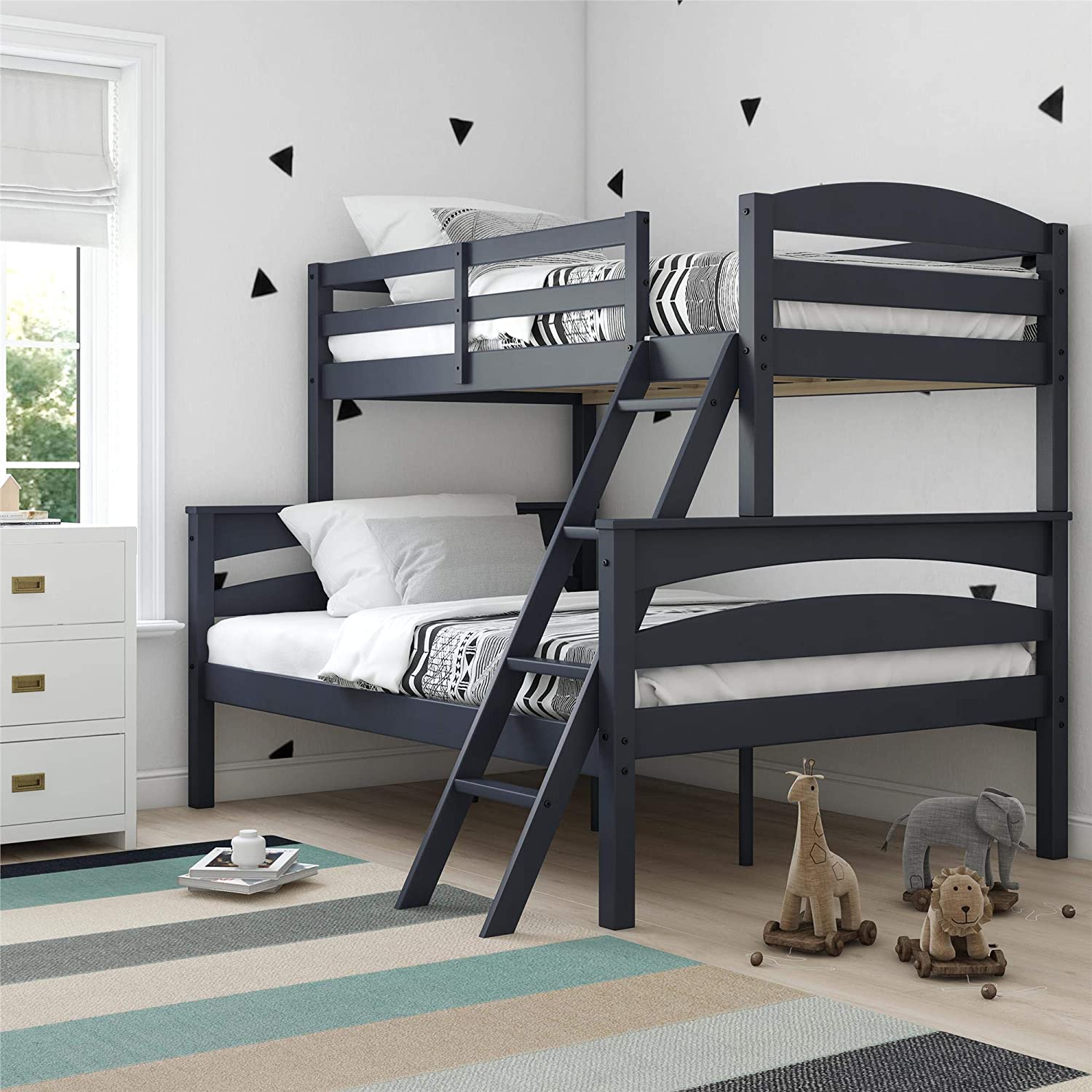 A good twin over full bed is not the easiest thing in the world to find. But the Dorel Living Brady Solid Wood Bunk Beds with Ladder and Guard Rail, Twin Over Full checks off a lot of essential boxes. And it does so in style.

The ladder leading up to the top bunk is angled for safety and easy climbing, going up over the bottom bunk. This makes it harder for kids to fall. There is also a lot of clearance space underneath the bottom bunk for storing boxes of toys or out-of-season clothes.

This bed is made of solid pine wood, not composites. The weight limit is 175 pounds on the top bunk, but it is possible to reinforce both beds with with 1/2 inch sheets of plywood over the slats for extra support for heavier children. A coil spring mattress is recommended for use on both bunks for safety reasons.

There are consumer reports of wood cracking over a short period of time (around four months). This can reportedly happen even when children do not weigh more than 40 pounds. You get a one-year warranty to cover these issues.
Pros
An angled ladder for safer climbing
Plenty of space under the bed for storage bins
Straightforward directions for assembly
The company seems to be responsive to consumers' needs
Cons
Known for developing cracks early on
Slats might be spaced too far apart for decent support
Dorel Living Brady Solid Wood Bunk Beds with Ladder and Guard Rail, Twin Over Full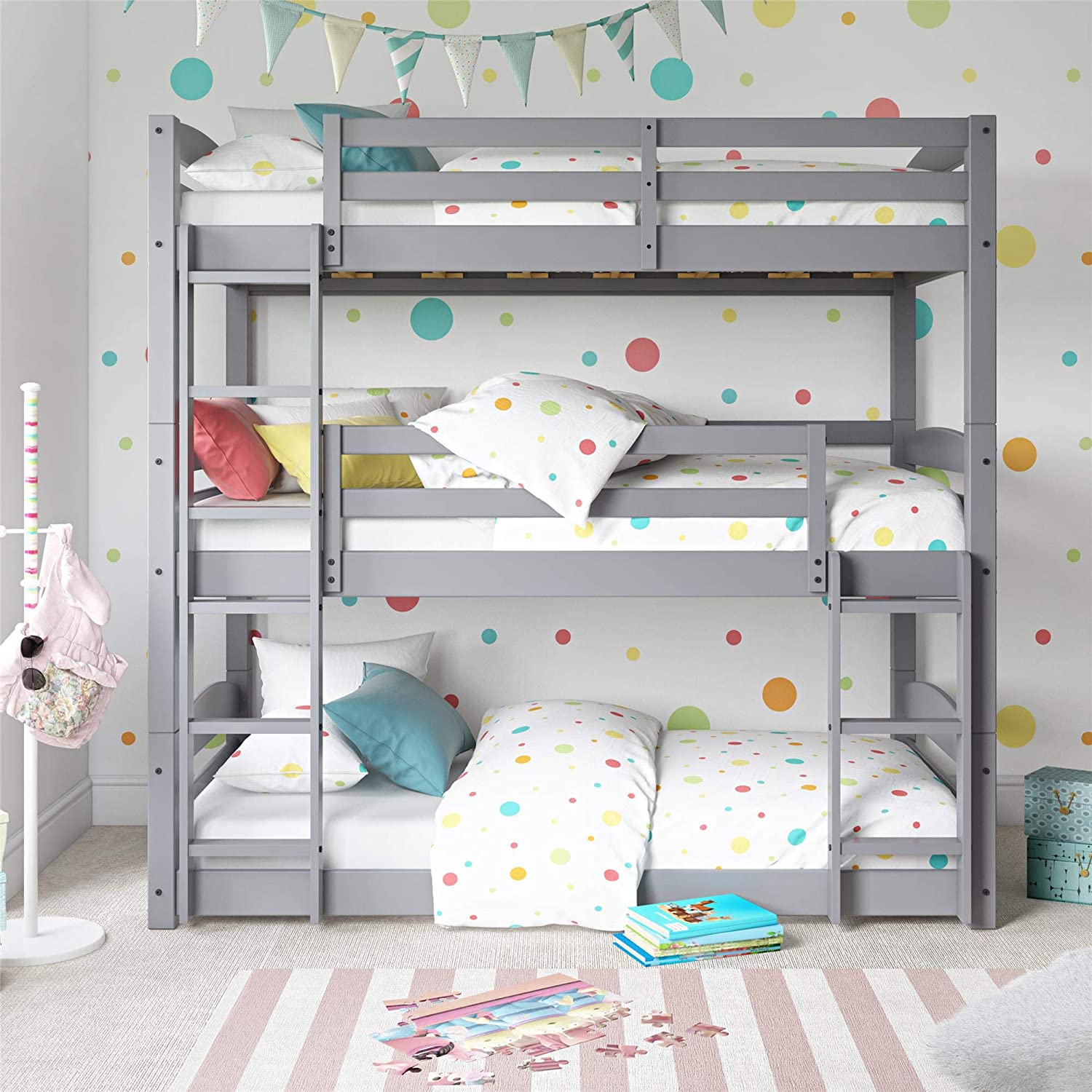 While bunk beds with just two beds might suffice for most, if you have three kids who need new beds, you can save space and money by getting a triple bunk bed. The Dorel Living Phoenix Triple Bunk Bed is one of the best bunk beds for kids that offers space for three.

Choose between four color options: grey, white, mocha, and black. Assembled, this bed's dimensions come in at 79.25" W x 77.13" H x 43.5" D, clearly making it more ideal for rooms with higher ceilings. Each bed is able to hold up to 225 pounds, which means you can fit bigger teens in these beds. Also, the material is solid wood. The middle bunk has its own ladder on the front righthand side of the bed while the ladder to the top is on the left. The only problem with this design is that it boxes in the person sleeping on the lowest bunk.

Also, the thing to be aware of with triple bunk beds is that the lowest bed is typically positioned right on the floor. There is no ground clearance for storage, and some bigger kids might find it harder to get out of bed because of the low height. Also, you probably won't want to switch the top and bottom beds due to the lack of clearance.
Pros
Accommodates three kids and can hold teenagers
Sturdy build quality with solid wood
Multiple color options
Bunkie boards can be used with all three beds for extra support
Cons
Lack of clearance on bottom bunk
Double ladders on the façade get in the way of the bottom bunk
Dorel Living Phoenix Triple Bunk Bed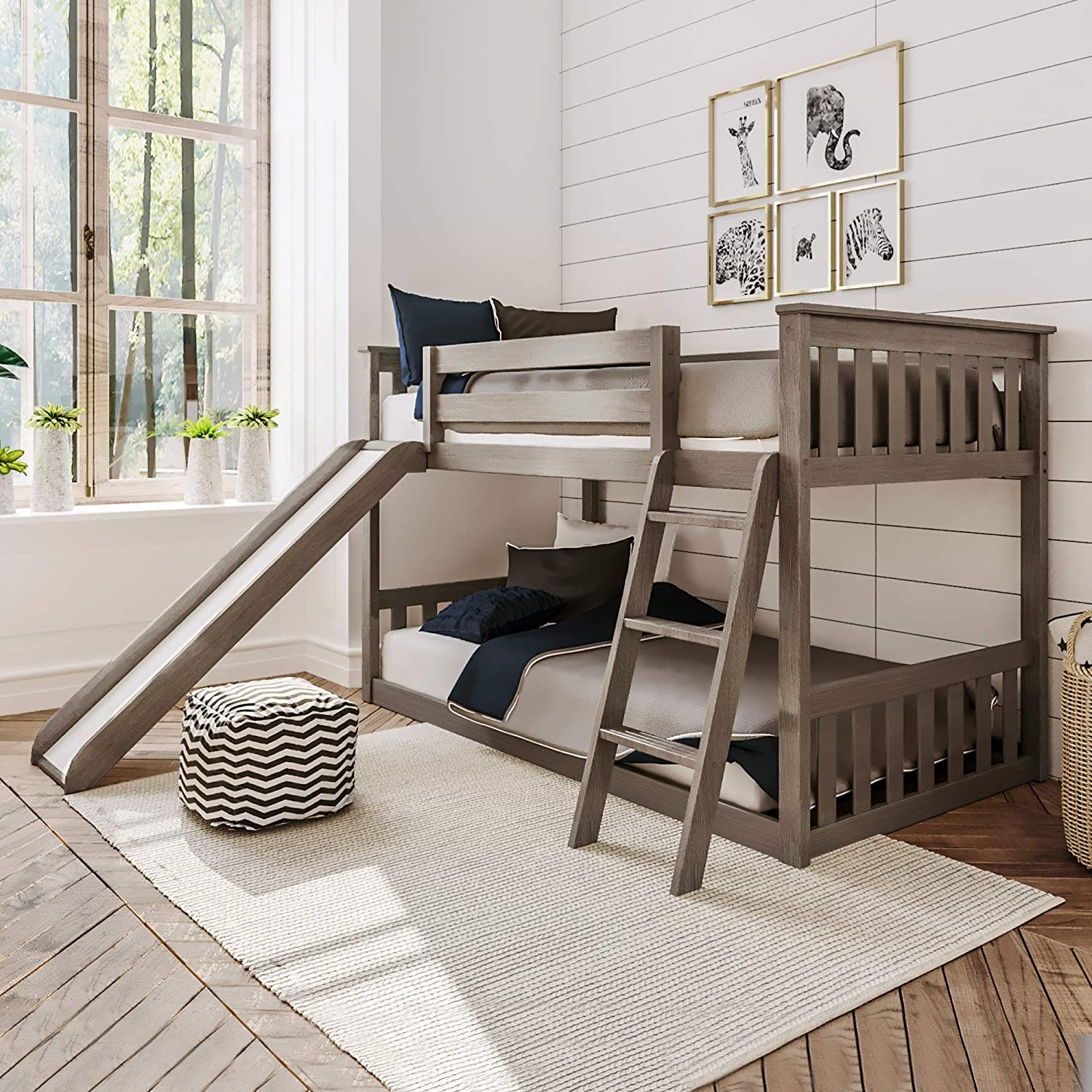 Smaller kids can have some serious fun with the slide that comes on the Max & Lily Solid Wood Twin Bunk Bed. This slide is set at a safe angle and is fun for children to use. For the price, this bed really makes for a comfortable, safe, and fun installment in your kids' bedroom. And, with its solid construction using New Zealand pine wood, you get a non-toxic and durable product with a low VOC finish. Just bear in mind that repainting it will take a ridiculous amount of sanding.

This bed is ideal for a smaller bedroom. It comes with 14-inch tall guard rails, does not require a box spring or bunkie board for either bed, and holds standard twin mattresses up to 8 inches thick. You can also easily add attachable cotton play curtains to the bottom bunk.

What's best is that there is a 400 pound weight capacity per bed. That is almost unheard-of in the bunk bed market. That's right, even a couple of adults could lay down on this bunk bed without the risk of it cracking.

The only qualm being taken with it is the instructions. They are hard for some buyers to follow, and some folks end up just winging it.
Pros
400 pounds weight capacity per bed
A slide that is both safe and fun
Solid pine wood material
Tall guard rails for safety
Cons
Instructions can be hard to follow
Some buyers report a strong chemical odor
Max & Lily Solid Wood Twin Bunk Bed With Slide
Common Types of Bunk Beds
Basic Bunk Beds
The basic bunk bed is a tried-and-true design that everyone knows. It is just one bed stacked atop the other, no frills. They don't take up much floor space and generally leave enough head space for whomever occupies the top bunk. They can often be taken apart and used as separate beds.
Trundle Bunk Bed
Need a spot for a third sleeper? A trundle bunk has an additional bed that can be pulled out from under the bottom bunk. They are typically made in the twin size, occasionally as full size and have two bunks stacked one atop the other.
Futon Bunk Beds
A futon bunk bed is basic bunk bed but with a futon for the lower bunk instead. They typically come in twin or double sizes. You can use the futon portion as a couch or bed.
Study Loft
Study lofts combine an open area on the bottom and a bunk bed on the top. A desk is usually integrated into the study area. Around the desk you will usually find shelving units. They usually come in twin sizes.
Triple Bunk Beds
A triple bunk bed is just as it sounds – three bunks stacked one atop the other. They're best suited for rooms with higher ceilings and do not offer any storage space beneath the lowest bunk.
Twin-Over-Full
Twin-over-full bunks have a full-size bottom bunk and a twin above it. A ladder might be placed on an angle, or you might find a ladder on two sides. The full-size bunk is geared toward older children who need more space.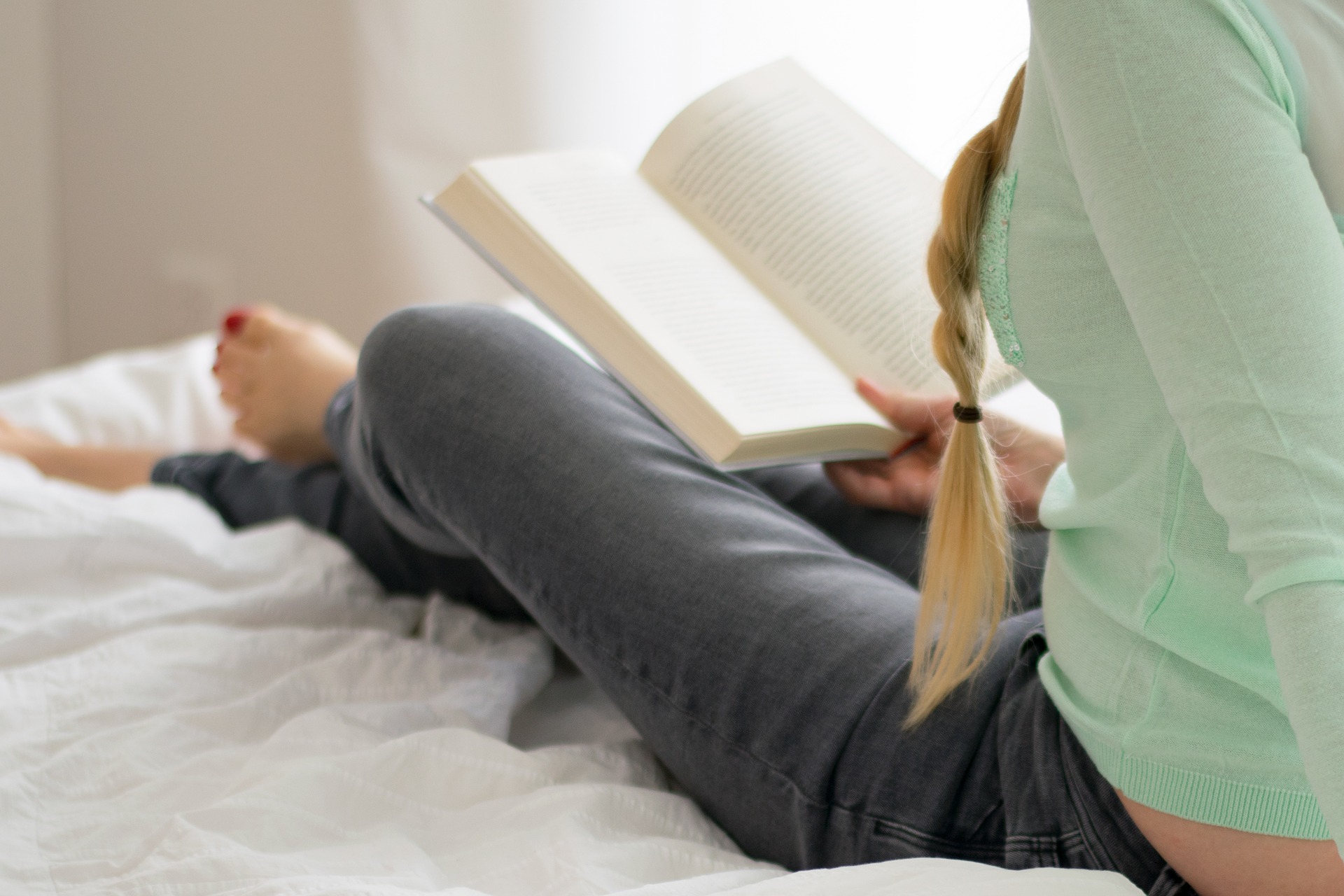 How to Choose the Right Bunk Bed
Choosing the Right Style
Which style meets your needs? Consider your sleepers. Is one a lot bigger than the other? How many children need beds? What kind of space do you have available? The style you get should consider these factors. If you have one teenager, a study loft might be ideal. But if you have triplets and a room with a high ceiling, a triple bunk bed would be better.
Finding the Best Materials
Materials equal quality. Metal makes for a cheaper frame, but that can also mean a lack of quality. The metal can scrape and bend, and screws might come loose or get noisy. Wood tends to be more durable and supportive, especially when it is solid wood. They also lend to a more modern appearance.
Getting to the Top Bunk
Children should be able to easily and safely access the top bunk. The fewer steps, the better. Ladders shouldn't box in the lower bunk either. Steps can be a better alternative to ladders, especially for smaller children.
Certifications
If you go to the CPSC website, you'll read that bunk beds have specific guidelines for avoiding a child getting trapped between safety rail slats or a wall and the bed. Bunk beds need to have a Children's Product Certificate (CPC) in order to be sold on the market in the United States while adult bunk beds need a General Certificate of Conformity.
Safety
Follow all instructions to the tee when you're assembling any of the bunk beds. A skipped step or alteration could result in the bunk bed becoming unsafe. You will also want to pay attention to structural deformities. Metal can bend, and wood might crack under pressure. If you see this happening, the bed is becoming unsafe for use.
Consider how easily your child can climb to the top bunk and whether they run the risk of falling out. Bunk beds aren't typically ideal for toddlers, although bunks made for toddlers generally have extra safety measures and designs in place.
Finally, you need to know the weight limits of both beds in the bunk. Twin sizes accommodate less weight than full sizes, and some beds have varying weight capacities between the beds. You will need to stay below the weight limit for each bed to ensure safety.
Price
An affordable bunk bed might be attractive at the onset, but again, quality could be questionable. Buying a moderately priced model might serve you better, especially if you trade metal for wood. Wood costs more but offers more durability and support. Convertible wood sets are typically the best way to go if you are on a budget but want something that will hold up over time.
Warranty Coverage
Make sure you buy something with a decent warranty coverage. Many manufacturers offer a one-year warranty, but some offer longer while others offer nothing at all. Check the warranty before you decide to buy so you know the terms and conditions.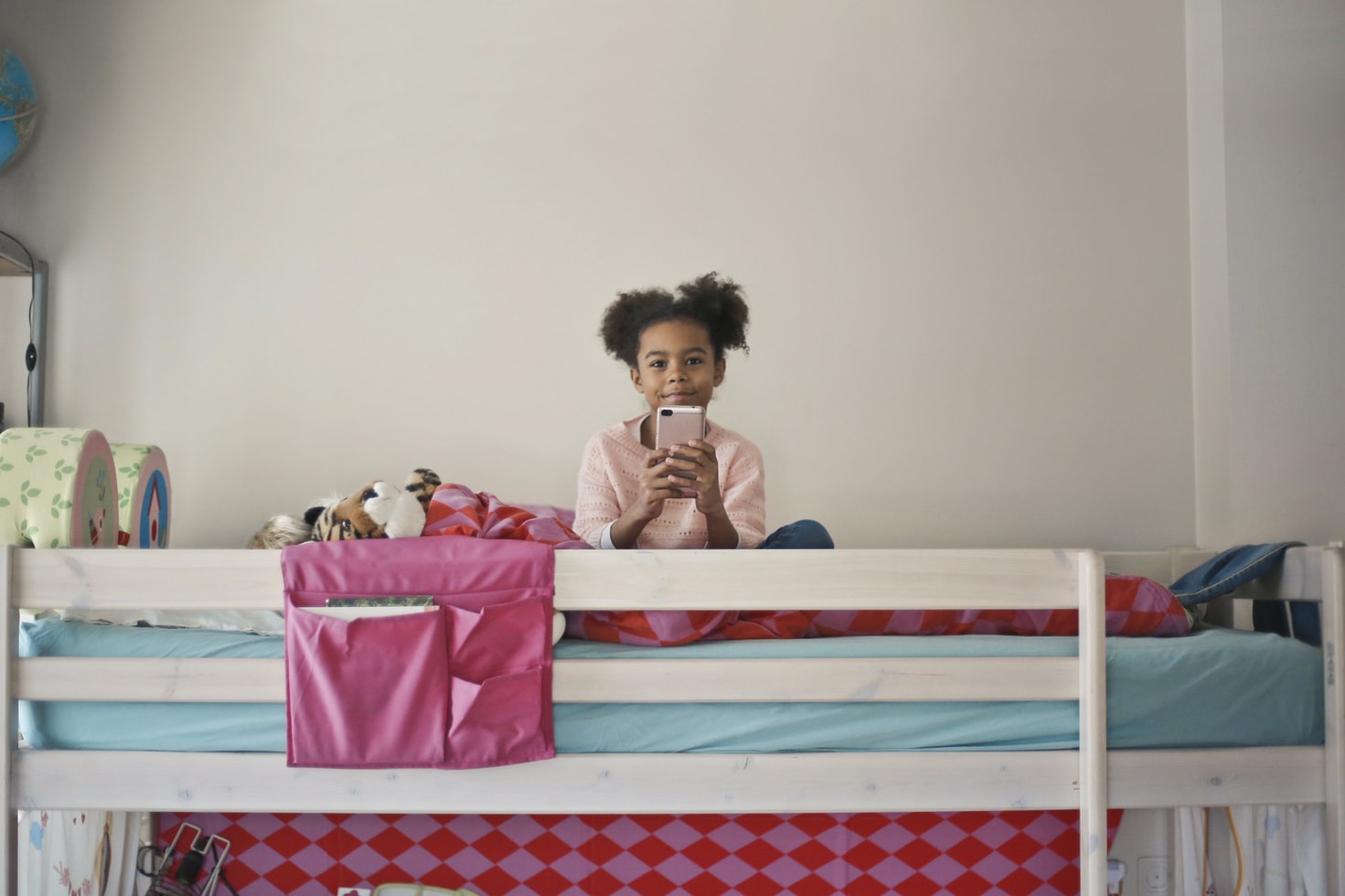 FAQ
 What is a bunk bed?

A bunk bed is a single structure that includes at least two beds, one above the other.

What height bunk bed should I buy?

Height depends on how high your ceiling is. Remember, the average bunk bed is between 5 1/2 and 6 feet tall.

Are bunk beds dangerous?

Bunk beds are safe for children ages seven and up who are not prone to rolling out of bed at night. Bunks made specifically for toddlers are safe for that age due to their design.

What are the safety considerations for bunk beds?

Guard rails should be high enough on the top bunk to prevent a fall. Ladders should also be firmly secured to the bed for stability.

How long do bunk beds last?

A good bunk bed can last well over a decade. Ones made from wood tend to last longer than those made of metal.

What kind of mattress do you need for a bunk bed?

Coil spring mattresses are usually recommended. You do not need a box spring. Always buy according to mattress size and measure before purchasing.

What extra features should I look for in a bunk bed?

Look for bunks that come with storage areas. Bunks with stairs typically offer this, as do those with a good amount of ground clearance with the bottom bunk. Younger kiddos might also enjoy a slide and attachable curtains.
Banking On a Bunk Bed: Some Final Thoughts
A good bunk bed can get your children through many delightful childhood nights. Contrary to popular belief, today's bunk beds are made to meet high safety standards and are highly regulated. Getting one offers a space- and budget-saving solution that parents need. It also incentivizes kids to share with one another – something many of us parents struggle with getting our children to consistently do.
Storkcraft Caribou Solid Hardwood Twin Bunk Bed with Ladder and Safety Rail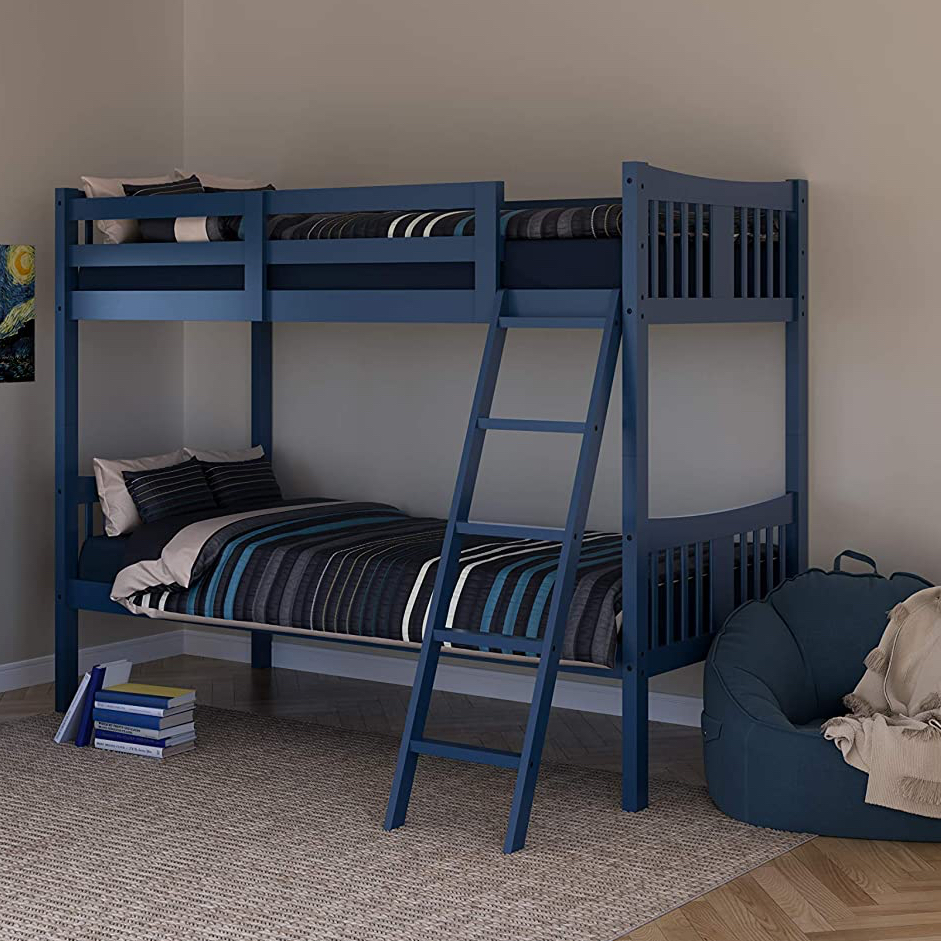 And that is precisely why the Storkcraft Caribou Solid Hardwood Twin Bunk Bed with Ladder and Safety Rail is our top pick overall. Its safety rails wrap around to secure sleepers on the top bunk, and the ladder makes for a simple climb up or down. The hardwood construction ensures durability and strength, and the slats offer plenty of support for a good night's rest. On top of all that, you will have an easy enough time assembling this bed for your kids.