If you are starting to think about looking for a bunkie board queen or bunkie board king, there are a few things to know before you try one. If your mattress is not offering you enough support, a bunkie board could be a helpful addition to your bed. They are relatively inexpensive and easy to put together. But not all of them are created equal. Let's take a look at how bunkie boards work and which ones are the best at offering extra support.
What Is a Bunkie Board?
What is a Bunkie Board?
To break it down into the simplest terms, a bunkie board is an extra layer of slats that you can slip right into your bedframe. You can even put it directly onto the floor beneath your mattress if you do not use any type of frame.
A board itself is anywhere between 1 and 2 inches in thickness, which is actually all you need for the extra support underneath your mattress. Whether your bed comes with a flat or bent slatted frame, a board can easily fit without any problem.
Despite the added thickness, the board does not actually raise the height of your bed much. You will not be left feeling as though the bed is way too high off of the ground for you. In fact, you probably will not notice any sort of height difference. The one difference you should notice is in terms of support.
How Does It Work With Various Bed Foundations?
A bunkie board can work with different types of bed foundations. If you have been using a box spring mattress and aren't too satisfied with it, you can ditch the old box spring and slip a board beneath your mattress, atop whatever kind of bed frame you are using. Using a frame with totally flat slats? Or how about a frame with those slightly bent ones? The board will work with either. Use it with a platform bed or a traditional steel frame. Heck, you can even use it beneath an air mattress due to the wide slats with minimal spacing between them. These boards are just that versatile.
Why Buy a One
If you aren't satisfied with the amount of support your mattress – whether it's a traditional mattress, memory foam, or a hybrid – is giving you, sliding one of these boards between it and the frame can really help. And, of course, for you minimalists out there, a board will add support when placed on the floor beneath your mattress. Avid campers can avoid troubling back pain by sliding one beneath their air mattresses.
Bunkie Board Reviews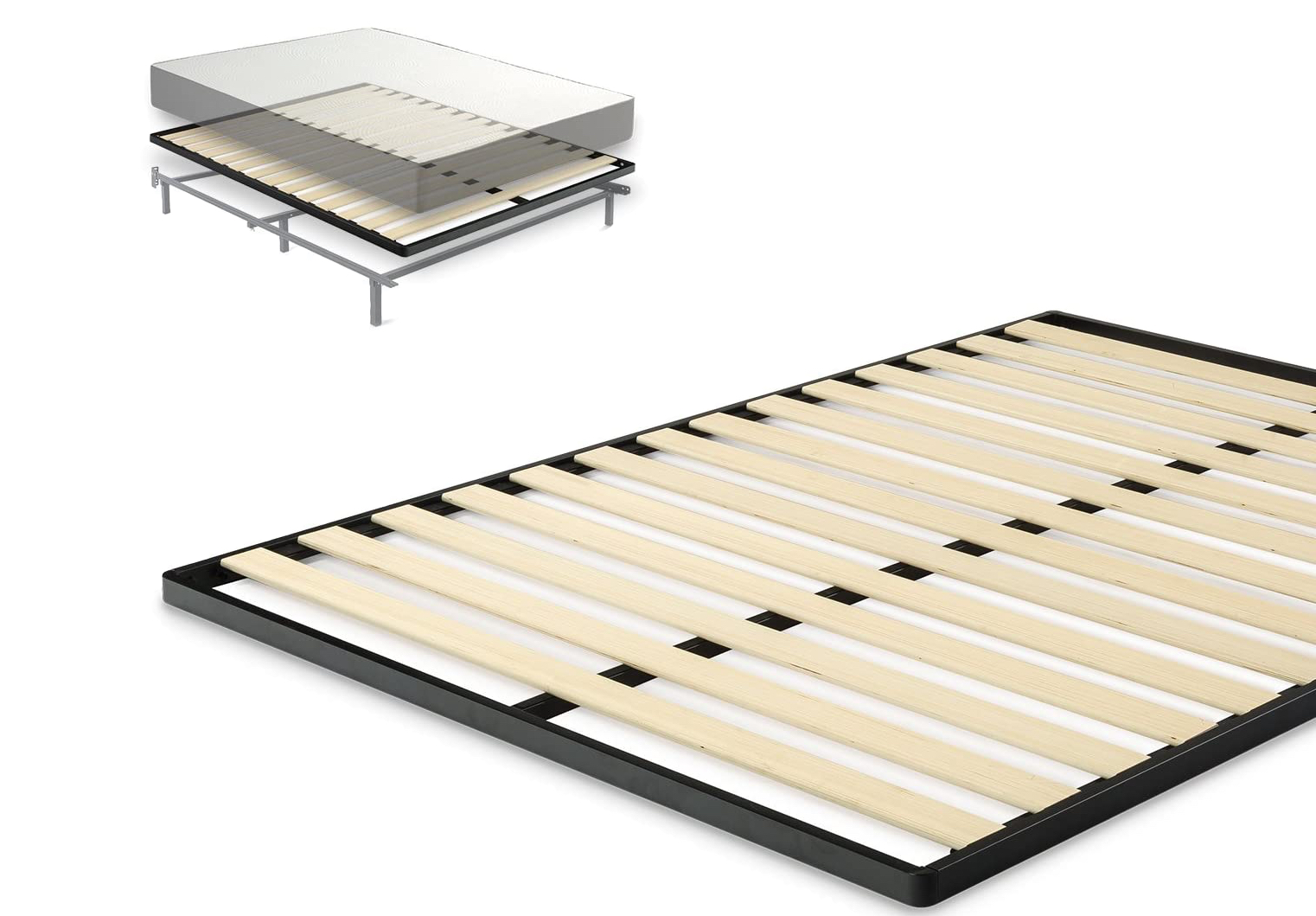 If you are in the market for a queen size bunkie board and have a wide enough budget, check out the Zinus Deepark Easy Assembly Wood Slat 1.6 Inch Bunkie Board Queen. With its durable 1.6-inch wooden slats, this board can be used with a day bed, bunk bed, or platform bed in the queen size.

Assembling this board takes hardly any time, and it comes in compact packaging so that you can quickly get it into your bedroom for set-up. It is able to support memory foam mattresses, box springs, and hybrid mattresses. Foam padded tape is included in order to reduce noise and prevent slippage from happening.

There might be some potential drawbacks to this product. The most concerning one is that the manufacturer reportedly does not accept returns from unsatisfied buyers. Those who buy the queen size might find the board actually does not fit their bed, and not being able to return it means that you could be out several hundred dollars. There are multiple reports from customers that the queen size fits more like a full.

Also, the warranty only lasts for five years. This is a relatively short warranty given that you probably plan on using a board for much longer than that.
Pros
Easy to assemble
Improves airflow and lessens risk of mold
A well-thought-out design
A supportive steel frame encases the wooden slats
Cons
Short warranty coverage
Dimensions might be off
A large open space is required for assembly
Zinus Deepak Easy Assembly Wood Slat 1.6 Inch Bunkie Board Queen
Easy set-up with no tools required
It can accommodate memory foam and hybrid mattresses as well as box springs
Foam padded tape is added to the steel frame for extra stability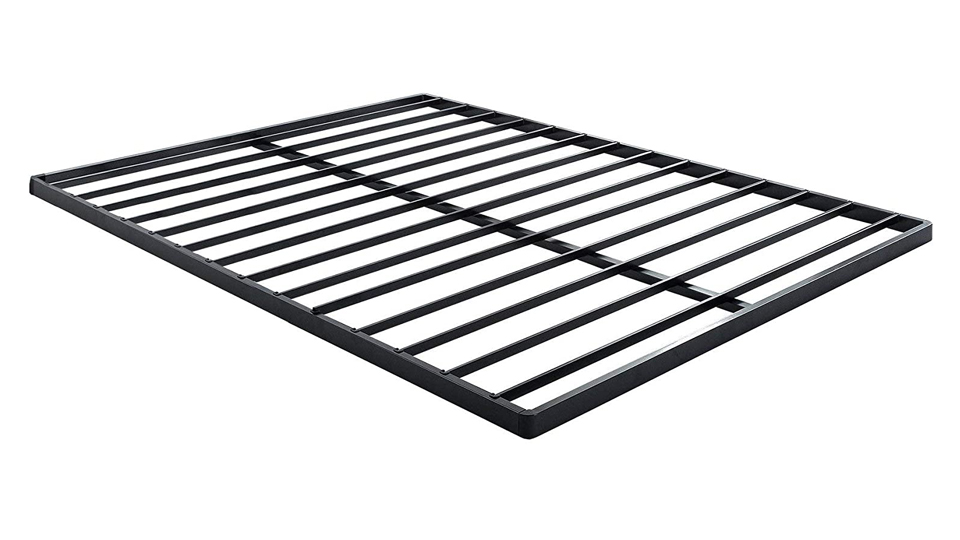 Prefer a metal design? The Zinus Gulzar Bunkie Board Queen is a fully metal board manufactured from alloy steel. This does make it heavier than some boards as it weighs 31 pounds. However, it is likely to be a lot more durable in the long-run. While it cannot be used with a Zinus platform bed, it is able to be used with a day bed, bunk bed, or recessed "sit-in" platform bed.

Assembly should take relatively little time and energy. Since this is an all-metal design, you just have to use the Quick Lock Construction to get it set up. Foam padded tape is included for the metal frame in order to reduce slipping of the mattress or box spring you put on top of it.

The space between the slats is about 5 inches, which is wider than average. Some buyers might be concerned with how much space there is since sagging and soft spots might become a problem. However, users report that they feel they get enough support regardless of this excess spacing.

Again, with Zinus' boards, you really need to read the product description for sizing before you decide to buy. If you order the queen bunkie board, it will fit more like a full. Your mattress might be longer and wider than the board.
Pros
Durable steel alloy material
Easy to assemble
Works at keeping a low profile
Supports memory foam, hybrid mattresses, and box springs
Cons
Wide slat spacing
Dimensions might be off
Manufacturer might not accept returns
Zinus Gulzar Bunkie Board Queen
Benefits from its alloyed steel design, which lends to a longer lifespan
It is easy to assemble with the Quick Lock Construction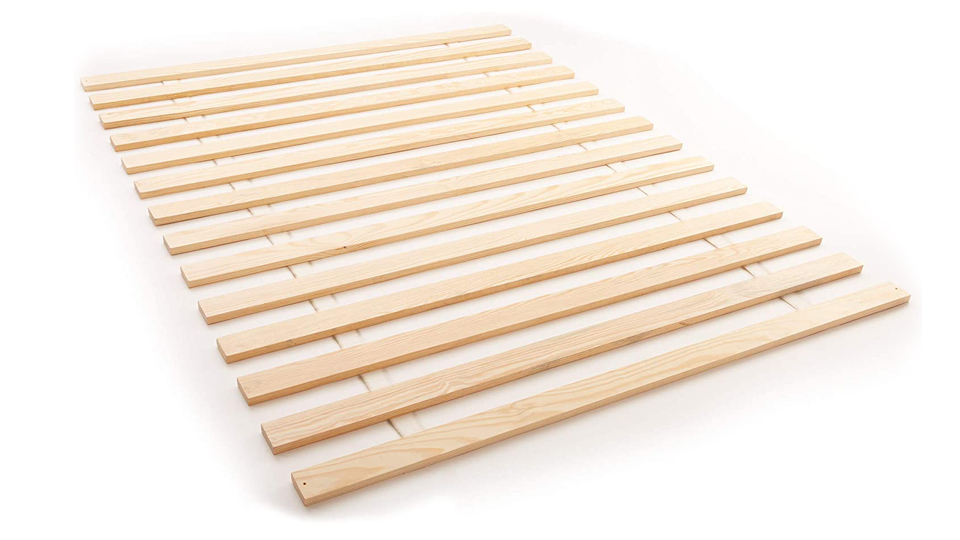 A slightly more budget-friendly option comes in the form of the Classic Brands Xtreme Heavy-Duty Wood Bed Support Bunkie Board. This board is manufactured from Southern Yellow Pine wood, which creates a good amount of durability and support. Also, take note that this product is sourced from and made within the United States.

Assembly is extremely easy with this board. No tools are required. All you have to do is open the packaging, unroll the board, and place it on your bed frame. It can support any mattress type and has a 3/4-inch profile, keeping everything nice and low.

The trick with this board is to measure your mattress first. Measure exactly as the company recommends, and that should result in a perfect fit. If you do not follow the manufacturer's guide to measuring your bed frame before buying, you could end up with a board that does not fit your bed. That seems to be the one problem that customers face with this particular board. The only other turn-off is that there is no offered warranty.
Pros
No assembly required
Made from strong pine wood material
Works well with all mattress types
Amplifies support for a restful night's sleep
Cons
No warranty coverage is offered
Manufacturer's guidelines for measurement must be followed for an appropriate fit
Classic Brands Xtreme Heavy-Duty Solid Wood Bed Support Bunkie Board
Benefits from a low profile design manufactured from durable pine wood
Assembly only involves unrolling the board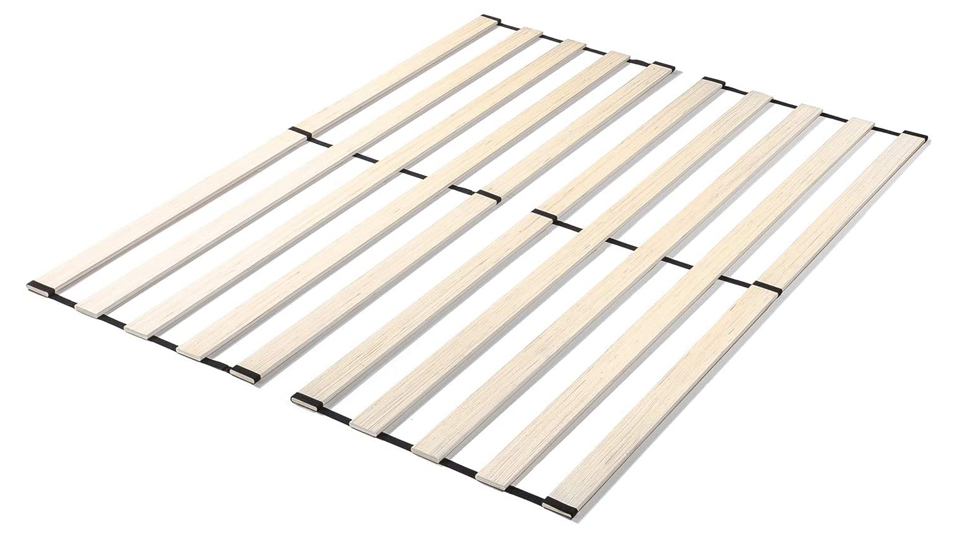 If you want absolutely no assembly whatsoever, the ZINUS Vertical Wood Bunkie Board should be appealing. That product comes shipped to you with the slats already assembled together using Velcro. All you need to do is unroll it and place it vertically across your bed frame.

A queen size comes with ten slats in all spaced 2.8 inches apart. This close spacing means you should not run the risk of any mattress sagging or soft spots developing due to improper support. The slats are made from plywood, though, so they might not be quite as durable as pine wood slats. It can support mattresses without the need for a box spring.

This product is lightweight (just over 16 pounds) and is therefore pretty easy to carry and set up. These slats can support over 400 pounds, making them ideal for a larger adult or two average sized adults.

You will need horizontal supports on your bedframe to secure these slats at the head, center, and foot of the bed. If you do not have them, this board will not work too well for you. The vertical slats need to be secured or else the board will slide all over the place.
Pros
Affordability
No assembly required
Can support any type of mattress
Can replace your old box spring
Cons
Bed frame needs supports at the head, center, and foot for securing the board
Plywood might not be as durable as other materials
ZINUS Vertical Wood Bunkie Board
The ZINUS Vertical Wood Bunkie Board is a lightweight, no-assembly-required board
Made from plywood and is therefore less expensive than other boards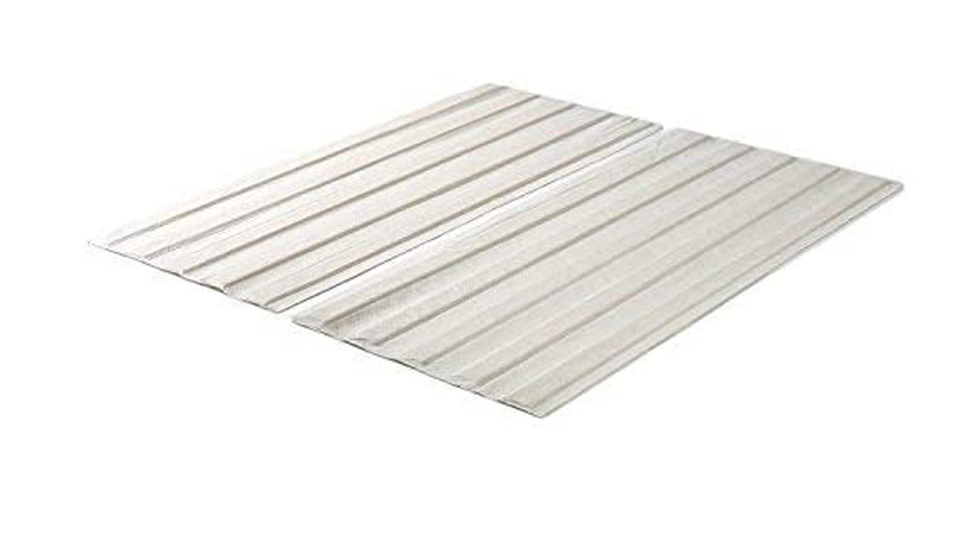 Zinus offers yet another, even more budget-friendly option that is great for foam mattresses - the Zinus Annemarie Solid Wood Bed Support Slats / Fabric-Covered / Bunkie Board. Again, with the queen bunkie board, you get a total of 10 slats. These slats are made from solid wood and have a fabric cover over them that helps prevent slippage and squeaking.

This board must be placed vertically from the head of the bed down to its foot in order to maximize support. There is no assembly required. All you do is remove it from the packaging and unroll it onto your bed frame. It will support a spring, memory foam, or hybrid mattress. It is known for preventing mattress sagging and offering extra support for people with spinal pain.

The one problem is that measurements might not be quite right, leading to a queen size board fitting more like a full size. Some customers report that the board flexes too much for their liking.
Pros
Affordably priced
Comes encased in a fabric cover
Can be ordered as an Upgraded Queen
Supports any mattress type
Cons
Needs supports at the head, foot, and center of the bed frame for securing
Dimensions might be off
Zinus Annemarie Solid wood bed support slats
No-assembly-required design
Fabric cover that prevents slippage and noise
How Do You Use a Bunkie Board?
How to Use a Bunkie Board
As already mentioned in the beginning of this review, bunkie boards can be used in a variety of ways for extra support. Let's go into more detail about how you can use them in place of a box spring, slats, and plywood.
Bunkie Board vs. Box Spring
Box springs have long been the go-to for mattress support, but they are not always the best at providing support. They sometimes sag or just don't hold up well over time. And, quite frankly, they're heavy and therefore hard to move. People who are looking for box spring alternatives might want to consider getting a board. No more springs randomly poking you while you sleep is always a good thing.
But there are more benefits than just that. The boards easily support memory foam and hybrid mattresses, which are coming to dominate the mattress industry these days. But not all of them are flawless at providing support. That means you need a simple solution for adding support, which is where these lightweight and affordable boards can come in handy.
Of course, if you have a box spring that you plan on keeping, you can still add a board beneath it for that extra support your body craves while you rest.
Bunkie Boards vs Slats
Slatted bed frames are still everywhere; just look in any mattress store. They are cheaper than other bed frames, and they can come in a variety of shapes, sizes, and materials.
Now, a board is not exactly guaranteed to offer support. Some are made of exceptional quality materials while others are just "meh". If you already have a slatted bed frame and need some extra support, even just an average quality board can enhance support. Of course, if you want to truly maximize the support you receive, a high-quality board is the way to go.
Bunkie Boards vs Plywood
A lot of folks like to keep to a simple but chic bedroom design with a plywood bed frame fitted to the size of their mattress. Plywood is a flexible material, making it a good choice of foundation for thinner, lighter-weight mattresses. The one downside to using a solid surface bed frame is that you do not get any air circulating beneath as you do with slatted frames.
Since a board has either a wired or slatted build, it creates a gap between the mattress and the plywood frame, allowing for air to circulate. This ultimately leads to a more hypoallergenic bed that is less prone to mold growth.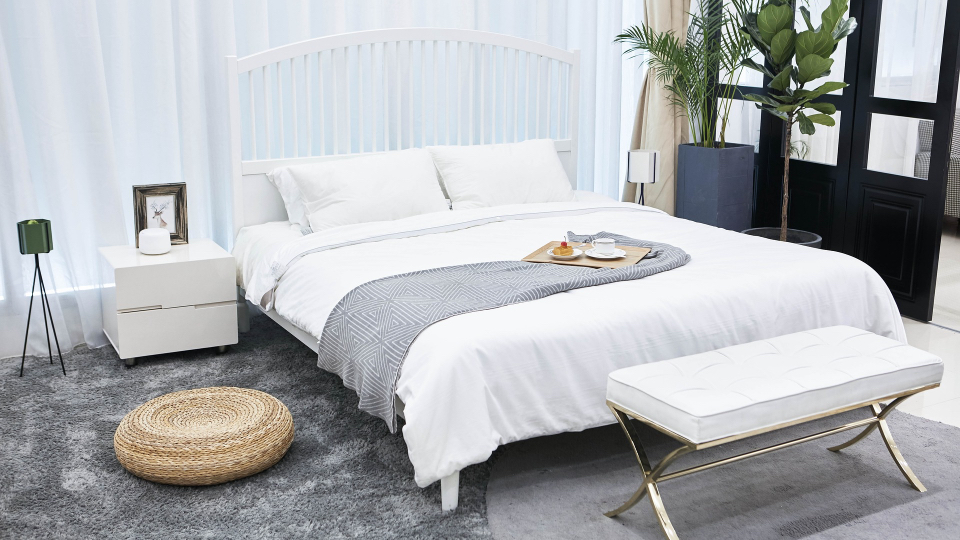 Things to Consider Before Buying a Bunkie Board
Weight Capacity
How are you supposed to find a good board to support your mattress? Start by thinking about the weight capacity you will need it to meet. A board's capacity depends on both the materials used in its construction and the way it is constructed. Wooden boards are not quite as sturdy as metal ones, which means a lower weight capacity. If you are on the heavier side or have another person sleeping in bed next to you, you will need to consider getting a board with a higher weight limit.
Ease of Assembly
Most boards are incredibly easy to assemble. Having a roll-able board or one single piece that you can just slip atop your bedframe makes things simple. That is, if you stick to queen size bunkie boards or smaller. A king bunkie board will require a little assembly since it is just too big to be able to come as a single board. Even then, there are much harder things in the world to assemble. But if you want zero assembly required, queen size or smaller is the rule.
Durability
If your goal is to lengthen the lifespan of your mattress, then you are going to need a board that has a long lifespan too. First and foremost, while shopping, check the board's warranty coverage. A longer warranty is often a sign of higher quality, and it shows that the manufacturer strives for customer satisfaction. Also, pay attention to reviews. Pay attention to the pros and cons these customers give and how they describe their experiences.
Slat Spacing
Slat spacing needs to be considered if you are buying a slatted board. Too much space equates with a lack of support to the mattress. This extra space can even allow for mattress sagging or the development of soft spots. Be sure to check your mattress recommendations before buying your first board. For example, if you have a memory foam mattress, your board should not have slat spacing that exceeds 3 inches.
Noise
Nobody wants to sleep on a noisy bed, so it is important to find a board that remains quiet all night long. Boards with a fabric cover or foam padding are going to be your best bet. There is always the option of just buying some foam tape and applying it to your board to make it less noisy. But the smartest way to go about it while shopping for a board is to look for one that comes with foam padding or a fabric cover.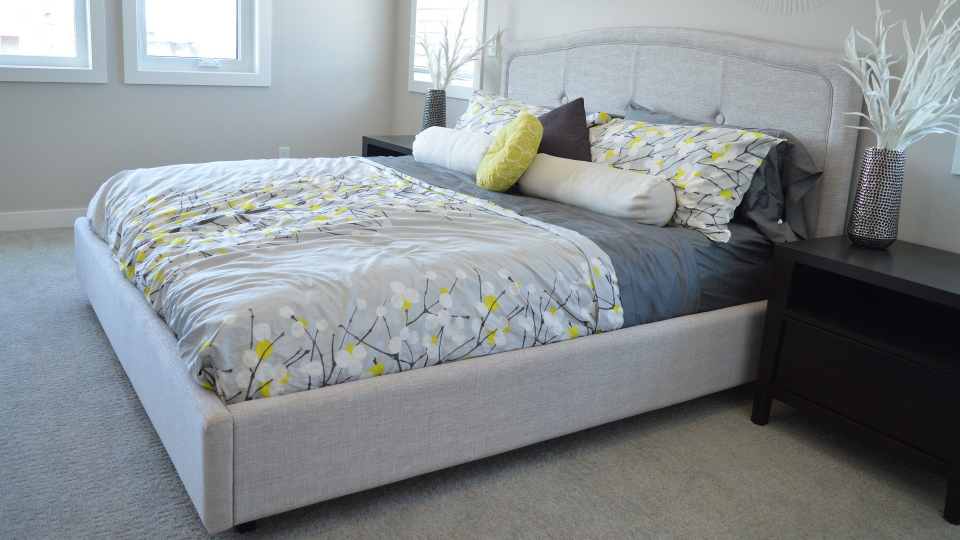 Benefits and Downsides
Things we like
Their biggest benefit is that they can prevent mattress sagging and the development of soft spots – that is, if you buy one that doesn't have huge, gaping slats. Your bed frame might have some weak spots, so having a board between it and your mattress can add support where it is most needed.
A board can also improve air flow for bed frames that have solid surfaces. Mold and icky smells can all develop when there is no proper ventilation. Sliding a board in there adds room for air to flow, thereby preventing mold and smells from developing since it keeps moisture at bay.
Does back pain or stiffness wake you up every night? If so, a board can provide the extra support your spine needs to get through the night. Your mattress might just need a board to assist in supporting your weight.
Some mattresses slide quite easily, but the polyester fabric surrounding a board can stop that from happening.
Things we do not like
One size definitely does not fit all, so you will need to be careful while buying so that you get the right fit. Some boards also struggle to support heavy sleepers, and restless sleepers might find that their movements cause the board to slip a bit. Also, metal boards are often prone to developing squeaks over time.
Also, if your board has unfinished wood, you will want to wear protective gloves while installing it. Otherwise, you are liable to end up with some minor injuries to your hands.
Bunkie Boards Common Materials
Wood
You will find quite a few boards made from pine wood. This type of wood is known for its durability, and the pine slats are capable of holding heavy queen- or king-size mattresses with a couple of average-weight sleepers on the bed. The drawback? It sometimes gets squeaky.
Plywood
Plywood is a lot cheaper than pine, so it is more budget-friendly. If you find one with thicker slats, you can get decent support. But thinner slats obviously mean less support, and that is common with plywood boards.
Metal alloys
Metal alloys can be used for cheap-ish boards that provide a fair amount of stability. It really depends on which metal alloy is being used in the production of the board.
Steel
Steel provides some of the best support from a board. Their polished steel slats hold up against rust, can withstand moisture, and are able to accommodate heavier sleepers. They tend to last longer too. Just bear in mind that widely spaced slats are common on steel boards, so they do not work with all mattress types.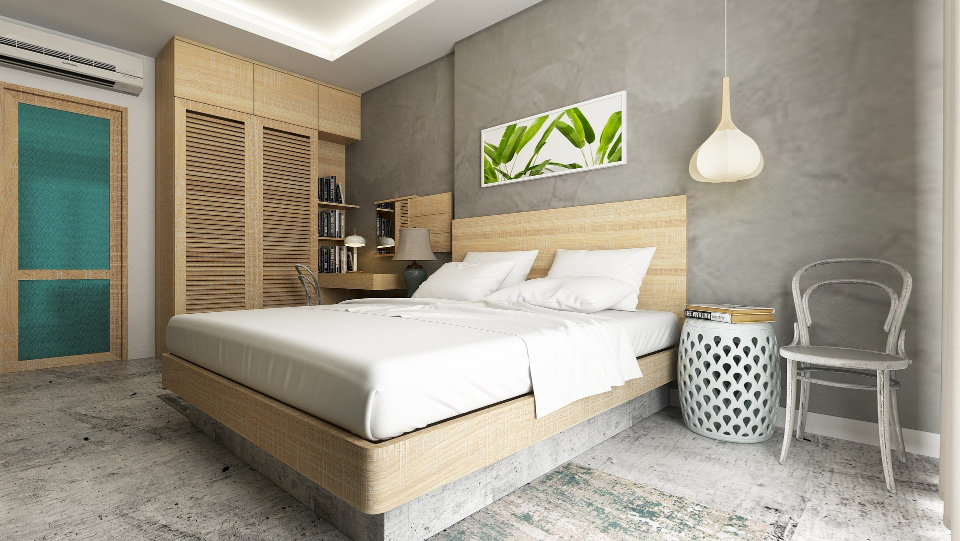 FAQ
When do you use a bunkie board?

If your mattress is sagging or lacks airflow due to a solid bed frame, you can use a bunkie board to improve support and generate airflow.

How to Find a Good Bunkie Board?

Always check the warranty coverage, and pay attention to consumer reviews. Also, note that some materials (like steel) are much stronger than others.

How Much Do Bunkie Boards Cost?

Boards can cost anywhere between $50 and $150. The price typically depends on the manufacturer's reputation as well as the quality of materials used.

How Does the Material Affect the Cost of a Bunkie Board?

Higher quality materials will mean a higher price for a board. Cheaper materials like plywood make for more budget-friendly boards.

Do I need to add a bunkie board if I have a bed with slats?

You can add a bunkie board for support if your bed frame is slatted, as slatted frames do not always offer enough support.

What Are Split Bunkie Boards and How Much Do They Cost?

A split board is one that comes split in two. This makes them easier to fold, store, and carry. They can cost between $85 and $250.

Do you need to use a box spring with a bunkie board?

You can use a box spring with a board in order to create more stability and support for the top mattress.

What is a bunkie board made of?

A board can be made from metal alloys, plywood, pine wood, or steel. Pine wood and steel tend to be the most durable but are more expensive.

Can you use plywood instead of a bunkie board?

You can save money by placing a piece of plywood underneath your mattress if you need some extra stability.

How thick is a bunkie board?

 A board is typically between 1 and 3 inches thick. They are cut to match a particular mattress size.
Banking On a Bunkie Board
Getting enough support for a good night's rest is crucial, as you well know. Sometimes, a box spring will not do the trick. Some bed frames allow for too much mattress sinking or do not permit any airflow, leading to mold growth and funky scents. Those are some of the reasons why getting a quality bunkie board is helpful.
Those reasons are why the Zinus Deepak Easy Assembly Wood Slat 1.6 Inch Bunkie Board Queen makes our top pick here. The slats are made from quality wood and spaced close enough together without being too close. And the board's easy assembly makes for a quick and painless task. The only serious concern you might have is that the manufacturer does not seem to accept any returns. This means that you need to measure your bed frame in advance and be absolutely certain of the dimensions that you need to get the perfect fit.
Zinus Deepak Easy Assembly Wood Slat 1.6 Inch Bunkie Board Queen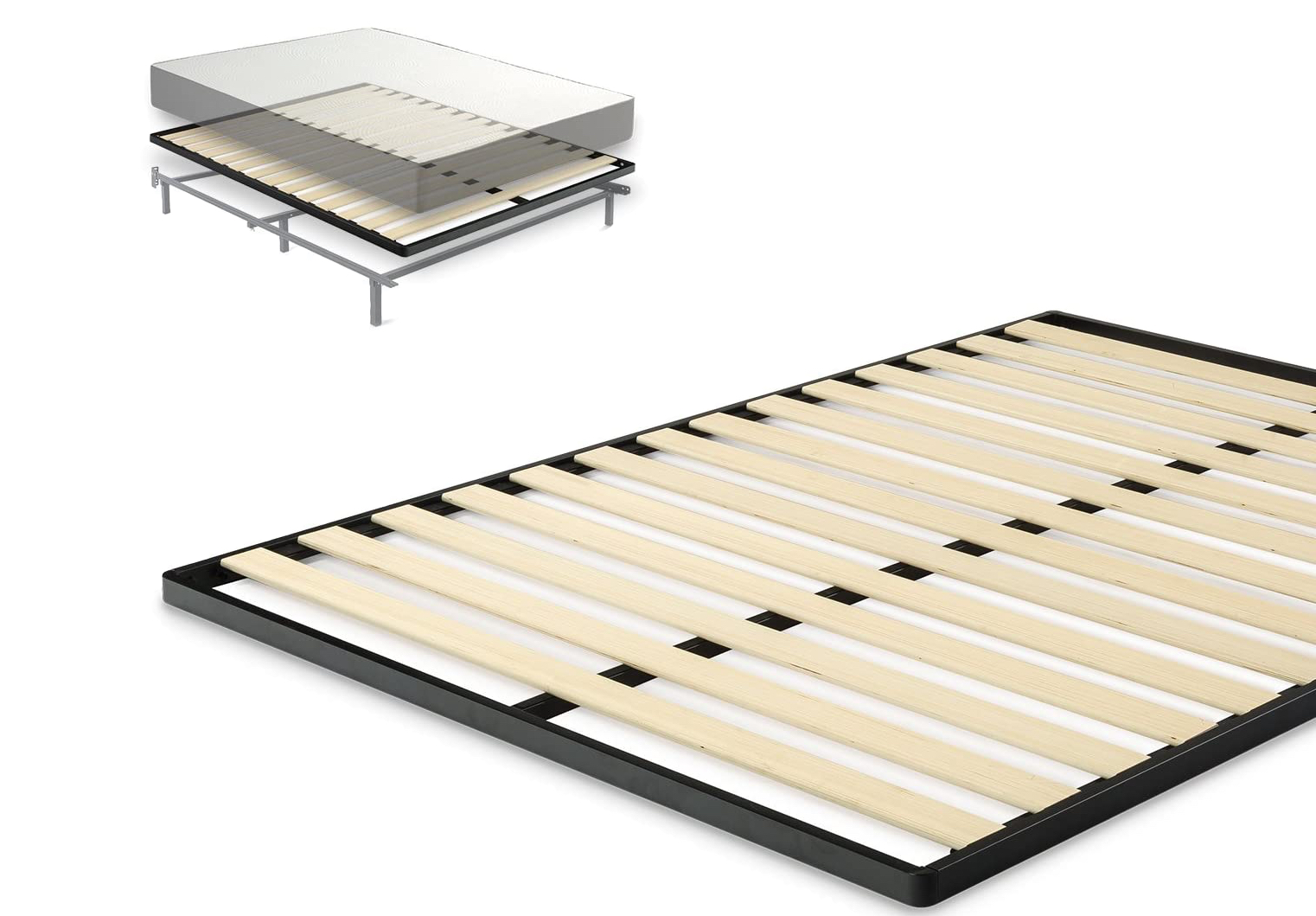 All in all, buying a bunkie board can improve your quality of sleep and help extend the life of your mattress. While a good one can cost you up to $200, most buyers seem to think that the investment was one worth making.