A California king is 72 inches wide by 84 inches long.
If you are a tall person who has gotten used to dangling feet, you may find it disconcerting to be able to stretch out fully and not to hang over.
However, you'll get used to it quickly. The best California king mattress is the one that fits in your bedroom. If you need storage space under the bed, you'll also need enough square footage to roll out or move out the storage bins.
What is a California King?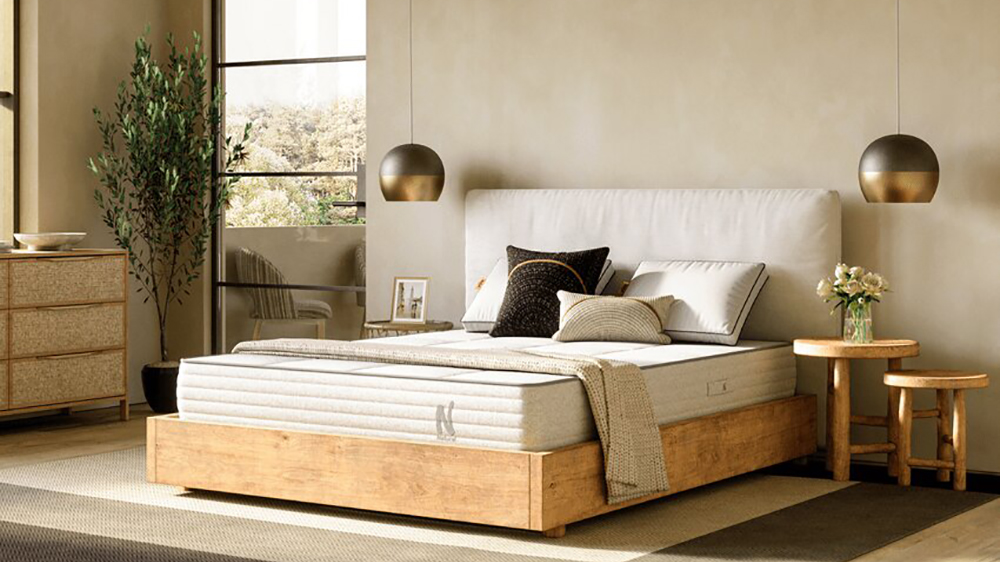 A California king bed is slightly narrower and slightly longer than a standard king size mattress. 
Your California king will be 72 inches wide; a standard king mattress is 76 inches wide. California king beds offer more length; these beds are 84 inches long, rather than the 80 inch long standard king size mattress. 
If you are taller than average or you have pets that sleep with you, a California king could be exactly what you need.
King Size Mattress In inches, the 76 inch by 80 inch is 6,080 square inches. The 72 inch by 84 inch
California King Size Mattress is 6,048 square inches. 
Memory foam or hybrid California King Size is ideal if you need the sleeping space of a King Size Mattress but also need space around the sides of the bed. 
For example, if you invest in a platform bed with drawer storage, the narrower California King may make it easier to get to your belongings.
Best California King Mattress: Top 15 Reviews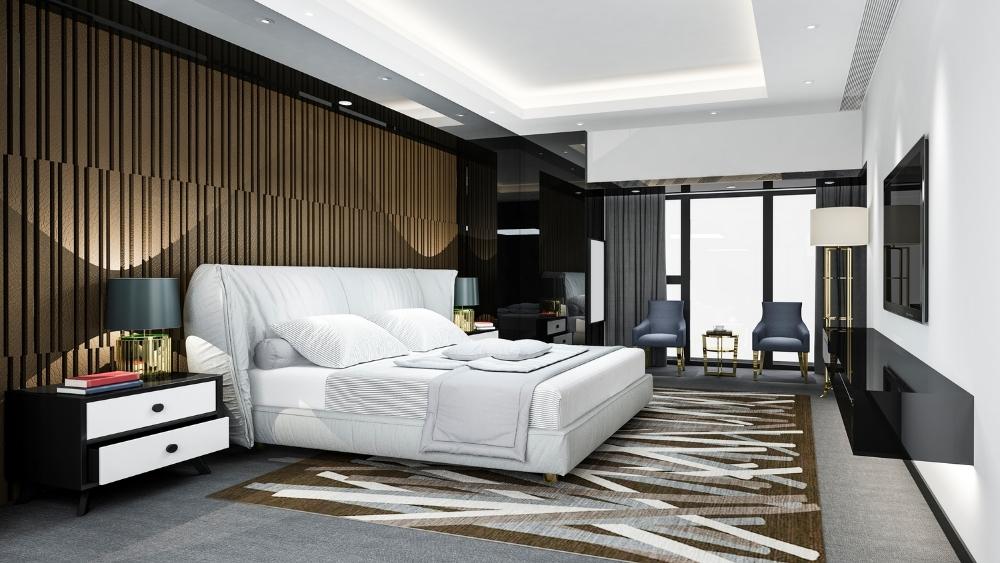 If you love the cushion of a foam mattress but can't take the heat, the Amerisleep AS3 is a great choice.

This mattress is an excellent choice for those who struggle with back pain; the top layer is extremely responsive and will allow you to turn and adjust without waiting for the mattress to sink or flex. Even better, the Refresh Cover turns your body heat into far infrared energy.
Far infrared energy boosts your circulation and stimulates tissue health, helping you to shed inflammation and clear your tissues of toxins. Despite this energy, the top layer is formulated to carry away body heat and allow you to sleep cool.

Finally, the bottom layer provides a firm, stable base to allow the active layer of foam plenty of flex. This open, wicking foam will also reduce the risk of moisture build-up, cutting down your risk of mildew and bacterial growth.
The Saatva Classic is produced by a company that offers much more than a terrific mattress. You can get this mattress in both standard and split. Comfort level options include plus, luxury firm, or firm.

You can buy the mattress alone, buy a standard foundation, or an adjustable base to suit you and your household. The cover is organic cotton and the foam in this mattress is treated with Guardin botanical antimicrobial treatment to avoid any bacterial or mold growth.

The innerspring coil is covered and surrounded by foam to help the mattress hold its shape while allowing plenty of airflow and great comfort for years to come.
Your Nectar Mattress is a full foam mattress made up of 5 layers. The base is all about stability; no matter what happens on top of the mattress, the bottom layer will keep things together.

The next layer up is 7 inches of support. Additional dynamic support for spring can be found in the middle layer, while the 2nd layer from the top is gel-infused foam to move heat away from your skin.

Finally, the top layer is a quilted poly-blend for softness and heat dispersal. The Nectar California King Size Mattress is 12 inches thick, 84 inches long and 72 inches wide, and can work either on a flat platform or an adjustable base.
If you are recovering from an injury or struggling with joint pain, the Nolah Evolution may be the best California King Size mattress for your needs.

This is a hybrid mattress that features coils for pressure relief and spinal supports. The memory foam in this mattress is graphite infused to keep you cooler and reduce the risk if bacterial build-up.

Finally, the cover of this mattress is made of ArcticTex™ fabric, woven to stay cool to the touch. There are 7 layers of support within this mattress. It's designed to allow you to snuggle in, find a comfortable position, and stay there as long as you like. You can get an organic cotton protector for this mattress for easy washing and they offer bamboo sheets to suit.
For side sleepers and heavy sleepers, the Cal king mattress Amerisleep AS5 Hybrid is an excellent choice. If you sleep hard enough to wake up stiff and sore or struggle with joinnt pain, the soft and supple AS5 is ideal.

This mattress offers extreme pressure relief and a 100-night sleep trial so you can be sure. The AS5 mattress comes with a 20-year warranty and offers free shipping as well as free returns should you decide not to keep it. This Bio-Pur® memory foam bed offers multiple layers that allow air to move.

Combined with a soft cover woven to stay cool to the touch, you can revel in this plush mattress that doesn't lead to overheating.
For those who are sensitive to memory foam, the best Cal king bed in this listing may be the Avocado Green Mattress.

This Cal King mattress is made of latex foam, individually wrapped coils, organic cotton and organic wool. If you are vegan and prefer to not use wool products, Avocado has options for you as well. Side sleepers will revel in the plush cotton top.

For those who need help with motion isolation, the pocketed coils will limit motion transfer no matter which of you need to settle in. You can enjoy the 11-inch standard mattress or the 13-inch pillow top. Tummy and back sleepers may do better on the 11-inch while side sleepers will be more comfortable on the 13.

If you've never had a latex mattress before, you can try it for a full one-year trial period. This mattress also comes with a 25-year warranty.
If you're a hot sleeper who does not care for memory foam, the best California king size mattress for you in this listing may be the Nolah Natural Talalay latex Cal king mattress.

The combination of punctured latex, which provides excellent airflow, and comfort coils, which provide ideal pressure relief, will keep you comfy and cool no matter the season. You will enjoy a 120-night sleep trial and a lifetime warranty with your Nolah.

While this mattress is just 11 inches thick, you will find a bit more flex and give on this mattress than some of the other lower-loft mattresses in this listing, thanks to the multiple layers of latex foam and quilted cotton top.
Those who struggle with allergies will love the Puffy Lux Hybrid premium hypoallergenic cover. If dust and dust mites are a challenge, this mattress may be the solution.

This mattress features 6 layers, from the stain-resistant cover to the gripping base, to keep you comfortable. It offers a medium plush level of comfort; while it flexes with you, it won't swallow you up.

The top three layers of foam below the cover are formulated to keep you cool and to wick way moisture. At the bottom, you'll find the coil base for flexibility and give.
Hot sleepers in the market for a California king need to check out the GhostBed Luxe. Every layer of this mattress is formulated to stay either cool to the touch or to wick away heat.

In addition, this may be the best Cal King mattress for athletes. The pressure relieving layers offer excellent motion isolation and make it easy to find a comfortable position without disturbing your sleeping partner.

This best cooling California King Size Mattress provides motion transfer protection for side sleepers and back sleepers. You GhostBed comes with a 101 day trial period. The manufacturer does ask that you give the bed 30 days to adjust to.

If you've struggled to find a memory foam or hybrid that doesn't leave you a sweaty mess, this may be the best Cal king bed for your needs.
10. Best for Side Sleepers: Layla Hybrid
A hybrid mattress pairs foam and innerspring coils. The Layla Hybrid is designed to fully cushion side sleepers, restless sleepers, and folks who need to move. This seven-layer mattress includes pocketed coils for comfort and flex in the middle.

Above and below the coils are layers of copper foam to wick away moisture and make the mattress inhospitable to bacteria, mold, and mildew. Above the coils is a 2 inch layer of cooling foam, a 2.5 inch layer of copper-infused foam, and a soft fabric to make it easy to move the mattress and protect the layers of foam.

You can pull the cover off this bed for washing and handles are built into the fabric cover. For those who find they eventually need a firmer mattress, you can flip this one and use the firmer layer as the top sleeping surface.


11. Best for Plus-Sized People: WinkBed
Larger folks looking for more support in their California king will love the WinkBed. The WinkBed is a wonderful hybrid mattress covered in Tencel fabric, made from eucalyptus fibers.

The pillow top is made of gel infused foam. The combination of this foam and individually pocketed coils will help you to stretch out and enjoy greater support as you sink into your mattress.

Even better, this mattress is made with an edge support system that will support you in comfort and hold its shape over time.

Also, in every layer of this mattress, the design releases heat and moisture. This mattress will work with a slatted frame, a traditional frame with center support and a platform, and an adjustable frame.
A Casper Original offers four factors that protect your health and keep your body well-supported as you slumber. There is zoned support to protect your spine through the hips.

The Airscape design lets air move through the mattress to keep you nice and cool. The base foam provides plenty of spring at the lowest level to protect the mattress from crushing and keep the upper levels supported.

Finally, the top layer of premium foam cushions your body as you move and turn. The California king Casper is only 100 pounds and offers great support at 11 inches of thickness.
13. Best for Active People: Zoma Mattress
If you love to exercise and fall into bed completely worn out, the Zoma Mattress is a great choice.

Their construction technology is referred to as Triangulex and Reactiv. Triangulex cools your body by boosting the breathability of the mattress thanks to gel foam and a pattern of cutouts.

The Reactiv technology cushions your body as you turn and stretch out. The bottom layer of the mattress provides plenty of support and durability over time.
If you have any nerve or joint pain issues, you may gain great benefit from a DreamCloud Premier plush mattress. This hybrid mattress starts with a low motion or transfer layer. The next layer up is made up of individually wrapped coils.

There's a pressure-relieving comfort layer, an extra inch of very soft foam, and high loft foam to move moisture and heat away from your skin. The top layer is made of plush Mongolian cashmere.

You can use this mattress on your current box spring, a platform frame, or an adjustable base.
The Zinus Memory Foam 12 Inch Green Tea Mattress is made up of three layers of comfortable foam. The bottom 7 inches of foam is high density and formulated to help the mattress keep its shape.

The next layer up offers 2 inches of pressure-relieving foam; the more you compress it, the more support you get. The top layer is 3 inches of memory foam infused with charcoal and green tea. This infusion makes the mattress friendly to you and unfriendly to bacteria, mold, and mildew.

As the bottom layer offers firm support and comfort, the top two layers carry away both moisture and heat, keeping you cooler.
Differences Between a King and a California King Mattress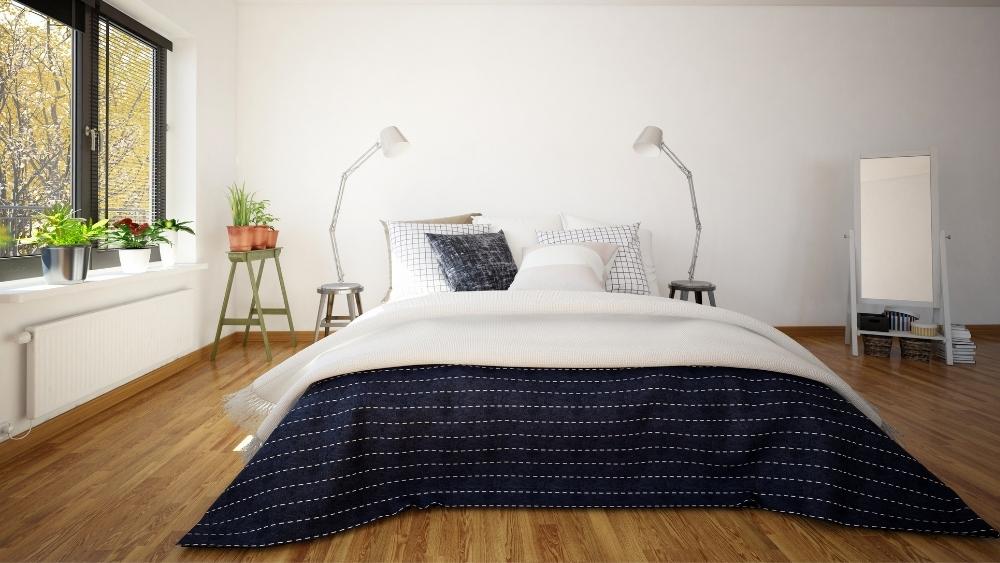 Your size preference and co-sleepers will have a big impact on your choice. A standard king is 76 inches wide and 80 inches long. Your California king is 72 inches wide and 84 inches long.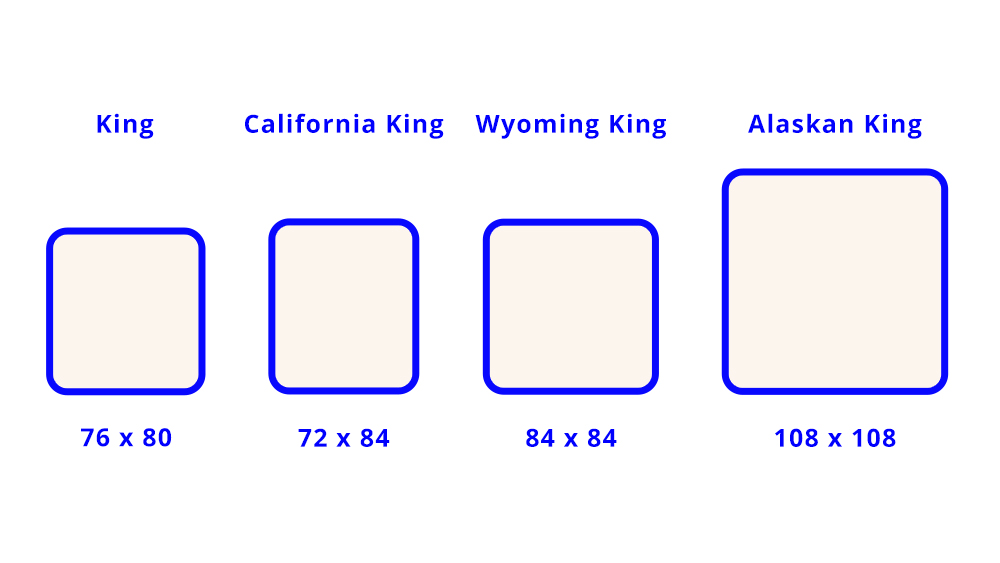 Length
If you're tall, the California king may be more comfortable. Even if you're not tall, if your pets sleep near your feet, a California king may still be best.
Width
The standard king is 4 inches wider. If your co-sleepers are restless or like to sleep beside you, a standard size may be a much better option.
Of course, the California king isn't the largest king mattress option on the market. If you need more space, the
Texas king is 80 inches by 98 inches or 54 square feet
Wyoming king is 84 inches by 84 inches or 49 square feet
Alaskan king is 108 inches by 108 inches or 81 square feet
In square feet, the California king is just 42 square feet. When making your king mattress choice, make sure you also factor in bedding costs and access; you will need clearance all the way around any of these beds on laundry day.
You will also need to focus on access to your sleeping space and the weight of these mattresses; many will be available split, but these beds will not be an easy move.
Things to Consider Before Buying a California King Mattress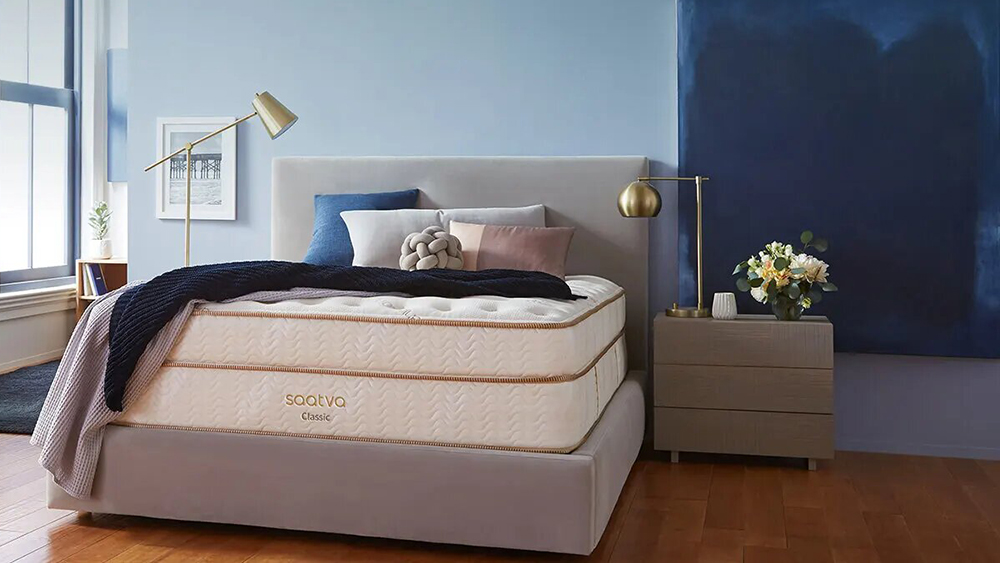 Comfort
Your primary consideration when selecting your California king needs to be your density or firmness needs. If you sleep with a partner and you have different density needs, you may want to look at one of the mattresses with a pressure-relieving layer.
The more you compress the mattress, the more support you receive. Plushness doesn't necessarily mean support. You can also increase the density of your support by purchasing an air bed that will pressurize your side of the mattress.
Size
These are large beds. If your bedroom is not large, you may be happier with a smaller mattress that allows you to walk all the way around the bed. Making the bed while you're kneeling on it can be tough on your body.
If you have the room, a California king can be a great blessing; you have room, your pets can snuggle up at your feet. Finally, if you're all under 6 feet tall you can sleep sideways and have room for the whole clan!
Price
You can spend from $500 to $2,000 for a quality California king. Many of the mattresses linked above can be purchased over time by financing directly with the manufacturer.
Additionally, the mattresses in this listing offer a warranty and a decent stretch of time to test drive your mattress. There are 365 nights in a year. At $5.00 a night of great sleep, you can buy a mattress with a 15-year warranty from Saatva. Worth it? Absolutely!
Weight
California king beds are large; none of these will be terribly light. However, if you need a mattress that will be easy to move on your own, memory foam is probably your best choice. Once your king mattress is in place, the lifting will be worth it!
Portability
Several of the California king mattress options in this listing come with handles built in. Be aware that your mattress will show up rolled up in a box and may need to breathe once you unbox it. Even gel memory foam can outgas; a full memory foam mattress may need to breathe even more.
Temperature Regulation
The best California king for hot sleepers may well be the GhostBed. If you are a back or tummy sleeper, the best cooling California king will also be fairly firm and low loft.
Avoid a plush mattress unless you have specific pressure relief needs. For those who have struggled to find a California king size mattress that stays cool, consider buying in early summer so you can use your 100 or more night sleep trial to make sure your bed will be cool enough when the days heat up.
Access
Try to settle your California king so you have a 30-inch walkway around the bed. Crawling over your sleeping partner will be challenging. Changing the sheets without having access to the side of the bed will be nearly impossible.
You may be able to put the 84-inch side against the wall and still get to both ends of the bed for easy linen changes on laundry day.
Storage
There is a lot of real estate under a California king. If you need the space, consider pairing a taller platform with your new mattress. Make sure you get a platform with center support. Invest in bins that will fit under the bed without getting too close to that center support to avoid getting hung up under the bed.
Consider bins with rollers or casters that will give you more flexibility; bins that will fit under this bed will be long and dragging them out will get old.
California King Mattress Types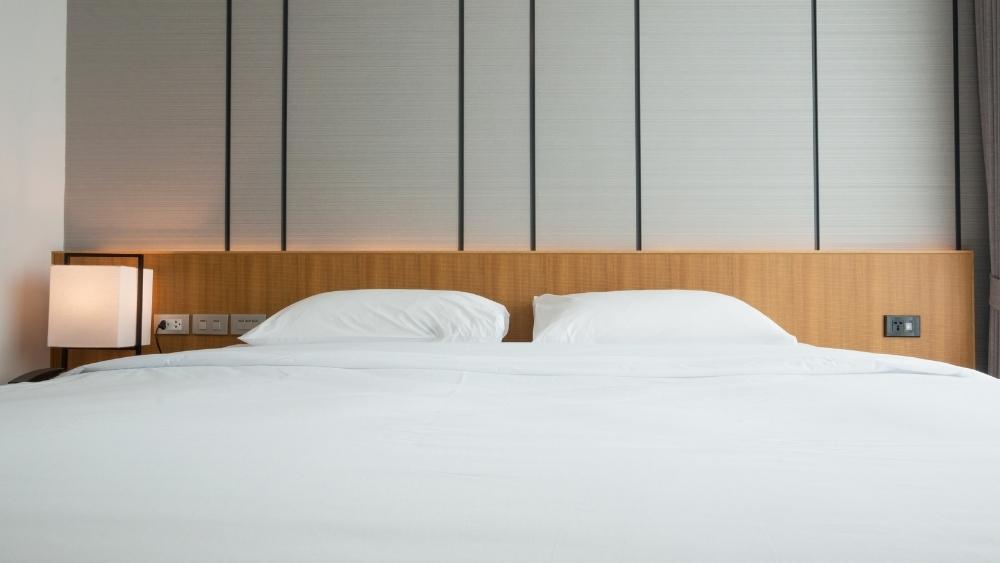 Foam
A foam mattress is generally built of layers, some of which may be latex foam. These mattresses tend to hold heat.
However, a good-quality foam mattress with top layers that will allow air to move can help you get past that overheating challenge. The bottom layer will generally be quite dense and increase the durability of the mattress.
Often, a foam mattress will be cooler and more comfortable with a layer of latex foam.
Latex
Latex foam is made from rubber and boosts the support offered by the mattress. If you like to be cushioned but don't care to sink into your mattress, a latex foam mattress may be best.
A full latex mattress can be quite expensive; as a general rule, your latex mattress will be glued to the top of a polyester foam base.
Be aware that these mattresses can be quite heavy; be sure about your location before you set it up.
Hybrid
A hybrid mattress pair springs with foam. Older sleepers who need more support on the edge of the mattress will really appreciate the outer foam edge of their innerspring mattress.
If foam mattresses are too hot but you like the "squish" factor, your hybrid will be a step up. The springs inside the mattress will allow for air transfer and the bottom layer of dense foam will protect the mattress from excess wear.
Innerspring
A full spring mattress is more traditional. These mattresses do tend to be much cooler than a mattress that has more foam in the layers. However, if you are a restless sleeper and your partner is a light sleeper, there may be some motion transfer challenges.
Airbed
An airbed offers adjustable densities, often from side to side. If you need to sleep with your head elevated, an airbed can allow you that flexibility. These beds are also a great option if you are a tummy sleeper and your partner is a side sleeper.
California King Mattress Price Range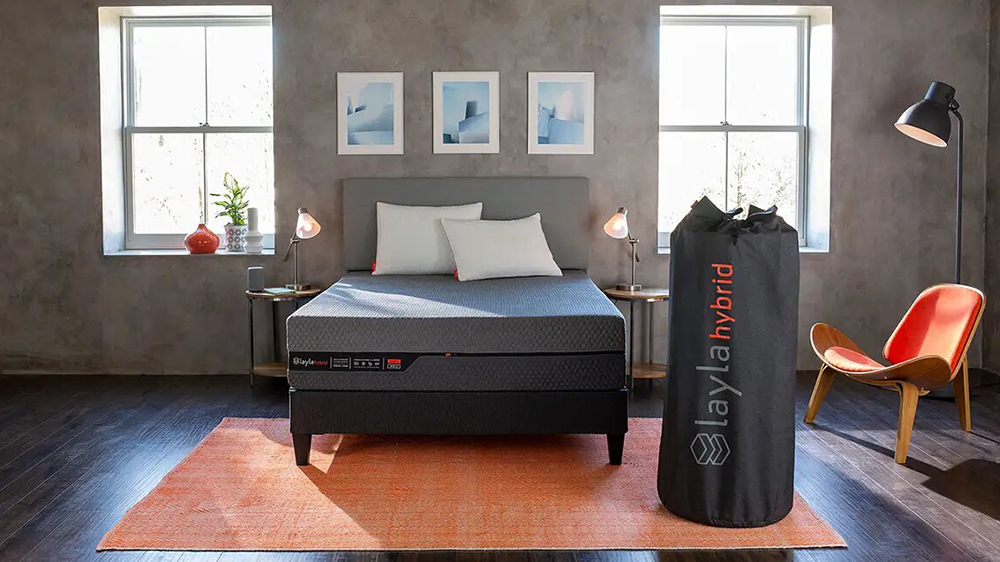 You can expect to spend $1,000 on the low end. If you prefer an organic mattress or hybrid, the price will go up; at the highest end, you may pay as much as $3,000 for a high quality organic latex California king.
Do take the time to check out the website of the manufacturer that appeals most. Sign up for promotions and coupons while you make room in your budget for a new mattress.
GhostBed and Puffy in particular offer great discounts and promotions via email. If you need one sooner, check out the financing options offered on most websites.
Great sleep is priceless. If your current mattress is cooking you, flattened to useless, or just not supporting you effectively, find the bed with the test drive time that suits you and take the plunge!
Benefits and Downsides of a California King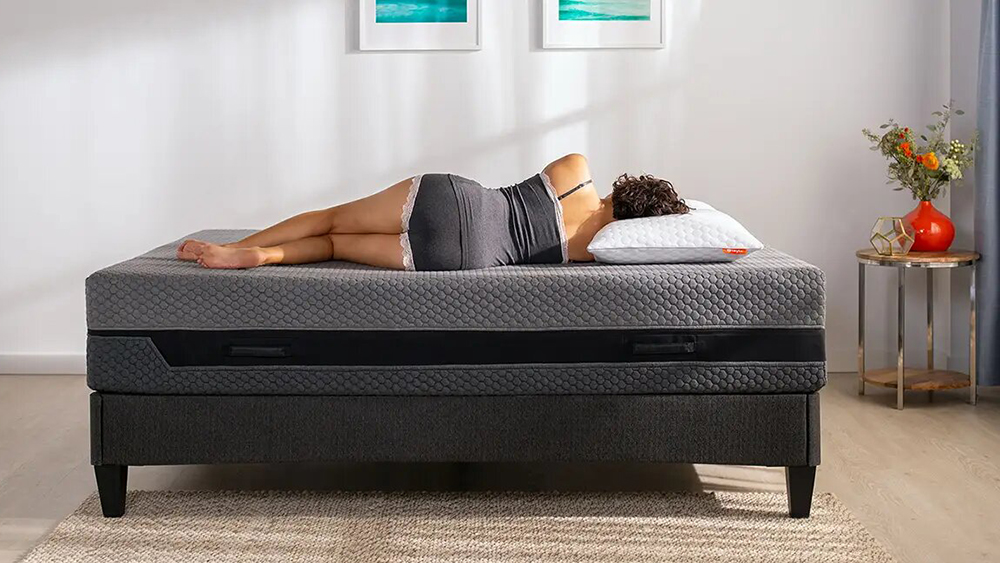 Several of the mattresses in this review have handles along the side, but if you don't have enough room to get all the way around this mattress, changing your sheets will be extremely challenging.
Additional Things to Consider for a Cal King Mattress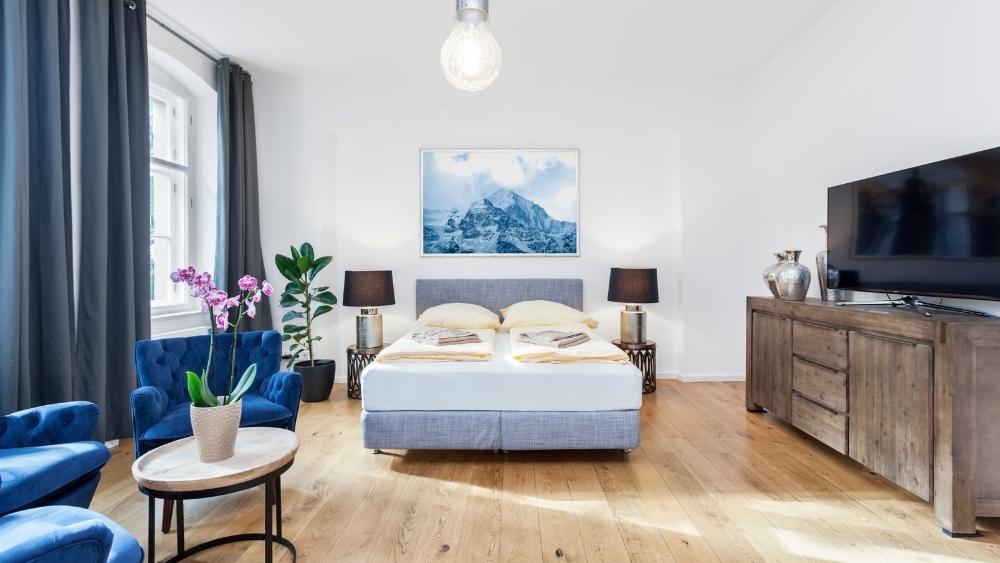 No matter your sleeping style, if you sleep with a partner, you will want to get a California king with little transfer from side to side. A restless sleeper who is used to a small bed may become extremely restless once they move to a bigger bed.
If you are changing sleeping factors, you will need a long test drive time to make sure that the following don't limit your quality of sleep:
location
bed size
bed density
Carefully consider your current sleeping hardware. If you already have a California king and a box spring, review the recommendations of the manufacturer of the new mattress.
Putting a glued foam mattress on your existing box spring can lead to too much movement, and excess movement may pull apart those glued layers.
When ordering your new bed, do take the time to measure repeatedly. Your California king will need special sheets and a particular platform. Make sure you get the right one.
Additionally, it's a good idea to invest in a breathable mattress cover, at least over the top of the mattress. Air and moisture can pass through the bottom of the mattress while you can avoid spills and perspiration from the top down.
If you love a cup of coffee as you sit up in bed, that extra barrier can reduce your worries.
FAQ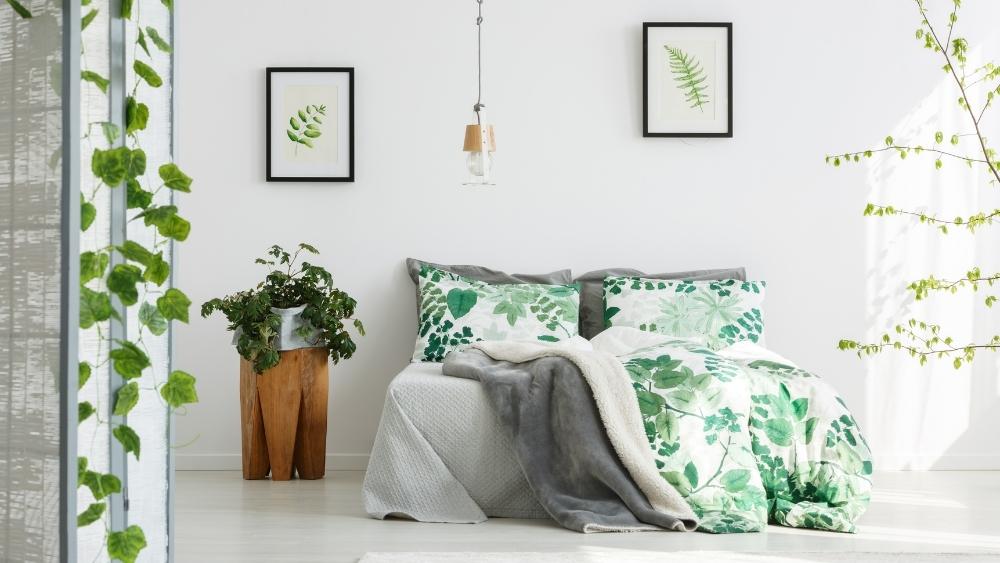 Stretch Out and Sleep Comfy!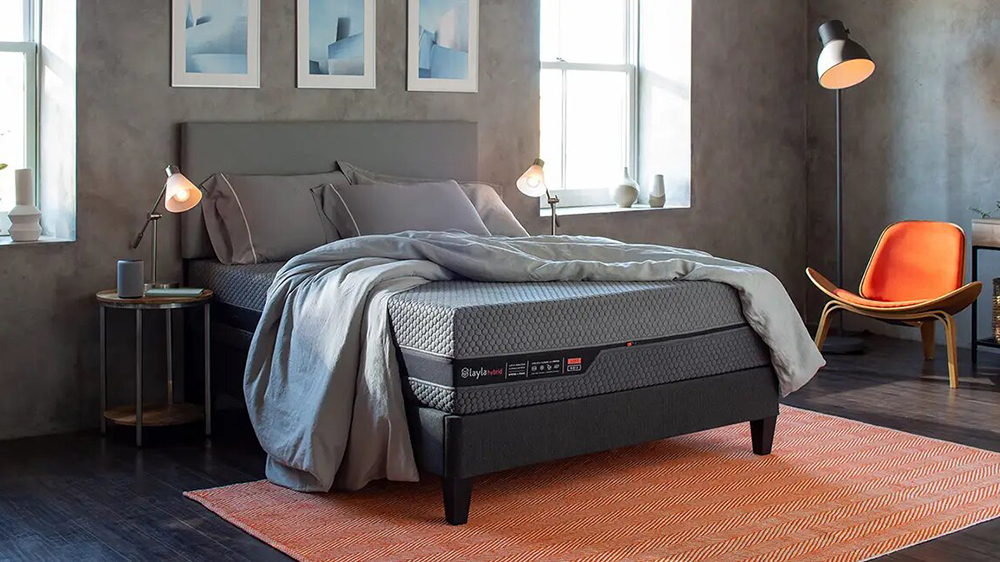 There are several excellent mattresses listed above, but the best California King Mattresses choice really is about your specific sleeping needs, pain level, and sleeping position will also impact the best California king mattresses for you. That being said, the number one mattress in this listing is the Amerisleep AS3 California King Size Mattress.
This mid-firm memory foam bed is designed to carry away heat from the sleeper. Side sleepers who need support but don't like an especially squishy mattress will love the density of the AS3.
Finally, if you're an athlete or just someone trying to get in better shape and struggling with muscle or joint pain, the ability of this mattress to convert your body heat into healing far infrared energy will make going to bed more than just a relief; you will actually wake up in better condition than ordinary rest offers.