A quality car mattress can be used for long or short road trips, as a comfy spot for a pet or child to stretch out behind the driver, and for adults on a camping trip. Because air mattresses are useless if punctured, it's critical that you inflate your mattress as instructed and keep your car free of grit and sharp things that can damage the plastic.
Why Buy an Air Mattress for the Car?
Ease of Use
An air mattress can be a simple way to turn a back seat with a footwell into a comfy spot for a short person, pet, or child to lay out flat. If your camping weekend is impacted by rain, you can sleep in dry comfort on your car mattress.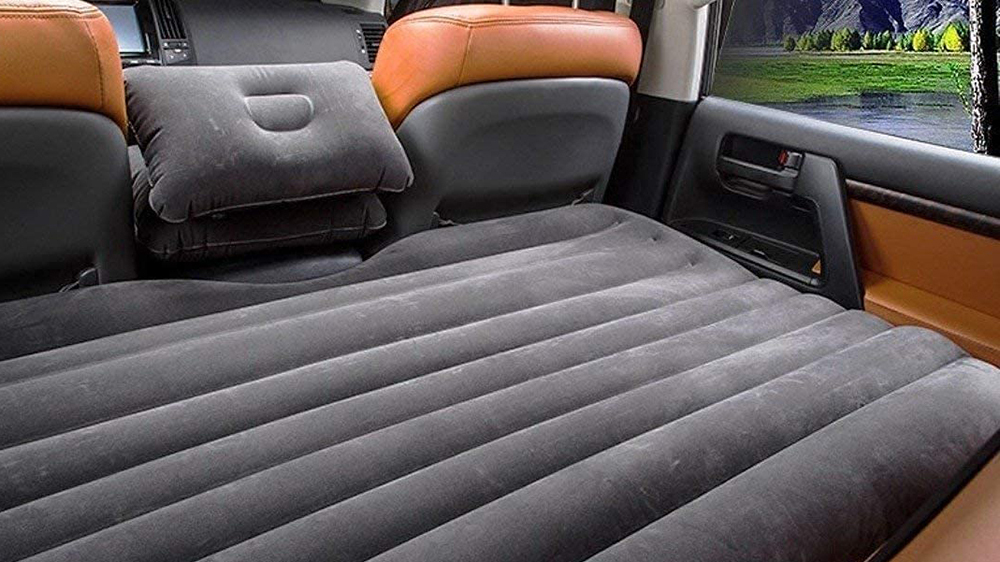 Affordability
If you're swapping with another driver on a long road trip, you can let the kids stretch out and skip the hotel expense on your way to a campground. If you are moving, you can also use your air mattress in a pinch until your new furniture arrives.
Durability
When used as designed, a car mattress can turn an SUV into a rolling tent and a pickup into a hotel bed. Most of the mattresses in this review also come with a patch kit, so if you should suffer a puncture on the road, you can still rest in comfort.
Flexibility
Many of the air mattresses in this review can be inflated via your car's cigarette plug. Get to your campsite, stretch your legs, and set up your bed with no need for an outlet. It's a lovely low-stress start to your vacation!
10 Best Air Mattresses for the Car Reviews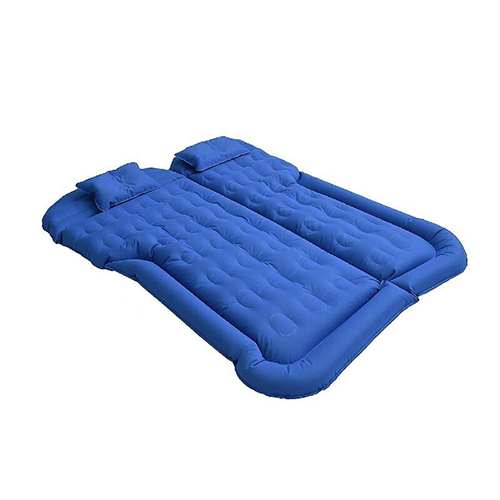 When you're ready for a travel adventure, the EQUIPTRIP Air Mattress offers great comfort in a small space. Not only does this inflatable mattress offer nearly 70 inches of sleeping length, but there is a support pillow included to fill the foot well of a vehicle to keep your feet up. This kit comes with a pump, a 12 volt adapter, patches, and glue. The mattress is equipped with anti-leak valves so you won't wake up on a flattened mattress because you accidentally kicked out the plug.
Pros
Footwell cushion offers great flexibility no matter your vehicle
You can sleep flat, which is easier on your heart and your spine
This offers support for sleepers up to 300 pounds
Cons
Mattress is only four inches thick
Air mattresses can be chilly
You will want to put down a camping pad or a tarp at the least if using in a tent
EQUIPTRIP Air Mattress
This kit offers plenty of support no matter the size and configuration of your vehicle.
Pillows are included!
This mattress is made of 150D oxford fabric for comfort and airflow. If you've shunned air mattresses because of the clammy feel of vinyl, this bed will be much more comfortable.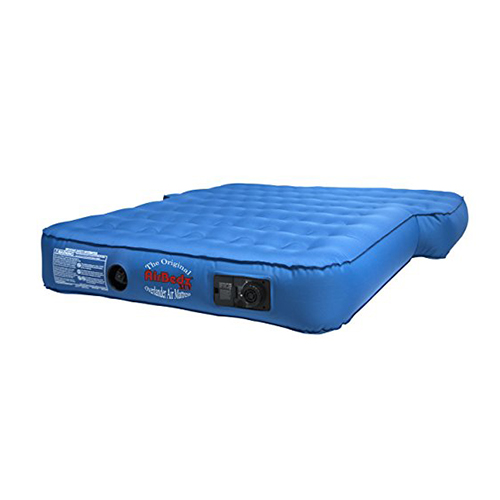 If you're considering a long trip into the wilderness in your SUV, Jeep or Cross-over, the Pittman Outdoors AirBedz PPI-XUV is a great choice. This mattress kit comes with a pump and a rechargeable pump to let you inflate the bed when you're away from standard power sources. Your Pittman mattress is made of heavy-duty airtight cloth and will help you avoid the clammy, sticky feel of vinyl while it fills the back of your SUV so you can stretch out.
Pros
This pretty blue mattress is designed to fill that cold gap beside the back door of your SUV
The rechargeable pump means you can take your vehicle far off the beaten path
The kit comes with patches and glue
Cons
Make sure you blow this up before your camping trip to make sure it's holding air
Consider charging up the battery and letting it sit for a few days to make sure it's holding a charge
This mattress is a bit shorter than some SUVs; bring a blanket to fill in the crack
Pittman Outdoors AirBedz PPI-XUV
Rechargeable battery allows you to pump up your mattress any time you need it.
The Comfort Coil system creates a very stable mattress for more than one sleeper.
The whole kit fits in a small bag with a hand shoulder strap.
The FBSPORT ed Car Mattress is designed to turn the second seat in your vehicle into a mattress. There is an attached cushion designed to fill up the footwell. The overall mattress is quite small, but ideal for children or for a smaller adult who needs to stretch out and sleep on a long road trip. The two-way pump makes it very simple to blow up and deflate the mattress and will run off your cigarette lighter plug.
Pros
The velvet side of this mattress is extremely durable and comfortable for people and pets
This mattress holds air quite well for 10 hours; be ready to re-inflate after that time
Convenient carrying bag has drawstring and strap
Cons
The footwell cushion is more fragile than the mattress
This will lose air over time; carry the pump
Removable inflatable pillows can be slippery
FBSPORT Bed Car Mattress
Soft velvet mattress is a lovely spot to lie down on a long trip.
Footwell filler cushion extends the flat surface.
There's a center protective cushion to block the sleeper from rolling between front bucket seats.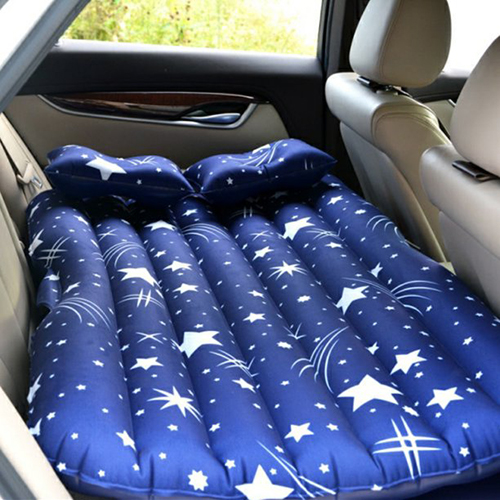 If you love family camping trips, the Cosmonic Inflatable Car Air Mattress with Pillows and Air Pump is a terrific addition to your next family vacation. This mattress is designed to fill up the second or rear seat so a child or small adult can stretch out flat across the back seat. Despite a small footprint, this velvety mattress is built to carry up to 660 pounds. It will not only provide a comfy sleeping surface, but it will tolerate some rough play as well.
Pros
This little mattress is quite durable and will tolerate a lot of weight
Two air pillows may reduce squabbling
Velvety cover is extreme soft to the touch
Cons
This is a flat mattress; you will need to fill the footwell
You may need an adapter to use the pump out at the campsite
The underside is vinyl; use a tarp or a camping pad once in the tent
Cosmonic Inflatable Car Air Mattress with Pillows and Air Pump
Handy storage pouch makes it easy to stash this in your camping gear.
This mattress comes with two air pillows and a repair kit.
Pump comes with two nozzles for easy filling.
If you're ready to get away from it all in your truck you need an air bed that can help you get above it all! The Pittman Outdoors AirBedz Lite PPI PV202C is designed to give you a sleeping spot that is flat and above the wheel wells along the side of the truck. This lovely green mattress has a velvety cover and Comfort Coils to disperse the weight of all sleepers in the truck.


Pros
Velvet cover will add warmth and prevent moisture build-up
You can use this at home or on the road
Total mattress is 76 inches long
Cons
Fill-in cushions are sold separately
This won't fit a 5 foot truck bed
This mattress may have a plastic smell
Pittman Outdoors AirBedz Lite PPI PV202C
Heavy duty PVC bottom is leak resistant.
There are handy fill-in cushions available so you can use it on a flat surface!
Portable DC air pump makes it easy to fill this up at your campsite.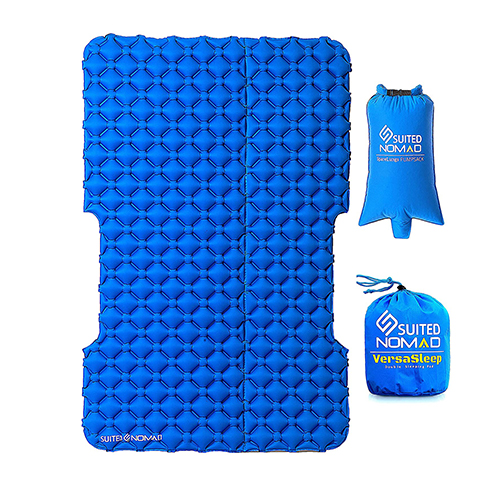 If you're headed out to do some car camping and need just a bit of cushion, the SUITEDNOMAD 2 Person Inflatable SUV Air Mattress Bed is a terrific choice. This is a low-profile mattress and can be used on just one half of the car or fully inflated for two. For those who love to travel to cold country or higher elevations, this mattress comes with lots of curves that will close off those cold air gaps.
Pros
No power necessary; blow up bag can be filled with fresh air and transferred directly to the mattress
Puncture resistant fabric is well sealed along the seam
This mattress packs down very small
Cons
This is designed to fit an SUV; may not be long enough for tent sleepers
Cushion is just 3 inches; if you need a more plush mattress, this one may not suit
The blow up bag can be fiddly, you may need to practice
SUITEDNOMAD 2 Person Inflatable SUV Air Mattress Bed
Carrying bag makes this easy to pack with you if you're hiking to a more remote site.
This comes with a blow up pump sack that requires no power, and the sack can be used to hold water for showering or washing up.
The curves of this mattress will make it much easier to simply blow up and leave in place.
Whether you prefer to travel alone or with a partner, the WEY&FLY SUV Air Mattress is an excellent option. On your own? Inflate one side so you have plenty of space for storage and gear beside you. These velvety mattresses give you a terrific warm and non-slip area to stretch out and relax. There is also room to easily get behind the wheel if you need to move quickly. When fully inflated, this mattress hugs the side of your SUV to block cold air from getting to your feet and legs.
Pros
Included 12V pumps make this easy to inflate from your vehicle
Handy carrying bag makes this easy to stash at home
Patch kit included
Cons
Inflatable pillows available but not included
You may need support under the mattress if your seats don't fold flush
Some find this has a plastic or glue smell
WEY&FLY SUV Air Mattress
Flocked velvety cover will keep your bedding from sliding around.
There are four different inflation zones; if you just need a seating cushion during the day, you've got one!
The base of this is heavy duty plastic to avoid punctures.
If you have high-energy children, pets, or campers using your gear, you need the Lammyner Car Air Mattress. This handy and extremely durable car air mattress works well in many settings. This kit includes the mattress, a protective baffle to keep kids and pets in the back seat, two pillows, two footwell supports, the repair kit, the pump and the nozzle. Make sure you put the instructions in with your mattress so you use the pump properly and don't overfill any of the components.
Pros
Footwell piers are separate and can serve as small chairs
Protective baffle can be used to extend mattress
Small inflatable pillows are quite hearty and flexible
Cons
Do test the pump before you get on the road with this mattress
This mattress may have a strong plastic odor
No baffles; if two sleepers are vastly different weights, neither will be comfortable
Lammyner Car Air Mattress
Durable velvet cover is ideally suited to outdoor events, tent camping or car sleeping.
This kit is loaded with gear. Fill everything with care to avoid damage.
The pump is quite heavy duty but needs time after you turn it off before you can turn it back on. Try not to get to your site too late.
Nearly any driver can use the SAYGOGO Inflatable Air Mattress for Car, SUV or minivan. This cushion can be filled in six different zones and used in many different settings and positions. The grey velvet cover is soft and doesn't have a plastic, clammy feel. If you're a solo traveler, inflate half. If you need to fill up the gap at the trunk, inflate the two cushions at the head. There is a pump, a 110 power cord and a 12 volt adapter, and a cushion to fill the footwell. Two small air pillows are also included!
Pros
Pretty grey cover is quite unobtrusive if you need this mattress for pets
Two small air pillows could be handy on their own for children and passengers
This mattress will go easily from tent to car and back
Cons
Lots of chances for leaks means one patch kit may not be enough
Pump may need time after filling each item, so start with the bed
Wide border around the bottom may be uncomfortable in the tent
SAYGOGO Inflatable Air Mattress for Car
There is a repair kit included; make sure you also carry a spray bottle with a bit of dish soap so you can find leaks easily on multiple cushions.
This mattress is easy to customize for nearly any configuration.
The pump is extremely versatile and can be used at home or powered from the car at your campsite.
If you already have a camping mattress or don't need a great deal of cushion, adding a simple FMS Back Seat Gap Pad can be a great choice. This is also a terrific option if you have large or leggy pets that struggle to get comfy on the back seat. You can actually squish this a bit; if you have a large wheel well to fill but need more space for the driver, pull the driver's seat forward, fill in the gap and ease the driver's seat back in place.
Pros
Simple way to reduce lost gear down the gap between the seats
If your child needs to sleep on road trips, they will be safer with this cushion in place
Very durable cushion for claws and little feet
Cons
All this does is fill the gap; you will still need a mattress
This is at risk of puncture if you pick up sand and grit while camping
Measure carefully; this may not fit your SUV
FMS Back Seat Gap Pad
Handy carry bag makes this easy to add to your road trip gear.
Must be blown up in person but goes pretty quick and will accept an electric pump if you have the right nozzle.
If you love to car camp but have a pillow-eating gap with back seats folded forward, this cushion is for you!
Common Types of Car Travel Air Beds
Flat Mattress
A flat mattress just covers either the back seat or the back of the SUV when you lay down the back seats.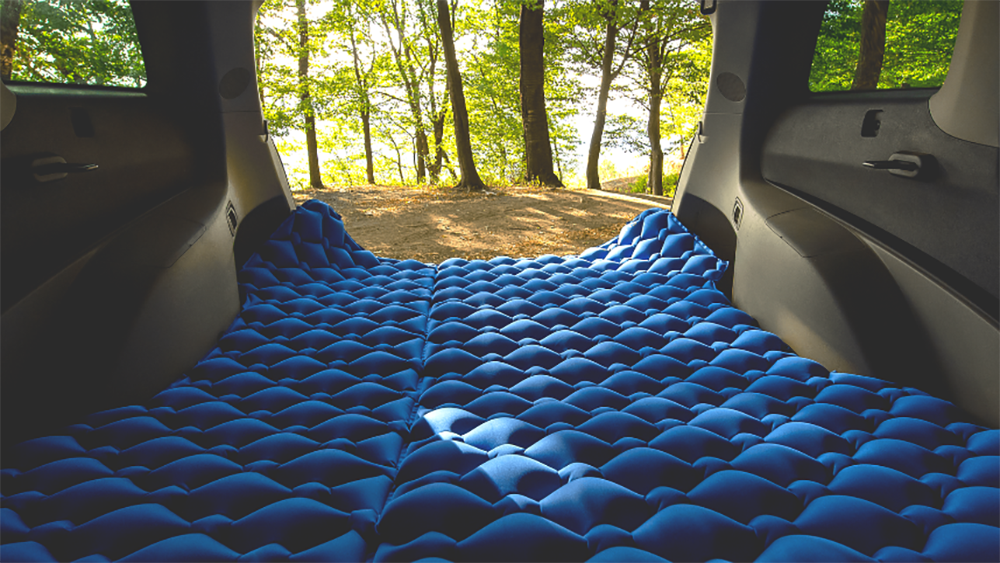 Attached Gap Filler
A mattress with an attached gap filler will plug up the footwell so there's no chance of your feet or your pillow falling into the dip.
Removable Footwell Option
The removable footwell option includes an extra cushion to protect the dip noted above. These mattresses offer a great deal of flexibility as you can easily turn this into a camping bed as well as a bed for car seat.
Things to Consider Before Buying a Travel Bed For a Car
Comfort
If you can sleep on a simple camping pad, you may not need a plush mattress with the Comfort Coil system in your back seat bed for car. However, there's no way to have a good vacation if you can't sleep.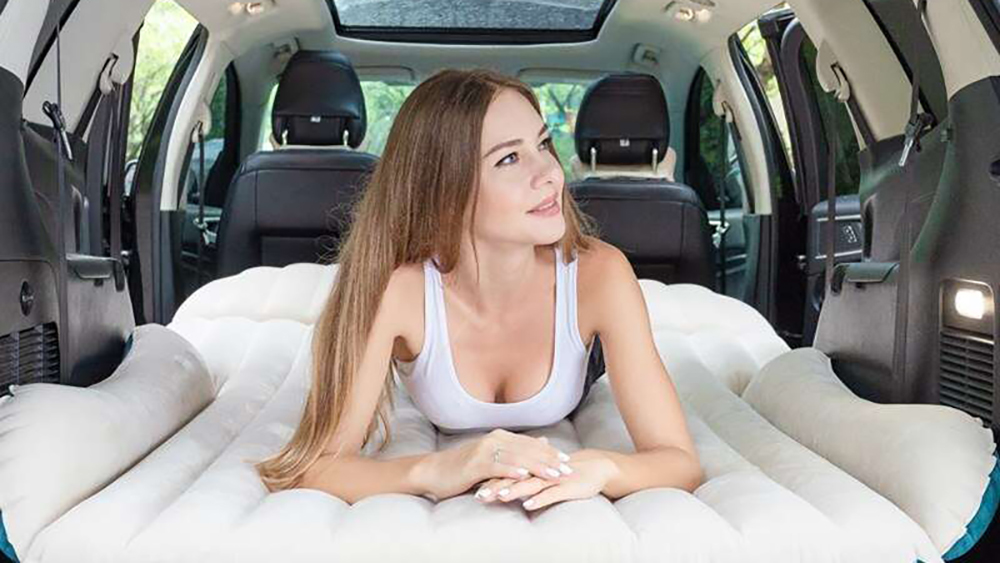 Size
Overcrowding your air mattress can lead to damage and leaks. When you're checking the measurements on your travel bed for car or SUV, make sure you also check the height. Not having enough room to roll over because your mattress is too tall is not the best choice.
Price
If you plan to use this mattress a lot, make sure you invest in a higher quality product and use it per the instructions. Be ready to fill it up a couple of days before your trip so you can check for leaks. Finally, consider investing in a heavy duty tarp, a crash pad or a dense foam pad to put down under your air mattress if you're putting it in a truck.
Portability
You can get these mattresses with their own totes or drawstring bags. To protect your car travel bed more, consider wrapping it in a puncture proof plastic bag, such as a trash compactor bag, to keep your back seat air mattress even safer.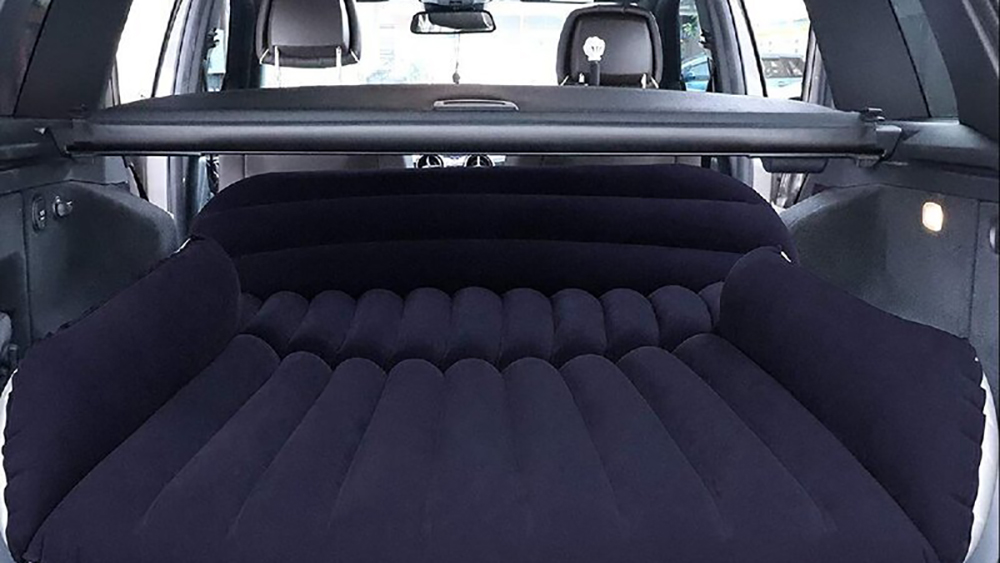 Filling Ease
Carefully review the instructions for the pump for your car camping mattress. Some need 5 minutes to shut down once you run them, so make sure you fill up the biggest mattress when you fire up the pump. If you have to wait 5 minutes each time you fill up a pillow for your in car bed, you'll never get to go to bed.
Price ranges for a Car Mattress
Depending on the size of mattress you get, the pump options and the construction of the mattress, a car mattress can run from $25 to $125. A simple mattress for the back seat of a car may not cost more than $25 or $30. If you need a mattress that you can lay down in your pickup for two adults to enjoy, expect to spend more.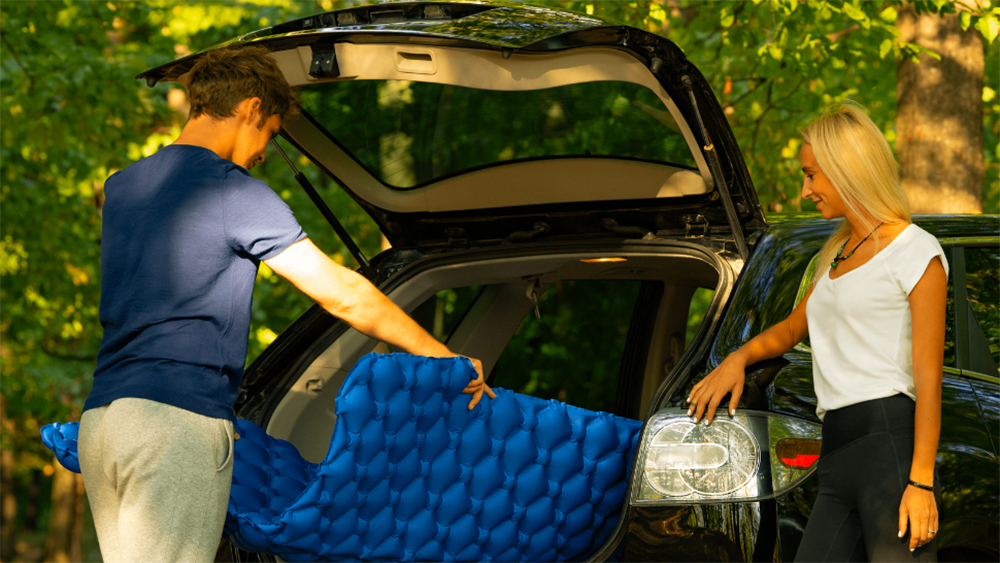 FAQ
What mattress fits in a car?

It depends on the car, but most air mattresses with a foot well cushion will give you some space on the back seat.

Are car mattresses safe?

Yes, if all you want to do is sleep. These are not usable as flotation devices.

What size air mattress fits in a car?

A crib mattress will fit on a back seat, while a full size may fit in a large SUV.

Can you use a regular air mattress in a car?

No, it will probably be too tall.SUV air mattress recommended size? Twin or full.

How do you make an inflatable car mattress more comfortable?

Consider putting it on carpet, on a foam pad or getting one with coils to support multiple sleepers.

Do I need a car camping air mattress?

Not unless you transport someone who needs to stretch out.

Where to buy an inflatable bed for car?

Many on-line retailers offer them, as well as camping and outdoor spots.

What is the weight capacity for a car air mattress?

Up to 400 pounds depending on the mattress, but be aware that if they are used for play, they will break down more quickly.

How can I make my car camping more comfortable?

Use nylon, wool or fleece on top of your mattress. Bring plenty of blankets to tuck in the gaps if you're camping in the cold and make sure you fill in the footwell if you have to sleep in the back seat.
Extend Your Travel Options!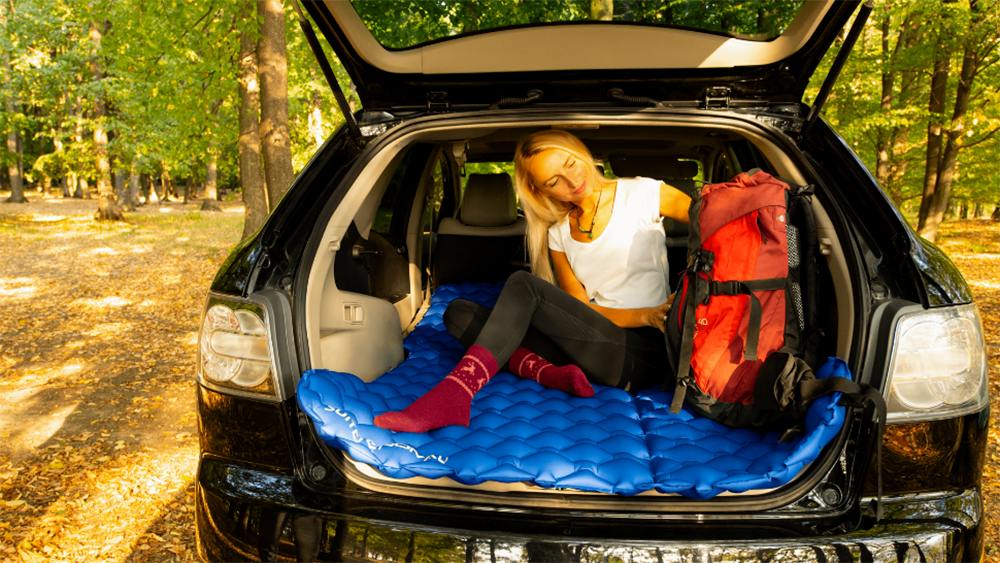 For sheer flexibility, the Equiptrip Car Mattress is a great investment. The pump will power from a wall plug or from your car 12 volt plug. There's a tote bag, a patching kit, a high quality pump with several different nozzles, a full bed mattress and a footwell cushion. You can use all of it, just the footwell cushion, or just the mattress in your tent. Happy camping!
EQUIPTRIP Air Mattress