The coccyx, tailbone, or base of the spine often goes unnoticed until it hurts.
You can injure it in a fall, in childbirth, or simply suffer from unstable discs. You may also suffer from soft-tissue damage that needs support.
What is a Coccyx Pillow?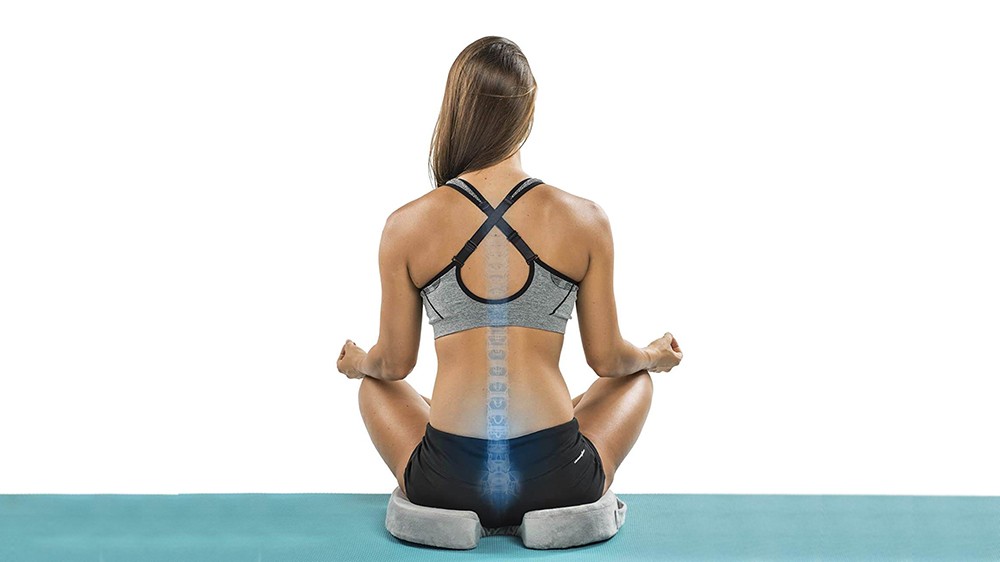 A coccyx pillow cradles your tailbone or the very base of your spine. This style of seat cushion stabilizes your bottom with even support while providing a bit of breathing room to your tailbone.
If you have ever suffered from sciatic pain, protecting the coccyx from pressure can do a lot to protect your spine from pressure at the very base of the spine.
Coccyx cushions provide support all around the tailbone and create a gap for the tailbone. A quality coccyx pillow will reduce tailbone pain by letting the tailbone rest away from any pressure whatsoever.
These should be small enough to serve as an office chair cushion, a standard chair cushion, or even a donut pillow.
If you live in snow country, you run the risk of hitting a patch of ice and falling on your tailbone. For those who have suffered a slip and fall on stairs or on a hard bit of concrete, the temporary use of a coccyx seat cushion can provide tremendous relief.
7 Best Coccyx Cushions Reviews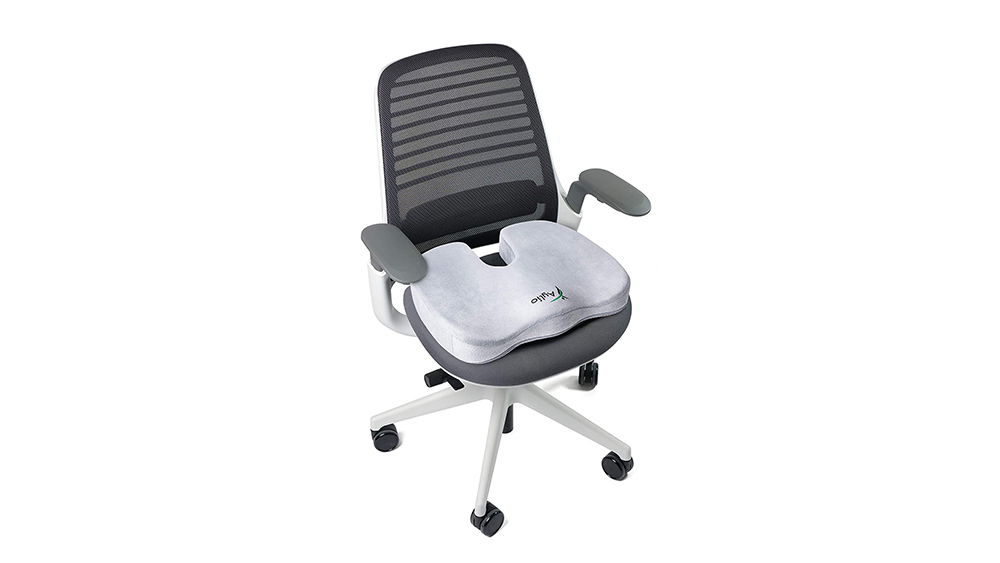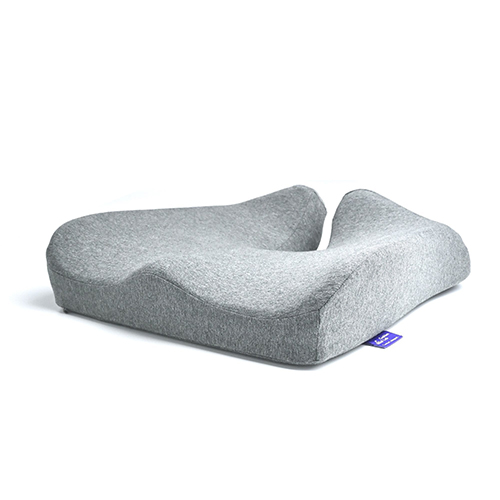 The Cushion Lab The Pressure Relief Seat Cushion offers a lot of variety. You can get this coccyx cushion in charcoal or black to work with an office chair, or you can choose a coccyx seat cushion in red, blue, or purple to suit a home office or craft room.

The Cushion Lab unit is ideally configured to support the low back and seat while leaving a space for the tailbone to "float" or to be free of pressure. This pillow is available in medium or large for anyone over 210 pounds.

The outer fabric shell is recycled polyester. The inner cover is a breathable mesh, and the cushion itself is a charcoal-infused Hyperfoam, which is CertiPUR-US certified.

The charcoal infusion is critical to preventing moisture and bacterial build-up. This charcoal product will also keep down odor over time. There is a removable cover that can be machine washed and air-dried.
Pros
This cushion will actually improve your posture as it protects your tailbone
There are both formed leg supports as well as hip cushions to further protect the coccyx
This seat cushion will keep its cool as you work, drive and relax
Cons
The pillow core cannot be washed
If you are short, this cushion may mean that your feet won't reach the floor even after you adjust your chair
Taller users may find that the end of the cushion under the leg is not comfortable
Cushion Lab The Pressure Relief Seat Cushion
This formed seat cushion has a 1-year warranty; if you notice wear or crush damage, you can get a replacement.
The chemistry in the foam means that moisture and heat will be wicked away to keep you cool.
There is a protective gripping fabric on the bottom of this cushion to keep it from sliding.
If you need a cushion that will travel easily, the Everlasting Comfort Pure Memory Foam Luxury Seat Cushion is a great choice. The foam chemistry is designed to release heat and moisture to protect you from overheating from the bottom up.

The cover can be machine washed; allow it to air dry to protect the rubber bottom. This bottom will keep the cushion of your coccyx pillow from sliding on your car seat or your office chair.

An Everlasting comfort seat cushion will come with you as you drive, work, or fly. The tailbone cutout in an Everlasting seat cushion is quite large and the footprint of this cushion is designed to fit from hip to hip and not much further.

This cushion can be compressed for travel and will slowly come back once released; the spring-back of this coccyx cushion foam is excellent.


Pros
Your Everlasting comfort seat cushion is only 1.5 pounds and can easily be carried in a backpack for travel
This seat cushion has a machine washable cover and the foam can be spot-cleaned should you have a spill
This comes in one size and will provide coccyx support for folks up to 400 pounds
Cons
This cushion is formed to fit directly under your bottom. If you need support for your legs, this may not be your best choice.
As a smaller cushion, this may become crushed over time
At only 13.5 inches deep, this may not hit your leg in a comfortable spot
Everlasting Comfort Pure Memory Foam Luxury Seat Cushion
This coccyx seat cushion is lightweight, extremely portable, and stable.
The dense memory foam of this chair cushion has great spring-back.
Everlasting foam is formulated not to outgas; the "chemical" smell of older versions of memory foam pillows will not be a problem.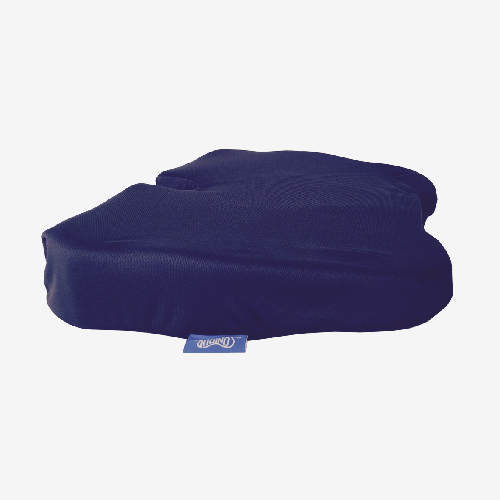 For folks who need a wider cushion, the Contour Living Kabooti Wide Donut Relief Seat Cushion may be ideal. This hearty cushion is 20 inches wide nearly 14 inches deep and tapers from 3 inches at the back to 1.5 inches at the front.

The microfiber cover can easily be spot-cleaned. Your coccyx cushion also has a convenient carry handle so you can take it from desk chair to vehicle to home. The dense foam of this coccyx pillow will spring back sitting after sitting.

Shorter users may use this instead of some seat cushions for comfort and ease.
Pros
This coccyx seat cushion has a handle and is easy to carry alone or in a bag
Taller, larger folks in need of a seat cushion will find this a much more comfortable seat
There is no rubber side to this cushion; the cleanup will be simple in the event of a spill
Cons
This cushion can slide, depending on the material of your desk chair
The cover doesn't fit tight to the cushion, which may increase the risk of slipping
This protective cushion is only available in navy and black
Contour Living Kabooti Wide Donut Relief Seat Cushion
This seat cushion is covered with a soft microfiber fabric that prevents sliding on office chairs or vehicle seats.
This larger cushion is available in blue or gray and will blend into most office chairs to protect your privacy.
The slanted design reduces the discomfort of the pillow edge on the back of the leg.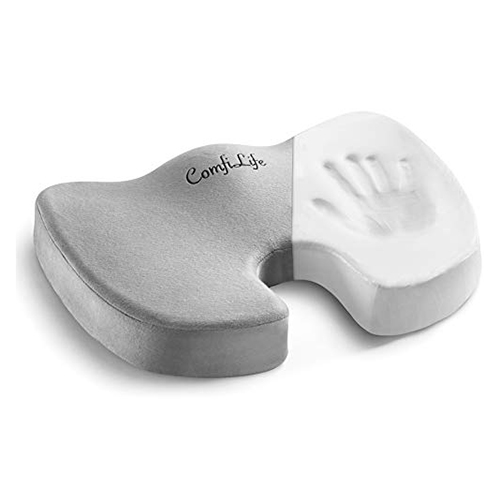 If you need a coccyx cushion that can easily fit in a bag or a backpack, the ComfiLife Memory Foam Coccyx Cushion for Tailbone Pain is an excellent choice. This is a fairly small cushion at 17.5 inches wide and 13.7 inches deep.

It's just under 3 inches tall, so it will provide you with just a bit of support and lift to cradle the coccyx. The bottom of your cushion has a non-skid layer for great grip on any chair.

The soft velour can easily be unzipped, washed, air-dried, or carried with a nifty handle! If you need a coccyx pillow to take to the gym or the office, this is a great option.
Pros
This seat cushion is just over 1 pound and can be compressed in a briefcase or workout bag
Your coccyx seat cushion will stay put no matter where you place it
The price is low enough that you can get multiple coccyx cushions for work, home, or yoga class
Cons
Heavier folks may not gain optimal support
This may compress over time as you use it
This cushion is short from hip to knee and may cause leg discomfort
ComfiLife Memory Foam Coccyx Cushion for Tailbone Pain
This is a non-intrusive seat cushion made of memory foam that will conform to you as you use it.
The coccyx cutout is quite sizable in this cushion and will reduce pressure on the entire base of the spine.
This coccyx seat cushion is available in pale grey, black, and navy blue to match almost any office chair.
If you find memory foam to be excessively warm, the ComfiLife Gel & Memory Foam Coccyx Cushion for Tailbone Pain may be a much better choice. This coccyx cushion has a memory foam base and a cooling gel insert to protect yourself from overheating. This gel filled coccyx pillow has a washable cover, a non-slip bottom, and a handy carrying strap so it can come with you. This seat cushion has a cooling gel insert nearly to the front lip. Both your bottom and the top of your thighs will stay cool as you work, ready or just relax.
Pros
This seat cushion is quite reasonably priced and lightweight
If you need a cushion each time you sit down, these are small and lightweight enough to invest in more than one
The gel layer of this coccyx seat cushion can't be felt under the soft velour cover
Cons
This is short from hip to knee and may cause problems where the cushion stops under the leg
The memory foam of this cushion can still crush, though the gel makes this more durable
The cover must be air-dried or you may damage the grip fabric on the bottom
ComfiLife Gel & Memory Foam Coccyx Cushion for Tailbone Pain
The gel layer provides cool comfort no matter how long you stay on your seat cushion.
This coccyx seat cushion is under 2 pounds and has a discreet carrying handle for easy transport.
The cover can easily be removed for cleaning.
Another option for those who find memory foam to be too hot is the CYLEN Memory Foam Bamboo Charcoal Infused coccyx cushion. This coccyx pillow is infused with charcoal, which increases ventilation, reduces the risk of bacterial buildup, and stays cooler than traditional foam.

The cover can be washed and air-dried for easy care. There is a handy carrying strap and a 5-year warranty. You can also return this cushion within 60 days in case it doesn't help your health concerns.
Pros
This seat cushion is less than 2 pounds and can go with you everywhere you need to sit down
You can avoid overheating on this charcoal-infused coccyx seat cushion
This memory foam is a slow rebound with little to no outgassing
Cons
This cushion is not long from hip to knee and is a bit taller than many options on this list. The back of your leg may not be comfortable
The anti-slip bottom of this cushion cannot go through the dryer
Some folks may find that this cushion is too narrow for the thickness
CYLEN Memory Foam Bamboo Charcoal Infused
If you're looking for multiple coccyx cushions that will protect your tailbone and avoid heat build-up, these are available in basic black for the office and blue for home use.
This seat cushion has additional protection against bacterial growth and heat build-up thanks to the charcoal.
There's a hidden zipper so you can easily remove the fabric cover for cleaning.
If your current cushion is too tall or if you're a bit shorter, the Aylio Coccyx Orthopedic Comfort Foam Seat Cushion for Lower Back may be ideal. This coccyx cushion is under 3 inches tall and nearly 18 inches wide.

Like many of the coccyx pillow options in this listing, this is 13.75 inches deep. However, if you don't like feeling the edge of the pillow against your legs, this lower profile pillow may be just what you need.
Pros
The U cut on some coccyx cushions is shallow, but this cushion has a nice deep U to reduce pressure on the coccyx
Your seat cushion promotes proper spinal alignment without putting pressure on the hips
The non-slip base is going nowhere; you can settle securely on this cushion
Cons
If you need a great deal of cushion, this may compress too much overtime
The cushion is good only up to 275 pounds
This cushion is only available in grey
Aylio Coccyx Orthopedic Comfort Foam Seat Cushion for Lower Back
This seat cushion is just 1 pound and has a handy carrying handle.
Your memory foam cushion has a washable cover.
If you need a coccyx seat cushion that packs small, this is a great choice.
Coccyx Pillow Benefits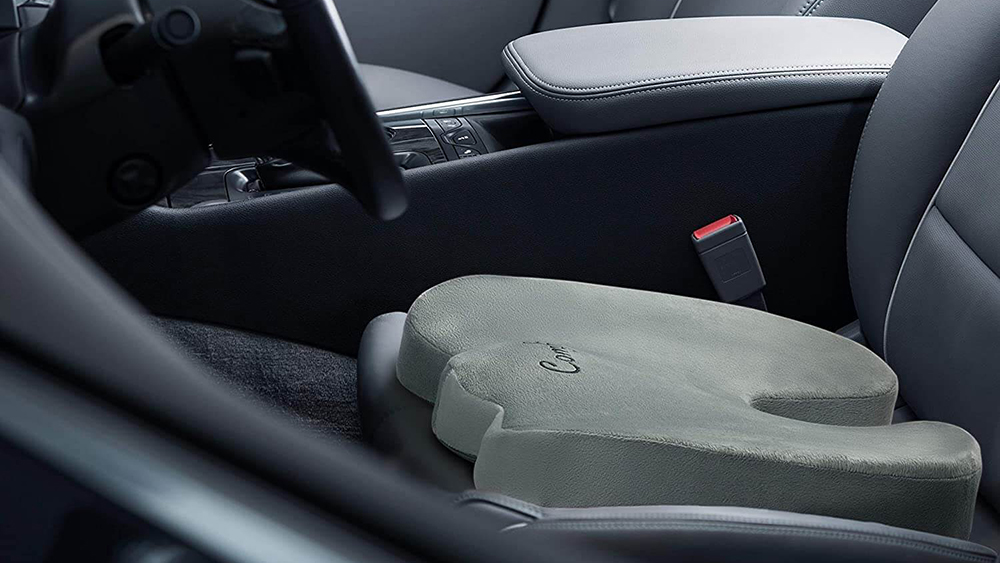 A quality coccyx cushion can help you overcome sciatica, hemorrhoid pain, post-birth soreness or injury, and hip or low back pain of all sorts.
For men who have hernia discomfort, the right coccyx pillows may be worth buying more than one so you can easily move from desk chair to vehicle to home.
How to choose the best Coccyx Seat Cushion?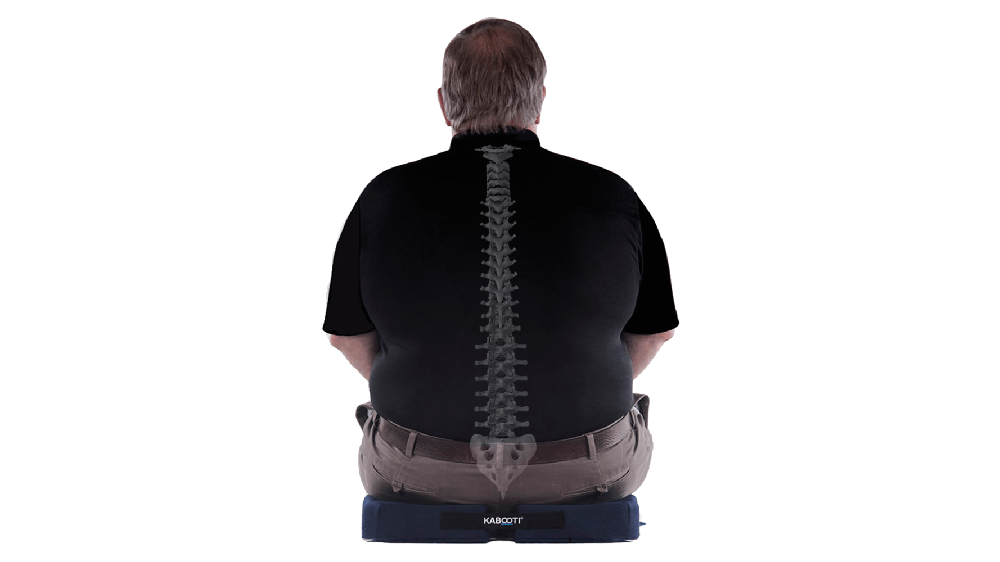 Comfort
Some find that coccyx cushions are too tall and the pillow edge bothers their legs. In this case, a coccyx cushion with a slant may be more comfortable.
Size
Larger folks need coccyx pillows. If you overload it, it will crush sooner. Your spine will also need support to the outer edge of your bottom once you sit down. Make the investment to get a properly sized pillow.
Price
Almost every coccyx pillow in this list is under $50, and many of them are much cheaper. If you need a coccyx cushion in each chair, consider getting at least two so you always have one at your disposal.
Heat
If memory foam leaves you sweaty, consider a coccyx cushion with gel or infused with charcoal to avoid overheating. Heat build-up can increase inflammation. If you have a recent injury or are recovering from surgery, a cooler cushion will help you heal more quickly.
What is the right coccyx pillow shape for me?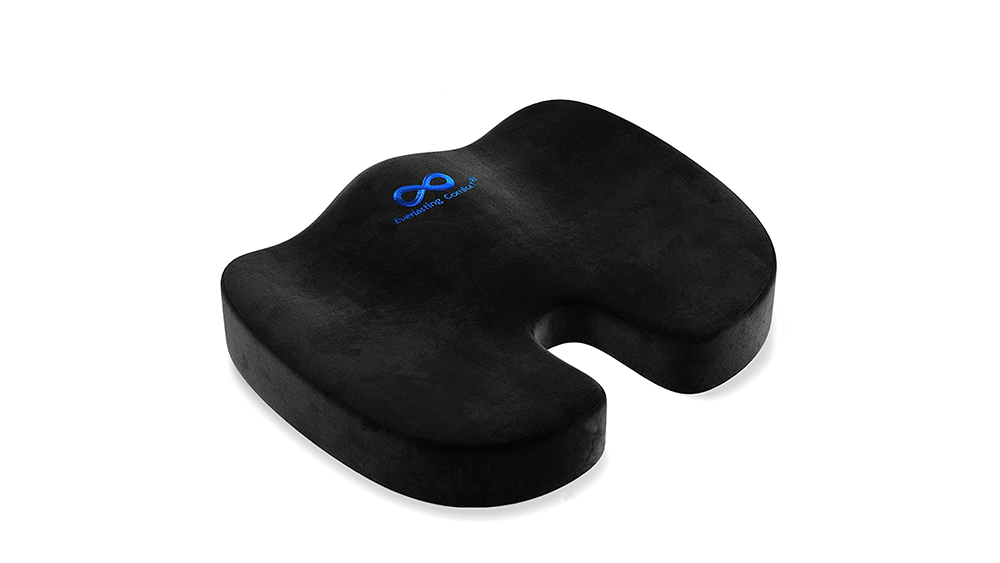 Depending on your injury, you may want a coccyx cushion with a deep U cut. For those with vaginal injury or testicular concerns, a cooling cushion may be a better option.
Do make sure you get a cushion that is properly sized; if you are too heavy for your cushion, you will lose loft and benefits quickly.
FAQ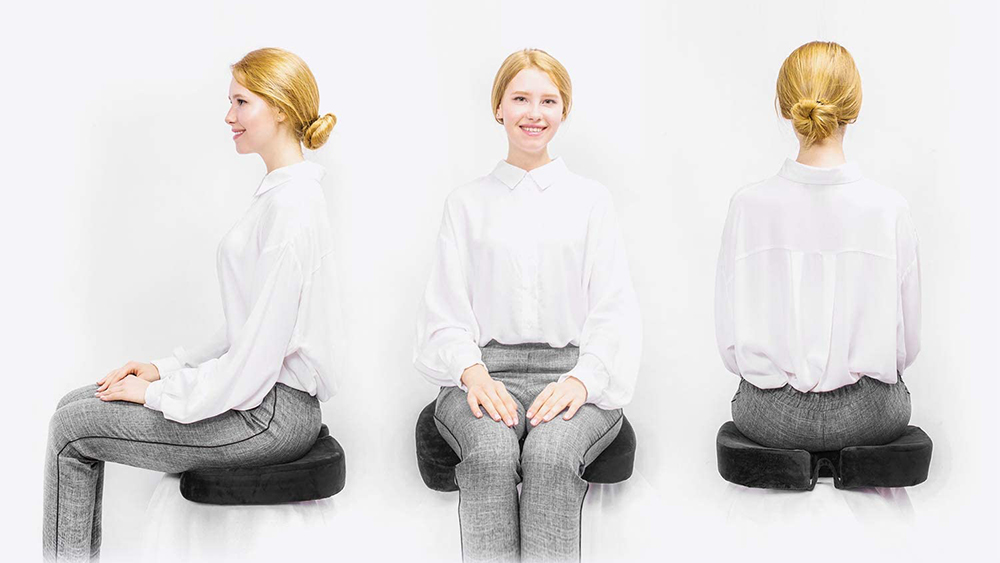 Does coccyx cushion help?

Quality coccyx pillows boost your bottom and let the tailbone rest with no pressure.

When do you use a coccyx cushion?

Coccyx cushions can be used to protect you as you heal, to recover from injury or surgery, or to reduce back fatigue overall.

Which pillow is best for tailbone pain?

A coccyx cushion with a deep U is probably the best choice.

How do I choose a coccyx cushion?

Coccyx pillows come in standard dimensions. If you're wider, get a larger cushion. If you don't have a lot of leg length, get a lower profile cushion.

How do you protect your tailbone when sitting?

A coccyx cushion allows you to sit with little to no pressure on your tailbone.

How do you sit on a coccyx seat?

Settle the coccyx cushion in the center of your chair with the U to the back and settle your bottom in the chair until your tailbone feels no pressure.
Sit in Comfort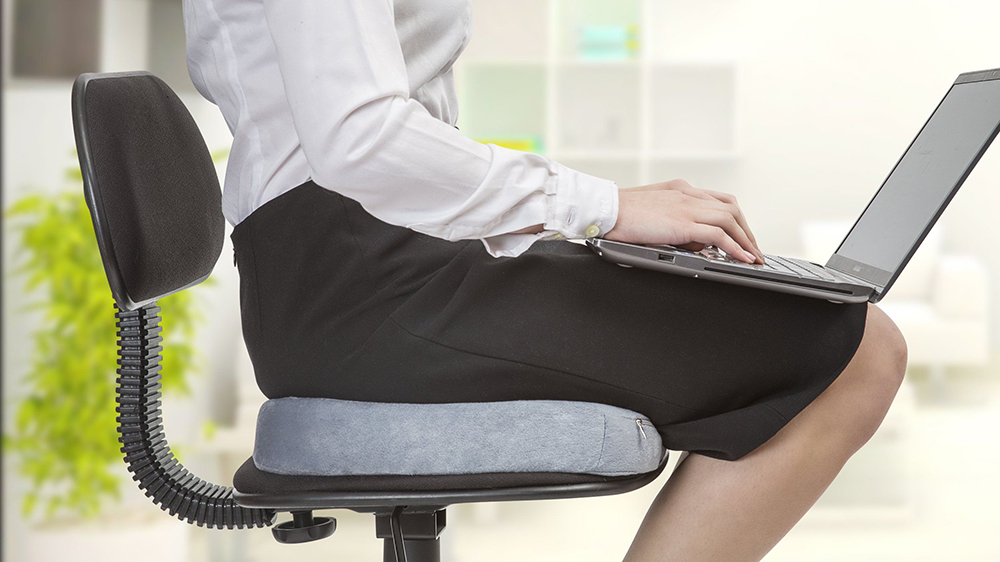 A coccyx cushion can be the difference between struggling to get comfortable and relaxing in your chair.
If you're in pain, you may alter the position of the top of your body to reduce the low back pain and wind up hurting more.
If you have low back or hip pain on a regular basis, this cushion may be extremely helpful.
Cushion Lab The Pressure Relief Seat Cushion