Finding the right pillow to work with your CPAP device can be downright frustrating. You've probably already tried multiple pillows but without much success. Before I bought my CPAP pillow, I struggled with positioning and comfort. Regular pillows just did not cut it.
That's why I've gone through and picked the best CPAP pillows to review. Buyers deserve to know what is out there and how it can help them get a better night's rest. Comfort is key to getting through the night, and a CPAP pillow can make wearing your mask to sleep a lot easier. Here is the lowdown on CPAP pillows and how you can choose the right one.
What Is a CPAP Pillow?
Just what is a CPAP pillow? Quite simply, it is a pillow for CPAP users. If you are someone who suffers from a condition like sleep apnea, then you likely use a CPAP device to help you maintain stable breathing while you sleep. These machines can be pretty bulky and make it hard to sleep comfortably, but with a CPAP pillow, you get special designs that cater to your sleeping position and need for neck and head support.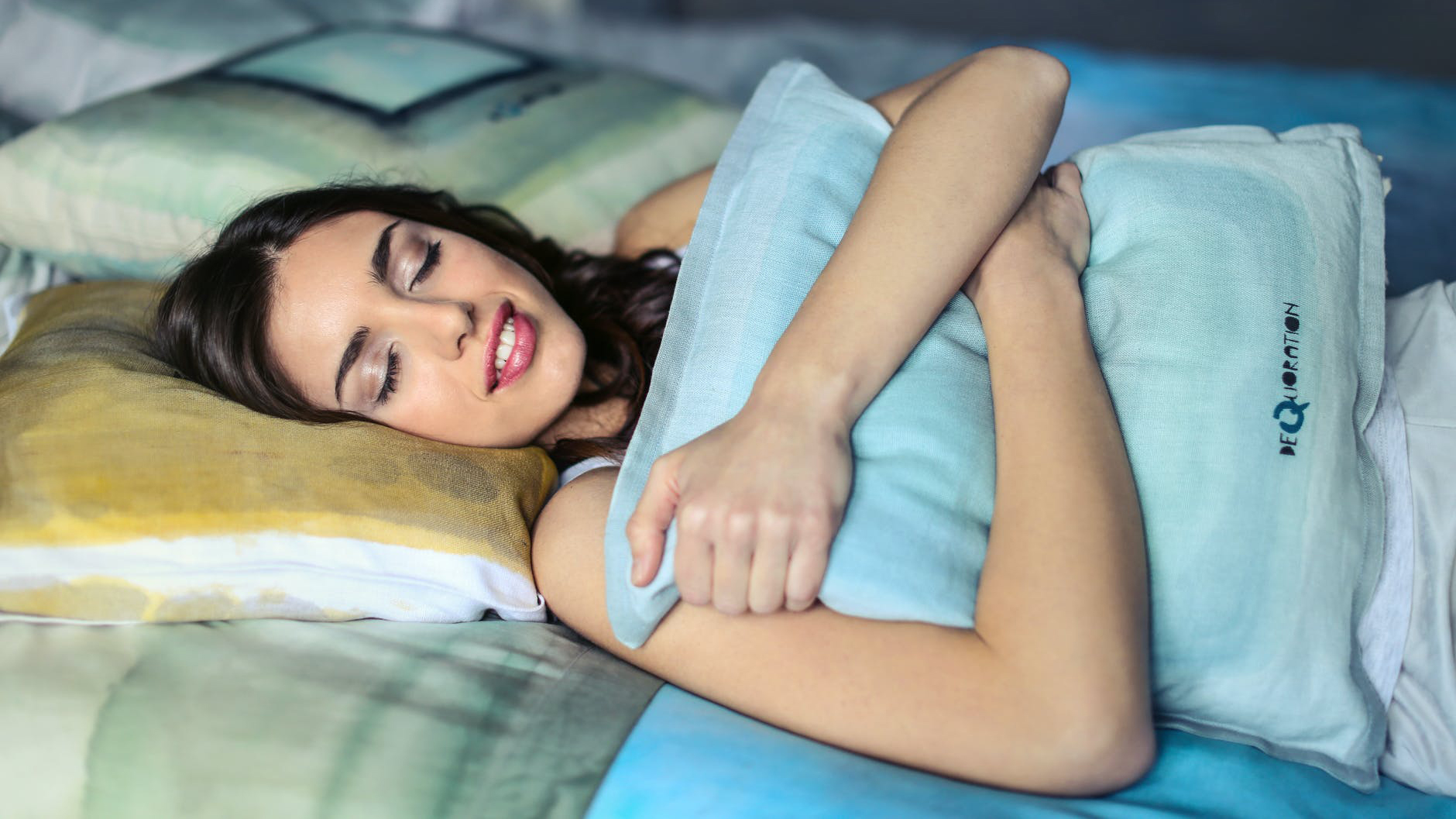 CPAP Pillows Reviews
I picked the Contour CPAPMax CPAP Pillow 2.0 as the best overall CPAP pillow because of its versatility. This pillow is FSA/HSA approved and works well for any sleeping position - back, stomach, or side. The ergonomic mask cutouts create proper contouring for maximized alignment and airflow. Also, the cutouts give you pressure-free zones in which your CPAP device can rest comfortably and not obstruct your sleep as it often does on traditional pillows.

The other thing that helps CPAP users is the pillow's concave center. This cradles your head in a gentle manner and keeps you front straining your neck or head while you rest. There is also a strap on the side where you can tether in your CPAP's hose.

There are three removable layers to this CPAP pillow. These foam layers allow you to adjust between four different heights. There is a dense layer of foam that provides support, a high resiliency foam layer infused with charcoal that zaps funky odors, and a plush layer of memory foam for additional comfort.

Even if you aren't using a CPAP but have medical conditions effecting your sleep (such as TMJ or Chiari malformation), your cervical spine gets a lot of support from this pillow. Some users even claim it has lessened their teeth grinding and neck pain or stiffness.

Downsides? It lets off some chemical smells when you unbox it. But, after giving it a little time to air, the smell tapers off. Also, the memory foam layer sleeps on the warmer side, so it might not be too comfy if you prefer a cooler sensation.
Pros
Three adjustable layers
A concave center for stabilizing your head and neck
Relieves some neck and head pain
Locks your hose into place
Cons
Emits a chemical smell upon opening
Memory foam layer sleeps warm
Contour CPAPMax CPAP Pillow 2.0
50% Rayon design
Concave center, a place on the side to tether your hose
Three adjustable layers, and charcoal filtering for odor elimination
Another pillow that is known for alleviating neck pain is the EnduriMed CPAP Pillow. This pillow has a new patented design that arose from the manufacturer listening to customers' feedback. The result? A removable foam pad that allows you to increase or decrease thickness in order to optimize your comfort. You can remove the pad and lay on the thin side or insert the pad and lay on the thick side - your choice.

This pillow works best with full face masks, but some nasal masks might not work as well. This is due to how the corner gaps are designed to prevent a full face mask's tubing from getting entangled.

Any sleeper can use this pillow, and all sorts of sleepers say that this pillow has improved their quality of sleep. People also report not waking up with facial lines after sleeping on this pillow.
Pros
Has a removable pad for adjusting thickness
Uses high quality memory foam
Works for all sleeping positions
Works with CPAP, BI-PAP, and APAP masks
Cons
Not for use with nasal CPAPs
Memory foam might not offer enough support for some users
EnduriMed CPAP Pillow
Removable pad
Soft memory foam
Ergonomic design with side cutouts
Washable cover
If you want something that offers a cooling sensation, the Technogel Relax the Back Technogel CPAP Pillow offers a gel construction that cools the pillow. Its cupped central zone has non-toxic Technogel layering that is thick and helps secure your head in place. An ergonomic design enhances spinal alignment, and the contoured shoulder zones allow your mask to fit without any slippage during the night.

Also included is a custom fitted cover designed to keep the pillow clean. Putting it on will dim the effects of the Technogel's cooling, so if you prefer to sleep warmer, this will come in handy. A series of top-to-bottom air tunnels aid in getting airflow through the pillow for ultimate breathability.

The one big downside is the price. This pillow is more expensive than many others, mostly due to its use of specially designed cooling gel. Some people also feel that the pillow is not firm enough to provide ample support.
Pros
Comes with a cover included that fits to the pillow
Cooling effect provided by the gel
C-shaped sides keep the spine aligned
A choice between regular or thick sizes
Cons
A higher than average price
Might be too soft, even on the thick option
Technogel Relax the Back Technogel CPAP Pillow
C-shaped side
Contoured shoulder zones
Custom fitted cover
Cooling non-toxic Technogel
If you are on a tighter budget, the Coisum Cervical Contour Pillow might be more your speed. The Coisum is actually an orthopedic pillow designed to relief pain for chronic pain sufferers. But, with its side cut-outs, it can actually make for a good CPAP pillow.

This pillow is made from high quality memory foam that lends a lot of contouring. The contours on the sides lead into armrests, which are supposed to help if you deal with neuropathy in the hands at night. The two horns on either side of the pillow are designed to provide spinal alignment and support.

Caution: This pillow isn't the best for stomach sleepers. However, it works quite comfortably for side and back sleepers. The memory foam has a medium hardness that should suit those sleepers.

On top of it all, you get a breathable pillow case for cleanliness and comfort.
Pros
Budget-friendly
Armrests on both sides
Aids with numbness and tingling in the hands and arms
Has a medium firmness
Cons
Might go flat within months
Might not work for people who switch from side-to-side or side-to-back
Coisum Cervical Contour Pillow
Slow-rebound memory foam, armrests
Center area that holds your head in place
Include cover
Got a little extra money to spend? The Tempur-Pedic TEMPUR-Ergo Neck Pillow sits at a middle-of-the-road price but carries the name of a reputable brand. There are actually five sizing options, ranging from Travel to Large Profile. This memory foam pillow is contoured to fit the frame of your head and neck for optimal comfort.

This pillow is one of the firmer options available, and it is best left for side and back sleepers. Its 100% Polyester Knit Hypoallergenic cover can be removed and run through the wash. Also, note that you can choose whether you rest your neck on the thicker or thinner side. All you have to do is spin the pillow around. You'll just need to take care not to pull on your CPAP's hose.

Some users note that TempurPedic's quality has decreased over time, saying that this pillow is much more light and flimsy than something similar from 10-15 years ago. Some buyers even started waking up in pain after they began using it.
Pros
Material adapts to your form
Returns to its standard shape in the morning
Cover can be machine-washed
Five sizes to select from
Cons
Not fit for stomach sleepers
Might seem flimsier than it should
Tempur-Pedic TEMPUR-Ergo Neck Pillow
Two neck supports that let you select your thickness
Design for side or back sleepers
Hypoallergenic cover, and adaptive material
Are you exclusively a back sleeper in need of a lot of cervical support? The Coisum Back Sleeper Cervical Pillow covers both of those bases. While not strictly designed as a CPAP pillow, it can function as one. Its 60 density memory foam design is there to help you wake up without pain and stiffness.

In the center of this pillow is a little hole that is designed to help secure your head each night. You can rest your arms at your sides, or, if you are a light side sleeper, turn and place your arm on the armrest. The slow rebound memory foam has a medium firmness to it, which caters to a lot of people. You also get treated to a soft and breathable pillow case.

Some buyers have woken up in pain after using this pillow, which means it isn't for everyone. A few buyers even noted that the company begged them to increase their review ratings in exchange for a free pillow.
Pros
Provides pain relief for most people
Can accommodate a CPAP machine
Rests your head in place
Armrests for side sleepers
Cons
Only for back and small-framed side sleepers
Company might use manipulative tactics
Coisum Back Sleeper Cervical Pillow
The button area in the center
Armrests
60D memory foam, and a medium firmness
The Lundberg CPAP Pillow for Side Sleepers has quite the unique design. Its two sides have two levels of thickness so you can adjust as needed for optimal comfort. There is also an extra layer of memory foam in case you need more thickness. If not, just remove it.

As far as CPAPs go, this pillow can work with any brand and any type of CPAP. But you should be a side sleeper to use it. Stomach and back sleepers won't derive as much comfort or support. Two pillow cases are included and fit right onto this pillow.

A few buyers have noted that they experienced neck pain from using this pillow, and some just felt that the quality of their sleep didn't improve. If you have a bad neck, this pillow might not give you the level of support you need.
Pros
One size fits all
Adjustable memory foam layer adds or substracts thickness as needed
Can be used with any CPAP device
Two pillow cases are made with premium material
Cons
Only made for back sleepers
Not meant for people with neck pain
Lunderg CPAP Pillow for Side Sleepers
Pillow comes with an adjustable memory foam layer
Two-sided design with two thickness levels
Two pillow cases
If you're about to travel, you should think about getting a travel-size CPAP pillow. The Core CPAP Pillow - Mini is the best travel CPAP pillow around since it is lightweight and has a curve that accommodates CPAP machines.

The level of comfort people are experiencing with this pillow is considerable given that it is a travel pillow. You can be a side, stomach, or back sleeper and still use this pillow while you are on the go.

The only downside is the price. For being a travel pillow, it is actually more expensive than some of the regular-size pillows on this list.
Pros
Easy to carry around
Curved design
Works for any sleeper
Thick enough for quite a few people
Core CPAP Pillow - Mini
Curved design
Light weigh
Ability to accommodate a full face mask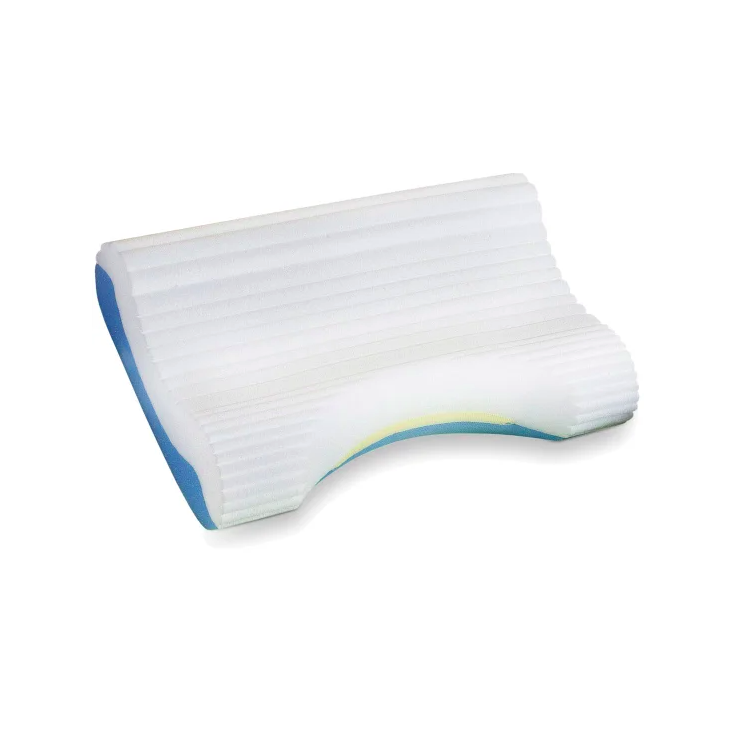 Made from three layers of memory foam, the Contour Cloud Cervical Memory Foam Pillow helps align your head and spine as you sleep. If you struggle with neck pain, wear a CPAP, and are a side or back sleeper, this pillow might help you rest easier.

Its top "white" soft memory foam layer conforms to the shape of your neck and head to provide cloud-like comfort. The middle "yellow" layer lends extra support to the shoulders and neck. Finally, the bottom "blue" layer has extra firm foam that prevents the pillow from bottoming out. A soft velour cover comes with this pillow and can be machine-washed.

The downside here is that memory foam pillows last for an average of five years. You will keep having to replace it. And buyers note a decline in the quality from the "original" Contour. Some also claim there is an overwhelming chemical smell that lasts for hours to days after the pillow is unpackaged.
Pros
Tri-layer construction to help ease neck pain
Accommodates CPAP devices
Works well for side or back sleepers
Has a soft, machine-washable cover
Cons
Will only last about five years
Emits a strong chemical smell
Contour Cloud Cervical Memory Foam Pillow
Tri-layer memory foam construction
Velour cover
Head cradling dip in the center
Aiming to improve your mask comfort at night? The Carex CPAP Pillow is designed to do just that. Although it is definitely a firm pillow, it allows you to move your head and neck around at night, so you won't be locked into place. The amount of discomfort you experience while changing positions is lessened.

This pillow also stops CPAP mask leaks, something which many pillows cannot do. This is a common problem for side sleepers, but with the Carex, you can angle just the way you need to without a mask leak. The mask and hose are both accommodated, creating an all-around more restful night's sleep.

This is a good sized pillow with a lot of firmness, but it might not be for everyone. You don't get any adjustability on the height, which some folks need. Having some side cut-outs would likely enhance the pillow's ability to accommodate a mask and hose.
Pros
Plenty firm for those who need firmness
No mask lines upon waking
Helps with TMJ pain relief
Keeps mask secured with no leaks in the hose
Cons
Might be too firm for some users
Could benefit from side cut-outs
Carex CPAP Pillow
Ear comfort depress on either side
Removable and washable cover
Curve for shoulders, and a contoured area for mask pressure relief
How does CPAP Pillow Work?
Structure
Cutout sections are common and allow space for the hose to securely rest. This prevents seal leaks, which often happen with traditional pillows. A concave center helps secure your head and neck in place, and layers help give enhanced support.
Materials
Memory foam is the most common material. You can also find polyfoam or latex options too, and a few pillows have gel layers for cooling effect.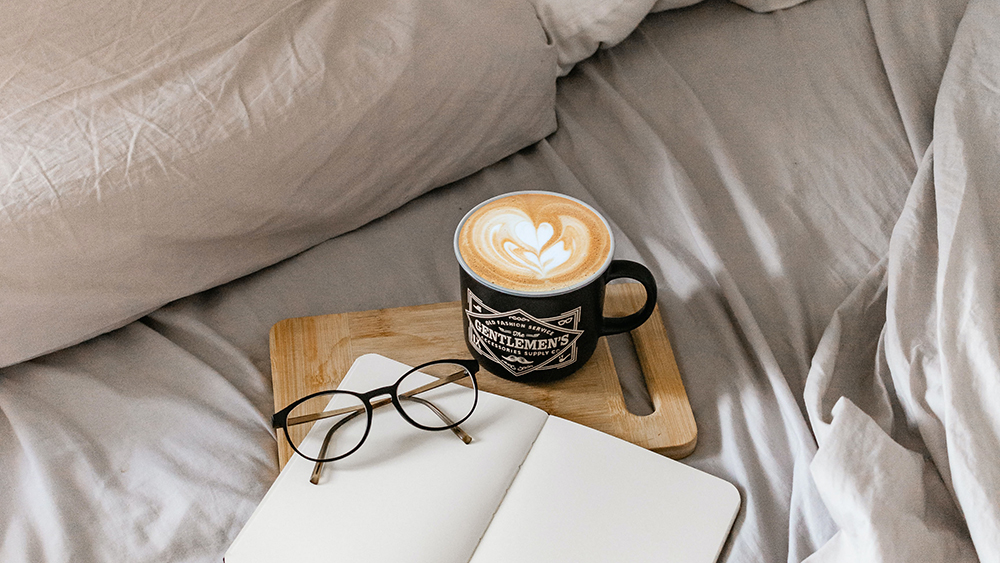 How to choose CPAP Pillow
Your Preferred Sleeping Position
You should choose a pillow based on your preferred sleeping position. Some pillows only accommodate back or side sleepers while others also work well for stomach sleepers. Stomach sleepers might have to look extra hard for a pillow that works for them.
Mask Accommodation
A CPAP pillow should help hold your mask in place without creating slippage. Buy according to what type of mask you wear. The most common CPAP pillows are for full-face, nasal, and nasal masks. The bulkier the mask, the more accommodation it will need. Think about how a pillow's cut-outs will provide space for your CPAP mask.
Firmness
Do you need a lot of firmness or just a little? CPAP pillows range from medium to extra firm. Most aim to accommodate masks while aligning your cervical spine. These aren't super soft like a down pillow, but softer CPAP pillows are hard to find.
Support
A good CPAP pillow offers plenty of cervical support. Most are made with memory foam, which creates more support than a standard pillow. A removable layer of support might be ideal if you prefer a lower pillow height.
Shape
You will find a variety of shapes in the CPAP pillow market. Some shapes are more effective than others, and some are geared toward specific mask types or sleeping positions. For example, deeply curved cervical support might be most ideal for a side sleeper with neck pain.
Pressure Relief
A firm CPAP pillow provides pressure relief. It does so by using materials like memory foam, polyfoam, or latex. The pillow should have a supportive core while leaving your head and neck free enough to move around at night.
Price
These pillows are typically more expensive than standard pillows. They can cost from about $40 up to around $200. Most pillows range in the $50 price point. It just depends on which materials and what type of construction you need.
Temperature Regulation
Polyfoam and memory foam retain heat, so they sleep warmer. The more airflow you have or the more cooling gel the pillow offers, the cooler your pillow will sleep. Those pillows are often more expensive.
Material Quality
Synthetic materials like polyfoam and memory foam are common and of at least moderate quality in most cases. Latex is considered high-quality as well, and it is the most environmentally-friendly option.
Moldability
Some of these pillows are more moldable than others given their shredded memory foam design. But most of these pillows aren't adjustable like this, so it is up to you how much adjustability you need.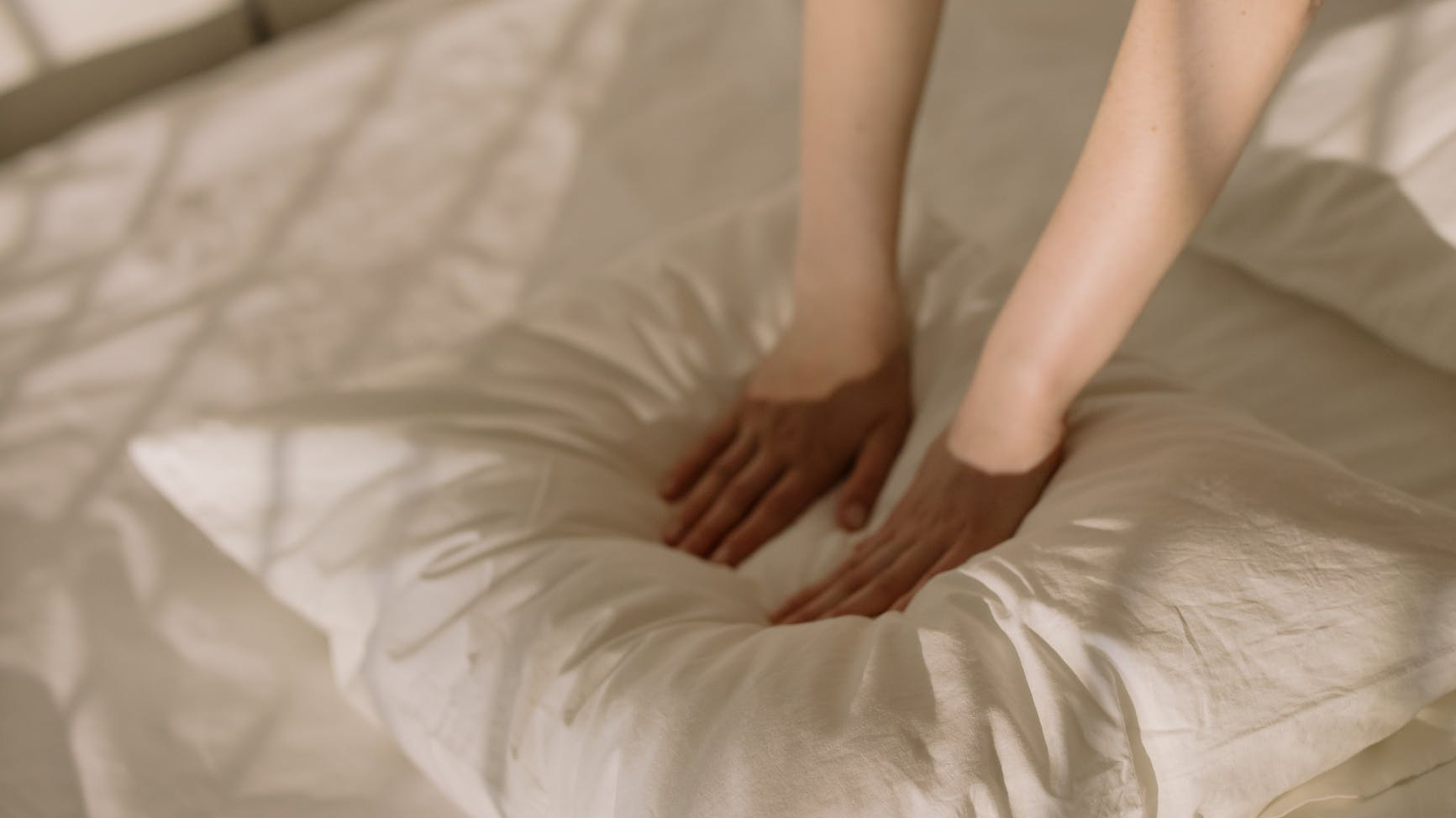 CPAP Pillow Benefits
Accommodating Full Face Masks
Many pillows for CPAPs can accommodate full face masks. Regular pillows struggle to do this, creating awkward lines and encouraging hose leaks.
Sleep On Any Side
You can sleep on your back, side, or stomach on certain pillows. Some are exclusively made for back sleepers though, and some accommodate back and side sleepers. Stomach sleepers can find particular pillows to suit their sleeping habits too.
Orthopedic Support
CPAP wearers often need extra orthopedic support since their conditions can cause neck and back pain. These pillows align the head and neck and support the shoulders.
Caring Recommendations
Washing & Drying
Be sure to wash and dry your pillow's cover at least once a week for cleanliness. Just make sure you follow the washing instructions so you don't shrink the cover. Regularly cleaning the case also helps keep your CPAP device clean and functional.
Hypoallergenic Covers
There are hypoallergenic covers available for these pillows. You will need to check the material type to be sure yours is hypoallergenic. These covers help people with sensitive skin or bad allergies.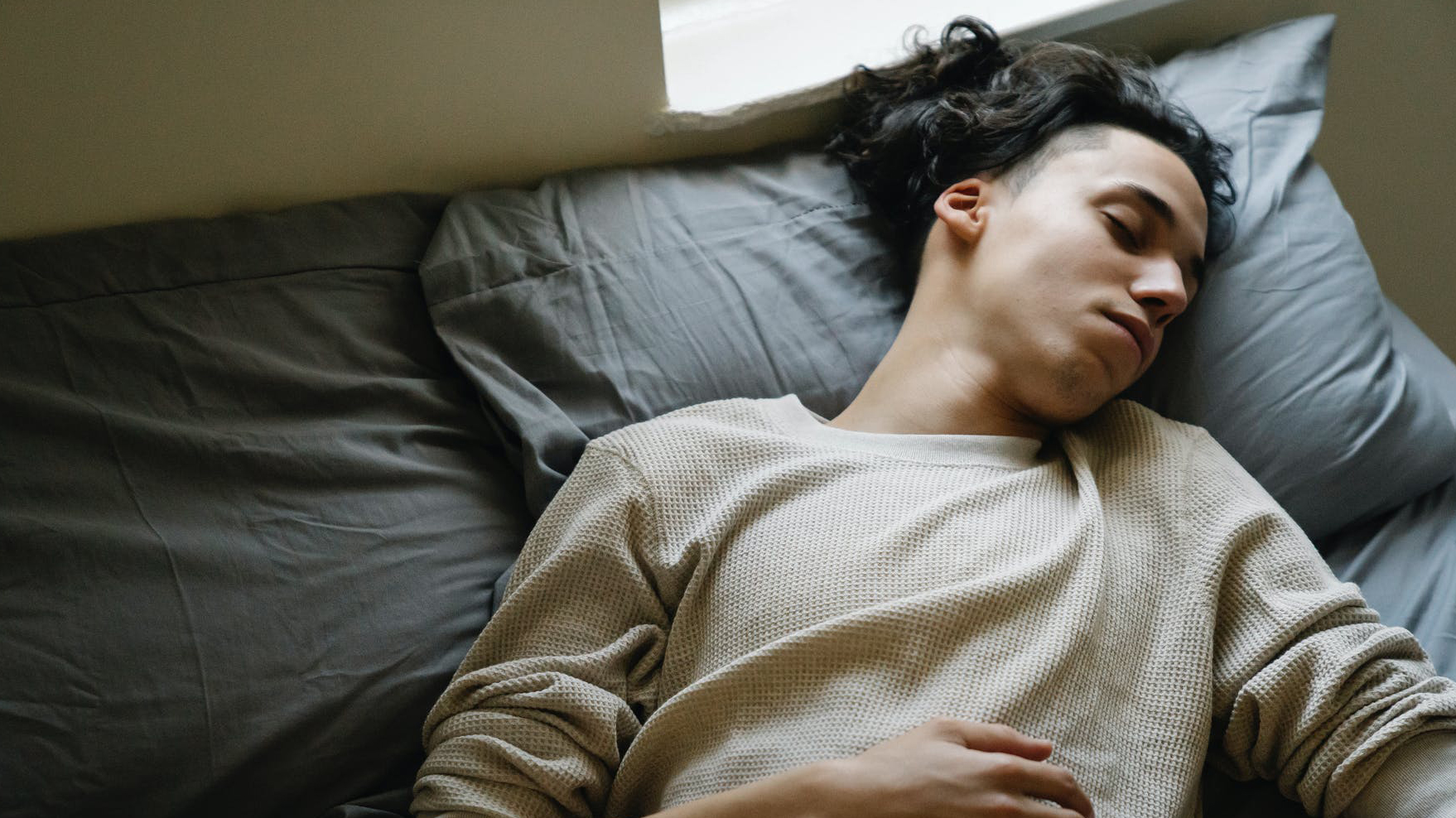 FAQ
Can anyone use a CPAP pillow?

CPAP pillows are generally designed for people who wear CPAPs, but others can use them for their cervical support benefits.

Are CPAP pillows worth it?

These pillows are worth the purchase since they better accommodate all types of masks, allowing a better night's rest.

Can CPAP have side effects?

CPAP therapy itself has some side effects: skin irritations and rashes, nasal congestion, claustrophobia, facial breakages, conjunctivitis, and aerophagy. A pillow should not produce side effects.

How much do CPAP pillows cost?

The cost ranges between about $40 and $200 with most pillows hovering in the $50 range.

Do I need a prescription for a CPAP pillow?

You do not need a prescription to get a CPAP pillow. Anyone can purchase these pillows.

Can I wash my CPAP pillow?

You should not wash the pillow itself. You should definitely wash the removable cover on a regular basis though.

How Are CPAP Pillows Different from Normal Pillows?

Normal pillows tend to be too soft and billowy to support CPAP masks. These pillows use memory foam, polyfoam, or latex for a more supportive design.
You Can Begin Sleeping Better With a CPAP Pillow
A good CPAP pillow can cater to your specific CPAP mask, keeping it in place while allowing you to move your head and neck as needed during the night. You can find these pillows for all sleeping positions, but some are only meant for certain positions. Finding the right one can really enhance your feeling of support and comfort throughout the night and once you wake up in the morning.
Contour CPAPMax CPAP Pillow 2.0
That is why I picked the Contour CPAPMax CPAP Pillow 2.0 as the best overall CPAP pillow. It is meant for all sleep styles and can be adjusted for the utmost in comfort. A tether will lock your hose into place, and your mask won't get compromised or leave lines on your face in the morning. It can be a total game-changer for CPAP users and is worth giving a shot if you are in need some cervical support while you rest.