A daybed is a great addition to an office or a guest room. While a twin bed has a taller headboard and a shorter footboard, a daybed has an equally tall headboard and footboard and a back against the wall, similar to a sofa. On a twin bed, one or two pillows can easily live at the headboard, but a daybed often has cushions against the back or wall. Often, the best daybed mattress will be a bit firmer than a twin mattress so it can serve as a seat cushion.
What's a Daybed Mattress?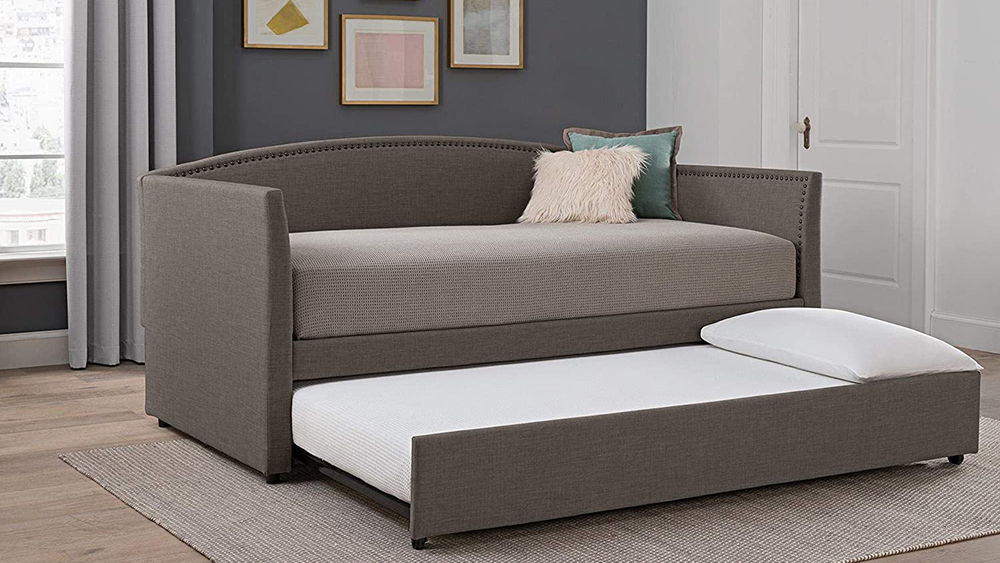 A daybed mattress will generally be the same size as a twin mattress. However, if you plan to use your daybed as a seating area, you will want a firmer mattress than will often work on a twin bed.
Depending on the size of your daybed and the thickness you want, you may find that your daybed mattress is quite heavy.
Make sure that your daybed frame offers plenty of support down the length of your mattress, especially if you're using a dense foam mattress. Your heavy foam mattress will also need plenty of airflow. Consider using heavy duty plastic slats to support the mattress effectively and reduce weight.
Often, daybeds also have a trundle under the bed. A trundle frame can be left flat or elevated to turn your twin daybed into a full-sized bed. If you prefer to offer an innerspring or a hybrid mattress to a guest, this is the place to use a softer mattress.
Best Daybed Mattresses Reviews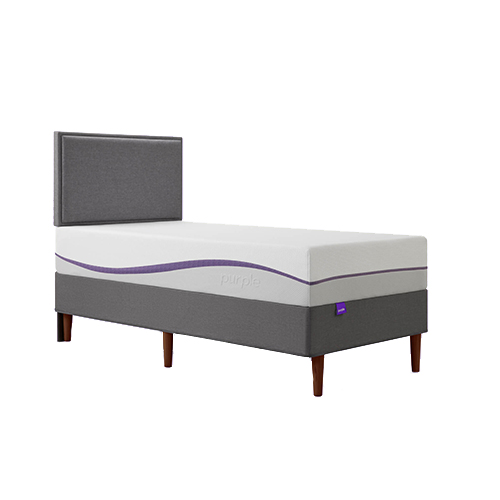 As noted above, daybed mattresses need to serve as a sofa cushion as well. The Purple Mattress is ideally formulated for this purpose. The foam grid of a Purple Mattress means that you can be comfortable either seated or lying down. Because this mattress holds a cool temperature, you can lounge on your daybed comfortably during the day and stretch out in cool comfort at bedtime. If you're looking for the best mattress for daybed use, day or night, starting with a Purple is a great plan.


Pros
The traditional Purple Mattress is firm enough for sitting and soft enough for sleep
You can go Purple Plus to add foam and responsiveness
You get 100 days (and nights) to test drive your Purple Mattress
Cons
These are pretty heavy mattresses; the twin is 65 pounds alone
The covers on these are not inherently flame retardant
If you are a cold sleeper, this mattress for a daybed may leave you feeling chilly
The Purple Mattress
The Purple Mattress construction is formulated to be firm without being rigid.
The same quality goes into a Split King or a twin daybed mattress.
The purple mattress holds its shape with a simple frame.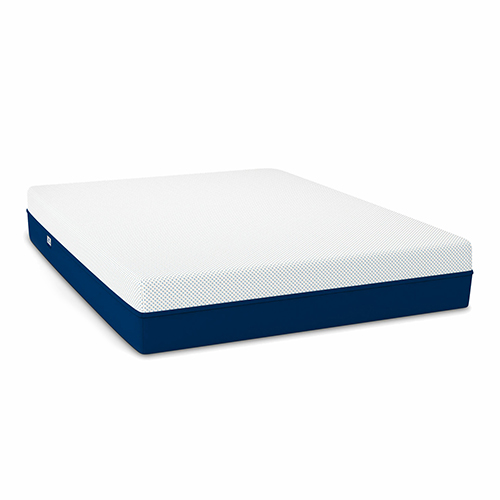 The Amerisleep AS2 Mattress is a high quality, firm mattress that is designed for back sleepers. However, these mattresses are formulated to allow for a bit more cushion in the middle, or where the hips of the sleeper land. This mattress has a Refresh Cover that keeps the mattress cooler over a full night of sleep. Hot sleepers can expect a temperature difference up to 7 degrees overnight. The top layer of the cushion is made of plant-based foam known as Bio-Pur foam and allows more air to move through your mattress. If you tried a foam mattress and gave up because it was too hot, this mattress may be just what you need in a twin mattress for a daybed. If you're not sure, you have a 100-night guarantee to try.
Pros
The firmness of this mattress will make for a very comfortable sofa, particularly at the ends
This mattress stays nice and cool under you; heat doesn't build up
With the right support, this mattress will not pull apart at the foam layer junctions
Cons
You can't put this mattress over a box spring
The pressure relief layer is softer in the middle of the mattress, or where the hips of a mattress-length sleeper will land. This may make it uncomfortable to sit on long-term
The bottom layer is rigid and thick; these are heavy mattresses
Amerisleep AS2 Mattress
Your AmeriSleep mattress comes with 100 nights of test driving to make sure it's right for you. It also offers a 20 year warranty!
You can put this mattress on any slatted platform that offers gaps of no more 2.75 inches.
This mattress holds its shape over time and will not sag if you need to use it as a sofa as well as a bed.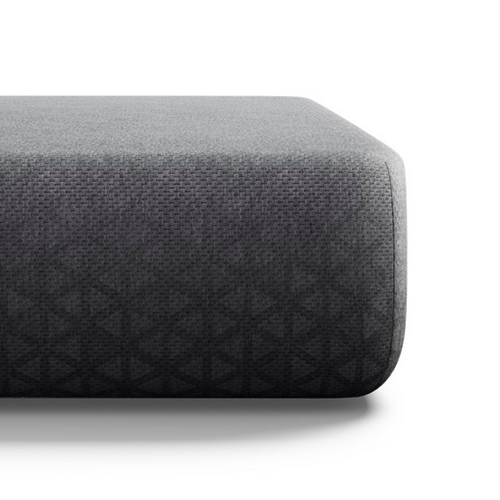 The Zoma Hybrid Mattress is not a traditional hybrid; there are no springs inside this mattress. However, there are three layers of cushion, starting with a hearty base. When pairing the frame of a daybed with a mattress, you will want to be careful about the supports. Many daybed frames include storage underneath, up to and including drawers. Carefully review the slat spacing to allow no more than 3 inches of space between the slats. This will allow air to move without allowing the mattress to sag. The softly curved edges of this mattress can make it easier to use this as a traditional sofa with enough cushions along the back; consider putting up a basic bolster and placing cushions in front of it for a real couch look.
Pros
You get 30 nights to test drive this mattress to make sure it's right for you
If you don't like the squared-off look of a foam mattress, your Zoma has softer edges
This mattress will cushion a tired, sore body whether you're sitting or laying down
Cons
To get this mattress to last, you will need to cover your box spring with plywood
This mattress is 12 inches thick; your sofa may be awfully tall
If you need a firm mattress as a back sleeper, this may not be comfortable
Zoma Hybrid Mattress
This mattress includes three layers, including a soft top, a responsive center core, and a firm supportive base.
The outer cover of this mattress is designed to release heat build-up.
This mattress has the give necessary to help athletes recover during each overnight.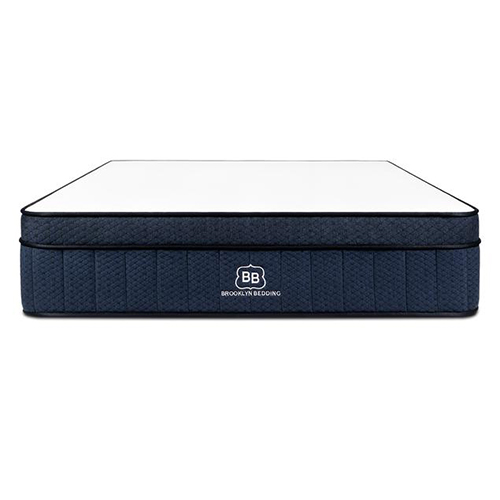 If you love the flexible feel of an innerspring mattress, the Aurora Hybrid Mattress by Brooklyn Bedding is a terrific option for your daybed. These mattresses combine springs and TitanCool fabric for long-term quality rest on a cool, comfy mattress. Additionally, the Brooklyn mattress can be placed on a slatted metal platform or a Brooklyn Ascension BiFold Foundation, which has the look of a box spring for a more traditional look. If you don't need the storage and want the look of a standard mattress, the Ascension Foundation will work. For those who need multiple densities when choosing the best daybeds with mattress options, you can get your Brooklyn mattress in either soft, medium or firm.
Pros
You get 120 nights to test drive your Aurora. You will know that you're certain of your purchase
If you find this mattress to be too cool, you can return it and get the Brooklyn Signature Hybrid
This mattress is 13.5 inches tall.
Cons
The outer edge of firmer coils may be uncomfortable if you're using this mattress as a sofa
You can return the mattress for 120 days, but you need to try it for at least 30 days
This foam mattress can have a slight odor when it's first opened
Aurora Hybrid Mattress by Brooklyn Bedding
The Brooklyn mattress comes in a box and just needs to be opened and aired. These mattresses are easy to handle.
The coils are firmer along the edge; these mattresses can't be flipped, but they should be rotated.
Both the foam and the fabric cover are designed to carry away heat.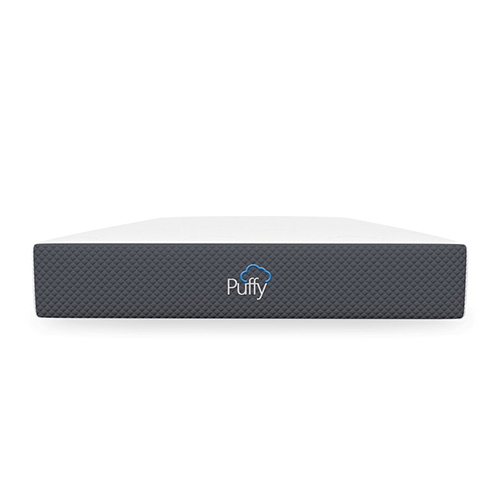 You can get a Puffy Mattress in layers of foam alone or in layers of foam on top of coils. The contour adapts coils on this mattress offer plenty of support, will reduce the weight of your mattress, and will keep your daybed mattress flexible enough to sleep on and sit on. If you need a lower-profile mattress, you can get the basic Puffy. The Hybrid Puffy is a bit taller, and the Puffy Royal is a high-profile stretch of luxuriousness. For families that need to use their daybed as a sofa or a play area, all versions of this mattress come with a stain-resistant cover. While the basic will make a great sofa, don't invest in the Royal if you need it to function as a "feet on the floor" sofa.
Pros
Puffy mattresses can be placed on a traditional box spring
The mattress will come in a 19″ x 19″ by 42″ box, easy to get up the stairs or even onto a loft bed
These mattresses are medium to firm but flexible enough to bend on an adjustable frame
Cons
The top layers of this mattress will sink a lot if you're using it as a sofa
The base of the mattress is nonslip and can have a sticky feel to the touch
This mattress may be better supported by a grid than plain slats
Puffy Mattress
Every layer of this mattress, including the fabric cover, wick away warmth.
You will have 101 days to test drive your mattress.
The lowest version of this mattress is approximately half the weight of the Puffy Royal.
The Green Tea 8 Inch Mattress by Zinus offers a lot of benefits for a very fair price. This mattress has a full 5.5 inches of dense foam for the bottom support. There's a softer foam for the sake of comfort on top of this foam and a 2.5 inch layer of soft memory foam against your skin. The green tea infusion provides a way to avoid odor build-up and terrific antibacterial capabilities. The soft fabric cover will add to your comfort level both when sitting and sleeping on this twin mattress.
Pros
The firm foam bottom make this mattress extremely durable
The green tea layer reduces odor and protects against mold and bacterial build-up
The soft cover makes this mattress more comfortable to lay on and makes it easier to clean
Cons
Removing the cover may release the fireproofing material. If you have to remove the cover, take it outside
These mattresses may not be as cool as a coiled mattress
On a solid surface, moisture can build up in this mattress
Green Tea 8 Inch Mattress by Zinus
Multi-layer mattress offers great comfort and antibacterial protection.
This mattress will allow for airflow; make sure you have slats underneath it to allow moisture to wick away.
This simple mattress will be a terrific seat as well as a sleeping spot.
The Gel 10 Inch Mattress by Lucid is constructed of Certi-Pur foam. The bottom 7.5 inches is quite dense and firm, while the top 2.5 inches are ventilated memory foam. You will want to avoid compressing this twin mattress; keep the base open to allow plenty of airflow and avoid moisture build-up in the bottom of the mattress. The whole mattress will be covered with a soft, breathable cover and will ship compressed small. Consider opening the box in a ventilated area to allow the mattress to fully expand and breathe before you sleep on it.
Pros
This 10 inch memory foam mattress comes with a 25 year warranty
The price is very manageable and will support both sitting and sleeping
This mattress offers enough flexibility to allow you to use it on an adjustable frame
Cons
There is a fireproof level under the cover which may shatter when you take the cover off
This mattress will need to be rotated so it doesn't compress over time
Moisture and odor can build up if this mattress isn't ventilated; use the slats
Gel 10 Inch Mattress by Lucid
The plush breathable layer makes this mattress a lovely cool place to sleep.
The firm base layer means that this daybed mattress will stand up as a sitting area over time.
The cover adds another layer of air capture to keep this mattress cool and moisture free.
Daybed Mattresses and Twin Mattresses. What is the difference?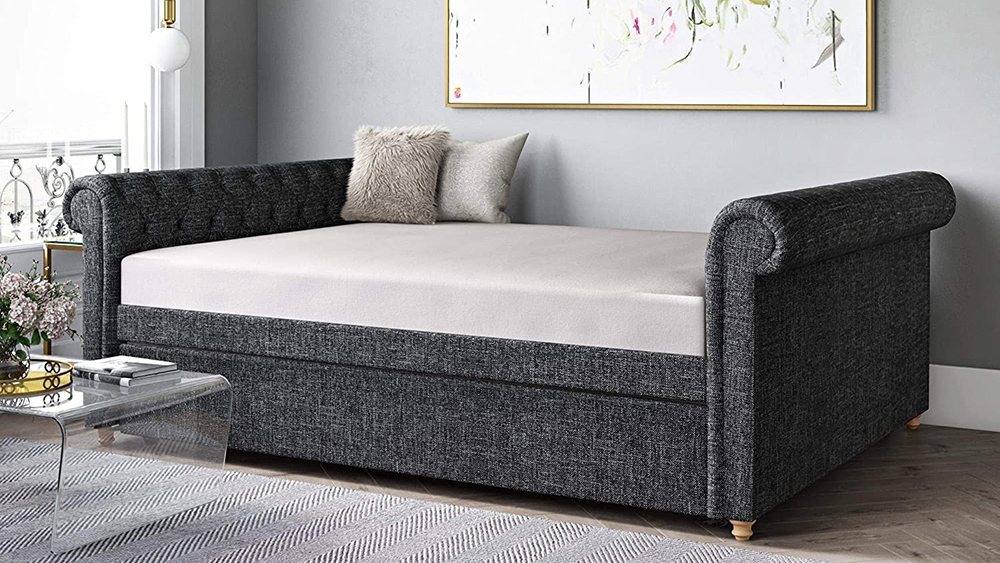 Fundamentally, you can use a twin mattress on a daybed as long as it isn't too long to fit between the ends. If it's too long, it will be compressed and will be harder than expected. If it's too short, your pillows bolster, and shams will fall through.
Deeper Than a Sofa
When looking at the cushions used on furniture, it's important to note that high-end furniture uses dense foam for the seat cushions and loose cushions for the back.
Because daybeds are deeper from the front edge to back support, you may need to use more cushions than just standard pillows to fill in that depth.
Taller Than a Sofa
The softer the mattress, the more challenge you may have using this comfortably as a couch. Additionally, most daybed frames are a bit taller than a twin bed, either for drawers or a trundle. If you plan to use your daybed as a daily use sofa, you may need a step stool for children or shorter adults.
Things to Consider Before Buying a Daybed Mattress
Comfort
Unless you absolutely have to sleep on a very soft mattress, try to go for a middle of the road density. A very soft daybed mattress will make sitting on the bed uncomfortable.
Size
The length of your daybed frame may mean that you need a Twin-XL bed. Carefully measure the opening between the ends to be sure that you won't be compressing the mattress, which would make it firmer and possibly less comfortable to sleep on.
Price
A twin mattress can be found in basic foam for very little money. However, basic foam can also be quite hot. If it's too firm, it won't be comfortable to sleep on; if it's too soft, it will sag quickly. A good quality twin mattress may cost more, but it will last longer and offer more comfort.
Portability
Most twin bed mattresses are pretty lightweight. However, a full foam mattress will usually weigh more than a spring mattress. If you want a full foam mattress that is thicker than 10 inches, be aware that you may be dealing with a very heavy mattress.
A heavy mattress may be fine, but if that daybed will be a play area, make sure your children aren't intending to fold or try to move the mattress.
Benefits of a Daybed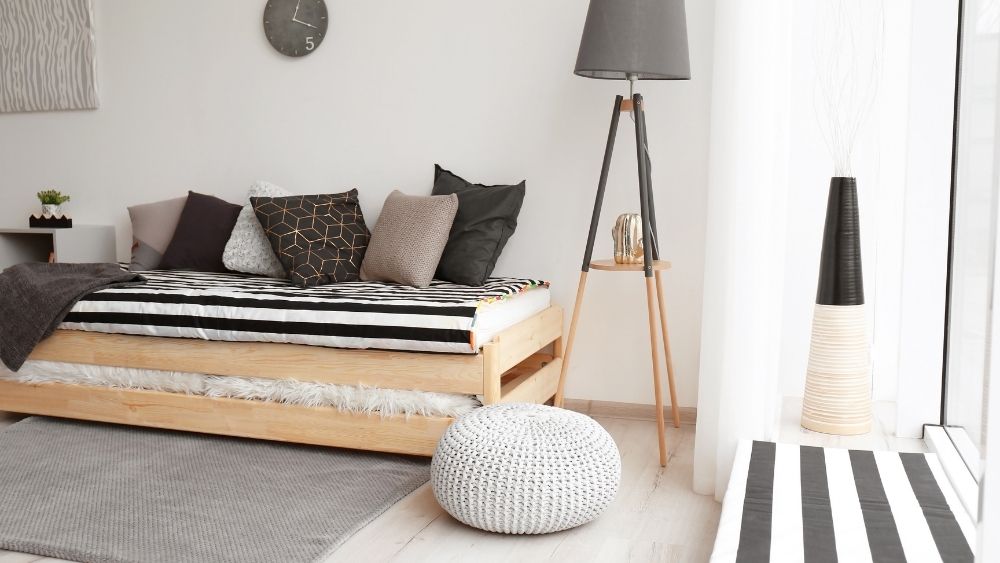 A daybed makes sleeping much more comfortable than a fold-out sofa.
Yes, a fold-out mattress may be bigger, but it will not be as high quality or as comfortable as a daybed mattress. With the right cushions and the right frame, your daybed can look a lot like a sofa.
If you prefer a homier look, add shams and bolsters to allow you somewhere to lean back while sitting on your daybed.
FAQ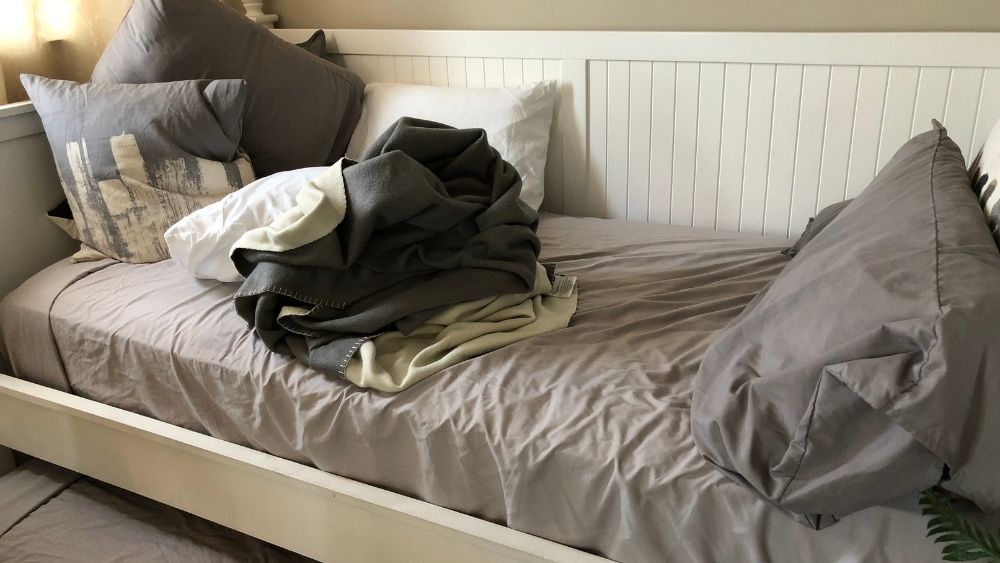 Can you sleep on a daybed?

Sure! It's a twin sized bed.

Does a daybed come with a mattress?

Generally, the frames and mattresses are sold separately.

What size mattress for a daybed?

A twin mattress will work on a daybed.

What type of mattress do you need for a daybed?

A mattress without too much loft will work on a daybed.

Are daybeds suitable for adults?

As long as the adult can sleep on a twin, they can sleep on a daybed.

Do you use a box spring with a daybed?

A box spring will make your daybed too tall. Additionally, most of the mattresses in this review won't work on a box spring.

Do you need a base for a daybed?

Slats will work to hold the mattress in place.

What's the difference between a daybed mattress vs twin mattress?

The frame they sit on. A daybed mattress will work better if it's a bit denser.

How thick should a daybed mattress be?

For seating and sleeping comfort, 10 inches or under would be ideal. Too flat won't give you quality sleep; too thick won't sit well.
Stretch Out and Relax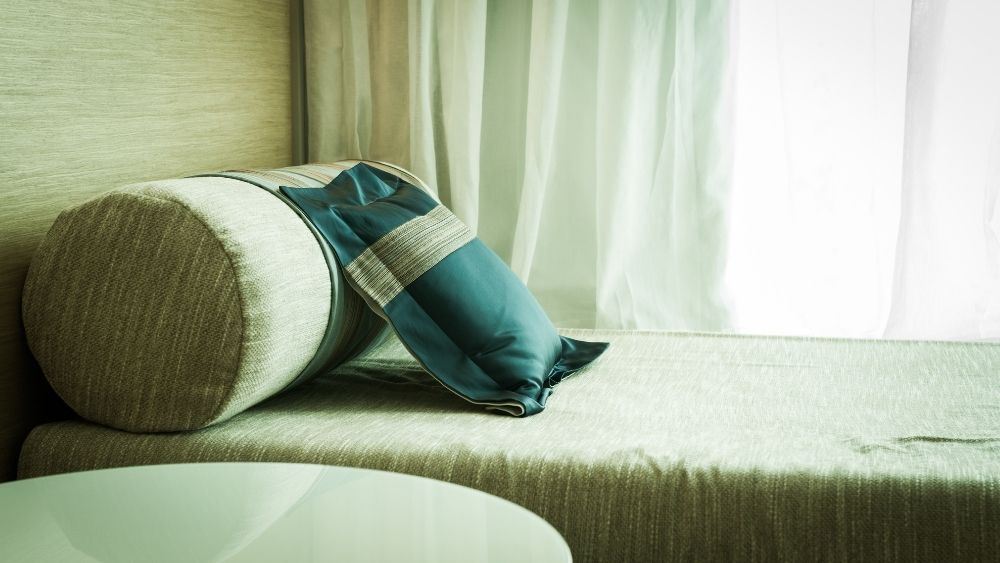 The Purple Mattress is a great choice to fulfill both requirements of this mattress. You need firm support for sitting. You need a bit of softness for sleeping. You always need to pull heat away from your skin to be comfortable. The total mattress is just under 10 inches thick, it looks great on a standard daybed frame, and it will serve both as a cushion and a mattress.
The Purple Mattress