Adding a plush blanket to your bed or sofa can turn a chilly night into a snuggly oasis of warmth and comfort. These fleece blankets are poly products and the structure of the fleece is formulated to hold air close to the skin. This trapped air warms and creates a second layer of insulation around your body. Because these products are poly, do take care to review the washing instructions; adding heat to the drying process can cause the fluffy texture to shed, pill or start to feel scrubby or scratchy.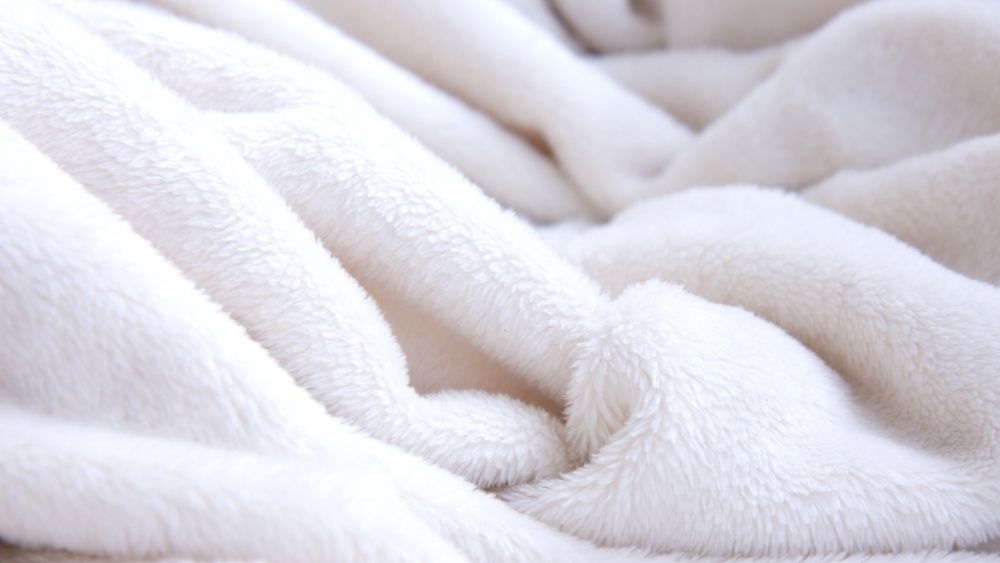 Types of Fleece Blankets
Synthetic Fleece
Synthetic fleece is quite popular with crafters; for example, if you've seen the fleece blankets with braided or knotted edges, you may have noted that synthetic fleece does not unravel when cut. While this product can build up static, it is more likely to keep you warm if your home tends to stay cool. Synthetic or poly fleece also does a terrific job of allowing moisture to pass through. You can get high quality luxury poly fleece to add a velvety look to your bed and a lower nap product for a winter camping trip and maintain warmth in both cases.
Cotton Fleece
Cotton fleece is generally found in sweatpants, hoodies and some socks. Cotton fleece will have the fleecy texture sewn on both sides of the fabric. Cotton fleece tends to be quite a bit heavier than poly fleece. If you're going to invest in cotton fleece, make sure you buy the highest quality you can afford to prevent pilling and fading of color. Additionally, if your sleeping space gets very cold, be aware that cotton fleece can become damp with moisture from your breathing and your body. Holding this moisture against your skin can make it very hard to keep your body temperature up.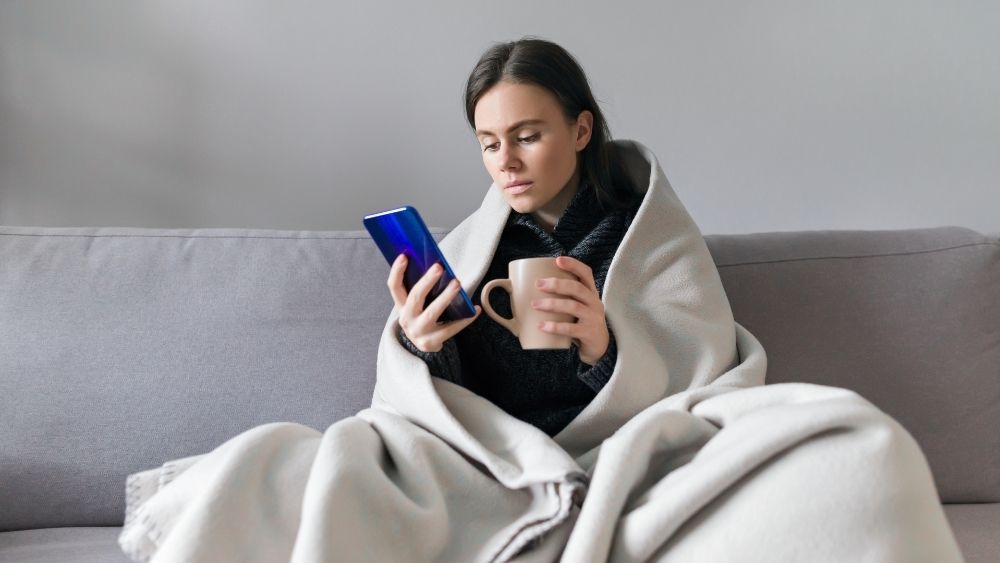 Best Fleece Blankets Reviews
If you're looking for a lightweight fleece throw or blanket, the Bedsure Fleece Blanket product line is an excellent choice. If your regular bedding is aesthetically pleasing, adding this simple blanket can be all you need to winterize your sleeping space. This blanket is available in several colors and is easy to launder. As long as you don't add heat, this blanket will stay soft, flexible and snuggly for many seasons.
Pros
This soft, snuggly blanket is color fast no matter how often you have to launder it
The thin fleece means this blanket will dry faster than many heavier fleece products
Because you don't have to heat it up to dry it, this blanket will stay soft
Cons
This blanket doesn't have the velvety look of some fleece products
If you need the feel of a heavier blanket, this one may feel thin
This blanket is quite stretchy; if you need it to hold form, get something with more body
Bedsure Fleece Blanket
Lightweight fleece offers warmth without adding bulk, making it an excellent addition to your winter sleeping space.
The finish on the edges of this blanket will keep this somewhat stretchy poly fleece in good shape.
The low nap means that this matte blanket will not shed as much as many products on the market.
If you've ever struggled to sleep on a bus, plane or train, you need at least one World's Best Cozy-Soft Microfleece Travel Blanket. This little blanket is incredibly easy to care for, and because it's small, it will dry quickly even on low heat. This polyester microfleece blanket can be rolled up tight and squashed into a carry-on. Since it's black, you can even use it with a business suit; if you get any lint or shedding, it won't show. The edges are all hemmed with a double stitch to keep this blanket squared up true so you can roll it again for your next trip.
Pros
This is a nice thin blanket. You can drape it over yourself to let folks know you need to sleep without cooking under it
The travel blanket has enough fabric structure or crunch to stand away from your skin, which will reduce static build-up
If you need a blanket during a flight, this is one that you can carry to protect yourself
Cons
This blanket may be too thin for you to fully relax under it
Some users find this blanket sheds until it's laundered
If you like a throw on sofa, this one will show all pet hair and lint
World's Best Cozy-Soft Microfleece Travel Blanket
Simple black 50 inches by 60 inches poly fleece blanket travels well.
The edges of this blanket are double stitched to cut down on stretching and pilling.
Machine wash cold, tumble dry, and roll it up again for your next trip!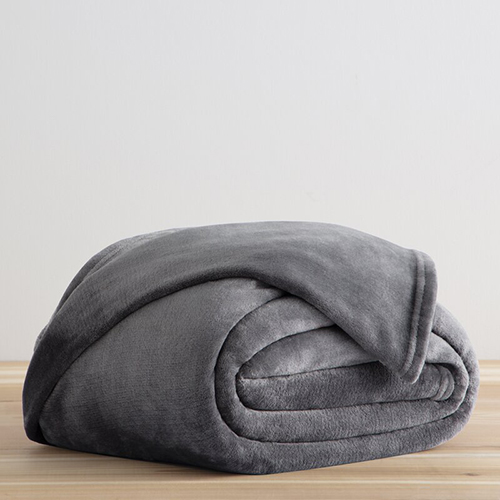 For those who love the velvety feel of a fleece blanket, the Wayfair Fleece Blanket is a great choice. You can get this simple blanket in classic colors, from grey to navy to ivory and white. The edges of this blanket are carefully finished and help to keep the stretchy fabric square. Take care to wash this blanket alone; if washed with any abrasive fabrics, such as towels or denim, this blanket may pill.
Pros
This fluffy fleece is colorfast all the way down to the base fabric
If you tend to lose blankets at night, this blanket will stay close to your skin
This is not a heavy blanket, but the fluff will keep it feeling snuggly and warm
Cons
This blanket is quite soft and may cling; expect static
Some users find this blanket thinner than it looks
The velvety texture may lose its sheen after washing
Wayfair Fleece Blanket
Plush finish with a velvety look means this blanket can serve just as warmth or as a bed cover.
The hearty hem stabilizes this blanket to keep it from ripping, stretching or drooping.
With careful washings and dryings, this blanket will last.
If you love the sturdy feel of cotton flannel, the Eddie Bauer Home Plush Sherpa Fleece Throw Soft & Cozy Reversible Blanket may need to be the holiday gift you give yourself! The bold plaid cotton fleece will look sharp draped over furniture or the end of a bed, and the poly fleece shearling trim will keep the user snuggly warm no matter how col the winter gets.
Pros
Quality cotton is colorfast and very unlikely to pill if you follow laundering instructions
Classic Eddie Bauer plaids offer a rustic feel
The shearling fabric is wrapped and double stitched to keep this throw square and sturdy
Cons
The shearling fabric can get crunchy and scratchy if dried too hot
The plaid is cotton, the shearling is poly. Dry on low or the cotton may shrink
The red of this plaid may not be as intense as some users prefer
Eddie Bauer Home Plush Sherpa Fleece Throw Soft & Cozy Reversible Blanket
The yarn-dyed cotton plaid is available in classic red and black as well as many other colors.
The shearling fabric adds enough heft to make this throw an ideal cover for you legs. Get a second to wear around your shoulders!
Laundering this throw is simple; just don't let it get too hot.
If you love to use your laptop on the sofa, this Utopia Bedding Fleece Blanket can protect your electronics while warming up your legs. The fleece is both light and warm thanks to the velvety nap of the poly fleece. The hem is a solid one inch wrap and nicely square us up this blanket You can get it in several different colors and from throw to King-sized.

Pros
The sheen of this blanket will trap air and keep you warm, or serve as a top layer for elegance
This blanket is flexible and will easily settle in around your legs
The color options include grown-up shades, such as forest green and rose pink
Cons
Some users find these blankets to be lint-y; you may need to launder it
If you need a heavier blanket, this one may not be heavy enough
Some users have an allergic response to this blanket
Utopia Bedding Fleece Blanket
This 100% polyester blanket has a sturdy zig-zag hem and a solid square finish.
You can enjoy a velvety sheen without dealing with a lot of static.
You can apply low heat to this blanket as you dry it and protect the nap and the sheen.
If you love the plush look of velvet, the Chanasya Super Soft Fuzzy Faux Fur Twin Bed Blankets are an ideal investment. These beautiful blankets are not only snuggly and warm for skin to skin contact, but they have a beautiful sheen that can also serve as a bedspread. Visual texture is a wonderful way to add luxury to your home and this investment doesn't have to have a luxury price tag. You can get this blanket in a wide variety of colors and in sizes from a 50" throw to a king-sized blanket.
Pros
Despite plush texture, this blanket is not heavy
This blanket does not shed!
The color depth will hold for years; from sheen to deep pile, the material is colorfast
Cons
If you dry this with heat, you may damage the plush fibers
Your pets will LOVE this blanket; if they chew, lock it away
Once washed and dried, the nap may feel crunchy; use it over another blanket to let the fibers relax
Chanasya Super Soft Fuzzy Faux Fur Twin Bed Blankets
The twin blanket is 90 inches long. If you have a tall child headed off to school, this blanket will keep them warm.
Simply wash in cold and tumble dry, no heat, to maintain sheen and fluff.
The texture hem will help this blanket keep a clean, rectangular shape.
If you love fluffy blankets and visual texture, the LOMAO Sherpa Fleece Blanket is a terrific option. The sherpa side is a fluffy cream with a woolly texture, while the textured side is velvety with a raised sherpa pattern. This blanket is a bit heavier than many on this list. However, if you live in extreme cold country or if you just love snuggling in on a dark night, you can get this in sizes from a 40" by 50" throw to a 90" by 90" bed cover.
Pros
The visual field of the patterned side is quite striking; depending on the color you choose, this blanket is a great holiday decor piece
The sherpa or woolly side is not at all woolly!
This blanket holds its shape after each washing
Cons
Some users find the colored material of this blanket sheds in the laundry
Not all color images are true
The contrast can be strong; if you choose a dark color, this blanket may get too "busy" for a relaxing visual field
LOMAO Sherpa Fleece Blanket
This blanket is incredibly soft on both sides.
This layered blanket offers a lot of warmth and a bit of weight; if you struggle with nighttime anxiety or insomnia, this blanket may help.
The color contrast between the cream side and the colored side makes it possible to turn this blanket into a bedspread.
If you love the feel of fleece but don't like the weight of hearty fleece blankets, the Exclusivo Mezcla Waffle Textured Soft Fleece Blanket is an ideal choice. This gorgeous waffle weave fleece blanket can be purchased in sizes from a 30" to 40" baby blanket to the 90" by 104" king-sized blanket. Your can enjoy your Exclusivo Mezcla blanket in a variety of colors, from soothing camel to bright yellow to pretty lilac.
Pros
This fabric is extremely soft to the touch without being too heavy or hot
These throws are oversized
The Exclusivo Mezcla blankets hold their shape; they will not stretch out over time
Cons
If you need a heavy blanket, this will not suit
Some users find the honeycomb side to be scratchy
Some users find the plush side pills after a wash
Exclusivo Mezcla Waffle Textured Soft Fleece Blanket
This blanket can serve as a furniture cover, a lightweight bedspread, or a snuggly couch throw.
The waffle weave texture sheds wrinkles and pet hair.
The colors are true and hold their shade after many washings.
Sherpa blankets used to feature the wool of an animal on one side. Luckily, you can get the warmth of wool without the scratchiness of lanolin thanks to the Amazon Basics Ultra-Soft Micromink Sherpa Blanket. This blanket is 100% polyester and can be flipped to show off either the smooth velvet of the fleece or the rough sherpa material. You can get this in a couch throw, a twin, queen or a king. Fleece works in the cold by capturing air close to your skin and trapping it, warm and snuggly close.
Pros
This blanket is heavy enough to the touch to serve as your primary blanket
Your velvety sherpa blanket is thick on both sides; the fleece will not get bumpy as it lays flat
You can get this in both colors and patterns to suit any decor
Cons
This comes in a vacuum sealed bag; open with care or you can cut your blanket
Some users find this blanket has a strong chemical smell when you open the package
Some users find the colors fade in the the first wash
Amazon Basics Ultra-Soft Micromink Sherpa Blanket
This double sided fleece sherpa blanket is well constructed and holds shape; you can add it to your bed or drape it on your sofa.
The fleece side adds a nice touch to a smooth bed or leather furniture.
The micromink is incredibly silky to the touch.
If you love a fleece blanket with a bit of weight, the luxurious Kingole Flannel Fleece Microfiber Blanket is an excellent choice. These beautiful throws are available in a wide variety of colors and come in sizes from a 30" by 40" lap throw to a 108" by 90" king. If your home is feeling a bit stark and you want to add a little hygge to your space, the visual appeal of these throws is plush enough that you can invest in an oversized blanket and turn it into a bedspread! You can find these blankets in tones from cream and tan to bold yellows and bright greens.
Pros
Consistent color, will not pill or fade over time
Microfiber polyester will last for years of regular use
This blanket is wrinkle-free; pack it away and enjoy it year after year
Cons
Some users find this blanket sheds before the first washing
If you dry this at a high heat, it may shrink and pill
Some users have found the side hems were not complete
Kingole Flannel Fleece Microfiber Blanket
Terrific visual appeal thanks to the plush thickness of this blanket.
This blanket can also serve as a summer cover over a cotton sheet.
Simply wash in cold and tumble dry cold to keep your blanket Kingole blanket looking wonderful.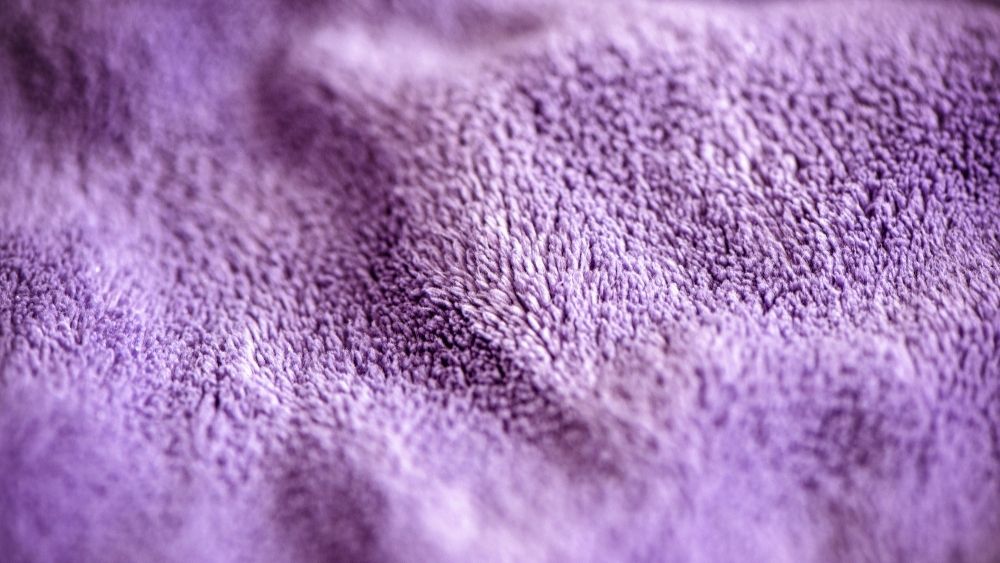 Things to Consider Before Buying a Fleece Blanket
Durability
It's entirely possible to get cheap fleece blankets and enjoy great use out of them, even if they pill up after they go through the dryer too many times. However, if you're going with cheap fleece on purpose, get the lowest nap possible to avoid breaking off the fibers in the dryer.
Visual Appeal
There are many heavy fleece blanket options with a plush, velvety feel. If you want to use one of these and love the velvet or mink finish, consider using it as a cover for another set of bedding or use it as a bedspread. Washing these can be very tough on the plush fibers. You might also want to get it dry cleaned to avoid damaging it.
Comfort
For sheer snuggle factor, the best fleece blanket for your use might be a cotton fleece blanket. This is especially true if you like to use your laptop while snuggling under fleece; poly fleece has a much higher static risk than cotton fleece. However, hikers warn that "cotton kills" based on the fact that cotton fabrics will absorb moisture and may lose more heat than they save.
Size
One of the nicest things about the line of less costly poly fleece is that you can get a small throw for each member of the family without busting your budget. If you or your family members are taller than average, you can still get a nice twin blanket to use as a throw without piling a lot of bulk on your furniture.
Price
Unless you need a polar fleece blanket due to extreme cold, you can find great deals on poly fleece blankets. If you prefer cotton, you should be prepared to pay a bit more. Nap matters as well. You can get a cheaper poly fleece product with a more velvety look and feel, but laundering may shorten the life of the fabric.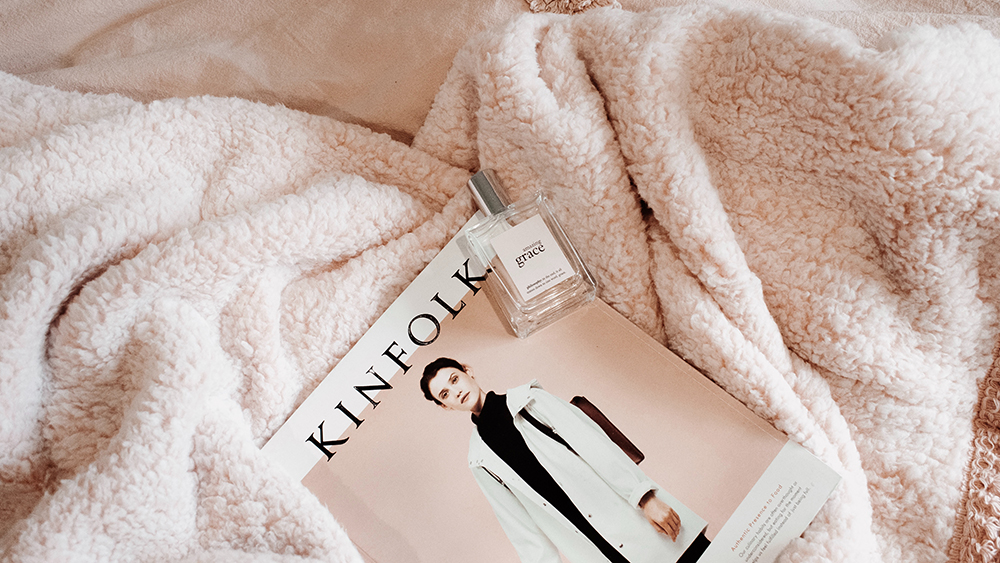 Fleece Blanket Benefits and Downsides
Fluff we like
Poly fleece can be manufactured in wide variety of densities and thicknesses. No matter how much pile or plushness you buy, even a very thin poly fleece blanket will help you stay warm by trapping air without trapping moisture. Even better, these blankets are color fast and, when properly washed and dried with little to no heat, will look new each time you toss them on the bed.
Stuff we don't
There are some poly fleeces that look great until you wash them. A cotton fleece blanket will absorb moisture and the natural process of wicking will actually leave you cooler than when you got under the blanket. When your poly blanket is fully staticky, you will pick up every piece of lint and pet hair in your home.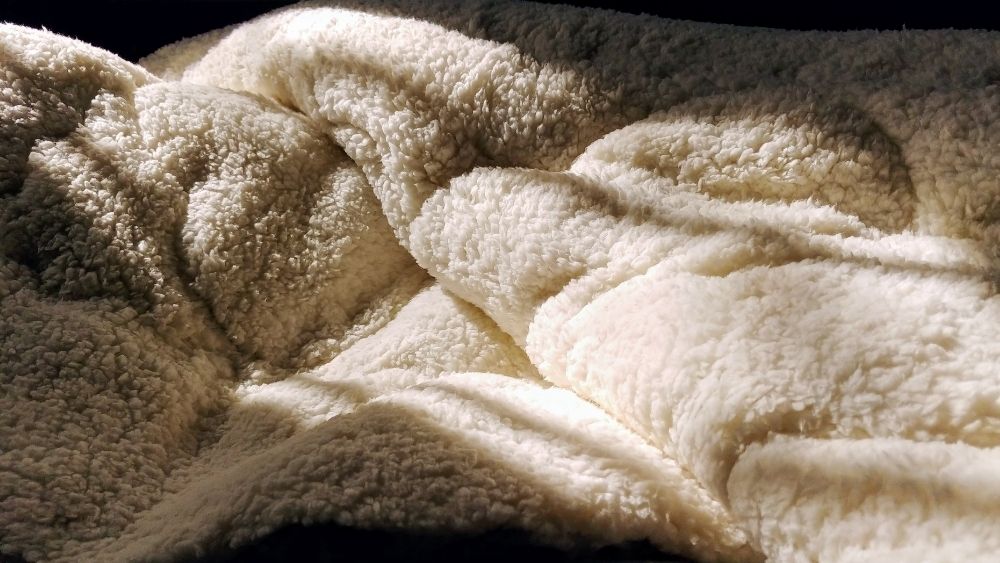 FAQ
Are fleece blankets good?

Yes! You can get them in many colors and many different thicknesses.

What is a fleece blanket used for?

Fleece blankets against the skin can quickly trap and warm air to take off the chill.

Why are fleece blankets warm?

Both cotton and poly fleece have a nap or layer than captures air. This trapped air will warm from your body heat and create a layer of insulated air against your skin.

Can you wash a fleece blanket?

Yes, but washing them can take a lot of dryer time. Heat is hard on fleece blankets.

How do fleece blankets work?

Fleece is soft to the touch, and this variety in the texture creates air pockets, which hold warm air.

Is fleece warmer than wool?

Fleece and wool have a similar warmth and function in a similar way, but fleece is generally easier to care for. Wool can be scratchy.

Does fleece shrink?

Cotton fleece may shrink if exposed to extreme heat.

Does fleece insulate?

Absolute, fleece is an excellent insulating fabric.

Is cotton better than fleece?

It all depends on the application and the user. Cotton fleece will hold moisture, which can leave you colder than before.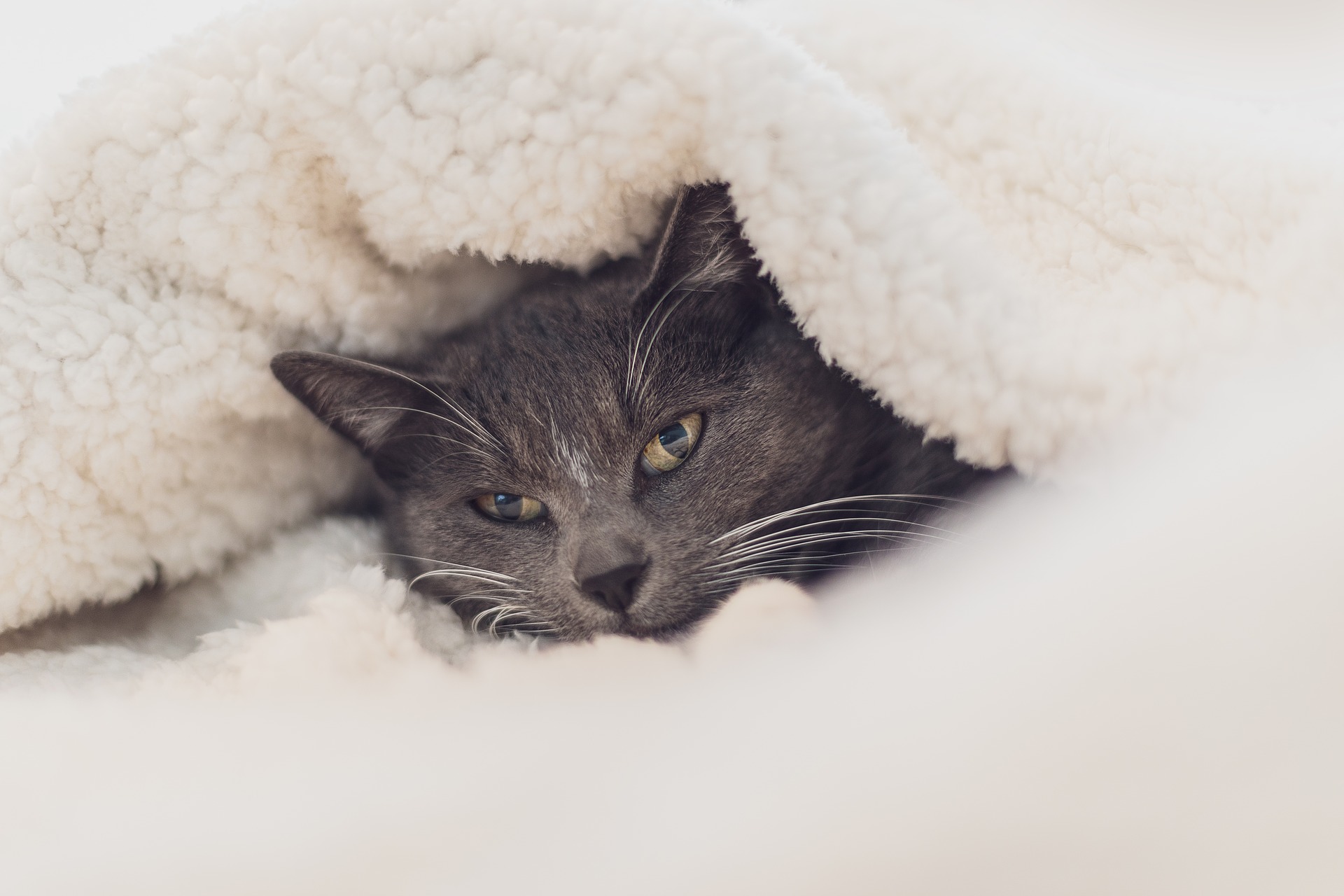 Cuddle Up!
Both cotton and poly fleece can keep you warm in a temperate house. Cotton may feel cool and even clammy if your sleeping space is very cool. Wash all fleece products with care to avoid damaging the fluff of your new blanket. If you are concerned about lint, the Bedsure blanket is a great choice!
Bedsure Fleece Blanket