Space is something those of us living in smaller apartments and dorm rooms tend to lack. You might not be able to fit a full-size bed into your room, much less a big queen- or king-size bed.
Or perhaps living room space is at a premium and you're looking for a small piece of furniture. Instead of buying a bulky (and probably expensive) sofa, you might want to consider a futon.
A futon doubles as a sofa and a bed. With just a few quick maneuvers, you can fold it up for sitting or move it down to lay on. And if you're thinking, "But aren't those things rickety and uncomfortable?", you're thinking of the futons from a few decades ago.
Today's futons are made with high-quality mattresses and sturdy frames meant to last for years. Don't believe me? Read through this review to find out which is the best futon mattress and why you should add comfy futon cushions to your home décor.
Why Buy a Futon Mattress?
Getting the right futon with a supportive mattress can make all the difference in how you sleep (or even sit). There are a few key traits that you should be looking for when you go to buy a futon mattress.
A Healthier Spinal Alignment
Buying the best futon mattress means getting something that will help align your spine. Futons have been shown to align the spine better than regular mattresses, giving your spine more of a J-shape than a S-shape (which is what many of us who work sit-down jobs often end up with). Futons essentially let you sleep on the floor without all the hardness and discomfort of the floor. Not only do they improve posture, but they can be beneficial for people dealing with spinal pain and nerve conditions like sciatica.
Easy to Store
Futons are easy to store. During the day, you can put them away or use them as a sofa. At night, you can fold a futon down and sleep on it. They do not take up much space even when folded down into a bed, yet you can still seat a couple of people on them at once when they're in the upright position. And, since they are usually lightweight, they are easy to move.
Plenty of Comfort
Comfort is genuinely the name of the game with today's futon mattress. You can find a comfortable futon mattress to help ease your back pain or stiffness. Not only are these modern mattresses more luxurious, they are built with more high-quality materials to provide ample support and last for years.
Affordability
Let's be frank here: Many mattresses and sofas are just downright unaffordable. Who among us has hundreds of dollars to shell out on new furniture? If you're a college student or living on a fixed income, a big new fancy piece of furniture might not seem feasible. But a futon can take care of your need for comfort and fall within your budget. And affordability doesn't necessarily equal crappy craftsmanship with futons. Futons quite simply do not consume as many resources as beds and sofas, which require more materials be used.
Easy to Customize
You can take a sitting mattress and make it into a uniquely "you" piece of furniture. While some futons come as parts of sets, others are standalones. You can buy a base and mattress separately, mixing and matching colors to create your own scheme. You can also throw a nice blanket and decorative pillows on it for some additional accents.
Doubles As a Sofa
Need to be able to sit on your futon like a sofa during the day? Just fold it into the upright position until you need to use it to sleep on. You can use it as one or the other, switching back and forth as necessary. Even if you only use it as a sofa, it can be a great place for guests to sleep when they stay over.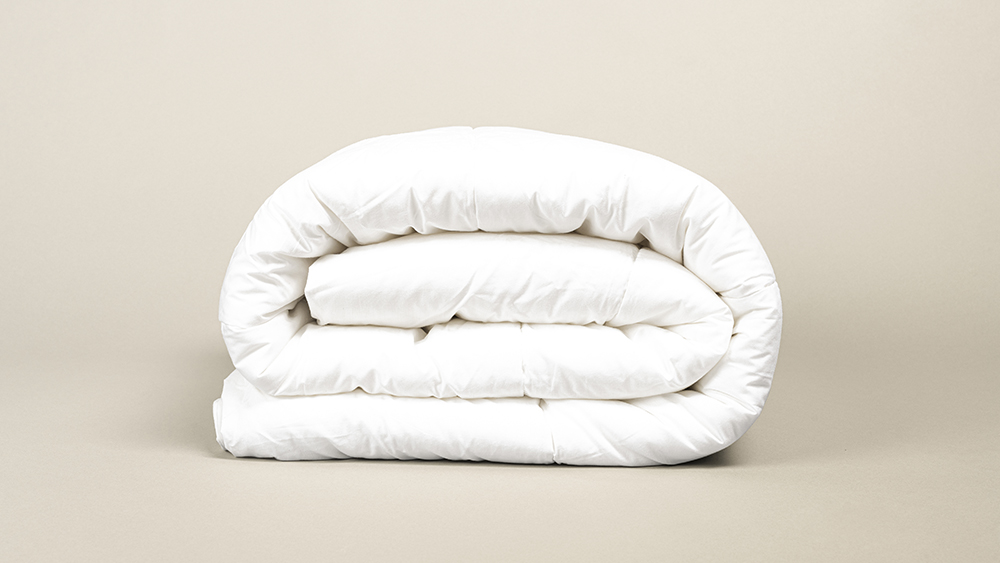 Best Futon Mattresses Reviews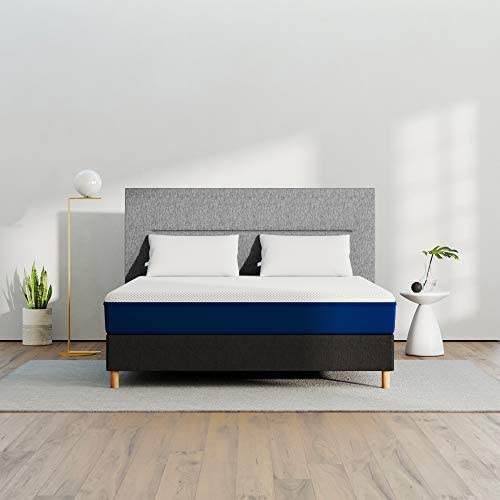 Our pick for the best futon mattress goes to the AmeriSleep AS1. Made from foam material, this mattress comes with a 100-night in-home trial period. So, quite literally - and figuratively - you can sleep on it! If you decide it doesn't work for you, ship it back to the company. Shipping (aside from Hawaii and Alaska) is free within the United States.

This futon mattress is great because it works for all sleeper types. Sleep on your side? Perfect! On your back? Not a problem. On your stomach? You'll be comfy no matter what. But if you are a side sleeper who needs a little less pressure on your shoulders and hips, this might not be as ideal. This is especially true for heavyweight (over 230 pounds) sleepers You also won't get the slow-moving feel you get with other memory foam mattresses.

This mattress does border on the firmer side of things, but that is often better suited for futon frames where a firm, supportive mattress is needed. The firmness on the top comes from the BioCore foam material used in its construction. So, if you don't like a lot of give in a mattress, the AS1 might suit you well.

Now, let's talk price. This mattress is a touch more expensive than your average futon mattress, but it packs in a lot of value. The materials used are of seriously high quality, and you get the added benefit of a 20-year warranty.
Pros
Helpful for back and stomach sleepers needing the extra support
20-year warranty coverage
Provides pressure relief with its somewhat firm and contoured mattress
Made from high-quality materials
A 100-night sleep trial to see if you want to keep it or try something else
Cons
Not as ideal for heavyweights and side sleepers who need extra support
A little more expensive than other options out there
Our pick for runner-up is the Classic Brands Classic 8-inch Futon Mattress. Its dimensions measure in at 54" W x 75" L x 8" H, making this a full size mattress. Durability comes from this mattress' individually wrapped coil innerspring system, which is built to resist the wear and tear that can happen over time. Between the wear-resistant microfiber polyester cover and coils is foam layering that serves to amplify support.

When the mattress is laid out flat, it can easily resume its original shape. Just bear in mind that the mattress will mash down a little bit as you sit on it. When you do not need it, it is easy to fold up and store. Need to clean it? Simply wipe the cover down with a dampened cloth.

If you don't have a futon frame to use this on, the Classic Brands mattress can fit a full-size bed frame with a foundation or box spring equipped. Also, bear in mind that this is just the mattress you are buying, not a set with the futon frame.
Pros
A thick and comfortable futon mattress to use on a full size frame
Can be used as a futon mattress or on a bed with a box spring or foundation
The cover is easy to clean up
Individually wrapped interior coils for a solid support system
Cons
Will mash down some while being sat on
Some buyers report a stronger than average chemical scent that comes with the mattress after you open the packaging
Classic Brands Classic 8-Inch Futon Mattress
Looking for a futon mattress in a funky color? The Mozaic Full Size 8 Inch Thick Futon Mattress comes in a whopping 26 different color choices. From Slate Gray to Coral Pink, you can pick a tone that matches whatever décor you have going on in your home. While no frame comes with it, this gives you the opportunity to mix and match your chosen mattress and frame color and style. The combinations feel endless.

The materials used for the Mozaic's cover include polyester, foam, cotton fiber, polyester fiber. The upholstery-grade polyester is pretty durable and easy to clean when you get spills or pet hair clinging to it. Just do a quick spot clean with some mild detergent. As far as the fill material goes, you are treated to a combination of foam, cotton fiber, polyester fiber, PU foam, and visco memory foam.

This mattress feels firm yet comfy, justifying the price. The support in this mattress comes from the 8-inch egg-carton foam inside the center of the mattress with flat foam surrounding it. It is seriously a lot of foam, and those who need a firmer mattress will want a lot of foam.

The one thing buyers seem disappointed by is the fact that it is not memory foam. They buy it thinking it has memory foam, but the labels do state otherwise. Another thing to be aware of is that strong initial chemical smell - this one is a doozy. Give the mattress time to air out (preferably outdoors) so as to let that smell taper off. Then assemble.
Pros
Thick and supportive mattress with a ton of foam packed into it
Easy to wash cover
Several dozen color options to choose from
Durable, wear-resistant polyester used on the cover
Cons
Strong chemical smell when unboxed
Not a memory foam futon mattress
Trupedic x Mozaic - 8 inch Full Size Futon Mattress (Frame Not Included), Gel Dual Memory Foam, Dusk Blue
If you need a longer version of a twin size futon mattress, the EMOOR can meet your needs with the EMOOR Japanese Traditional. This white mattress is made in Japan and caters to those who actually do prefer to sleep on the floor (which is customary in Japan). You do not need a platform bed or a futon frame for this mattress to bring you comfort.

This mattress can make your room look and feel even more spacious than it really is, making it ideal for small bedrooms, living rooms, or dorm rooms. Separately-quilted soft fiberfill pads on the top and bottom of the Japanese Traditional envelop a firm middle pad. While it looks fluffy, this mattress actually feels fairly firm. And this is what helps make it so supportive for your spine.

The EMOOR Japanese Traditional is actually manufactured in Japan, so you know you are getting treated to the real deal. This mattress is about 2.5 inches thick and has the general quilting you will find on traditional Japanese mattresses.

The thing about this mattress is that it is non-washable. You will need to buy a cover separately and put it on your mattress. The futon can be set out to air on a dry, sunny day or in a well ventilated room.
Pros
A traditional Japanese floor mattress
Looks fluffy but is actually firm enough to provide spinal support
Can be placed atop a bed for extra comfort
Can be bought in a long size
Cons
Not a washable mattress and requires a cover
Might be better suited for floor use or extra padding on a box spring than as a futon mattress
EMOOR Japanese Traditional
One of the popular full size futon mattress options is the DHP 8-inch Independently-Encased Coil Mattress. The mattress' independently pocketed 15-gauge pocket coils create an equal distribution of weight by contouring right to your body's unique curves. This is meant to alleviate pressure along your neck, back, shoulders, and hips.

Polyester and foam layering located between the cover and the coils create ample support. Also, the microfiber mattress cover feels cozy against the skin. Adhering to federal flammability standard, the DHP is made free from mercury, ozone depleters, PBDEs, TDCPP or TCEP ("Tris") flame retardants, lead, and heavy metals.

This mattress does weigh 59 pounds, so it isn't exactly a lightweight. But that should tell you that it has some strong standard spring coils and pocket coils. You can pair this mattress with your choice of frame, most of which have a weight limit of 600 pounds. People who weigh over 300 pounds find this mattress to be comfortable and supportive enough.

One of the causes for concern with this mattress is that several buyers opened their packages up and found bed bugs lurking inside. Some also report the mattress separating in the middle from just a few months of folding and unfolding.
Pros
Supportive for people weighing over 300 pounds
Good for a buyer on a budget
Made from quality materials set to high flammability standards
Works well as a bed
Cons
Mattress might split in the middle from folding and unfolding
Some buyers have immediately found bed bugs upon opening
DHP 8-Inch Independently-Encased Coil Mattress
Are you shopping on a pretty tight budget? If so, the D&D Futon Rolling Mattresses might be just what you need. A shikibuton like this is easy to use and store. Quite simply put, you just roll them up and place them wherever you wish to sleep. Filled with 90% white cotton, a one-inch layer of foam, and one layer of polyester fiber, this mattress looks fluffy. It is also fire retardant.

You will want to make a point of it to roll this mattress up every day. This keeps it resistant to body weight as well as comfy, preventing it from flattening out. If you are someone who weighs closer to 300 pounds, this mattress will support your weight without much flattening - but that is given that you roll and unroll it each day.

When you are not sleeping and have the mattress rolled up, you can enjoy a sense of wide open space, even if your room is on the smaller side. If you want to freshen it up, do not wash this mattress. Instead, pick one day each month to air it out in the sun.

The downsides to this mattress? The mattress is smaller than it looks in pictures, and there is no foam included in this design. So, if you are looking for any type of foam support, you won't get it from this futon mattress. You can buy one and place it on top of your queen futon mattress or king size futon mattress for even more support. But you will likely enjoy it most as a shikibuton that you can put onto your floor.
Pros
Easy to roll up and store until you need to sleep on it again
Can be used on the floor in traditional Japanese shikibuton style
Made with soft microfiber cover and 90% cotton padding
Can accommodate people over 300 pounds or over 6 feet tall
Cons
Needs to be rolled up every day to preserve the padding
Product dimensions might be off from real dimensions
D&D Futon Rolling Mattresses
Looking for a folding memory foam mattress to use as a sitting mattress or futon mattress? The Milliard Tri-Fold Memory Foam mattress weighs 35 pounds, making it easy enough to move around. You can unfold the foam on the floor or on a fitting futon frame and rest comfortably the whole night.

Its six inches of thickness provide ample support. You get 1.5 inches of 3 pound cozy memory foam, all over a 4.5 inch supportive foam base. The CertiPUR-US certified premium memory foam gives you superb density that means the foam will not lose its shape over time.

One concern is that the mattress is covered in a mesh material that can break down over time. Eventually, this material can become tiny, fiberglass-like matter, which poses a potential health hazard. Also, this mattress does not do a thorough job of accommodating people over 170 pounds.
Pros
Easy to unfold and store
Can be used for camping purposes or as a mattress in the house
Has premium-grade memory foam for density
Can be stored in a separately bought carrying bag
Cons
Fiberglass-like particles resulting from material breakdown
Doesn't come with a protective cover or bag
Milliard Tri-Fold Memory Foam
Need a cozy queen futon mattress to chill out on? The Serta Cypress Double Sided Innerspring futon mattress comes in your choice of six different colors. You can select your preference based on your room décor and pair the mattress with your chosen futon frame.

The Cypress' design is rather unique, blending polyester and a select number of cotton grades to create a cozy but also long-lasting surface material. This mattress weighs about 56 pounds, which is light enough considering its size. This mattress is 8 inches thick with an outer layer of 1-inch pieces of CertiPUR foam on either side enveloping a 255 high-quality innerspring unit. Wolf's Cottonique surrounds the foam for additional comfort.

What buyers like about this queen futon mattress is its comfort, especially as a couch. The price point is what sells the Cypress, and the durability it provides pleases many. The downsides that consumers note have to do with the springs. A few reviewers claim that the springs stick out of the sides and top of the mattress. The seams might come apart within a few months of wear.
Pros
Multiple color options
A durable cover material made from polyester
Easy enough to move around as needed
Includes Wolf's Cpttonique and CertiPUR foam in its interior construction
Cons
White option looks unfinished
Springs might jut out from the tops and sides, poking you
Serta Cypress Double Sided Innerspring
If you're looking for the best futon mattress that is 10 inches thick, then the Blazing Needles Renewal might appeal to you. This queen futon mattress has a medium-firm foam core with a cotton batting design, lending to a sense of long-lasting comfort. The steel grey tone is neutral and looks chic with almost any room's color schemes and with any frame.

This design is meant for sleepers who are lighter in weight. Those who are above 200 pounds will find that the mattress conforms a lot to their torso and butt. Rotating the mattress every two weeks seems to help keep it feeling comfortable and plush.

That being said, the padding inside tends to emit a strong chemical smell. The layers the manufacturer describes might not look like actual layers.
Pros
Affordably priced
Multiple color options
Borders more strongly on the firm side
Most people won't sink into it
Cons
Strong chemical smell from the interior
Buyers report problems getting refunds from the manufacturer
Looking for something portable? The Luxton Home Japanese Shiki Futon Foldable Mattress is the best futon mattress if you are looking to travel with a mattress. From a twin-long up through a queen-long, the Luxton has a futon mattress size to fit you.

Sleeping on this firm surface is said to help align your spine. Ideally, this leads to fewer aches and pains in your back and neck after you get up. Take note: This shikibuton requires three days to fully expand after being unpacked, or else you risk the mattress not achieving maximum firmness.

Made from natural cotton and 100% organic material, the Luxton is soft yet durable. It does not emit any funky chemical smells like other mattresses do, and it feels comfy right away. Cleaning is easy too.

Buyers report that this futon mattress might not be helpful for people with chronic spinal problems such as scoliosis. It might also do better on a tatami mat or carpet instead of on a hardwood floor.
Pros
Helps align the spine for less back pain upon waking
Does not have a weird chemical smell
Easy to clean
Portable for going room-to-room or out on a camping trip
Cons
Requires three days to expand
Might not be helpful to people with chronic spinal conditions
Luxton Home Japanese Shiki Futon Foldable Mattress
Types of Futon Mattresses
Innersprings and Pocket Coils
Innersprings and pocket coils are extremely common in a futon mattress. These create shape and provide comfort and support. They can be difficult to fold and store, but they do work well on convertible couch frames. The springs are typically covered in polyester or foam for padding, generating airflow throughout the mattress.
Memory Foam
Uncommon for a traditional sofa but sometimes used in a futon mattress, memory foam provides support by conforming to your body. The problem is that memory foam doesn't generate much airflow. For a few hours, it can hold up fine as a sitting mattress, but it won't make for a comfy night on a futon.
Cotton, Foam, and Fiber
Traditional futons were built with foam, a plush cotton batting, and polyester fiber. They could easily be stored but took some effort to fold. They could quickly be formed into a couch frame, but today they are less commonly used. However, they tend to be more affordable than other futon mattresses.
Foam and Polyester
Layers of polyester and foam make for some of the most straightforward futon mattresses out there. While they do not offer as much support as some mattresses, they are lightweight. They are more ideal for children having sleepovers and do not fold too readily.
Latex
Latex is preferable for allergy sufferers or for those wanting a more natural futon mattress, as latex is made from the sap of a rubber tree. Hardly any tree-cutting is involved, and these mattresses are usually chemical-free. This does, however, make them more expensive than other types.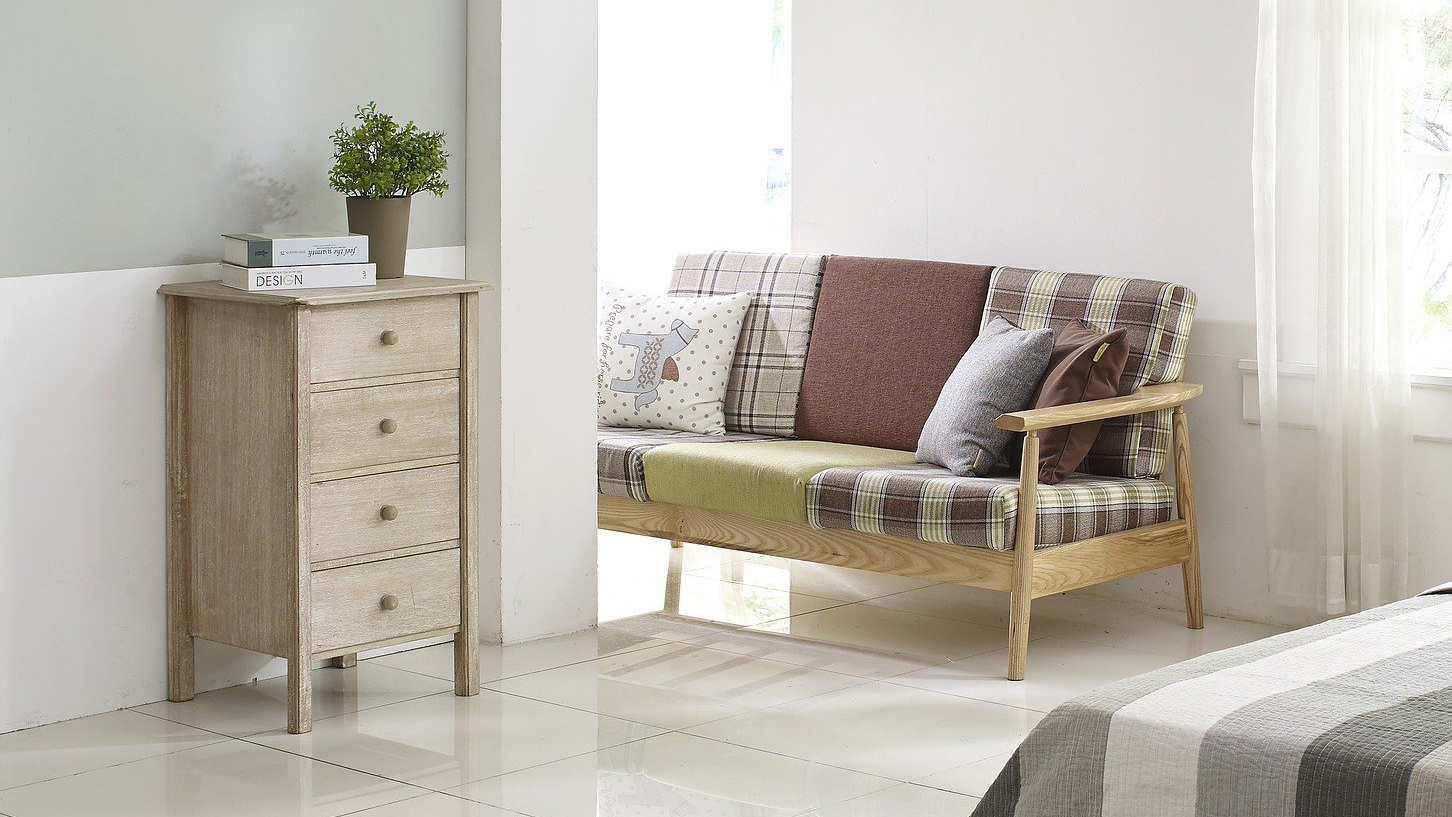 Things to Consider Before Buying a Futon Mattress
Frame Material
Metal, wood, and wood composite typically make up the frames. Wood is highly common, lasts a long time, and is durable. Wood composite is more affordable but lacks the durability of wood. And metal is the cheapest option and is lightweight enough to carry.
Mattress Material
Mattresses come with different materials, some firmer and more supportive than others. Memory foam keeps its shape well while latex is durable and more environmentally- and allergy-friendly. Most mattresses have an inner core that creates support while outer layers give some structure.
Comfort
Back and side sleepers can find comfortable futon mattresses, but it takes some trial-and-error. Some mattresses hold their shape better than others and contour better to your body.
Size
How much room on the futon do you need when it is folded down? A twin or full can work well for just one person, but two sleepers or one larger-sized sleeper could require a queen or king size futon mattress.
Thickness
Most futon mattresses are 8- or 10-inches thick. They tend to be plush and tall. The thicker the mattress, the more support you will get. And that is important for taller and wider adults.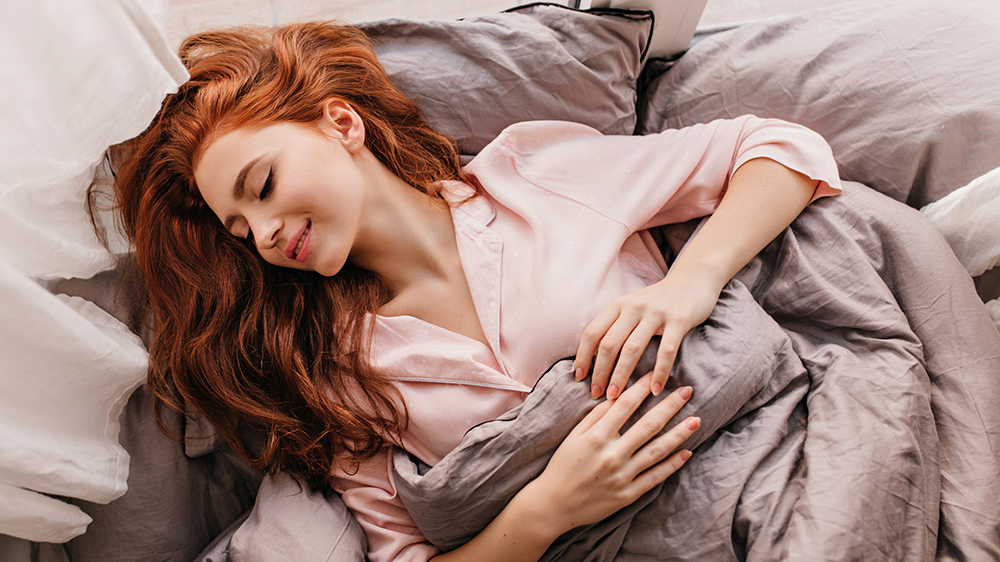 FAQ
What is a futon mattress?

A futon mattress is a mattress that fits the Japanese style and can be folded into a couch.

How long do futon mattresses last?

Most of these mattresses last between five and 10 years. A higher quality one that is regularly turned and cleaned could last longer.

Can you wash a futon mattress?

It depends on the fabric used for the cover. In most cases, you can do a quick spot treatment. Some covers can be removed and machine-washed. More traditional Japanese mattresses should be air-dried once a month in the sun or a ventilated room.

What is the best thickness for a futon mattress?

The best futon mattress for comfort will be either 8 or 10 inches thick. The thicker they are, the more support they offer.

Can I Sleep on a Futon Every Night?

Some futons are better for nightly sleep than others. The more support it offers, the better a futon will be as a bed.

Is a Futon Better Than a Sofa Sleeper?

Sleeper sofas are becoming less common, and they struggle to offer support. They're also a pain to fold back together. A futon is much simpler, and they are more cost-effective.

Can a futon mattress be placed on a box spring?

You can place a futon mattress on a box spring for more support, but you will not need it if you're using a futon frame.
A Fun and Easy Fit For Any Room
Getting a futon mattress can make buying furniture a lot simpler and affordable. If you're struggling to create space in your room, a futon might be what you need. Its versatility attracts everyone from college students to older folks who are looking for more spinal alignment.
That is why we picked the AmeriSleep AS1 as the best futon mattress on the market. It provides ample comfort with a sensible design. It can easily be moved and folded, and it looks nice with any décor. You get just the right amount of thickness, and the 20-year warranty coverage feels generous. Not to mention, you get a courtesy 100-night trial in which you can decide to keep or return the AS1.
AmeriSleep AS1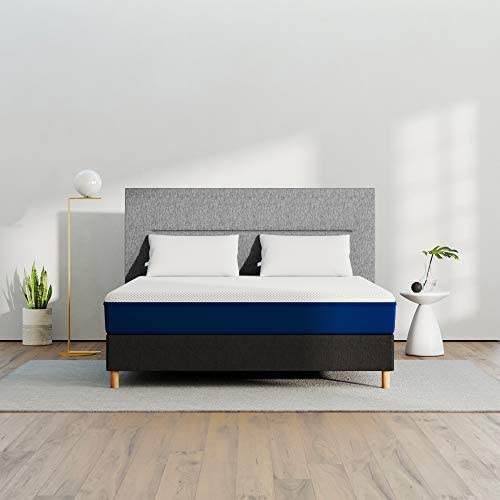 Overall, a futon mattress can be a practical, space-saving way of sprucing up your bedroom or living room. There are multiple styles and colors to choose from, so you can find something that is really "you".