Your standard bed pillow is built for providing head and cervical spinal support while you sleep, but while you're awake? Not so much. If you're like me and enjoy reading in bed, you've probably sound that you have to keep restacking and repositioning a bunch of pillows behind your back for support. Or, if you're a gamer, you might feel like you could use a little extra comfort while you're sitting in front of the TV.
As a pillow with back and arms for support, the husband pillow is built for comfort during daily activities. Sitting on the floor to watch a movie? Use a husband pillow. Heck, even your husband could probably use a husband pillow while vegging out on the couch, watching the big game.
Husband pillows are versatile, easy to use, and come in a wide array of colors. Let's play matchmaker and help you pick the right husband pillow to meet all of your needs.
What is a Husband Pillow?
You might reasonably wonder why is it called a husband pillow. This is essentially a pillow with arms and a strong, supportive back. It supports your neck, arms, and back as you relax to watch TV, play video games, or read in bed. It controls your posture better than a traditional bed pillow or couch cushions yet it still soft and comfy to relax against.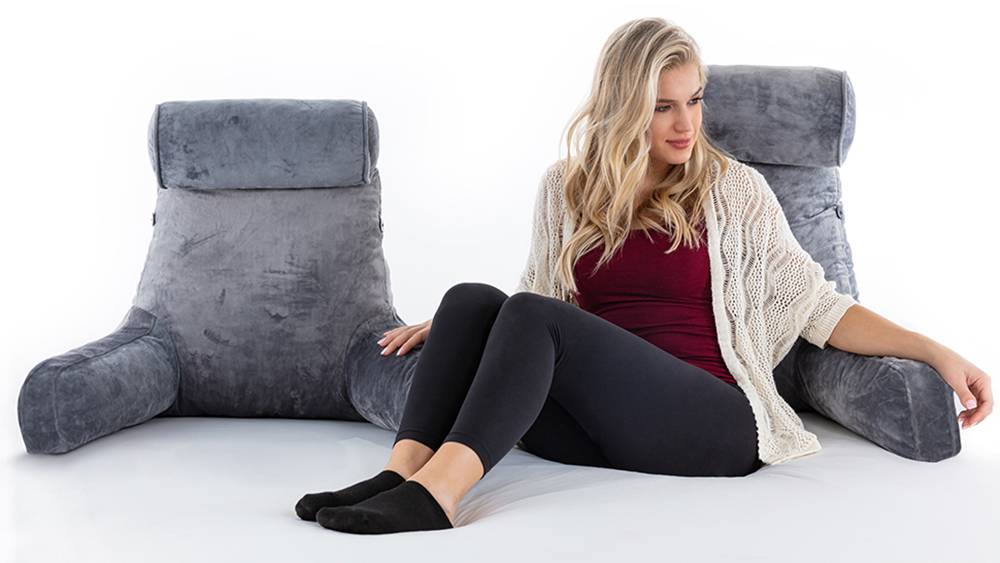 Why Buy a Husband Pillow?
Support
Of course, the big reason why people buy husband pillows is for support. When you're propped up against bed pillows or cushions, you lose your posture. This can lead to pain in your spine and extremities. And who needs that when you're simply trying to chill? A husband pillow is meant to encourage proper support while you relax in a reclining or seated position. You won't have to readjust multiple pillows or continuously re-fluff to restore its supportive structure. The husband pillow's support remains intact with even hours of use in one go.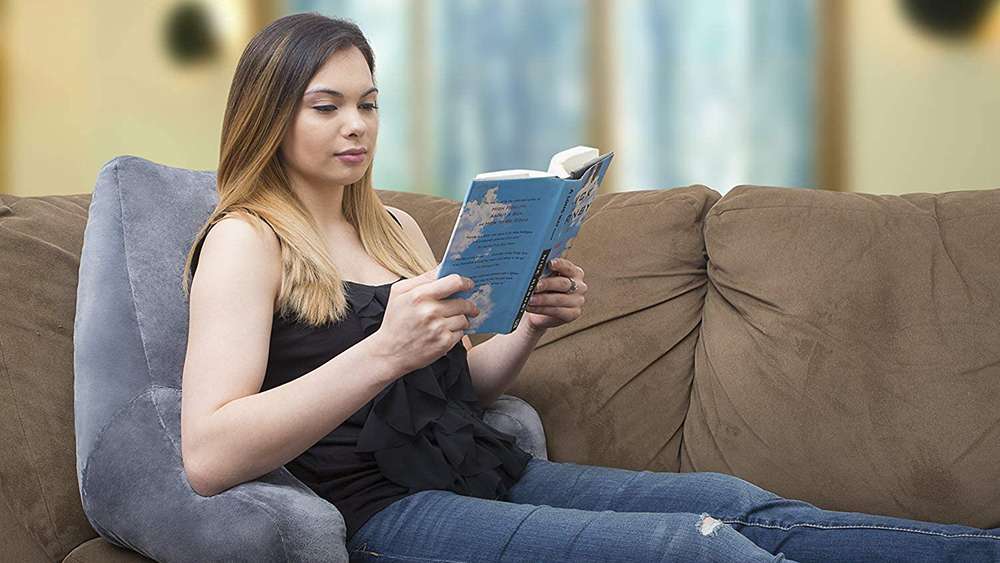 7 Best Husband Pillow Reviews
My top pick for a husband pillow is the Original "Husband Pillow" by Husband Pillow. This microplush pillow has an elongated backrest for optimal spinal support. Taller adults can easily use this pillow to find more positional comfort while relaxing. The Original "Husband Pillow" is made from premium shredded memory foam on the inside, which is encased by a smooth, high-quality microplush cover in your choice of one of ten colors.

This versatile husband pillow features a detachable neck roll pillow attached to a Bungee cord. It also comes with a built-in side pocket that can house your TV remote, cell phone, or game controller. Additionally, a back pocket is able to hold your current read or your reading glasses. It can even hold the neck roll or removable covers.

One problem that customers note is that the pillow feels over-stuffed. It is a little too plush for some people who could use more contoured support. A few folks have also noted mildew-y smells coming from the fabric after unboxing it.


Pros
Packs in a lot of versatility
Works well for taller people
Has 10 color options to choose from
Seems to hold up well over time
Cons
Might have a funky smell
Might feel over-stuffed
Original Husband Pillow by Husband Pillow
Extra-tall back
Removable headrest
Storage pockets for your essentials
Looking for a more budget-friendly option? The Reading Pillow With Shredded Memory Foam by Milliard is a good option for those whose budgets are a little more restrictive. You can get it in three sizes: petite (14 inches), standard (18 inches) or extra large (24 inches). There are armrests built into the back for a wraparound hug of support.

This might look like a beanbag with arms, but there are no beans about it - it's all memory foam! The polyurethane memory foam has been shredded and stuffed into the casing for extra support and comfort. This gives the pillow a greater density than a bean bag. There is also an insert that you can access by unzipping the cover; simply add or remove stuffing as needed to customize your firmness level. When you need to wash the cover, simply unzip and toss it in the washer and dryer.

While some people buy this to relieve back pain, it won't do the trick for everyone. For a select few, it has made their back pain even worse. A good rule of thumb is, if it makes your back hurt more, stop using it immediately. Additionally, there seem to be chemicals in it that a few folks have had bad reactions to. If you're someone with chemical sensitivities, proceed with caution.
Pros
Offers three size options
Ability to customize comfort
Good support from the memory foam
Affordably priced
Cons
Some chemicals might cause irritation
Won't relieve back pain for everyone
Reading Pillow With Shredded Memory Foam by Milliard
Washable cover
Customizable comfort
Three different sizes
Some of us need a bigger pillow to support our backs and necks. If that's the case for you, give Linenspa's Shredded Foam Reading Pillow some thought. It comes in either Stone or Navy tones, and it sizes at 42 x 15 x 24 inches. Beneath the comfy velour cover is shredded memory foam that provides the structural support.

Atop this pillow is a convenient carrying handle, and there is neck support that you can utilize for cervical comfort. Just take note that this pillow is rather heavy, weighing in at 16 pounds. Still, this large pillow allows you to sit up and recline slightly backward at about a 20 degree angle.

Unfortunately, the cover is not machine washable. You will have to spot treat it and take care not to get it dirty. Some stains will not come out of the velour that easily. Also, some buyers have reported that the case comes only about three-quarters full, not providing them with the support they were hoping for.
Pros
The extra-large size caters to taller people
It comes with neck support
Has a convenient carrying handle
The cover feels soft
Cons
The cover cannot be machine washed
Some pillows might not be filled all the way
Shredded Foam Reading Pillow by Linenspa
Carrying handle
Soft velour case
Shredded memory foam for support
If your little one likes to sit on the floor to watch TV or read with you, then getting the Lovely Cartoon Hamster Pillow from WAIT FLY might just make their day. This cute hamster-shaped pillow will hug your little one. But, at just 1.9 pounds, it is also easy for them (and you) to carry around.

Since it is meant for toddlers, this pillow has a plush firmness level. Toddlers don't need as much structural support as we adults do, so this plush hamster pillow should feel cozy to them. This is by no means a large pillow either, but it will sit comfortably on your child's bed or on the floor. As your child gets older, they can play with it more as a stuffed animal.

The drawback is the pillow's smaller size. The pictures might make it look bigger than it really is, so be aware that this is better suited to younger toddlers than it is to kids ages 3 and older. Also, since it is small, it is hard for older children to read on it.
Pros
Ideal for use with young toddlers
Plush quality
A cute design
Easy to carry around
Cons
Smaller than it appears
Hard for older toddlers to use
Lovely Cartoon Hamster Pillow by WAIT FLY
Cute and child-friendly hamster design
Plush quality
Weight of just 1.9 pounds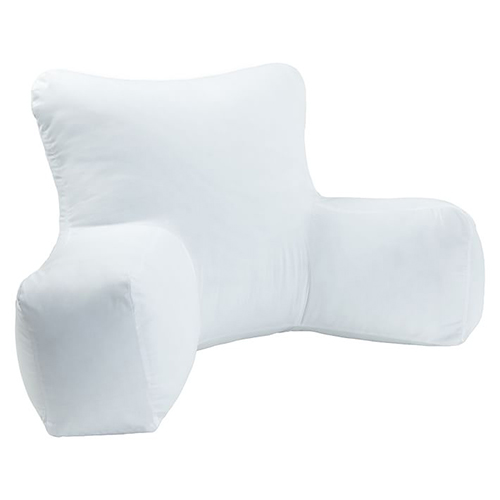 Sometimes, a teenager needs a cozy bed pillows with arms. If your teen needs the support for reading or gaming, the Essential Loungearound Pillow Insert from Pottery Barn Teen might go over well. This imported spiraloft pillow insert is padded with a totally hypoallergenic, fluffy down-alternative. What's more, this pillow is manufactured from recycled materials, making it a nice eco-friendly choice for your teen.

This pillow only weighs three pounds. Despite not having a carrying handle, it is easy enough to lug around thanks to its lightweight design. Its dimensions are 31" wide x 20" deep x 18" high. The case can be washed on a gentle cycle with warm water and tumble-dried on low heat. If needed, it can also be ironed. However, chlorinated bleach could potentially damage the case.

This pillow's cover is white, which, of course, is prone to stains. You'll see almost any stain, and it can start to look dirty quickly. Be prepared to throw the cover in the wash a lot.
Pros
Hypoallergenic
Utilizes recycled materials
Easy to carry
Can be washed, dried, and ironed
Cons
White cover stains easily
Cannot be treated with chlorinated bleach
Essential Loungearound Pillow Insert by Pottery Barn Teen
Lightweight design
Hypoallergenic fabric
Use of recycled materials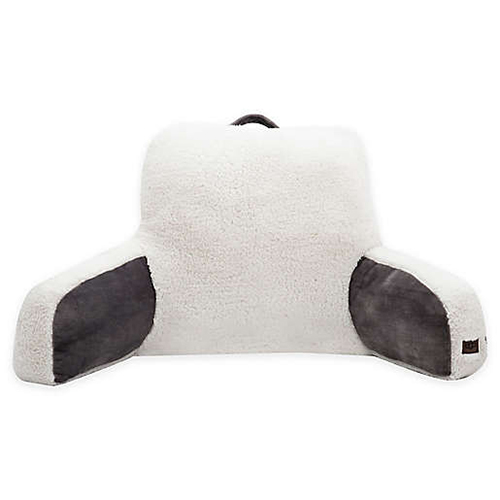 UGG's Clifton Backrest Pillow is definitely the UGGs of the pillow world. The outside even calls to mind the UGG boots design. As far as home décor goes, this snow-colored faux Sherpa pillow adorned with charcoal plush accents on either side fits well with any style. It is both cute and comfy.

This backrest pillow is built to the dimensions of 31" L x 21" W x 16" H, so it is big without being massive. And it is full-on polyester with its 100% polyester cover and 100% polyester fill. It weighs about 8 pounds, so it is a little bulky but also rather sturdy.

Unfortunately, the material does seem prone to ripping. Multiple buyers report holes and rips developing after just a few months of ownership. Also, take note that the cover cannot be run through the wash; it's spot-treat only.
Pros
Looks good with various room décor themes
Ideal for college students in dorm rooms
Feels supportive
Easy enough to carry
Cons
Rips and holes might develop
Cover cannot be machine-washed
Clifton Backrest Pillow by UGG
Chic design
Charcoal accents on the sides
Polyester design
Klear Vu's Shaggy Bed Rest Back Support Pillow is another strong option, especially if you like a retro vibe. You can match this pillow with your shag throw rug and give your living room or bedroom a 70's vibe. And, with nine funky colors to choose from, you have a lot of room to customize your room.

The cover is made from 100% polyester, and there is a carrying handle located at the top of the pillow. While the cover itself is imported, it gets filled in the USA using American-made materials. This pillow measures in at 30"L x 15"H x 21"W, so it is an average size. It is spot clean only, as is typically the case with shag material.

This pillow does seem to have issues with the stitching coming apart. The seams might come apart within the first few days of ownership, and the zipper has been known to bust. Needless to say, quality might be questionable on some units.
Pros
Easy to carry
A retro vibe
Multiple color options
Fill made in the USA
Cons
Might rip easily
Zipper is known to break
Shaggy Bed Rest Back Support Pillow by Klear Vu
Retro shag design
Nine different color options
Carrying handle on the top
Things to Consider Before Buying
Your Budget
How much money can you actually afford to spend? Budget out $50 for a mid-range husband pillow, but plan to spend closer to $80 for a more high-end one. The ones with all the bells and whistles are going to be more expensive but also more feature-rich (and likely made from higher quality materials).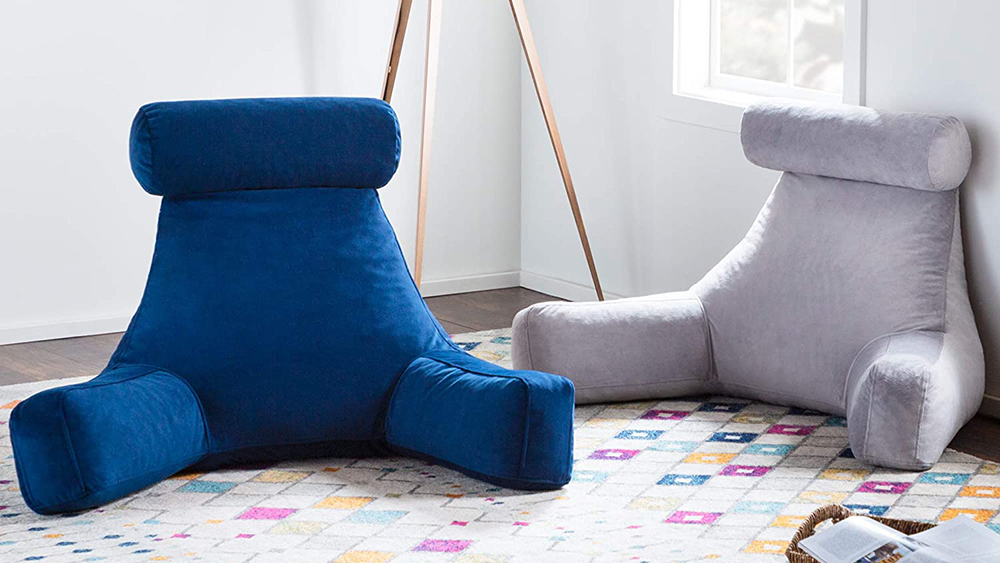 Your Needs
If you're getting a pillow for all your Netflix crime doc binge-watching needs, then a built-in cup-holder or pocket for your remote might be in order. If you just need something to relax on while reading, you likely won't need all the extras.
Buying Online vs In-store
Buying a husband pillow in the store means you get to feel it and test it out a little. But you don't get to read the customer reviews. Buying online means just the opposite – you don't get to try it out but get to read all about the pillow.
What I suggest is this: If you find a model you do like in the store, read some reviews before you decide to buy. Otherwise, plan to buy online after a good amount of research into what customers are saying.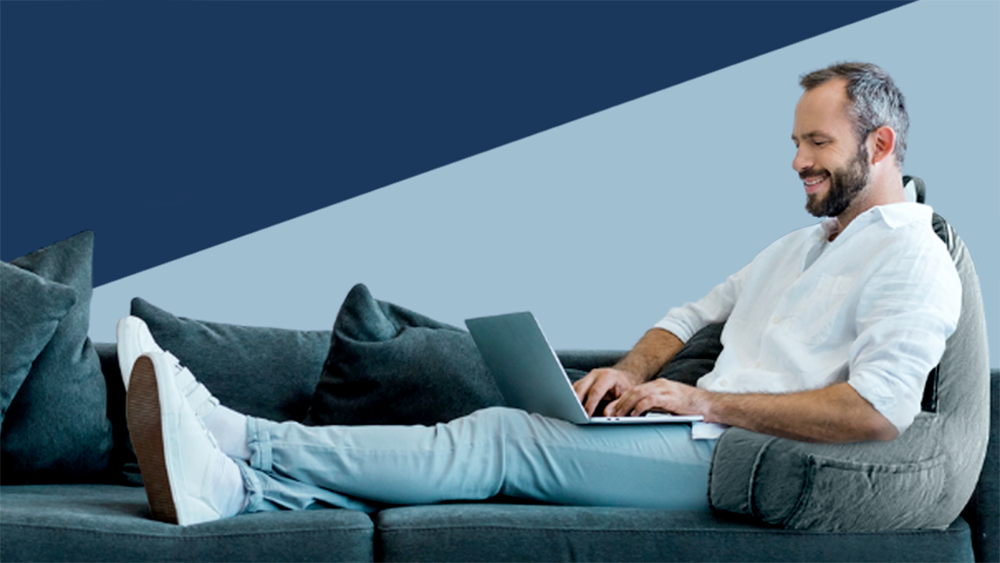 The Customer Reviews
Seriously, read all of the reviews before you settle. Since you cannot test one out if buying online, you'll need to base your decision on these reviews. Take some of the negative ones with a grain of salt, but look at the pictures that users post of any rips or broken components. This can tell you what to expect in terms of quality.
Benefits of Husband Pillow
Transitions Between Activities
Husband pillows are great because they go through different activities with you. Done watching TV for the evening? Pick your pillow up, place it on your bed, and do some reading before you go to sleep. These pillows are easy to take with you.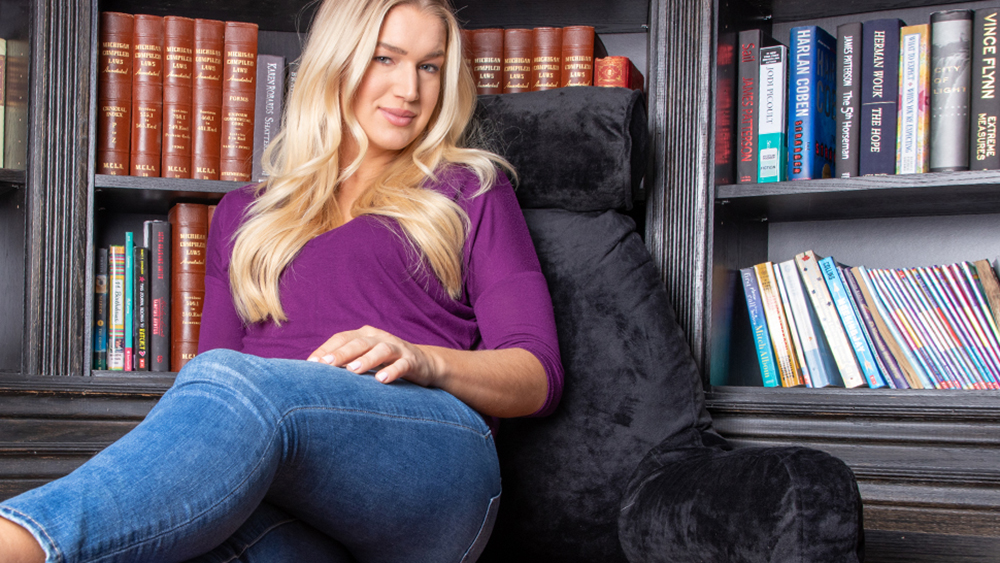 Better Support
Husband pillows offer more support than a standard bed pillow or cushion. They're cozier, better structured (often with memory foam shreds), and help you maintain a better posture.
Great For Gamers
Video gamers who long-haul it through their favorite games can recline a little bit on a husband pillow while still looking intently at the screen. A pillow with pockets and a cup-holder will sweeten the deal for a gamer.
A Comforting Feeling
The covers on these pillows are meant to offer a soft, comforting feel. They might be plush while the padding inside the pillow is slightly firm.
FAQ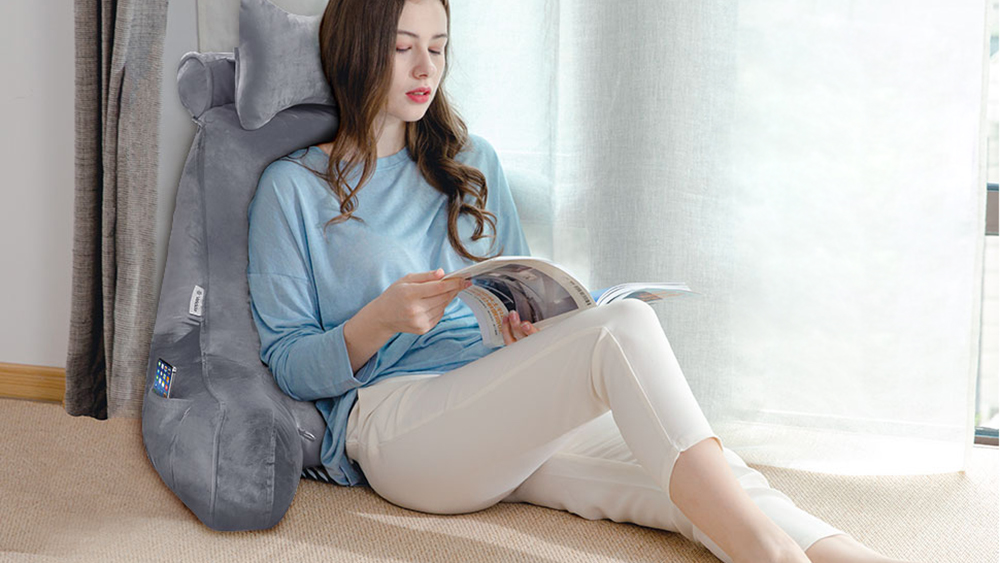 Why is it called a husband pillow?

It is called a husband pillow because it is supposed to feel like a gentle hug from behind from your significant other.

Can I use a husband pillow for regular sleeping?

It is not advised since you sleeping posture should be more horizontal than vertical. While you can sleep on it, you might wake up feeling stiff.

Are husband pillows good?

Husband pillows are good for support when you need it, offering more structure than a bed pillow.

What is the price for a husband pillow?

Expect to pay somewhere between $50 and $80 for a moderate-quality husband pillow with a few extra features.

What's another name for husband pillow?

They are sometimes referred to as backrests, back pillows, and even boyfriend pillows.

Are husband pillows good for your back?

They can be good for your posture when you are in a seated position.

Which husband pillow should I get?

Get one that has ample memory foam padding and a washable cover.

 How do you use a husband pillow?

Sit with your back against it and gently rest your arms on the armrests as needed.

Husband Pillows VS Wedge Pillows

A wedge pillow is shaped like a doorstop. It won't provide you with much comfort or structure.

Husband Pillows VS Boyfriend Pillows

A boyfriend pillow is actually a novelty item that has human-shaped arms that you can pull over you when you lay down.
Not Just For Wives: Why Husband Pillows Are For Everyone
Husband pillows can cater to just about everyone. They have soft, plush covers in an array of design options. Some even come with pockets and cup-holders. The padding is what really makes husband pillows functional though, especially when you get one with shredded memory foam inserted into it.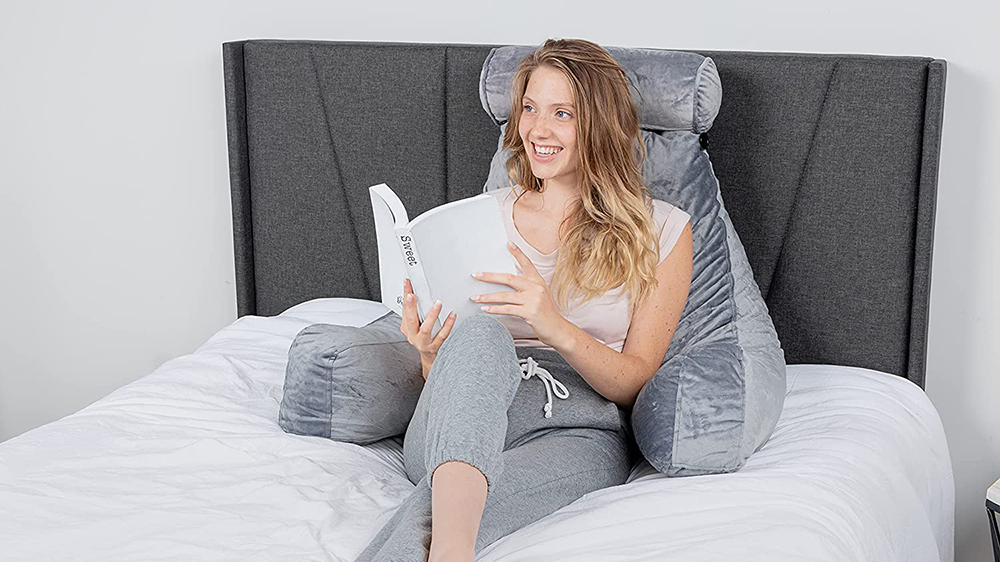 That's why the Original "Husband Pillow" by Husband Pillow is the top husband pillow on the market right now. Its padding provides ample structure as you sit, and the design is utterly functional. While it is one of the pricier options, in this case, splurging might be your best bet for this quality product.
Original Husband Pillow by Husband Pillow