Every sleeper in the world will have a different pick for their best hybrid mattress option.
If you have been struggling with an innerspring that has lost its bounce or are overheating on your memory foam mattress, one of the newly designed hybrid mattresses in this listing may be just what you need. 
If you don't know where to start, consider the best cooling hybrid mattress selections in a medium firm density that will support you without sinking.
Those seeking a hybrid mattress for back pain will need to pay attention to pressure relief features; side sleepers and back sleepers need different levels of support.
For those who can't tolerate memory foam, the best latex hybrid mattress options may be an ideal choice.
Do make sure you test the best hybrid mattresses during your most critical trial period; hot sleepers should test their hybrid mattress in August, while those with joint pain may want to test their new hybrid mattress during the coldest months.
Best Hybrid Mattresses Top 10 Reviews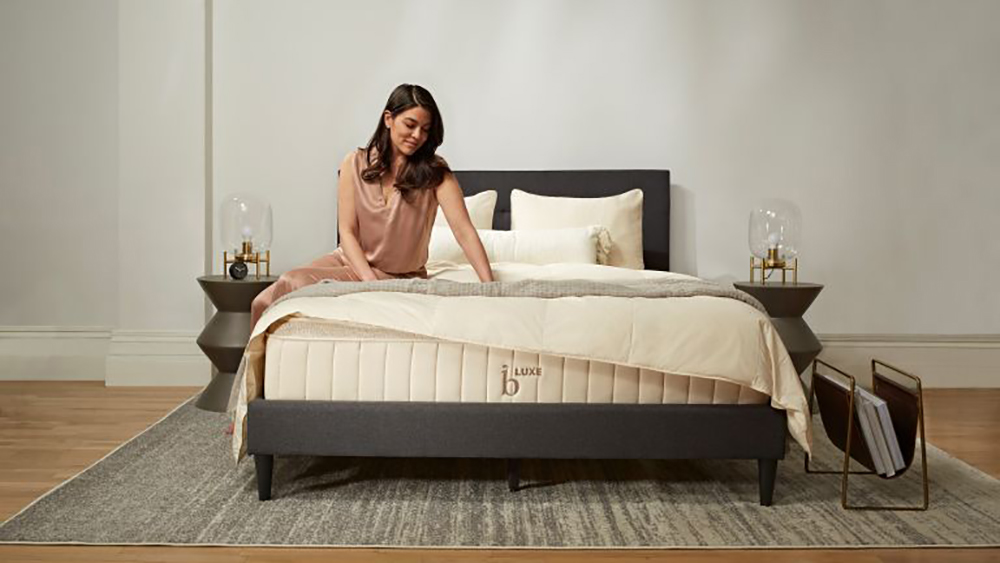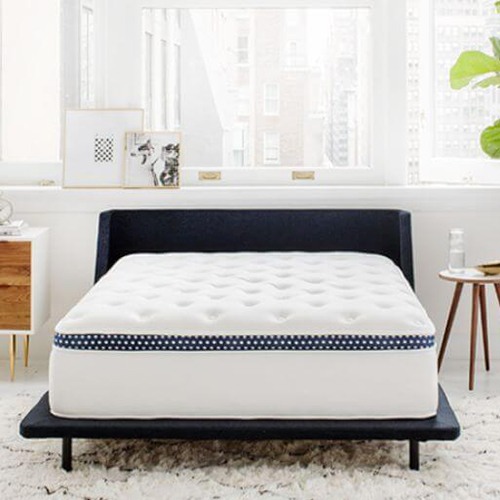 The WinkBed is recommended by People magazine as a luxury bed without the luxury price tag.

This mattress has a durable base of coils, individually wrapped for motion isolation. Above the coils, side sleepers will appreciate the cooling gel foam layers that provide both airflow and pressure relief. Above the layers of foam is a soft, breathable Tencel® cover woven to offer relief to hot sleepers.

If you struggle with back pain, shoulder pain or hip pain, a medium firm mattress with plenty of cushion can reduce your discomfort. Like most hybrid mattresses, your WinkBed won't need to be flipped over. Your WinkBed features a DuraTech™ system of coils and foam designed to last for up to 20 years.

This mattress offers terrific edge support for an easier time getting in and out of bed. Finally, you get a 120-night trial period to snuggle into and fall in love with your mattress.
Pros
The Tencel© weave cover stays cool to the touch and offers hot sleepers a break
If you can't sleep on memory foam because of outgassing or heat, this hybrid mattress features gel-infused Hypersoft Foam
The layers of foam and springs offer excellent pressure relief without letting you sink in too deeply
Cons
These mattresses aren't built until you place your order; stay patient
If you need a very firm hybrid mattress, the quilted cover may lead to too much sag
The softest mattress in the WinkBed line can feel like you're being swallowed; don't go too soft unless you're a side sleeper who likes to snuggle in
WinkBed
This mattress is ideally suited to restless, hot sleepers. Each layer is formulated to move air and reduce heat build-up.
The durable coil base offers excellent motion isolation; if you wake up in pain and need to reposition, your partner will not be disturbed as you settle back in.
The edge support makes getting up in the night much simpler. If you need to push off to stand up, this hybrid mattress will give you a boost.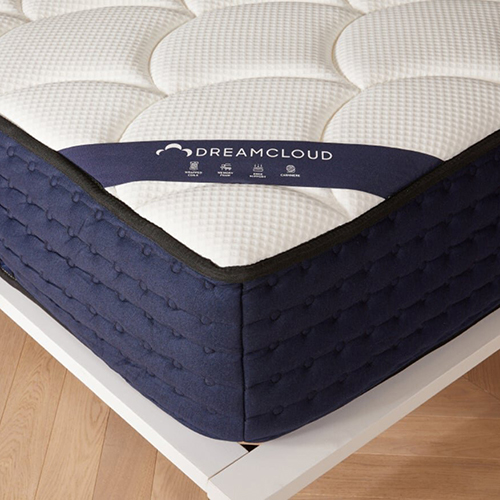 Looking for a soft hybrid mattress that you can sleep on without sinking in? You need a DreamCloud!

This may be one of the best hybrid mattress options for those who live in a cold country. The cover of this mattress features quilted foam and cashmere for snuggly warmth. Below the cover is a memory foam layer formulated to relieve pressure; side sleepers in particular will get a break at the shoulder and hip.

The next layer down is a firmer memory foam to prevent sinking in too deeply, Below this layer, are the individually wrapped coils. It's the coils that make hybrid mattresses a much cooler option than a standard memory foam mattress. Not only do they increase airflow for hot sleepers, but the coils offer motion isolation for restless sleepers.
Pros
This mattress offers a 365-day trial period. Hot sleepers in particular will enjoy the chance to test drive this mattress in all seasons
If you love memory foam but don't like the sinking feeling, this may be one of the best hybrid mattresses to try
Side sleepers may want to try the medium firm; the quilted top offers softness without too much squishiness
Cons
This is a very tall hybrid mattress but does not offer edge support; getting up and down in the night may be a challenge
These mattresses may take longer to expand than to be delivered once ordered
Be prepared for some outgassing; memory foam can produce an odor.
DreamCloud
This is an ideal hybrid mattress for side sleepers; the motion isolation offered by the individually wrapped coils will also protect your sleeping partner if you are a restless sleeper.
Unlike traditional memory foam mattresses, this bed is designed to move heat away from your skin.
If you're looking for a hybrid mattress for back pain, this one offers wonderful pressure relief without letting your body sink in too deeply.
3. Best Budget Hybrid Mattress: Helix Midnight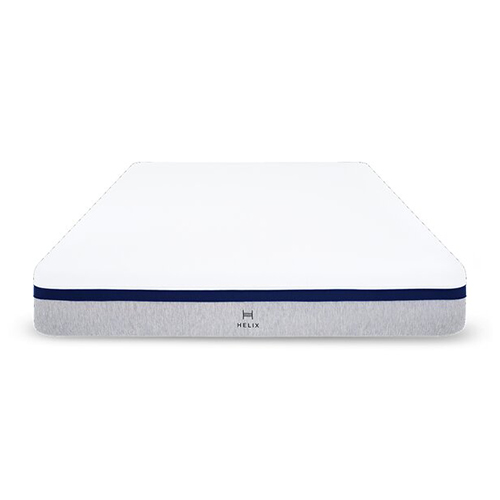 The Helix Midnight is not only budget friendly but is a very durable bed. From the bottom up, this bed includes a sturdy foam layer to support the coil bed. Above the individually wrapped coils is a layer of high-grade polyfoam for additional pressure relief.

The top layer of foam is a Helix blend of memory foam for pressure relief and heat dispersal.

Finally, the top layer of fabric is available in light stretch or fabric designed to stay cool to the touch.

The GlacioTex Cooling Cover option is woven to stay cool; hot sleepers rejoice! If you are a restless or hot sleeper who doesn't care for clingy or fluffy bedding, the GlacioTex Cooling Cover offers a silky smooth feel.

The 12-inch tall Helix Midnight is an ideal option for tummy sleepers and back sleepers. Side sleepers and those with back trouble may want to upgrade from the Helix Midnight to the 14-inch Helix Midnight Luxe.
Pros
The bottom layer of foam makes it easier to settle this mattress on any platform you choose
Each Helix Midnight comes in a box that is 16 inches square and 47 inches long; moving this around tight corners will not be a challenge
You Helix Midnight comes with a 10-year warranty
Cons
This is a medium firm mattress; tummy sleepers with back trouble may find this too soft
This mattress will unroll very quickly but there may be some outgassing
The cooling cover is an additional $199; hot sleepers may find this a bargain!
Helix Midnight
Helix offers a row of supportive coils down the sides of the mattress to make getting in and out of bed a bit easier.
If you love a minimalist look, this mattress offers a lot of comfort in a low profile.If you love a minimalist look
This Midnight mattress offers a lot of comfort in a low profile.
The silky cover lets you warm up or cool down this bed as needed.
4. Best Organic Hybrid Mattress: Birch Natural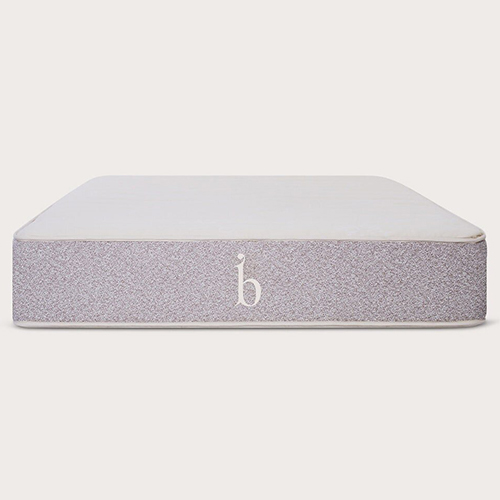 If you're looking for a soft, more plush mattress with terrific pressure relief but don't want to be exposed to the petrochemical risks of some types of foam, the Birch Natural is an excellent option.

This mattress is constructed of layers of wool retardant fiber at the base with a layer of individually wrapped coils above. The Birch Natural has a full ring of firm coils to provide edge support as you get in and out of bed.

Your organic mattress next has a layer of Talalay latex for wonderful support with low emissions. Above the latex foam is are layers of wool and natural rayon for cushion and heat removal. The organic cover is woven for softness and a slight stretch.
Pros
The durable layer of coils around the edge makes it easy to get in and out of this bed
There is no risk of chemical smell; every layer of this mattress is a natural organic product
Birch offers terrific discounts throughout the year; you can also get the mattress at the regular price and free bedding, pillows, or a discounted base
Cons
Talalay latex is heavier than memory foam. Get the delivery service or invite a strong friend to help you install this mattress
This mattress only offers 100 nights of the trial period. If you're a hot sleeper, buy it in the summer
You will want to get a waterproof cover to protect this mattress; getting it wet can lead to clumping or mildew
Birch Natural
This latex organic mattress is formulated from top to bottom to offer you cushioning without the feeling of being swallowed by your mattress. The pressure relief is consistent across the mattress.
The wool in this mattress provides a natural layer of fire resistance.
The latex foam is perforated to move air through the entire bed.
5. Best Firm Hybrid Mattress: Saatva Classic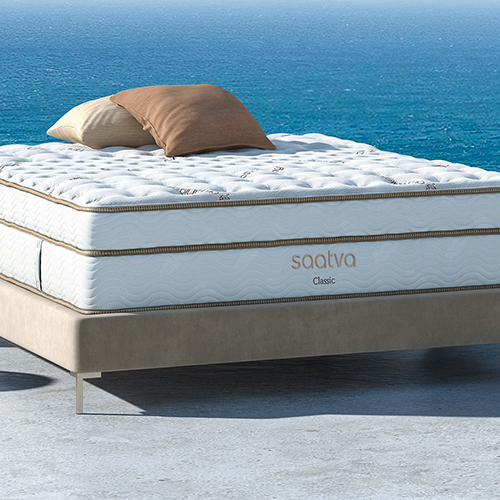 A common complaint of memory foam mattresses is that you sleep in the mattress rather than on it. If you need a firm or medium firm mattress, the Saatva Classic is probably the best hybrid mattress to suit your needs.

This hybrid mattress is also an ideal option for hot sleepers; if you wake up sweaty, you can be confident that the antimicrobial treatment added to the cotton cover will protect your mattress from bacterial build-up and mildew.

Unlike the other hybrid mattresses in this listing, this mattress features a coil bed surrounded by a firm memory foam rail for edge support to make getting out of bed easier without a harsh edge.

Your Saatva Classic will come with a 180-night home trial period.
Pros
Back or tummy sleepers will find this the ideal hybrid mattress for back pain
In addition to the coil bed at the bottom of this mattress, there is a short layer of individually wrapped coils to increase support from waist to knees
You can add a topper to half of this bed if you need a mattress for side sleepers as well as back or tummy sleepers
Cons
The coil bed may limit motion isolation; if your partner is restless and you're a light sleeper, this may not work for you
On its own, this may not be the best hybrid mattress for side sleepers
There is some plush material stitched into this mattress top; very hot sleepers may not find this the best cooling hybrid mattress
Saatva Classic
This is an excellent mattress for hot sleepers; between the antimicrobial layer and the open coil bed of springs, air will move through this mattress.
If you had given up on memory foam mattresses because there was too much squish going on, this firm or medium firm mattress may be the one to change your mind.
Side sleepers who need lumbar support will appreciate the extra layer of foam for pressure relief under your torso.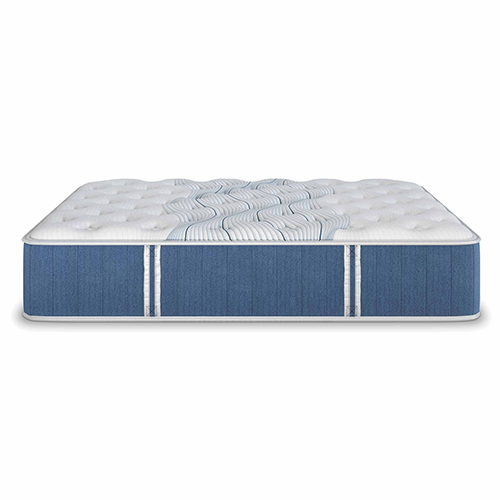 The best hybrid mattress for hot sleepers may well be the Bear Elite Hybrid. This multi-layer memory foam is one of the best hybrid mattresses on the market for anyone who's concerned about perspiration, bacterial build-up, and mildew.

The cover is quilted and loaded with Celliant fiber under the cooling cover for softness without too much sinking. The next layer of this hybrid mattress features a zoned foam cut for airflow around the edges and extra support for pressure relief along the spine.

The coils of these hybrid mattresses are firmer around the edge support so you can sit along the border of this bed without sliding onto the floor. The individually wrapped coils are pocketed for motion isolation; restless sleepers and side sleepers can find a comfortable position without waking up their partner.

The bottom layer and base cover are made of high density foam and a durable wove fabric that will protect your mattress for the long term. This medium firm mattress offers a trial period of 120 days and a lifetime warranty.
Pros
Unlike the best latex hybrid mattress options on this listing, this bed offers the durability of memory foam without the additional weight of latex foam
This mattress is 14 inches of comfortable, air moving memory foam
The durable foam base will protect your mattress if you need to move it in the future
Cons
The twin of this mattress is 60 pounds; the queen is 110. Get the delivery service
Hot sleepers would do well to order this mattress in the spring. Take 120 days during the hottest months to test drive your new mattress
The foam in the top layer may lead to sinking in too deeply; pay attention to your joints when you wake to make sure you're not sinking in too far
Bear Elite Hybrid
If you're looking for the best hybrid mattress for back pain and cool, comfortable sleep, this best cooling hybrid mattress is an excellent choice.
While some memory foam mattresses can store up a lot of heat, this mattress for side sleepers is built to move air.
Hot sleepers who are side sleepers will love the comfort of settling into this mattress.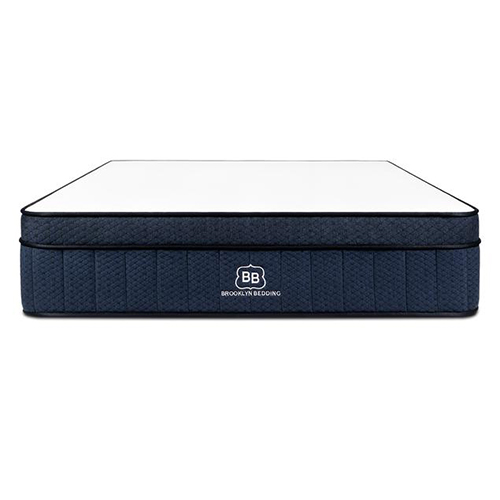 Memory foam and hybrid mattresses are generally a great fit for side sleepers. If you need something a bit firmer, the Brooklyn Bedding Aurora is an ideal choice for back sleepers.

The top layer of Brooklyn Bedding TitanFlex™ foam has enough elasticity to easily spring back up when you move. If you're worried about serious sinking, this mattress will allow you to sleep on top of the mattress.

Below this layer is a 1-inch layer of gel memory foam to provide pressure relief. Just under this layer is 1.5 inches of firmer support foam for firm support from neck to heels. The coil bed is located right below this firm foam and offers 8 inches of support and airflow.

Finally, there's a .75-inch layer of high density foam to protect your mattress for the long term.

The top cover is a very smooth weave fabric formulated to stay cool and carry away heat as it builds up.
Pros
This is a fairly lightweight mattress; the queen size is just over 100 pounds
If you don't mind a pretty tall bed, you can put this on your existing box spring
This mattress will support up to 900 pounds
Cons
You will need a slatted platform for this bed; it may not hold its shape well over mesh
This mattress is not flippable. The base layer is quite firm
The foam in this mattress is not zoned for support at the shoulders and hips of side sleepers. The whole mattress offers hearty support for back and tummy sleepers
Brooklyn Bedding Aurora
This Brooklyn Bedding mattress has an incredibly dense coil bed. Each time you move, the mattress comes back into shape.
This hybrid can be ordered in a firm enough density to allow you to sleep on your tummy. The 13 inches thick mattress will offer terrific airflow as you snuggle in.
The outer edges of this mattress feature a navy blue fabric. If you're looking for a mattress durable enough for an RV or camper, this mattress will work.
8. Best Hybrid Mattress for Side Sleepers: Puffy Lux Hybrid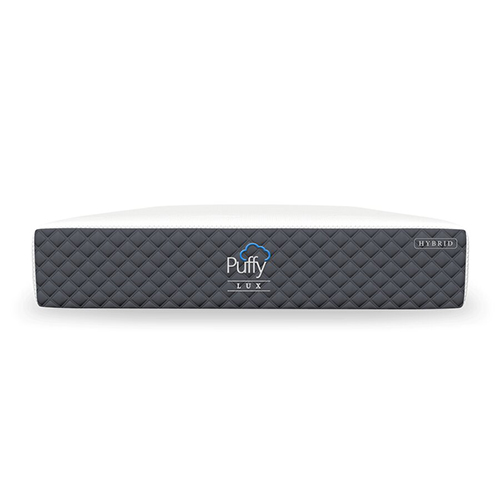 Side sleepers who love to snuggle in will love the Puffy Lux Hybrid Mattress. This mattress has a firm foam base with a durable foam surround for the individually wrapped coils.

Above these coils are multiple levels of foam formulated to provide you with support, move heat away from sleepers and reduce the risk of bacterial build-up. Do make sure you get a very stable platform for your puffy lux hybrid; the layers of foam may be put at risk if you try to put this on an old worn box spring or a grid system.

You want your mattress to stay fully supported. Side sleepers may also find this is the best hybrid mattress if they're dealing with joint pain or a sore back.

Great quality memory foam covered in a soft, squishy cover could be just what you need to snuggle into the softness.

Unlike other hybrid mattresses in this lifting, the Puffy Lux hybrid is soft and makes no bones about it.
Pros
Side sleepers can sink in a bit and get plenty of support at the hips, knees and shoulders. The cover fabric will stay cool to the touch
Your Puffy Lux hybrid also has a cover that is hypo-allergenic. Breathe and sleep deep!
This cover can be removed for laundering
Cons
The Puffy Lux hybrid is 12 inches thick; if you have a lofted bed or a bunk, the twin may not fit
The queen-sized bed is 83 pounds; the king is over 110. Hire an install team
You will need to give your mattress 24 hours to breathe and expand
Puffy Lux Hybrid
You will get a 101-night sleep trial from the day your mattress is delivered.
Your Puffy Lux hybrid also has a lifetime warranty.
Side sleepers may find they can get rid of the extra mattress toppers, the knee pillows, and the neck support pillow. Because these add-ons capture and hold heat, you may find that your sleeping space is much cooler without these memory foam tools.
9. Best Hybrid Mattress for Couples: GhostBed Flex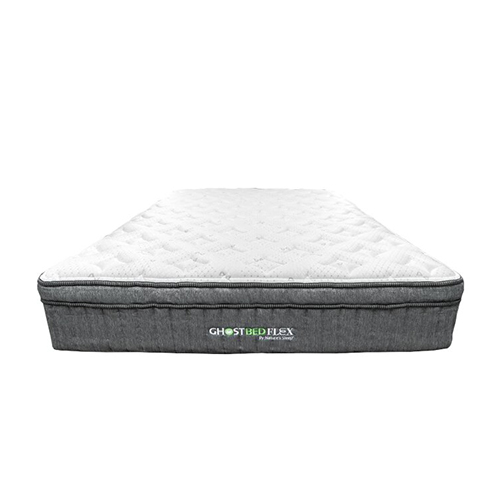 If you and your partners have stopped fighting over blankets and started bickering about the mattress, you need a GhostBed Flex.

This bed is 13 inches thick and layered with memory foam infused to reduce bacterial build-up. Above the individually wrapped coils, you will find 4 layers of foam to provide you with relief from pressure points and plenty of stability.

It should be noted that the GhostBed Flex is not the cheapest mattress on this listing, but this company offers terrific coupons and seasonal discounts. If you find something you like, sign up for the promo coupons and check those emails.

This best hybrid mattress option will need to be given a fair shake. The manufacturer offers a three-month trial period and will allow you to return this hybrid mattress after 30 days and before 101 days.
Pros
There are two layers of memory foam cooling and one layer of hypoallergenic protection between you and the coils. If dust is going to settle anywhere inside this mattress, it will be in the coils. If you need both coolness and protection from dust, this is your bed
Your GhostBed has a 25-year warranty
Your new mattress doesn't need to rest for 24 hours before you can sleep on it!
Cons
This bed offers the GhostBed hug, which can feel as though you're sinking
If you struggle with back pain, you may need to check out the flexible frames designed to work with this mattress
The smallest Puffy Lux mattress weighs over 50 pounds. These come in a fairly small box, but you may need help getting it to your sleeping area
GhostBed Flex
GhostBed hybrid mattresses can be used on box springs, a platform or a flexible frame.
The cover of this mattress is formulated to keep you nice and cool, no matter the ambient temperature.
The supporting row of coils will make it easy to get up and down off this bed without waking your partner.
10. Best Luxury Hybrid Mattress: Birch Luxe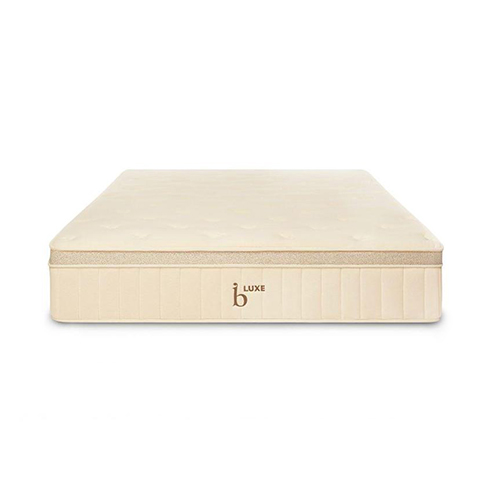 If you have any sensitivity to memory foam, the best hybrid mattress for you and yours may be the Birch Luxe Luxury Hybrid Mattress.

From the organic cashmere cover to the latex foam layers that will cushion and support you without exposing you to toxins, the Birch Luxe line of mattresses is built and designed to keep you both supported and cool no matter if you're a hot sleeper or a restless sleeper.

This is a medium firm mattress, ideally suited for side sleeping and some back sleepers, though you can get a firmer mattress easily from this manufacturer. It is important to remember that latex foam is quite heavy; even with the coils included in this mattress design, this is likely the heaviest mattress in this listing.

Consider hiring a white glove service. Consider also getting a Birch Platform to keep your new mattress securely off the floor and promote plenty of airflow.


Pros
This mattress features a perimeter of supportive coils to keep the bed stable when rising and lying down
The bottom of this bed includes a durable wool layer to prevent damage if the mattress slides against the frame
You get a 100-night sleep trial period when you buy this mattress so you can be sure before you finalize your purchase
Cons
Because this mattress has a cashmere cover, it's a good idea to test drive this in the summer to make sure you won't overheat
These mattresses will need plenty of airflow. If you need a high bed with storage, this may not be your best choice
While financing is available, these excellent mattresses are quite expensive
Birch Luxe
Like all hybrid mattresses, the Birch Luxe pairs foam with coils for both comfort and support.
This hybrid mattress features organic wool and pure rayon for fireproofing protection.
The latex layer is perforated to promote airflow between sleeper and sleeping platform.
Who Is a Hybrid Mattress Best For?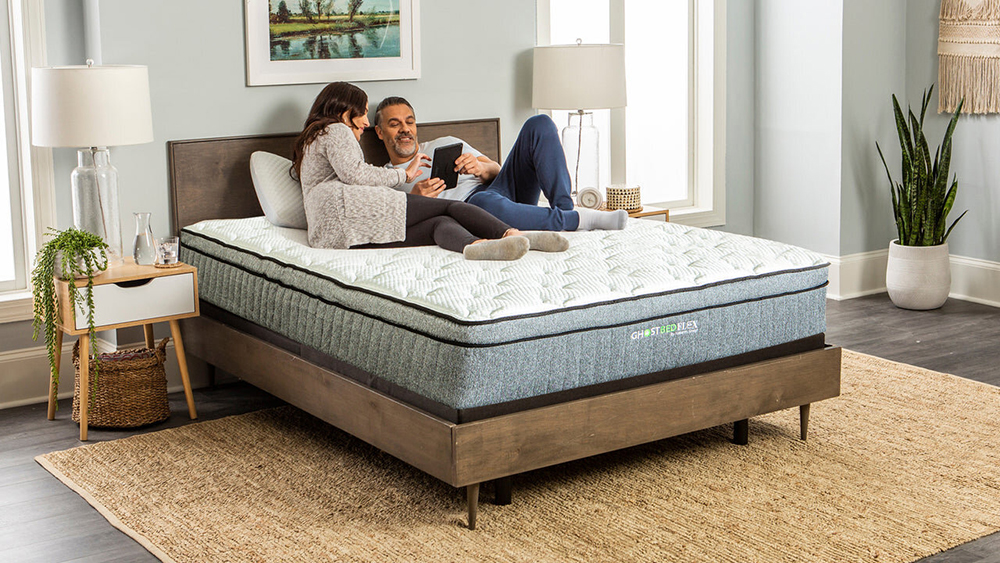 Side Sleepers
A medium firm hybrid mattress with pressure relief at the hips and shoulders could be the best choice for side sleepers.
Like hot sleepers, side sleepers each have their own tolerance for sinking into that top layer of foam or quilting. Go for the cool cover; side sleepers can more easily warm up a cool mattress than going the other direction.
Back Sleepers
It's important for back sleepers to choose the right pressure-relief design. Most pressure relief panels support the side sleeper, though there are mattresses in this review specifically targeted for back sleepers, such as the Helix Midnight and the Aurora.
Those Dealing with Pain
People dealing with back pain or joint pain can benefit from a latex or memory foam hybrid mattress.
It's critical to buy that new mattress so you can get the best use of your trial period, especially if your pain is seasonal.
Be prepared for some bumpy nights as you adjust and settle into your new mattress.
Hot Sleepers
A quality memory foam mattress will likely be a nightmare for a hot sleeper. However, a hybrid memory foam or latex foam hybrid mattress with coils to move air could be quite comfortable.
Hot sleepers must be sure to test their mattress during the worst part of the year for them; buy in June and try your new mattress out through August before you decide.
How to Choose the Best Hybrid Mattress?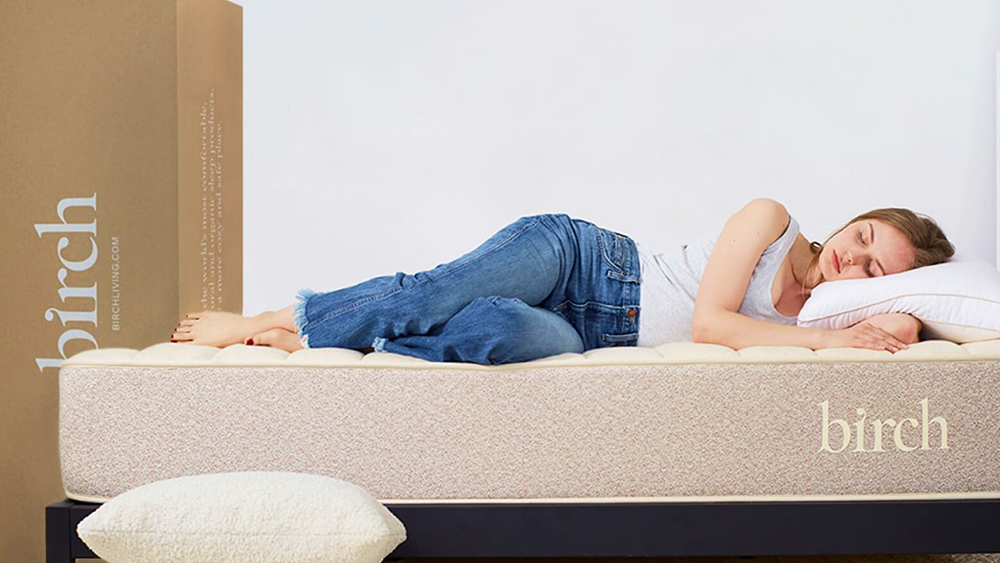 Comfort
A medium firm hybrid mattress with a cooling cushion top may be the best hybrid mattress for a lot of sleepers.
For those who struggle with back or joint pain, getting a mattress with a long trial period is critical.
For example, those with arthritis may find that the pressure relief features that help in the summer may help less in the winter. Hot sleepers may find that their favorite winter mattress doesn't work in August.
Consider also the comfort of getting in and out of bed; quality edge support will make getting up easier and reduce the risk of a slide or a fall.
Size
Hybrid mattresses are tall; often over 12 inches thick. If you have a lofted bed or are in an RV, the height of some hybrid mattresses may make it hard to get on top of the mattress; side sleepers may have even more trouble.
If you're going from a traditional innerspring to a hybrid in your home, you may need to rethink the box spring. You want a bed for sleeping, not one you have to climb into.
Price
As a rule, hybrid mattresses are not cheap. However, waking up sore or overheated are not exactly bargains.
When you're ready to invest in the best hybrid mattress for your sleep style, take the time to list out what you don't want. Hot sleepers probably don't want a lot of memory foam right under their skin.
Side sleepers need more relief. Older folks and those who need up in the night will want sturdy edge support, and everyone needs motion isolation.
If you can tolerate memory foam, a hybrid mattress built of coils and memory foam will probably offer you the best price point. 
Be honest with yourself; if you need a latex foam mattress, make the investment.
Portability
If you are looking for a hybrid for an RV or a camper, look for one with a durable foam base or consider investing in a sacrificial topper you can put down under your new hybrid mattress.
Carefully measure any bunks where your hybrid mattress needs to fit; hybrid mattresses are quite a bit taller than a standard bunk mattress.
Trial Period
If you and your sleeping partner have very different firmness needs, make sure you get a hybrid mattress with the longest trial period possible.
A medium firm hybrid mattress may work well for a side sleeper and a back sleeper, but a tummy sleeper and a side sleeper may struggle to get just the right bed; a long trial period will make your choice easier.
You need to be sure that the pressure relief that supports the side sleeper won't cause problems for the tummy sleeper.
Hot sleepers will also want to be able to test their mattress over the summer. If you or your partner are hot sleepers and you choose a hybrid mattress with a 120 day trial period, buy it in June.
Warranty
The best hybrid mattress on the market has a warranty of 25 years or more on top of the trial period.
Because your hybrid mattress will not be cheap, make sure you register for this warranty and hang onto it; you may be able to get a free or a discounted upgrade in 6 to 10 years.
Make sure when shopping for hybrid mattresses that you choose something that will easily support your weight.
Over time, memory foam and cushioned tops can show crush damage under pressure.
What Makes a Hybrid Mattress?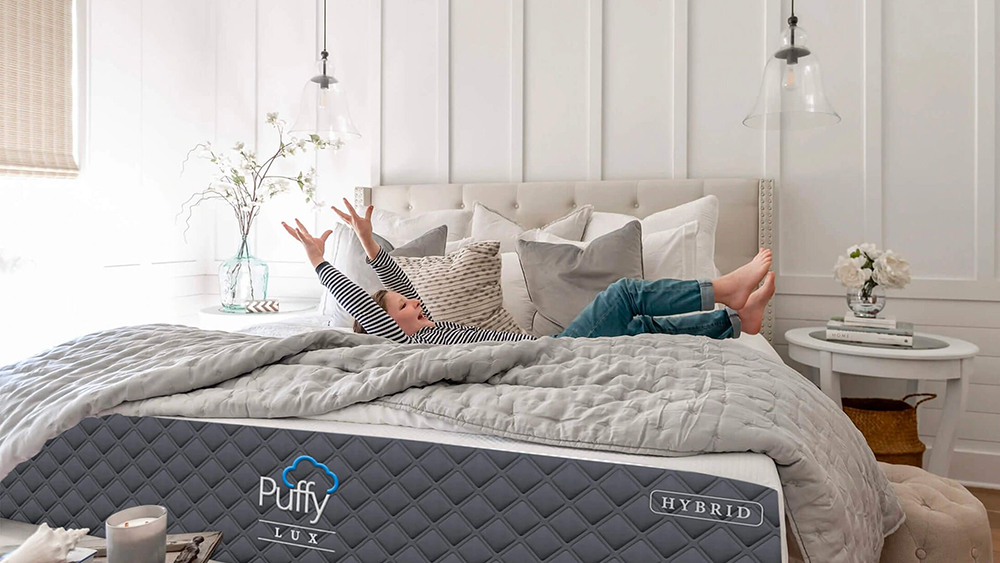 A hybrid mattress pairs memory foam or latex foam with coils to produce a mattress that offers both comfort and pushback. Hot sleepers who dislike the feeling of sinking deeply into a foam mattress would probably find great comfort on a medium firm hybrid.
If you're moving from a traditional coil mattress to a hybrid mattress, look for one with strong edge support. If you have a box spring that you want to keep, be aware that may need to get a lower frame or deal with a very tall bed.
Follow the manufacturer's recommendations for the best way to support your hybrid mattress; not all can be used on a box spring.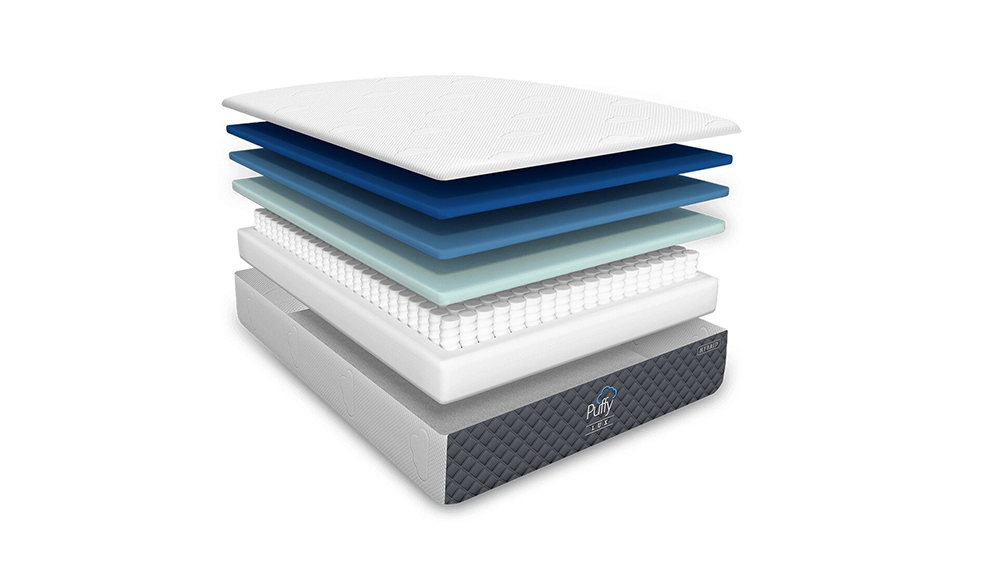 While a hybrid mattress has the look and feel of a traditional innerspring mattress, a hybrid generally offers more relief for those with joint pain and for side sleepers in general. Carefully check the restrictions of the trial period so you can be sure of your purchase within that time limit.
If you're used to a memory foam mattress, you may notice less motion isolation on your new hybrid mattress.
However, while a hybrid mattress won't be as still as a standard memory foam mattress, it will offer a lot more motion isolation than a traditional innerspring.
Benefits and Downsides of a Hybrid Mattress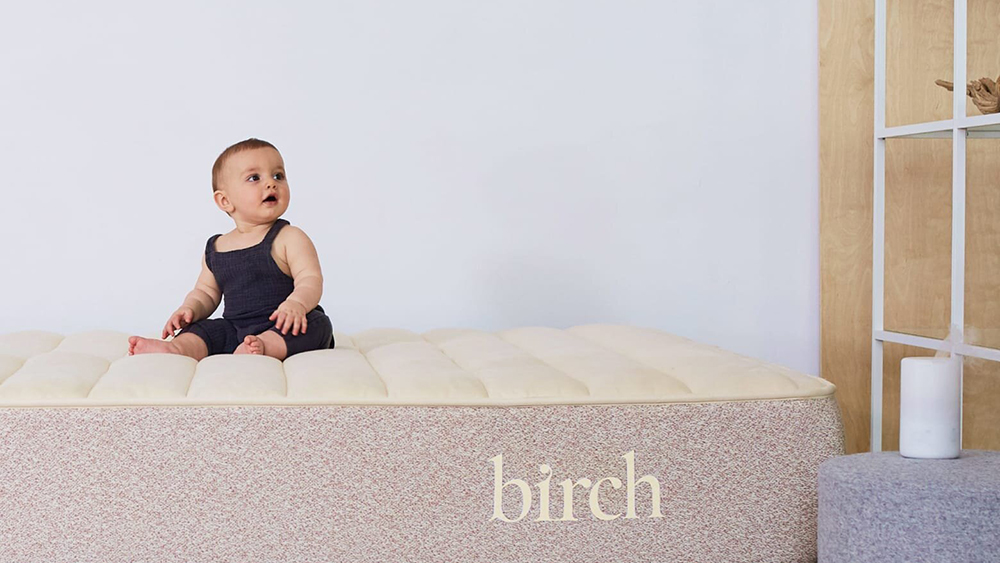 Benefits We Like
A hybrid mattress pairs cushioning foam with springs. The best hybrid mattress options feature latex foam, which does not outgas and offers terrific durability.
A quality hybrid mattress with edge support, a durable base and a cushioned top can offer years of comfort to side sleepers and tummy sleepers alike. These mattresses are also much cooler than traditional memory foam.
Downsides to Consider
If you are sensitive to the scent of memory foam, a hybrid mattress may not work for you. Your hybrid mattress may still lead to overheating, even with the ventilation that coils build in. Hybrid mattresses do have a slightly shorter lifespan than standard foam mattresses.
Hybrid Mattresses Price Range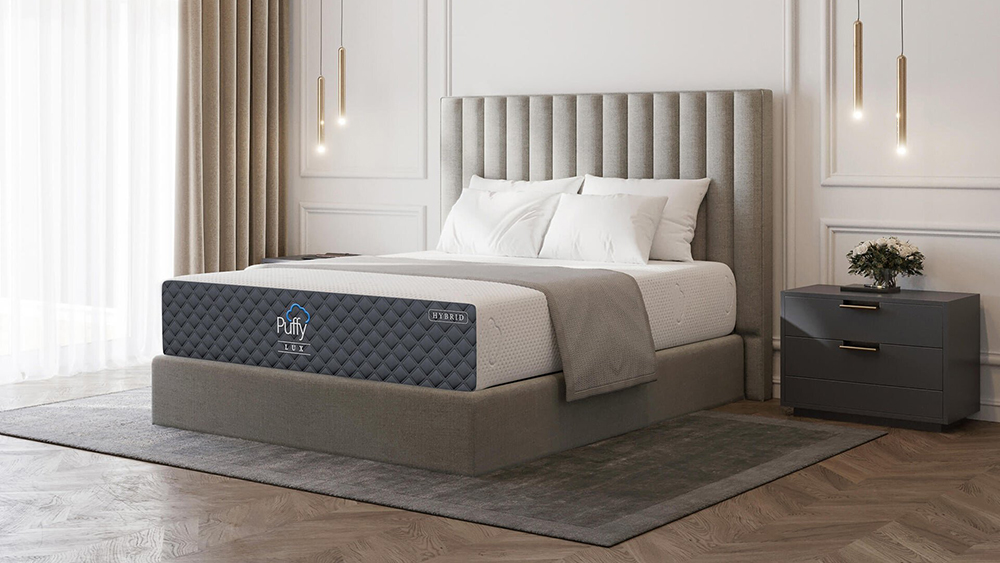 The most budget-friendly mattresses on this list feature memory foam; the most costly include some of the best latex hybrid mattress options on the market. While a mattress can be a big investment, lack of sleep can cost more.
For a medium firm, middle of the road mattress, be ready to spend around $1,000. Hot and side sleepers will want to look for a mattress with a very long trial period. Be aware also of the breaking-in period; changing mattresses will take time for your body to adjust.
If you need lots of pressure relief due to joint pain, you may be restless for a few nights. Take this time to test the motion isolation features for yourself and your partner.
If you are one of the very hot sleepers who can't tolerate memory foam, you may need to move up to latex. Budget about $2,500, depending on size, for a quality latex mattress.
You can expect all the high-end features from such a mattress, such as quality edge support and terrific pressure relief.
These mattresses often feature organic cotton covers, ideal for hot sleepers, as well as cushioning for side sleepers.
How Long Will a Hybrid Mattress Last?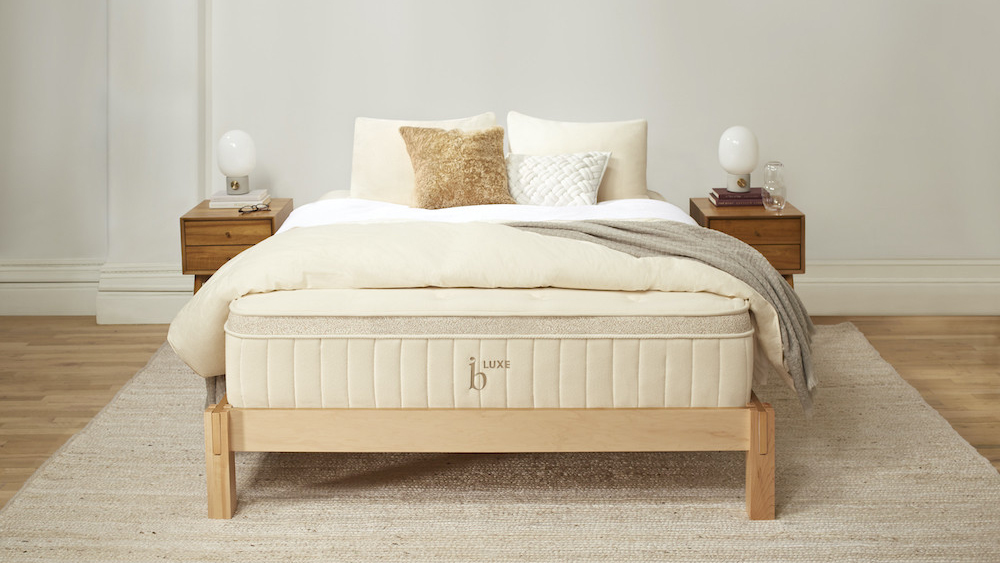 A medium firm hybrid mattress should last for a minimum of six years. It's very important to purchase your bed during the appropriate trial period. For example, hot sleepers would do well to buy in early summer so they can be sure there is no over-heating during the warmest part of the year.
Make sure you get a mattress that makes getting out of the bed as easy as falling asleep. If standing from a seated position is a worry, get a hybrid mattress with edge support and make sure your bed platform is tall enough to support you.
If you or your partner are more than 300 pounds, you may want to upgrade your mattress to one with a higher weight tolerance. The features that reduce back pain, such as pressure relief panels and motion isolation layers deep inside the mattress will fail over time if your bed selection isn't durable enough.
Finally, make sure your bed suits both you and your partner. Side sleepers need more cushion than back sleepers, who need more cushion than tummy sleepers. You should be able to determine that you've got the right firmness during your trial period. Don't be afraid to keep trying mattresses until you've got the right one.
FAQ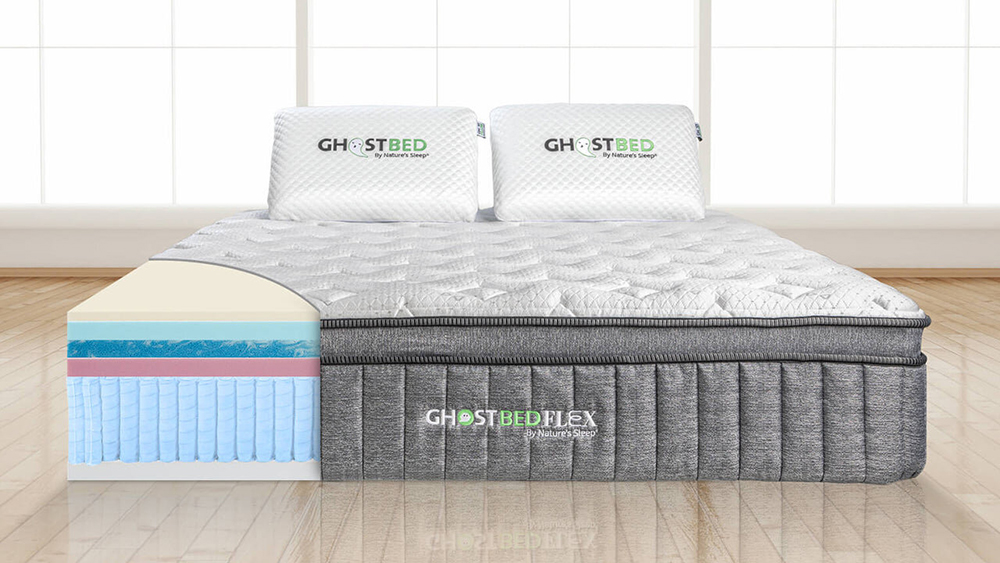 What is a hybrid mattress?

A hybrid mattress combines memory foam and gel foam with coils for air flow and motion isolation.

Which is the best hybrid mattress?

It depends on your need. Hot and Side sleepers will need a more plush bed with gel-infused foam while tummy sleepers will probably sleep better on a firmer mattress.

How much do hybrid mattresses cost?

Depending on the size, you can expect to spend between $1000 and $2000 for your hybrid mattress.

What is a hybrid bed in a box?

When you buy a hybrid mattress online, it comes rolled up small. You will need to give it time to uncoil, expand and breathe.

Do hybrid mattresses last longer?

The hybrid mattresses in this listing are designed to provide comfortable support for years. While a memory foam mattress can sag or crush over time, the coils can extend the life of your mattress.

What is the advantage of a hybrid mattress?

Hybrid mattresses offer the comfort of foam and provide additional airflow to keep heat away from your skin.

Is a hybrid mattress firm or soft?

You can get your hybrid in any firmness you need.

Do you need a box spring with a hybrid mattress?

No, but you can use one with most hybrid mattresses if you have clearance. Be prepared for a tall bed.

Do hybrid mattresses sag?

Every layer of a hybrid mattress is designed to prevent sag. However, you should be prepared to replace your hybrid mattress every 6 years.
Sleep Cool & Comfy!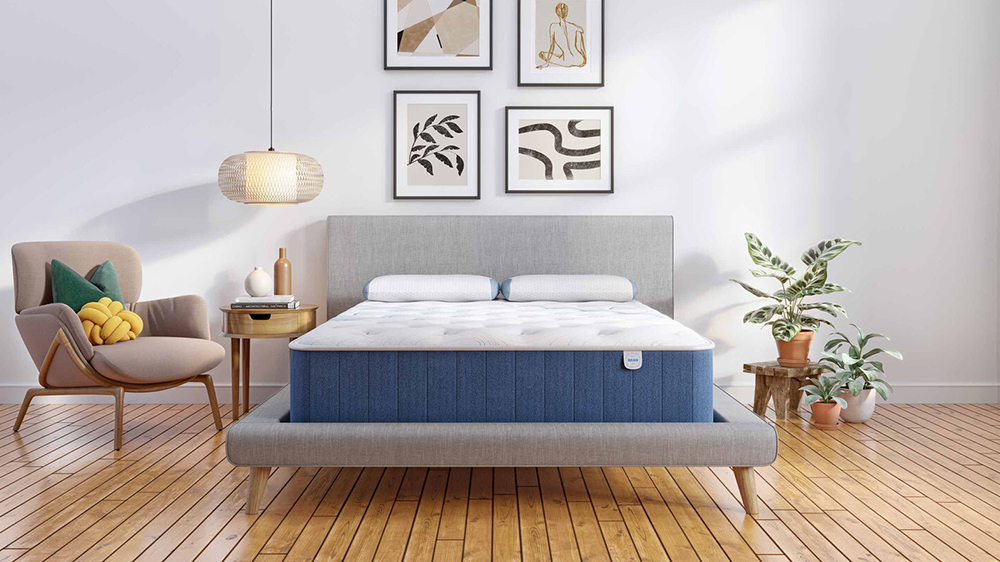 There are some terrific mattresses on this listing, but the best choice is the WinkBed.
WinkBed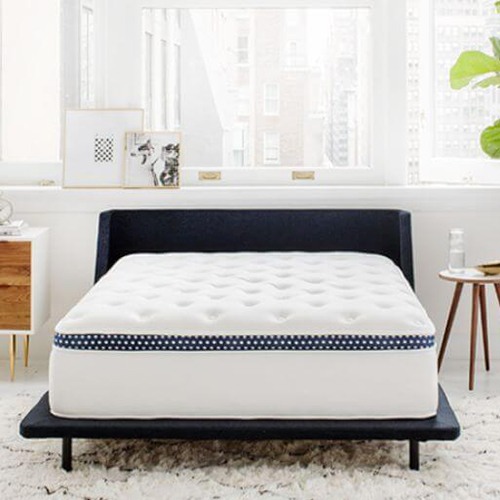 You can easily stretch out on this bed, whether you're a side, back, or tummy sleeper, and find a relaxing position with both cushion and pushback.
For those dealing with joint pain, the exchange process is quite simple. You can enjoy terrific customer service and be confident in your purchase.
Your new WinkBed will work for your needs, or it will be replaced until you are satisfied or you get your money back.