The tatami mat has been a staple of the Japanese household for centuries – yes, centuries. Employing environmentally friendly, biodegradable materials like bamboo, Japan has helped revolutionize how we think about home design and, in particular, the way we sleep. A Japanese tatami mat used to be hailed as a household luxury item in Japan, but these days, many Japanese people rely on them to get a good night's sleep atop the floor. Some have full tatami rooms.
For those of us not living in Japan, we can buy Japanese sleeping mats to help add comfort to our sleeping arrangements. Whether you sleep directly on the floor, on a mattress on the floor, or on a bed with a frame beneath it, you can still get one of these mats and place it down for comfort. Let's go over our picks for the top 10 best Japanese mats and why you should consider buying one.
Best Japanese Tatami Mats
What is a Tatami Mat? Some History Behind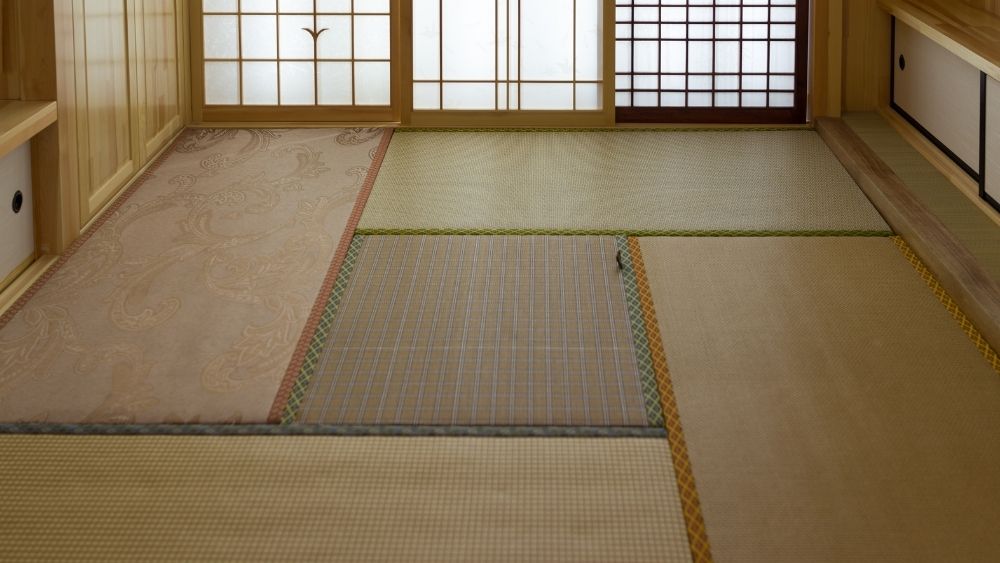 Tatami mats have been used for centuries in Japan, starting in the Nara period (around 700 AD). Once viewed as a luxury household item, they are now commonly used throughout the country and abroad.
Rooms in Japan used to be measured by how well tatami mats could fit in them – not the other way around. Tatami mats were found in most Japanese homes by the 17th century, and they aren't quite as popular today due to western influences on Japan. However, the Japanese still use them quite extensively.
Where to Buy the Best Tatami Mats Reviews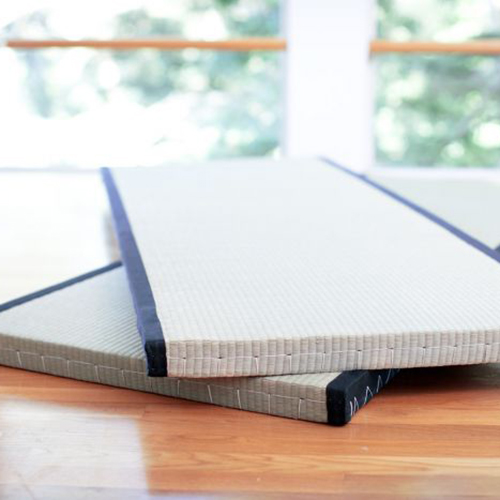 My very top pick for the best tatami mats for sale is the Traditional Tatami Mat by The Futon Shop. "What makes this one so special?" you ask. Well, its 2 and 1/4-inch thick design is made from 100% compressed straw, all secured underneath a comfortable, softcover. Sizes range from Twin to Eastern King Size, so you get a lot of variety when it comes to floor space. You can even buy two of them and push them together to be closer to your significant other - without having to share the same mat with them.

These mats won't slide around on the floor either. They are sturdy and well made, able to hold the weight of heavier sleepers. Some folks who have purchased these mats swear that they will never sleep on a mattress again and that they were surprised by how much comfort they experienced. Buyers have added them to their futons and found that this enhances their comfort.

The downside? It does have a kind of a grassy smell. Most buyers have been able to look past that though. It is also super firm, which might not work for everyone, especially those side sleepers and lightweight sleepers who need a little more plushness. But for those who like things firm, then this is definitely going to be firm enough.
Pros
Feels quite firm and supportive
More affordable than a mattress set and bed frame
Multiple mat sizes are available
Won't slide across the floor but is easy enough to move
Cons
Has a grassy smell
Might be too firm for some sleepers
The Traditional Tatami Mat by The Futon Shop
100% straw interior design
Comfortable cover
Firm feel for plenty of nocturnal support
Another tatami made by The Futon Shop that I highly recommend is the Luxury Tatami Coco Mat. This tatami bed mat is more expensive than the Traditional, but it is even more lightweight (about 22 pounds) and easy to maneuver around as you need to. At its core is a mixture of a cotton based natural filling and coconut hair. Pliable enough to function as a yoga mat but supportive enough to sleep on, this mat doesn't emit a funky odor once you take it out of the packaging.

Like the Traditional mat, the Luxury Tatami Coco Mat is 2 and 1/4 inches thick and comes in sizes from Twin to Eastern King. Assembly is easy enough, and there are instructions available. Also, as is the case with The Futon Shop's other products, this one comes with a limited warranty.

The price is obviously this mat's one downside. The Traditional is a much more affordable option, and people who can stomach its grassy smell will more readily spring for that mat. The Luxury is also a little bit softer due to its design, which might not work for heavier sleepers who need the firmness.
Pros
Lightweight designs
A softer, more pliable core
Also works as a yoga mat
Doesn't emit any smells
Cons
More expensive than other options
Might feel too soft for some sleepers
The Luxury Tatami Coco Mat by The Futon Shop
Mixture of natural interior elements
Lack of smells
Lightweight design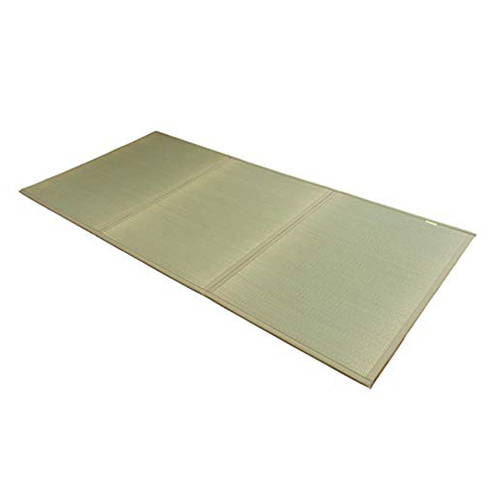 A more affordable but still very attractive option is FULI's Japanese Traditional Tatami Mat. Its Twin XL measures in at 83"L x 39"W x 0.5"T, which is thin but wide enough for a single sleeper of average size. This mat uses 100% rush grass, sourced right in Japan and is made by Japanese artisans.

Just unbox this mat and unfold it, placing it on the floor or on your futon. It will fold out into three sections. This mat is so thin because the Japanese believe that a thin, firm mat helps better align the spine, keeping a neutral position, thereby reducing back pain.

Note that this mat is made with a rush plant called Igusa. Igusa has a fresh, grassy scent, which some people love and others cannot stand. It is smooth to the touch though, which makes it usable and safe for small children. There are some reports that the funky grass smell gets worse over time, especially the more you use it.


Pros
Provides a lot of firmness
Doubles as a yoga mat
Can be used as a play mat for babies and toddlers
Has a smooth surface cover with a wide design
Cons
Igusa emits a grassy scent
The smell might worsen over time
Japanese Traditional Tatami Mat by Fuli
Thin design
Long and wide shape for the Twin XL size
Use of eco-friendly Igusa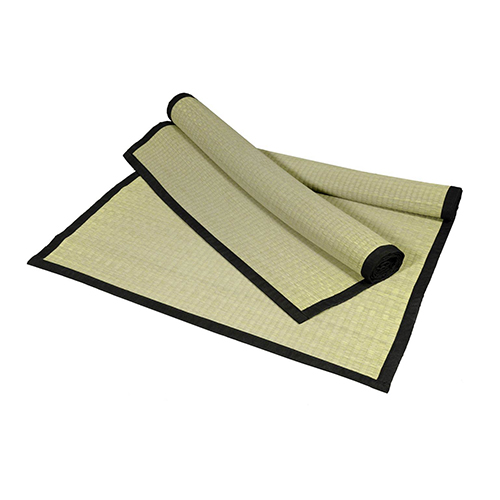 Oriental Decor has a wide range of traditional Japanese tatami mats to choose from, so you can really take your pick here. The standard mat is 6'x3', but there is also a 3'x'3 and even a smaller mat that can be used for yoga workouts. There is even a folding tatami option that sizes up to 35.5" for plenty of floor coverage.

These mats instantly look authentic, casting a Japanese vibe throughout your living space. Each comes with a sewn black border and is padded with durable rice straw for support. A moisture resistant internal barrier prevents moisture in the air from ruining the mat, keeping them in good shape for years to come.

The downside is that, if you buy either of the mat kits, they are pretty expensive. Also, shipping rates are considerably expensive for these larger items, pricing at over $300 to ship via FedEx ground within the United States.
Pros
Many sizing options to choose from
Evokes an authentic Japanese look
Made from durable inner materials
Made for multiple uses
Cons
Expensive shipping costs
Higher prices on the kits
Traditional Tatami Mats by Oriental-Decor.com
Sewn black border
Durable rice straw for the interior
Multiple sizing options
If you are in the market for a traditional style tatami bed mat, consider getting this one from Ikehiko. It is made from 100% rush grass, which, yes, does mean it will have that grassy smell for a while after you open it up. This inner design is covered by a non-woven fabric core and backing.

When left unfolded, these Japanese sleeping mats size at 39 x 83 x 0.5", but they go down to 39 x 27.5 x 1.5" when you fold them into three. This mat only weighs five pounds, so it is extremely easy to carry and use. The only thing this mat is treated with is hinokitiol extract, which is a natural substance that is extracted from the tree of Aomori Natural Hiba.

Some users do report that the mat has a chemical smell, not a grassy scent. Also, it is not hypoallergenic, so those with allergies might have allergic reactions while laying on it.
Pros
Uses rush grass for the interior
Thin but firm
Lightweight
Easily folds in three for storage
Cons
Might have a chemical smell
Is not hypoallergenic
Japanese Traditional Tatami Mat by Ikehiko
Compact design
Being lightweight
Use of rush grass from Japan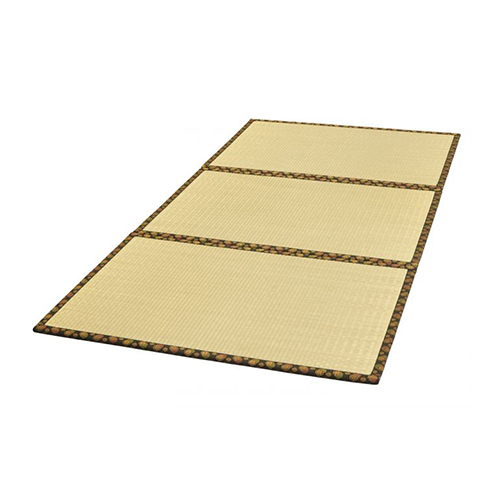 Want to get a folding mat? This one made by The Futon Shop is a tri-fold tatami bed mat that makes for easy storage when not in use. This mat is made from compressed straw and thick fabric backing to create a traditional Japanese vibe.

The mat is 1/2 inch thick and measures 37.5" x 75" x 1/2". When you need to fold it up and carry it elsewhere, you can use the included zippered carrying case to easily transport your mat. The dark gray cloth backing is breathable, allowing for optimal airflow while you rest on top of the mat.

There aren't too many downsides to getting this mat, aside from the grassy smell it will likely emit. Users with allergies might feel bothered by some of the materials too.
Pros
Lightweight design
Easy to fold and carry
Breathable backing
Japanese-style border design
Cons
Might have a grassy scent
Might trigger some allergies
Folding Tatami Mat by The Futon Shop
Breathable backing
Handy carrying case
Lightweight tri-folding design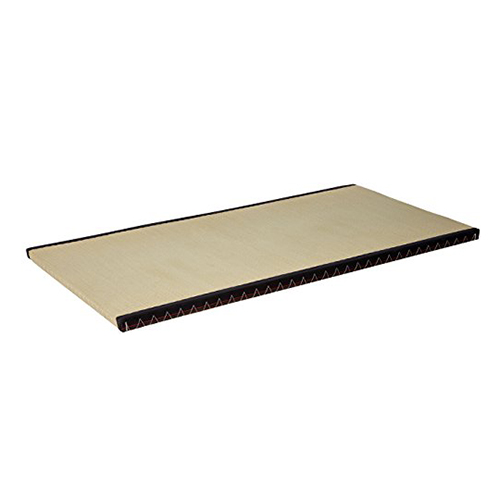 In the market for full size tatami mats for sale? This mat by Oriental Furniture might cater well to your needs. Unique and eye-catching in its design, this mat sizes in at 35.39 W x 70.88 D x 2 H inches for the Full size. The mat evokes a traditional Japanese style with its double-layered, extra-strength woven rush grass tatami with a moisture barrier backing to protect from dampness.

Inside of the mat, you will find inside is a baked Dried Rice Straw Fill for strength and durability. The mat is sewn with a black fabric border and is bound with twine to keep everything securely in place. The foundation of the mat hosts the moisture-repellent barrier.

Take note that a few buyers have found mold in their freshly arrived mats. Some buyers also feel like the sides are constructed from cardboard and that the manufacturer might be falsely advertising this product. However, many customers seem satisfied by its design and don't mind the grassy odor.
Pros
Works for a tea room
Feels sturdy enough
Affordably priced
Comfortable for most users
Cons
Manufacturers might use cardboard in the design
Some buyers have discovered mold in new products
Full Size Tatami Mat by Oriental Furniture
Baked dried rice straw filling
Black fabric border
Moisture-repellent barrier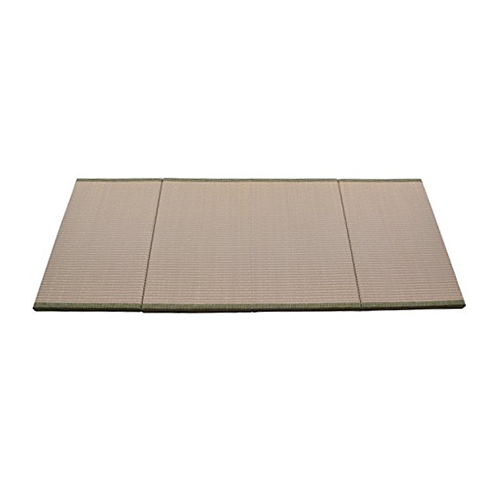 MustMat's Japanese Traditional Tatami Mattress is made from 100% rush grass and has a non-woven fabric backing that allows for support and breathability. You can buy two of these and place them together to fit a King size futon, as this tatami measures 35.4 x 78.7 x 1.2 inches. When you are not using it, you can simply fold it into four and store it just about anywhere.

If you are someone who needs extra firmness for your bad back, then this tatami might be able to help you get a better night's rest. You can also place it in your living room or lounge area to make for a comfortable sitting area. Just make sure that it is not getting exposed to the sun's rays, as they can damage the material.

Bear in mind that this is actually a light foam-filled mat with a greenish rush grass covering, so there is a little bit of foam in there for support. It is cheaper than a standard tatami but doesn't give as much lift since it is so thin.
Pros
Is extra firm
A 100% rush grass covering
Can be used as a rug or sitting area
Lightweight design
Cons
Doesn't give much lift
Might be too hard for some people
Japanese Traditional Tatami Mattress by MustMat
Handles for portability
Four-fold design
Rush grass covering
Another MustMat option is the Japanese Rattan Tatami Mat. These Japanese sleeping mats have a 100% rattan surface, which might be better if you do not like the smell rush grass produces. The rattan tatami is still an affordable option and provides a lot of comfort for those who prefer to sleep or sit on the floor. It is firm but not overly so.

When you're done, just fold it up and store it. Wipe it down with a dry cloth before you do so, and keep it out of direct sunlight. It might still be too hard for certain sleepers, and some buyers claim the interior is made from cardboard - or at least that is how they say it feels.
Pros
Lightweight design
Uses rattan, not rush grass
Easy to fold and store
Easy to clean off
Cons
Might not be soft enough
Might not be as described
Japanese Rattan Tatami Mat by MustMat
Rattan cover
Four-fold design
Non-woven fabric backside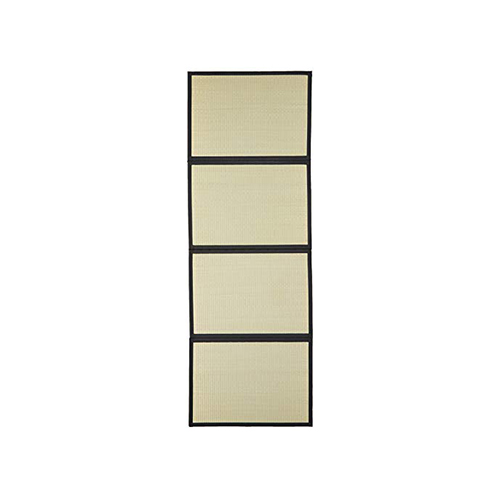 One more option we have to look at is the Folding Tatami Mat by Oriental Furniture. It is one of the most budget-friendly options on the market, and you can opt from two sizes: 27.5 inches wide or 35.4 inches wide. Both are made from bamboo and are one-quarter of an inch thick. It simply folds up into an included fabric tote back to be stored when not in use. It will work well for a small Japanese table and floor chairs.

Buyers haven't reported much off-gassing, but it does have a hay-like smell that will taper off over time. There is a risk of breakage in spots where the most wear-down happens, and it could occur within just a few months of ownership.
Pros
Budget-friendly option
Easy to fold and store
Hay smell tapers off
Quite firm
Cons
Does smell like hay at first
Might experience quick wear
Folding Tatami Mat by Oriental Furniture
Two size options
Carrying case
1/4-inch thickness
Why Buy a Japanese Tatami Mat?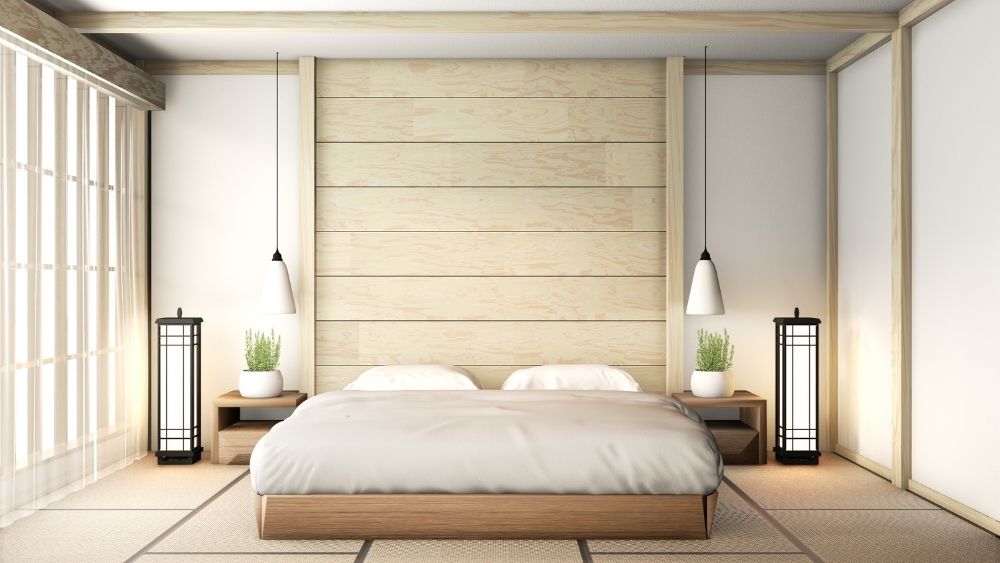 Tatami mats are thought to help create a neutral alignment of the spine, whereas western mattresses create more curvature. A straighter spine is thought to produce fewer back problems. People with chronic back pain have been trying tatami mats to help alleviate their pain.
College students and those who cannot afford mattresses are switching to tatami mats too. They are much more affordable and can be used with a futon. They are easy to fold up and store when, not in use; most of them weigh between 5 and 10 pounds, with the most heavy-duty models hitting about 20 pounds.
Japanese Mats Types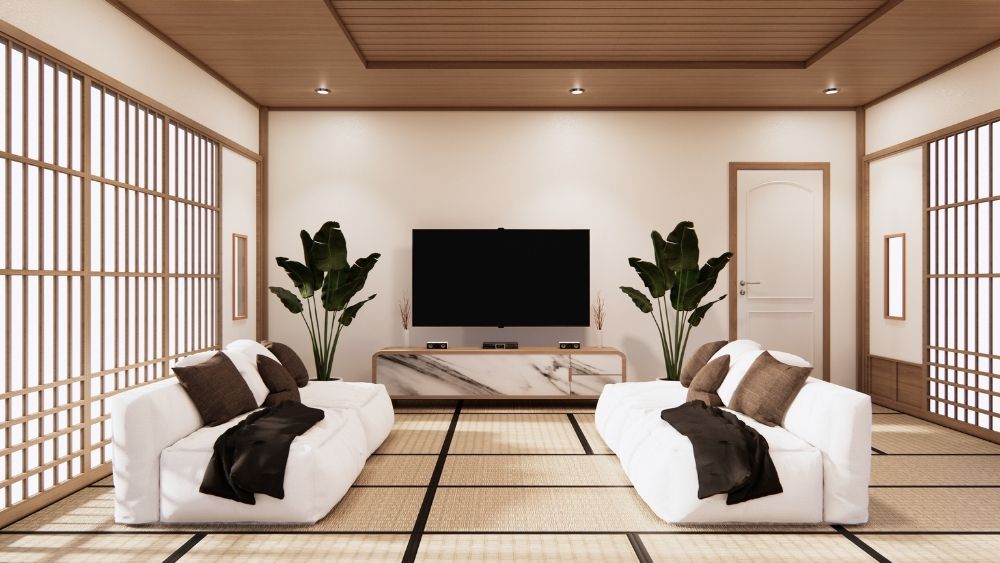 Traditional Mats
A traditional tatami is made of Japanese rush grass mixed with rice straw fill and are sterilized for export to the USA. They provide a moisture barrier against the floor and evoke a zen-like vibe in modern homes.
Bamboo Floor Mat
An alternative is a bamboo floor mat. They look modern but are odorless and, therefore, more hypoallergenic. They work well in most rooms of the house and have a no-slip design for safety.
Things to Consider Before Buying a Japanese Tatami Mat
When you go to choose one of these Japanese mats, look at the different tatami mats for sale. Look for traditional and authentic tatami mats that are manufactured under strict safety guidelines for American buyers.
Smaller mats will be cheaper, but if you are looking for bigger mats, you will find some premium deals. There are also tatami mat kits out there that you can buy to cut down on the overall price.
Tatami Mat Benefits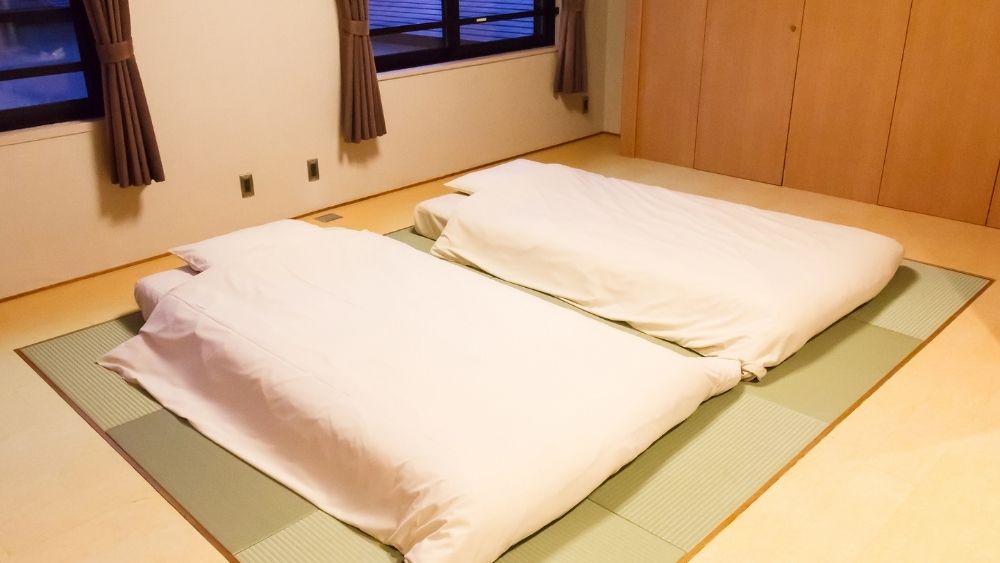 There are quite a few benefits to buying a Japanese tatami mat for use in your home. They provide more clean air for your living space since they don't trap dust and mold like mattresses and bedding do. Plus they help align your spine better as you sleep.
Also, they make your living space look more peaceful and are cool to the touch (meaning you won't sleep warm like on some mattresses). On top of that, they are quite durable since they are meant for repeated use on the floor.
Tatami Mats Sizes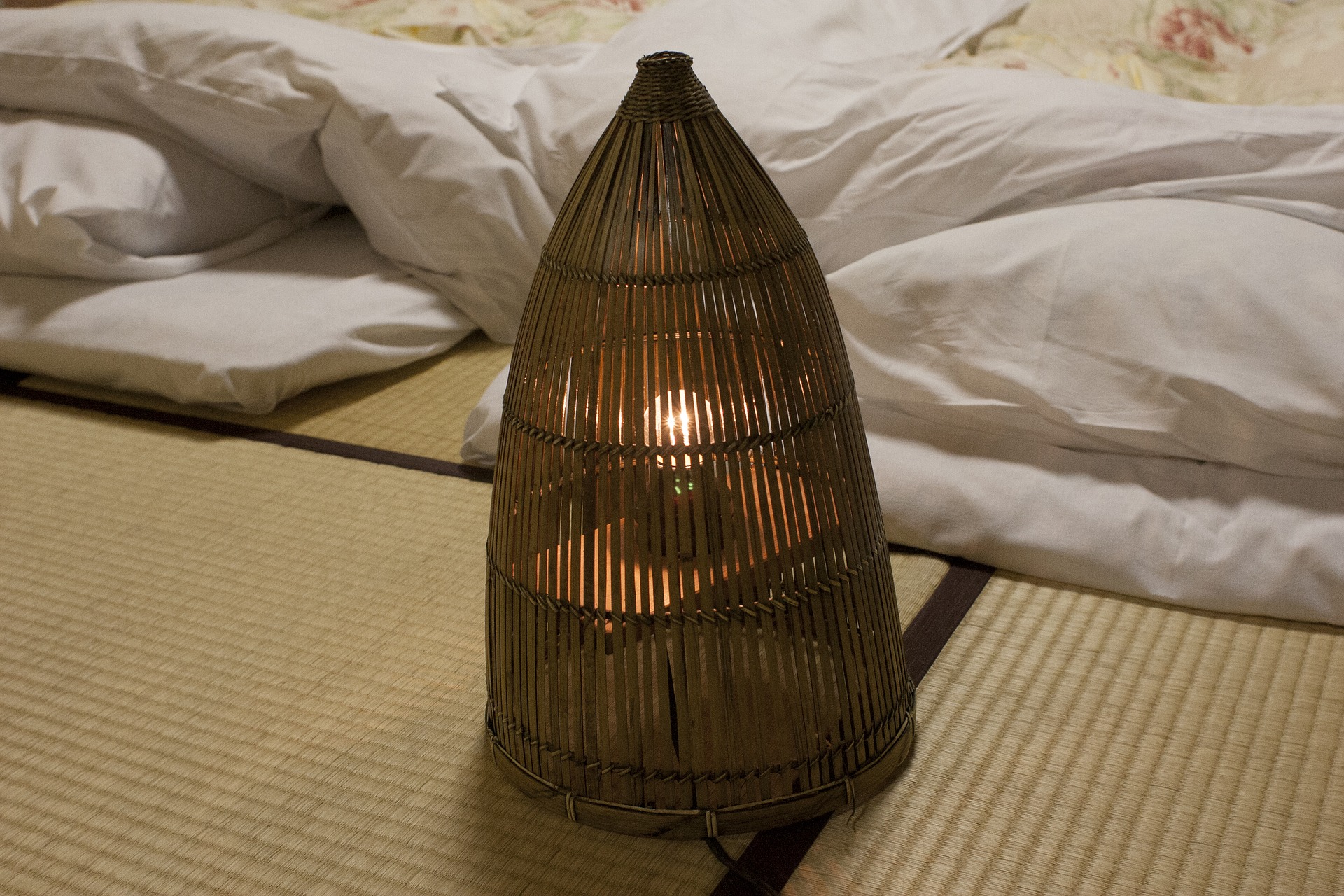 There are multiple mat sizes that you can choose from. What you get should depend on how much sleeping or sitting space you need. The standard sizes for tatami mats are:
| | Size | Weight |
| --- | --- | --- |
| Folding size mat | 35.5″ x 79″x0.25″ | weighing 4-6 pounds |
| Half size mat | 35.5″ x 35.5″x2.00″-2.25″ | weighing 34-44 pounds |
| Standard size mat | 71″ x 35.5″x 2.00″-2.25″ | weighing 65-85 pounds |
| King size mat | 34″-38″ x 71″-80″x 2.00″-2.25″ | weighing about 70 pounds |
FAQ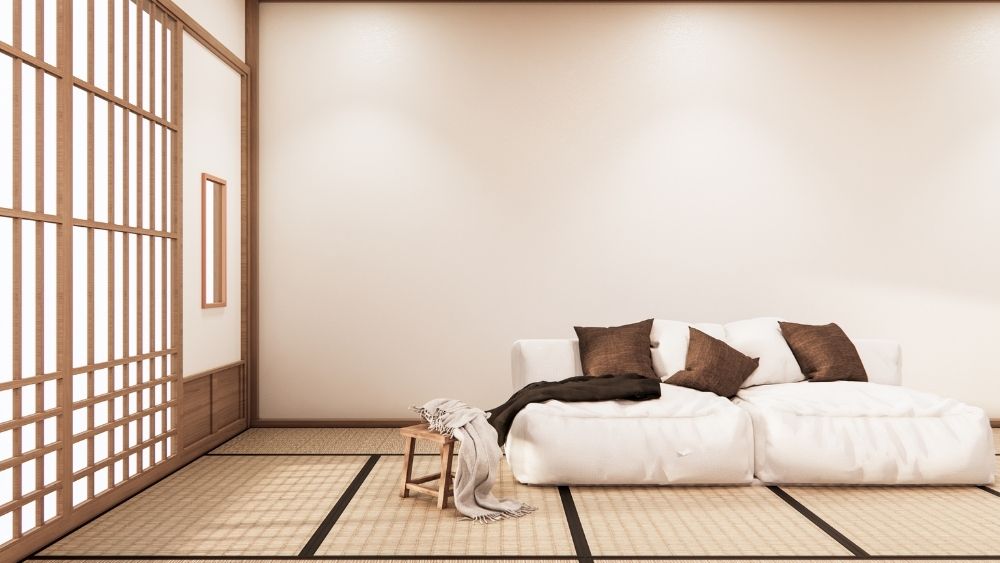 Where to Buy the Best Tatami Mats Online?

You can buy them online from various merchants or retailers, including Amazon and manufacturer websites.

Which Tatami Mat Size do I need?

Most single users need the folding size mat for basic use. If you need more sleeping space, the half or standard size should suffice. King size mats are best suited for couples or multiple kids.

What is a Tatami Mat used for?

Tatami mats can be slept on, sat on, dined on, taken tea time on, used for yoga, and even work as play mats for small children.

How much do Tatami Mats cost?

The average folding mat costs about $150-$175. The better quality ones will cost a little more.

Do Tatami Mats smell?

Rush grass does emit a hay-like scent, but it should reduce with usage. There shouldn't be any off-gassing from chemicals.

Can you sleep on a tatami mat?

You can sleep on a tatami mat, although some sleepers find them to be too firm.

How to Clean Tatami Mat?

You need to clean them with a dry cloth. Do not get them wet or use chemicals, and don't hang them out to dry.
Why You Should Try a Japanese Tatami Mat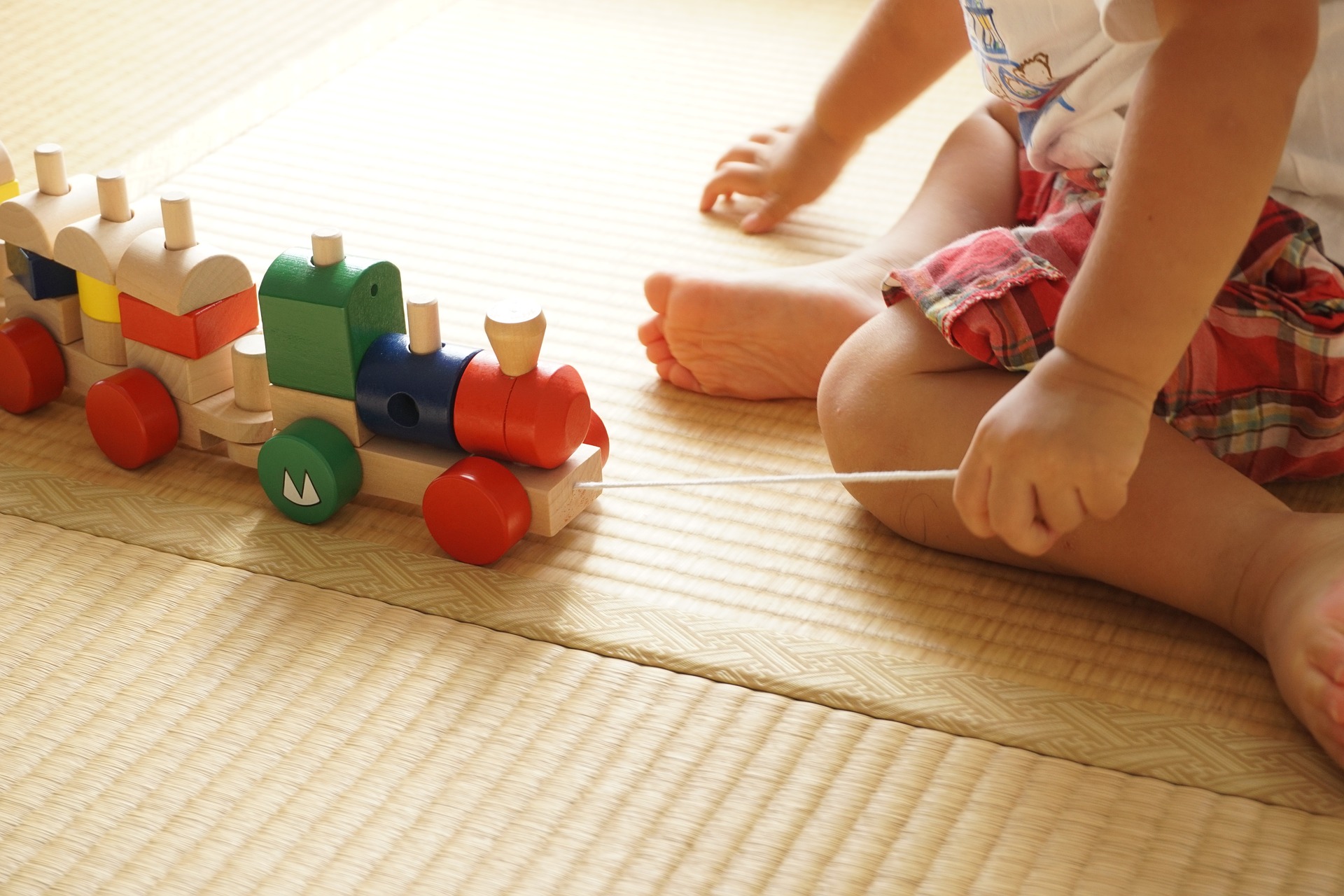 As you can see, there are a lot of tatami mats on the market right now. You can take your pick from them, and you will get something that should last you for a few good years. Treat it right, and it could be part of your living space for a long time. You can get a better night's rest and possibly alleviate some back pain by using one.
Of course, they are multifunctional. That's why I picked the traditional mat by The Futon Shop. It is definitely a traditional style mat, but it can be used for more than just sleeping. Sit on it, take tea on it, do some yoga or meditation on it – how you use it is up to you.
The Traditional Tatami Mat by The Futon Shop