Putting your feet up and relaxing in the middle of the day can be quite comfy. However, putting your feet up overnight can actually extend your life. With your legs up on a custom leg elevation pillow, you can protect the natural curve of your spine, reduce the risk of clotting and deep vein thrombosis, and improve the quality of your sleep overall. If you have been encouraged not to sleep on your side for cardiac reasons, a leg pillow can be a great investment.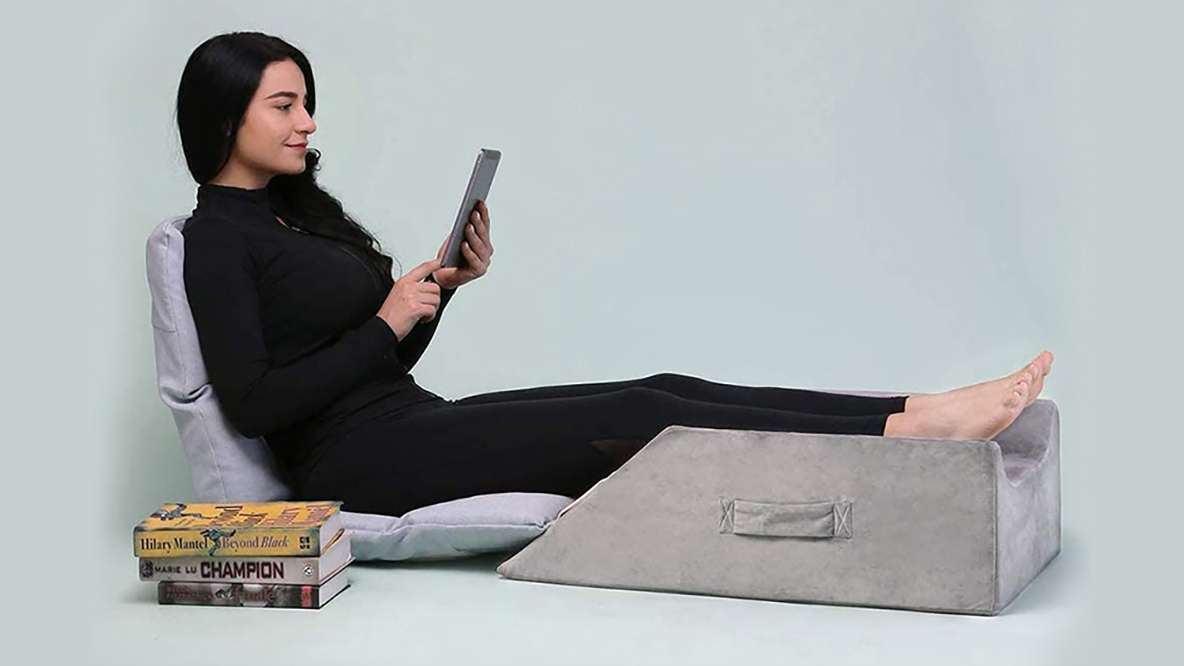 Why Buy a Leg Elevation Pillow?
Ease of Use
Leg elevation pillows are commercially produced with polyurethane foam. If you are concerned at all about the weight of moving your pillow, make sure you understand that a low density pillow will be lighter. Unfortunately, the lower the foam density, the more crushable the foam and the shorter the lifespan of your leg pillow.
Additionally, it's a good idea to look for a pillow that comes with a removable, washable cover. Foam does tend to store body heat, which can build-up and make you sleepy overnight. However, if your legs are long enough, you can leave your feet uncovered and direct a fan to keep your feet a bit cooler over the course of the night.
Affordability
One leg pillow can pay for itself quickly if you are struggling with trips to the doctor for
Sciatic pain
Swelling
Varicose vein pain
You can get a good quality leg elevation pillow for less than $50. Even if it only lasts a year, you will get great sleep for just over $4.00 a month!
Comfort
Invest in a pillow that will suit the length of your legs. If you're very tall or very short, you may need to be ready to either combine pillows or trim your pillow. If you choose to get a pillow that has a channel for each leg, make sure you won't end up pressing against the foot base.
Warmth
If you struggle with heat build-up on a foam mattress, consider investing in a memory foam leg elevation pillow. Make sure you get one with a washable cover, and understand that a velour cover might be cozy in the winter but could be quite warm in the summer.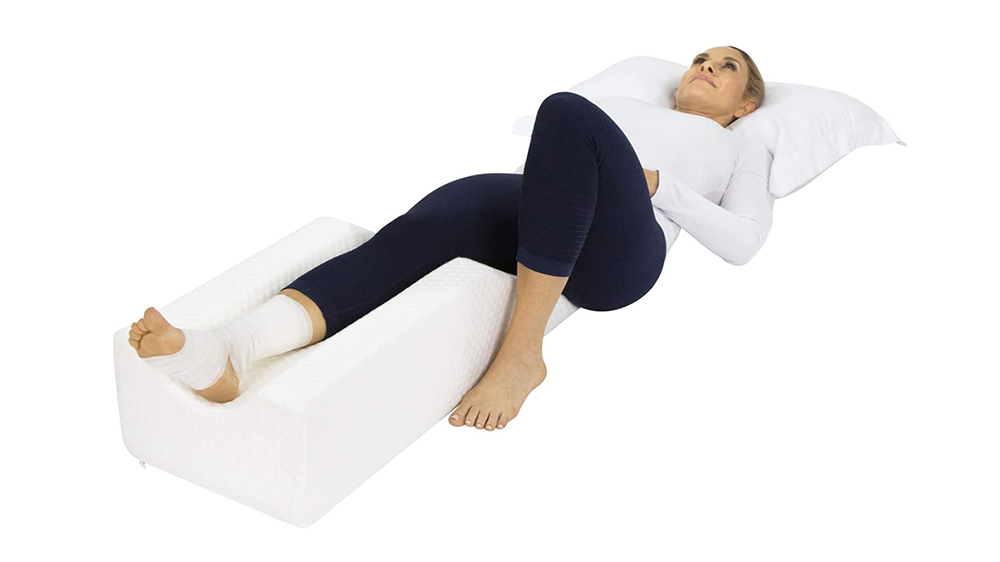 7 Best Leg Elevation Pillows Reviews
The Restorology Elevating Leg Pillow is a simple wedge pillow that can be used for any part of your body that needs elevation. This pillow is made of breathable foam and has a washable cover. If you are stuck in bed for a recovery or if you're on bed rest during pregnancy, this pillow can be extremely effective. It's just 17 inches by 17 inches and elevates your legs to 7 inches via a short ramp. While it will keep your legs off a flat mattress, it's low enough not to leave you feeling unbalanced. The cover is non-slip, so once you're comfortable, you can drop off to sleep in confidence.
Pros
Cover is easy to remove and wash. The fabric is plush and has some grab. No sliding around!
This wedge pillow for legs is made of dense foam. Though this pillow is less than 5 pounds, it offers firm support.
Cons
If you need memory foam, this may not work for you.
The cover may trap too much heat for some users.
If you are icing an injury, you will need to put down something waterproof between your leg and your leg elevation pillow to keep things dry.
Restorology Elevating Leg Pillow
The LuxeLift Cooling Leg Pillow is an elevator pillow with a lot of options. You can use this is afoot elevation pillow, a leg elevation pillow, or an upper-body elevation tool. This elevation pillow offers a silky bamboo cover that can easily be removed and washed. There is also a layer of egg crate gel-infused memory foam to keep you cool and promote more air movement around your elevated body part. This pillow is adjustable and can offer from 8 to 12 inches of lift.
Pros
Egg crate memory foam will keep you cooler as you sleep.
The whole pillow weighs less than 5 pounds.
The cover is soft bamboo and comes with a carrying handle.
Cons
This pillow takes 24 hours to expand after shipping and some users find the memory foam odor unpleasant.
The cover is quite soft and maybe slippery against your bedding.
If you need a pillow to lift your knees and hold your feet out flat, you may find this leg wedge pillow quite uncomfortable. It does adjust, but your feet will either drop off after the knee support or angle straight up.
LuxeLift Cooling Leg Pillow
For many side sleepers, sleeping on a leg lift pillow is incredibly uncomfortable. If you need to stay on your side for quality sleep but also need support for your legs at multiple points, the ComfiLife Orthopedic Knee Pillow, singly or at several points, can make a huge pillow. This small memory foam-shaped knee pillow can be used at the knee, or paired up and used at the thigh and calf to keep the knees separated and supported without putting pressure on them. This small pillow is just over 6 inches thick and less than 10 inches long, so your pillow won't get in the way of your partner's sleep quality while it supports your legs and spine.
Pros
This small pillow is quite discreet and shaped with enough curves that it won't' move around.
The memory foam will reduce the risk of heat build-up.
The cost is low enough that two pillows will fit both in bed and budget.
Cons
The angles are quite sharp; this pillow may catch on your bedding.
This is a small pillow. If your legs are very long, one won't be enough.
This is a very soft pillow. If you need more space, this pillow probably won't serve.
ComfiLife Orthopedic Knee Pillow
If you just need a bit of support to take the stress off your lower back, the Cushy Form Half Moon Memory Foam Pillow is a terrific addition to your sleeping area. This pillow has an easily removable organic cotton cover and is less than 5 inches tall. However, it is twenty inches wide and 8 inches deep, so as a knee or neck support, it should stay where you need it all night long. The Cushy Form pillow is made of memory foam and should protect against heat build-up.
Pros
This soft pillow can be squashed into a suitcase for comfy sleep anywhere!
The lift of this pillow is just enough to reduce pressure on your back.
Cons
This pillow is very soft. If you need hearty support as well as a cushion, it may not be enough.
The cover can be slick against your bedding.
Out of the package, this pillow may have an odor.
Cushy Form Half Moon Memory Foam Pillow
If you need to both flex your knees and elevate your feet, the Xtra-Comfort Leg Elevation Pillow in brown or white may be just what you need. This pillow is especially beneficial to those who are a bit longer of the leg; from the start of the wedge to the end of the 8-inch elevation, you can enjoy 27 inches of support. Additionally, this pillow is only 16 inches wide, so you won't be taking up a lot of real estates and keeping your partner awake. The Xtra-Comfort Leg Elevation Pillow has a firm foam wedge covered with gel-infused memory foam to move air and reduce heat build-up. The cover is a washable polyester that is easy to remove.
Pros
The cover is pretty enough that you can leave this pillow on top of the bed if needed.
The foam base is quite firm and should last for as long as you need the pillow.
Cons
If you're short, you may struggle to keep your feet warm as they will not hang over the edge of the pillow.
This pillow is quite firm, which can be off-putting for some users.
The polyester fabric may snag or pill up.
Xtra-Comfort Leg Elevation Pillow
The Contour Legacy Leg & Knee Support Pillow is an excellent option for side sleepers who struggle with low back, hip, or knee pain in the night. It's designed to stay between your knees as you sleep to protect your hips from twisting. Unlike the traditional "dog bone" style of knee pillow, the Contour pillow is longer and supports more of the leg. This pillow is made of ventilated memory foam and has a removable cover for easy laundering.
Pros
If you struggle to stay on your back but also wake up with sore hips or a tight back, this pillow can support you as you sleep on your side.
The memory foam reduces heat buildup and the shape will slide against bedding instead of twisting up in it.
The longer pillow works for taller sleepers and reduces pressure on the inside of your knees.
Cons
While this is a comfortable pillow, if you must stay on your back, it won't help.
It is possible that the odor of memory foam will be unpleasant.
The zipper can catch on to bedding.
Contour Legacy Leg & Knee Support Pillow
If you are recovering from an injury or surgery and just need to protect one leg, the LightEase Support Leg Pillow is a great choice. This memory foam pillow has a handle for easy storage, a removable velour cover that washes up beautifully, and a wide enough channel that your booted foot will fit. From the initial wedge to the end of the pillow, this whole pillow is 13 inches wide, 29 inches long, and 9.5 inches high.
Pros
This pillow will stay cool and offers enough room in the channel for your cooling pack or your boot.
The LightEase is taller than many leg elevation pillows, making it ideal to reduce post-injury swelling.
Cons
This pillow is rather wide. You may struggle with some hip discomfort if you need to use it for too long.
The velour cover offers a great grab, but if you need to adjust the blankets in the night, you may put too much pressure on your injured leg.
LightEase Support Leg Pillow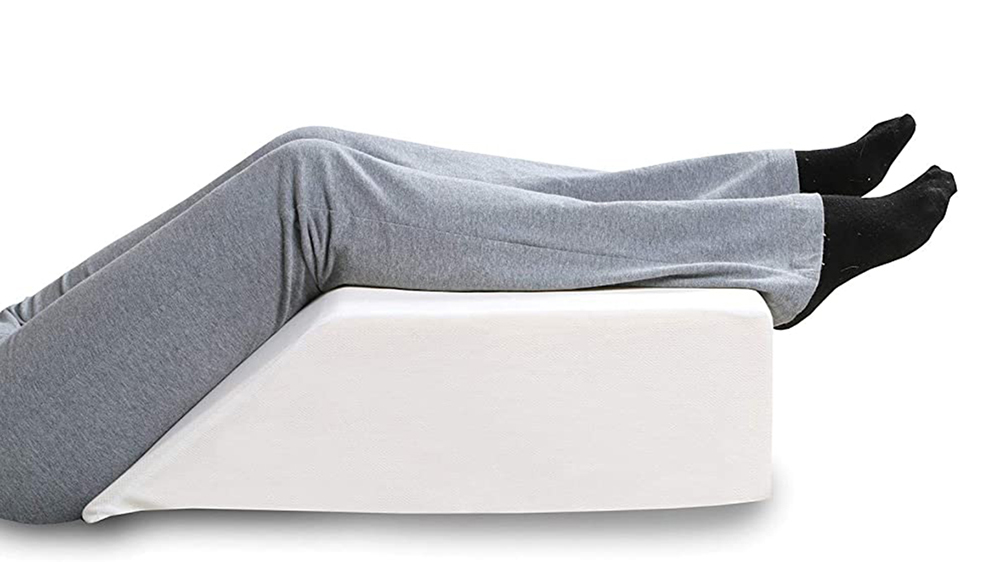 Things to Consider Before You Buy
Comfort
It's important to note that there's a difference between a wedge and a leg elevation pillow. A properly sized leg elevation pillow will lift your knees and hold your feet out straight from the top of the lift. A lift will work for your legs, while a wedge is best for your upper body.
Size
If you struggle with restless leg syndrome, you may want a channeled pillow with spots for both legs. This may be a lot of pillow if your bed is small.
Price
Being tired all the time is miserable. Consider starting with the cheapest version you think will work and upgrading as needed for best results.
Heat
Foam holds heat. Memory foam with a gel cushion will shed it more effectively than a plan polyurethane foam. If you're a hot sleeper, go for the gel.
Weight
Most of these pillows are very lightweight. However, if you find that you need an elevator for your legs and a wedge for your shoulders, look for the narrowest options available to avoid moving too much heavy bedding on laundry day.
Density
High-density foam will last the longest, but has a crisper feel than a memory foam cushion. Most of the cushions reviewed above have a soft cover that will elevate the comfort level of your pillow choice.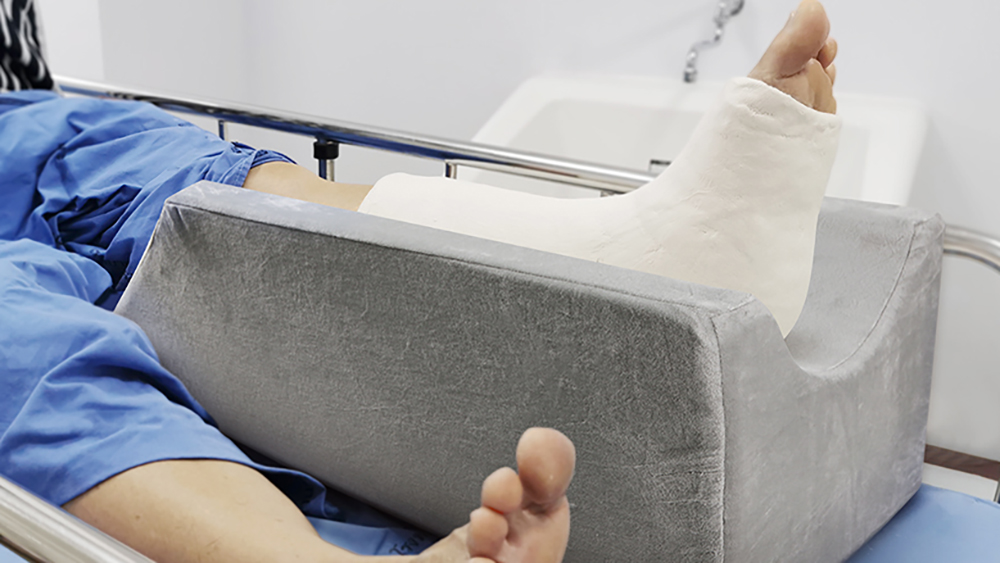 FAQ
What is a leg elevation pillow?

A leg elevation pillow lifts your legs at the knees. Some allow the feet to drop on the far side of the lift, and some keep the feet at the top of the knee lift.

Do leg elevation pillows work?

A leg elevation pillow can reduce the risk of swollen feet, lower your risk of clotting and deep vein thrombosis, and take pressure off your spine.

Why use a leg elevation pillow?

If you are suffering from swollen feet because of an illness or pregnancy, an elevation pillow can help. If you have restless leg syndrome, keeping your feet up can reduce excess movement. Finally, if you struggle with low back pain, a leg elevation tool can take pressure off your sciatic nerve.

How high should a leg wedge pillow be?

For best results, stay under 10 inches high. A shoulder pillow can be higher, but a leg wedge should not pull on the hip.

What is the best leg elevation pillow?

The one that is the right size and density to allow you to sleep better than you did before you got the pillow. If you're not sure which to use, consider discussing it with your doctor or your physical therapist.

Is it healthy to sleep with legs elevated?

Sleeping with your legs elevated is a wonderful way to protect your spine and support your kidneys and cardiovascular system.

How long should you elevate your legs for?

If you are recovering from an injury, you may find a leg pillow to be intrusive once the injury has healed. However, some with chronic conditions find a leg wedge to be an ideal permanent addition to their sleeping space.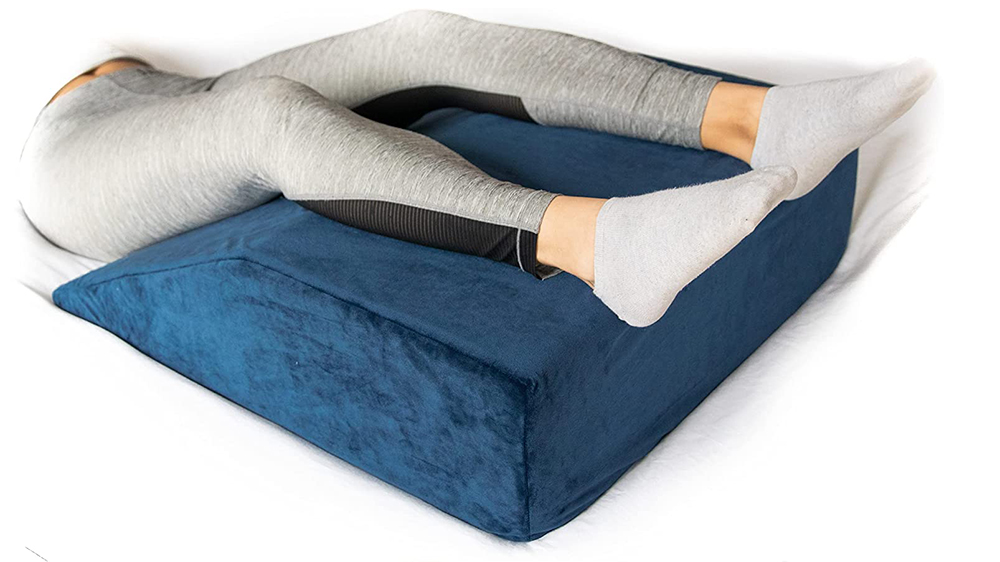 Kick Back and Put Your Legs Up!
If you're already struggling to get enough rest, more bedding may not seem a logical choice. However, with the right pillow, you can stop waking up from leg pain, back pain, and even reflux or GERD. Supporting your knees and elevating your feet can go a long way toward protecting your kidneys, your heart, and your brain if you are at risk of deep vein thrombosis. The Restorology Elevating Leg Pillow is a great choice for someone who needs a bit more support for their knees. It's easy to care for, quick to wash up, and lightweight enough that you can move it from bed to recliner and back again. Whether you're dealing with a chronic condition or a short-term need, this pillow is a budget-friendly way to get better sleep.
Restorology Elevating Leg Pillow