If you love the minimalist look but don't want to give up your innerspring mattress, you can still enjoy the long, low look offered by low platform beds. These slatted frames can support any mattress, from foam to innerspring, and don't need a box spring to both protect the mattress from crushing and keep you off the floor.
With a platform bed, you don't need stairs for your pet or your child to crawl in bed with you. There's much less risk of rolling out of bed for all concerned, and you may even find that you sleep cooler since you're closer to the floor.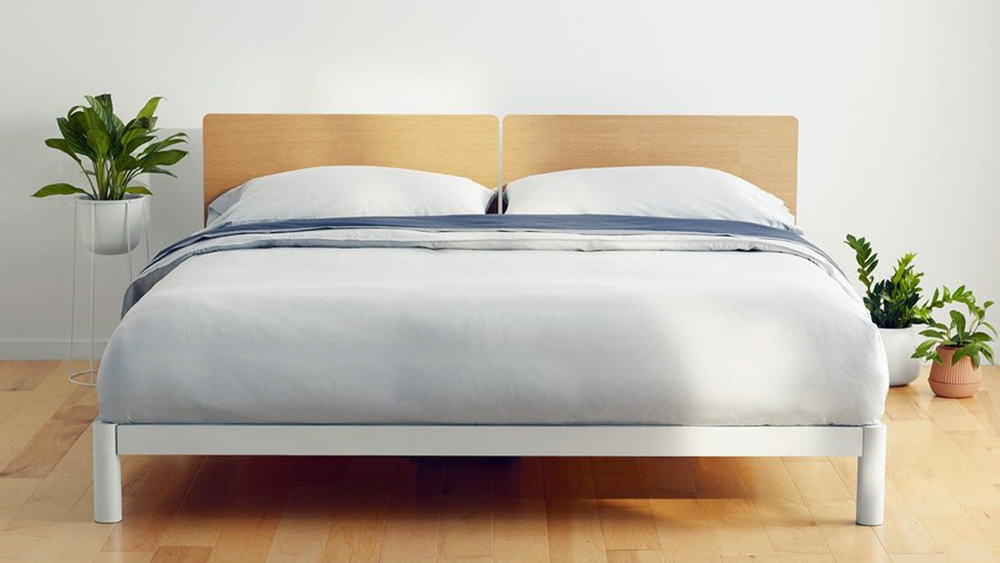 What is a Low Profile Bed?
A low profile bed is simply a bed that sits closer to the floor without requiring that the mattress be on the floor. You can get low platform beds with a wooden box frame that supports the slats, leaving no gap at all under the bed, or you can get these frames with under bed storage drawers already attached.
One of the biggest benefits of a low profile bed is that you can skip the box spring. If you've ever wanted to add a mattress to a loft, you know the pain of trying to get a box spring up a tight set of stairs. However, a low profile frame can open up your options.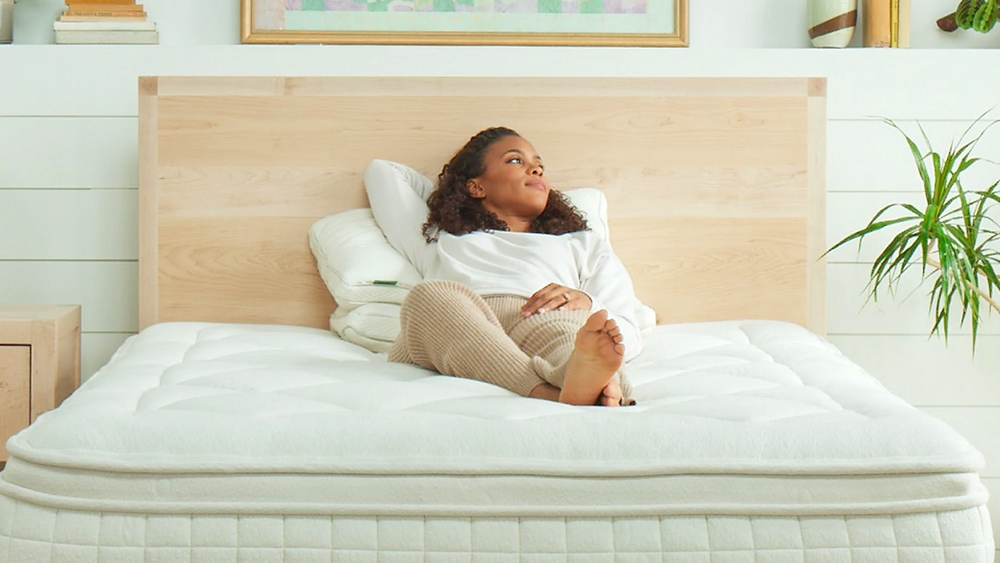 Benefits of Low Profile Bed Frame?
Putting low platform beds in a small space can make the room appear larger.
The mattress itself will stay cooler as it's closer to the floor.
Shorter people, smaller pets, and children will be much safer getting on and off a low profile frame.
You can turn a simple tray into a nightstand.
You can go vertical with storage instead of dragging tubs out from under the bed.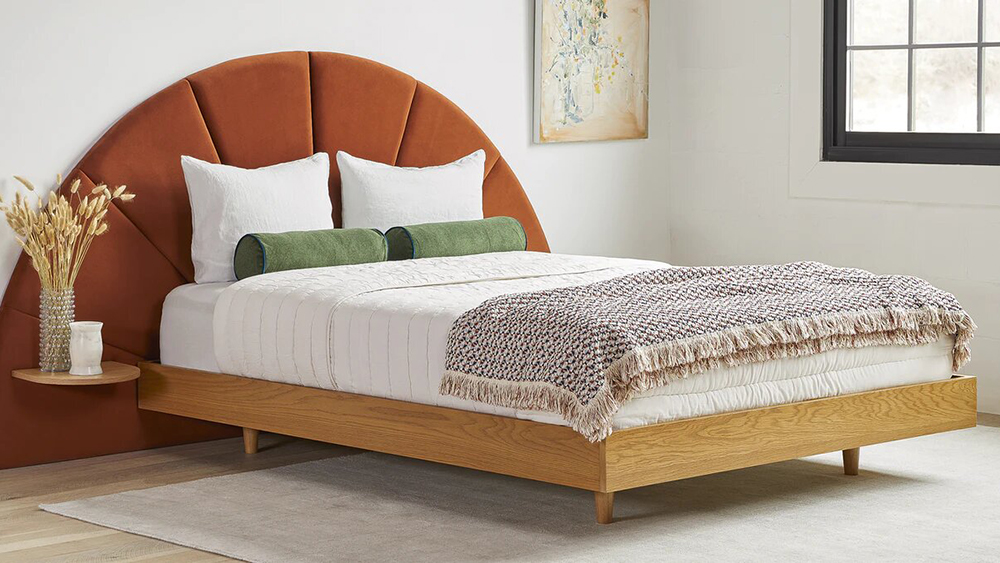 Difference between Platform Bed Frame and Standard Bed Frame?
While low platform beds rest the mattress on slats, a standard bed frame needs a box spring to protect the mattress from crushing damage and to provide airflow. It should be noted that all mattresses need some type of support. Placing any mattress directly on the floor can increase your risk of moisture build-up and lead to mildew, bacteria, and other damage.
However, if you need a bed that is closer to the floor than a standard bed frame, using a platform bed frame will allow you to keep your favorite innerspring or hybrid foam and innerspring mattress in excellent shape without dealing with the bulk of a box spring.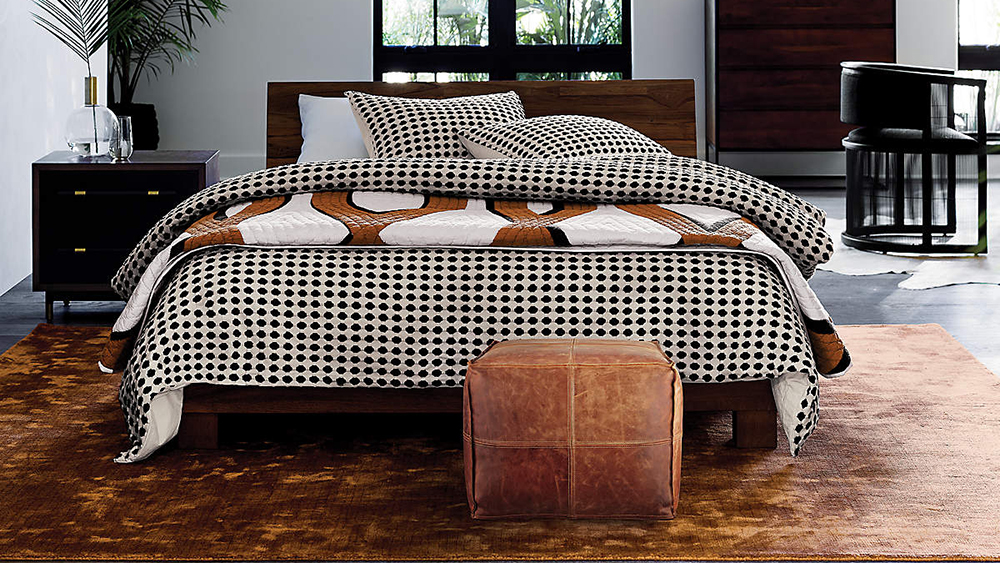 Best Low Profile Beds Reviews
In the world of low platform beds, many shoppers are looking for a frame that can grow as needed. The Floyd Bed by Floyd offers a great deal of flexibility. You can buy the basic platform frame, choose to add a headboard in the future and add a pullout drawer for later use. This frame has a simple metal leg design that puts the pressure on the floor without adding the single pressure point of a leg, poking down into carpet, or pressing into solid surface flooring. It's quite easy to assemble and easy to customize as needed.
Your Malibu Platform Bed Frame by Avocado will be environmentally friendly, comfortable, and excellently suited to your decor. This bed frame is made of reclaimed wood and features a low slat base for great airflow. You can also add a headboard to suit your taste. These bedframes do not use any formulated wood products that will outgas and release toxins into your sleeping space. Products not made of reclaimed wood are constructed of hearty, sustainable maple.
The LAX Platform Bed by MASH Studios features the styling of the earliest low profile beds with a modern add-on headboard that offers both comfort and storage. This platform bed has a low-luster linseed oil finish that you can keep looking great with a mild detergent. You can also re-polish this wood with a simple layer of linseed oil on a lint-free cloth. The finish on the lumber is a medium wood tone and the headboard has a soft fabric cover, ideal for supporting a pillow.
If you love a minimalist look, the Simple Black Metal Bed Base by CB2 is a great choice. These low profile beds offer value by offering durability and nothing less. There is six inches of clearance under this bed if needed, but the lines may be more appealing with nothing under this bed at all.
If you love the idea of a fabric covered platform bed but need a bit more flexibility, the Justina Platform Bed Frame by Zinus is a great choice. This bed features a metal frame with slats, wooden legs that screw in, and a removable cover that you can hook in place and remove for laundering.
Not everyone has multiple wood tones in their decor. These folks will love the Nein Bed by Medley. This line of low platform beds has a fabric cover that offers both visual softness and simple colors to better coordinate your home.
Fans of Japanese design will love the Bed by Thuma. Not only is this a sturdy, lovely piece that is easy to put together, but the finishing touches are remarkable. The joinery features a lock upon lock design, so each new member makes the piece more secure. When you go to add the slats, you'll enjoy the fleeces wraps that keep them spaced for quiet and comfort.
If you love the look of wood and you've never heard of Tasmanian Blackwood, you are in for a treat! The Juniper Platform Bed by Apt 2B is one of the few low profile beds that could have been designed 50 years ago and will match almost any decor. The slightly inset legs have a sturdy flair that will look great over a rug or hardwood. The underside of this frame is also Tasmanian Blackwood, making this bed beautiful from all angles.
Those who love the glow of real teak will be excited to find it in low profile beds at last! The hearty Dondra Teak Queen Bed by CB2 is both a slanted headboard and slatted low profile bed frame in one. The square, chunky legs give this bed a very sturdy look that will stand the test of time. The headboard offers a slight lean for those who love to read or catch a bit of television before bed.
If you love the look of wood, finding low profile beds that don't disappear in the space can be a challenge. However, the Platform Bed Frame by Lull is a great option. This frame is designed to support a Lull mattress, though most any mattress can work on a slatted frame. Bringing this together is fairly simple. The legs affix to the top and bottom of the frame, then the square is hooked together. Next, the center rail is hooked into the top of the bottom of the frame and the slats are laid in the grooves.
If you love the look of wood joinery, the Natural Wood Frame by Helix is an ideal choice for your minimalist home. These beds are extremely durable; the Twin and XL Twin can take up to 500 pounds and the larger beds are rated for three times that amount. The finish can be a simple pine or plain white, making this platform bed an ideal choice for simple decor.


If you're looking for low profile beds with modern styling, the Platform Bed Frame by Casper is a great option. These beds offer aluminum hardware and a powder coated frame for long-term corrosion protection, beech slats for durability, and laminate MDF lumber for a pretty headboard. You can choose to add a headboard, or simply go with a frame in the color of your choice.
The Basi Oak Bed Frame by Article makes it easy to add a warm wood tone to your sleeping space. It should be noted that this bed is made of oak veneer plywood, rather than solid oak, and is finished for easy cleaning. The round legs are solid oak and stained to match the plywood. Like many low platform beds, this frame offers a center beam from top to bottom for increased durability.
For plush simplicity, the Cayman Platform Bed by Pottery Barn is a great choice. Like many low profile beds, this frame has no headboard. However, the frame can be kept visible with a bit of blanket tucking, which means that you can enjoy the lovely finish options. From pale Biscotti to lush Coffee Bean to Warm Black, you can find a wood tone that will suit your space.
If you love the look of simple wood, the Neiden Bed Frame by IKEA is an excellent choice. This frame has a simple headboard built in and offers just over 7.5 inches of clearance for under bed storage bins. Each of these pine frames can be left plain or stained; if you plan to leave it plain, clean with care so you don't inadvertently damage the wood grain with water or chemicals. The slats on this bed are slightly bowed up to support your mattress now and in the future.
Why buy a Low Profile Bed Frame?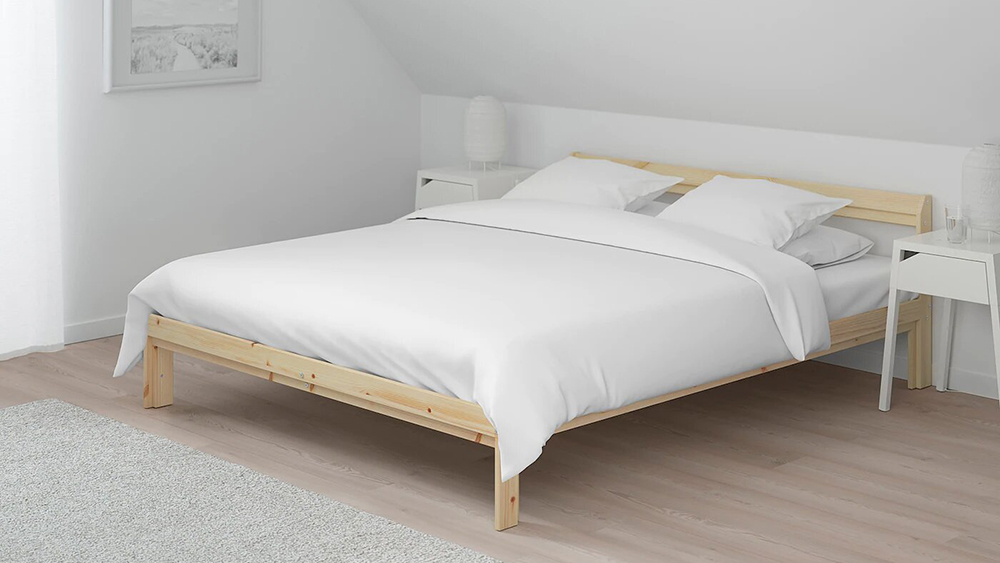 A mattress on the floor puts you at risk of mold and mildew. It can also put you at risk of spiders and mice in your mattress. Even low platform beds can provide airflow under the mattress and make it easier to get up off your bed upon rising. With the right slats in place, a low profile bed frame can also provide support for mattresses including foam, innerspring, or hybrid. If you don't have a box spring or just don't like the look of a high, plush bed, a low profile frame can be an ideal option.
Things to Consider Before Buying a Low Profile Bed Frame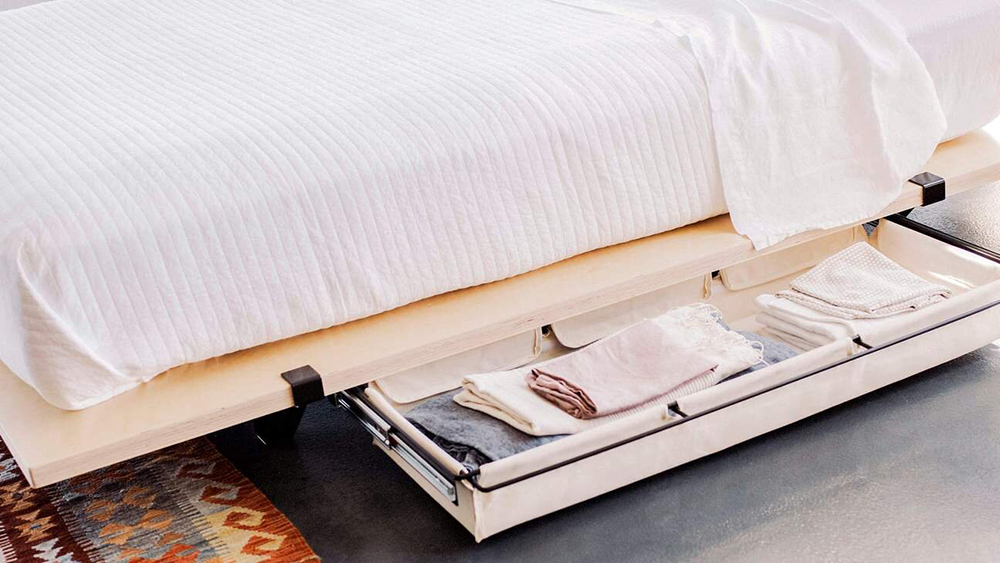 Comfort
Even a low bed frame will give you air movement and prevent moisture build-up. It will also give you gentler support than a hard, flat expanse of floor. All the low platform beds of this review offer some airflow openings in the platform that directly touches the mattress.
Size
While low profile beds don't provide a great deal of height, you can get a great quality frame in the largest king frames. Not only will these low bed frames keep your mattress ventilated and less likely to develop mold or serve as a host to bacteria, but you can enjoy a very large bed in a smaller space that won't look like a mountain range in the middle of your bedroom.
Price
You can get a low profile bed frame from a traditionally lower-cost retailer like Ikea, or you can buy one made of organically grown maple or reclaimed wood. If you are set on a low profile platform bed for your sleeping comfort, you can probably find one within your budget. No matter which floor bed frame you choose, you will provide a lot more protection to your mattress than if you laid it on the floor.
Portability
Most of the low profile bed frames in this review are quite easy to assemble, disassemble and move. If you need a low queen bed frame that you can easily break down and take to a new bedroom or a new apartment, a low profile platform bed frame may make your next move a lot easier.
Ease of Access
These low platform beds will be easy for anyone of nearly any height to access comfortably. It will keep your mattress from filling up with moisture, dust, and mildew. It will also be a great option for parents that often wake up with a bed full of little ones. Carefully review the amount of wood on the rim of your mattress before you make your final choice; this wooden platform could easily scrape the back of a leg as you get out of some of these beds.
Ease of Relocation
Most of the beds in this review have at least some legs that will make it easy to clean under. However, there are platform beds that will feature wooden rails that sit directly on the floor. If you aren't absolutely sure where you want your bed to go, you may want to settle your bet on furniture glides appropriate to your flooring until you have made your decision.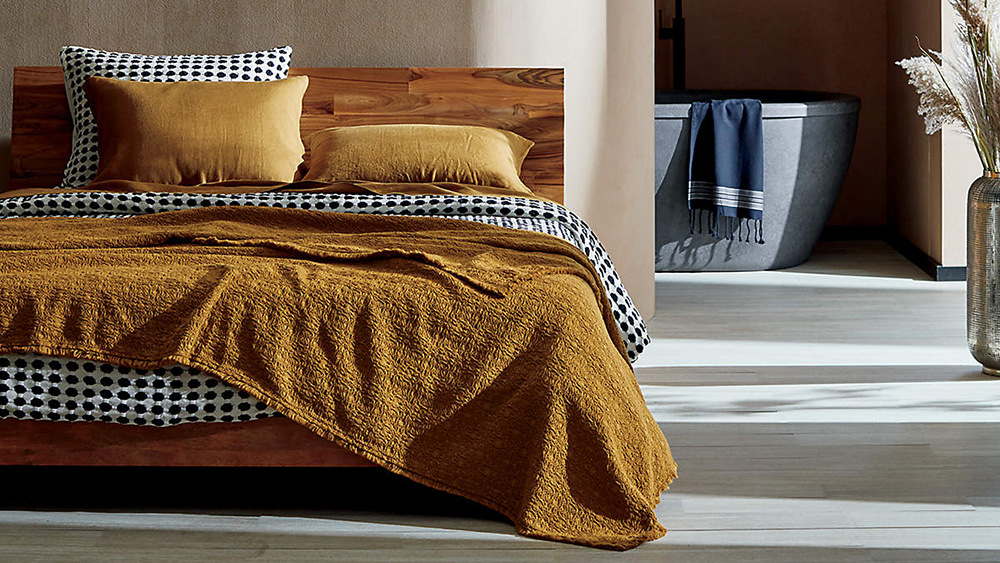 FAQ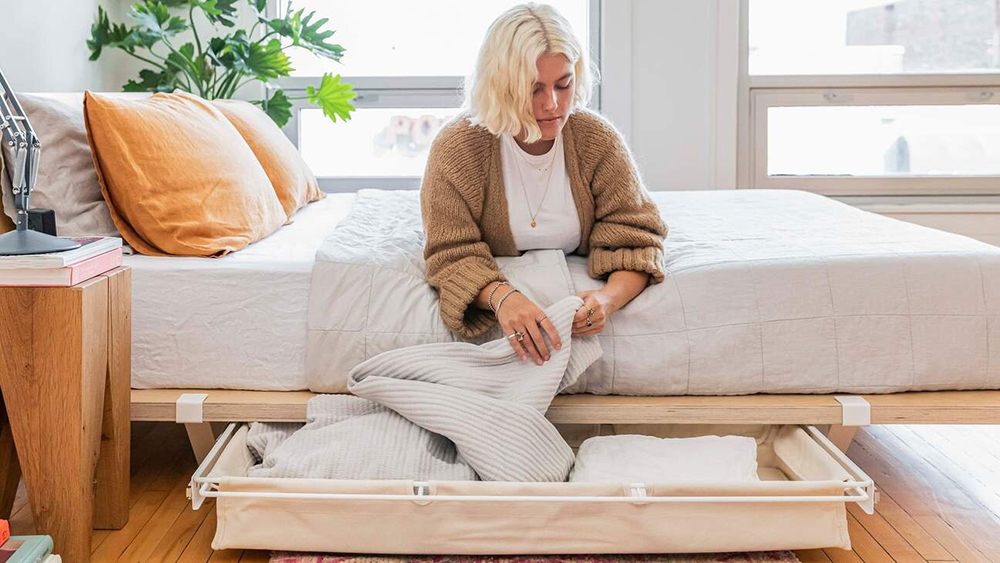 Settle In, Sleep Deep
For the easiest assembly and most versatile low profile platform bed frame, The Floyd Bed by Floyd is an excellent option. If you want a headboard, you can add it. If you want storage, you can add that. If you just want a bed that you can easily disassemble and take to your new bedroom, sleeping loft, apartment, or home, you will have that too. If you've ever avoided a purchase because of a bad experience with the phrase "some assembly required" you can be confident in your Floyd bed. The brackets that make up the frame require a few screws and offer great sleep in a short time.