When you go to buy a mattress, you might be thinking about how much comfort you need for sleeping at night. But what about… well… those times you are on your mattress but not sleeping?
I'll be quite blunt here: You can find a great mattress for sex and sleep. We're all adults here, right? So we know that finding the right mattress for a fun romp in the hay is just as important as finding one that is great for sleeping on. So why not buy a mattress that has both qualities going for it?
In this review, I will go over ten of the best mattresses for sex as well as the best bed frame for sex. You need to know that your bed and its foundation are going to hold up quite a bit of wear and tear. And these picks should give you a good idea of where you can buy the right mattress and frame online.
The Best Mattress For Sex
The Best Bed Frames For Sex
The Best Mattress For Sex: Top 10 Reviews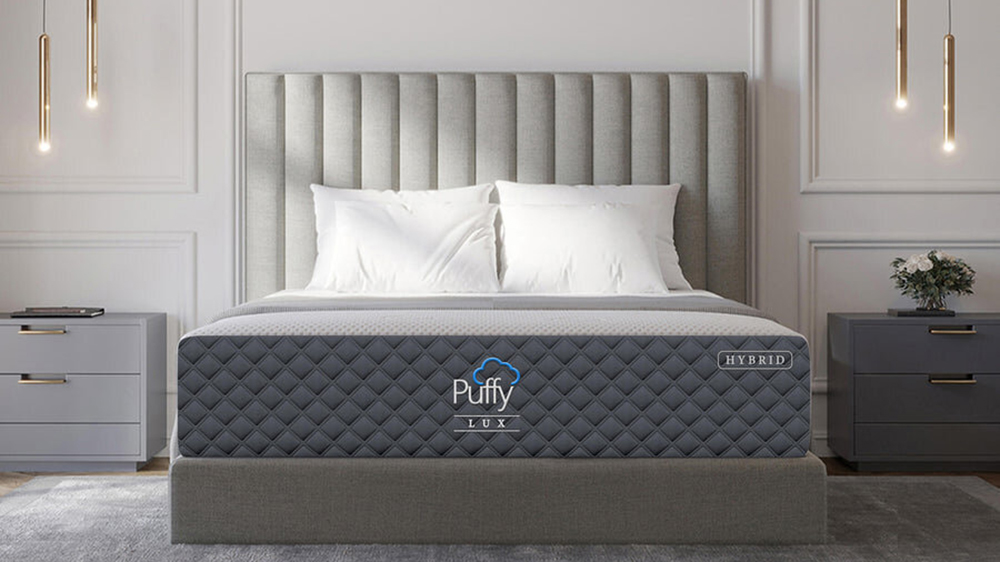 My absolute top pick for the best bed for sex is the Wave Hybrid by Casper. You might enjoy sleeping on it for its continuous ergonomic zones that come with gel pods as they can provide better spinal alignment while you sleep. But it is also a great mattress for sexy times since it has resilient springs that create airflow, bring more lift, and prevent mattress sinking.

While you will probably work up a pretty intense sweat, you can relax afterward thanks to the AirScape 3 + cooling gel technology, which stops you from overheating as you rest. Users liken sleeping on this mattress to sleeping on a cloud, and you will probably get a similar sensation while making love on it.

The one drawback that buyers mention is the price. There are mattresses out there that cost half as much, and some sleepers were disappointed that this bed wasn't exponentially more comfortable given the elevated price tag. Also, it isn't really geared toward curvy side sleepers, as it will likely feel too firm.
If you experience a lot of back pain and need a comfortable and supportive mattress to rest on after a fun frolic, then you might want to check out the Classic mattress by Saatva. It is one that a lot of people with various back problems tend to get because of how supportive it is.

With this bed, you can choose from two height profiles: an 11.5-inch or 14.5-inch profile is available. Sizes range from Twin right on up to a Split Cal King, so you can find a good size option for a couple. You can also pick from a Plush Soft, Luxury Firm, or Firm feel to the mattress, depending on your comfort level. This mattress comes with a 180-night in-home trial period and 15-year warranty. In-room delivery and set-up is free, as is the removal and disposal of your old mattress.

This mattress has a durability that comes from its dual-coil design. The coils are made of recycled carbon steel that has been tempered three times over for ultimate sturdiness. Saatva's Lumbar Zone Technology works to align your spine as you rest, alleviating back pain and stiffness in the morning.

The downsides that buyers most commonly report involve the firmness level. Some state that even the Luxury Firm is too firm for them. A few buyers have also found that the springs make popping noises, which leads to the question of how durable the coils really are.
Okay, side sleepers! If you are looking for a mattress that offers a medium firm feel and contours to your body as you sleep, Midnight by Helix might be a smart choice. It also offers a good bit of bounce for when you are engaging in more vigorous bedtime activities.

You get 100 nights to try this mattress out from the comfort of your own home, and there is a 15-year warranty for it. This mattress is built within the United States and ships for free using no-contact delivery. There is a Gel Visco layer that provides pressure relief in addition to the Memory Plus Foam. The mattress also has high-grade polyfoam and Helix Dynamic Foam built into it for support within the comfort layer. As a hybrid, this mattress includes a support layer that is made of 8-inch individually wrapped coils with added zoned lumbar coil support. The top layer provides a soft and cooling sensation from its TENCEL cover - perfect for relaxing after a tumble in the hay.

The Helix might be firmer than you anticipate though, and this has proven the case for some buyers. Even months after breaking in the medium-firm mattress, it might still feel too firm. If it is too firm for you, you could develop back pain and stiffness upon waking up in the morning. Back and stomach sleepers will probably want something more firm though.
4. Best Luxury Mattress: DreamCloud
If luxury is most important to you, then the DreamCloud luxury hybrid mattress might be exactly what you want from a mattress. You can test it out for a full 365 nights from the comfort of your own home - a generous offer indeed. What's more, this mattress comes with a lifetime warranty. This kind of coverage is difficult to beat. And, with free shipping and returns, you get a lot of bang for your buck.

But speaking of banging... DreamCloud isn't just for dreaming on. It is a fun sexual bed that will help you cool down afterward with the help of its cooling top cover made from quilted foam and cashmere. Below that is a comfort layer made of gel memory foam that contours to your body shape. The sink-in-just-right layer beneath that gives you just enough sink to make you feel like you are sleeping on a cloud. The essential base layer provides stability while the targeted support coil layer helps the mattress contour to your body as you rest.

While the DreamCloud has a lot of good things going for it, it might not be the best mattress for sexually active people wanting a firm comfort feel. Some buyers have said that the luxury firm is too soft for them. This could lead to the mattress feeling too plush and causing back pain for some sleepers.
Nectar's Classic mattress is the best mattress for sexually active couples looking to save some cash. Some of us cannot easily drop $2,000 on a high-end mattress, so the Classic's price - coupled with its luxurious appeal - make it quite the deal. This premium memory foam mattress will contour to your body as you rest, and it gives just enough bounce to make things exciting while you're getting your groove on.

Nectar gives you a 365-night in-home trial to see whether or not their mattress is for you. If it is, you can keep it and reap the benefits of having a lifetime warranty backing this product. If not, simply return it. Shipping and returns are free. The quilted cool cover should help you sleep coolly, and the three-inch comfort layer gives plenty of contouring. The Dynamic Support Layer beneath it has a 2-inch dynamically adjusting foam design that gives tailored bounce-back. The 7-inch standard foam layer lends support while the bottom shift-resistant cover prevents slipping and sliding.

While the Classic has a ton of value, it might not be for everyone. It might actually cause back pain to worsen for some sleepers. It can come off as being too firm for a lot of sleepers, and that might make for discomfort getting up in the morning. Also, Nectar's "24/7" support isn't always as responsive as you might expect.


Undoubtedly, you are going to want the best bed for sex to come with cooling technology. Who doesn't want a relaxing cool-down after a steamy sexual escapade? The Aurora Hybrid from Brooklyn Bedding gets our vote for the best cooling mattress. What's best is that you can order this mattress in RV sizes so that you can enjoy a romp in the hay while going for a romp in the woods too!

In all seriousness, what stands out about the Aurora Hybrid is its 1.5-inch top layer of patented CopperFlex foam. This unique foam provides more responsive contouring and delivers targeted pressure point relief. With copper built into it, you get the added benefit of copper's antimicrobial properties. The TitanCool-infused PCM is what will help you sleep cool, keeping an ideal skin temperature of 88 degrees. You can choose between three firmness levels, all depending on your comfort needs.

This model does have a 120-night in-home trial and 10-year warranty, but that, unfortunately, isn't as generous as other models we've reviewed so far on this list. Also, the pillow top might trap in heat if it starts curling up around you - an issue reported by multiple owners.
7. Best Innerspring Mattress: The WinkBed
If you're going to go for a sexual bed with an innerspring design, The WinkBed Luxury Hybrid Mattress is a standout option. This bed is meant for couples who desire deep support and plenty of comfort (and not just from each other). Those who tend to sleep hot can also benefit from WinkBed's cooling technology. It is even said to help ease back, hip, and shoulder pain.

Handmade in the USA, the WinkBed's unique hybrid design merges together foams and innerspring to create balanced comfort and support. Gel-infused foams inside of the Euro-pillow top lend to a cooling effect, and there is anti-sag support for the edges of the bed, which is where sagging often happens over overuse. You also won't need to worry about being disturbed by motion from your partner's side of the bed while you sleep since the WinkBed has motion isolating technology built-in. And the 3-Step Back-Relief System can help alleviate any back pain you encounter after your sexual encounter.

Some users do find that this bed is too firm for them, even on the luxury firm comfort option. Also, a few owners report that the edge support doesn't look as though it will hold up against rough-and-tumble use.
Latex mattresses are ideal for those who want a firm comfort level - and I do mean firm. They also have the added benefit of being more eco-friendly than the average mattress. This is due to the fact that the rubber trees used in their manufacturing can easily and quickly be regrown, and this also makes them more biodegradable. But, eco-benefits aside, latex mattresses have a natural cooling ability that feels great after sex. And the best mattress for sexually active folks who care about the environment is the Classic by GhostBed.

With its 11 inches of height, the GhostBed Classic serves up four comfort layers, along with a gel-memory and aerated-latex (which happens to be hypoallergenic) design for cooler sleeping. Support comes from the high density foam base, and the top features a breathable knit cover for extra comfort. This mattress is rated medium-firm, which is pretty typical for a latex mattress. Made in the USA, the GhostBed Classic gives you 101 nights for an in-home trial, a 20-year warranty, and free shipping. It is known for being one of the best mattresses for hot sleepers.

On the downside, reports abound of customer service being sub par. People have had a lot of problems with shipping and getting answers as to why their mattresses aren't showing up on time. Also, as it is medium-firm, this bed might be too firm for some people.
If you need a firm mattress, then Plank's Luxe Hybrid might suit you well. And, since it is a hybrid mattress, it still gives a bit of bounce while still being on the firmer side of comfort. This mattress is rather unique since it is flippable. You can flip it to get different comfort levels: a .75-inch quilted top layer paired up with a 2-inch high-density support layer (for an ultra-firm sleep comfort level) or flip it for the 1.5-inch quilted top layer that comes with tack-and-jump stitching and is matched up with a 1-inch TitanFlex comfort layer and 2-inch high-density support layer (for a more standard, medium-firm comfort feel).

The Plank Luxe Hybrid's flatter sleep surface is designed to create and support a neutral spine position as you rest, and that is can help to reduce the pressure on your body's circulatory system. It is also believed to get you to inhale more oxygen as you sleep. Given its high profile, this mattress is compatible with adjustable power bases and taller headboards. You can opt for a cooling panel to be sewn in, but it will cost you extra.

Although it is listed as a firm mattress, some buyers who weigh under 215 pounds note that there are depressions left in the mattress after they get up and start going about their day. Even couples weighing a combined 220 pounds find indentations in their mattresses. Also, some buyers note that the corners did not expand after they unboxed the product.
Last - but certainly not least - we have the ultra responsive Lux Mattress by Puffy. The Lux is made in the USA and offers buyers a 101-night in-home sleep trial and a lifetime warranty. It ships in 2-5 business days, so you won't be stuck waiting weeks for your mattress to arrive. It works with any type of bedframe, including adjustable bedframes (which Puffy does make to go with this mattress). Sensitive sleepers can also take comfort in its hypoallergenic cover, which reduces the presence of dust mites and other triggering allergens.

Lux's innovative six-layer sleep system optimizes airflow, which you are definitely going to want as you relax in bed after some sexy times with your partner. It is also designed for optimal pressure relief which, let's face it, is also helpful after exerting so much pressure on your joints during sex. The Cooling Cloud layer is what makes this mattress feel so cool and comfy as you rest, and the foam feel with spring support adapts well to your body as you move.

While it is hard to find fault with this mattress, it is more expensive than some of the other options on this list. While you can get qualified for financing, buying outright is usually a smarter investment method. Also, since you only get 101 nights with it, you won't have a full year to figure out how well this mattress will hold up against some rough-and-tumble sex.
Best Bed Frame For Sex: Top 3 Suggestions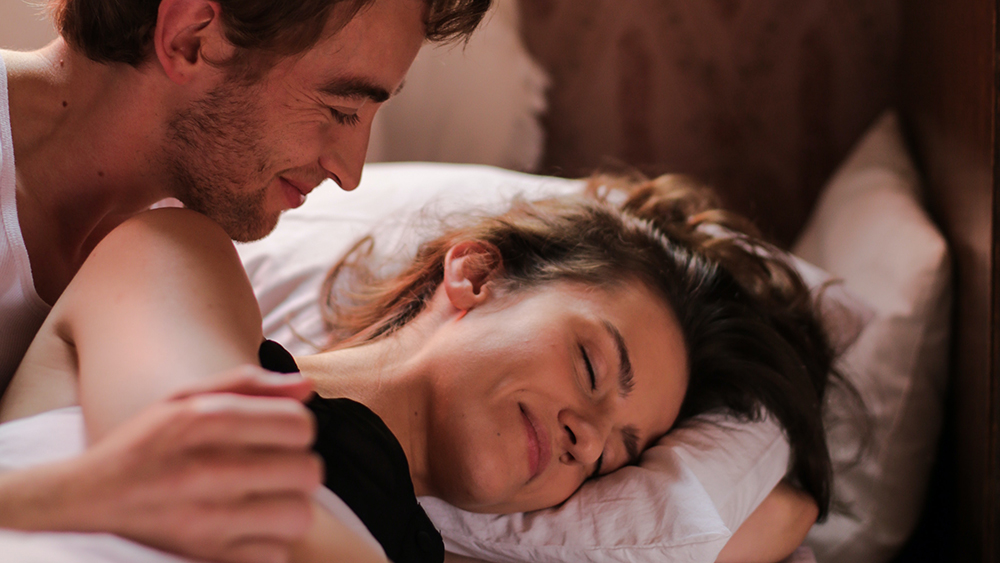 When it comes to bedframes, Saatva's Amalfi Bed Frame is the best bed frame for sex, hands-down. Let me explain. First, there are three different fabric options available, so you can pick the one that best matches your bedroom décor. This bed frame has a button-tufted headboard and clean side rails, making it look good in a luxury-themed room or one that is more toned-down or even rustic. A foundation or box spring is required for this bed, but you do get a 180-night in-home trial and lifetime warranty.

The frame is made from sustainably sourced hardwood, so you know it is going to be sturdy. This kiln-dried hardwood does not warp or weaken, so you can get pretty rough with it. You also get long-term support from the premium plywood slats. The attachment points are kept stable by fortified bolts and brackets. The multiple support feet and vertical center support lend extra stability to the wooden slats.

The downsides? Well, the most obvious one is the lack of under-bed storage. You only get one inch between the bottom of the bed and the floor, so you really cannot stash anything under there. And, of course, this bed frame is pretty expensive, so those shopping on a budget will have trouble justifying the purchase.
Looking for a bed frame that has a headboard that will hold up against all the banging on the wall you'll put it through? If so, then consider getting the Puffy Bed Frame. It is upholstered and well padded, so if you and your partner get a little wild, you won't hurt your heads when you knock them against the headboard. And, quite honestly, those who have aggressive and energetic sex really benefit from padded headboards.

Puffy's bed frame is modern but will fit with just about any style of room décor. It can easily be shipped and comes to your door for free within just a few days of ordering it. And, if you don't like it, you can get it picked up and returned for free. But a lot of buyers have been satisfied with this bed frame since it is so easy to clean and has a strong wooden foundation that provides support to the mattress. This bed frame is also squeak-free, so you will only hear pleasant sounds while you make love on this bed. Plus, if you get the Lux Mattress, you can simply pair it with this bed frame.

The only issue to be taken with this bed frame is that it can be tough to assemble. It is big and bulky, so you might need an extra helper to piece it together. It could take quite a bit of time to assemble otherwise.
If you are buying a thick mattress, your best bet is to go for a sturdy platform bed instead of a traditional frame. Platforms cater well to thicker mattresses and provide ample support. And the Ironline Metal and Wood Platform Bed by Zinus offers a durable design for thicker mattresses. You have the option of adding a metal footboard that is made of steel.

In this design, steel gets mixed with solid pine wood for a strong frame. This frame is built to endure heavy use, and there is no box spring required since this is a platform bed. The cherry finish on the wood provides a chic design element paired with the black painted steel, so you can place this modern-looking platform in just about any style of bedroom. You can even order this bed frame with a USB port and headboard shelf to help you meet your in-bed relaxation needs.

Unfortunately, there are reports that Zinus' customer service is slow to respond. There have also been reports of missing pieces that prevent assembly. Trying to contact Zinus to get a replacement might prove to be frustrating.
Importance of Mattress Firmness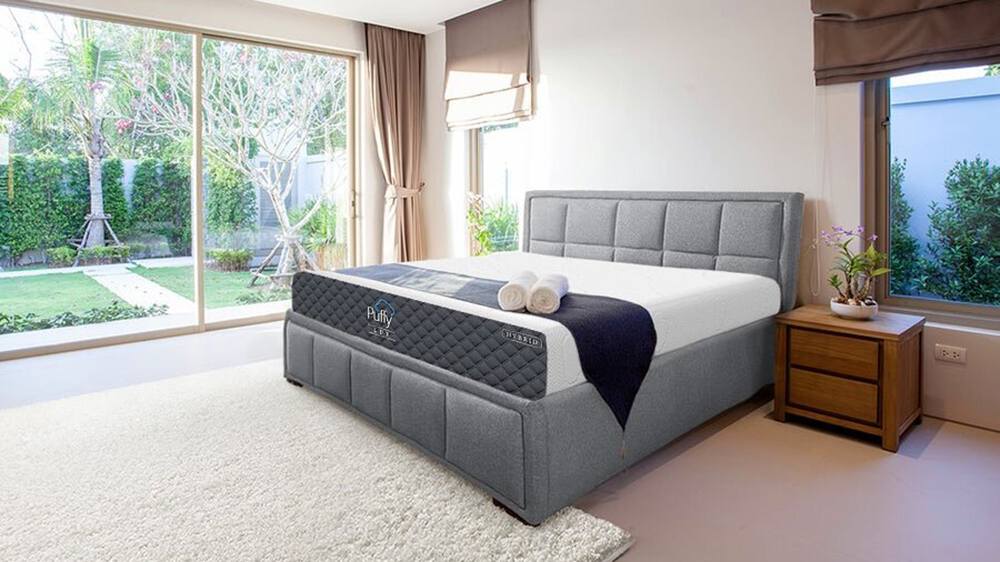 Getting the right degree of firmness is important when searching for the best mattress for sexually active couples. If a mattress is too soft, the mattress will feel like it is giving out from beneath you while you and your partner are going at it. This is particularly prevalent around the edges, so you will want to make sure you get a mattress with solid edge support.
A mattress that is too firm can be painful to move around on. You do not want to feel like you are having sex on a flat board. You will want something with a little bit of bounce to accommodate your vigorous motions.
Of course, firmness preferences are highly subjective. Each one of us has our own unique preferences, and our bodies and sleep positions demand certain firmness levels. For the most part, a medium-firm mattress should suit most sexually active couples, but you might have to try a few different options before you settle on something you both like.
Things to Consider! Best Mattress for Sex Criteria.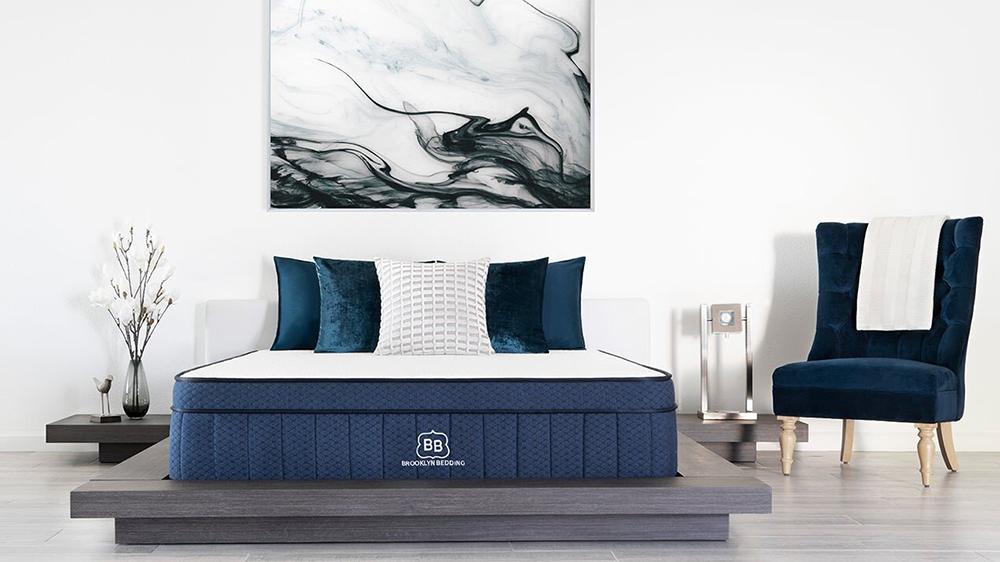 Now that you have a clearer idea as to what is out there, you can start thinking about the main criteria for a good mattress for sex. Here are the factors I recommend you consider before you settle on a mattress and bed frame:
Cost
Don't go cheap on a mattress. You don't need to blow your entire savings on a high-end mattress, but in the mattress world, you get what you pay for. Plan on spending about $1,200 for a good mid-range mattress. Many manufacturers will give you financing options, but if you can pay for it all at once, you won't put your credit score at risk.
Your Sleeping Position
If you're a side sleeper who puts more pressure on their hips and shoulders, you're going to want to look for a mattress with pressure relief. A medium-firm or even plush firmness level might work best for you. Stomach and back sleepers need more firmness to support their lower backs.
Mattress Type
You're going to want a mattress with a bit of bounce. That's why all-latex and hybrid mattresses work so well for sex. They are firm enough for sleeping on but offer enough springiness for sexy times.
Material Quality
Don't go cheap. Seriously. Look at the type of materials being used in the mattress and frame. A good way to assess quality before buying is to consider the manufacturer's warranty coverage. The longer the warranty, the more confident the manufacturer probably is in the quality of their product.
Motion Isolation
Who wants to wake up their sleeping partner? Or to be the woken-up partner? Probably none of us. That's why motion isolation is important in a mattress. It prevents movement on one side of the bed from reaching the other side.
Temperature Regulation
After you've worked up a sweat, the last thing you want is to rest on a hotbed. And, for sleeping, you will want a mattress with cooling technology that can keep your body temp at about 88 degrees, which is optimal while sleeping. (Yes, your body temperature really does change while you rest!) Hybrid and latex mattresses have the most natural airflow, and anything with an open-cell design is going to promote airflow and moisture-wicking.
No Noise
Squeaky bedframes are honestly really distracting during sex or sleep. Look for product reviews from buyers that mention it being squeak-free. A lot of newer frames and mattresses are made to be noiseless, but some do a better job of this than others.
What Is the Best Type of Mattress for Sex?
Hybrid
Hybrid mattresses are designed with a coil-based support core and a multi-layer comfort system. This can include materials like memory foam, micro-coils, latex, polyfoam, and fabrics. The innerspring support gives them a good degree of bounciness.
Latex
Latex mattresses are generally manufactured using the Dunlop or Talalay method. There will be several latex layers that provide varying levels of comfort. Latex tends to sleep cooler and is extremely responsive.
Innerspring
Innerspring mattresses have a coil-based inner construction that offers support. They tend to be extremely bouncy, but their degree of pressure relief is minimal at best, which might not make them ideal for sleeping on.
Foam
Foam mattresses offer responsive surfaces that compress in response to your body's weight. Polyfoam, memory foam, and latex all get used in foam mattresses, providing ample pressure relief while you rest.
Airbeds
Airbeds have at least one adjustable air chamber (if not two) that allow you to set your firmness level. A comfort layer will often top it to give you some additional comfort while you rest.
Love the Mattress You Make Love On
It is important that you and your partner love the mattress that you make love on. You need something that meets both of your needs. Having something that is supportive, has some bounce to it, and offers cooling technology can make for a great mattress for sex – and sleep, of course.
That is why I picked the Wave Hybrid by Casper as the best mattress for sex. It has built-in cooling technology that allows you to rest more comfortably after a steamy session in the sack. It also has just enough bounce to it thanks to its unique hybrid design. But it will definitely still give you plenty of support and comfort while you rest and rejuvenate.