There are many who consider a floor mattress to be the ultimate minimalist bed frame. However, putting a mattress on the floor can shorten the life of the mattress structure and material. Moisture may be a problem, as may temperature and overall comfort. Additionally, a mattress on the floor offers no storage options. A minimalist in a very small space would to well to get a bed frame with just enough clearance for underbed storage.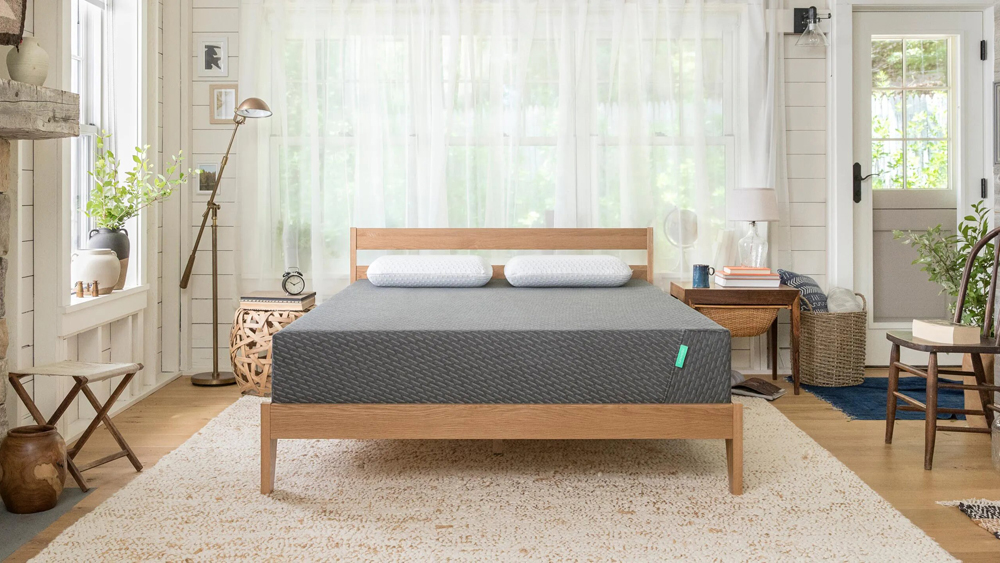 What is a Minimalist Bed Frame?
A minimalist bed frame will suit the look of a minimalist home. While some forms of minimalism have a rather boxy, all-white look, it is possible to be both minimalist and offer visual variety and appeal.
Someone seeking to apply minimalist bedroom design should choose a simple color palette. If you want an accent wall, choose one vibrant color and keep the rest muted. A basic bed with a white comforter and a minimum of pillows can also serve. Keep furniture as simple as possible. If you choose to add decorative features, give them a lot of real estate around the item so they stand out.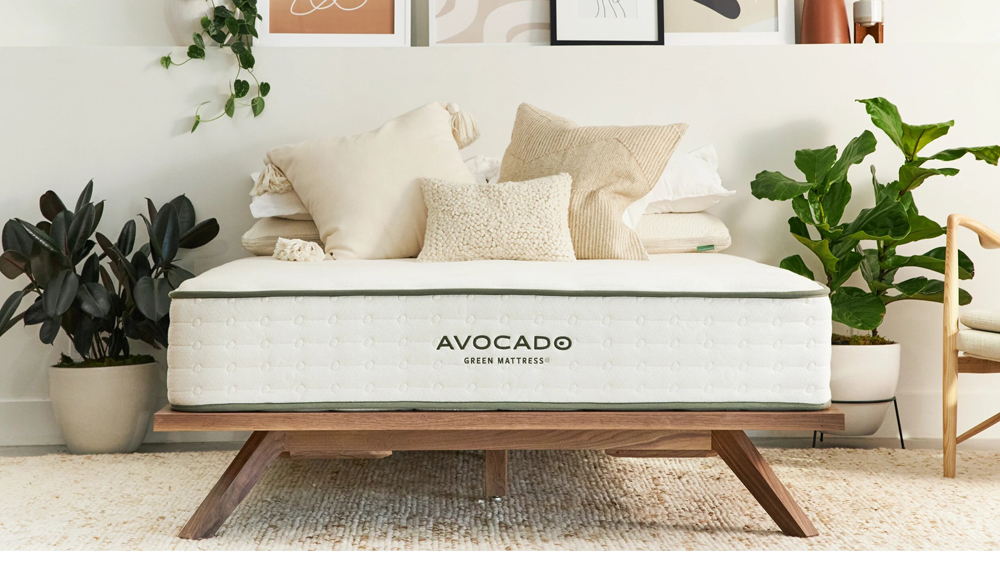 Best Minimalist Bed Frame Review
The Zinus Suzanne Metal and Wood Platform Bed Frame is an elegant addition to any decor. The combination of black steel and simple brown-tone chestnut wood will work well with nearly any accent color. This platform bed allows plenty of airflow and the frame is high enough to allow some storage. It also offers plenty of clearance for your robot vacuum!

The assembly will be quite simple and can easily be put together by two. Once the frame is assembled, you can easily insert the wooden slats for squeak free sleeping comfort. You can get this frame in a brown chestnut or a grey wash depending on your color preference. Best of all, this lovely frame comes with a five year warranty to reduce your concerns. Rest easy!


Pros
The frame and slat combination offers great airflow
Terrific warranty!
Easy assembly
Cons
Limited height; if you need storage, this may not work
No footboard
Takes two people to put together easily
Zinus Suzanne Metal and Wood Platform Bed Frame
Classic black steel square tube structure will add to your minimalist design feel.
Simple wood tone accents will add a bit of nature to your sleeping space.
Slat frame will support either foam mattress or your box spring as you prefer.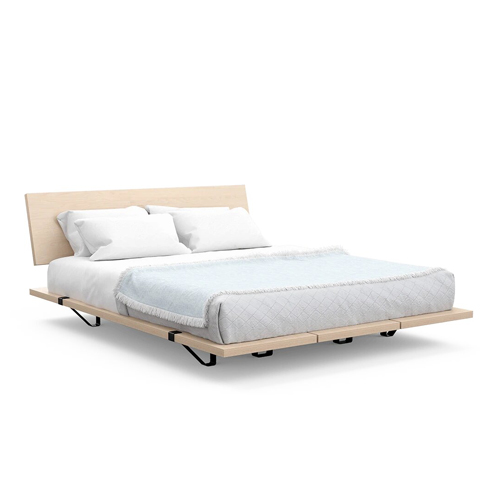 Fans of an open look will be delighted with the Floyd Home Bed Frame. Not only does this come in a flexible mid-tone wood, but you can add modular features to the basic bed frame that will reduce your need for other furniture. For example, you can add an under bed storage rack for your clothing and not need the space for a bureau. If you start with a queen and need a king, this minimalist bed frame will expand.

This frame offers a great deal of strength in a lightweight construction style. There's steel, of course, and birch plywood for a smooth continuous finish. You will also sleep on a strong honeycomb core that will be comfortable, stable and easy to move. No matter the size or location of your home, this minimalist bed frame will easily come with you!
Pros
The large, sturdy brackets offer stability and space for storage
Brackets come in black or white
You can add a headboard or go without
Cons
This is a platform bed; you may bump the wooden edges when you get out of bed
The metal framing is visible on the platform, which may not suit your design preference
No footboard options
Floyd Home The Bed Frame
Sturdy brackets without a lot of tiny brackets and pieces of hardware.
The plywood is lovely and light.
This minimalist bed frame can grow when your bed needs to be larger.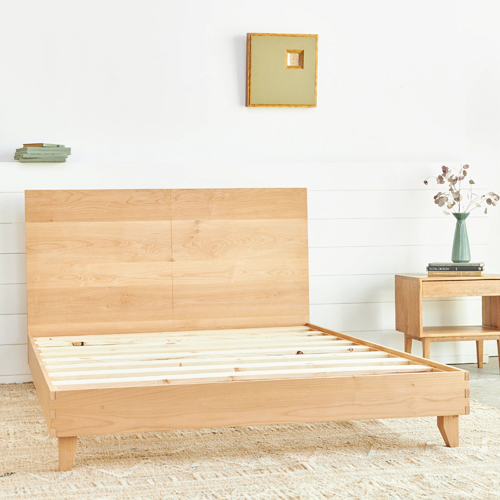 If you love the look of old world wood, such as dovetail joints, the Avocado City Bed Frame is a great choice. Many who love the look of minimal design also love the classic look and feel of older furniture, particularly the sturdy Stickley look. Your Avocado City Bed Frame offers classic simplicity and American Timber with no VOC risk from the glues or finishes.

This minimalist bed frame is both lovely and durable. This frame is easy to assembly and will serve you for years to come. The slatted base offers great airflow and you can put this together with minimal hardware. From a light clear finish to a deeper walnut tone, you can define exactly the color scheme you prefer in your minimilist bed frame.
Pros
Easy assembly, easy to move, simple hardware installation
If you like, you can get a matching plank headboard
You can also add a floating book nook
Cons
This frame is built for a natural mattress; your foam mattress may sag in the gaps
The frame extends past the standard mattress size, which may bump your legs when you get out of bed
Storage under this frame will be limited.
Avocado City Bed Frame
Locally sourced, sustainably grown timber means guilt-free sleep!
Visible dovetail joints offer old world style.
Slat base offers great air flow.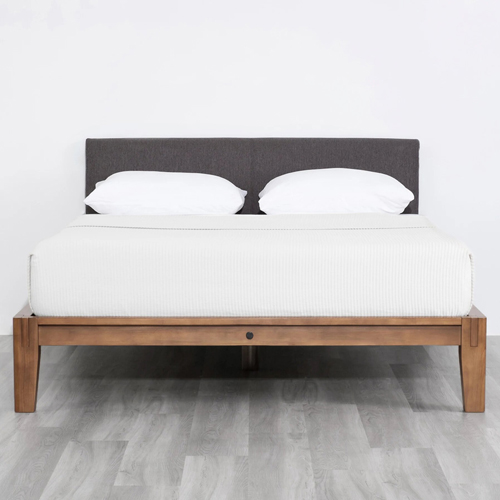 The Thuma Bed Frame is an ideal choice for someone seeking cute bed frames with plenty of clearance. This minimalist is made of real wood, so the tones and grain will vary per bed. The joinery of this bed frame is both striking and sturdy. There are only two screws needed to secure the frame once you have the cross members hooked together.

The Thuma is a minimal bed frame with a lot of options. You can change up the wood tone of the bed and the color of the fabric coating on the headboard or pillowboard. Best of all, this frame offers 9 inches of clearance. If your space is small, or if you just prefer to keep your furniture use as simple as possible, the under bed storage options are myriad when you invest in a Thuma.
Pros
The frame is designed to be wood on wood, both easy to assemble and very strong
The cushioned slats mean you can enjoy a silent night of sleep
Loads of clearance
Cons
Frame comes with the headboard, which may not suit your decor
Set up requires wood against wood, which can make for tight connections
If you like a mattress and box spring, this bed may be excessively tall
Thuma The Bed
This minimalist wood bed frame is an accent piece all on its own.
The platform is not as bulky as other wood frame options, making it less likely you'll scrape a leg getting up.
The soft headboard makes it easy to sit up and read if you choose.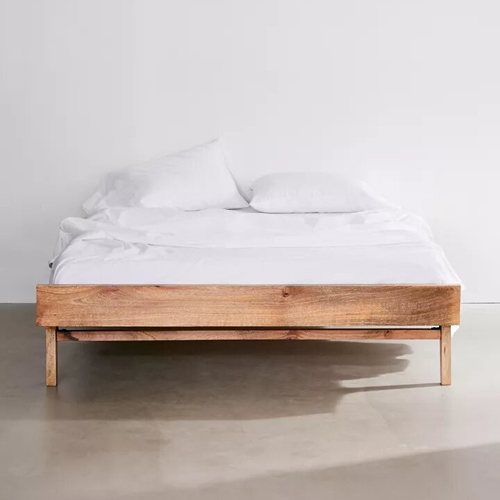 The mango wood used in the rustic Urban Outfitters Wyatt Bed Frame will be an eye-catching addition to your minimalist bedroom set. This frame is a bit different from the other options in this listing as it has a footboard. Additionally, the sides are a bit lower than the bracketing boards at the head and foot.

This sturdy frame features a MDF platform base instead of slats. There is 7.5 inches of clearance under this bed, so you have some storage and plenty of clearance for cleaning. It should be noted that there is a bit of curve where the legs join the platform base. If you are a dedicated minimalist keen on the cube shape and square corners, this curve may be a distraction.
Pros
Mango wood is beautiful and offers great visual variety
Enough clearance to use for bin storage
Footboard may make your bed feel a bit more solid
Cons
Curve at the top of the legs may create visual distraction
No headboard may make the bed feel unfinished
Solid mattress platform may be a problem in humid areas
Urban Outfitters Wyatt Bed Frame
Sturdy platform design with a solid base for your box spring or foam mattress.
Heavy duty footboard to hold mattress in place.
No visible headboard once the mattress is in place, which can increase your decorating options as you prefer.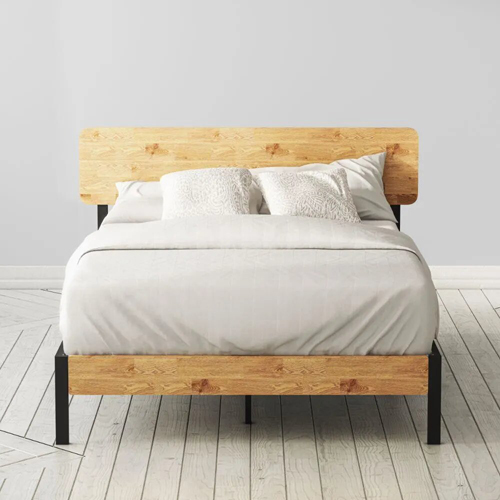 There's no doubt about it, the Zinus Olivia Metal and Wood Platform Bed Frame offers more charm than standard minimalist beds. If you love the simplicity of minimalist design but aren't keen on the cold, squared off look, the curved headboard corners may be just the thing to soften this minimalist king bed frame. The frame is iron while the minimalist headboard and bottom of the bed are wood.

This bed is slatted and designed for a box spring. Your Zinus Olivia is rated up to 350 pounds on the twin and to 700 pounds for queen and king. The bigger beds have a center metal support, but there's still around a foot of clearance for under bed storage. If you love the look of a minimalist bed frame but need to be a bit higher off the floor for ease of getting in and out, this bed is ideal.
Pros
Lovely wood features at both ends of the bed
Sturdy, easy to assemble frame
Plenty of clearance for storage and cleaning
Cons
If you like a utilitarian look, the headboard may seem too soft
Fans of a broad platform bed may need to keep looking
This frame does require a box spring, which may not suit your needs
Zinus Olivia Metal and Wood Platform Bed Frame
The Zinus products come with a five year warranty.
The center support means no sagging, no squeaking, and loads of sturdy comfort.
The medium wood tone will go with your other pieces of furniture with no trouble.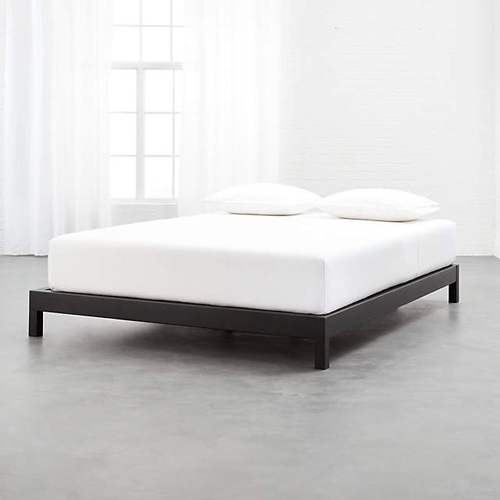 If you truly love the essential minimalist look, the CB2 SIMPLE BLACK METAL BED BASE may be all you need. This platform bed offers basic slats that are slightly smaller than the recommended mattress. Once made up, this bed shows nothing but black metal frame.

This is an ideal platform bed for a minimal design palette. It's easy to put together, sturdy and squeak free once the slots are in place. The metal frame is powder coated matte black; no gloss, glare or risk of corrosion over time. Your CB2 bed frame offers just over 5 inches of clearance.
Pros
This bed is truly basic: Nothing but black frame and stability
Set up is fairly simple and can be done by one person
Center support feet can increase your confidence
Cons
Low clearance; if you need storage, this bed may not work
Center support must be lined up correctly or you may have problems
Instructions for assembly can be confusing; lay everything out and read again
CB2 SIMPLE BLACK METAL BED BASE
Clean lines and a slightly smaller slat installation means nothing will take away from the clean lines of this bed frame.
Easy assembly means you can have your platform bed ready for sleeping as soon as the mattress is installed.
You can dress this up as you like or leave it alone.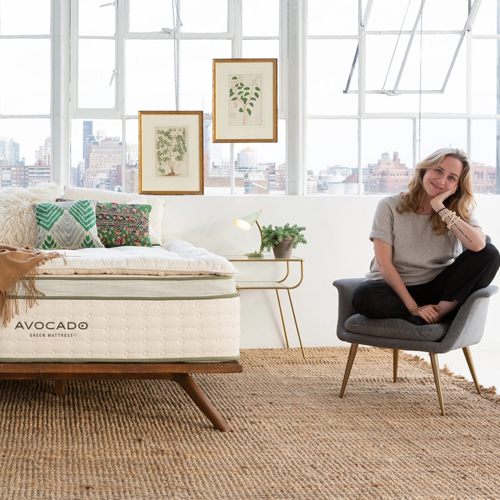 One of the joys of minimal design is that a simple change can be a striking addition to your decor. The Avocado Mid-Century Modern Bed Frame offers angled legs that may be just the visual feature that you need to add a bit of softness to your decor. Like all Avocado products, this bed frame is made of ecologically sustainable reclaimed wood, designed to go together with little hardware, and finished with no-VOC products. All you see is the wood.

This slatted bedframe is designed to hold a natural mattress. There is plenty of airflow and enough clearance to make cleaning a breeze. If you have problems with dust, mites or pollen, working around this bedframe will enhance your chances to breathe easy.
Pros
Slats are 1.5 inch thick walnut or Douglas fir
Angled legs add softness and visual interest
Clearance is ideal for a robot vacuum
Cons
Little to no storage under this bed
Slat design may not suit your existing mattress
Reclaimed wood fill may not be to your taste
Avocado Mid-Century Modern Bed Frame
Beautiful, unique finish thanks to the choice to use reclaimed wood.
Elegant angled legs are an eye-catching change from squared-off minimalistic design.
Both walnut and Douglas fir mean your bed will stand the test of time.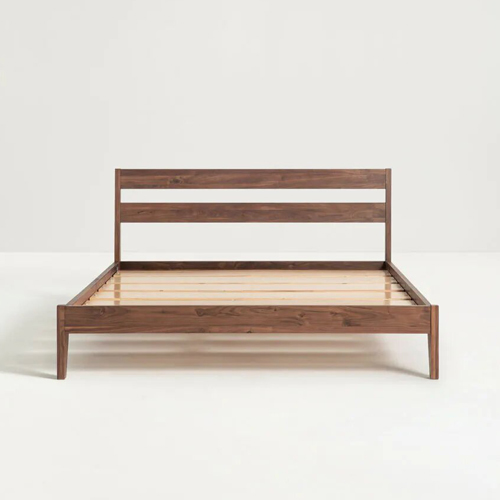 The simplicity of the Tuft & Needle Wood Frame can truly work with any decor. This lovely bedframe is available in oak or walnut and features an elegant two-slat headboard and slight box at the foot. The slats are wide enough to hold a foam, latex or wool mattress as well as a box spring if needed.

There is seven inches of clearance under this very pretty bedframe and only a slight lip to hold your mattress or box spring in place. If you can't be bothered to get far enough to the edge to protect the back of your legs, the bed will. Assembly is quite simple and the angled design of the side slats has a craftsman look. You could use this bed in a minimal home or add a quilt for a prairie farmhouse look.
Pros
Plenty of decorating options once this bed is in place in your home
100 night sleep trial to make sure this bed will work
Wide slats mean that your current mattress will work
Cons
No footboard, though there is a lip on the bottom edge
Must be wiped clean of water after dusting
Frame is not protected from scratches
Tuft & Needle Wood Frame
Gorgeous wood tones with a lot of warmth make this an eye catching bed frame.
Plenty of clearance for bins, baskets and crates.
There's a 12 year manufacturing warranty on this bed frame. If you take care of it, it will take care of you.
The Winkbeds Platform Foundation is a faded denim blue that reminds us that everything goes with blue jeans. This platform is sturdily build and easy to assemble, thanks to the screw in legs and the sturdy center support. The slats are held together with a durable mesh that makes alignment fast and easy.

Your Winkbed comes with a 25 year limited warranty. If you've got a problem with it due to defects or design failure, they can help. Also, the slatted support design means that you can put your spring mattress directly on top of the slats without having to worry about crush damage. If your formerly tall bed isn't working well at the moment but your mattress is in good shape, this platform bed can allow you to go a bit lower in comfort.
Pros
Center support is a full beam with 3 legs
Frame is lightweight considering the weight tolerance
Outside is soft on the skin and easy on the eyes
Cons
Clearance is not great; if you need storage, this bed won't work
Not everyone likes blue
The round legs may not suit your design needs as a minimalist
Winkbeds Platform Foundation
Easy to assemble bed with quick screw in legs in a pretty wood tone.
Blue frame will look very nice with a lot of different decors.
Sturdy slats allow you to use your favorite mattress in a whole new way!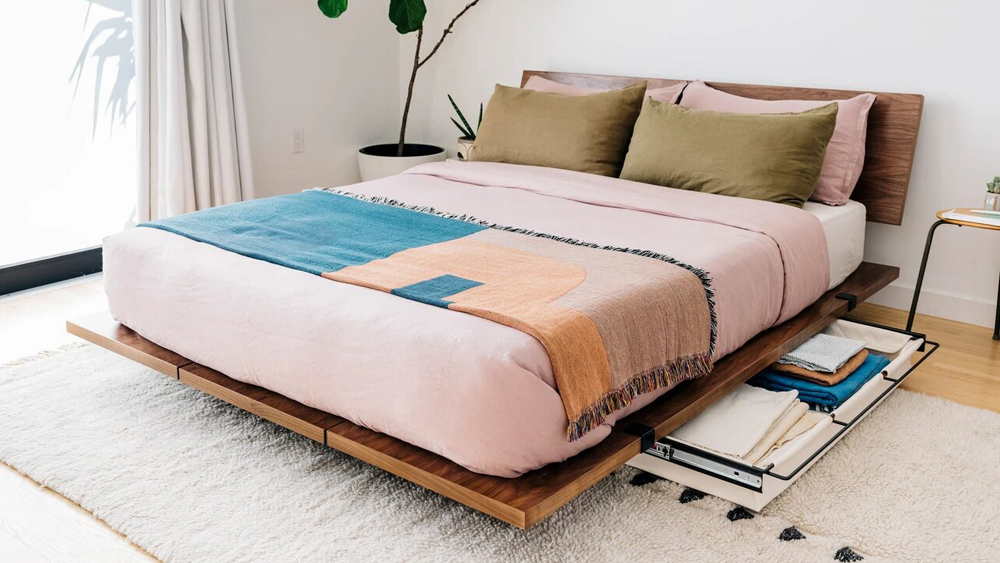 Why Buy a Minimalist Bed Frame?
Ease of Use
Most of the minimalist sleeping tools in the listing above are easy to put together and quite solid. You can generally place a foam or latex mattress right on the slats, and some will either support or remove the need for a box spring.
Comfort
These frames aren't going anywhere. They offer a stable base for your preferred mattress and a squeak-free night of rest! When studying up on a new minimalist bedframe, do be certain to review the slat weight tolerance and the gap size. Too big or too small a gap can be hard on your mattress.
Affordability
It's said that a quality night of sleep is priceless. However, most people put most of their money in the mattress. If you need a frame that offers other benefits, such as storage space, you can get more benefits for your buck with the right frame.
Durability
Carefully study up on the assembly and dis-assembly procedure to protect your frame. If you move frequently, or if you know you'll be upgrading the size of your mattress soon, being able to quickly and safely assemble your frame will increase the value of it no matter where you put it back together.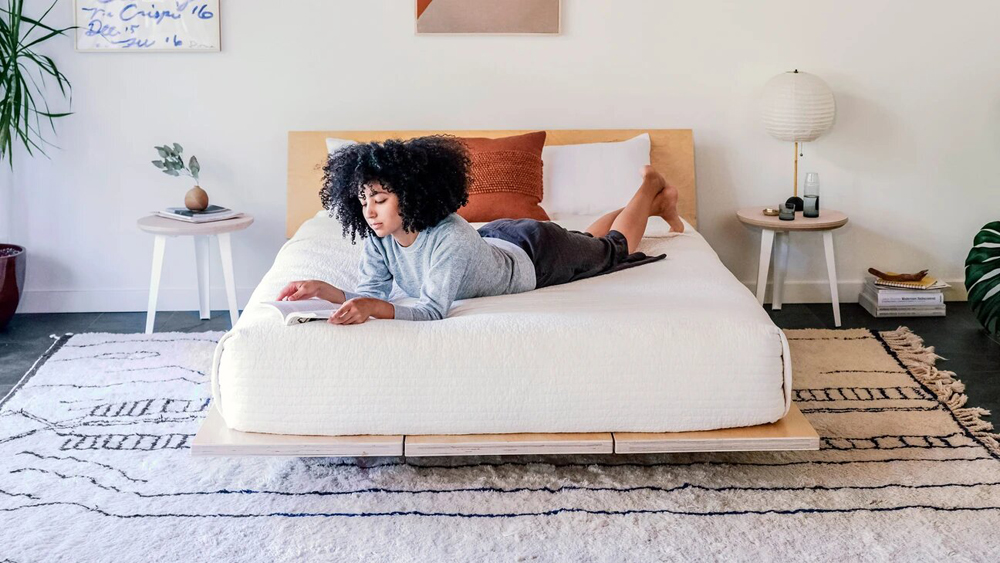 Minimalist Bed Frames Slats Types
Solid Base
Only one of the minimalist frames listed above has a flat base. If you live in a region that has high levels of humidity, or if your sleeping space has a large temperature variance, this may lead to condensation. Those who live in the desert southwest may be quite comfortable on a flat or solid base.
Slatted Base
Most of the frames above offer a slatted base. If you're not sure how that will work because you've always used a box spring, consider item number 10 on the list above. The slats on this bedframe are held together with mesh strapping to hold them in place and keep the slats evenly spaced. As a general rule, the slats on a minimalist bedframe won't be moving around, but if you're a very restless sleeper or if your bed is also a play space for children, the mesh supports may help.
Natural Mattress Slatted Base
The Avocado frames listed for products 3 and 8 are designed to carry the natural foam mattresses sold by Avocado. If you want one of these frames but are happy with the mattress you currently own, you may need to incorporate a layer of high density foam directly on those slats to protect your non-Avocado mattress.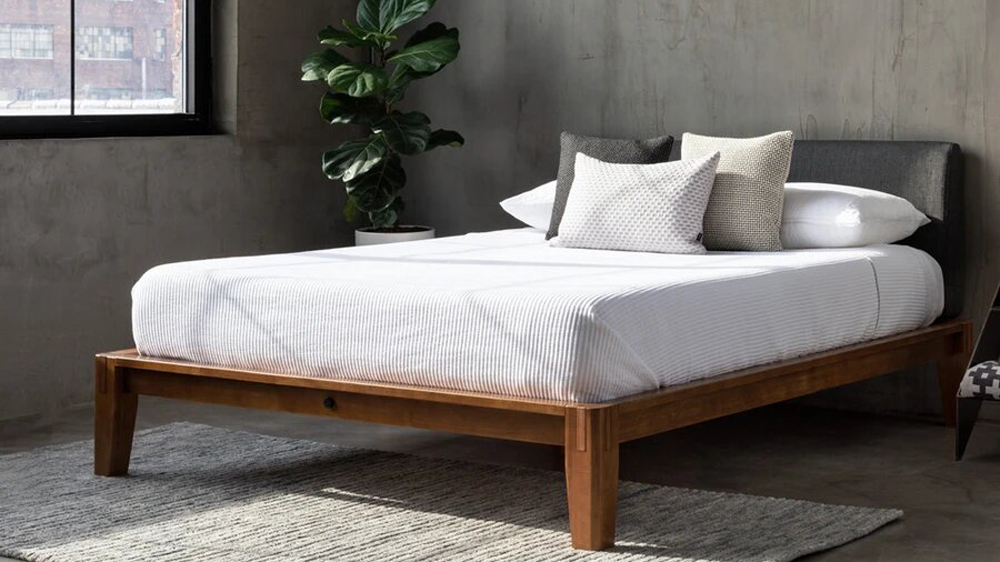 How to Choose a good Minimalist Bed Frame?
Comfort
You need a bed that doesn't move, doesn't squeak and doesn't let your mattress sag. Carefully review the tolerances on your current mattress to make sure that you invest in slats that will fully support it. A memory foam mattress that envelops you may sag if placed on the wrong slats.
Size
Many minimalist frames have a bracket or platform for your mattress and a larger frame around this. This can be a terrific look, but some sleepers may find getting out of bed over this hard edge to be uncomfortable. If you have small children, this hard wooden surround can be dangerous. Some sleepers may also struggle to get off of a low frame, while a more petite bed shopper may love having both a low frame and a built-in step to get into bed. If you're having a hard time visualizing the size of your bed, stack plastic tubs or cardboard boxes to help you get a better feel for the over all dimensions before you buy.
Price
You can pay anywhere from $200 to $2,000 for a minimalist bedframe. Both may be a great deal, depending on your need, your budget and your values. Get the best bed to suit all three of those factors and you can rest easy!
Versatility
One of the big benefits of a minimalist decor and lifestyle is that you can live smaller. If your new minimalist bedframe and mattress will also serve as your lounge, office and bureau, carefully measure the bins you want to store under your bedframe. If you don't have bins but you know you want storage under the bed, the Floyd system offers add-on slider drawers you can mount to the frame.
Environmental Friendliness
Products made with reclaimed wood can leave the trees in the forest and reduce the amount of quality wood that goes into a landfill. However, these products can be expensive. If you have the budget and want to make the investment, the Avocado bedframes and mattresses are a wonderful way to enjoy no-VOC furniture on a natural foam bed.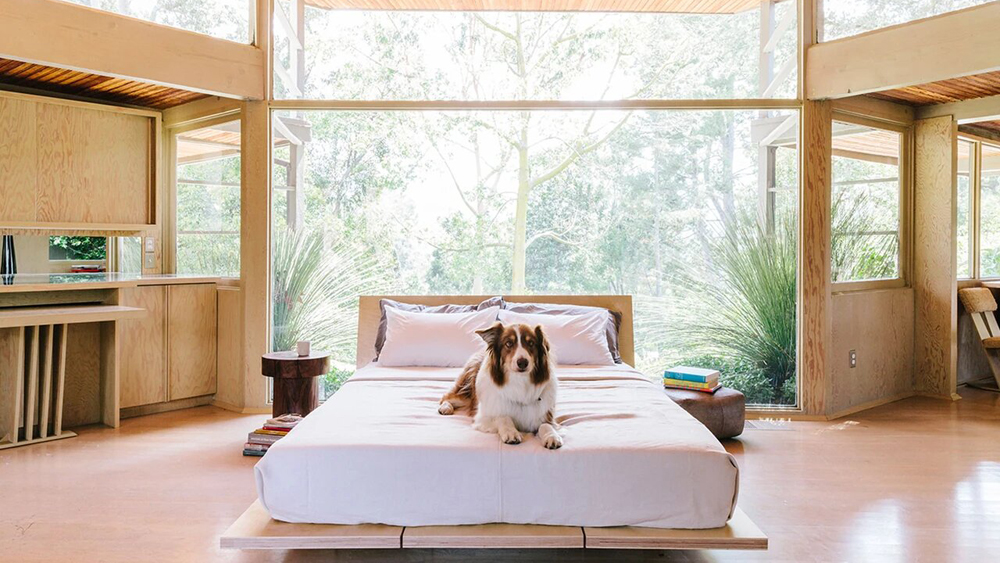 FAQ
What is Minimalist Bed Frame?

A minimalist bed frame is either just a frame or a frame with a simple headboard that suits the minimalist design style.

Should I Get a Minimalist Bed Frame?

If you move frequently or if you enjoy the simple minimalist look, absolutely!

Where to Buy a Minimalist Bed Frame?

Many simple furniture trends right now are coming out of Japan and California.

Average Price for a Minimalist Bed Frame?

Of the frames listed above, the average price is just under $800. Of course, the size and materials will make a big difference.

How long does a Minimalist Bed Frame last?

Repeated assemblies and dis-assemblies will shorten the life of your frame, as will overloading it. If you need a frame that will tolerate more than 500 pounds for two sleepers, buy one that will hold 700 to reduce strain.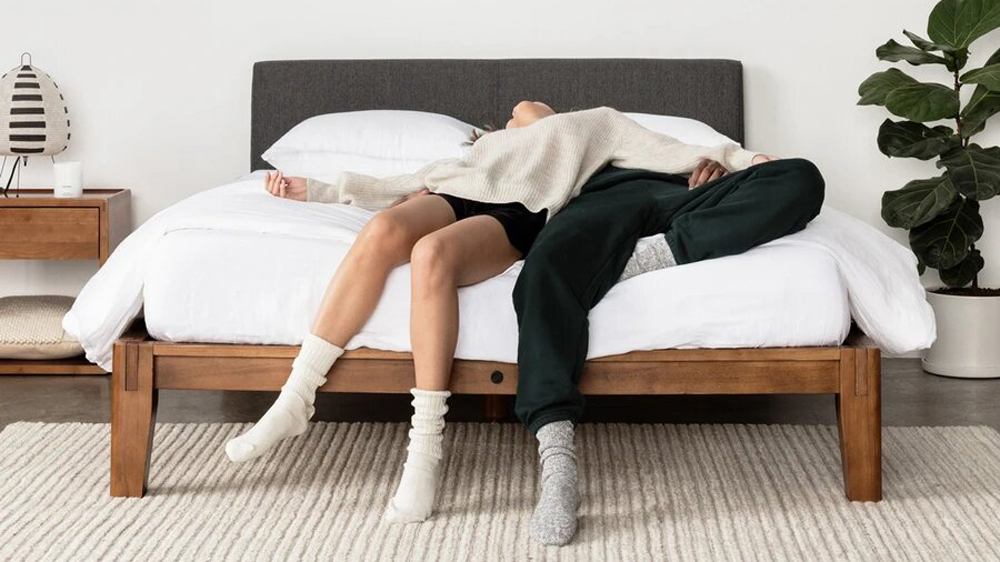 The Exact Bed Frame for Your Needs
Your minimalist bed frame needs will be specific to your sleeping needs and your home. If your home is small and spartan, a taller bed will allow more storage space. If your home is large and open, a lower bed can look wonderful under a gallery wall or against a window. The Zinus Suzanne Metal and Wood Platform Bed Frame offers some storage, the clean minimalism of steel and the warmth of wood. If you're not sure, create a mock-up of your new bed frame based on the dimensions listed to make the best choice for your home.
Zinus Suzanne Metal and Wood Platform Bed Frame