A murphy bed is an ideal tool if you need a guest room and all you have is a closet or a bare wall. In fact, the man who invented the murphy bed, Wlliam Lawrence Murphy had a serviceable apartment but didn't have room for guests. He went to work with a blacksmith friend who helped build the hinging mechanism that turned a section of wall into a fold down bed. In the 21st century, the best murphy bed option may include storage or a fold-down desk.
Best Murphy Beds
What Is a Murphy Bed?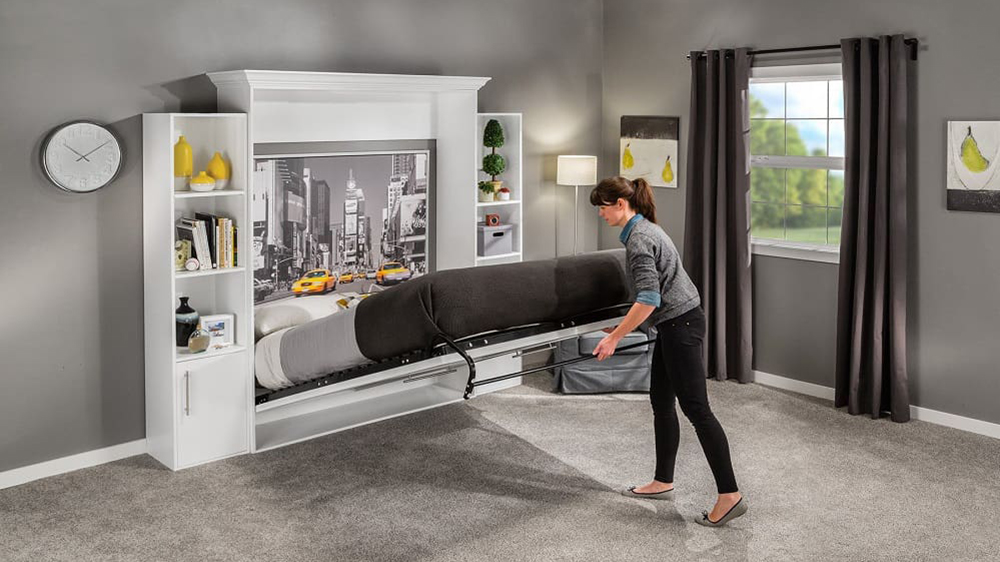 A murphy bed is a bed that can be stored on one end or side, then folded out when it's needed. Many are built into cabinets for a tidy look until they are needed for bedtime. You can get a twin murphy bed with a cabinet that is under 4 feet tall. Murphy beds with storage will be much bigger.
Depending on the size of bed you need, you may want to get a murphy bed with piston assist to make lowering and raising the mattress easier. Do be sure to check the weight restrictions and total weight tolerance of the murphy bed frame before adding a mattress.
Modern mattresses are getting quite thick and murphy beds can be low to the ground. If you want a taller mattress, carefully review the tolerance and openings of your murphy bed to make sure you can fold it up and lock it without stressing the hinge points. You may need to remove your bedding and store it elsewhere to keep a plush mattress on these beds.
The Best Murphy Beds Reviewed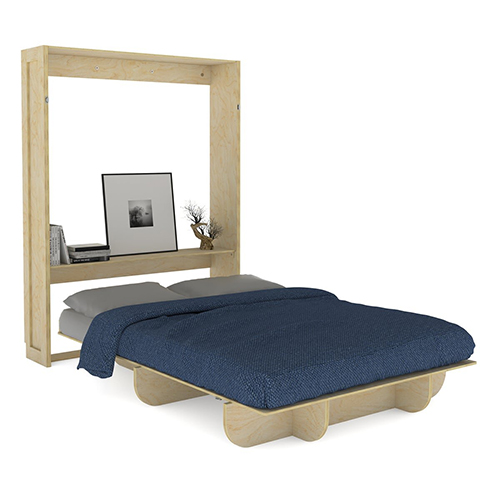 The Lori Wall Bed offers a lot of flexibility. It's a solid wood bed; no laminates to outgas as you sleep. The supports that hold up your mattress also serve as shelves that can either serve as a display or a standing desk. If you need murphy beds with storage and flexibility, you can get this one in full/queen or twin, and oriented in vertical or horizontal layout.


Pros
This murphy bed is quite sturdy and will support foam or innerspring mattress
The finish can be natural, dark walnut, or white paint
The profile of this murphy bed with mattress really hugs the wall; in a small space, you still have room to function in the room
Cons
There is no assist in your folding bed mechanism; the larger mattress will be heavy
You just get the frame. There's no mattress included
The curved shelves may get chewed up if your floor is rough or gritty
The Lori Wall Bed
This bed frame is quite sturdy and fairly simple to put together.
The sturdy shelf tools on the front of the folding section lets you treat the bed as part of the wall until you're ready to sleep.
There is also shelving inside the box for display and storage.
2. Best Murphy Bed With Storage: Bestar Nebula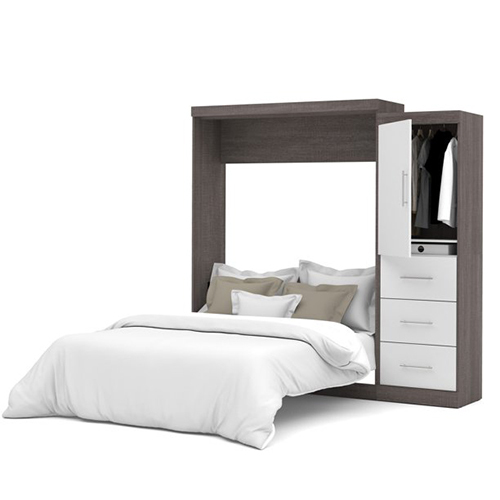 If your space is quite small and you need clothing storage as well as a bed, the Bestar Nebula is a terrific option. Once you get the frame put together, you will want to mount this bed to studs in the wall to avoid a tip or damage to the frame. This is a full murphy bed cabinet, 20 inches deep and 83 inches wide with the wardrobe cupboard and the drawers.
Pros
The instructions for this bed are quite clear and the hardware is well marked
There is an assist feature, lifting this bed alone is not hard
Mounting this to the wall will be fairly simple; the framing members are quite easy to see and work on
Cons
This bed is over 500 pounds when fully assembled, do not try to put this together alone
Do not install the mattress and fold this up until you've got it mounted to the wall
If you want a twin or a queen, this won't work. It's full size only
Bestar Nebula
This bed is made of tidy gray wood, clean white drawers, and a wardrobe door. The bottom of the bed, before you fold it down, looks like two closet doors.
When you fold down the bed, there's a gap at the back of the bed to allow airflow.
This open space is a lovely spot to hang a poster or an art print.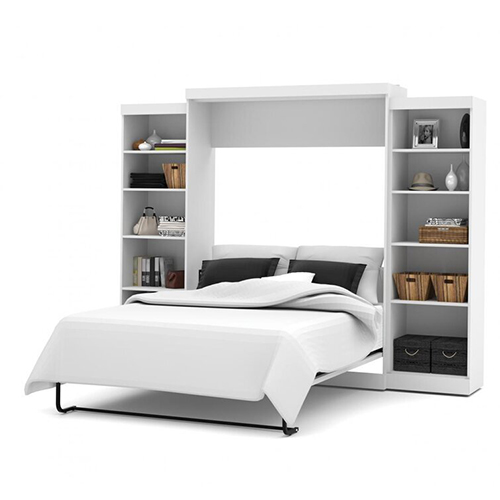 The smoky gray Beachcrest Home Dinah Queen Murphy Bed is a great addition to a large room that needs bookshelves and, occasionally, a bed. You can get your queen murphy bed in chocolate and white as well. The bed folds up into a queen sized wall cabinet and you can get bookshelves to match the unit and flank either side. Overall, this unit is 108 inches wide with bookcases and 18 inches deep. It tops out at just over 83 inches tall and is just under 650 pounds.
Pros
The mattress hardware makes this bed quite easy to fold up
The shelf units offer plenty of space for tall objects
There's an open space at the back for artwork to hang
Cons
The bookshelves really can't hold much more than 20 pounds; don't overload
The assembly on this may require professional help to line things up
The support for the mattress is a series of bow slats but there's no center support. Use it gently to start
Beachcrest Home Dinah Queen Murphy Bed
This is an elegant piece of furniture when folded up and a lovely bed when folded down.
The storage options on this are quite handy. Make sure you mount it to the wall before you add the mattress.
Carefully review the hardware so you can attach the shelves to the bed box.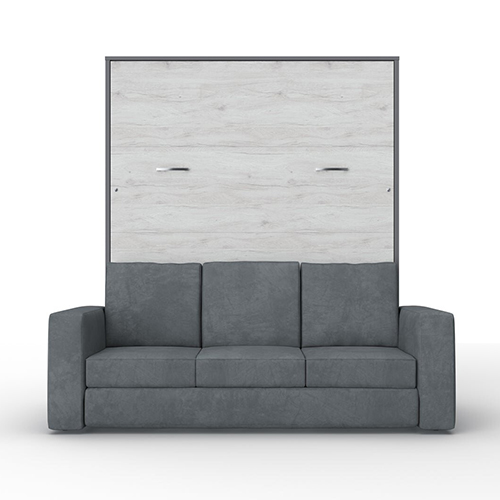 For best use of space, the Maxima House Invento Vertical Murphy Bed with a Sofa is a terrific investment. This sofa features 6 removable cushions. Once the cushions have been pulled, you can fold down the queen sized bed easily. This bed is very secure; it's locked in place when it's up and there are pistons to make lowering and raising the bed easily. While the sofa will have a deeper profile than a traditional sofa, you can quickly turn your living room into a bedroom.
Pros
This sofa and bed with mattress is only 535 pounds
The cushions, once removed, can be used as a camp bed for a child or small adult
You can order your sofa and back wall material in a variety of tones
Cons
Though it is multipurpose, this unit is bulky; the back wall of the couch when the bed up does take up a lot of visual space
When the bed is down, the back wall of this unit is sealed; moisture may be a problem
The mattress is suspended in a box or frame which may be challenging to climb over every night
Maxima House Invento Vertical Murphy Bed with a Sofa
The mattress is included!
The piston assist makes getting down a large mattress on your own much easier.
The locking mechanism reduces worries that the bed will cause injury or damage; you generally won't have this on a DIY Murthy Bed.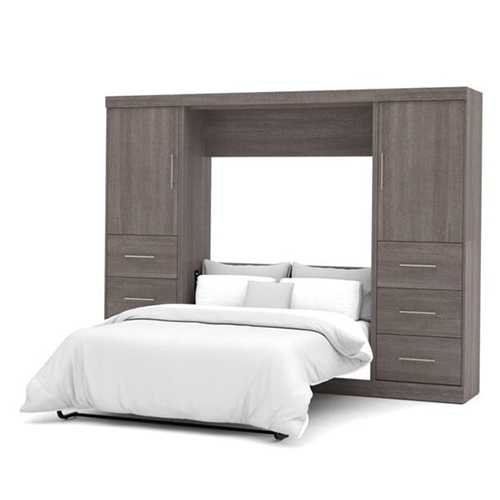 If space is limited, you can turn one 9 foot stretch of the wall into a full sized bed and his or her closets with your Atlin Designs 109-Inch Full Wall Bed. The bark gray finish is classic and elegant. When you lower the bed, the back wall is open and ready for artwork or display items. The unit is only 20 inches deep. There are 2 small closets and 6 drawers for your storage needs. There are also shelves that you can add to the closets if needed. The Atlin bed will hold a mattress up to 10 inches thick on the Euroslat support system.
Pros
This bed folding into wall unit offers a lot of value for a small footprint
The piston assist means you can open and close this with less effort
You can use an innerspring or a foam mattress
Cons
This bed doesn't include a lock in the description; consider adding one before you load the mattress
This unit is just over 750 pounds. Secure it to a wall stud
If you need long closet storage, this unit won't work
Atlin Designs 109-Inch Full Wall Bed
This unit offers a lot of flexibility; the hanging spaces will easily hold shirts and skirts, or you can add shelves for sweaters.
The drawer assembly goes together easily and offers a lot of space.
Your Atlin bed offers a 10 year limited warranty.
Minimalists who work from home will gain great benefit from the Bestar Lumina 2-Piece Wall Bed with Desk and Storage Unit. This queen bed will tolerate up to 1000 pounds of weight, including the mattress. The unit includes lights in the top to make it easy to relax and read before bed. The desk quickly folds up and down and will hold your laptop at a great working height during the day. You will want to mount this bed frame to the wall before you add the mattress; the unit will hold up to a 12 inch mattress, so it may get quite heavy once the mattress is in place. For work from home nomads, this is the best murphy bed around!
Pros
Pull the pillow, fold the bed and you're ready to go to work
Pistons make it easy to manage the weight of this bed
No box spring necessary to sleep well on this comfy bed
Cons
The mounting brackets are at the top; access may be a challenge
The desk will only hold up to 50 pounds; don't overload this shelf
There are multiple catches to close up the desk and open up the bed. Be sure you practice to avoid crushing your desk or over-flexing the frame
Bestar Lumina 2-Piece Wall Bed with Desk and Storage Unit
The slats to hold the mattress will allow plenty of airflow.
The open space behind the mattress will allow you to add the artwork to suit your taste.
The contrast between the bed box and the desk is quite lovely; this looks like quality furniture when folded up.
7. Best Full-Size Murphy Bed: BESTAR Pur
The BESTAR Pur full-size murphy bed is an ideal choice in a small space. Like a lot of furniture that takes some assembly, this unit is made of particleboard. However, the mattress is supported by slats and the back of the unit is wide open for maximum airflow. Once you get the box assembled, you will need to anchor it to the wall for stability. This unit can hold a mattress up to 90 pounds, but the lighter the better. There are pistons to make it easier to fold and unfold this mattress.
Pros
This unit is only 18 inches deep
The total weight before the mattress is only 126 pounds
This cabinet will support up to 1,000 pounds with the mattress
Cons
No lock is mentioned; consider adding one if you have small children in the house
If you've never done DIY Murthy bed assembly, consider bringing in a handy friend or a pro
Keep the hardware in order as you build and watch the video
BESTAR Pur
The bark grey finish and chrome handles make this bed an elegant piece of furniture when closed up.
The slats that hold the mattress will work with foam or innerspring mattresses.
This bed is fairly easy to mount to the wall; you will need to access it from the top.
If you need a twin murphy bed in a small footprint, the Florence Rollaway Bed by Linon is an excellent choice. This murphy bed doesn't need to go all the way to the ceiling and has wheels. When folded up, this twin bed is a simple cabinet with a simple handle that makes it easy to move around. When you're ready for bed, simply reverse the cabinet and open up the bed. The weight capacity for this twin is 220 pounds and the whole unit is only 70 pounds. If your budget is tight and you need a murphy bed with a mattress, this mattress is included!
Pros
This is a sharp-looking, easy to move the cabinet
When closed up, the cabinet is 34 inches wide, 14 inches deep, and just 40 inches tall
If closet space is tight, this cabinet can serve as a shelf against the wall
Cons
When open, the bed will be low to the floor
This may ship in multiple containers. Don't start the assembly until you know you have everything
There's no assistance in unfolding this mattress, nor can it be mounted to a wall
Florence Rollaway Bed by Linon
If you need a twin bed in a small space but don't like the look of a plain rollaway, this bed is a great investment.
When it's open, your roll away has a headboard!
The memory foam mattress is 4 inches thick and has three separate supports for stability.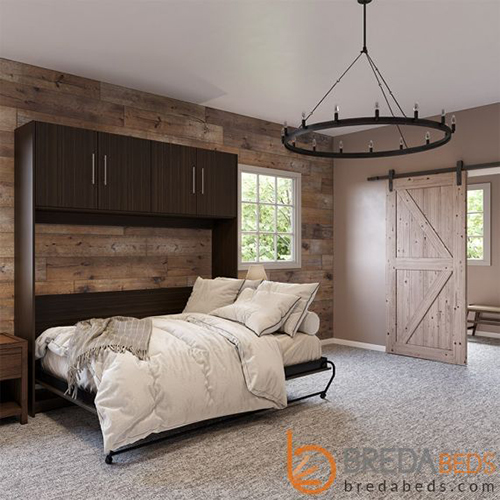 There are many benefits to the BredaBeds Horizontal Urban Murphy Bed. A horizontal bed will not take as much distance to lower the mattress. A horizontal cabinet can be lower, or you can enjoy storage up above the mattress cabinet. The Breda cabinet is a lovely rich wood tone and the hardware is a classic brushed metal. The Breda assembly instructions are quite detailed, and you can also pick up tips from the assembly videos. For the size of the bed, this cabinet is only 550 pounds delivered.
Pros
Your mattress can be up to 11 inches thick and up to 100 pounds
These beds are made to order; there will be a wait, but well worth it
The finish on this bed is highly scratch resistant and will not fade in sunlight
Cons
There is a spring assist in the hardware, but no piston assist
No mattress included, but Breda sells beds within weight limits
Lights are not included but sold as a kit
BredaBeds Horizontal Urban Murphy Bed
You can get an LED light kit to turn this murphy bed into a custom sleeping oasis.
The assembly process is quite logical as the holes are drilled for you.
While there is no piston assist, the horizontal motion makes this bed much easier to manage.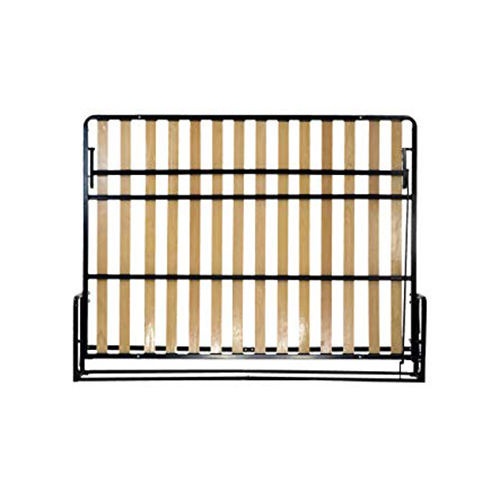 If you're into woodworking and want to build your own DIY Murthy Bed, the Wallbedking Full Horizontal Wall Bed Kit may be a great start. This slatted bedframe is horizontal, so you can build it as a lower cabinet or add storage up above the mattress storage box. The hardware includes a German piston mechanism that makes moving the bed quite simple. Additionally, the legs retract automatically against the slats for easy setup.
Pros
This frame has a lifetime warranty
You can leave the kit as it stands or builds around it
Horizontal murphy beds are much easier to manage in terms of weight and clearance
Cons
If you need a mattress thicker than 12 inches, you will need to strap it
There is no hardware for mounting this bed
The springs are quite stiff
Wallbedking Full Horizontal Wall Bed Kit
The back of the frame features a catch bar; no need to strap the mattress.
You can mount this frame to the wall or the floor for maximum flexibility.
The wooden slats will allow for plenty of airflow.
Why Buy a Murphy Bed?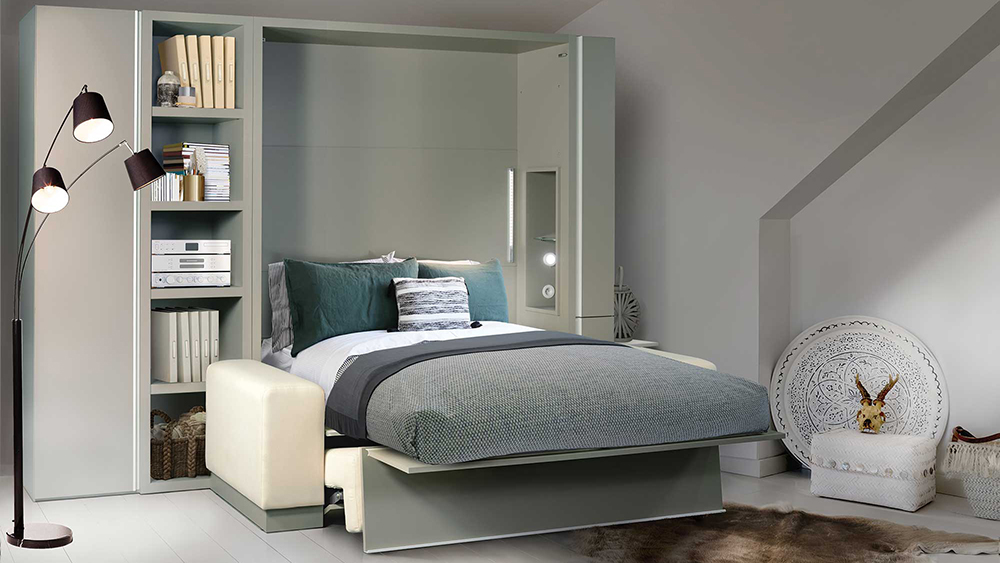 Ease of Use
Many murphy beds come with locks to keep them upright and pistons to make lowering the bed easier. Buyers will need to be certain to secure these beds to the wall before adding the mattress.
Affordability
If your living space is bare bones and you have little closet space, a murphy bed with storage can be an attractive investment that can easily come with you.
Flexibility
The best murphy bed may be the one that allows you to work in the space. For example, you can get a murphy bed that provides a desk space during the day. In smaller homes, being able to do many things inside one footprint or space is critical.
Decor
Many of the murphy beds in this review are quite pretty, featuring wood tones and real wood that has a cozy glow.
Storage
A horizontal twin or full murphy bed with cabinetry above is an ideal tool for a single in a small space. The storage above can include clothing, turning one stretch of the wall into a full bedroom.
Common Types of Murphy Beds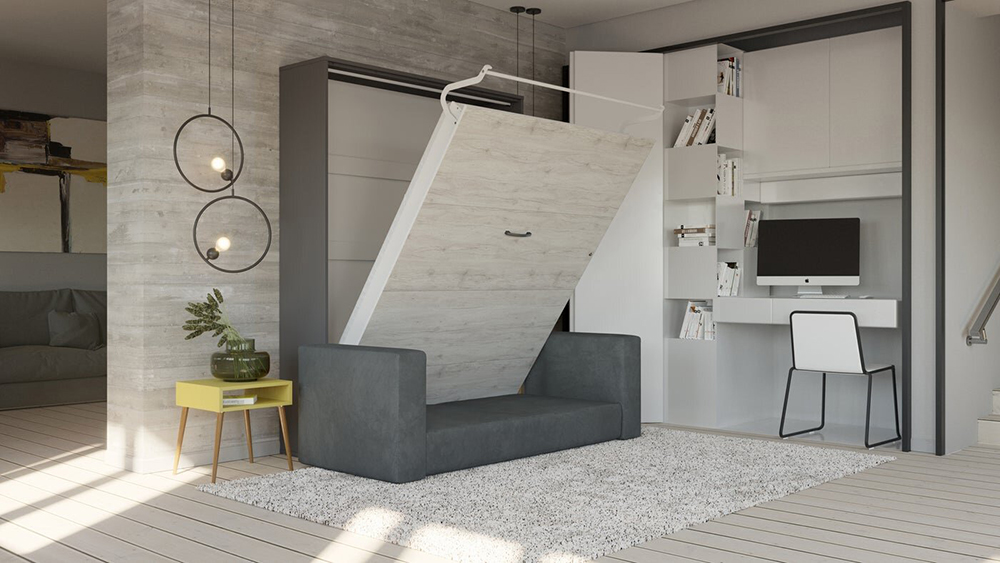 You can get a murphy bed in horizontal or vertical mode. A vertical murphy bed will work great in a long, thin room, while a horizontal can be more effective in a squared off space. You can find one with storage up above or along the sides. You can also get one that will roll out of the way until you need it.
How to Choose a Murphy Bed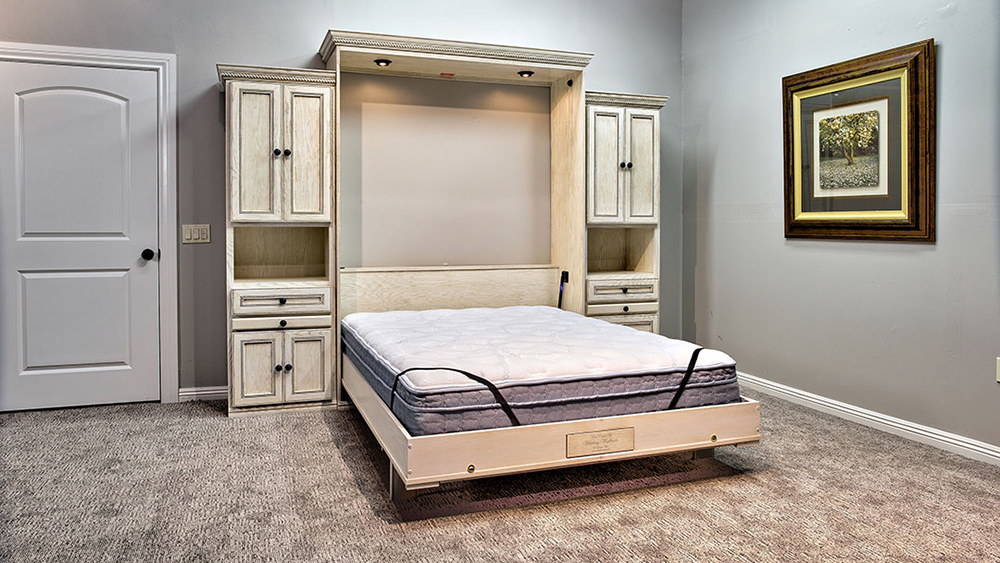 Comfort
Most murphy beds have a slatted frame, which allows you some give. To avoid getting a murphy bed frame that won't take a thicker mattress if you need one.
Size
A twin will be lightweight and cheap, but if you need at least a full, you won't sleep well. Many of the full murphy beds in this review allow at least a 10 inch mattress. To avoid discomfort, go for the plush.
Price
If you need a cheaper murphy, consider the Lori or the DIY frame. The DIY frame in particular could be used on its own for a time while you work on the cabinet surround as long as you can work around the mounting hardware.
Ease of Use
The bigger the bed, the more help you'll need. Pistons and quality hardware can be the difference between pinched fingers and wrenched backs. If you don't need a huge bed, consider a twin murphy bed to get used to the process.
Security
If you have small children, buy a murphy with a lock and mount it to the wall. If you need to, fit an aftermarket lock on your bed. Children playing with a murphy may be at risk if the pistons fail.
Murphy Wall Bed Benefits and Downsides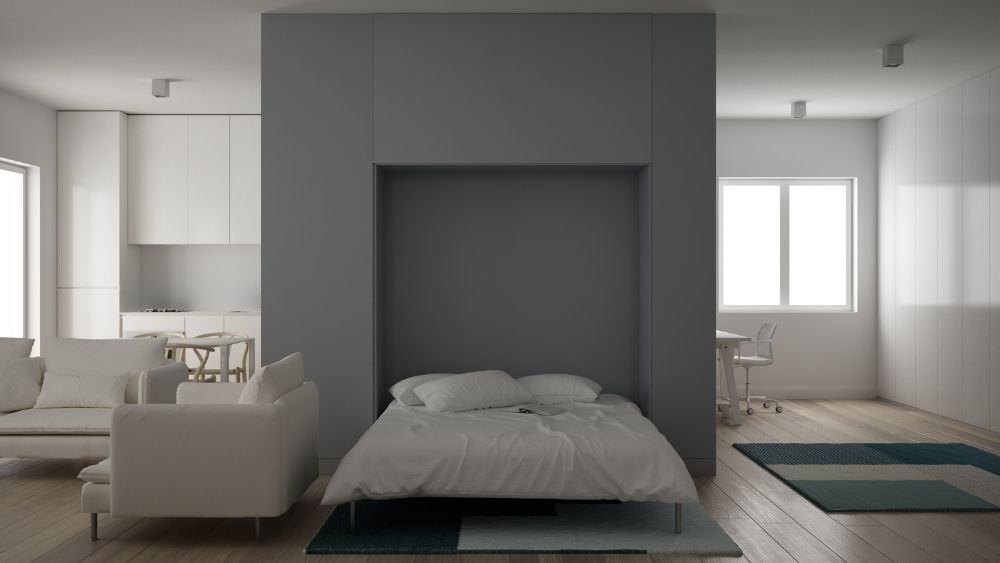 Things we like
If space is tight, or if you need your sleeping space for more activities, a murphy can be a great investment. You can also get a much better mattress on a murphy than you can a pullout or air mattress.
Not so great
These beds can be pricey. You can also get hurt if the bed is not properly mounted and the whole bed tips. Take the time to mount these right or just get a regular bed and deal with the space limitations. To prevent a tip, make sure this bed folding into wall can't completely flip.
Murphy Wall Beds Pricing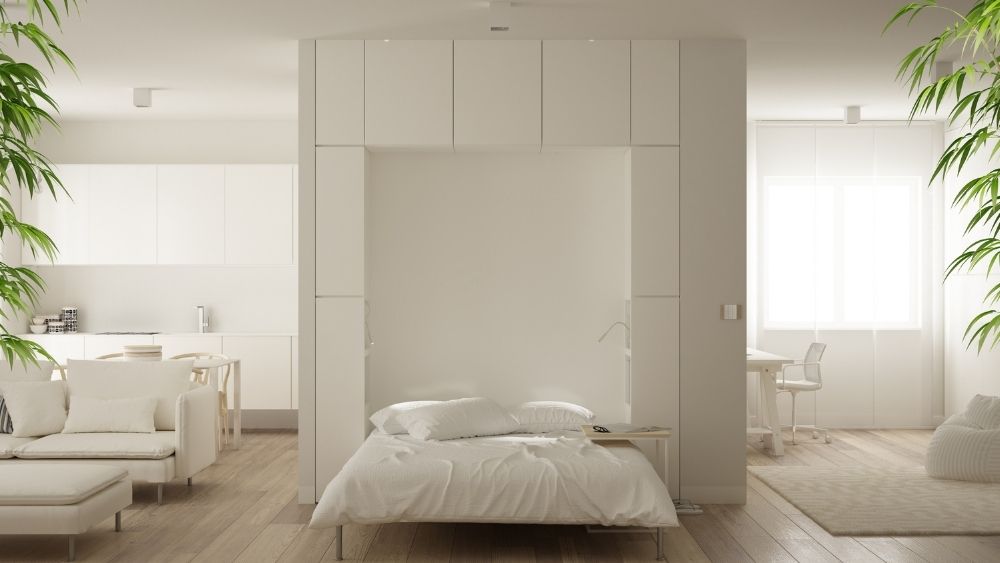 Because a murphy bed can be part of a larger storage unit, the price can get quite high. You should expect to spend up to $1,500 for a full or queen murphy bed. If you choose to get cabinetry as well, the price could go as high as $5,000.
| Murphy bed | Average prices |
| --- | --- |
| Traditional Twin (no mattress) | $1,000 – $2,000 |
| Traditional Full (no mattress) | $1,000 – $3,000 |
| Traditional Queen (no mattress) | $1,000 – $3,500 |
| Twin with a mattresses | $1,000 – $3,500 |
| Full with a mattress | $1,000 – $4,000 |
| Queen with a mattress | $1,500 – $5,000 |
FAQ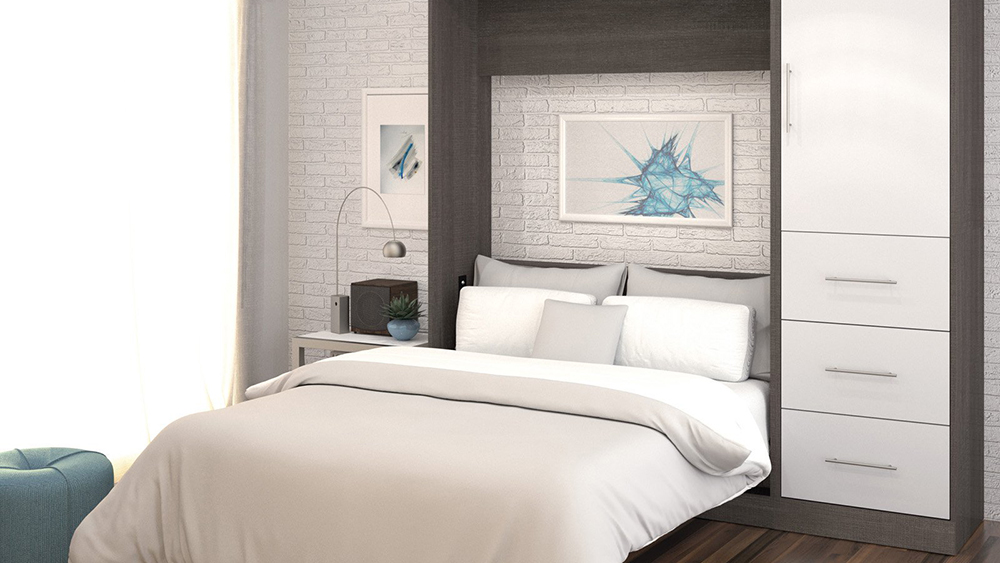 Are Murphy Beds safe?

Yes, if properly mounted and locked.

How big is a Murphy bed?

You can get a murphy in twin, twin XL, full or queen.Are Murphy beds comfortable? The larger beds that can hold a thicker mattress can be quite comfortable.

How deep is a Murphy bed?

Most of the murphy beds in this review are under 20 inches deep from the wall.

What Is the Best Frame Material for a Murphy Bed?

Metal hardware with wooden slats to hold the mattress, while the cabinet casing is generally wood.

Do Murphy Beds need special mattresses?

No, but you can't use a very heavy or a very thick mattress on a murphy.

Why is it named a Murphy Bed?

It's named after the man who hired the blacksmith to build the hardware, William Lawrence Murphy.

What kind of mattress should I use for a Murphy bed?

An innerspring will be lighter than memory foam.

How do Murphy beds work?

A murphy bed is a mattress on a platform. When not in use, the platform folds up into a cabinet or against the wall. A full murphy bed can be quite a pretty piece of furniture in a small room.
Folding Beds For the Win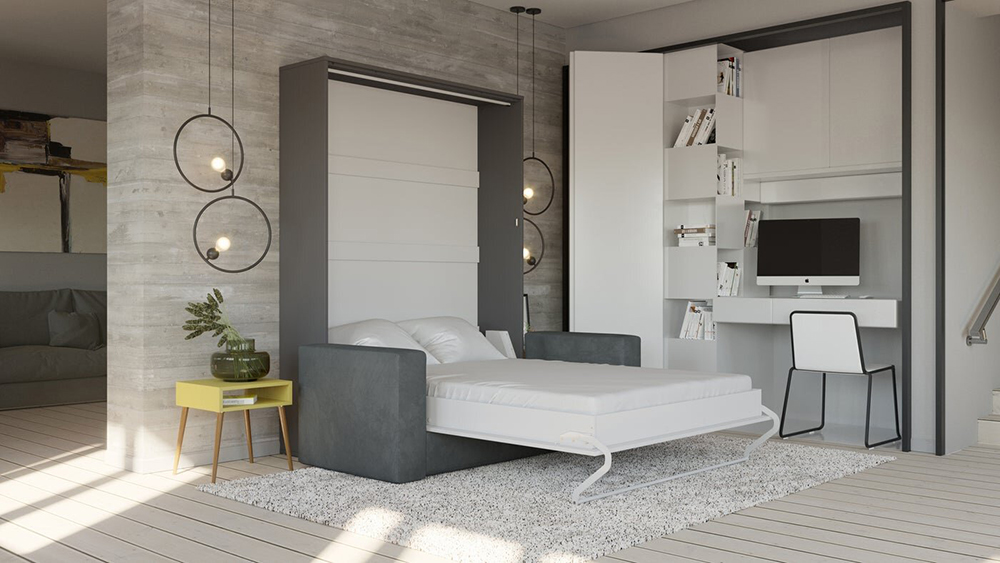 Of course, we all have to choose the best murphy bed for our own needs. However, for sheer affordability and flexibility, the Lori Wall Bed is an excellent choice. You can get this in twin or a queen/full, and you can get enjoy buying real wood in a variety of finishes. It should be noted that there is no assist in raising or lowering this bed; however, these beds are extremely durable and very well balanced. The curved shelves will also support the mattress as it moves toward the floor. Finally, you can go horizontal or vertical with this design.
The Lori Wall Bed