A standard queen size bed suits a lot of people, but it might not be the best choice for everyone. If you find yourself wishing you had a few extra inches of width to your queen size bed, consider getting an Olympic queen mattress. They add six inches of width, which might not sound like a lot, but it certainly can be if you have a co-sleeper or two.
Let's take a look at what kinds of Olympic queen beds are out there and whether one will suit your needs.
What is and What size is Olympic Queen Mattress?
As I mentioned above, an Olympic queen mattress adds 6 inches in width to the standard queen. It measures at 66″x80″, giving an extra 3 inches of space to you and 3 to your partner. If you and your significant other don't have the bedroom space for a king size bed but need the extra inches, an Olympic queen might just do the trick.
Being kind of an odd size, finding one of these mattresses can be a bit tricky. They're extremely hard to find in brick-and-mortar bed stores, and even online retailers do not always carry them. A few manufacturers specialize in them, but they are typically custom-made.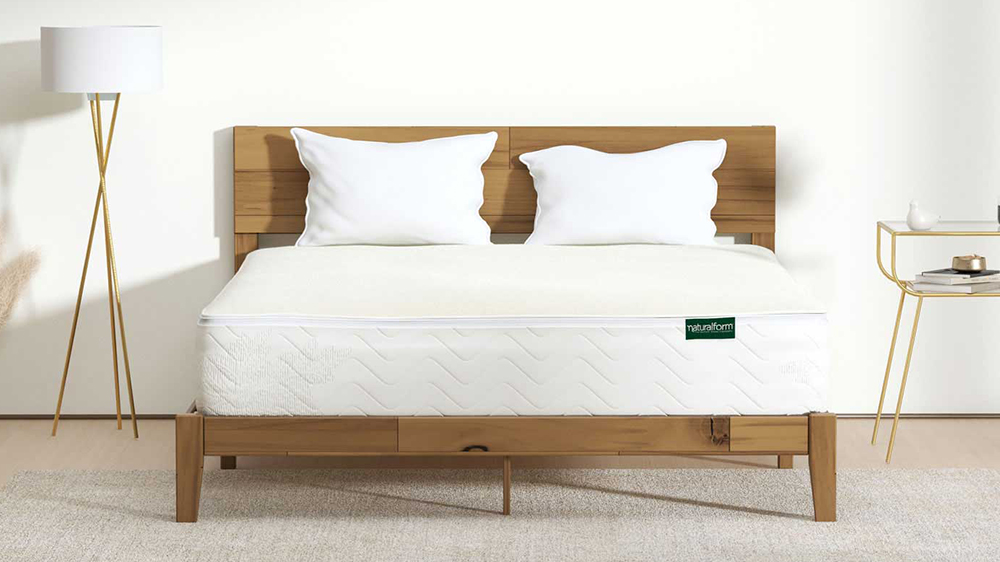 Olympic Queen vs Standard Queen
The standard queen size bed measures in at 60″x80″. This size fits inside of most bedrooms and is what about 47 percent of Americans sleep on. Queen mattresses and bedframes are widely sold due to their popular demand. For the most part, they comfortably sleep two average-sized adults.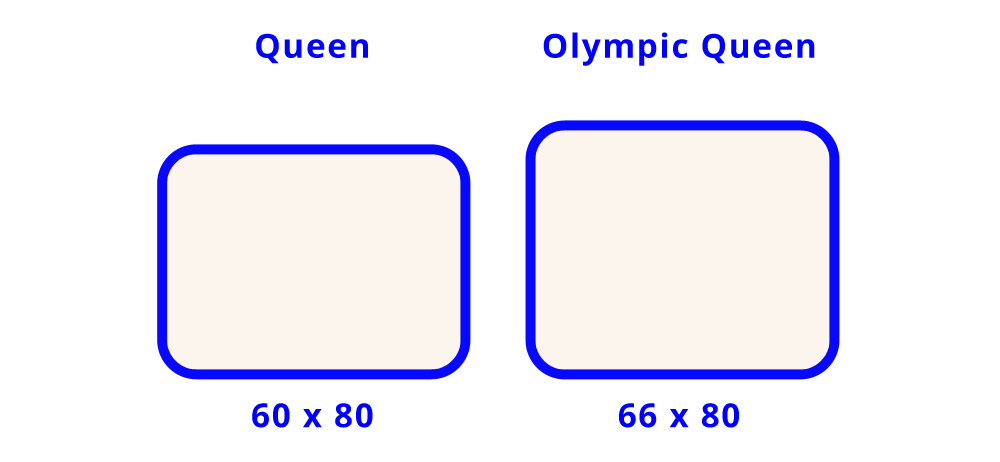 An Olympic queen is, as stated, 6 inches wider than the standard queen. That lends 3 additional inches to either sleeper. If you or your partner are on the larger side or tend to sprawl out or move a lot while sleeping, those few added inches could make a difference in the quality of sleep you and your partner get.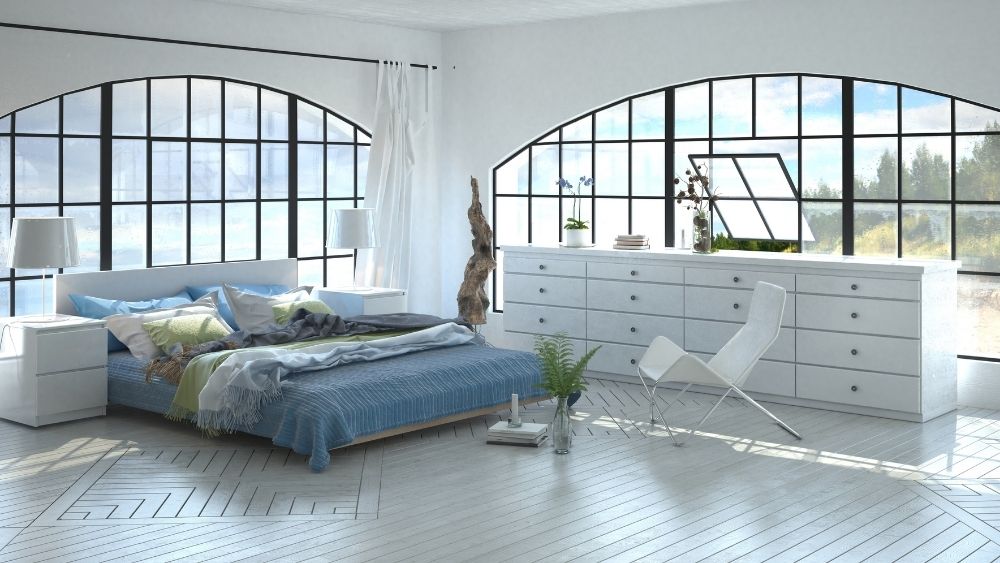 Olympic Queen Mattress Pros and Cons
That being said, let's go over a few of the benefits of sleeping on an Olympic queen. We'll look at some drawbacks as well since those could impact your decision to buy.
Pros
Extra space for two people to comfortably rest
Multiple options available for different mattress types
Bed frames are easy enough to find
Cons
They cost more than a standard queen
Still might not be spacious enough for some couples
Best Olympic Queen Mattress Options Reviews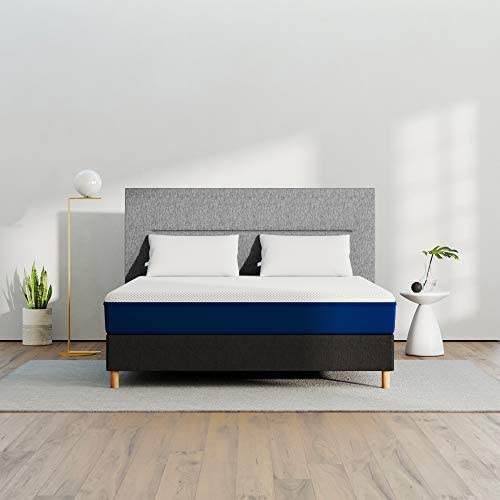 Our top pick for an Olympic queen mattress goes to the Amerisleep AS3. You can get it either as an all foam model or a hybrid that pairs together the foam with an innerspring coil design. This mattress has a 100-night in-home trial, and if you find it doesn't suit your needs by the end of the trial, you can return it, risk-free. This mattress is backed by Amerisleep's 20-year warranty and offers free shipping and returns throughout the United States.

The AS3 is made from an eco-friendly material called Bio-Pur, a plant-based material that features an open cell design to wick heat away from your body. This helps you sleep cooler at night, and it is more breathable than your standard memory foam. This foam also bounces back in a matter of seconds and is geared at relieving pressure points as you rest.

Just bear in mind that this mattress isn't for everyone. Even with its medium firmness, it might prove too firm for some folks. Also, it isn't the most budget-friendly option out there.
Pros
Draws heat away from the body
Can be all foam or a hybrid
Responsive foam bounces back in seconds
Built to relieve pressure points
Cons
Might be too firm for some users
Not the most budget-friendly option
Amerisleep AS3
Eco-friendly Bio-Pur material
Heat and moisture wicking design
100-night in-home trial period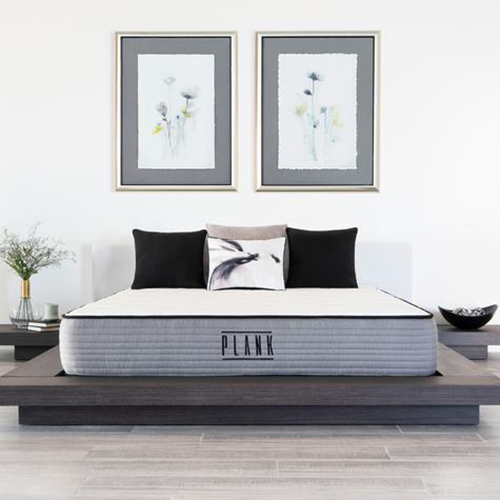 If you are a heavier sleeper (weighing over 250 pounds), then you might want to look into the Plank Mattress by Brooklyn Bedding. If you want, you can choose to add a cooling top panel to this bed, but it isn't required that you do. This makes for a good option if you tend to sleep cooler and want that heat.

This mattress is able to be flipped, letting you select your ideal firmness. The .75" quilted top layer gives you an extra firm comfort level. Or, if you flip it, you get the 1.5" quilted top layer over the 2" Titan Flex comfort layer for a more medium-firm comfort level. It's all up to you.

With a 120-night in-home trial, you can return the mattress within that time if you don't like it. However, if you do keep it, you only get a 10-year warranty, which feels rather short. Also, some buyers report the mattress sinking shortly into their ownership experience.
Pros
Can be flipped for medium- or extra-firm comfort level
A cooling panel is optional
Can help encourage a neutral spine position for heavy sleepers
A 120-night in-home trial
Cons
Only has a 10-year warranty
Premature mattress sinking might occur
The Plank Mattress by Brooklyn Bedding
Flippable design
Ability to accommodate heavier sleepers
120-night in-home trial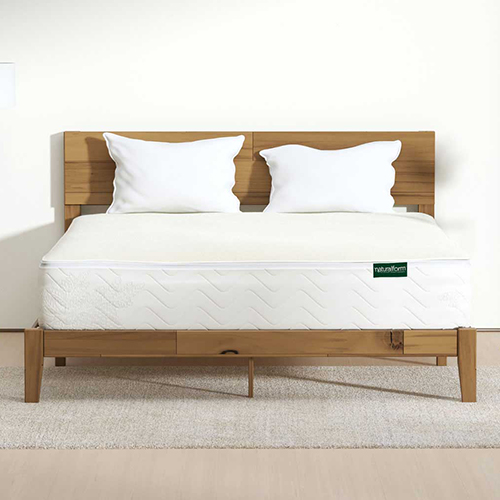 If pressure relief is essential for you, the Refresh Mattress by Natural Form could give you a better night's sleep. Natural Form's patented Pressure-Free technology has up to 42 air zones on each side, providing plenty of back support and pressure relief. You also get to control your firmness levels for either side without relying on pumps, motors, or electricity.

Merino wool is used in the mattress' design and proves to be quite breathable. Wool can absorb a lot of moisture vapor and wick it away to evaporate. With wear and tear being inevitable, Natural Form makes its components recyclable and replaceable. Underneath the wool cover is 3 inches of CertiPUR-US foam for support of your lower back, waist, hips, and shoulders. This hybrid foam is durable and doesn't change shape with alterations in temperature.

Be aware that some sinking has been reported on this mattress. It also might not bode well for every sleep position. If you prefer to sleep with your head slightly elevated, it might create some discomfort.
Pros
Both sides of the bed are adjustable for comfort
Uses breathable wool for the cover fabric
Designed to relieve pressure points
Can work for combination sleepers
Cons
Some users report sinking on this mattress
Might not work for all sleeping positions
The Refresh Mattress by Natural Form
Adjustability of comfort levels on either side
Pressure-relieving technology
Breathable Australian wool cover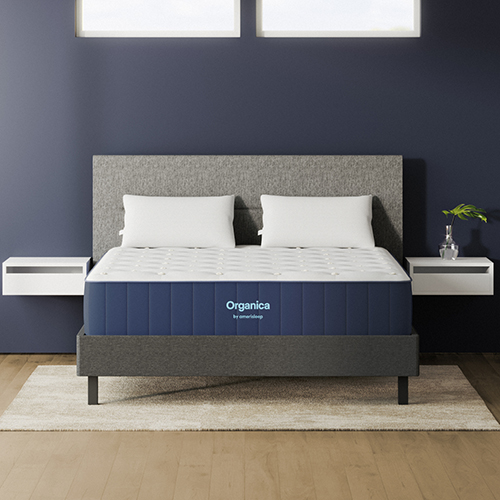 If you want to go naturall, the Amerisleep Organica mattress is manufactured with GOTS organic cotton, a knitted top, and woven sides. It also utilizes 3 inches of natural Talalay latex in its design, which is certified Standard 100 OEKO-TEX, the Rainforest Alliance, and the eco-INSTITUT.

Below that are 8 inches of coil unit with built-in edge support. That is layered atop an inch of natural Dunlop latex. The Talalay latex layer is up to 7 times more breathable than the types of foam used in other mattresses. It creates a durable, supportive, and bouncy feel with barely any off-gassing. Designed and shipped from the USA, this mattress is made from materials from Sri Lanka, New Zealand, and India.

Since this is a latex mattress, it is a more expensive option than memory foam. Also, you only get a warranty that lasts for 10 years, whereas other manufacturers offer longer warranties.


Pros
3 inches of natural Talalay latex
Built-in edge support with the coil system
Blends durability and bounciness
Cons
More expensive than memory foam options
Only offers a 10-year warranty
Amerisleep Organica
Eco-friendly latex design,
Organic cotton
Minimalized off-gassing upon opening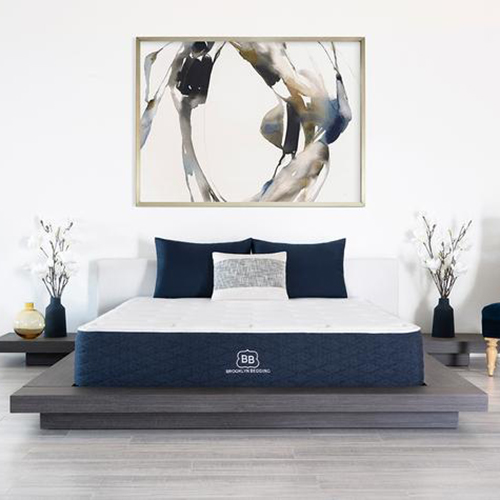 If you are shopping on a tighter budget, the Brooklyn Signature Hybrid from Brooklyn Bedding shaves down the cost quite a bit. You also get to choose from a soft, medium, or firm thickness level. And, if you are struggling to afford the entire bed up front, the company offers financing options.

Let's talk about its structure. On top, the premium quilted cover lends a lot of breathability and resists body impressions after you get up. Contouring is provided by a 1.5-inch top layer of patented TitanFlex foam. It gets matched up with a 1-inch VariFlex transition layer for enhanced compression support in the soft and medium mattress options. If you're looking for a more traditionally firm sleep experience, the firm mattress gives you a 1-inch top layer of patented TitanFlex foam with 2 inches of VariFlex underneath. For the base, you get 8 inches of up to 961 individually encased Ascension coils to provide plenty of support. And edge support abounds on any of the comfort levels.

Just remember, if you buy the wrong comfort level, you won't get the best sleep possible. The soft option will probably be too soft for back and stomach sleepers or heavier folks needing the extra support. Likewise, the firm option might be too firm for side sleepers or lightweight folks. You might even develop back pain as a result of choosing the wrong comfort level.
Pros
Has soft, medium, and firm comfort options
Gives you financing options
Minimal off-gassing
Can help with joint pain
Cons
Might be too soft or too firm depending on your sleep style and chosen comfort option
The wrong comfort option might result in back pain
Brooklyn Signature Hybrid by Brooklyn Bedding
Able to choose from three comfort levels
Breathable top fabric
Ascension coil system for support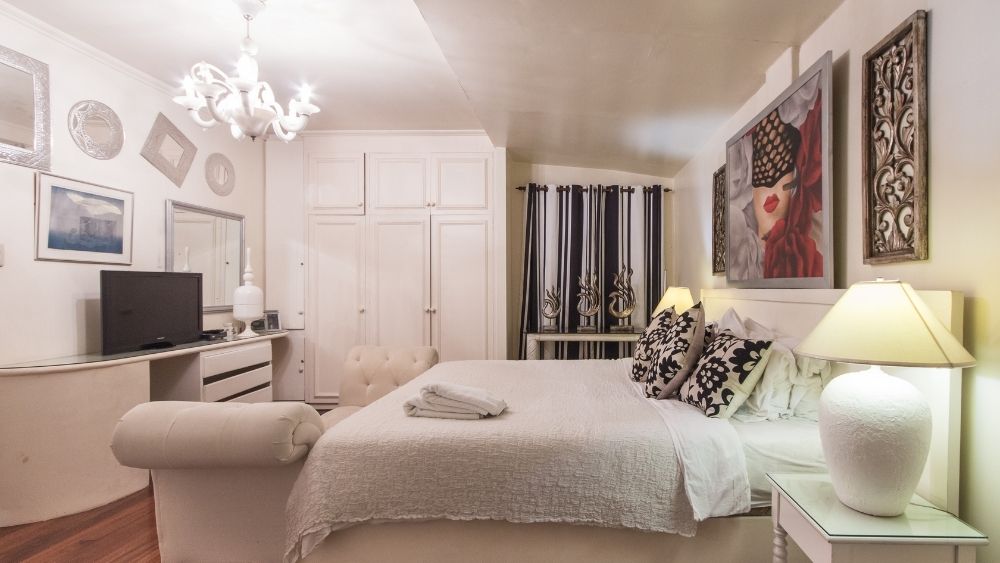 Common Types of Olympic Queen Mattress
As you can see from our list, the super queen mattress has several types available. What you get should depend on your unique sleep needs and preferences.
Innerspring
Innerspring mattresses are quite widely sold. Highly traditional, it utilizes metal springs for support. If you like a bit of bounce and/or want to alleviate back pain, an innerspring mattress with a few top layers of foam can bring a lot of comfort.
Memory Foam
Memory foam has risen to become the most sought-after type of mattress. It tends to be the most affordable type, plus it is known for relieving pressure points. Memory foam does feel different than an innerspring, so it is something you should try first.
Latex
Latex mattresses are some of the most expensive options but are popular with eco-minded consumers. They're also hypoallergenic and easy on the skin.
Hybrid
Hybrids like the Brooklyn Signature mattress can be made from a combination of foam or latex and innerspring coils. They provide a good amount of bounce while also offering ample support.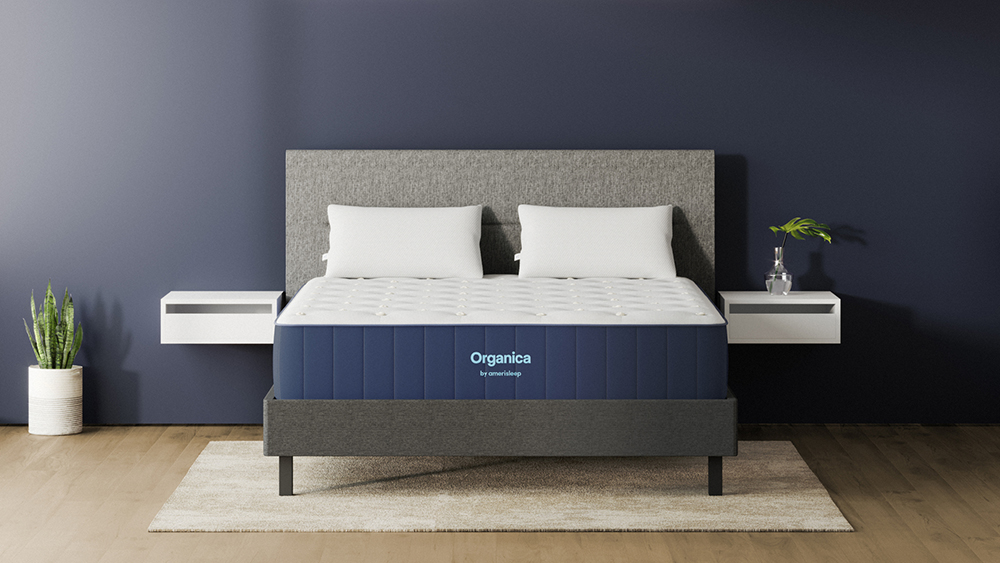 Things to Consider Before Buying an Olympic Queen Mattress
The Price
An Olympic queen mattress is more expensive than a standard queen. And, as is the case with any mattress, you get what you pay for. Cheaper mattresses usually mean cheaper materials that degrade more quickly and offer less support.
The Bedframe
Bedframes have to fit, so if you're switching away from a standard queen, you'll need to buy a new bedframe. Of course, this will factor into the overall cost, as will accessories.
Its Size
Do you have the extra 6 inches of space available in your bedroom? Be diligent with your measurements before you buy.
Availability
As this isn't a standard size, an Olympic queen is harder to find. You will have to look specifically for them online since many brick-and-mortar stores don't keep them in stock.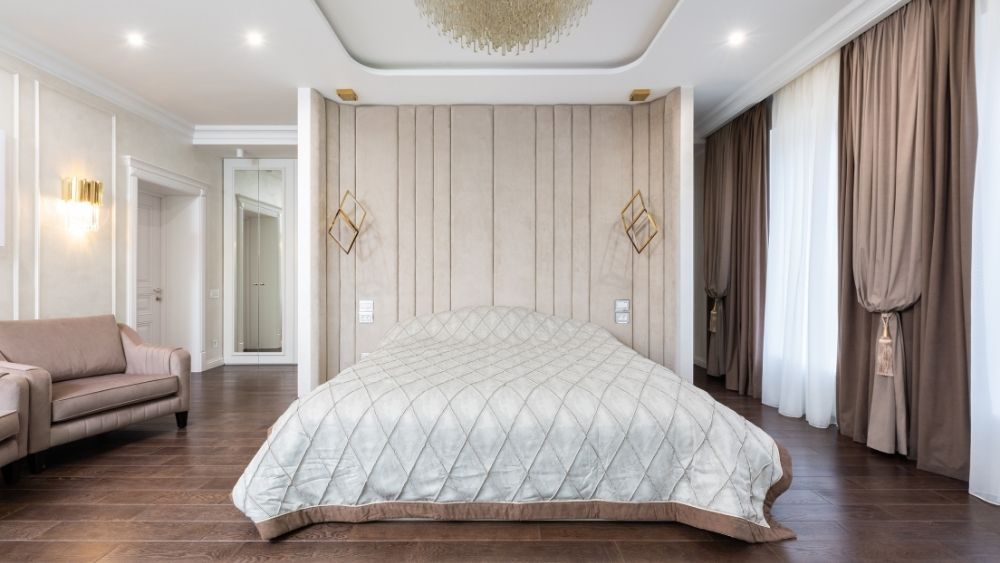 Where to buy Olympic Queen bed frames and linens?
Buying an Olympic queen bed frame and accompanying linens for the bed takes some searching. The easiest route is to search for them online. Some mattress manufacturers offer them in addition to standard queen mattresses and can be found by doing a simple Internet search.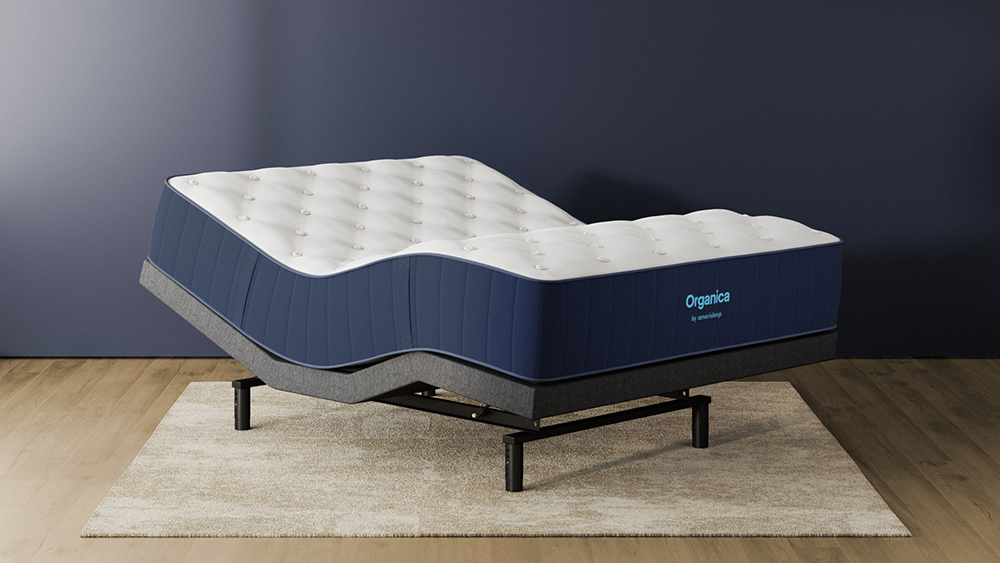 FAQ
Can an Olympic queen mattress fit on a queen bed frame?

You will need to get an Olympic queen bed frame since the 6 inches of extra width makes this mattress too big for a standard queen bed.

Do King sheets fit an Olympic queen?

King sheets are going to be slightly too bit to properly fit on an Olympic queen mattress. You need to get linens tailored to the Olympic queen's exact measurements.

How much is an Olympic queen?

The mattress alone can cost anywhere between $800 and $1,300. The average cost you can expect to see is $1,000.

What size bed is 66×80?

An Olympic queen bed measures in at 66×80 inches.

Who makes Olympic queen?

Various mattress manufacturers make Olympic queens. There aren't many, but those who sell online (such as Amerisleep and Brooklyn Bedding) make them.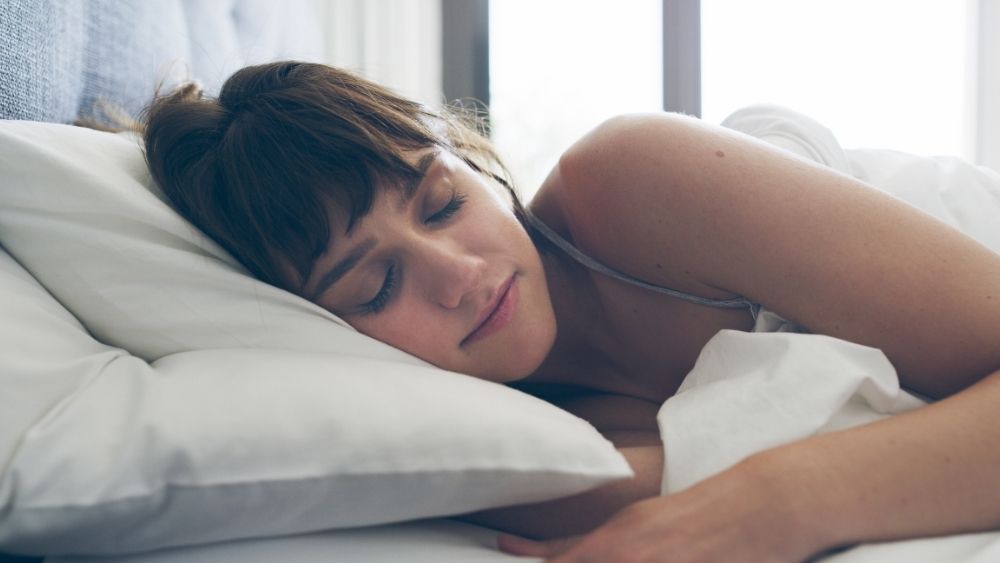 Will You Sleep Like a Queen on an Olympic Queen Mattress?
An Olympic queen mattress gives couples a little extra space on either side. Sometimes, a standard queen just isn't big enough, but those few additional inches can really make a difference in how well you and your partner sleep.
The Amerisleep AS3 is our top pick because it uses foam while still managing to make it breathable. And, if you don't want all foam, you can pick the hybrid option to lend a little more internal support. Overall, this is a mattress that should appease various sleepers, allowing you and your partner to rest easily throughout the night without waking each other up.
Amerisleep AS3