The best pillow for shoulder pain is the one that supports your head while you find a spot for your shoulder to settle.
For those who sleep on their side, neck and shoulder pain can be a serious problem if the pillow is too flat or too hard.
The right shoulder pain support should also provide coolness so you can sleep deeply without being woken.
8 Best Pillows for Shoulder Pain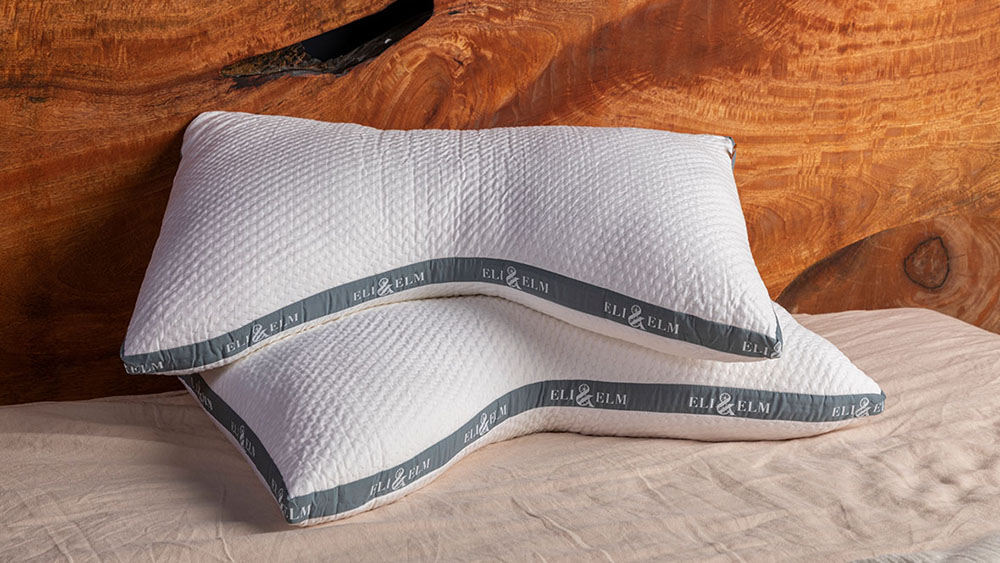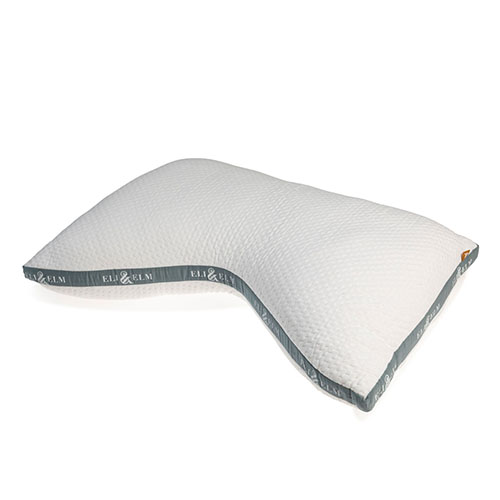 The cleverly designed Eli & Elm Cotton Side-Sleeper Pillow is shaped to be the best pillow for shoulder pain. There is a small curve that gives you a spot for your sore shoulder to nestle while supporting your head fully.

This pillow for shoulder pain is made of polyester fiber fill and latex noodle material for softness that will not flatten out. Side sleepers will love the neck and shoulder support, as well as the shoulder space allowed by the curved bottom.

These are big pillows, 17 inches tall and 29 inches wide, so you have room to find the best sleep position.
Pros
You will be able to try this pillow for 45 days to see if it will reduce chronic shoulder pain
If you struggle with neck pain that leads to shoulder pain throughout the day, the curve of this pillow could be a game changer
The latex noodles that fill this pillow offer more support the further you sink into it
Cons
These pillows can look a little funny when the bed is made up; they are not rectangular. You can get a custom pillowcase from the manufacturer
It may take up to a week to get your pillow, depending on where you live
Be aware that this is poly in the fill and the cover despite the name
Eli & Elm Cotton Side-Sleeper Pillow
If you need to reduce shoulder pain and protect your spinal alignment, this pillow will help.
The cover is machine washable and easy to fill or remove stuffing.
Back and stomach sleepers can customize the fill of this pillow for just the right softness.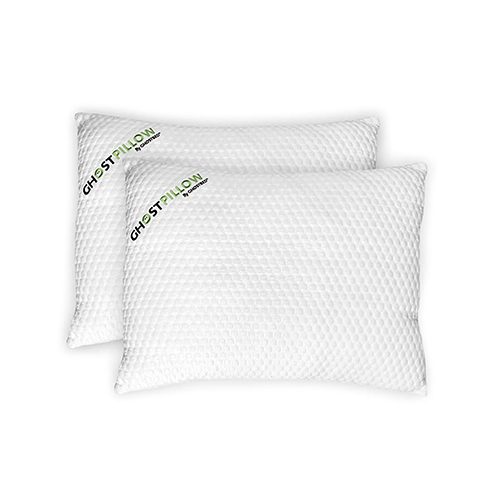 Sometimes a sore shoulder feels better with a little snuggling, or at least a little settling in until you get things just right. The GhostPillow Cooling Pillow is the best pillow for shoulder pain sufferers who tend to overheat.

This pillow is designed to be cool to the touch and comes overstuffed so you can remove fill until it's perfect for you. The fill of this shoulder pain pillow offers a lot of variety, from the shredded gel foam for coolness to the visco foam for softness to the microfiber clusters for easy fluffing.

No matter how thick or plush a pillow you need, this one can work!
Pros
The fill of this pillow offers a lot of variety; it will hold its loft
Because this shoulder pain pillow is designed for consistent airflow, your risk of bacterial build-up and mildew is low
Everyone, from tummy sleepers to side sleepers, can get comfy on this pillow
Cons
This only comes in one size, 18 inches x 24 inches
You can only buy this in the 2 pack, which may be more than you need
There are two fabric liners holding this pillow together, the GhostFabric cooling outer and the inner cover; washing the whole shoulder pain pillow will be fiddly
GhostPillow Cooling Pillow
GhostPillows come with a 101 night sleep trial and a 5 year warranty.
This shoulder pain pillow is washable once you remove all the fill.
Every item in and around this pillow is designed to keep you cool. No flipping!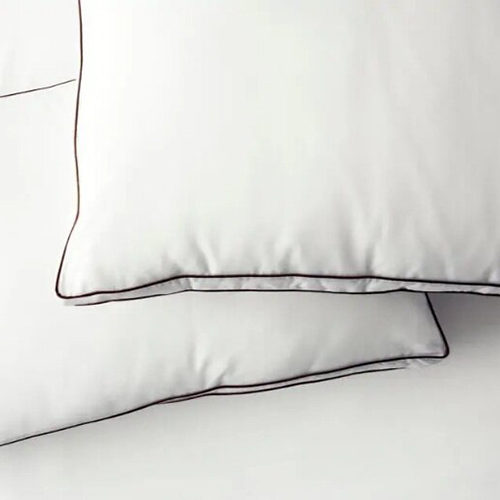 If you love the support of memory foam but can't handle the outgassing, the Saatva Latex Pillow is for you. There are multiple layers to this pillow and some are removable.

If you are a tummy sleeper and need a soft pillow, just use the shredded latex and remove the down alternative center. If you're a back sleeper and need more support, take out some of the shredded foam and give it to the nearest side sleeper.

Side sleepers, load up your Saatva with all that extra foam for a plump, sweet sleep.
Pros
Latex foam is naturally hypoallergenic. If you can't tolerate memory foam, you'll love this pillow
This pillow breathes; hot sleepers with shoulder discomfort can celebrate and sleep cool!
The further you sink into this pillow, the more support you get
Cons
Removing and re-adding foam can be fiddly, but it will be worth it
Latex foam cannot be washed. It's recommended this shoulder pain pillow be replaced every three years
If you need take out a lot of the shred, the inner fill pillow may feel weird inside the cotton cover
Saatva Latex Pillow
You get 45 days to fall in love with this shoulder pain pillow and if you part ways, you get your money back.
There's also a 1 year warranty to cover any defects.
The organic cotton cover is washable; just use cool water and let it air dry for best results.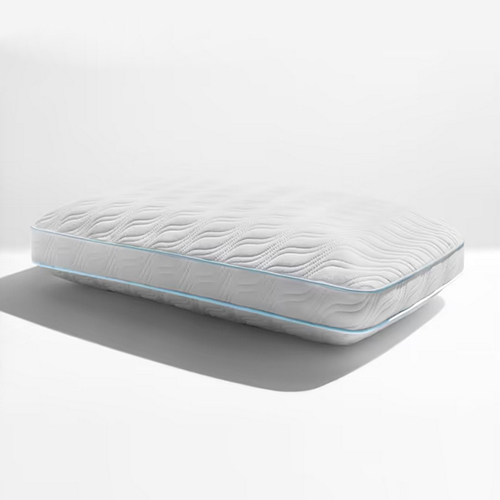 The best pillow for shoulder pain is often the one that best fills in the gap between shoulder and neck. The Tempur-Pedic TEMPUR-Cloud Pro Pillow offers terrific support in three different lofts so you can find the one that suits you best.

This shoulder pain pillow adapts to your shape as you use it to provide the best support, no matter what position you prefer to sleep in. The durable support of this pillow also makes it a great choice for those with larger frames.
Pros
The Tempur-Pedic company designed and developed the first use of memory foam. Their cooling technology is top-notch
Restless sleepers can take comfort in the way this shoulder pain pillow shapes itself to their head and neck
Hot sleepers will love being able to wash this cover should it become discolored or develop an odor
Cons
If you need a shoulder pain pillow you can fluff up, this one offers limited thrills
The knit fabric of the cover can lead to overheating
If you've had a problem with must and mildew in memory foam bedding pillow, consider a waterproof cover for this one
Tempur-Pedic TEMPUR-Cloud Pro Pillow
Your TEMPUR-Cloud Pro Pillow comes with a knit cover that can be removed for easy laundering.
While the loft variance between these three pillows is just 1 inch the firmness and bounce back varies widely as you readjust in the night.
This shoulder pain pillow offers a five year warranty.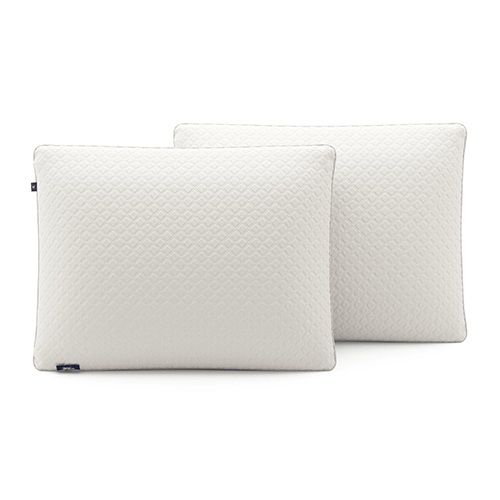 For softness and loft, the Nolah Squishy Pillow with the bamboo cover may be your best choice. If you have a tendency to burrow into your bedding and wake up overheated, this pillow will provide relief and plenty of snuggling.

The incredible softness and durability of bamboo can't be overlooked, and this cover is washable. You can customize your Nolah pillows. They come in a two-pack, but if you are a side sleeper with neck or shoulder pain issues and your partner is a back sleeper, you can steal a little foam and both sleep incredibly well.

You will also get 30 nights to test drive this lovely shoulder pain pillow.
Pros
The bamboo fabric offers a durable weave. If you're hard on pillows due to shoulder pain or general restlessness, this soft pillow can actually take some abuse
Your Nolah pillows will come to you over-stuffed; they're built for you to customize
The ability to buy a two-pack will save on shipping costs and environmental footprint
Cons
Not everyone needs two pillows and they don't sell this singly
If you're sensitive to memory foam, this pillow may not work
When you pull out the extra cube stuffing, you will need to be sure to store it in a breathable container to reduce the risk of moisture and bacterial build-up
Nolah Squishy Pillow
Bamboo fabric offers amazing softness and lots of airflow.
The foam inside your Nolah pillows is cubed; if you're tired of chasing tiny shreds of memory foam, no worries. This foam is easy to remove and transfer between pillows.
Your pillow should ship within two days of your order via FedEx.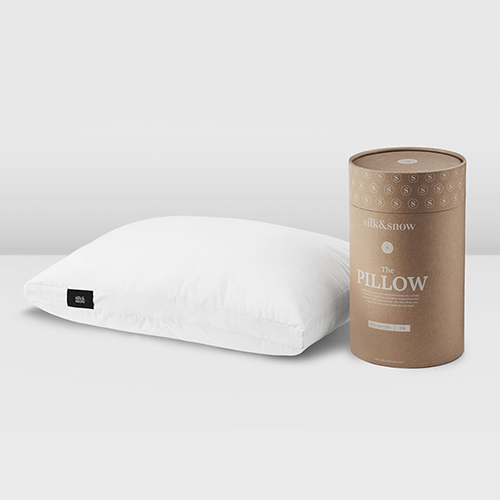 The Silk & Snow Pillow is a terrific choice for those who love pillows that hold their fluff. This pillow has a memory foam core and is filled up with air infused CertiPUR-US® shredded foam for continuous loft.

Users compare the softness to a fully plumped down pillow without the environmental impact of animal products. You can remove fill to make this more comfortable for back sleepers and stomach sleepers.
Pros
These pillows are in stock; if you need them quickly, the delivery can be quick
Your pillow for shoulder pain comes with a cardboard cannister loaded with extra foam
This luxurious pillow can be bought with linen or silk pillowcases to increase your enjoyment
Cons
The cover of this pillow for shoulder pain is bright white. If you are a hot or sweaty sleeper, consider adding a waterproof cover to protect it
The shredded memory foam may outgas. While it's CertiPUR-US®, those with sensitive noses may not be comfortable with this pillow
This pillow for shoulder pain only comes in Standard and King
The Silk & Snow Pillow
The shell of your Silk & Snow pillow can be washed in cold and allowed to air dry or tumble dry on low.
This pillow comes with a 100 night sleep trial, though they do ask that you try it for 30 days.
Your Silk & Snow also comes with a 3 year warranty.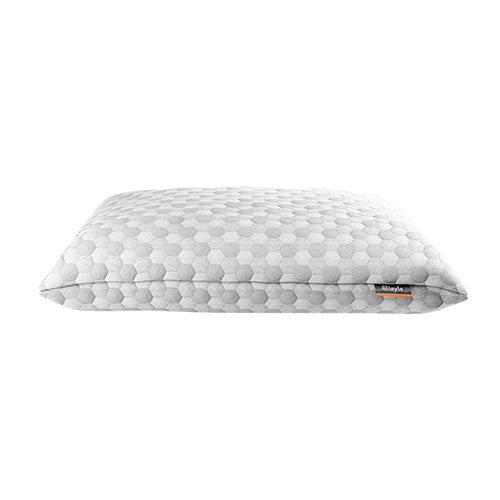 For side sleepers who love to flip to the cool side, the Layla Kapok Pillow offers a lot of benefits.

The copper infused foam within this pillow reduces the risk of moisture and bacterial build-up. If you've ever had foam go musty, you know how important it is to avoid any moisture build-up within your memory foam pillows.

The Kapok is stuffed with shredded memory foam for loft and heat dispersal. No matter how hot you sleep, this memory foam pillow will disperse that heat.


Pros
You can test drive this memory foam option for 4 weeks and get a full refund
The Kapok comes with a 5 year warranty
The Kapok fibers built into this memory foam cloud offer a downy fluff without having to use real down; those with allergies will love this pillow
Cons
These memory foam pieces don't get built until you place your order; be prepared for delay
Unlike the Layla mattresses, these memory foam pillows are not firm on one side and softer on the other
Since they're adjustable, these are great pillows for the guest room. Put your name on yours!
Layla Kapok Pillow
This memory foam pillow holds loft. Once you plump it up, it will support your neck and shoulders.
If you find memory foam pillows are too plumpy for you, just unzip the cover and remove material until you can sink in to the right depth.
Your Kapok can be laundered; remove the foam and wash the cover in cool water and allow it to air dry, then fill it to your preference.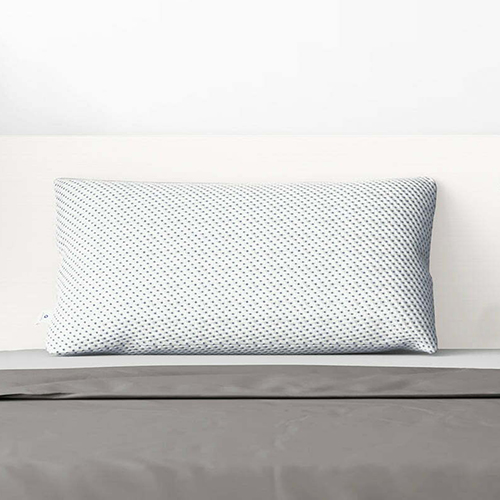 The Comfort Classic Pillow from Amerisleep is a terrific memory foam pillow for those who struggle with overheating.

Every layer of this pillow, from the breathable cover to inner cooling channel to the Bio-Pur® memory foam allows heat to just move on through. Despite being a fairly dense pillow, side and back sleepers alike will find it easy to settle in and sleep deeply on this soft, comfy pillow.
Pros
Hot sleepers will love this breathable pillow for shoulder pain
The king sized version of this pillow is nearly 5 pounds. If you're a restless sleeper, this one will stay put
This memory foam pillow is easy to keep fresh and clean
Cons
There are no returns on these pillows
These pillows have too high a loft for stomach sleepers; don't put them in the guest room
Some users find that memory foam has an odor. If you're sensitive to this, you may have to buy from a retail shop
Comfort Classic Pillow
Your Comfort Classic memory foam has a removable cover that can be laundered. Make sure you wash it in cold water and allow it to air dry before you put it back on.
You can easily freshen the memory foam core with a bit of baking soda and time; simply vacuum it away after an hour
This pillow has enough loft to support your head and enough memory foam density to fill the gap between neck and shoulder.
What is Shoulder Pain?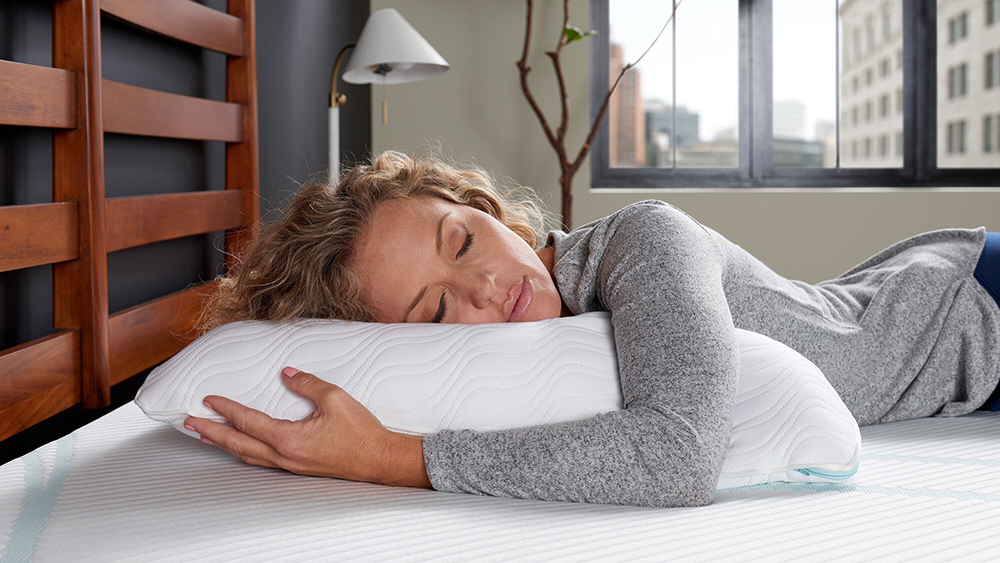 The shoulder is a very complicated joint that can be damaged by time, overuse and accident or illness.
Damage to the rotator cuff can occur in any one of 4 muscles and several tendons, and can include tears and inflammation. If you are woken by shoulder pain, the rotator cuff could be the issue.
What is Shoulder Pain?
Shoulder pain generally shows up when there is inflammation in the joint. For example, if you have been painting over your head, there may be inflammation in the tendons that hold the shoulder together. While anti-inflammatories and ice can help, this shoulder pain may come back. A pillow for shoulder pai can lower your overall discomfort.
The best pillow for shoulder pain will depend on your sleeping position. In addition to the shoulder pain caused by over-use, you can suffer from shoulder pain if your spinal alignment is off. Your skull is quite heavy and can overpower the bones and muscles in your neck, which can lead to tension and pain in the shoulder. Some side sleepers may find the best pillow for shoulder pain is the one that best supports the weight of their skull at the deepest level of sleep.
Make sure your pillows for shoulder pain provide space for your shoulder. A curved pillow for shoulder support and space could alleviate your discomfort, as could a pillow with a memory foam core. A memory foam pillow that features a center insert and a surrounding field of shredded memory foam could be best.
Why Does Shoulder Pain Appear
Shoulder pain could show up due to age and wear. Those with shoulder osteoarthritis struggle to reach behind them; the joint simply won't flex that way. In this case, pain relief of the neck and shoulders may include gentle exercise and heat.
In the case of a tear or inflammation, shoulder pain relief may require a split or brace to hold them arm close while waiting for the inflammation to go down. A pillow for shoulder pain can make sleep easier in this case.
Shoulder Pain and Sleeping Positions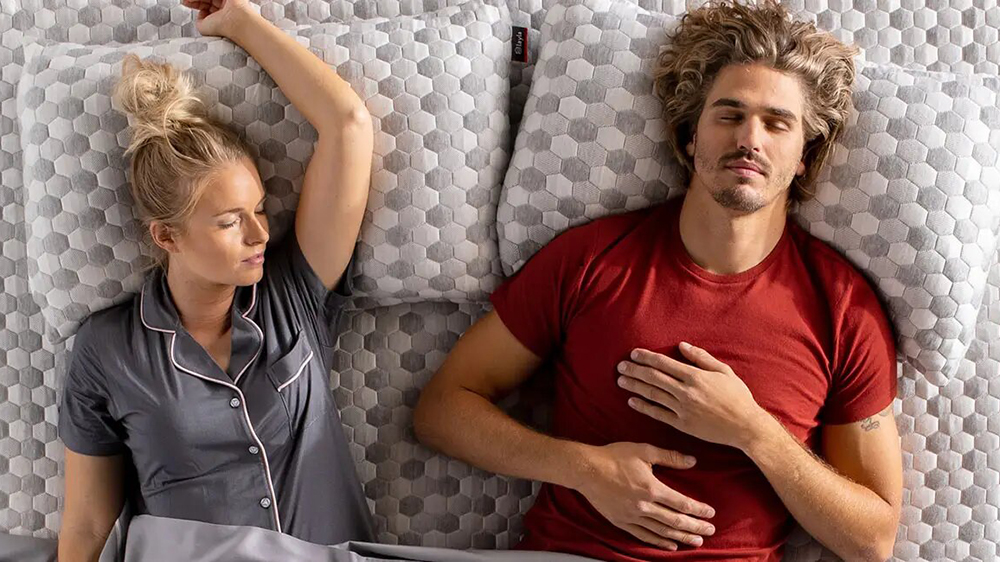 Side Sleepers
Side sleepers are in the sleep position that is hardest on the shoulder, especially if your bed is firm. You will need a pillow for shoulder pain that fully supports the weight of your skull to align your neck and take pressure off your shoulder.
Back Sleepers
If you've learned to sleep on your back, you naturally fall into the safest position for your shoulders and your neck. For many back sleepers, a medium firm pillow for shoulder comfort with a cooling cover could be all they need to reduce shoulder pain.
Stomach Sleepers
Stomach sleepers are especially hard on their spine because the head always has to be turned. This can create neck tension, which can create shoulder pain. A low-loft, firm pillow can reduce this tension. Many tummy sleepers do better with no pillow at all and can sleep well on a firm mattress.
Best Pillow Materials for Shoulder Pain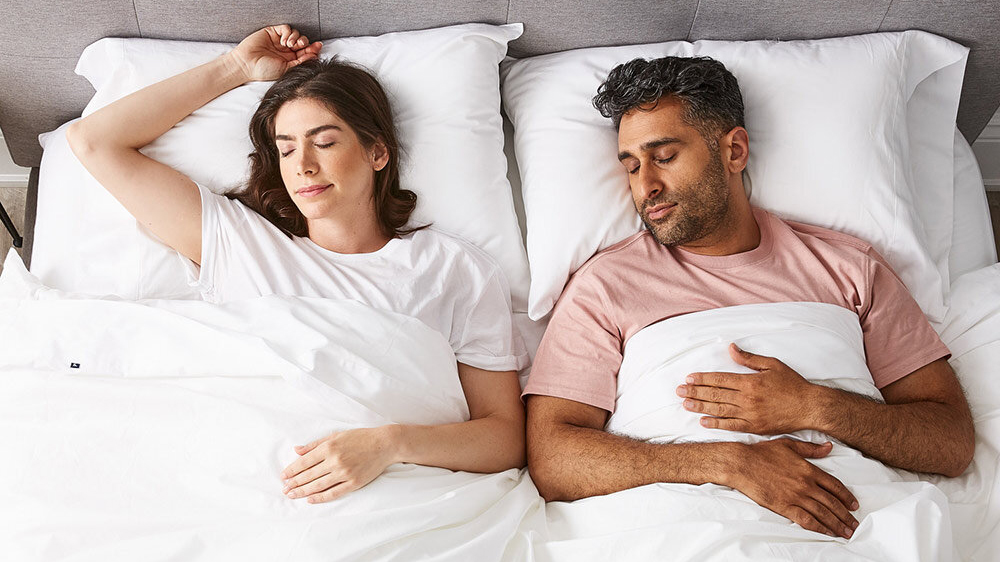 If you struggle to sleep because shoulder pain wakes you up, the best pillow for shoulder pain may not be found until you have corrective surgery done, or until the inflammation in the rotator cuff is reduced. Shoulder pain that comes on while you sleep can be a sign that the joint is severely damaged. A pillow for shoulder support can reduce inflammation if you are waiting for a diagnosis.
That being said, a pillow for shoulder pain should be firm and cool. You may want to go with a memory foam core and plenty of loft if you're looking for a side sleeper pillow. Side sleepers who are large or who sleep on a firm memory foam mattress may find that they need multiple pillows for shoulder pain, or a pillow for shoulder and neck support that can be overfilled for loft.
Side sleepers may have the best luck with a shredded memory foam or latex foam and poly fill for high loft. Back sleepers could be very comfortable on a memory foam pillow with medium loft. Sleepers with shoulder pain who move around a lot may want to keep more than one pillow for shoulder support on the bed so they can alter their neck and shoulder position if pain wakes them. Few of us hold only one sleep position all the time.
How to Choose the RIGHT Pillow for Shoulder Pain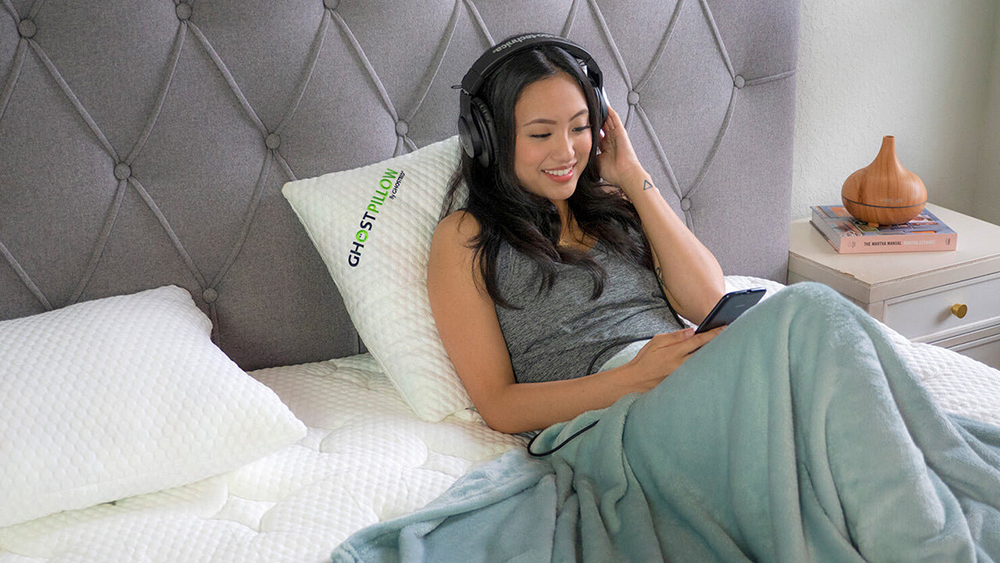 Comfort
Choosing pillows for shoulder pain relief should begin with comfort. How severe is your shoulder pain? Do you often spend the night chasing your pillow, or do you sink in deep when you find a comfortable position? Sometimes the best pillow for shoulder pain is one that offers resistance when you sink in or as you go to reposition it. In this case, a latex foam pillow for shoulder pain could provide you with a sense of sturdiness as you sleep.
Size
Do you sleep on a twin, a queen or a king? Do you sleep alone or with a partner? There are many pillows for shoulder pain that come as a pair. If your memory foam bed is small, these may not work unless you need the extra loft.
For example, side sleepers with shoulder pain need more loft to support their skull and protect their spinal alignment. In this case, a pair of memory foam or latex pillows that you can raid to plump one of them up may be the best way to create a pillow for shoulder support and protection.
You may also consider a body pillow if your arm needs support to reduce your shoulder pain.
Price
Of course, the best pillows for shoulder protection may not be the cheapest option. However, you can cycle through a lot of cheap pillows and struggle with a lot of pain before you find one that suits.
Why not skip all the bargain price tags and select the pillow for shoulder support that best suits your sleep position and your cooling needs? Ultimately, this may be cheaper, especially if you get a shoulder pain relief pillow with a long sleep trial.
Coolness
Side sleepers often need to flip the pillow for coolness in the night, but it's back sleepers who often struggle the most with overheating.
A proper back pillow will support your head and neck without putting pressure on your shoulders. When the back of your head is hot, you're going to be miserable. For those in this sleep position, memory foam and shredded memory foam may be too hot.
Consider getting a cooling pillow from GhostBed if you are a very hot sleeper, or a latex foam pillow to reduce the heat build-up of a traditional memory foam pillow.
Sleep Trial
Those who struggle with neck and shoulder stiffness or can't find a comfortable sleep position, a pillow for shoulder support with a long trial is a great option. Be aware that pillows are personal items; if you return a side sleeper pillow to the manufacturer because it doesn't properly support your head and neck, they will have to destroy it. If you're concerned about the cost of the best pillows on the market, the risk of loss is certainly part of it.
Sleepers with shoulder pain may need a few nights for the pain relief of the right pillow for shoulder alignment to kick in. If you're a hot sleeper, purchase your new pillow in July so you can confirm that your neck and shoulders stay comfy and cool.
Additional tips for people with Shoulder Pain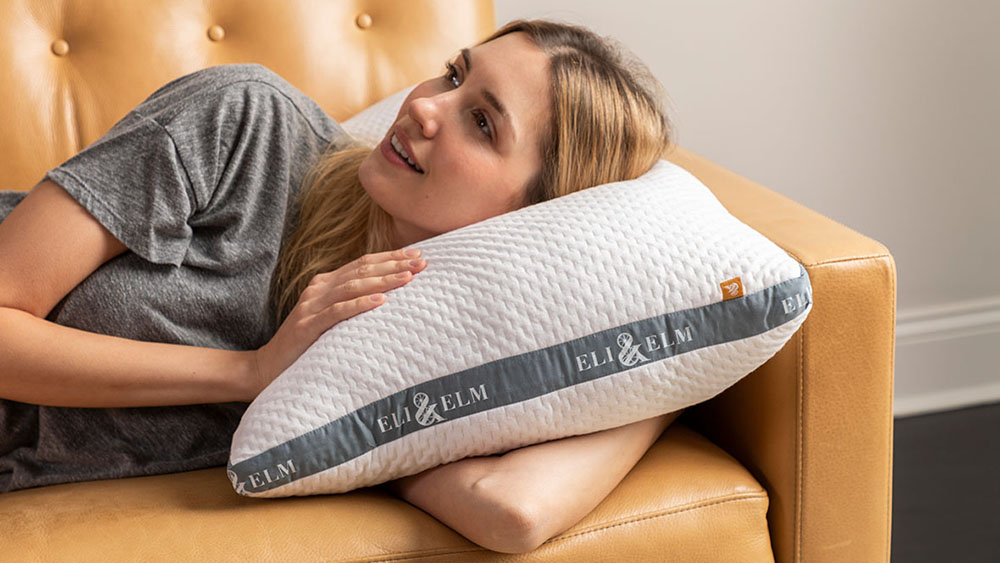 Track Your Pain
Does you pain wake you, or does it come on at the end of a long day? If your pain wakes you, there could be a tear or severe inflammation. In these cases, an extra pillow to support your arm could help, as could a body pillow to reduce restlessness.
If your pain comes on at the end of a long day, the best pillows for shoulder discomfort and exhaustion could be the one that keeps you the coolest. We tend to sleep more deeply when we are cool.
Don't Go For Looks
A plush, plump pillow looks great on a freshly made bed, but unless you're a consistent side sleeper, you won't find shoulder pain relief. For best pain relief, monitor the position you wake from.
If you try to start on your back to protect your shoulder but find you're a pretty consistent side sleeper when the alarm goes off, get the best pillows to support your head and neck and get a body pillow to support your arm. If you find pain relief in this position, you just need to build the habit of falling asleep this way.
A side sleeper who moves a lot may struggle to keep the body pillow in place, but you can extend the period of time that you're still and comfortable with regular practice.
Monitor Sleep Hygiene
Your sleeping space needs to be cool and dark. If neck and shoulder has you dreading going to bed, get in the habit of winding down about 30 minutes before sleep. Light your sleeping space only by candlelight.
Get in your pajamas early and listen to relaxing music. Snuggle into your sleep position on a shredded memory foam pillow for squishiness before you blow out the last candle to shut your brain down.
FAQ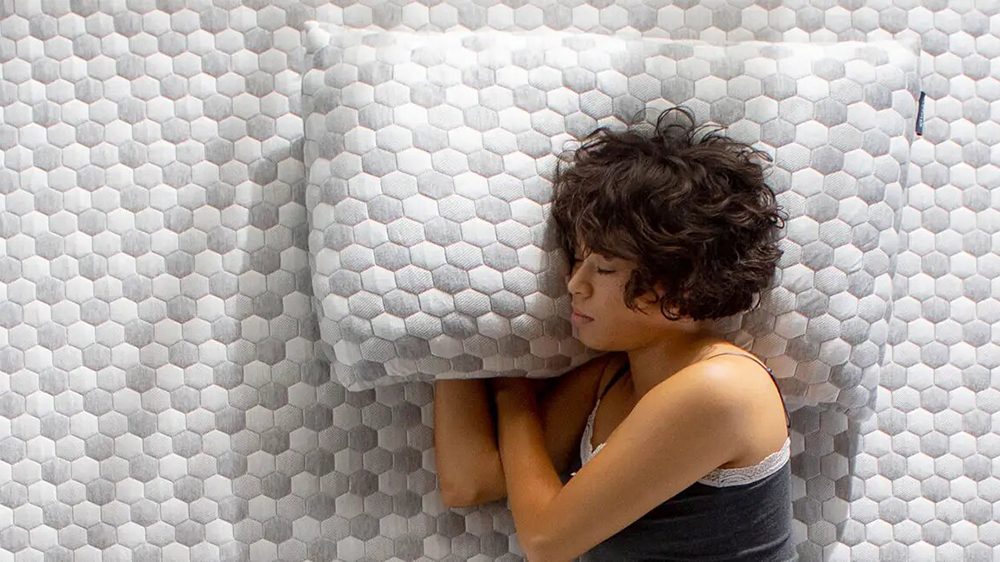 Why do my shoulders hurt when I sleep?

Your shoulders could be tired out; a pillow for shoulder support can help. You may also have inflammation or tears in the rotator cuff. If you wake up suffering from shoulder pain you didn't have when you fell asleep, it's time to get your shoulder pain checked by your doctor.

What pillows are best for neck and shoulder pain?

A pillow for shoulder alignment that keeps your head and neck properly aligned is critical to preventing neck and shoulder pain. The pain relief of proper alignment may take time to be felt.

Can the wrong pillow make shoulder pain worse?

If your pillow doesn't match your sleep position, the best pillows in the world can make your shoulder pain worse.

How do I stop my shoulder from hurting when I sleep on my side?

You may well need more loft to give your shoulder some room and protect your neck from kinking. Consider a shredded memory foam pillow with extra pile and a machine washable cover for coolness.

How should you sleep with shoulder pain?

If you can, sleep on your back. This can be a hard change to make. If you can't make the change after a few weeks, it may be time to try another pillow or remove some shredded memory foam to change the density of your current pillow. Get one with a cooling, machine washable cover for best comfort.

Can a memory foam mattress cause shoulder pain?

If your memory foam mattress is too firm, the best pillows in the world won't protect your shoulders, especially if you're a side sleeper.

Where to put your arms when sleeping on your side?

You may need an extra pillow to support your arm if you wake with shoulder pain. Body pillows can also help. Get one with a machine washable cover to keep your bed fresh.

Can a mattress topper help with shoulder pain?

A mattress topper can firm or soften your existing mattress. However, if your pillow doesn't properly support your head and give your shoulder some space, the benefits may not be very beneficial.
Find the Sweet Spot to Fight Shoulder Pain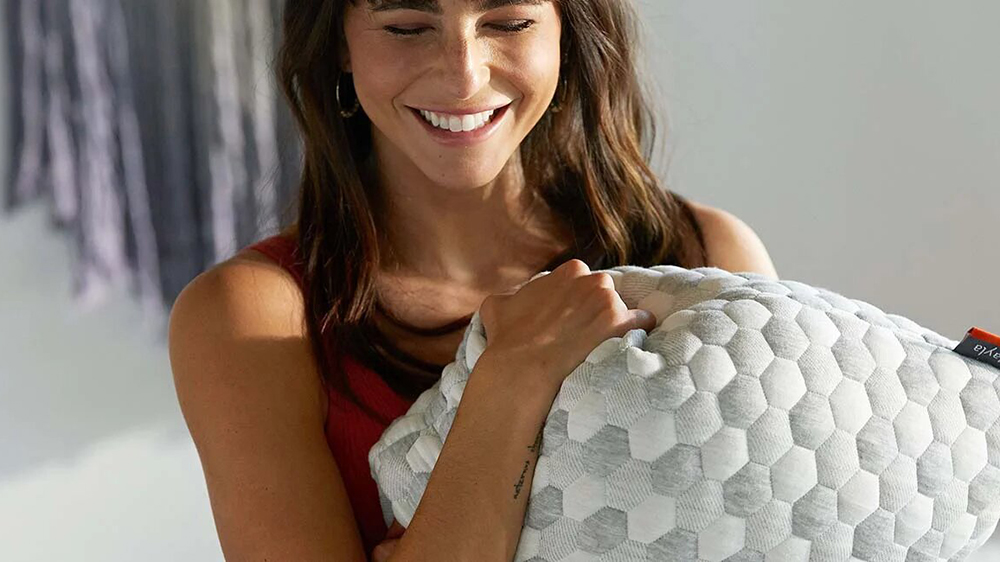 Knowing the source of your shoulder pain can go a long way toward correcting it. The right pillow for shoulder pain may work to prevent neck tension. The cool and comfortable Eli & Elm Cotton Side-Sleeper Pillow offers you a terrific chance at quality sleep.
Eli & Elm Cotton Side-Sleeper Pillow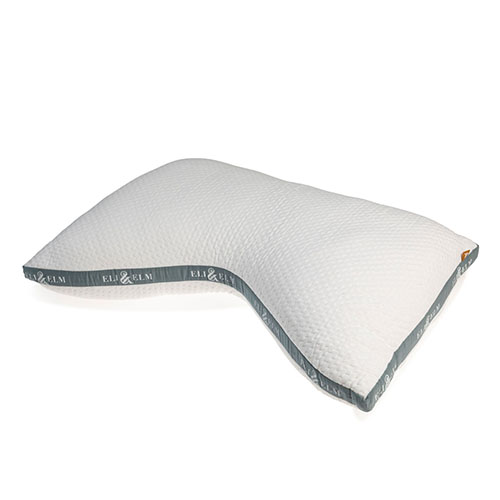 Another pillow for shoulder pain could be used to support the weight of your arm if you're fighting rotator cuff inflammation or damage.
Start with the need for loft: From high to low, side sleepers need the highest, back sleepers a medium firmness and loft, and tummy sleepers need the flattest pillow.