Adding a queen daybed to your home is a wonderful way to incorporate both guest sleeping space and storage to your home. With this configuration, you can enjoy queen-sized comfort and twin or full-sized convenience for both style and comfort. Many of the daybeds in this review are quite plush and fully upholstered for more lounging and relaxing. These multipurpose beds offer a lot of flexibility.
What is a Queen Size Daybed?
Like all daybeds, a queen sized daybed offers sleeping space that can be stored away. This storage is either created with a trundle frame that rolls or with a simple folding mattress.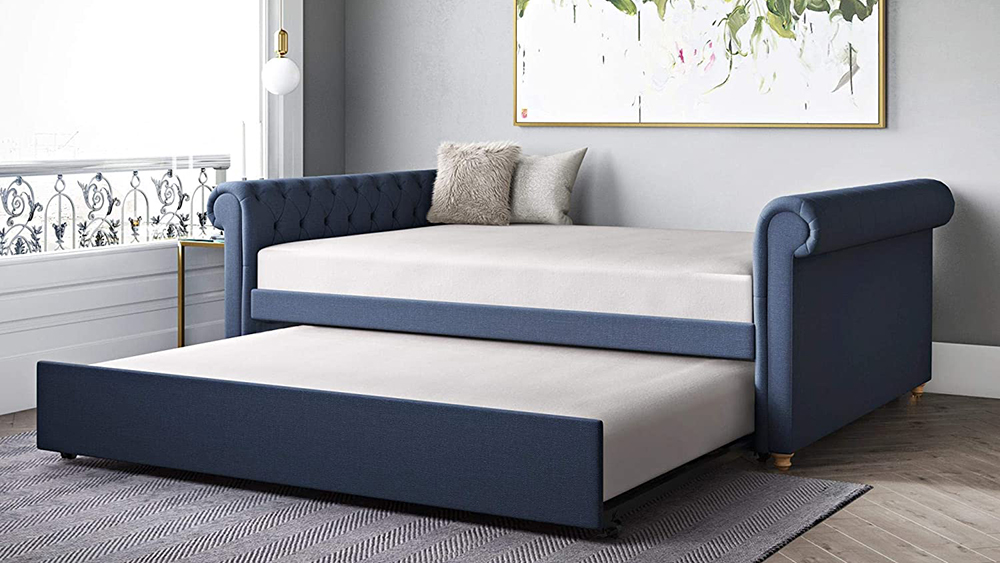 Your daybed choice can easily be enhanced with a round bolster cushion or with large pillows to create a spot to lean against and kick back. While a queen mattress frame may be too large to be used as a traditional sofa, you can easily make your queen frame a lounging area for your family and for guests.
Do be aware that many of the beds in this review are frames only; the mattresses may need to be purchased separately. Carefully follow the limitations of mattress height on anything that needs to roll out on a trundle.
Why Buy a Queen Size Daybed?
Ease of Use
A queen daybed frame can provide protection for a full or a twin-sized trundle frame. Once you know how far back your trundle needs to fit you can add storage bins behind the trundle. Of course, you will need enough room to roll the trundle all the way out so you can access these bins for seasonal items.
Affordability
A queen trundle daybed can be a good investment if you can put the frame to steady use. For example, if you have a guest room that also needs to serve as a family room, a queen daybed with trundle can be a great lounging spot for you and your children and a space for a guest to sleep. An upholstered queen size daybed frame can be an excellent oversized sofa, especially if the room is chillly.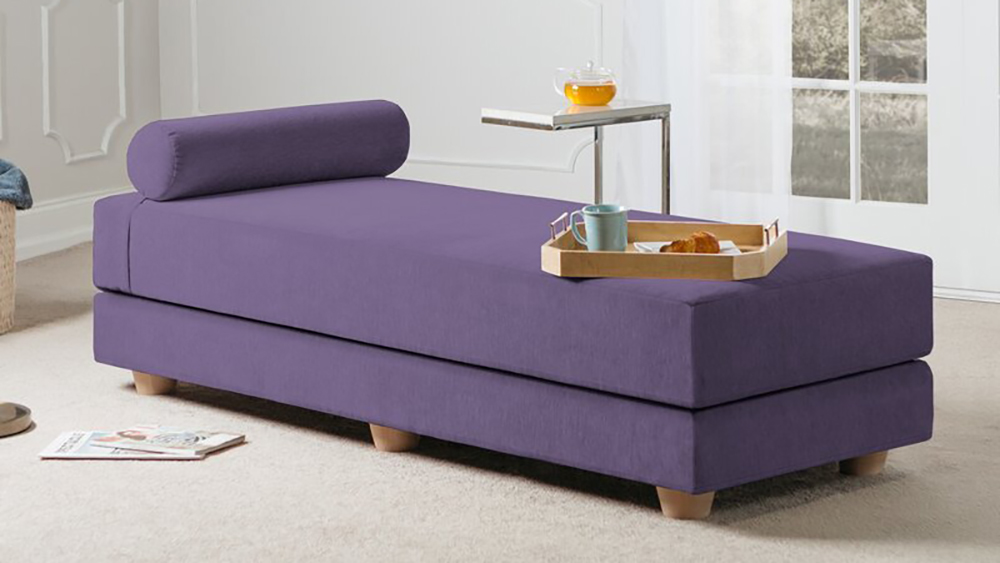 Multiple Purposes
If you need a queen daybed with storage, consider just adding a twin sized trundle frame. With a twin sized trundle, you can add more and larger bins. If you have guests who have a small child, or if you have grandchildren visiting, your smaller grandchildren can enjoy snuggling up on the daybed and an older child can stretch out on their own trundle.
7 Best Queen Size Daybeds Reviews
There is simple elegance in The Franklin MidCentury Queen Daybed by DHP. The smooth grey fabric finish can easily be vacuumed to prevent dust from dulling the fabric. The sides and back are beautifully finished and this piece will look great against the wall or in the middle of a room.


Pros
Lovely grey fabric without button tufting means less dust and dirt will catch in this fabric
You can add a 6 or 12 inch mattress to this frame and the bed will still look sharp
Plenty of clearance makes clean ing or adding a foam mattress a simple process
Cons
This is not designed to work with a trundle but will provide space for a floor mattress
There's not much cushion to this frame; if you want lounge, you will have to have cushions
Even without the trundle, this frame is nearly 100 pounds
The Franklin MidCentury Queen Daybed by DHP
MidCentury rounded legs are over 8 inches tall; there's plenty of cleaning access under this bed.
This bed features slats for airflow and flex. No box spring necessary.
The sturdy sides and back will support plush cushions if you want to use this as a lounge.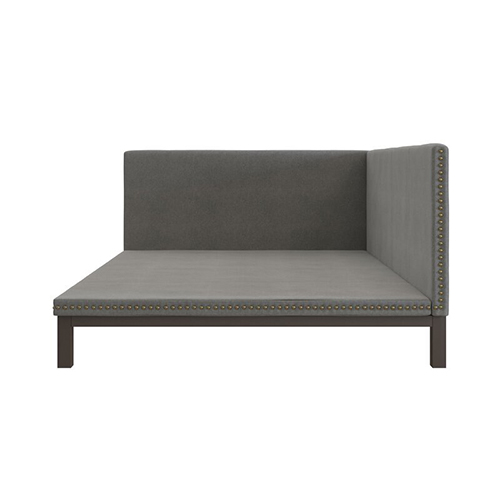 If you've always wanted a chaise lounge or a fainting couch, The Carwile Queen Day bed by Mercury Row is a wonderful modern option. This elegant grey piece features a back and headboard to shelter your mattress and strong square legs to support your bed. The careful tacks along the front add elegance without fuss.
Pros
This is a very elegant bed frame and will work in a bedroom or living space
If you need a lounge spot and a guest bed, this will work
The simple line of tacks draws the line to the unusual shape
Cons
This frame doesn't come with a trundle but has a good 6-7 inches under the frame
Even without the trundle, this bed is heavy at 122 pounds
The total back height is just 24 inches; it may be a low lounge spot
The Carwile Queen Daybed by Mercury Row
Durable metal frame means this bed will last.
The mattress base is upholstered for less slippage even if you use this daybed to lounge.
Square legs offer plenty of clearance for cleaning or adding a spare mattress.
Fans of old-fashioned metal bedding will love The Manila Metal Queen Day bed by DHP. This elegant frame is designed to look like a bed; the back is taller than the head and footboard. That being said, this open frame offers a great view of the trundle and has a lovely, old-fashioned charm. Fans of a minimal look will love this bed.
Pros
The queen bed comes with a full trundle; lots of sleeping space in one purchase
There's plenty of clearance under the queen bed so you can invest in a good mattress
This bed has a 500 pound weight tolerance on the queen, 450 on the full
Cons
If you need a lounge or sofa-type daybed, this isn't it
If you don't like the trundle exposed, this bed will not work
If you want the metal to shine, this finish may be too dark
The Manila Metal Queen Daybed by DHP
This frame has lovely bronze details that look like you bought it from an antique store.
The frame is quite open; no worries about condensation.
The finish is quite dark and may look either brown or black. Enjoy the flexibility!
If minimalism has never been your style, The Perry Queen Day bed in Blue Velvet by Baxton Studio was made for your home. This tufted day bed features a curved back and luxuriously upholstered head and foot board. The roll-out trundle frame has a matching blue velvet front panel. The top bed is a queen sized mattress and the rollout trundle is a twin sized. Both are supported with slats. No box spring is necessary and the slats will allow plenty of airflow.
Pros
Beautiful color makes this piece a real statement in your home
The high back, foot and headboard make this bed a snuggly treat
Curved back gives this bed an old world elegance
Cons
The total purchase includes the daybed frame and trundle components, which may come in more than one box
Inventory carefully before you start the assembly
You will need to add mattresses to your purchase
The Perry Queen Daybed in Blue Velvet by Baxton Studio
Velvet cover is easy to clean and vacuums up beautifully.
Add pillows and bolsters to turn this into a lounging nest. Who needs a couch?
There's good clearance for a more plush mattress on the bottom if needed for a more permanent sleeping arrangement.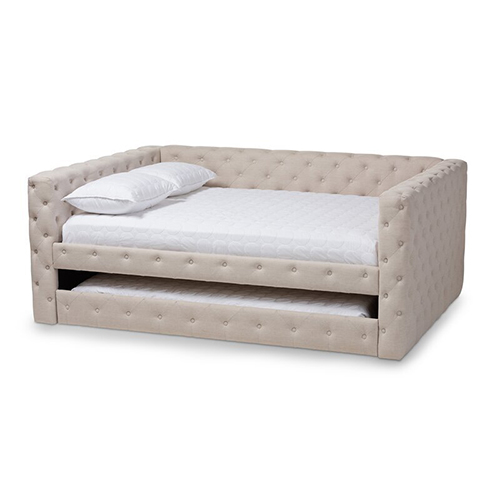 If you love an all-fabric look, The Satter Tufted Daybed by Willa Arlo Interiors will suit your decorative needs perfectly. These tufted daybeds have a firm bed and tall arms for plenty of lounging spots. The roll-out trundle is an excellent spot for guests. This bed also has a cover to be used over the trundle access to keep it looking like a large, comfy sofa. The queen-sized top bed will support up to 500 pounds and the full-sized pullout will support up to 400 pounds.
Pros
You can add cushions and bolsters to turn the primary bed into a plush sofa
The total bed at the top of the arms is nearly 36 inches high, making it a comfy spot to lounge and watch a movie or read
The back is fully finished if you need to put this in the middle of a room
Cons
Total weight is over 200 pounds
These take two people to assemble
The mattress is not included and the trundle is sold separately
The Satter Tufted Daybed by Willa Arlo Interiors
Both the primary frame and the trundle feature supportive slats for airflow and comfort.
The tufting pattern on the frame adds a great deal of comfort and luxury.
The front cover panel makes this piece look much more substantial from the front.
If you need a queen sized daybed but only have room for a sofa, The Sophia Queen Day bed with Full Trundle by DHP is a great choice. This durable daybed has a fabric cover that can be quickly vacuumed clean. The slightly rolled arms and tufted ends make this a cozy bed for nesting. The foam mattresses are supported on flexible slats which offers spring and comfort for sleepers on the main frame and on the rollout trundle bed.
Pros
This is a sharp-looking bed, easy to care for but cozy thanks to the tufting
This bed is backless; you can add cushions to give it a "couch" feel
With a queen platform and a twin trundle, you can still enjoy plenty of storage
Cons
This ships in many boxes; make sure you have everything before you start the assembly
The trundle fits close to the main frame of the bed and may be tough to pull out if this is your main sleeping space
The total bed weight is 130.5 pounds for shipping; get it delivered to the room you plan to set it up
The Sophia Queen Daybed with Full Trundle by DHP
Roll-out trundle makes it possible to enjoy plenty of sleeping room in a small footprint.
Short maple legs and rolled arms give an old-world comfort to your daybed.
This bed offers support for up to 500 pounds and the trundle can support 450 pounds.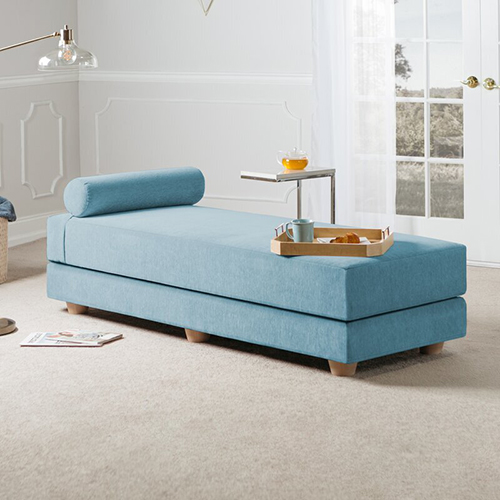 If you're looking for a queen size daybed that will also serve as a chaise in a studio, an office or a den, The Frohna Queen Daybed with Mattress by Brayden Studio is an ideal choice. There's nothing to roll out, nothing to lift or compress. Simply flip the top cushion over to the right and your pretty chaise turns into a queen-sized floor mattress. You will want to be sure to flip this back up to make sure that moisture isn't trapped under the half of the cushion that lays on the floor.
Pros
This piece looks like a couch and would be a lovely place to stretch out and read
The chenille cover comes off easily for a quick wash
The roll pillow adds a touch of comfort and elegance
Cons
As a seating area, this will be rather low
The feet are quite small and may make it hard to clean under the bed
Foam is medium density; if you need more cushion, putting this together each night will be more laborious
The Frohna Queen Daybed with Mattress by Brayden Studio
Six round maple feet add a bit of height and a warm mid-century decorative touch.
The chenille cover is available in a variety of colors and can be removed for a wash in cold water
The durable foam mattresses have a softness rather than a squared-off edge.
Things to Consider Before Buying a Queen Size Daybed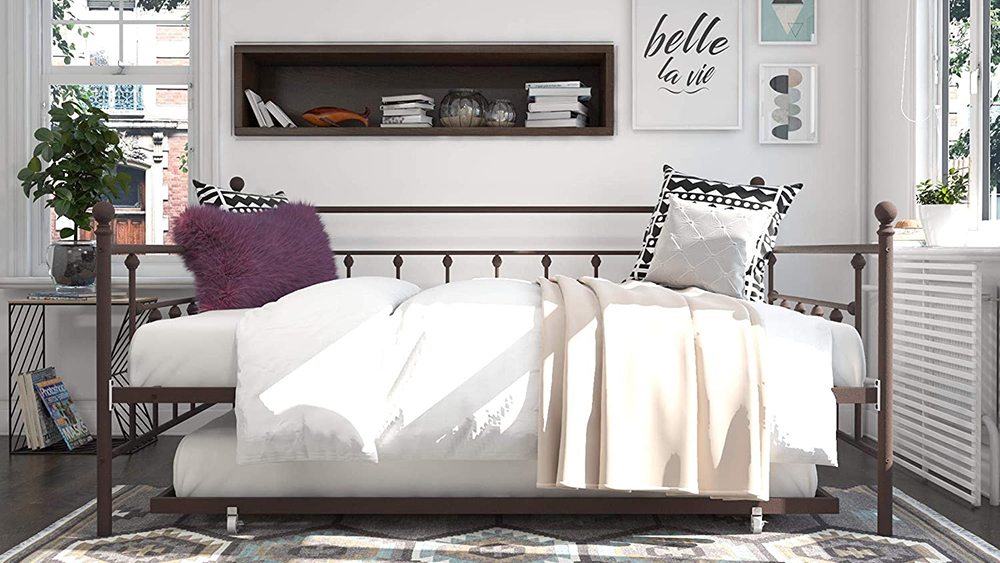 Comfort
If you can't sleep comfortably on a firm foam mattress, a queen sized daybed may not be the best choice. If you choose to get a softer mattress, that may make it too soft to use as a lounging space or a couch.
Size
Make sure your room is large enough to allow the trundle to roll out completely if you plan to store anything under the bed and expect to access it without having to pull the queen mattress to get under the bed.
Price
Because many of these frames don't include a mattress, you can actually go pretty high-end or quite cheap on your daybed / trundle combination. If you plan to set up the top bed as a sofa or lounge space, make sure you also figure in the cost of cushions and bolster.
Portability
That rolling mattress under the queen frame can actually provide you with a very flexible set-up. If you need a guest sleeping space in a child's room, simply use a hybrid mattress and move the mattress alone to the child's bedroom. For a night, a mattress on the floor can be great for a sleepover.
Benefits and Downsides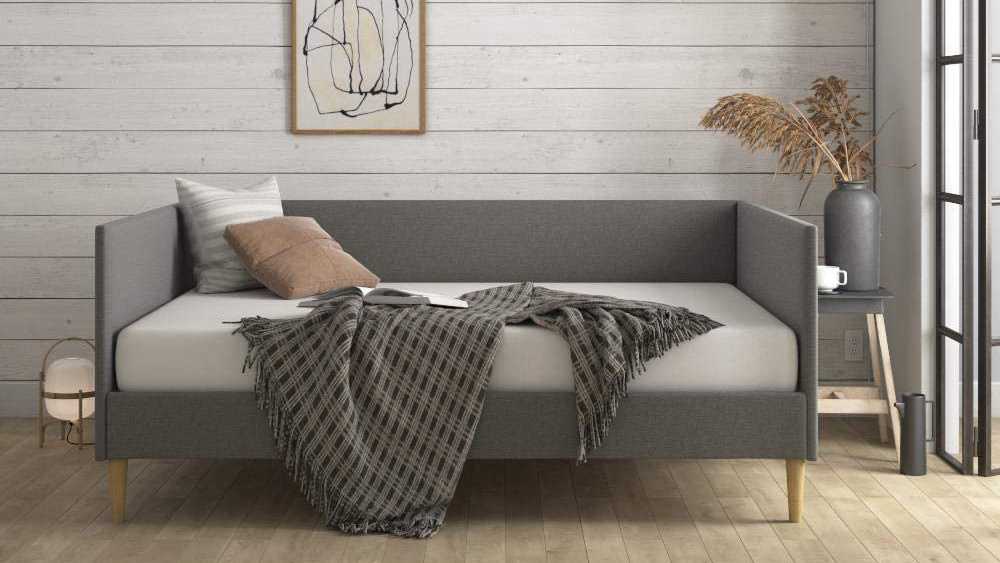 What Works Well
These beds offer plenty of flexibility and space.
Whether you need a twin trundle or a full-sized trundle, you'll also have space for storage along the back wall.
These are also great beds for chilly spaces; that bottom mattress offers a great deal of insulation in the void under the bigger bed.
What Doesn't Work
As a permanent sleeping situation, this may not be especially comfortable. Rolling out the bed every night will become frustrating over time.
Additionally, unless your get a trundle that is designed to be raised once you roll it out, the person on that bed will be closer to the floor and may be cold.
You might need to add a heated mattress pad or electric blanket to the low bed.
FAQ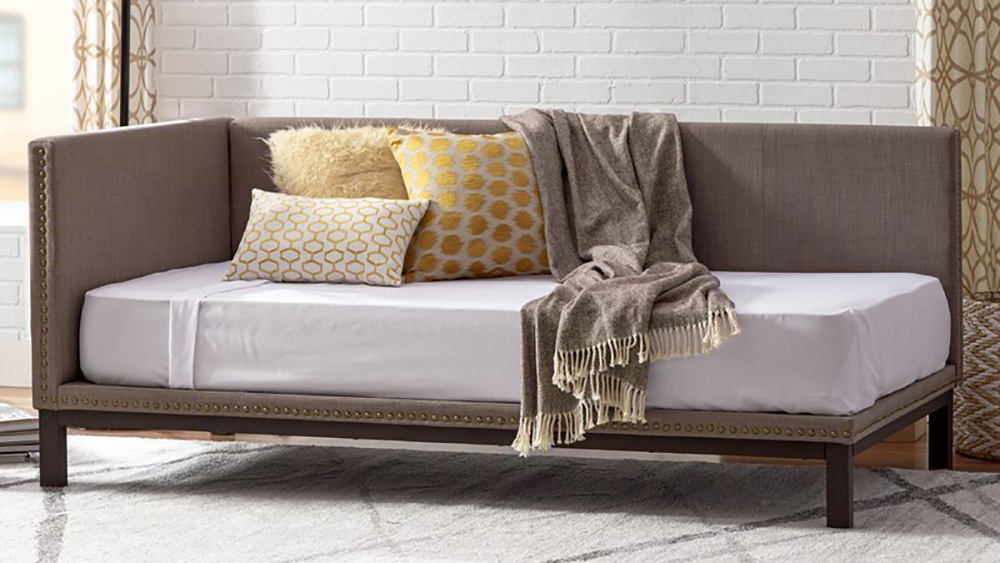 Do they make queen size daybeds?

The top bed will be a queen size, the trundle will be either a twin or a full sized bed.

What is the point of a daybed?

A queen trundle bed offers a lot of flexibility and may include space underneath for plenty of storage.

Can daybeds be used every day?

The top mattress will likely be a lot more usable; pulling out a trundle every night may become tiresome.

How do you use a queen bed as a couch?

You'll need to add a bolster along the back or large cushions to build up the back.

Which mattress is best for a queen day bed?

A firm mattress is ideal for using it predominantly as a couch; something with more give will be better for regular sleeping.

Do I need a box spring with my queen daybed?

A box spring will make the bed too tall. Slats are better.

Is it hard to make the bed on a daybed?

Because the header, footer and back may be upholstered, making the bed may be more of a challenge.
Sleep and Storage is an Ideal Combination!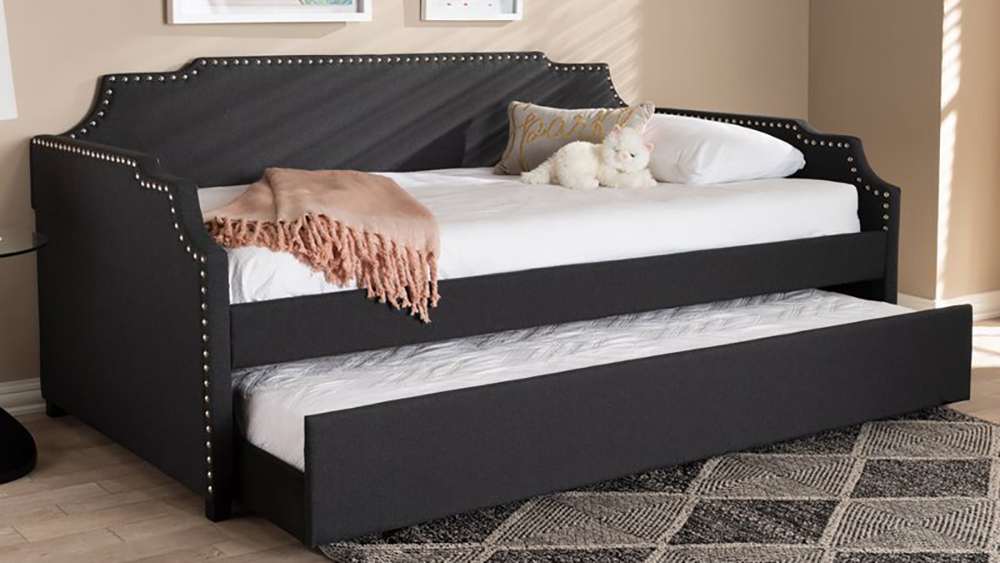 For comfort, durability and flexibility, the Franklin MidCentury Queen is the best choice. This fully upholstered daybed offers space for a spare mattress, plenty of storage and a clever, simple style that will stand the test of time. You can add cushions to increase the lounge factor of this bed, add a corner pillow and a bed tray for work, or simply hang out and watch your favorite shows on this terrific bed.
The Franklin MidCentury Queen Daybed by DHP