If your home sometimes runs short of guest beds, of if you love to camp but can't get comfortable sleeping on the ground, investing in a rollaway bed can be a great option. These beds have advanced in the time of foam mattresses and offer many more comforts than the old, heavy steel framed rollaway beds that were designed to hold a cotton tufted mattress. Modern rollaway bed frames are smaller, more lightweight, easier to store away and may even come with a carrying case!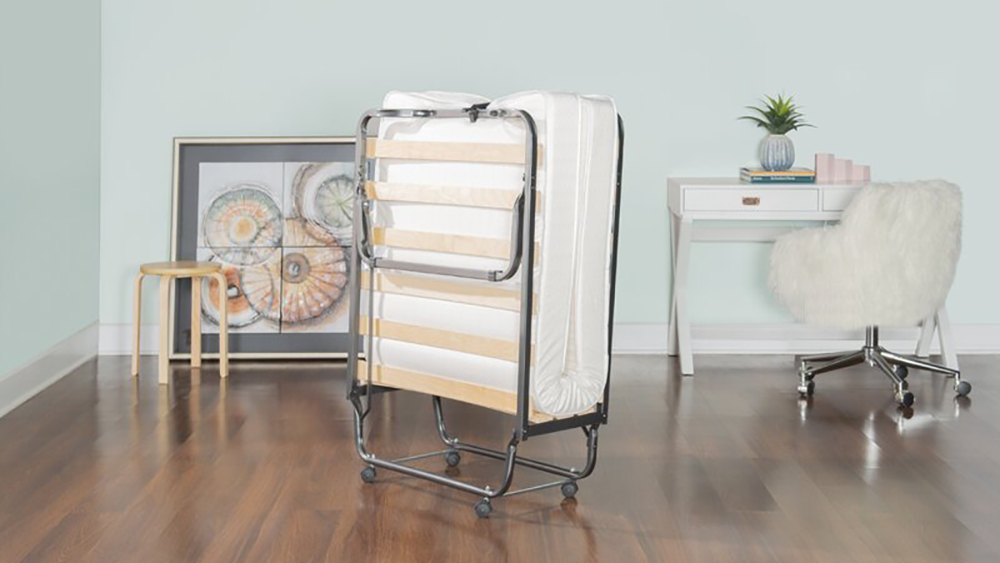 What is a Rollaway Bed?
Definitions
A rollaway bed is a foldup bed that has castors built into the frame. Once folded, it can easily be rolled into a closet.
Ease of Use
Most of the rollaway beds in this review feature a firm foam mattress. This makes the rollaway bed much lighter, easier to move and easier to store.
Affordability
It should be noted that a rollaway bed is generally a twin-sized. If you need more sleeping spaces and don't have space for a larger permanent bed setup, you can invest in an air mattress. However, if you or your guests need more support than can be found sleeping on an air mattress, a second roll away may be a better investment.
Ease of Storage
Like the foam mattress on your regular bed, the foam mattress on your rollaway will be nice and square. Once folded up, this bed will easily tuck into the back of a closet in an office or a spare room.
Transport Options
The rollaway beds on this list are generally quite lightweight. The lightest bed is only 30 pounds and has a carrying case with a handle. If you can carry a suitcase, you can carry your bed to your next destination.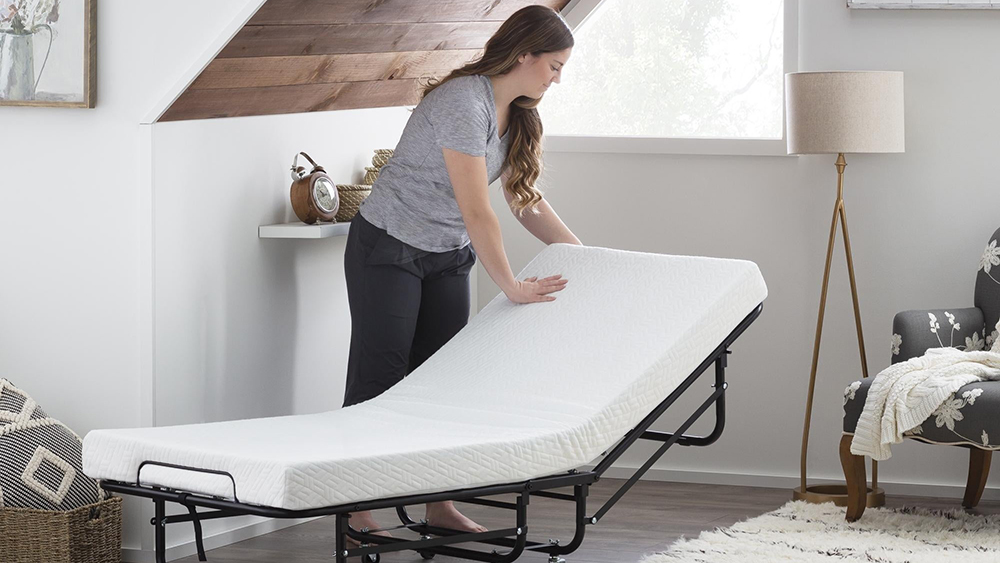 Best Rollaway Beds Reviews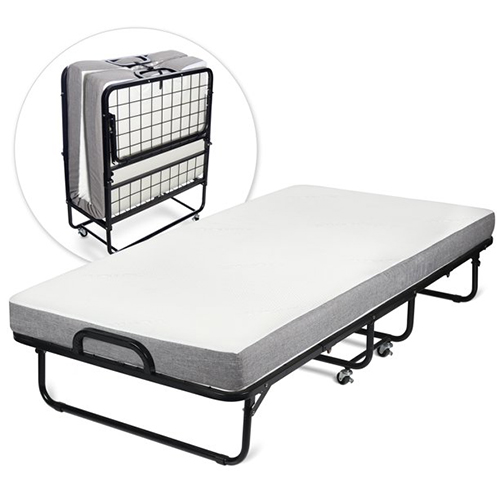 The Milliard Diplomat Folding Bed is an ideal choice if you need the full width of a twin bed and the portability of a rollaway. This bed frame supports up to 300 pounds and the plush foam mattress offers a firm, comfortable sleeping spot. There is a small amount of assembly to complete once you get your bed, but you can get this rollaway set up and sleep-ready in 15 minutes or less. All folded up, this 55 pound bed is 14 inches deep, 38 inches wide and 44 inches tall.
Pros
The frame base is a sturdy grid to protect the sleeper from mattress sag
The mattress has a fiberglass fireproof case
The mattress cover can be removed and washed
Cons
You will need to install the castors when this arrives; getting the holes lined up can be a challenge
Some users find the mattress slips from side to side
If you are sensitive to fiberglass you may need to layer the bedding
Milliard Diplomat Folding Bed
Foam mattress offers a 4 inch non-slip base pad, a 1 inch plush top and a fireproof cover.
The rubber castors lock in place; you can store this and forget it and lock it in place before you open it for comfort and stability.
Once folded, this bedframe closes with a buckle strap; no metal hooks to fight or fail.
If you love a finished look, the Zinus Memory Foam Resort Folding Guest Bed is a great choice. The platform of this bed has a cover that offers the look of box spring and the washable mattress cover matches. The bedframe has large, sturdy casters that will roll easily. The mattress is a five inch memory foam for plush comfort and is charcoal infused to reduce the risk of odor. This bedframe will tolerate a maximum of 250 pounds. The mattress base is a durable metal grid which will prevent mattress sag.
Pros
Assembly is very simple; just screw in the castors
This bed folds and opens very easily
The 5 inch mattress comes compressed but the charcoal prevents a chemical smell as it opens up
Cons
This bed arrives boxed at 67 pounds. If you can't handle that much weight, get help
Some users have had problems with the castor sleeves bending once the wheels are locked
The mattress is quite heavy and may slide side to side
Zinus Memory Foam Resort Folding Guest Bed
The base cover gives this rollaway a lovely, finished look.
This bed folds up with a buckle and strap; no metal hooks to fight or bend.
The castors on this are large and will roll easily over carpet or a hard flooring surface.
The LUCID Rollaway Guest Bed offers a very comfortable sleep in a small, easy to store frame. The 3 inch memory foam mattress settles onto a canvas base that is hooked to the frame via springs. The mattress also has a soft, comfy bamboo cover for warmth and softness. The sleeper is suspended on a hammock frame!


Pros
This bed is just over 50 pounds out of the box
The castors lock in place to keep this bed stable
There's enough room underneath for luggage
Cons
The assembly can be challenging; not all the holes line up
Some users have had problems with the springs failing
The folding and locking mechanism can be very tight
LUCID Rollaway Guest Bed
This 73 inch by 36 inch frame has a 10 year warranty.
There's no metal under the sleeper; this is a very quiet bed.
When folded, this bed is only 10.5 inches deep, 36 inches wide and 44 inches tall.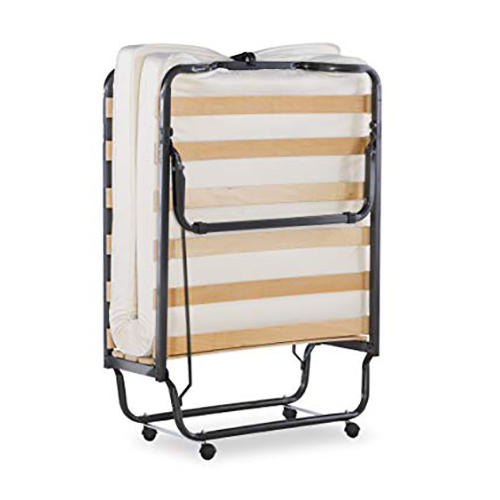 The Linon Home Decor rollaway is a great option for anyone who lives in a humid climate. This 4.5 inch foam mattress is supported by bowed wooden slats that flex under the sleeper to increase comfort and support. The plastic castors are protected from dust and debris that can get in the way of easy movement. This mattress also has a lovely beige cover to protect it from dust.
Pros
The slats are close enough to stay cool but prevent moisture buildup
The castor base is quite stable
The fold-out legs feature protective feet to prevent a scratch if the bed slides
Cons
The clip at the top can be hard to hook when folding the bed
The castors are a bit small; it may be tippy when moving
Some users find the assembly a challenge as the holes don't always line up
Linon Home Decor
The bowed wooden slats offer tremendous cushion.
This bed frame folds down quite small and rolls easily.
The combination of mattress and frame are built to breathe.
The Quictent Heavy Duty Fold-Up Bed is a great addition to your camping kit, your office or your guest room. This 30 pound bedframe provides comfortable sleeping for folks up to 300 pounds. Because the frame is constructed of heavy duty canvas suspended on springs, the slightly thinner mattress will still be incredibly comfortable. The mattress is covered by a soft, stretchy quilted material; you can easily top it with a sleeping bag or add standard twin bed sheets. Be aware that you may need to clip sheets under the mattress. Once folded, you can easily slip this folded bed into the storage bag to keep the mattress from getting dusty in your camping gear storage space.
Pros
Extremely hearty bed frame offers support for people up to 300 pounds
Total frame and mattress weigh only 30 pounds
Carrying bag makes this so easy to store!
Cons
If you're over 6 feet tall, this bed may be too short
If you need a lot of spinal support, this bed may be too soft
A full twin is 36 inches wide. This bed is 31 inches wide
Quictent Heavy Duty Folding Bed
Storage bag with a carrying handle! If you can manage a suitcase, you can manage this bed.
Instead of a metal bracket that can fail, this mattress is held closed in the folded position with a strap.
The canvas support and springs mean that, even though the mattress is firm, the bed still has some give.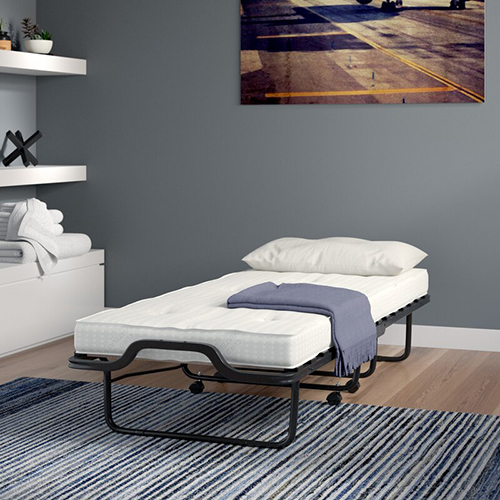 The Alwyn Home Amani Folding Bed offers a lot of comfort in a very small space. You can easily tuck this lightweight folded frame into a space that is just 14 inches deep by 31.5 inches wide. The folded height is under 4 feet tall and the castors will easily manage the weight of this rollaway. Once unfolded, this bed offers big support in a small package. The height from the floor to the top of the mattress is just over 16 inches. It won't feel like a miniature bed. The entire length is nearly 79 inches and the 4.25 inch mattress is nearly 31 inches wide. Slats support the mattress for even more comfort, and there's a durable center support to stabilize the slats. This lightweight bed will support up to 200 pounds.
Pros
This bed features a durable, firm mattress. If you need more cushion, you may want to top it with an egg crate
While rollaways used to have bars that caught the sleeper in the spine, this bed features slats for more comfort
This folds up small enough to fit into any closet for convenient comfort without too much bulk
Cons
The castors are plastic. If you need to pull this out often, you may want to put on rubber wheels
The mattress is quite firm; if you need more cushion, you may have to add a topper
Some users found the metal latch was not durable; the bed may unfold in the closet
Alwyn Home Amani Folding Bed
Slats instead of bars gives the sleeper much more comfort.
The 4.25 inch foam mattress has plenty of give and airflow to stay cool.
This bed is wide enough to fully relax; it doesn't feel like a cot.
Rollaway Bed Types
Rollaway Beds
A true rollaway bed will always be settled on the castors. The castors are part of the structure of the bed. Carefully monitor the locks on your castors before you start to move the bed or you may damage the stems or sleeves the castors fit into.
Folding or Hideaway Beds
A folding or hideaway bed is constructed more like a cot. It may have wheels for portability, but the castors are not necessary. You can also get a folding bed with a fabric carrying case.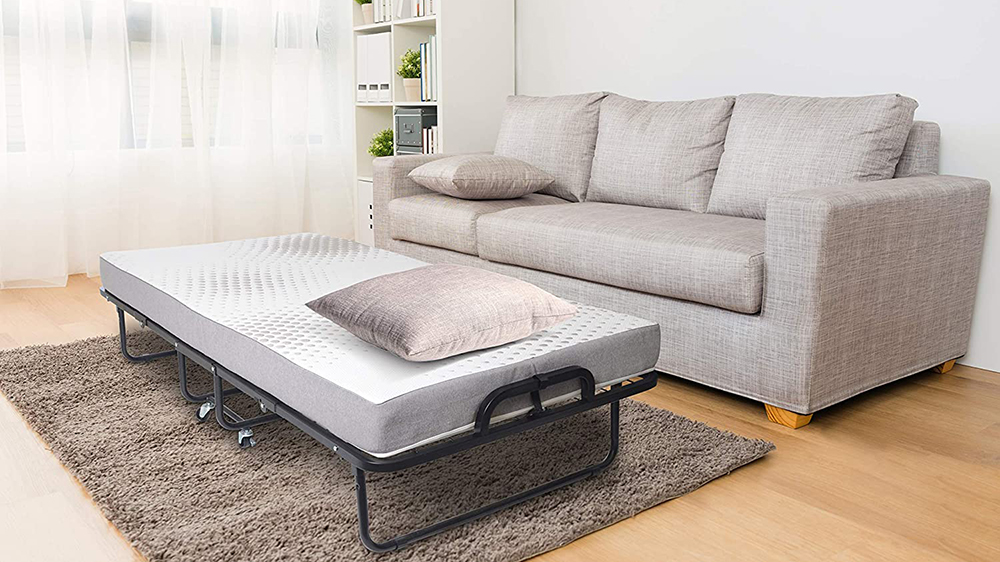 Things to Consider Before Buying a Rollaway Bed
Comfort
If you've ever struggled to sleep on an air mattress, you know that even an overly firm mattress may be more comfortable. Consider carefully the usable height of the rollaway, the firmness of the mattress and the size of your guest.
Size
Most roll-aways are twin sized. If you need a queen folding bed or a full size rollaway bed, you may need to put two side by side and add a larger mattress. The lightweight structure and portability of a roll away bed could be hard to manage with a larger frame.
Price
You can expect to spend anywhere from $200 to $400 for your rollaway bed with mattress. If you go with a smaller unit, you may choose to add another cover to increase the comfort factor.
Durability
While rollaway beds are built to move, there are fragile points in the mechanism of a folding bed with mattress. The castors may not tolerate a great amount of weight. The castor stems can fail after too much pressure. Make sure the bed is exactly where you want it before you set the castors.
Storage
The best rollaway bed is the one that offers plenty of comfort and takes only a small amount of space when not in use. This listing offers examples of a twin rollaway bed that can easily fit in a space that is only 7 inches deep.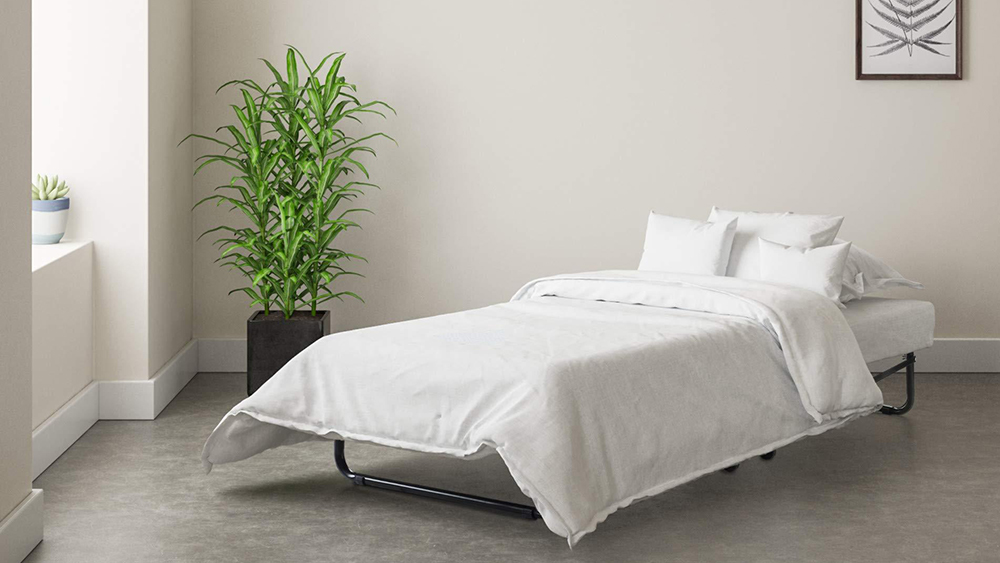 Benefits and Downsides
Roll-On!
Rollaway beds can provide a terrific, temporary twin bed and store easily in a closet when not in use. Locking castors can make a rollaway bed feel like a permanent sleeping space. A firm foam mattress may provide all the cushion your guest needs, or you can easily add a topper for even more cushion.
Roll-Off…
Rollaway beds offer limited weight tolerances. A mesh frame may be squeaky, while a canvas frame may sag. These beds are generally low and your guest may struggle to get to their feet from the bed. Finally, the weak point on many of these beds are the castors. If the castors or the stems that hold the castors to the frame fail, the center of the bed will sag.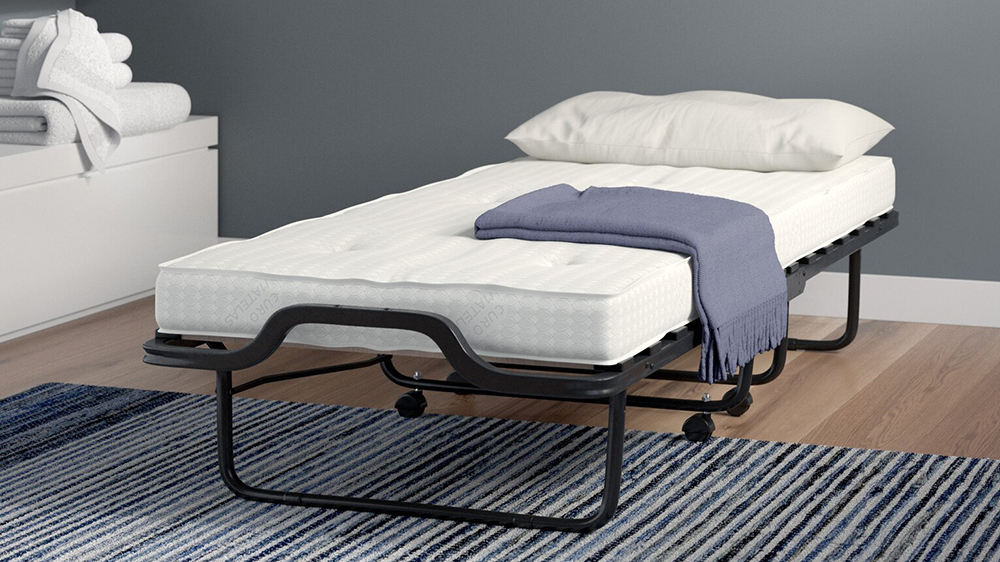 Rollaway Bed Alternatives
Air Mattress
One of the biggest benefits of an air mattress is that you can go larger than a twin bed. However, an air mattress is always at risk of a puncture. Additionally, an air mattress can be quite unstable. Two people may fit on an air mattress, but they may not sleep well.
Floor Mattress
A floor mattress will be much more stable than an air mattress, but it can be a challenge if the sleeper struggles to get off the floor. Additionally, a floor mattress may be both cold and too firm for some sleepers.
Sofa Bed
A sofa bed can serve as a guest bed, but it's primary purpose is as a sofa. If you're enjoying a movie or conversation as a group and the sleeper wants to go to bed, there may be conflict and tired, grumpy guests. Additionally, these beds generally do not include great quality mattresses, though you can add more cushion.
Cot
A cot can be a great choice for a child or a smaller adult. As a general rule, cots don't have a great deal of weight tolerance and are narrower than a standard twin bed.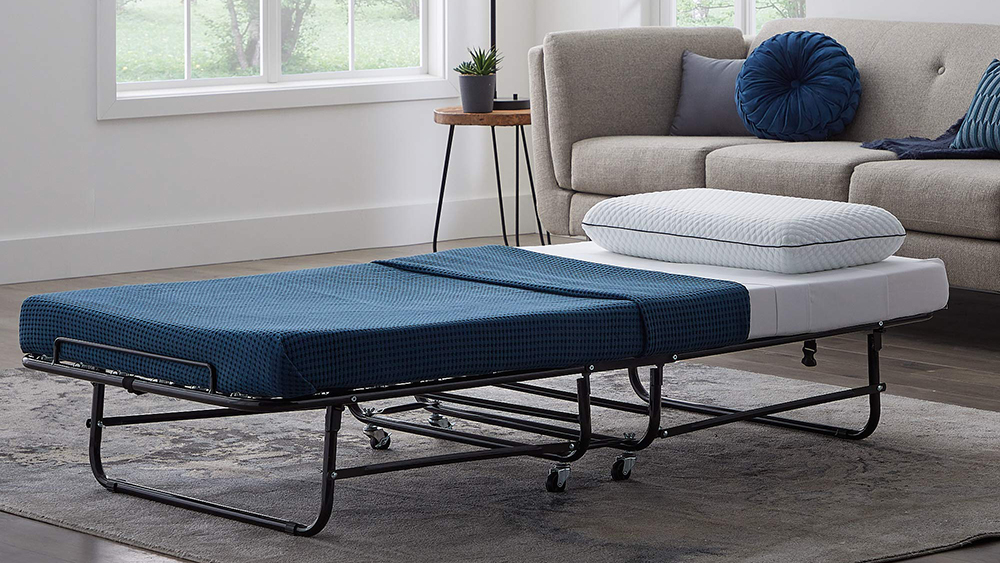 FAQ
How big is the mattress in a rollaway bed?

Most roll-aways feature a twin mattress; about 75 inches long and 38 inches wide.

Is the Fold-Up Bed with a mattress comfortable to sleep on?

Most of these have a firm mattress. You may need to add an egg crate or something softer if you need more cushion.

How much does a rollaway bed cost?

A rollaway can cost as much as $350 or as little as $150.

What is the weight capacity of a rollaway bed?

Most roll-aways max out at 300 pounds.

What is the thickest mattress on a rollaway bed?

In this review, the thickest mattress is 5 inches. You can create more loft with add-on toppers, but folding the bed with the added topper could put too much pressure on the folding mechanism.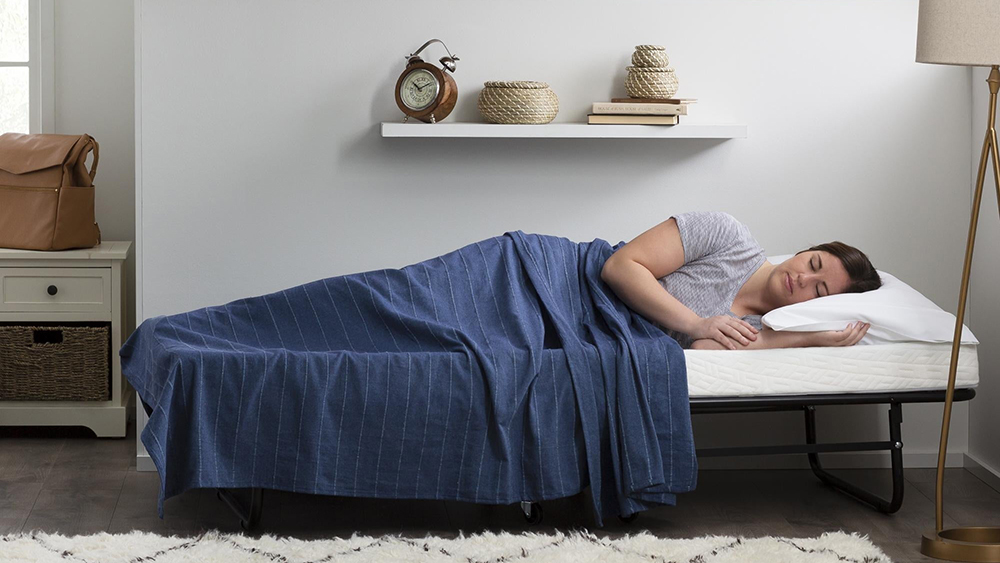 Temporary Bed, Great Sleep
The Milliard Diplomat Folding Bed is an ideal selection for someone who needs more sleeping space but doesn't want to commit the floor space to another bed on a permanent basis. This bed can be a great full-time sleeping space for someone in a very small apartment or a hand guest bed in an office or sewing room. The mesh base will protect the mattress easily and you can add a topper if the sleeper needs a bit more cushion.
Milliard Diplomat Folding Bed