The furniture design world of the 1960s gave us the round mattress. If you have seen the modern plastic egg chairs of the 1960s, you where the design ideas for round mattresses came from. New furniture creators are now using cutting edge mattress technology to create brand new round mattresses for modern as well as mid-century frames.
The Gel Foam Round Mattress by MattressInsider.com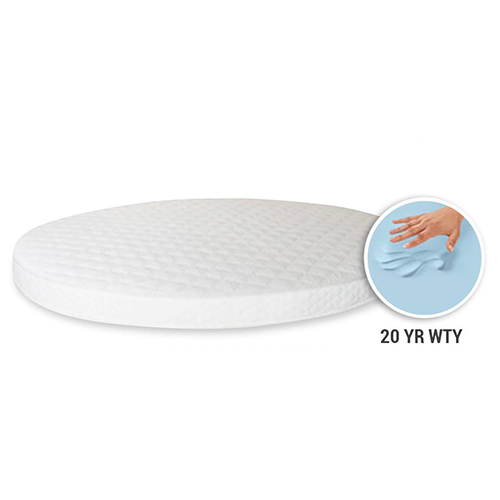 Round Mattress by Kingship Comfort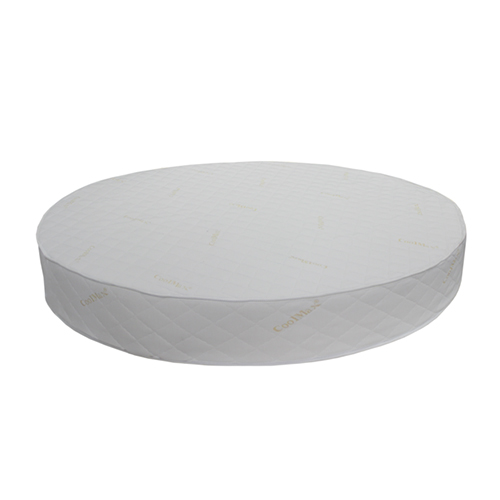 Round Memory Foam Mattress by Sofacraft
What Size is a Round Mattress?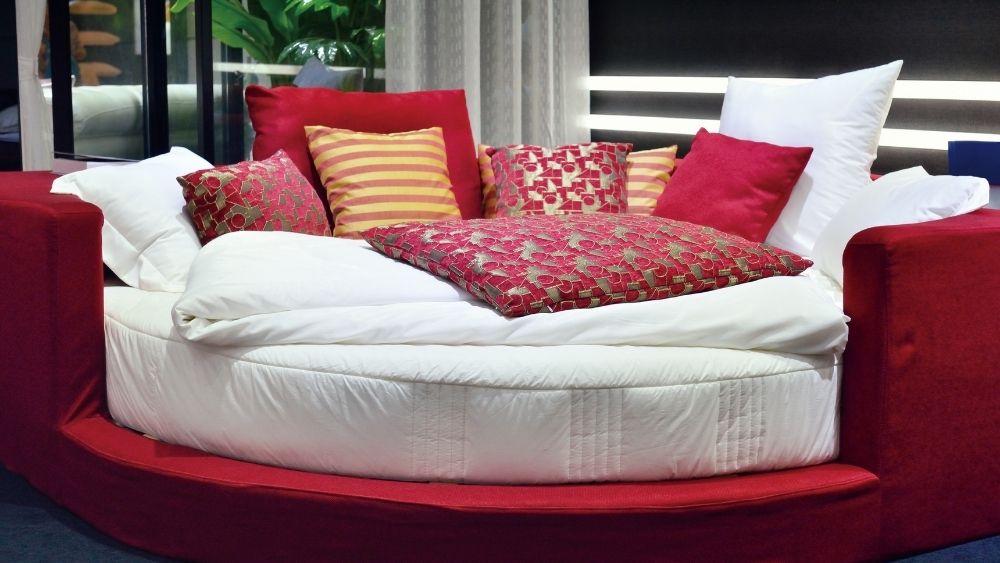 A full-sized circular mattress is the smallest marketed and is 76 inches. Because most of these are at least 10 inches tall, even the full size is pretty heavy. While a standard full-sized mattress is only around 5 feet wide, a round full-sized bed will take up a lot of space.
A queen-sized mattress is generally 84 inches in diameter, while a round king size bed is 96 inches in diameter. Do be aware that many circular mattress manufacturers can create custom sizes as needed, though the delivery time may be extensive and the weight may be intense. If you need to move your new circular mattress to a 2nd floor bedroom, you may need to hire someone to get it up those stairs.
If you already have a round frame or headboard for your bed, a circular mattress can be a good addition to your decor and your comfort. The mattresses listed below are all of good quality and made by manufacturers with a strong history. However, if you have the space in your bedroom for a 96 inch diameter bed and you don't own a rounded headboard frame, you may eventually be more comfortable on an Alaskan King, which will give you more sleeping space in a similar footprint.

Round Mattress Price Range
Thanks to the modern mattress making technology available to us, getting round mattresses made are not nearly as challenging as it might have been during the original build craze of the 1960s.
That being said, if you can find round beds for sale you should still be prepared to spend as much as you would for a high end foam hybrid mattress in the traditional rectangular format.
The average price range for a circle mattress should be $1,200-$1,500.
Be aware that many manufacturers of the circle bed style don't create your mattress until you order it. Measure repeatedly. Go back to the bed frame manufacturer and double check to make sure you have the right diameter before you place your order.
Yes, you can get a great quality round or circular mattress with a wonderful warranty. However, if your measurements are wrong, you will have no recourse to get a replacement; you will need to buy another circular mattress to make up for the measurement error.
Finally, be aware that round sheets will never be on sale at your favorite department store. These will probably be special order items. Making up these beds will be quite expensive. If you find that your circle mattress is too hard, you can probably get a custom topper cut to fit, but it will take time.
Where to Buy Best Round Mattresses Reviews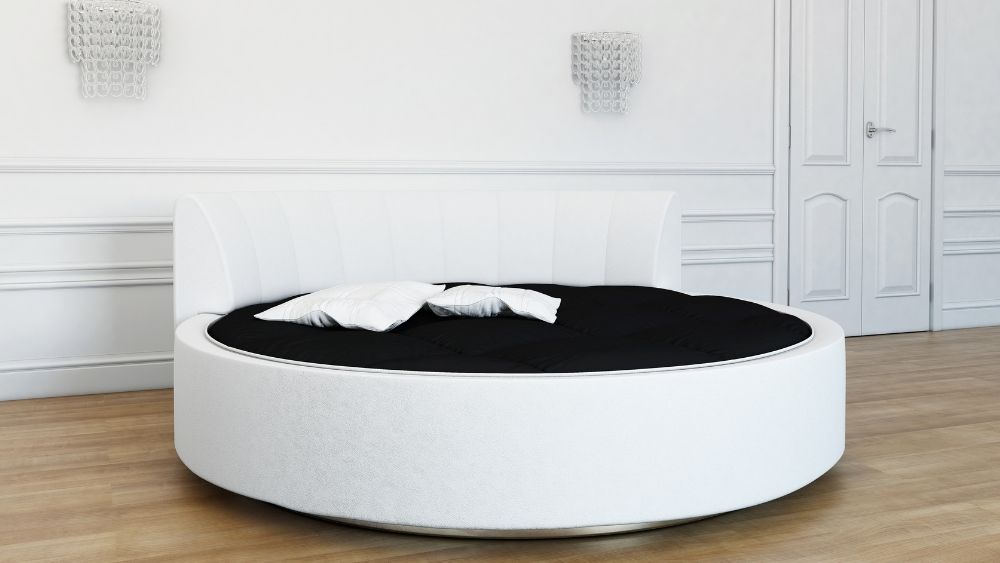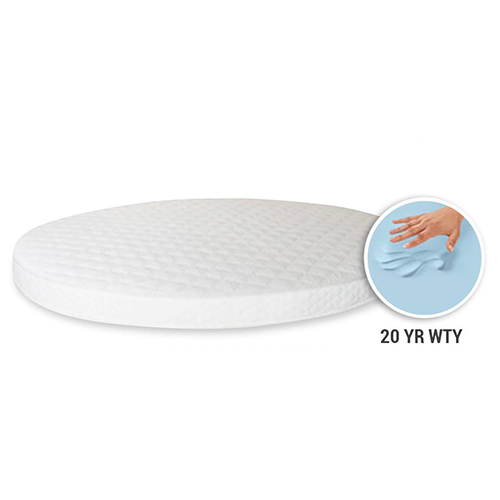 The Gel Foam Round Mattress by MattressInsider.com is a terrific mattress in any shape. This round mattress is made of gel infused Visco elastic memory foam. Not only will it hold its shape, but this mattress will hold a lower temperature than a standard foam mattress. Your circular bed mattress comes with a CoolMAX quilted cover, wicking away moisture and keeping you cooler. Finally, this mattress features grooves or channels that allow air to move while cradling you in comfort.
Pros
This 10 inch mattress features 5 inches of support foam, 1.5 inches of cradle foam and 2 inches of soy transition foam for cool comfort
The gel memory foam will hold its shape for years to come while giving you plenty of cushion
This mattress doesn't transfer motion. You and your partner can both move and sleep comfortably
Cons
This mattress can take up to 24 hours to expand
This is a custom cut; make sure you measure correctly
Once your order, it may take 24 days to get your mattress
The Gel Foam Round Mattress by MattressInsider.com
Cradle Air Flow Foam: Often, foam mattresses heat up and stay hot. This mattress is constructed to move air.
You can get this circle mattress in a variety of sizes, from 76 inches to 99 inches in diameter.
This multi-layer mattress comes with a 20 year limited warranty.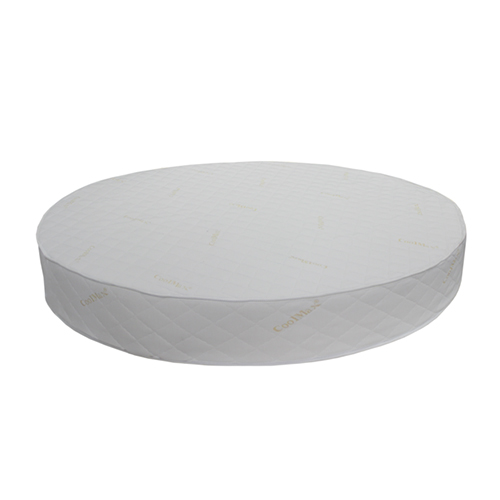 The Round Mattress by Kingship Comfort offers two layers of durability and comfort. The bottom layer is 7 inches of high density foam. The 3 inch top is top quality gel memory foam, which will take pressure off your body and carry away heat. You can get your mattress in 76, 80, 84, 87, 96, or 99 inches. This mattress is on the softer side of the medium; if you need a firm mattress, this one may not be comfortable. However, if you love a softer mattress, this round bed mattress and quilted cover will be incredible. This is a low VOC mattress and will not damage the air quality of your home.
Pros
Your round bed will look and feel terrific with this hearty mattress on deck
Stock size options reduce the risk of ordering the wrong diameter
You can enjoy up to 99 inches of space to stretch out!
Cons
This mattress may take up to 60 days to ship
These are quite heavy; the 99 inch mattress is more than 140 pounds
There are no channels to move air. If you're a hot sleeper, this one may not be comfortable.
Round Mattress by Kingship Comfort
High density foam base means this mattress will last.
Plush latex layer offers tremendous comfort and heat dispersion.
Softcover offers terrific comfort and protection for your mattress.
For those who love a plush memory foam bed, the Round Memory Foam Mattress by Sofacraft offers 10 plush inches of comfort. This mattress is 82 inches in diameter, which is considered a king size. The mattress is a tufted tight top, bordered with a hearty stitched-in border cord. The cover can be removed and washed. This bed offers 350 pound weight capacity and a great deal of comfort.
Pros
This is a medium-dense mattress with breathable layers for comfort
You'll experience a slow-motion transfer; restless sleepers will not waken their partner
This mattress can flex with the bed base
Cons
All foam mattresses need to be vented. If you have a quilted surround, you'll need to make sure this mattress has space around it
This mattress will come rolled uptight; expect to have to leave it lay to expand
There may be foam odor for a few days once it opens up
Round Memory Foam Mattress by Sofacraft
Removable cover will make it much easier to keep this mattress aired and fresh.
This mattress is only 90 pounds, which is low for a rectangular king-sized bed. It's reversible so you can flip for longer wear.
You get 100 nights free to test drive this mattress!
Common Types of Round Mattresses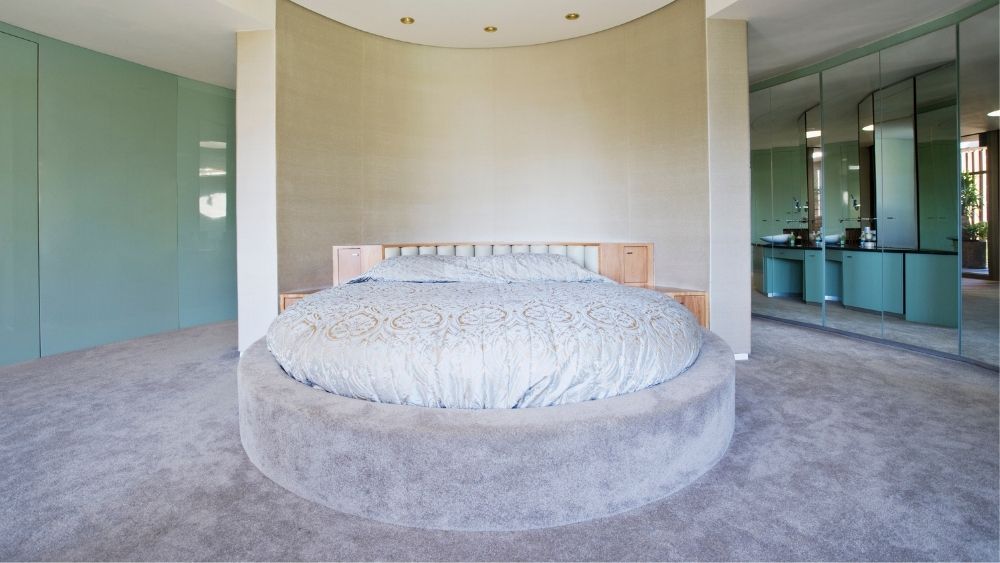 Memory Foam
Generally, you can find these mattresses made of memory foam. Memory foam is often used as a base for many mattresses; while most memory foam is polyester foam, it can be custom cut, channeled, and lofted for softer support and more airflow. However, plain memory foam mattresses are often prone to holding heat. If you are a hot sleeper, you probably want a latex foam mattress.
Latex Foam
Latex foam is often used in the top layer of high end mattresses. One of the challenges for a latex foam mattress is that latex foam can be extremely heavy. While it is inherently cooler than polyester or memory foam, it is quite expensive to get a mattress made only of latex foam.
Hybrid
You can also find these mattresses in hybrid form, which pairs foam with the innerspring coil. However, most innerspring construction has more rigid coils on the outer edge and a softer, more giving center. If you're in need of more firmness, you will probably want to shop for a memory foam mattress.
Things to Consider Before Buying a Round Mattress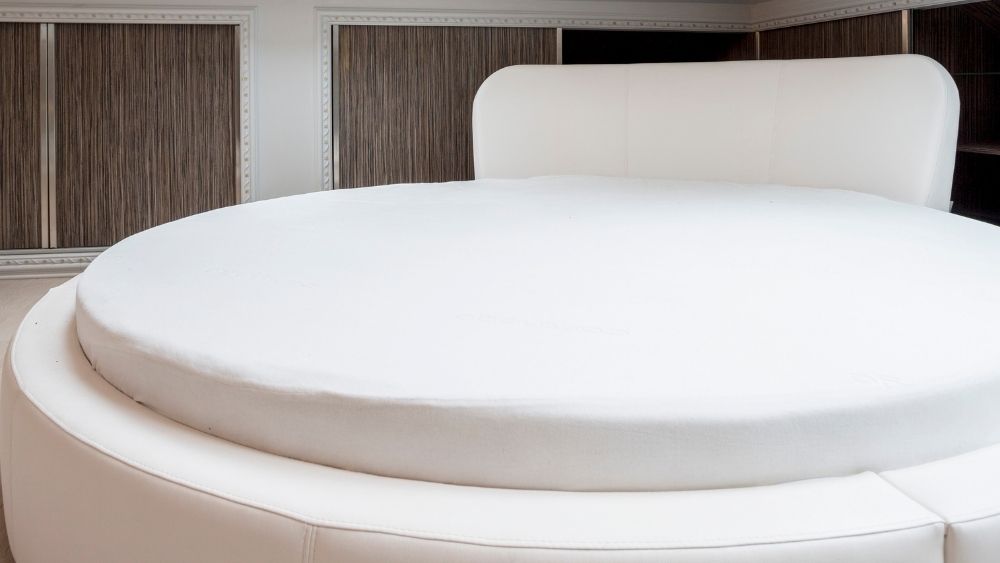 Comfort
A circular mattress cannot be zoned for more flexibility at the hip zone. If you need more support than a comfortable, flexible mattress, this bed may not work. However, rotating these mattresses for even wear is quite simple. There are also circular mattresses that can be flipped for more even wear. If you need more cushion, you can also order a custom round topper from a company that can create a circular mattress.
Size
Obviously, round mattresses are as wide as they are long. If your room is long and narrow, the length of your bed will be limited by the width of the space. If you need a long bed, you're going to need a wide bedroom.
Price
A circular mattress will be expensive. However, if you already have a round headboard bed frame or platform, a quality circular mattress will be a great investment. If you can keep it protected from mildew and bacteria, it should serve you for years. To that end, make sure you're settling your circular mattress on a mesh or slatted base. If possible, do not let your circular mattress push up against a rounded headboard where moisture can be captured and allowed to breed bacteria, mold, or mildew.
Portability
These are heavy mattresses. When it's settled, it will be comfortable, but if you need to turn tight corners or head upstairs, consider getting it delivered. Unlike many of the "mattresses in a box" that are on the market today, your circular mattress may not fold up terribly small. It will certainly be heavy; it may also be awkward.
Logistics
A circular mattress is a custom build. Ordering one is easy; getting one delivered quickly is not. Additionally, because these bed frames are generally a custom build, they can be tricky to measure. Returning such a mattress because it's the wrong size may not be an option, so be ready to double check those dimensions before you order.
Adjusting
If you are a sleeper who curls up on their side, you may really struggle for perspective on your sleeping alignment. For those who tend to snuggle down small, you may find that getting to the edge of the bed will feel disorienting. Give it time.
Benefits and Downsides of a Round Mattress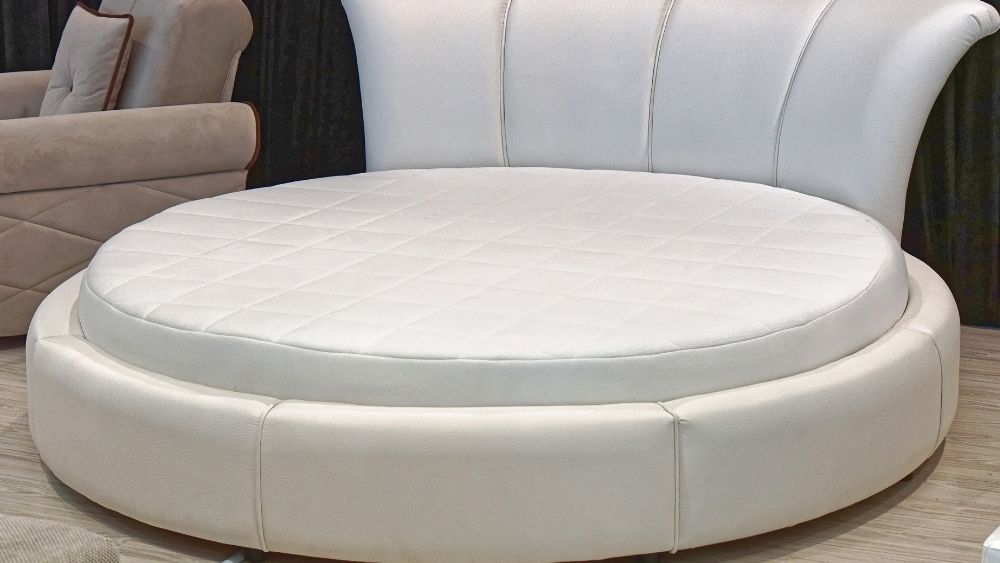 Things we like
A round mattress can be a great choice for a large bedroom. These are also a wonderful choice if you are interested in a platform bed; because the round mattress is self contained, it can simply be placed on a platform that is wide enough and gets plenty of air circulation.
It should also be stated that a circular mattress can be quite beautiful.
Even if you have to get a new platform built for your circular mattress, you can turn large sleeping space into a gorgeous, luxurious sleep setting.
Not so great
A round mattress is inherently larger. If you're over 6 feet tall, a queen sized rectangular mattress is a great choice. While a queen is 80 inches long, it's only 60 inches wide.
A round queen is up to 84 inches wide and long. Those two feet along the edges of your bed could come dear unless your sleeping space is quite large.
Another challenge with a round mattress is that, unless you have a round bed frame, you may end up pushing your pillow off the bed regularly.
FAQ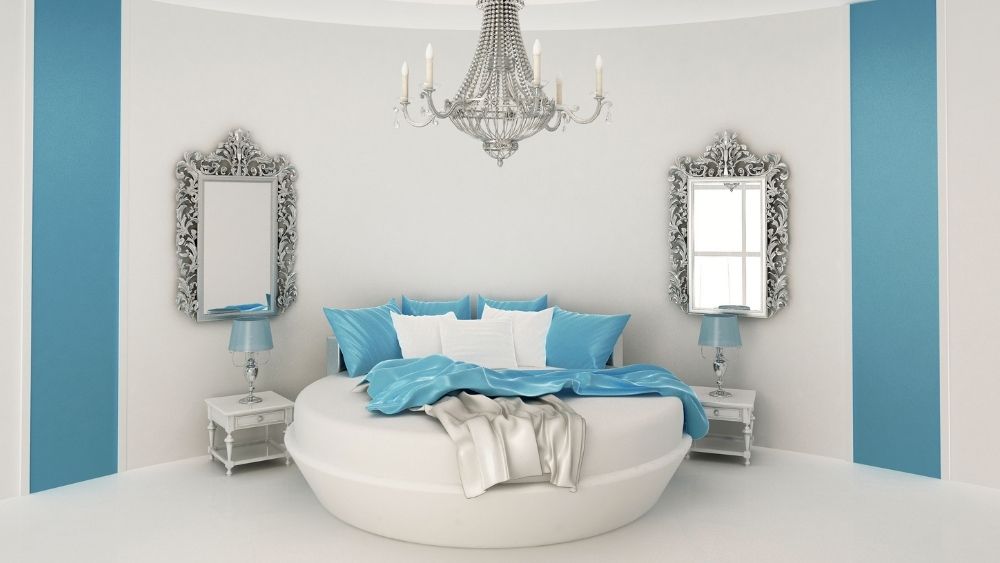 What is a Circle Mattress?

A circle or round mattress is a disc that fits on a round bed.

What are round beds for?

Round beds are simply a decorative choice; they're quite roomy and the right mattress means that they can serve as a family sleeping space without bouncing everyone around.

Are round beds comfortable?

Like any bed, each person's support and comfort needs will have a huge impact on their enjoyment. That being said, as long as round mattresses are a large enough diameter, even tall sleepers should be comfortable in a round bed.

What size is a circle bed?

Your round mattress can be from 76 inches to 99 inches in diameter.

Is a Round Bed good for home?

If your bedroom is big enough, yes. For example, a 76 inch diameter bed is considered full sized. A full sized rectangular bed is only 54 inches wide. Those 22 inches can be a problem in a small bedroom.

When were round beds invented?

Round beds come to us from the 1960s.

Are there sheets available for round mattresses?

Yes, often from the folks who made around mattress.

Why Buy a Round Bed?

If you have the room, a round bed can be quite comfortable and visually striking.

How to make a round mattress?

Unlike an innerspring mattress, a round foam mattress can simply be die-cut and glued.
Sleepy Yet?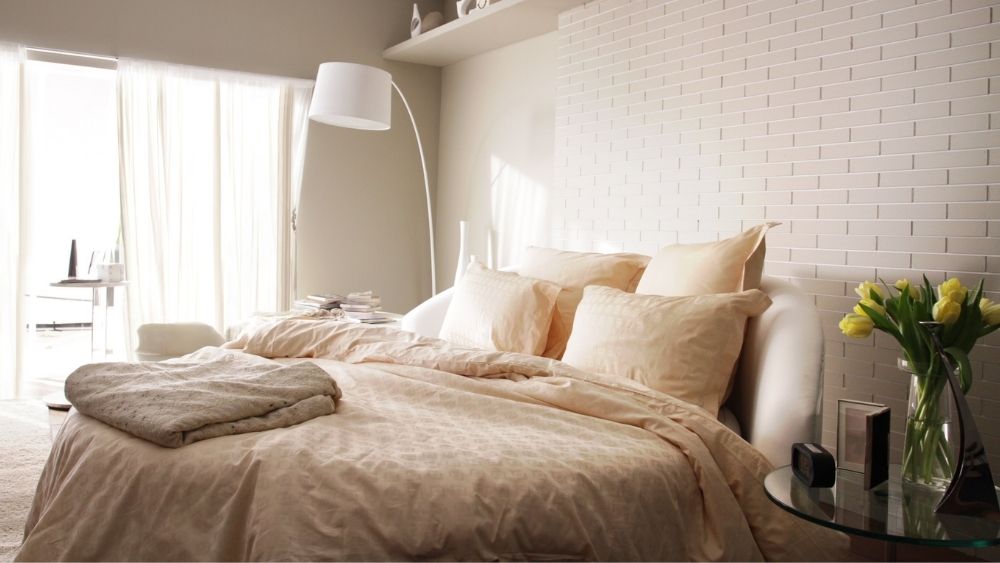 Round beds were made popular in the 1960s. Later design styles turned them into sumptuous, plump nests. Modern technology means you can get a snug, comfortable foam mattress to turn your round bed frame into a cooling 21st sleeping spot. The Gel Foam Round Mattress by MattressInsider.com is the winner. If you're a hot sleeper, you'll be comfortable. If you need comforting support, you'll sleep well. This round mattress is built for clean lines and quality comfort.
The Gel Foam Round Mattress by MattressInsider.com