Investing in an RV is a wonderful way to enjoy travel while staying socially distanced and protecting your family. Whether new or used, the RV mattress that comes with the rig may not be ideal or suit your needs. Because quality sleep is so critical to good health, a durable RV mattress that will protect your spine, support you no matter your favorite sleeping position, and keep you comfortable in a variety of temperatures is key to quality sleep.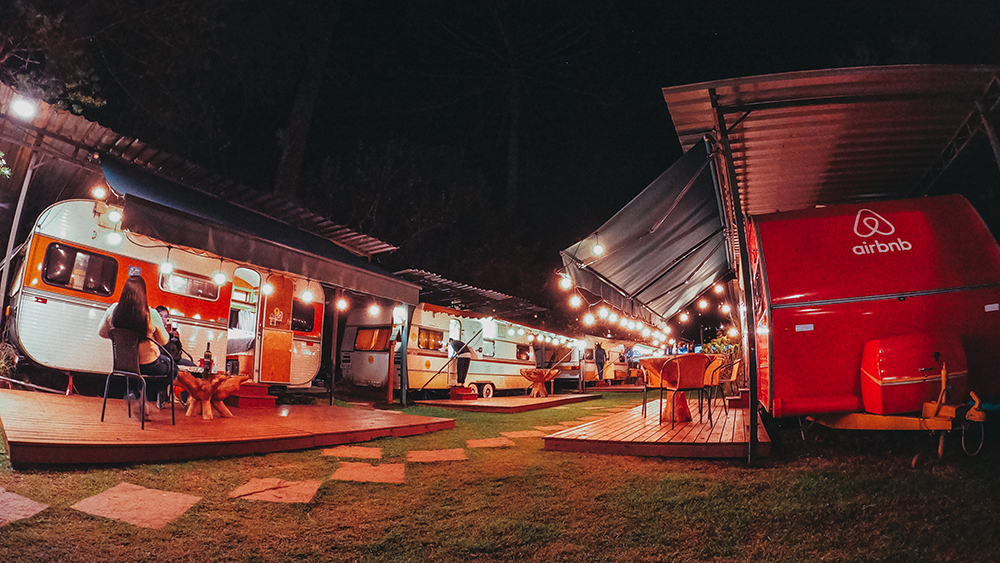 What is an RV Mattress?
An RV mattress is sized to fit into an RV and may be smaller, or at least shorter, than a traditionally sized mattress. Most RV mattresses are also more lightweight than a traditional mattress. Because your RV has weight limitations that must be followed to keep the vehicle safe, putting an RV mattress into your RV is a better choice than putting in a sticks-and-bricks mattress.
Why Buy RV Mattress?
An RV mattress has a better chance of fitting your current bed frame. It may be tempting to think that you can cut down a memory foam mattress, or trim away a row of springs from your innerspring mattress, but this choice may put you in the middle of a project that is more trouble than it's worth. Additionally, even if you get the mattress cut down, finding bedding for your custom cut could be extremely problematic.
Don't Forget Storage
Additionally, many RV beds lift up to allow storage under the bed. While RV mattresses are lighter than standard mattresses, your cut-down house mattress will still probably weigh more than a properly sized RV mattress. This means more wear and tear on the bed frame, the lifting mechanism, and you each time you access this storage.
Easy to Care For
Many companies who make an RV mattress line build it from open core foam. This means that the mattress will release moisture more easily than a standard mattress. Even if your rig has AC and heat, there are days when it will sit in either cold or warm conditions. Moisture and condensation can turn a standard mattress musty, but an RV mattress will be more likely to release moisture and easier to take out into the sun if it needs to air.
Why Short Queen Mattress is such a popular choice for RV?
The short queen mattress is an ideal choice for many RV owners. If you're a solo tall RVer, you can sleep on the diagonal. For couples with a queen at home, you may find that your RV mattress is a bit smaller than your bed at home, but the difference will not be uncomfortable. Finally, you can get bedding for a short queen without having to either build your own fitted sheets or struggle to keep flat sheets tucked.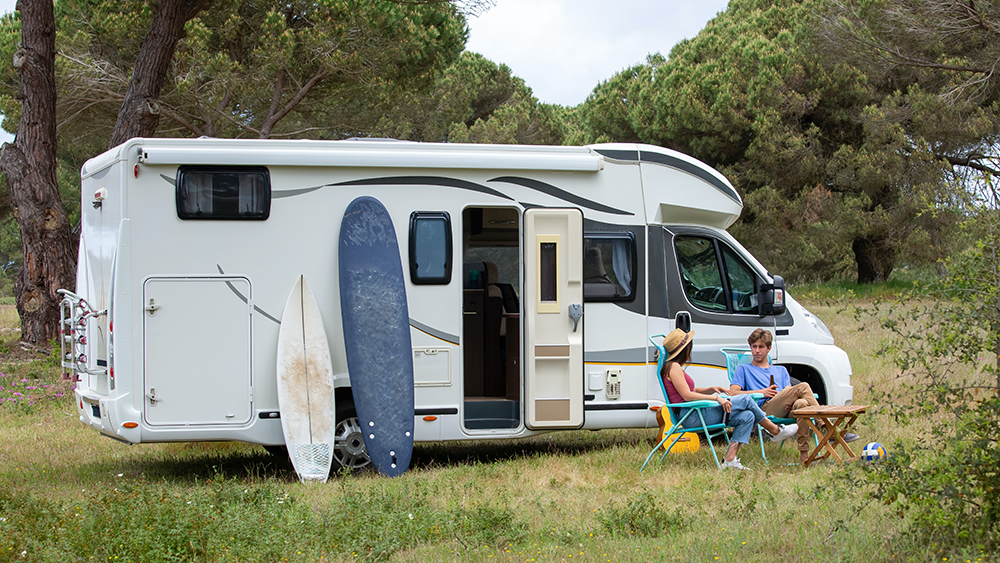 Best RV Mattresses Reviews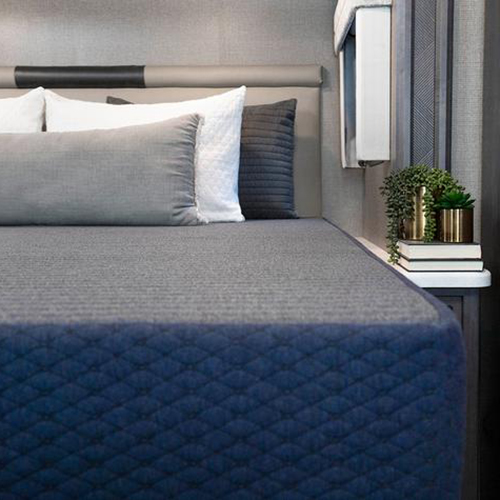 For sheer variety and options, the best RV mattress for your rig may be the Brooklyn Wanderlust Memory Foam Mattress. The company agrees, which is why this RV mattress comes with a 10 year warranty and 120 nights to try it out.

If your experience with RV travel includes the phrase "ruined vacation" instead of "recreational vehicle" because you couldn't sleep on the camper mattress assigned to you, it's time to look again. For those who don't need a lot of cushion, the 6" firm foam mattress is a great choice. If you like things a bit softer, no worries. You can go up to 14" thick with your Wanderlust and snuggle into a plush, comfy night of rest.

This RV mattress comes in a wide variety of sizes, including a short king and short queen RV mattress. The bottom layer is quite firm and will stand up to the test of time. From that firm base, your best RV mattress comes with a lot of options. Order the 10 inch mattress and enjoy two layers, one for firmness and one for softness. The 12 and 14 inch mattresses add even more softness as you relax in sleep. All of these mattresses are built with a top layer of cooling gel.

Pros
Your Wanderlust comes boxed up small and will be easy to get around tight corners before you open it up.
The dark blue-grey cover means you can leave this RV mattress bare and it will look fine.
Brooklyn sells sheets to fit your mattress exactly!
Cons
The top layer may be too soft for side sleepers unless you invest in a thicker RV mattress.
If you have back issues, the softness of the thicker versions may be uncomfortable for you.
Brooklyn Wanderlust Memory Foam Mattress
This product has an excellent warranty and return window!
Stain-resistant cover means your coffee and wine spills won't result in spots or soggy sleep.
No matter your firmness requirements, this mattress will breathe.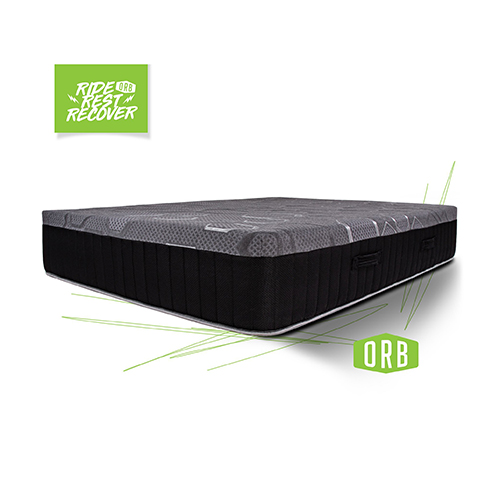 If you really can't sleep on memory foam or if you just like the bounce of a coil mattress, the 13" ORB Performance Hybrid Mattress may be just the RV mattress that you need. It can also work in your home. You can get a short RV Queen or RV King as well as the standard sized twin, XL-twin full, queen, and king.

These hearty and extremely comfortable coil mattresses are built for mobility. At the base is a sturdy breathable fabric cover. Next is a layer of 1" high density foam that supports the separately encased coils. Memory foam above this will allow for plenty of airflow and a layer of Titanflex foam adds to the softness. Just under the top cover is a layer of CopperFlex foam to both increase cooling airflow and reduce the risk of bacterial buildup.

Despite the coils, these mattresses come in a box. If you're worried about getting your comfy and spacious RV mattress through a few gaps that are neither comfy nor spacious, this mattress will fit around corners! The softer the mattress, the more it will weigh. However, while a large, plush house mattress can be extremely heavy, your OffRoad Bedding mattress will not be excessively heavy for your rig. Even better, you can enjoy free shipping to the lower 48 states and 100 nights of trial runs before you have to approve this mattress.

Do be aware that the thicker mattresses really will fill up the space available. If you have bunks that need an upgraded mattress, you may need to stick with a firmer, thinner version of this versatile mattress.
Pros
Your ORB family of mattresses was designed and built by a family of RVers and off-roaders. They know what it feels like to go to bed sore.
If you love this RV mattress, you can get one that will fit your bed at home!
These mattresses are made in the United States.
Cons
ORB was founded in 2019. If you want proof of a mattress that will last, this may not be your best brand.
While they offer 100 days to return this mattress, they do require you to sleep on it for 30 days before returning.
If you are a solo RVer, make sure you have help on the day your mattress arrives; these mattresses can weigh up to 130 pounds.
ORB Performance Hybrid Mattress
This mattress features a Smart Fabric cover, which directs heat and energy back to you and can help recover from a long hike.
The individual coils give couples with different sleeping styles plenty of individual comfort.
There are two layers of cooling foam to reduce heat build-up overnight.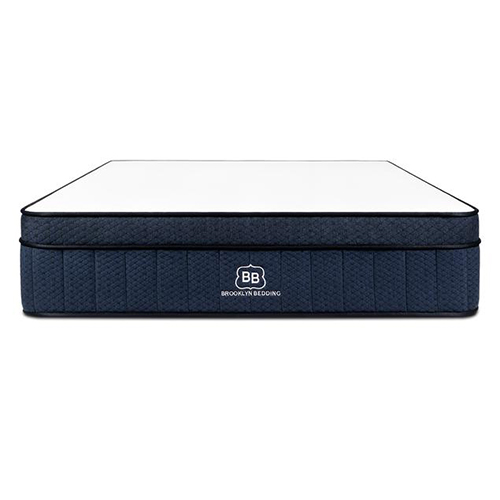 Like the ORB, the Brooklyn Aurora Hybrid pairs coils with foam in different densities. Brooklyn Bedding is big on the science of sleep. For example, while most people have an average skin temperature of 91 degrees Fahrenheit, 88 degrees Fahrenheit is ideal for best quality sleep. If you've ever snuggled in and woke up sweating, or worse, tried to fall asleep in a hot room, you know just how important a cool mattress can be.

From the top down, your mattress offers a cool, smooth top that is formulated to work with the 1.5 inch layer of cooling CopperFlex foam. Both of these work to keep the surface temp of the mattress down to a comfortable level. Below that is a 2 inch thick layer of responsive TitanFlex foam. If you don't like the sense of sinking into memory foam, you may find the combination of foam and coils more comfortable. Between the TitanFlex foam and your coils is a layer of cooling gel foam. Your entire body will be supported by the individually wrapped coils, and the bottom of the mattress is protected with a .75 inch layer of dense foam.

Like all Brooklyn Bedding pieces, this mattress comes with a 10 year warranty and 120 days to test drive the mattress. Comfort and security in this purchase means that you risk nothing more than better sleep and more enjoyable travel.
Pros
This mattress is built to breathe. Moisture is less of a risk.
You can get this mattress in multiple levels of firmness.
If you don't like it, they'll take it back within 100 days!
Cons
The cover is cream. You will want extra bedding to cover this mattress.
The plush version of this mattress can be quite heavy, making storage under this bed a challenge.
The bottom layer may not stand up to sliding damage if your mattress is undersized on the frame or base.
Brooklyn Aurora Hybrid
This RV mattress offers an 8 inch coil bed with more durability at the outer edge. Getting in and out of this bed will not be a problem.
Your Brooklyn Hybrid is formulated to be cooler to the touch than skin.
The copper foam layer reduces the risk of bacterial build-up.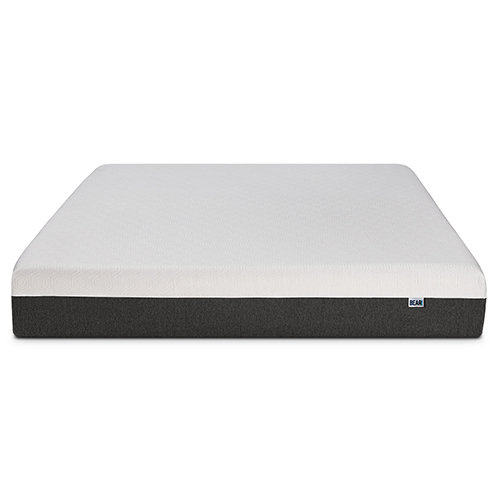 If you are comfortable on a foam mattress, this may be the best RV mattress for your space and your budget. The short queen Bear Trek offers a soft, breathable cover, a heavy duty high density base and a cooling memory foam gel top layer.

One of the big concerns with an RV mattress when compared to a house mattress is that the bottom of an RV mattress is subjected to a lot more stress than in a house. The starting and stopping of your RV can lead to a small amount of sliding on each trip, which will wear through the base fabric and that bottom layer of foam.

The Bear Trek Mattress is a simple combination of high density foam and heavy duty fabric on the bottom. If it slides when you're on the road, it will not break down. It will need to open up and air for a day or two, but once it's fully fluffed, your bed will be ready to go!
Pros
The high density foam base is quite thick and will hold shape over time.
You can try this mattress for 100 nights and get interest-free financing for your purchase.
This mattress comes in a fairly small box and will likely fit through narrow doorways.
Cons
The cover is cream. You can't leave this mattress uncovered without risk of staining.
It's only two layers; if you don't like the feel of memory foam, this item may not serve you well.
Bear Trek
The hearty base fabric and high density foam base is built to last.
The top cover is breathable and soft.
The top layer of foam is built to remove heat as you sleep so you can stay comfortable all night.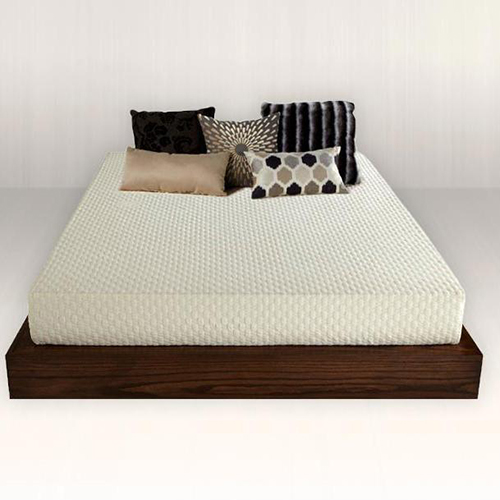 If you struggle with allergies and love the feel of a memory foam mattress, you may have just found your best RV mattress! The Plushbeds Deluxe 8" Memory Foam Mattress is certified Fiberglass-free and will not release toxic chemicals in your living space. If you've ever opened up a memory foam mattress or pillow and found the fragrance to be unpleasant, you know just how intense that odor can be.

In a small space like an RV, that odor can quickly become over-powering. However, your Plushbed is certified to be free of the CFCs and and other chemicals that can make some memory foam products smell unpleasant for a long stretch of time. Your Plushbed mattress is certified not to off-gas.

There are no breaks in this dense foam. Your Plushbed will be consistent from top to bottom in providing you nothing but comfort no matter your destination. These mattresses come with a soft stretch bamboo cover that easily zips on and off as well.
Pros
There are no layers to this hearty mattress, so there's no worry about glues breaking down.
The washable cover is easy to remove.
You can enjoy a lot of comfort in just 6 or 8 inches of mattress height.
Cons
Some users find these mattresses get very warm.
The cover is cream and may show spots and stains over time.
Dense foam lasts longer, but it is heavier.
Plushbeds Deluxe 8 Inch Memory Foam Mattress
The soft bamboo cover is easy to remove and stretch over your mattress.
Your dense Plushbed mattress will last without crushing over time.
If height is limited, your mattress will offer plenty of comfort in an overhead or bunk.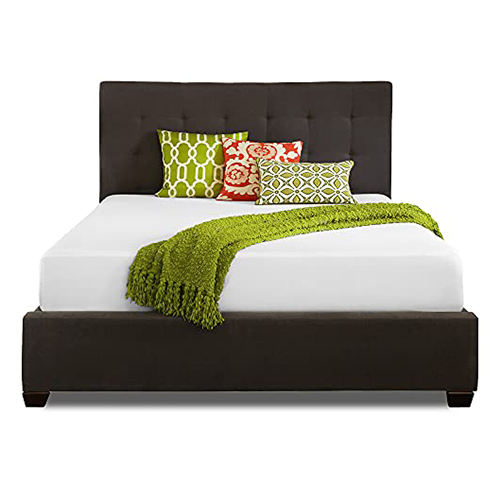 Fans of memory foam will also love the Live and Sleep Memory Foam Mattress for their camper or Rv. The short queen medium density version of this mattress is just 60 pounds, making this mattress easy to move in and out of your RV space. You can get this mattress in five different levels of plush, from ultra plush or very soft all the way to firm.

The fabric cover of your Live and Sleep mattress is designed and built to breathe. You can easily unzip and remove the fabric cover to wash on the delicate setting and dry on low. There's a mesh fire retardant layer between the fabric cover and the mattress that should not be removed or washed.

High density, firm foam is lighter than memory foam. This mattress offer the best of both types of foam. You will enjoy the lightweight durability of the base foam as well as the softer, more plush layer of memory foam to sleep on.

The softer your mattress, the more it will weigh. However, once you find the right level of comfort for your RV mattress, you can enjoy a 20 year warranty from Live and Sleep.
Pros
If you need a foam mattress with a low profile that still offers a lot of comfort, this is it!
The flame retardant inner cover reduces your risk of fiberglass exposure.
The cover is stretchy and easy to remove.
Cons
The air-infused foam may crush over time.
This mattress takes a long time to expand, and some users find it never fully expands.
Over time, some users find this mattress crushes and doesn't bounce back.
Live and Sleep Memory Foam Mattress
This Certi-Pur foam mattress has a memory foam top for comfort and coolness
Your Live and Sleep has a dense base for lightweight durability.
There is a permanent layer of flame retardant fabric around the whole mattress.
The removable fabric cover is easy to clean up.
For those who fear overheating on memory foam, the Zinus Ultima Memory Foam Mattress is well worth a look. This foam mattress features three layers. The bottom is a 5 inch layer of high density foam that offers both firmness and less weight than plush foams On top of that is aerated foam that is 2 inches deep. The top layer is 3 inches of memory foam that will bounce back in the morning.

Because moisture can often be a challenge in an RV, this mattress offers extra benefits. The foam layers not only move air for comfort, they include green tea and a charcoal infusion to reduce the risk of bacterial build-up.

This mattress comes with a 10 year warranty. The twin is rated to hold up to 250 pounds and the larger versions of this mattress will hold up to 500 pounds. The zipper cover is not designed to be removed. You will want an additional mattress cover before you use this bed.
Pros
The foam construction of this mattress means that the short queen is just 55 pounds.
If your budget or your height profile are snug, you can get a lot of comfort out of this mattress.
There are two levels of air movement in this mattress if you are concerned about heat.
Cons
Your Zinus will need 72 hours to expand.
There is fire-proofing embedded in the mattress. Leave the cover on.
You'll need a separate mattress cover to protect the fabric wrap.
Zinus Ultima Memory Foam Mattress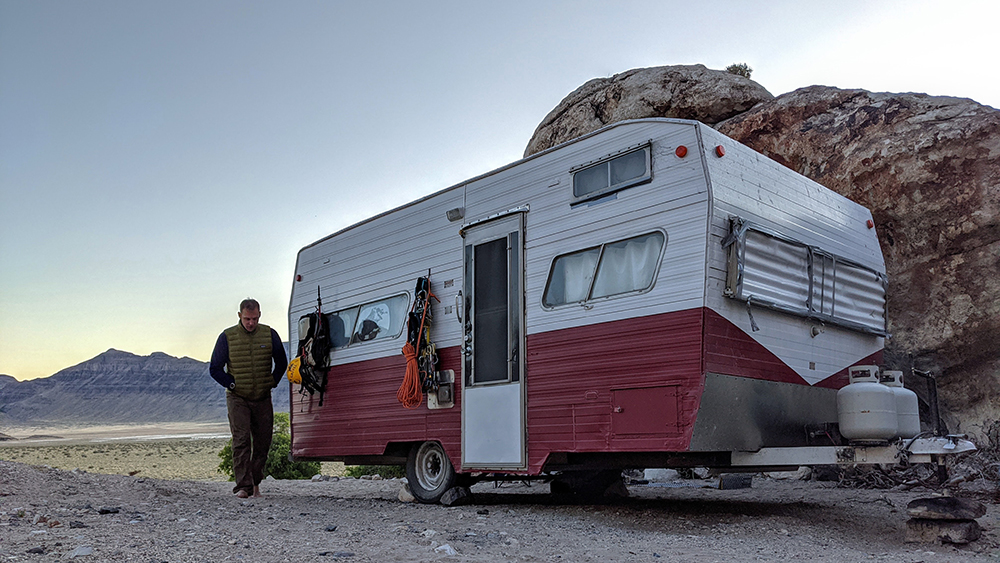 RV Mattress Types
For long-term comfort, your RV mattress choice considerations will likely be different from the mattress you buy for your home. For example, your home mattress will probably have the support of a box spring, which is probably not an option in an RV.
Additionally, your RV mattress will need to tolerate a wider variety of temperatures and humidity levels. Finally, your RV mattress may need to pack down small, roll or at least be more flexible than a home use mattress.
Airbed
Definition: An airbed is the most flexible type of RV mattress, especially if you have an air compressor or a pump. The fill of an airbed mattress is air and can thus be compressed when not in use.
Space Considerations: If your RV travel space is very tight, or if you need to provide sleeping spaces for more folks than your RV will officially hold, an air mattress is a good choice. Be aware that these can be wonderfully cooling if you're camping in hot conditions. They can also be rather cold in the mountains or the high desert.
Latex
Definition: A latex foam mattress is an extremely durable choice for an RV owner who plans to camp in extreme temperatures. While a latex offers cooler comfort than a foam mattress, it will cost more in the purchasing.
Great Guest Bed Mattress: As a general rule, your latex mattress will offer moderate comfort and cushioning. Side sleepers may find these a bit too hard, but back and tummy sleepers will likely get great use out of a latex mattress.
Innerspring
Definition: An innerspring mattress features pocketed coils and may include a pillow top. This type of mattress should generally be paired with a box spring; on a hard surface, this mattress will compress more quickly over time.
Budget Friendly: Innerspring mattresses, even in RV sizes, are less costly than many other mattress types. It is harder to modify. If you need to shorten a foam mattress, the cutting will be messy, but if you need a short queen mattress and want an innerspring, buy a short queen.
Hybrid
Definition: A hybrid RV mattress starts with a durable, high density foam base. The next level is pocketed coils, then more foam, and generally something breathable in the top layer. If you want the comfort and snuggle of a foam mattress but just can't tolerate the heat of foam, this mattress may work for you.
Great Customer Service: Most hybrids have an excellent return policy. Be aware that, once you make your purchase, you will need to use it for 30 days before you can start the return process. However, many folks who can't manage foam have great results from a hybrid.
Foam
Definition: A foam mattress is made of poly foam only, though some can be infused with copper, graphite, charcoal or gel for cooling, fragrance and antibacterial benefits. While a foam mattress can be heavier than a hybrid or an innerspring, they offer terrific flexibility and can be modified without too much mess.
Conforms to the Body: If your RV life involves getting out and climbing, hiking or just working out, snuggling down into a foam mattress is an ideal option at the end of a long day. Do be aware that some find these mattresses to be too warm.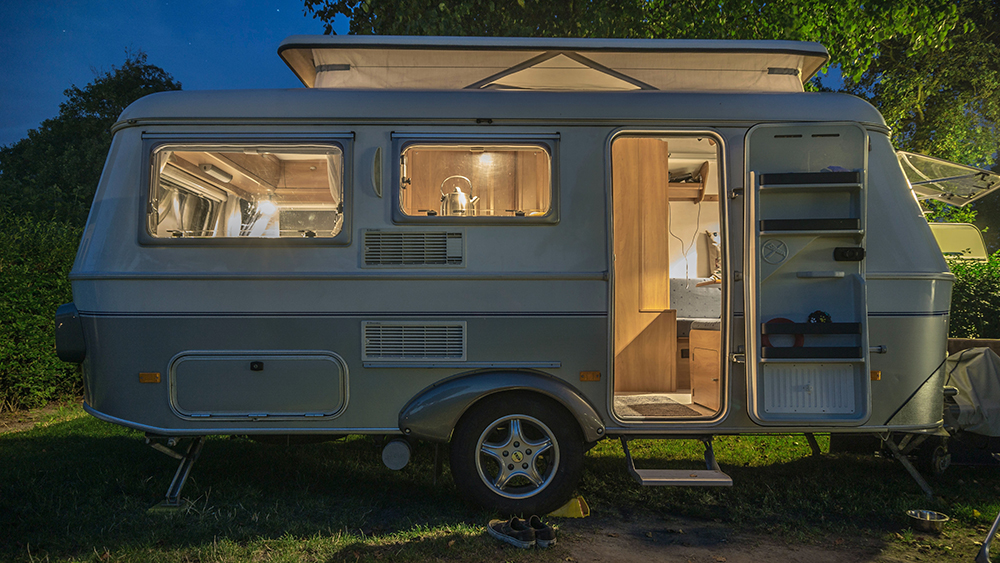 RV Mattress VS Regular Mattress
There are three factors to consider when choosing your RV mattress. The first to consider is weight. Your RV will come from the manufacturer with a recommended weight limit and will probably be close to that empty. Changing out the factory mattress will add, per sleeper, more weight to the total rig. Add gear and water, and you may push your new rig to the limits.
Another consideration is size. RV mattresses may be smaller than standard, and a compressed mattress will not have as much give as a mattress that is allowed to breathe. If you need to update, get a mattress that is properly sized. Cutting down a mattress to fit is possible, but it can be a messy process and may require you to make or buy custom sheets forever.
Finally, carefully consider the flexibility of your new mattress. RV designers and manufacturers make clever use of every square inch of an RV, but this can lead to some tight corners. To make sure that your new RV mattress fits properly, carefully measure the space that you need to pass through on your way to the sleeping space before you invest.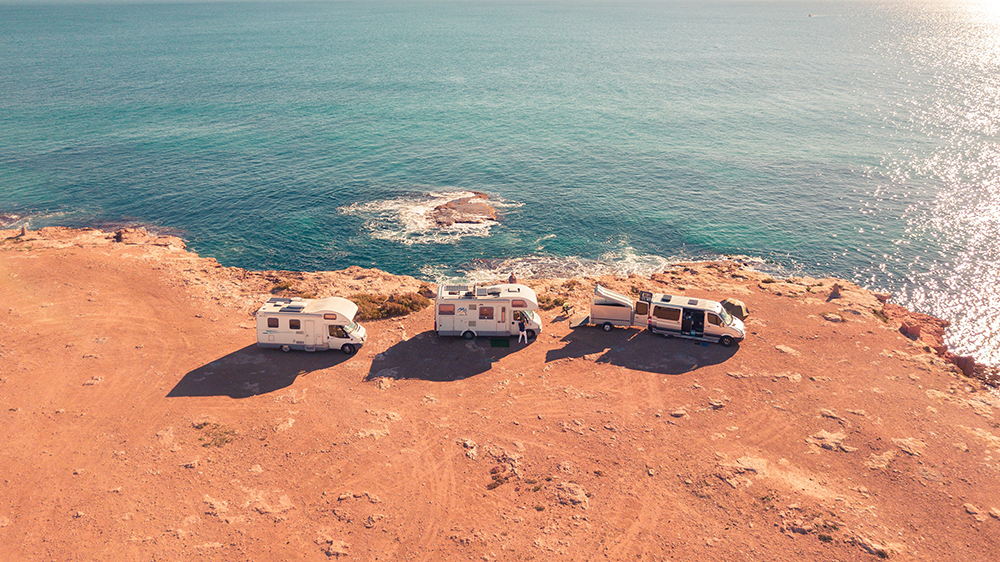 How to Choose the Best RV Mattress
Comfort
Does your home mattress work for you, and what is it made of? If you are a hot sleeper, don't buy foam. If you're a side sleeper, latex may not work. An innerspring mattress may be your best choice; just make sure it will flex enough that you can get it back to the sleeping space. Additionally, it's a very good idea to consider your mattress cover at this time. If you plan to sleep in a sleeping bag most days, putting a dark and durable mattress cover over your RV mattress can keep that soft, creamy bamboo cover looking much better over time.
Size
A custom-sized RV queen or RV king won't be cheap, but quality rest is an investment in your health. If you're getting new mattresses for the bunks for your children, carefully review the thickness or height of the mattress. A tall mattress may look more plush, but if you're sleeping in an overhead or on a bunk, too much mattress can make for a claustrophobic experience. If you have an overhead or a bunk that requires a softer mattress, this may be the time to start doubling up. For example, an air mattress on top of a firm density foam mattress can be quite comfortable for a side sleeper, and you can roll it up and put it away in the daytime if you need the foam mattress for play or lounging.
Weight
Carefully measure the existing mattress and, if possible, get a weight on it so you know what you're adding to your rig when you make the switch. Get the old one out completely, lay it out flat and measure one more time. This may also be a good time to look at the existing base for the mattress. If the mattress that came with the RV is especially lightweight because it's uncomfortable and cheap, the under-bed storage compartments may have been easy to get to. Add a heavier mattress, and you may have problem accessing that gear. If you need to bulk up the opening mechanism, such as adding pistons to assist the lifting process, now is the time to upgrade.
Access
Getting your new mattress into your new sleeping space may not be easy. To avoid damaging flooring, cabinet finishes and other surfaces in tight passages. Bring the new, boxed mattress into the sleeping space as it will be easier to handle compressed. This may mean sleeping in a hammock for a night or two if you're already on the road. Additionally, foam mattresses may have an odor when they expand. Before you open the box, open up the windows and get air moving. Once the mattress is fully expanded, you should be able to add bedding without having to worry about a chemical smell in your RV.
Airflow
The more airflow you need, the more expensive your mattress will likely be. However, waking up sweaty and miserable does not make for happy campers. You want to be picky about this. If you love to hit the trails and go to bed tired and sore, a hybrid foam/spring combination may not be the cheapest, but it could be the most comfortable and healthiest option. Because moisture can build up above and below foam mattresses, carefully consider the base of your bed as well. For example, a plywood base may need a wool cover to allow for more air movement. You may also consider removing the plywood and adding slats instead to maintain stability and increase airflow above and below the mattress. Because mildew can be a risk over time, keeping things dry is critical to the health of you and your family.
Price
Even a used RV will feel like a palace after a good night's sleep. The best RV mattress is the one that provides you with great rest. If you're a hot sleeper who's sworn off memory foam, you may be thrilled with the new hybrid coil and foam mattress styles. No matter what you decide, don't expect to rely on the factory mattresses for long. These mattresses may look nice, but they may show signs of crush damage pretty quickly and may be too warm for many travelers.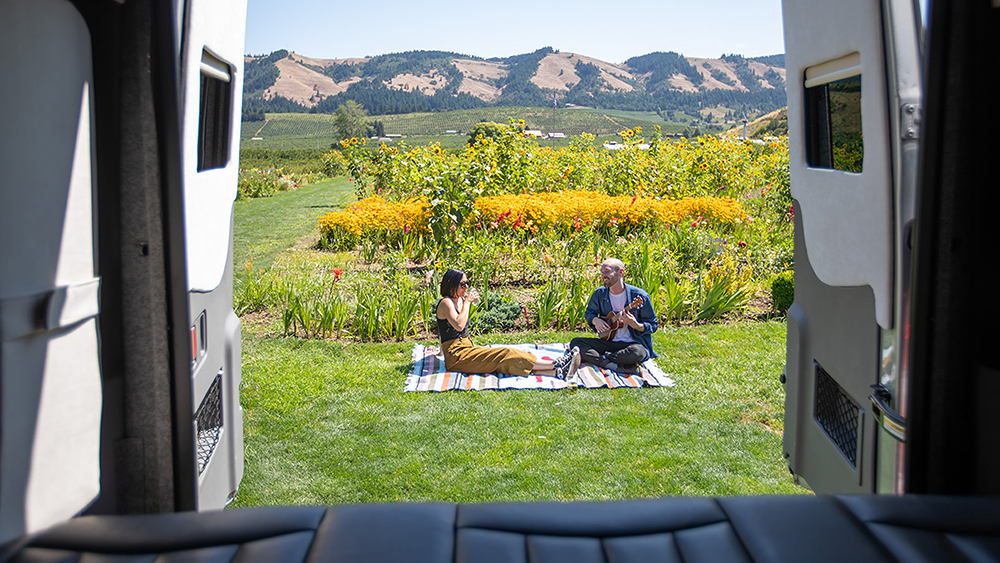 RV Mattress Sizes Chart
Every RV manufacturer seems to be coming up with new ways to turn various pieces of furniture into beds. Correspondingly, the mattresses available for your new RV come in a wide variety of sizes. As you start replacing mattresses, consider color coding the bedding to make sure you aren't trying to put the RV bunk sheets on an RV twin.
From smallest to largest:
Mattress Size
Dimensions in Inches
Dimensions in Centimeters
RV Bunk
28″ X 75″
30″ X 75″
35″ X 80″
70 X 190.5cm
76 X 190.5cm
90 X 203.2cm
RV Twin
38″ X 75″
40″ X 80″
96.5 X 190.5cm
101.6 X 203.2cm
RV Full
53″ X 75″
55″ X 75″
134.6 X 190.5cm
139.7 X 190.5cm
RV Three-Quarter
48″ X 75″
48″ X 80″
121.9 X 190.5cm
121.9 X 203.2cm
RV Short Queen
60″ X 75″
152.4 X 190.5cm
RV Queen
60″ X 80″
152.4 X 203.2cm
RV Olympic Queen
66″ X 80″
167.6 X 203.2cm
RV King
72″ X 75″
72″ X 80″
182.9 X 190.6cm
182.9 X 203.2cm
RV California King
72″ X 84″
182.9 X 213.5cm
When buying a mattress for these beds, carefully review the height between bunks.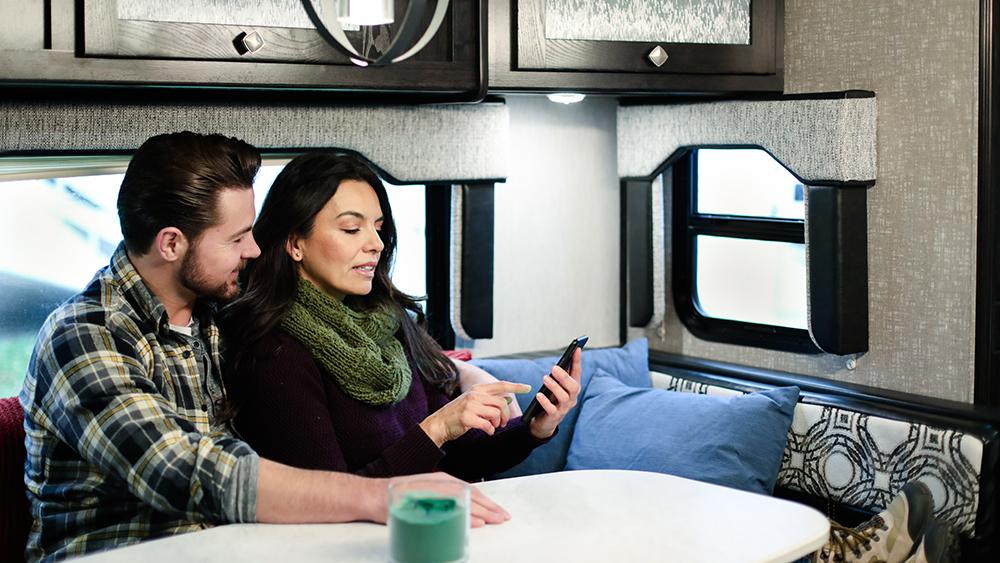 Which RV Mattress Should I Get For My Vehicle?
RVs, like RV mattresses, come in a wide variety of sizes. Each sleeping space will have a specific capacity and tolerate a particular amount of weight. To make sure that you are sleeping in the greatest comfort without putting too much stress on your rig, consider the size comparisons below.
Motorcoaches, or When Your House has a Steering Wheel
Class A
These are about the size of a city bus. If you like a big mattress, it will probably fit most easily into a Class A.

Recommended Mattress Size
RV Bunk, RV Full, RV Short Queen, RV Queen, Olympic Queen, RV Short King, RV King, RV California King
Class B
A large passenger van is about the same size as a Class B. Because your living space is small, your mattress will probably need to be smaller as well.

Recommended Mattress Size
RV Bunk, sometimes RV Full and RV Queen
Class C
Class C motorhomes are about the size of a moving truck. Because many of them have an overhead sleeping cab, if you plan to replace this mattress, weight considerations are critical.

Recommended Mattress Size
RV Bunk, RV Full, RV Short Queen, RV Queen
Towables, or When Your House has a Trailer Hitch
5th Wheel
A 5th wheel RV generally has a gooseneck that hooks to a plate in the bed of a pickup. The bedroom is often on top of this gooseneck and is often approached by a narrow hall. Open your new mattress box inside the bedroom!

Recommended Mattress Size
RV Bunk, RV Full, RV Short Queen, RV Queen, Olympic Queen, RV Short King, RV King, RV Cal King
Bumper Pull
Bumper pulls have been around a long time and can come in a variety of sizes, material construction and shapes. Bunks are common.. Check the height of your gap between the bunks.

Recommended Mattress Size
RV Bunk


Truck Campers, or When Your House Sits in the Truck Bed
These campers often have a sleeping area over the cab of the truck. Again, weight will need to be considered before you upgrade your RV mattress.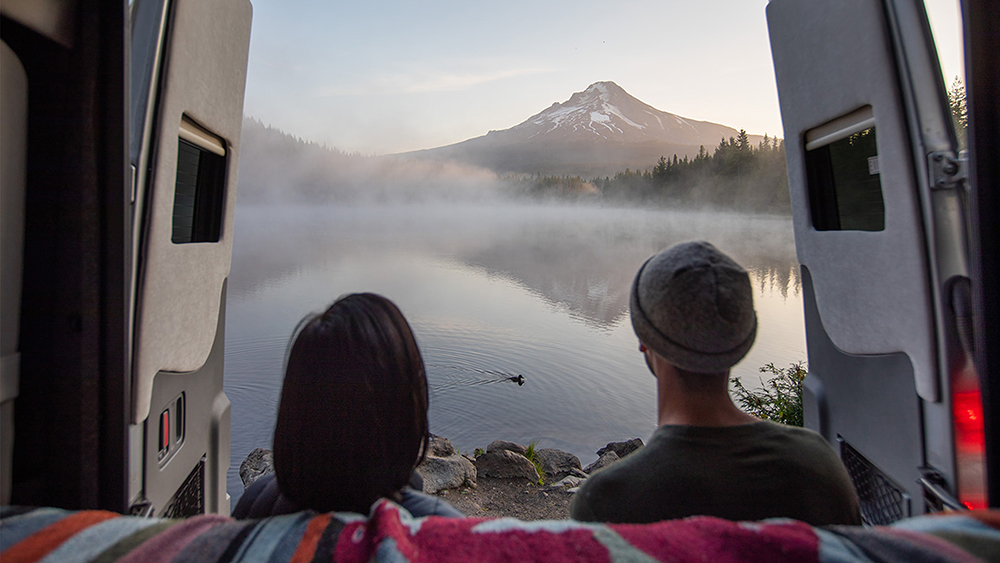 FAQ
Are RV beds smaller?

Often, but not always. Measure twice!

What size of RV mattress do I need?

Likely the biggest one that will fit the space.

What is the cost of an RV mattress?

It can be as cheap as a foam topper or as expensive as a foam/innerspring hybrid. Poor sleep is never a bargain.

What is a short queen mattress?

 A short queen is 60 inches wide and 74 or 75 inches long.

What is an RV queen mattress?

Generally these are the same as a short queen.

What is the difference between short queen mattress and Queen?

 5 or 6 inches in length.

What is the best RV mattress type?

The lightest weight mattress you can comfortably sleep on.

Are RV mattress sizes the same as regular mattresses?

Sometimes. Use the old mattress as a template and get a weight if you can.

What thickness should I choose for my RV mattress?

Your comfort and the gap between deck and upper surface will define this.

How can you prevent mold under an RV mattress?

Slats or a wool spacer can help. Consider also getting a charcoal infused mattress, or tilting it at an angle on wedges during the day or when you store the RV.

Can you put a regular mattress in an RV?

If it will fit, yes.

What size sheets fit an RV queen?

You will need to buy RV queen sheets to make up for the 5 or 6 inch difference.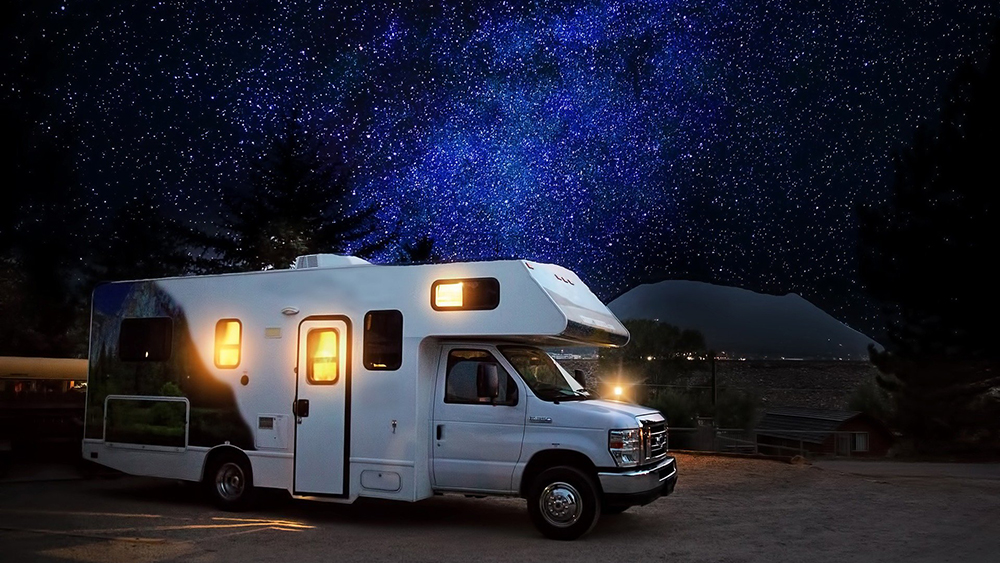 Snuggle In Under the Stars
When you're ready to get on the road, treat yourself to a Wanderlust Memory Foam Mattress from Brooklyn. You can get cool, comfortable sleep on a mattress that won't break your budget or your weight limits. Better still, this mattress is flexible and can fit around tight corners. Best of all, this unit will look sharp in your minimalist living space. You can leave it bare until bedtime thanks to the durable cover.
Brooklyn Wanderlust Memory Foam Mattress