Have you tried bed after bed, only to find yourself still struggling with back pain, achy joints, or an inability to let your brain and body relax? A traditional bed will help a lot of people, but it won't work for everyone.
That is where a sleep chair can come in handy. Many people with lower back pain or breathing problems end up sleeping in their recliners, but the average recliner was not built for maximum sleep comfort. A sleeping chair, however, is. Elderly people and those who suffer from chronic pain need full-body relaxation, and that is just what a sleep chair can provide.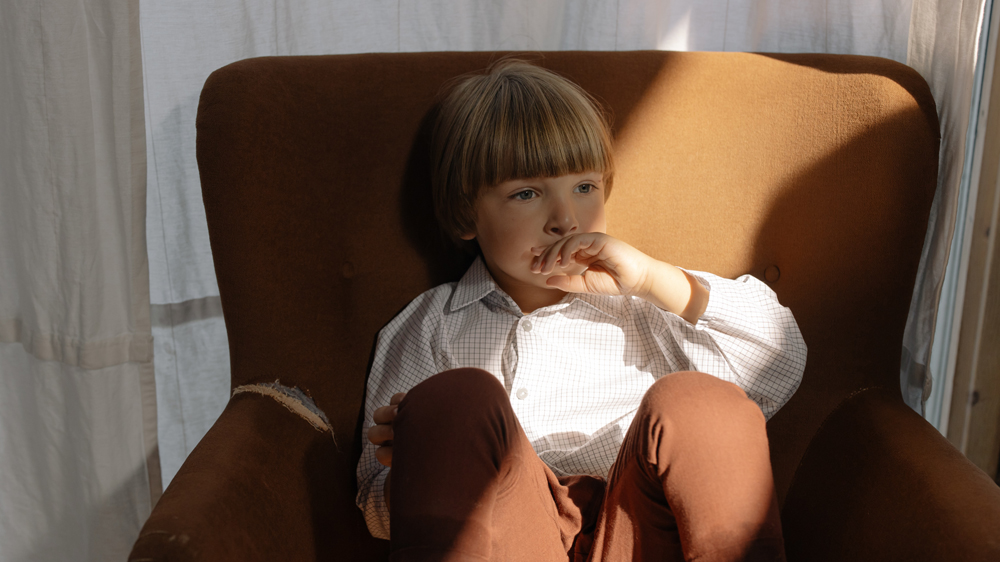 Sleep Chair Types. Let's Clear Up The Difference!
There are a few different types of sleep chairs out there. You can opt for either a sleeping recliner chair or a sleeping lift chair. Let's go over what they offer and what their differences happen to be.
What is a Sleeping Recliner Chair?
Recliner chairs come with different types of upholstery, but cloth fabric is usually the most comfortable for sleeping in. Fabric is much more breathable. Many recliners are still manually operated, but there are some sleeping recliners that offer an infinite number of positions, but they do not have any sort of lift to help you get out of the chair.
What is a Sleeping Lift Chair?
A sleeping lift chair has a more recliner-like design, but they have more medical benefits for those in need. Their electric motors can raise and lower you into either a sitting or standing position. If getting up or sitting down is painful due to mobility issues, this chair should help.
Their motors also automatically allow these chairs to recline, meaning that you will not have to strain your muscles to do so. Two-position lift chairs will get you to a 45-degree angle while three-position models will go almost completely flat. Sleeping lift chairs that offer an infinite number of positions.
You can also find heating pads and massage motors built into a sleep lift chair. These functions work to reduce pain, relieve pressure, and enhance comfort.
The Difference Between Them
The biggest difference between a sleeping recliner chair and a sleeping lift chair is how you get in and out of them. A recliner does not have the same lifting function as a lift chair, which can help you stand up without putting more strain on your body.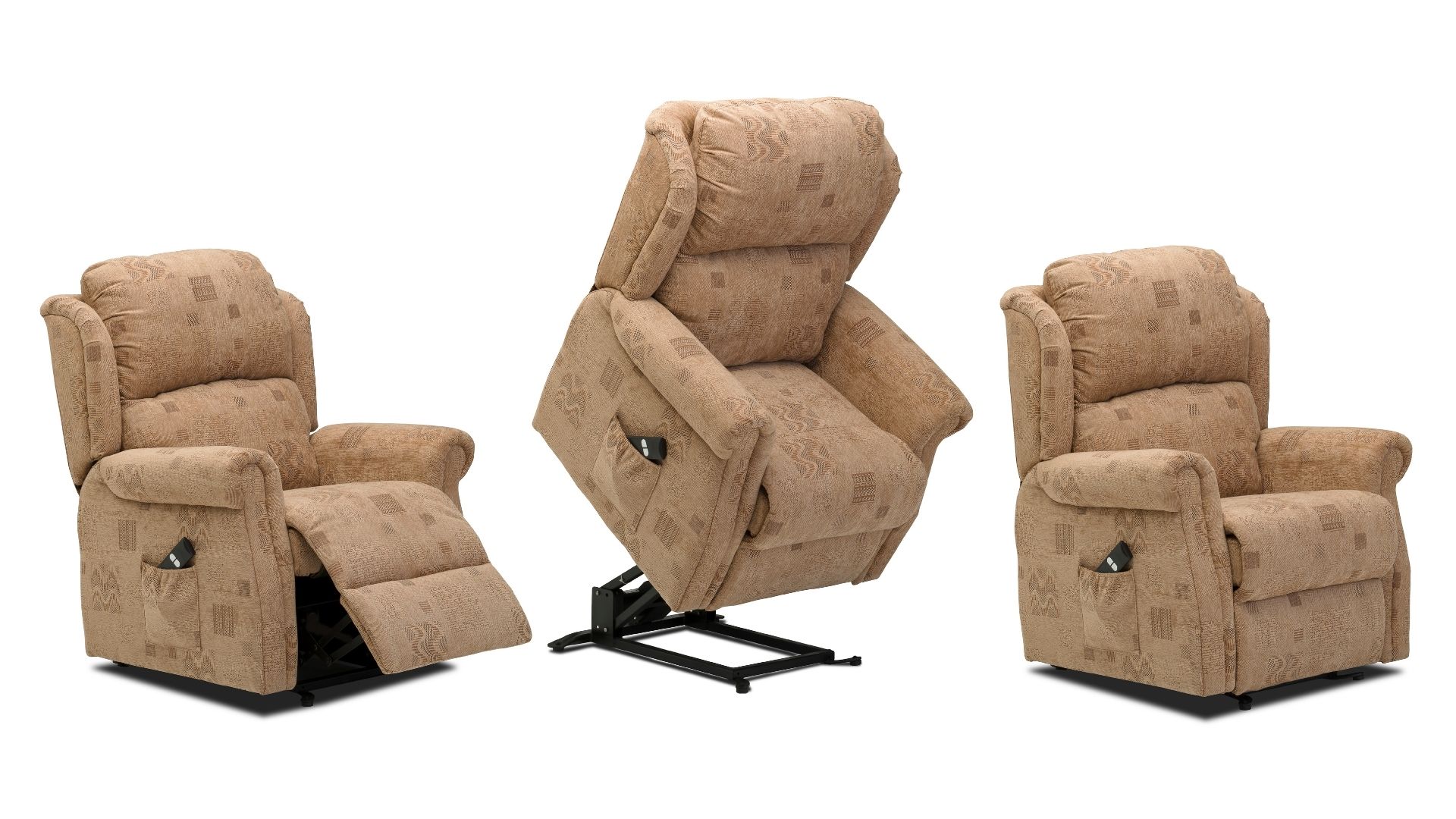 7 Best Sleep Chairs Reviews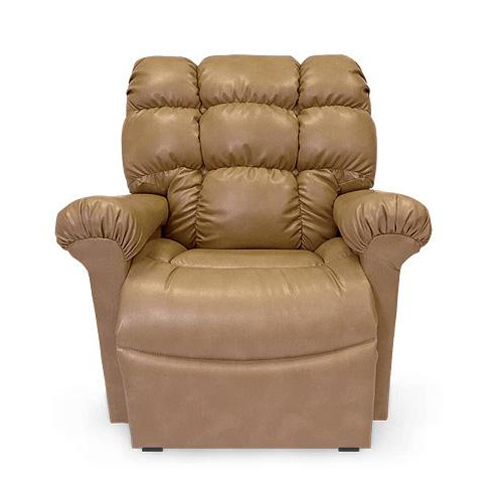 Ready for a night of seriously sound sleeping? That is what Journey Health & Lifestyle's The Perfect Sleep Chair aims to provide. So, do they live up to their name - and their promise? Um, yeah. And that is precisely why this is our pick for the best sleep chair.

Handcrafted in the USA, The Perfect Sleep Chair offers the utmost in quality. Every chair has hand-stitching and hand-sewing. Backed by a limited lifetime warranty, this chair is constructed from high-quality, durable hard woods. It is also wear- and stain-resistant.

It is a three-position recliner, meaning that you can be in a seated, reading, or sleeping position. It is remote controlled, making it easy to get into Zero Gravity or any other position of your choice in a snap. And, since it is a lift chair, it goes easy on your knees and lower back. Oh, and it has a built-in heating function to help relax those muscles.

This chair might be too soft for some users. Some people might find themselves sinking into the seat and wanting a little more firmness. While it is good for taller folks, those on the shorter side might have a harder time using it.


Pros
Has a remote control
The lift will get average-height and taller folks into a standing position
Heating relaxes the muscles
High-quality build
Cons
Lift might be too high for shorter people
Might not be firm enough
Journey Health & Lifestyle The Perfect Sleep Chair
Hand-crafted in the USA to each buyer's unique specifications
Has three positions and is remote-controlled
If you are like me, you need a chair that can hold a taller person with more weight. The Mcombo Electric Power Lift Recliner Chair is bigger-person-friendly, holding up to 320 pounds. Its built-in power lift assistance comes from a counter-balanced mechanism that pushes the chair up to get you standing without stress on the knees and back.

This chair has upholstery that is durable and easy to clean. Its faux leather can be cleaned using a damp or dry lint-free cloth. Also included with this chair are two side pockets for storing your small items (like a tablet or cell phone) and dual USB outlets. The lift motor has obtained TUV Certified Actuator and has a low noise output.

You can order this chair in your choice of six colors, and the remote control that comes with it can be used on either side. The reclining positions are continuous, and the chair can be locked in at any position. You do have to assemble the three pieces it gets shipped in, but assembly is quick and does not require you to use any tools. Some buyers have thought there was shoddy craftsmanship involved in the models they received, but on the whole, consumers feel this is the best lift chair they could have found.
Pros
Unlimited reclining positions
Six color options
Dual USB ports
Dual side pockets
Cons
Reports of questionable craftsmanship
Might be too narrow for some users
Mcombo Electric Power Lift Recliner Chair
Dual side pockets
Two USB outlets
Remote that works on either side
Unlimited reclining positions.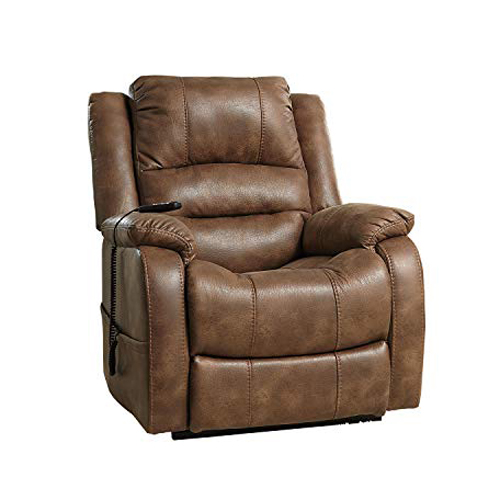 Want something ultra chic that speaks to your personal style? The Signature Design By Ashley Yandel Power Lift Recliner should catch your eye. This recliner chair is both stylish and functional given its dual motor design coupled with high-quality upholstery. The saddle brown upholstery looks just like real leather, but it is actually some animal-friendly thick poly fiber that oozes comfort.

Its sturdy corner-blocked frame meets a reinforced metal seat. Also, you get the benefit of thick cushions and a high back. The chair's slow power movement takes about a minute to get fully reclined. Getting upright from a 45 degree angle takes about 14.5 seconds, which is ideal for seniors and people with disabilities.

Unfortunately, a 5-year warranty will cost you extra money, but it does give you some peace of mind during that timeframe. The chair also might not work for people in the advanced stages of diseases like Parkinson's as it is rather short. A few consumers have received their chair with damage already done to it. However, many users enjoy how easy this chair is to put together and how well it works for bigger folks.
Pros
Saddle Brown looks like real leather but is cruelty-free
Thick, firm cushionsn
Able to accommodate people over 6'2 inches
Slow motion reclining
Cons
Might be too short for some people
A 5-year warranty costs extra
Signature Design By Ashley Yandel Power Lift Recliner
Slow power movement
Sturdy frame design
Thick cushions
Cruelty-free faux leather upholstery
Remote control
Looking for a sleep chair with a great heating function? The Magic Union Power Lift Massage Recliner might be right up your alley with its heating for the lumbar area of your spine. It goes without saying that those with lower back pain will be wanting a heating function for this area of their body since it can help relax some seriously tight muscles and ease sciatica pain.

This chair also has a massaging function, targeting four core areas: the legs, thighs, lumbar area, and upper back and shoulder area. It lets you choose from five different massage modes: pulse, press, wave, auto, and normal. You can essentially customize your own massage experience as you relax yourself into a sound slumber.

Made from faux leather and a solid wooden frame, the sides have pockets for placing your TV remote or cell phone, and there are several cupholders for your beverages. The chair's remote powers everything, making it easier to find your preferred position. The motor runs quietly.

A few consumers note that the heating function causes them to sweat. It also reportedly costs hundreds of dollars to return ship it as the company does not seem to cover that. That being said, the majority of buyers like that this chair is easy to put together and that it heats the lower lumbar region.
Pros
Comes with five massage modes
Heats the lumbar area
Reasonably priced
Two cupholders and two side pockets
Easy to assemble
Cons
Might be too hot when heat is on
Returns are reportedly expensive
Magic Union Power Lift Massage Recliner
Affordable price tag
300-pound weight capacity
Lumbar area heating
Five massage modes
A massaging chair needs to cover all the bases, hitting each core spot where you store the most pain and tension in your muscles. It should also let you customize your massage experience. And that is what makes the Esright Power Lift Chair Electric Recliner the best massaging recliner chair.

The Esright Power Lift Chair comes in your choice of Grey Blue or Brown and receives its power from an UL certified actuator that gently propels you upward to help you stand up without placing all kinds of pressure on your knees and back. This chair reclines to a 145 degree angle, and there are two buttons on the chair that can be used for the adjustment.

The Esright chair comes with a 1-year technical warranty for the lift motor and steel frame. It has two cupholders and a pocket on each side for remotes, cell phones, and other small items. Its fabric can be simply wiped down with a cloth when you need to clean it. This chair has a six-point massage system plus five massage modes with a comforting ergonomic design. There are also integrated USB outlets included.

The back is somewhat short, so even a person who is 5'8" might not get enough room. Also, if the chair loses power for any reason, there is no manual release, meaning you could get stuck in this chair if the power goes out.
Pros
Can recline to 145 degrees
Relaxing massage settings that allow for customization
Built-in USB outlets
Holds up to 330 pounds
Cons
The short back makes it unideal for anyone over 5'8 inches
No manual release means the chair gets stuck in position if there is a loss of power
Esright Power Lift Chair Electric Recliner for Elderly Heated Vibration Massage
Six-point massage system
Five massage modes
USB outlets, and cupholders
Side pockets
Are you shopping on a tight budget and need a recliner chair that can cover all your basics? The best budget recliner you will find is the Homall Recliner Chair. For under $150, you get four color options and high quality polyurethane (PU) leather upholstery that is comfortable and not harsh against your skin. It is both highly permeable and quite breathable.

The recliner has three-way power adjustability. You can take it from 90 to 180 degrees, meaning that you can recline back to sleep in it. Or you can just kick back and watch your favorite show, read a book, or play video games. The upgraded footrest is part of the sturdy steel frame equipped with thicker foam padding than ever before.

Just be aware that the weight capacity for this chair is 265 pounds. The seat height is 17.7 inches, meaning that it will not accommodate taller folks with ease. Also, its head support might feel lacking since the back has totally flat cushioning. The PU fabric does have a thin feel to it, so you will have to handle it with care.
Pros
Armrests are wide and provide extra comfort
Affordable for those on a budget
Four color options available
Seat cushion has firm enough padding
Cons
Maximum weight capacity is 265 lbs
PU leather upholstery might be thin
Homall Recliner Chair
PU leather upholstery
Thickly padded seat
Curved, widened armrests
A bigger sleep chair will work fine for taller and heavier people, but they can be problematic for the petite sleepers out there. A lot of elderly folks range on the petite side and have a hard time with huge, softly padded recliners. The FDW Recliner Chair is catered more toward these folks.

This wingback chair has affordable price options depending on which color you get. The reclining back and dual-function foot extension can help you relax and unwind after a long day on the grind. The PU leather is easy to clean, and it is indeed waterproof. Solid hardwood make up the arms and legs of its frame, lending to a good sense of stability and durability.

This chair takes only a few minutes to install and does not require the use of tools. This FWD can hold about 275 pounds, and its short back means that petite people can recline with more ease. Some people like to use them for in-home theater chairs, but they do also work for reclining to take a nap.

The drawbacks? It can rock too hard, which might be unsafe for a senior. Some consumers say that the return policy is misleading, as it actually is not subject to Amazon's return policy.
Pros
Affordably priced options
Works well for smaller adults and children
Most people do not notice a harsh chemical smell
Easy to put together
Cons
A potentially misleading return policy
Might rock too hard
FDW Recliner Chair
Waterproof PU leather
Short back for shorter users
Solid hardwood material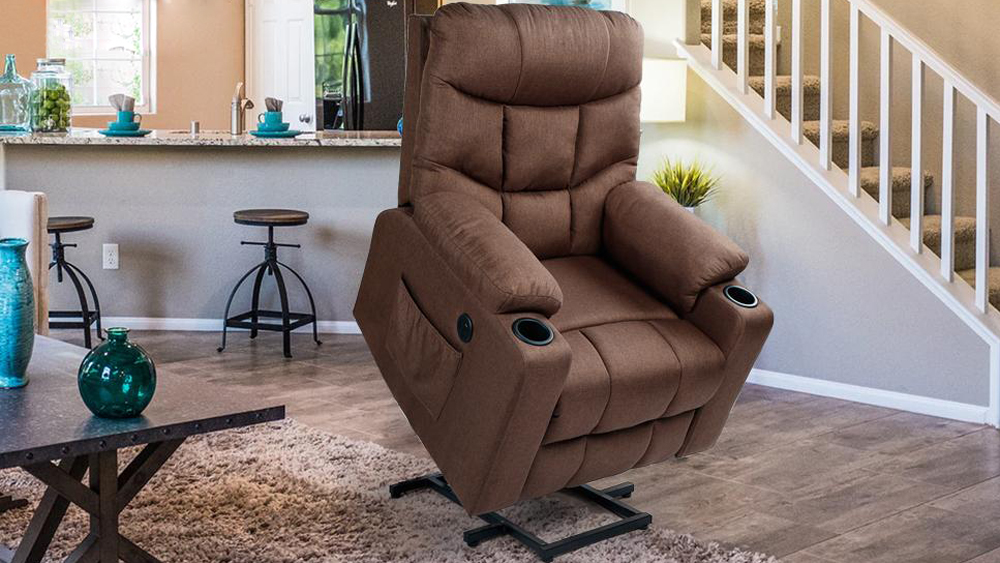 Sleeping Chair Health Benefits
How exactly can you benefit from using a sleep chair instead of a traditional bed? From better circulation to a more relaxed central nervous system, here are the ways you can feel more well-rested with a sleeping chair.
Enhanced Blood Circulation
Sleeping chairs are known to enhance your blood circulation. Living a sedentary lifestyle will wreak havoc on your circulatory system, so getting that blood flowing is important. A recliner chair can raise your legs to heart level, which is ideal for combating lymphedema (swelling in the extremities) and poor circulation. This can relieve your edema and symptoms of deep vein thrombosis, providing some much-needed relief at the end of the day.
Better Breathing
Have trouble breathing while you rest? Since reclining chairs help relax the muscles in the diaphragm, you might feel improvement from snoring, sleep apnea, heartburn,
gastroesophageal reflux disease (GERD), or acid reflux. If you have survived a heart attack, you might also have trouble breathing at night, so sleeping in a recliner chair might be more beneficial to you.
Relaxing the Joints and Relieving Back Pain
Back pain and joint stiffness become more common as we get older or put more wear-and-tear on our bodies. Using a recliner chair can help release pressure from those main pressure points, thereby relaxing your joints and alleviating at least some of that back pain. This is why the sleep chair is often used in palliative care settings.
Improving Digestion
Digestive troubles can keep you up at all hours of the night and prove to be troublesome during the day too. Slower, deeper breathing encouraged by a recliner helps to improve your digestive system's capabilities. This lets your system more efficiently process everything you put into it during the day. This is why it is advisable to rest in a recliner for a little while after getting full on dinner.
Relaxing the Nervous System
Do you deal with anxiety, depression, or any other mood disorder? If so, resting in a sleep chair might help relax your central nervous system. This can provide a more restful sleep, but that also means you could feel less moody or anxiety after you wake up. It might even enhance your learning and memory.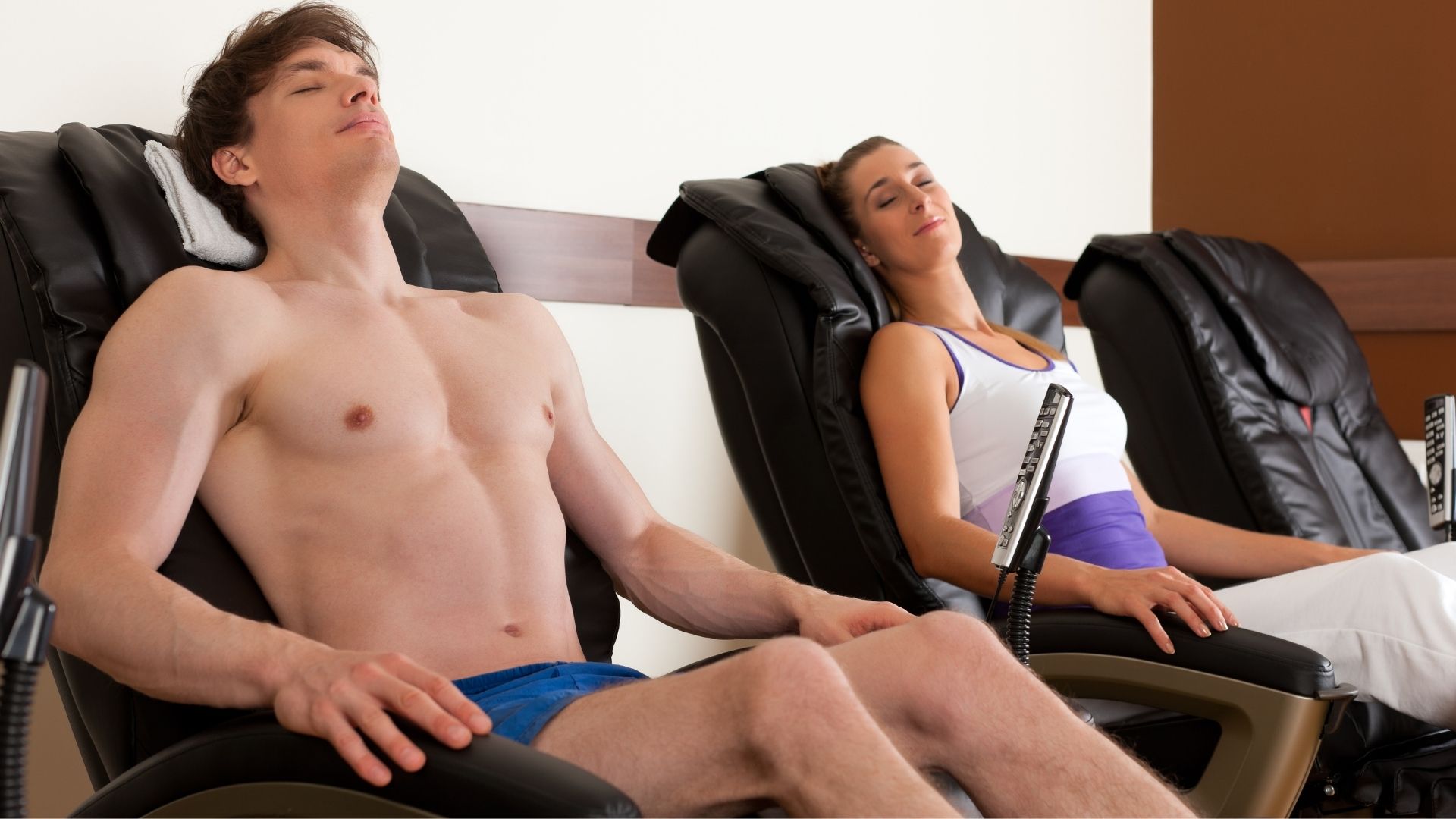 Things to Consider Before Buying a Sleep Chair
Your Budget
A high-quality sleep chair can put a dent in your bank account. If you are shopping on a tight budget, you might have to forego some of the fancier operational features (like massaging and heating functions) and stick more closely to the basics. You can get a good recliner from $200 to $500, but anything below that is going to be somewhat basic and not abounding in comfort. The more expensive you go, the more durability and functions you are likely to receive.
Padding
Just how padded should your chair be? You might be someone who needs a plushly padded chair for extra comfort. Or you might need more firmness if you are someone who has mobility issues. An abundance of padding can make it quite difficult to get out of a chair. But, if you have tenderness in the joints, a firmer option will be more uncomfortable for you.
Additional Features
Do you experience a lot of muscle tension? If so, getting a more expensive massaging sleep chair could help you experience deeper relaxation. You might also want USB ports to plug in and charge your most-used devices. You might also want some sizable cupholders and side pockets where you can stash your items. Just bear in mind that these will beef up the cost of the chair.
The Size of Your Room
How much space do you have in the room where you want your sleep chair to go? When they recline, some chairs will take up a lot of space. A wall-hugging design might be your best bet if you plan on placing your sleep chair in a smaller room. But if you have more space, you can put a large sleep chair in a living room. You just need to measure and pre-plan accordingly.
Your Height
Shorter seat backs are meant for shorter people. Taller people need taller seat backs. That's just how things go with sleeping chairs. A short user might have a hard time getting out of a larger chair, and a taller person might not have enough room for their head to rest when reclining back in a smaller chair. You will need to buy with your size in mind.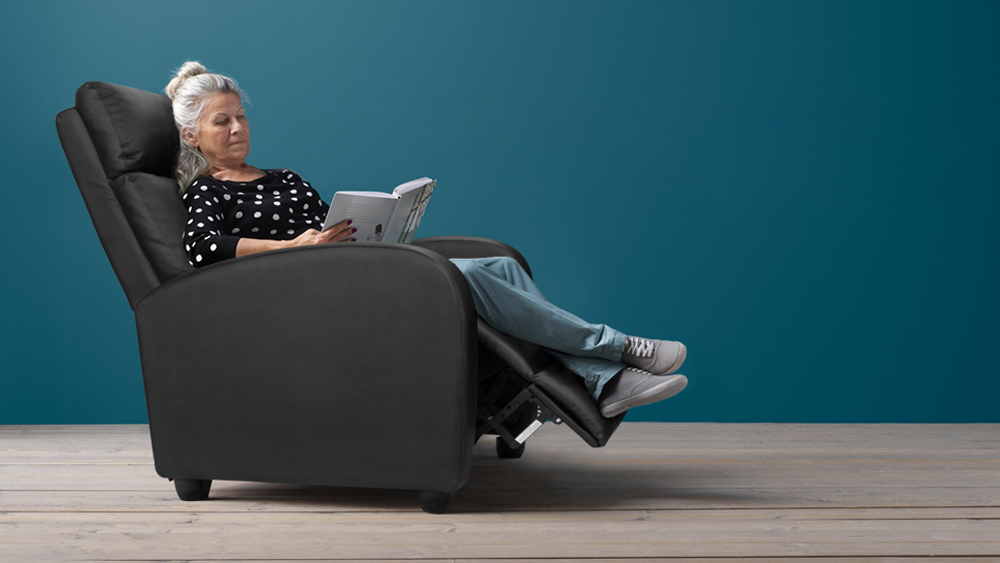 FAQ
What is a lay flat recliner?

A lay flat recliner is a chair that is able to fully recline back and hold you at zero gravity.

Will Medicare pay for a sleep chair?

Medicare might reimburse you for a certain percentage of the cost of your sleep chair, but you will likely have to pay the entire upfront cost out-of-pocket.

What is a sleeping chair called?

This type of chair goes by several different names. It is sometimes referred to as a recliner chair. Those with a lift on them are called lift chairs.

Is sleeping in a recliner good for your back?

Sleeping in a recliner can be beneficial for those with lower back problems such as sciatica. Sciatica can keep people up at night while sleeping in a standard bed. Recliners do allow for easier exiting from the chair.

Should feet hang over the recliner?

Your feet should rest on the footrest of the recliner and not dangle over the edge of it.

How long should a recliner last?

A good recliner can last for up to 15 years without any problems, but that depends on how high quality the chair is in its build. Stronger materials and gentle wear can extend the life of a recliner.

What is a high leg recliner?

A high leg recliner will place your legs up over heart level while you recline, allowing for better circulation and less leg swelling.

How much does a sleep chair cost?

A sleeping chair can cost anywhere from $120 to well over $1,000. It all depends on how high quality the materials are and how many features get packed into it.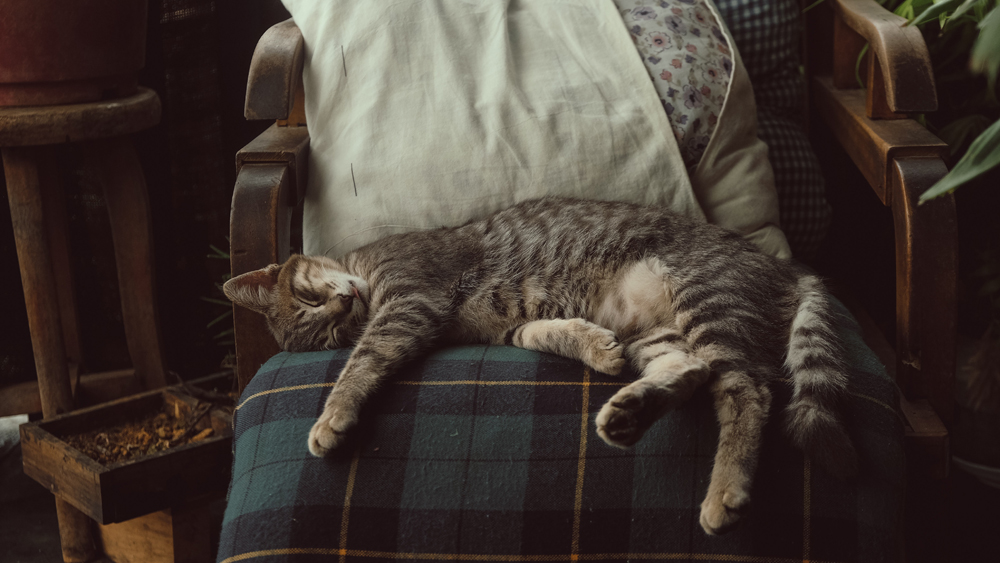 To Sleep, Per Chance to Relax: Sleep Chairs Can Work
You do not have to sleep in a traditional bed every night to get a good night's rest. Some beds just don't work for people. Seniors and those with chronic pain can benefit from using a lift or sleeping chair. This can enhance their circulation, improve digestion, and ease breathing while at rest. For some folks, these chairs are must-haves.
You will definitely want the most accommodating chair possible, and that is why the Journey Health & Lifestyle The Perfect Sleep Chair is our top pick for, well, the perfect sleep chair! It combines a high-quality, hand-crafted, made in the USA design with elements of comfort and relaxation. You can recline far back and rest after a long day on your feet, then wake up feeling refreshed for the next day.
Journey Health & Lifestyle The Perfect Sleep Chair