When was the last time you pulled out your old sleeper sofa?
How did that sofa bed mattress feel?
Was it supportive and firm or soft and saggy?
All mattresses age with time and wear-and-tear, but a sofa mattress can age even more quickly the more you use it. They are typically thinner than regular mattresses and have to be folded into the sofa.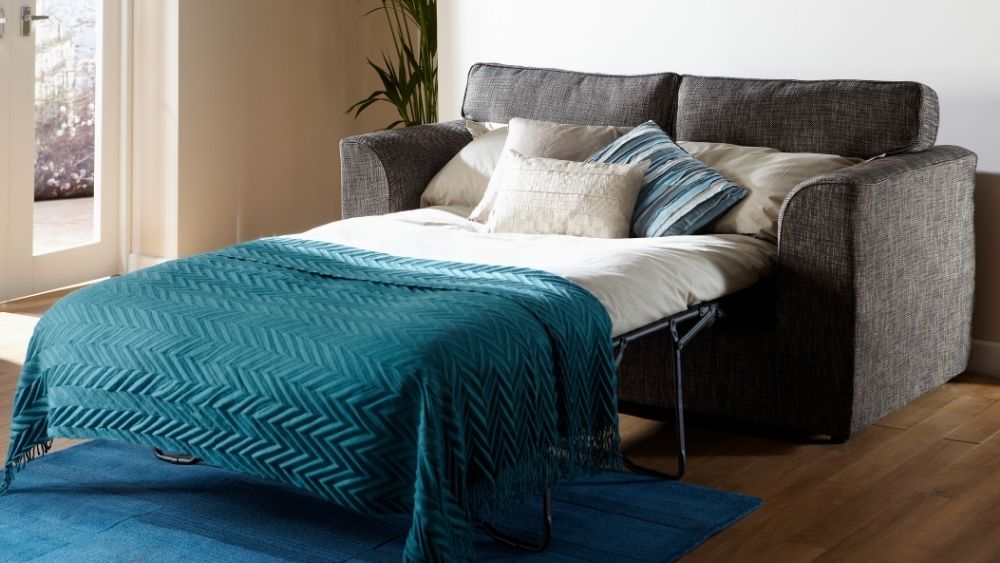 Needless to say, if your sofa bed mattress isn't offering as much support as it used to, it is probably time to invest in a new one. But which one should you replace it with, and what type will work best for you? Read on to learn more about buying a new sofa bed mattress that will accommodate you, your kids, or your guests as needed.
What is and What Size is a Sofa Bed Mattress?
A sofa bed mattress is what you pull out of a sofa bed to sleep on. You probably reserve it mostly for guests – especially if you have kids whose friends basically live at your house. It's a clever two-in-one combo: a bed tucked inside of a sofa until you need to pull it out.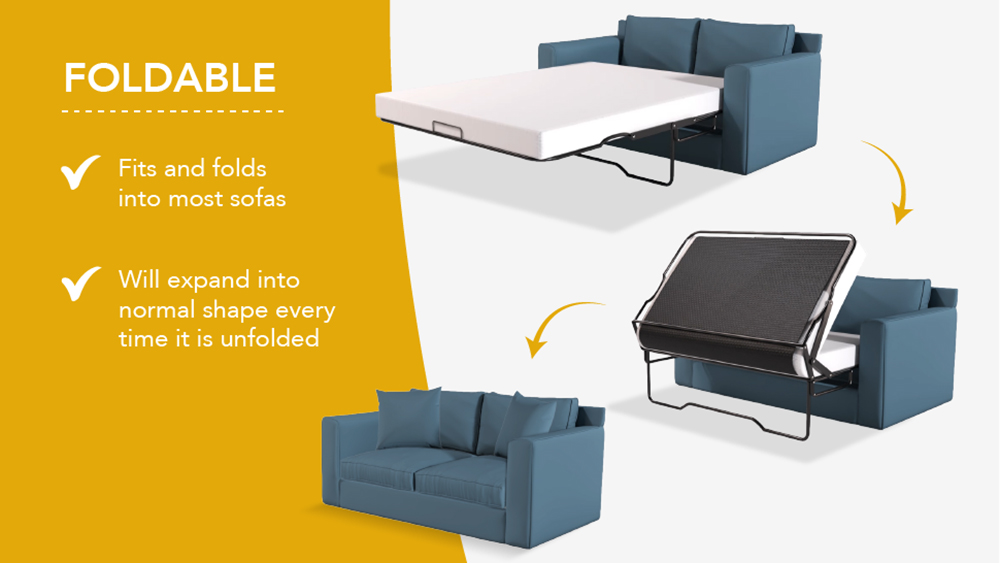 Although sofa beds rose to popularity in the 90's, they are still very much a thing today. They're typically between 4 and 6 inches thick, and their dimensions start at Twin and go up to King. Many are Full or Queen sizes though. Be sure to check your sleeper sofa's dimensions before you buy your new sofa bed mattress.
Why Buy a replacement Sofa Bed Mattress?
Your Old One Needs Replacement
Sofa Bed Mattresses lose their firmness over time, especially with use. If your sofa bed mattress is starting to sag or has lumps, it isn't going to be all that comfortable to sleep on. Avoid complaints from your kids and guests by investing in a new mattress for your sleeper sofa.
They're great space-savers since you can just fold the bed away when it is no longer in use. They're also mighty convenient for accommodating guests who might otherwise have to sleep on the floor. They also tend to be bigger and more comfortable than futons, making it easier to sleep two people.
5 Sofa Bed Mattresses Reviews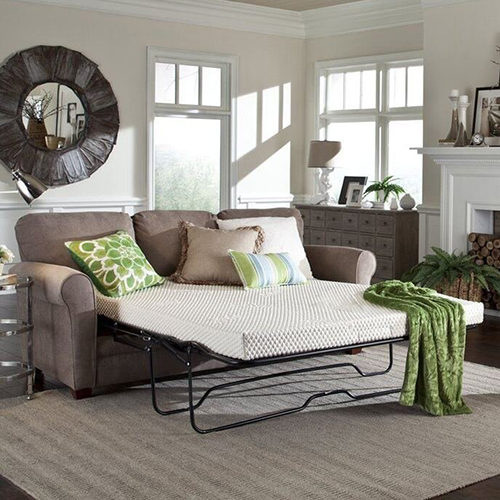 The "Eco-Green" Latex Sofa Bed Mattress by PlushBeds lands in our Number One spot among the best sofa bed mattress options for multiple reasons. The first is that you can get it in a variety of dimensions, ranging from Single to Queen Wide.

The second is that you won't find any fiberglass here, which is found in many other mattresses and can be hazardous to your health. The Fiberglass-free Eco Fire Barrier is free from toxic chemicals as well as fiberglass, using plant fibers instead to create a safe and eco-friendly fire barrier. Also, this mattress is GreenGuard Gold Certified, which means that they have been put through rigorous rounds of testing to ensure their safety for children, seniors, and those with chronic health conditions.

To add another layer of eco-friendliness, the "Eco-Green" is made from latex. Latex is harvested from the trees by slitting the bark, and rubber trees are easy to replant and quick to grow. This mattress is particularly made to resist deterioration and has an expected lifespan of 10 years.

The only problems people report with this mattress are to do with delivery. Some have said it arrived later than anticipated while others were not notified of delivery date at all.
Pros
Comes in a variety of sizes
Eco-friendly design elements
Meant for sensitive sleepers
Latex sleeps cooler than other mattress types
Cons
Might arrive later than expected
You might not be notified of the delivery date
The Eco-Green Latex Sofa Bed Mattress by PlushBeds
Fiberglass-free eco-friendly fire barrier
Layers of cooling latex
Availability in Single to Queen Wide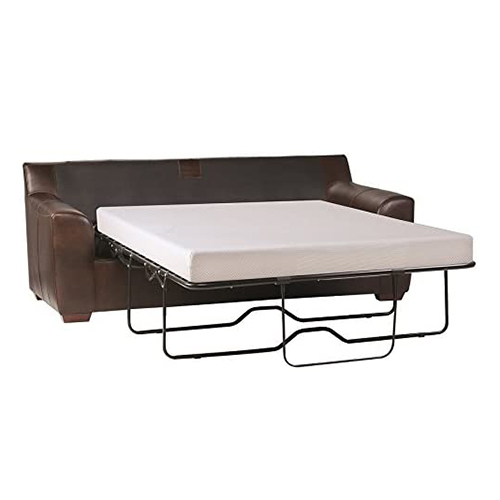 Zinus is known for making a wide variety of mattresses, and they sell a memory foam sofa bed mattress. This 5-inch mattress has 1 inch of gel-infused memory foam and 4 inches of high density base support foam to keep you or your guests comfortable all night long. It is backed by a hassle-free 5-year warranty and ships to you as a mattress-in-a-box.

The infusion of gel is meant to help you sleep more coolly on this mattress. The foam tends to sleep a little hotter than latex, so you will want the moisture-wicking ability of the gel to draw heat and sweat away from your body as you rest. The foam also springs right back into place after you unfold it or get up in the morning. There don't seem to be any lasting indentations from being folded either.

5 inches might be too thick for some sofas, which will prevent them from being folded and closed up. The manufacturer does not say what the thickness of the mattress is when folded and pushed under the couch, which would be helpful for buyers to know. Unfortunately, it doesn't compress very much when being folded.

Also, some buyers have reported that the mattress does not expand properly, getting to just 4.5 inches instead of the full 5.
Pros
Gels helps to create a cooler sleep
Easy to unbox and position
Comes with a 5-year warranty
Memory foam doesn't sustain indentations from folding
Cons
Might not fully expand after unboxing and being left out for 48 hours
Might be too thick for some sleeper sofas
Memory Foam Sofa Bed Mattress by Zinus
Gel-infused memory foam sofa bed mattress
Thick support base
Lightweight design
Milliard's Memory Foam Mattress is another option you might wish to pursue. It is one of the more affordable sofa bed mattress options out there, which is good if you're shopping on a budget. This dual-layered mattress combines a 3-inch layer of firm polyurethane foam to form the base with a 1.5-inch soft memory foam top layer that gently conforms to your body and delivers enough support.

Since it is 4.5 inches thick, it should be easy enough to fold back into your sofa. It normally expands quickly once unboxed, and the memory foam seems to expand out the entire way. Since there are no springs, you shouldn't feel anything stabbing you in the back - just all-night comfort making for a good night's rest.

A few downsides have been noted by buyers. First, buyers have noticed that it shrinks over time. It might even become too small to even touch the frame or cover springs on the sides. And contacting Milliard about it might be difficult as customer service has been reportedly poor in recent years.
Pros
Affordably priced
Folds under most sleeper sofas
Quick to expand
Does not emit strong chemical odors after being unboxed
Cons
Reports of poor customer service
Might shrink over time
Memory Foam Sofa Bed Mattress by Milliard
Available in sizes Twin to Queen
Softcover
1.5 inches of memory foam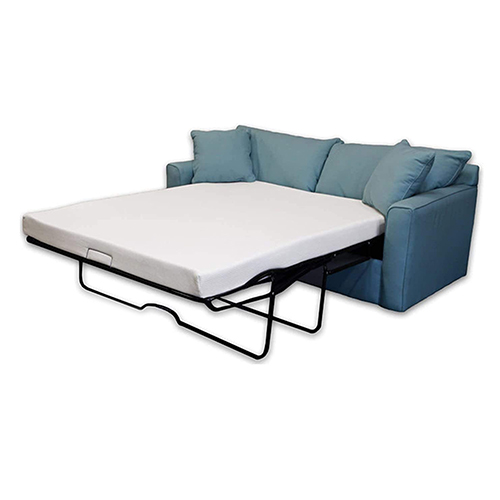 Another memory foam sofa bed mattress with a gel infusion is the Gel Memory Foam Mattress by DynastyMattress. Unfortunately, it is only available as a Full or Queen, so you will have to look elsewhere for a Single or Twin if that is what you need. At 4.5 inches in thickness, this mattress has a 2-inch gel plush memory foam layer and a 2.5-inch foam support base to provide you with comfort and support. It should conform to your body and provide cooling relief during the night.

Letting this mattress expand completely over the course of a few days should result in it achieving the full 4.5 inches of thickness. Also, this gives it time to let the initial unboxing odors evaporate, which most people report going away after a few hours. It fits most standard sized sofas and folds up without too many hassles.

Should you have to return this mattress, you might be responsible for paying the return freight fee (or else you'll just have to keep the mattress). And shipping by freight is expensive - almost as costly as the mattress itself. Also, take note that it might be narrower than the open frame, leaving several inches of the frame exposed.
Pros
A cooler sleep with the gel layer
Affordably priced
Easy to fold away
Memory foam is conforming to the body
Cons
Return shipping via freight is expensive
The mattress might be too narrow for some frames
Gel Memory Foam Sofa Bed Mattress by DynastyMattress
Gel-infused memory foam layer
Supportive foam base
Soft and breathable cover
The Classic Brands Memory Foam Mattress is an even more affordable option that lets you select between a Twin, Full, or Queen size mattress. Although it only comes with a one-year warranty, it does serve up a fair amount of quality for the price. It is composed of a memory foam base atop a support base, offering a conforming response to the body as you lay atop the mattress during the night. This mattress is CertiPur-US certified for quality and safety, and the memory foam is infused with Cool Gel technology for a cooling effect.

This mattress can be folded into most sleeper sofas and expands right back out after unfolding, leaving no indentations. The Visco Elastic Memory Foam layer on top is breathable, as is the soft cotton cover that goes over the mattress itself. Those with back pain have been able to comfortably sleep atop this mattress, and it works well for sleeping two people if you order the Full or Queen.

While it is rated as medium firm, this mattress might not feel firm enough at all for some people. The mattress might be thinner than you expect. Also, a few buyers have reported finding mold on their brand-new mattress after unboxing and using it for just a short period of time.


Pros
Gel-infused technology should result in a cooler sleep
Fits most standard size sleeper sofas
The chemical smell goes away quickly after unboxing and letting air out
Works well for some folks with back pain
Cons
Might not feel firm enough for some people
The mattress might quickly develop mold
Classic Brands 4.5-Inch Memory Foam Replacement Mattress for Sleeper Sofa Bed Queen
Gel-infused memory foam layer
Breathable cotton cover
One-year warranty
Sofa Bed Mattress Types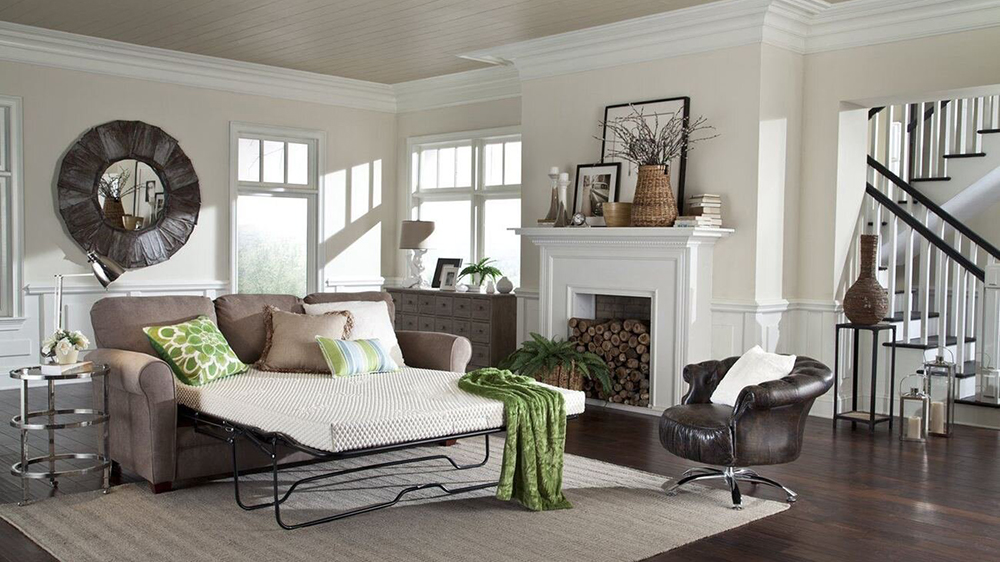 Gel Memory Foam
Gel memory foam is commonly used in sofa bed mattresses. They sleep about 1-2 degrees cooler than regular memory foam mattresses and have a cushion-firm feel that caters to guests who need to stay a few nights.
Latex
Latex sofa bed mattress is the most eco-friendly option though typically most expensive. Just be sure that you get all-natural latex since synthetic latex tends to break down more quickly. It also discolors in sunlight, so it should be kept away from windows.
Polyurethane Foam
Polyurethane foam sofa bed mattresses aren't as luxurious as memory foam ones, and you'll have your work cut out for you when selecting a density. The 1.8-lb density seems to be the best at holding up.
Traditional Memory Foam
Traditional memory foam relieves pressure well but sleeps hotter than mattresses with a gel infusion. Look for open cell technology so that your sofa bed mattress will have some breathability to it.
Air Over Coil
Air over coil sofa bed mattresses are air mattresses with coil bases. You can automatically adjust them, but they tend to break down quickly, prompting buyers to burn through multiple mattresses within one warranty period.
Innerspring Coil
Innerspring coil sofa bed mattresses used to be popular but are problematic on sofa beds and are what tend to get replaced. The coils can stab you in the back and tend to lack thickness. Also, coils that aren't electroplated are more prone to rust.
Things to Consider Before Buying a Sofa Bed Mattress
Size and Dimensions
You need to measure your sofa bed frame carefully before you buy, and that includes accounting for how much space you have for folding a sofa bed mattress down into it. Also, if you are a first-time sofa bed buyer, you are going to need to consider how much space you have in your living room or spare bedroom for this rather bulky sofa. You will want enough space to walk around it when the sofa bed mattress is pulled out.
Firmness
Most of these sofa bed mattresses are 4.5-5 inches in thickness, and a select few go up to 6 inches thick. The standard size is 4.5 inches, and even those sometimes are difficult to fold under a sofa bed. You will want to get something that fits into your sleeper sofa and has enough firmness to lend all-night spinal support.
Shipping and Delivery
Look to get free shipping and, if possible, free returns. If you're ordering a full sofa bed, you'll definitely want white glove delivery. However, a replacement sofa bed mattress will come as a mattress-in-a-box, making it lightweight and easy to carry and unbox.
Warranty Coverage
Some sofa bed mattress replacement models do not offer any warranty coverage. Some offer just a year to two. A few offer five years. Given that these sofa bed mattresses only last about 10 years, a five-year warranty is pretty generous. You will find these on some of the more expensive models, but warranty coverage tends to reflect mattress quality.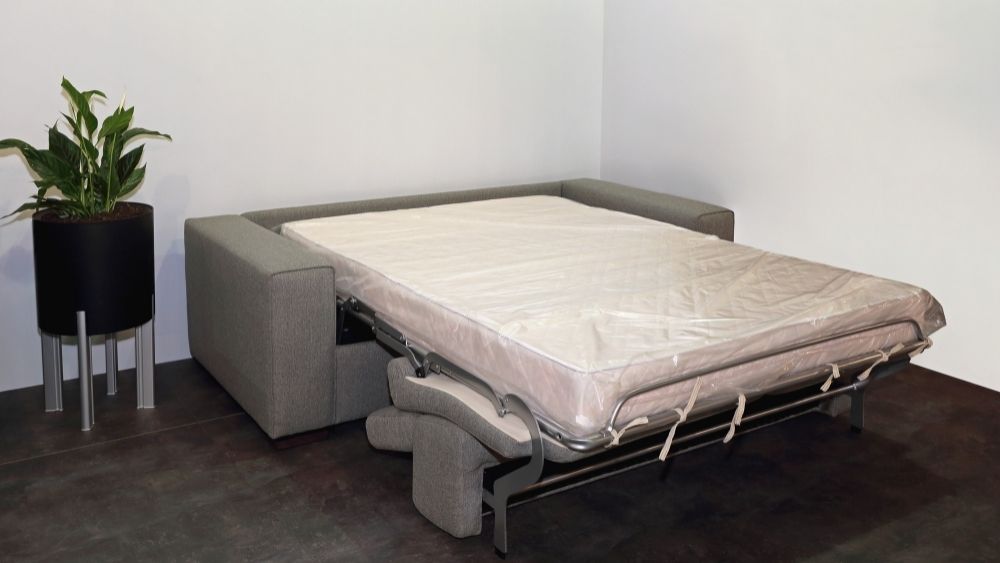 Benefits and Downsides
Things We Like
Easy to assemble once unboxed and aired out
Good for accommodating a guest or two
Many have cooling technology built in
The Not-so-great
Cheaper models tend to have no warranty coverage
Some mattresses won't fold properly into sleeper sofas
Some mattresses have a tendency to develop mold quickly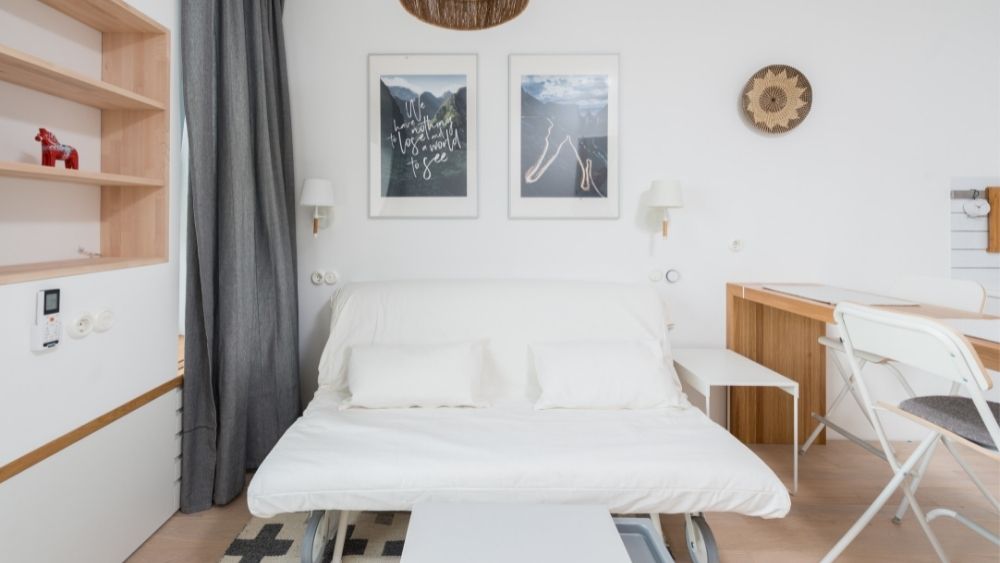 FAQ
What kind of mattress does a sofa bed use?

A sofa sleeper uses a sofa bed mattress, which can come in various sizes and thicknesses.

Can you replace the mattress in a sleeper sofa?

You actually need to replace sleeper sofa mattresses every 5-10 years. They can break down with usage and even develop mold over time.

Do you need a special mattress for a sofa bed?

Most sofa beds come with their own sofa bed mattresses. However, when you need to replace it, you will need to buy a sofa bed mattress in the appropriate size.

How thick should a sofa bed mattress be?

The standard thickness is 4.5 inches. Some sofa bed mattresses will be 5 or 6 inches, but many sleeper sofas cannot fold those thicknesses in.

How can I make my sofa bed firmer?

Sofa bed mattress toppers can enhance the firmness level of a sleeper sofa's mattress, thereby supplying sleepers with more comfort.

Do sofa beds come with mattresses?

Sofa beds do typically come with their sofa bed mattresses. However, you might get one that feels uncomfortable for your guests, so you can buy a comfier replacement.

How can I make my sofa more comfortable to sleep?

You can add a sofa bed mattress topper for extra comfort or add some egg carton foam to it. However, most of these mattress replacements should have enough internal comfort.

Are sofas and futons the same thing?

Sleeper sofas are not the same thing as futons, which do not fold in upon themselves.

Why does my sofa mattress smell after unboxing?

Usually, sofa bed mattresses have been vacuum-sealed, which traps in the scents of chemicals used in mattress manufacturing. Smells should taper off after unboxing.
Sofa, So Good: The Importance of Replacing Sofa Bed Mattresses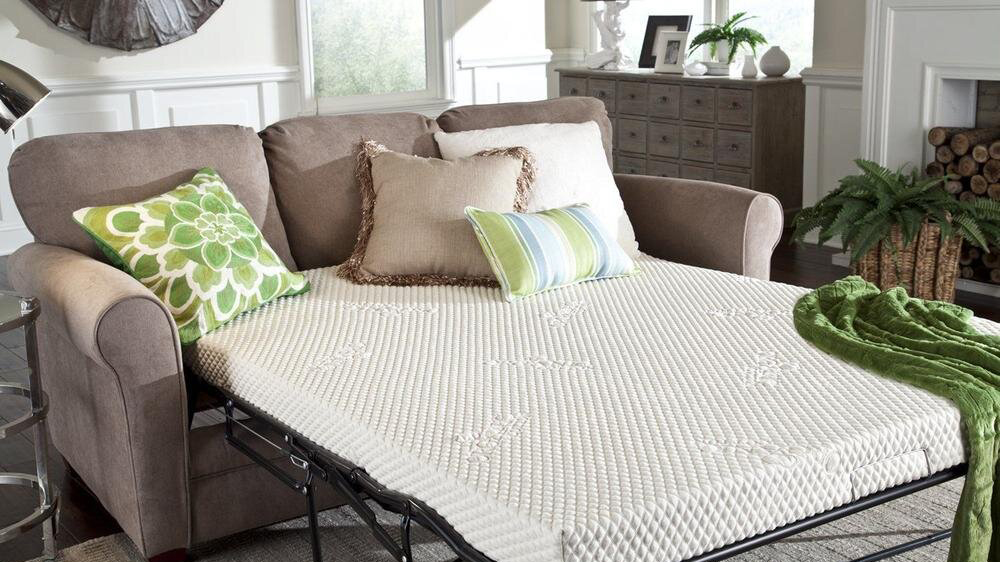 Sleeper sofas are convenient for guests and much more comfortable than a spot on the floor or on a traditional sofa. Plus, you can sleep two people on these models. While some of the sofa bed mattresses aren't that comfy, you can find some that are. And a few are actually high quality.
That is why I recommend getting the The "Eco-Green" Latex Sofa Bed Mattress by PlushBeds. It is one of the most eco-friendly models you will find since it is made from latex. It sleeps cool and is structured for support. It is actually quite firm since latex naturally sleeps firmer than foam. Overall, it is a solid choice for anyone looking to part ways with their beat-up old innerspring sofa bed mattress.
The Eco-Green Latex Sofa Bed Mattress by PlushBeds