Okay, parents, this one is for you: Triple bunk beds – yay or nay? If you don't have enough bedrooms to go around, then getting a triple bunk bed for your kiddos might be the best route to take, saving you both time and money – and, of course, space.
If you have the same problem that I do, space is at a premium in your household. You might have more children than you have bedrooms. Putting three to a room might not seem ideal, but your kiddos might actually enjoy sleeping (and playing) on a cool three bunk bed design.
But is a 3 person bunk bed the best way for you to go? Which type should you get? Read on to get your burgeoning questions answered.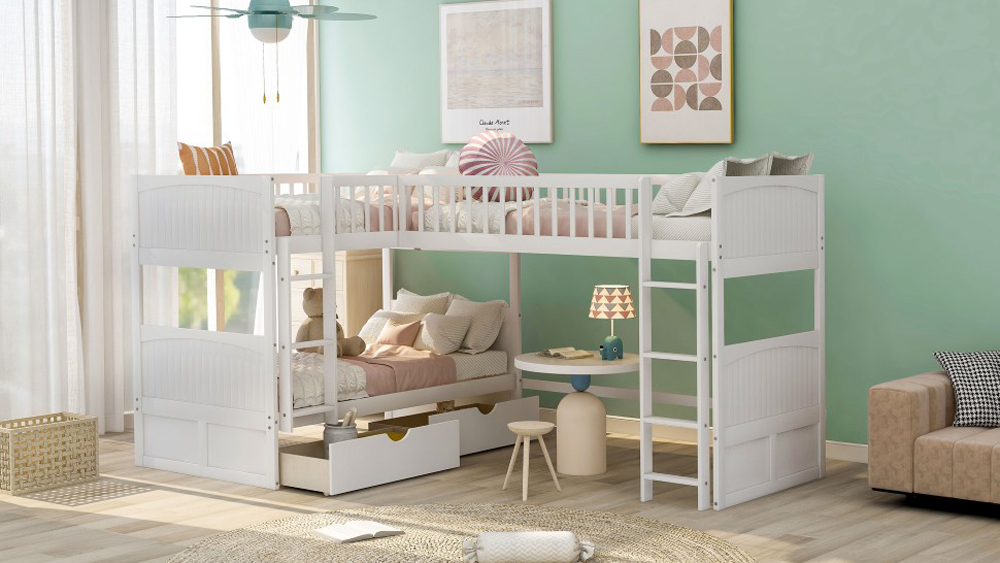 Are triple bunk beds safe?
Despite what you might initially think, these beds are safe for older children and can often accommodate adults. The Consumer Products Safety Commission (CPSC) sets strict guidelines for manufacturers, and ESS frames must meet – if not exceed – these high standards. Frames with reinforced steel and strong cross beams can easily support 500 pounds. Reinforced tubular steel head and foot boards, slip-resistant ladders, and built-in railings help keep sleepers safe.
These beds are not recommended for small toddlers due to their limited mobility, but if your child can climb a few rungs on a ladder, they will likely have no problem using a triple bunk bed.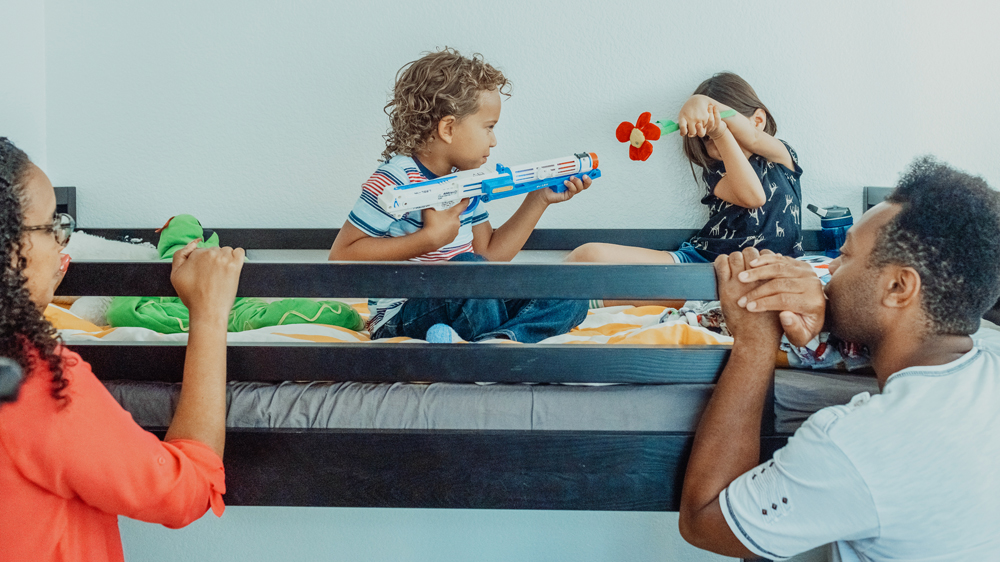 11 Best Triple Bunk Beds Reviews
Our top pick for the best triple bunk bed is the LXBB L-Shaped Triple Bunk Bed with Trundle. It is one of the safest triple bunk beds for kids due to its L-shaped design and low height. The fact that it includes a trundle bed means that your kids can have a friend sleep over in comfort.

This bed gives you one twin-size upper bed, two twin size bottom beds, and one twin size trundle. The house-shaped frame up top allows your kids to create their own space. Want to make a fort? Go for it! Want to be a princess in a castle tower? They can do that too. It is all about your kids using their imagination to make their sleeping space a fun play space too.

The LXBB triple bunk bed is made with a solid pine wood frame and commercial-grade MDF board to lend extra durability. The solid pine legs are high quality and provide stability for heavy, long-term use. The iron alloy bolts keep this bed locked in place, and the uppermost bunk bed has a full-length guard rail to prevent falls.

Just note that this bed is heavy upon delivery - a solid 213 pounds, to be exact. You will need someone else on hand to help you piece this bed together. However, all tools are included for the setup.
Pros
A customizable house frame design up top
A full-length guardrail
A trundle bed for guests
Solid pine wood and iron alloy bolts used in the design
Cons
Heavy to lift before unboxing
Takes some time to piece together
LXBB L-Shaped Triple Bunk Bed with Trundle
Comes with solid pine material, iron alloy bolts, and a trundle bed that can accommodate guests
A full-length guardrail secures the upper bunk
Do you need to save some floor space but have a moderately high ceiling? The Dorel Living Clearwater Triple beds could work well in your home. This space-saving solution can comfortably sleep three teenagers. This bed's design features two traditional height bunk beds and one attached loft bed. It is meant to fit in the corner of a bedroom. It has built-in step ladders for accessing the top and horizontal slats for durability.

This bed is made from rubber wood and fits standard sized twin mattresses. In the box, it only weighs about 116 pounds, which makes it easier to move around than other models out there. The wood itself feels solid and has an elegant finish to it, making it a great fit with any style of décor. Five-year-olds can easily climb the ladders and remain safely snug in their beds all night.

A few buyers have noted difficulties piecing this bed together. Support beams have arrived with cracks in them, which is either from a defect in the wood or improper handling during the shipping process.
Pros
Fun for kids to play on during the day
Solid design with rubber wood
Fits neatly into a corner
Comes with a clear set of instructions for putting the bed together
Cons
Even taller adults struggle to reach kids on the top at bedtime
Some people have received damaged products
Dorel Living Clearwater Triple
Include two traditional height bunk beds, an attached loft bed, and step ladders for accessing the top.
It is made from rubber wood.
The Harper & Bright Designs L-Shaped Bunk Bed with Stairs and Ladder costs more than some of the beds on this list, but its design includes drawers for extra storage space. This bed is a traditional height twin over twin bunk bed combined with a loft bed. The space underneath can work as a play area or study spot.

The pine wood used in this bed's design is both study and non-toxic. Load bearing capacity is maximized by an increased number of bed slats, which also reinforces safety for usage by kids. The two drawers can easily hold extra bedding and toys or books. A full-length guardrail adorns the top bunk to prevent nighttime falls. Each bunk bed can hold a standard sized mattress.

A few buyers have reported that boxes did not seem secured for shipment, leading to damaged pieces upon receipt. There are some possible concerns over stability, and this bed is definitely not an easy one for a single person to put together.
Pros
Non-toxic pine wood is used in the construction
Adults can fit on the bottom
An 8-inch twin sized mattress will fit
Fits snugly into a corner
Cons
Some items have been damaged during shipment
The L-shape is not reversible
Harper & Bright Designs L-Shaped Bunk Bed with Stairs and Ladder
Chic finish on pine wood.
It has two drawers and ladders for accessing the top.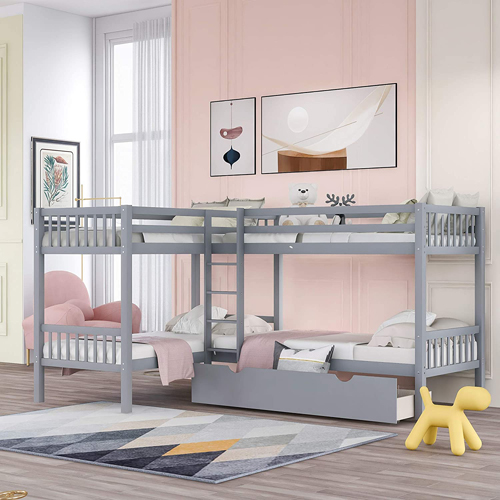 Need to accommodate a fourth child or perhaps a constant guest? The MERITLINE L-Shaped 4 Person Bunk Bed can do just that. The upper beds have a weight capacity of 175 lbs. while the bottom beds can hold up to 275 lbs. Since this bed is L-shaped, it can fit snugly into any given corner of a bedroom. There are two ladders going up to the top bunks, so the top bunk users need not share a ladder.

If you want, you can divide this L-shaped bed into two separate bunk beds. Depending on how you need to organize your space, you can pick from either configuration. This just shows how versatile the L-shaped MERITLINE 4 person bed really is.

The ladders on this bed are remarkably study, even holding up well for adults. You can easily use a 6- or 8-inch twin size mattress with these beds. The only real drawbacks are that the two packages it comes in might not arrive on the same day and that some boards might not come with proper labeling.
Pros
Bottom bunks work well for adults
Ladders are solidly constructed
Versatile, dividable design
Instructions are easy to follow
Cons
A few buyers report unlabeled parts
Both packages might not arrive on the same day
MERITLINE The L-Shaped 4 Person Bunk Bed
Four twin-size beds.
Ability to divide it into two twin bunk beds.
Two sturdily built ladders.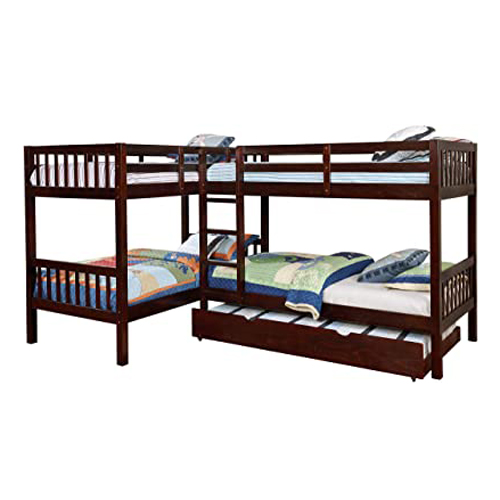 The HOMES: Inside + Out Ennie Bunk Children's Bed Frames are four transitional style bunk beds that come in a brown wood material and have a slat kit included for setup. With how many slats there are, you will not need to get a box spring for each mattress.

The lines are simple and clean, helping this quadruple bunk look good in any room. The recommended weight capacity per bed is 150 pounds, so larger teens and adults will not be able to securely sleep in these beds. Smaller children, however, should do just fine in them. Many buyers appreciate how sturdy this wooden setup feels and that there is no rocking when being used.

Set-up is lengthy, coming in at about 5 to 6 hours for just one person. It is definitely better to use two people to set it up. You might want to have your own Allen head wrench handy for piecing it together. There is no trundle bed included, but there is plenty of storage space beneath the two bottom beds. Of course, your kids will probably love stashing their toys beneath it, but they can easily crawl under to get them out.

Just note that you have to assemble this as a four-piece bed; the beds cannot be separated for structural reasons.
Pros
Does not exhibit any rocking motions
Enough storage space beneath the bottom beds
Can hold small children on any given bunk
Ladders feel secure for bigger kids
Cons
Beds cannot be separated
No trundle bed is included
HOMES: Inside + Out Ennie Bunk Children's Bed Frames
Sleek brown wood design
Abundance of slats in the kit for extra security
Solid build quality (sans rocking motions)
The Merax Attached Bunk Bed is a 3 bunk bed with storage units integrated below the sole bottom bunk bed. Since the other two bunks are located on top, there is a wide area beneath that works well as a play area or for setting up a desk and small bookshelf for a study.

The longer ladder to climb up has four rungs and feels secure as you ascend or descend. The shorter ladder does cut off some space near the foot of the bottom bunk but only has three rungs to climb to get to the other top bunk. Each bed can hold a standard twin mattress, and you can go up to an 8-inch mattress if you prefer.

The beds up top can accommodate up to 220 pounds while the lower bed holds 250 pounds, making it ideal for an older child or teenager. Each bed comes with ten slats, meaning that no box spring is required. Just plop the mattresses down onto the sturdy wooden slats.

This triple bunk is durable but more expensive than some other options.
Pros
The bottom space is open enough for a small study
Two deep drawers allow for a lot of extra storage
250-pound weight capacity on the bottom bed
Chic design that fits most décor
Cons
Shorter ladder cuts off foot space on the bottom bunk
More expensive than other options
Merax Bunk Bed Attached
Two stable ladders
Study space on the bottom
Two storage drawers beneath the bottom bunk
Want two bunks on the bottom and just one on the top? The Merax Wood Triple Drawers and Guardrails is a triple bunk bed that offers this type of design. It does extend up pretty high, and the bottom bunks have a whopping 11 inches of storage space underneath them. There is one sliding drawer underneath each bottom bed, located at the foot and pulling outward.

Climbing the ladder up to the top bunk might be fun for agile kids, but for adults or little ones, it might prove tricky. This is because it is curved, angling upward at an angle after the first rung. You have to get your leg up 11 inches to get onto that bottom rung. However, the top bunk is spacious enough and is better for an older child who wants a smidgeon of privacy.

With 10 slats a piece, these beds don't need box springs. The full-length guardrail up top ensures security while sleeping, and the pine wood frame construction lends to an overall solid build quality. The upper bed is capable of holding 300 pounds, and each lower bed can hold up to 350 pounds. In terms of weight capacity, this is one of the most generous models. Just expect to shell out extra money for it.

This bed might be difficult for one person to set up. Buyers have reported missing instructions and pieces. But once it is together, it looks and feels nice.
Pros
A nice finish on the pine wood
Safe for bigger kids to use
Plenty of below-bed storage space
Can hold a lot of weight on each bed
Cons
Ladder might be hard for smaller kids to climb
Might come with missing instructions or pieces
Merax Wood Triple Drawers and Guardrails
Sturdy pine wood design
Two bottom bunks that hold 350 pounds each, and a top bunk that holds 300 pounds
A guardrail wraps around the top bunk, which is accessible by an angled ladder
A more expensive option is the steel Furniture of America Crossman Triple Bunk Bed. This tri-level design starts with the bottom bunk, a mid-level bunk off to the side, and a top bunk above the bottommost bunk. Its sand black finish gives this steel structure a modern vibe, making it ideal for a less rustic kids' room.

It is essentially L-shaped, so it can be set up in one corner of a bedroom. There are study guard rails around the upper two beds, and the fixed step ladders make it easy to reach those bunks. This bed does have a 28-inch upper bed clearance, so the bottom sleeper has plenty of room to move around.

The middle bed does need to go on the righthand side because of how the ladders are positioned. Each bed can hold 200 pounds, so kids and smaller adults are able to securely sleep in it. There is enough clearance for this model to work with an 8-foot-high ceiling. Assembly directions should be clear, and assembly should only take a couple of hours for one person.

This bed might be kind of squeaky since it is made from metal. You might also notice a few imperfections (like scuff marks) on the pieces as you unbox them.
Pros
Easy to assemble
Works for three teenagers
Saves on floor space
Works with an 8-foot-high ceiling
Cons
Might become squeaky
Middle bed must be positioned to the right
Furniture of America Crossman Triple Bunk Bed
Easy setup with steel materials
200-pound weight capacity per bed
Ladders leading up to each upper bunk
If you have a smaller child, a stairway might work better than a ladder. The PURLOVE Stairway Bunk Bed has a set of stairs to the right that a child can use to climb up. The top bunk accommodates up to 150 pounds and therefore works best for younger, smaller children or young teens. The bottom bunk can hold up to 200 pounds. Beneath that is a trundle bed that can hold 175 pounds.

This bed is made from solid pine wood, plywood, MDF board, and integrated reinforced wooden slats. The down bed can accommodate an 8- or 10-inch mattress while the trundle and upper bed require a 6-inch mattress each. You can convert this into three single twin beds if you need to, but put together, they save a lot of floor space.

All tools are included for an easy assembly. This bed has a one-year warranty, and the wood on the ladders feels kind of thin. This means you cannot swap sides for the ladder; you'd risk damaging the wood.
Pros
Easy to set up
Stairs that are safe for little kids
A trundle bed for guests or smaller kids
Ability to be separated
Cons
Ladder wood feels thin
Ladder side cannot be swapped
PURLOVE Stairway Bunk Bed
Stairway for easy access to the top bunk
Trundle bed
Easy assembly kit with clear instructions.
Are twin beds going to be too small? Why not try a full-over-full bunk bed? The MERITLINE Full Over Full Bunk Bed has a detachable full-over-full plus trundle bed design that works well for teenagers and even young adults. Also, this bed is pretty reasonably priced, saving you both space and money.

Crafter from pine and plywood, the top bed can hold 250 pounds, the bottom can hold 300 pounds, and the twin trundle bed can accommodate 175 pounds. In other words, this setup can work for kids or adults. In fact, I'd dare say it would make a good addition to a small lake house or cottage where space is at a premium.

Warranty coverage is kind of short though, with only 180 days of coverage. Most other manufacturers offer a year (which still does not seem like much when you consider how kids use beds). You do, however, get four finish options: white, grey, walnut, and espresso. These colors look good with various styles of décor and have a rustic vibe fit for any bedroom.

You cannot get a full-size trundle for this bed. And taller mattresses on the bottom bunk leave less space between it and the tightly-squeezed top bunk.
Pros
Full size mattresses offer more space and better support for older kids, teens, and even adults
A nice rustic design
Four finish options to choose from
A reasonable price
Cons
Trundle is only sized for a twin mattress
Lack of space between bunks
MERITLINE Full Over Full Bunk Bed
Solid pine and plywood build that offers stability
Instructions are included and easy to follow
You can pull out the trundle twin bed for a third sleeper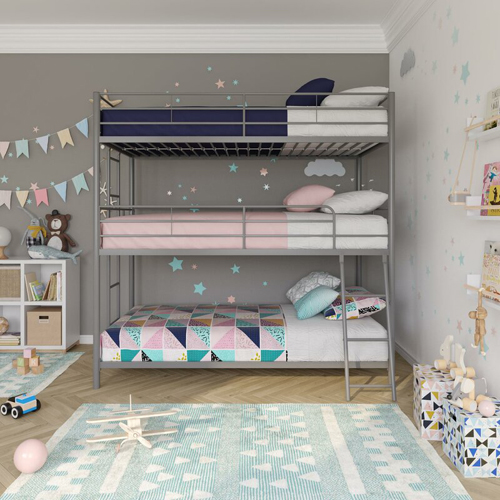 Made from steel, the Everton Triple Bunk Bed stacks one bed atop another atop the next. It is one of the most affordable options out there, but it does mean space is cramped between bunks. You can't sit up in these beds and must have a high ceiling.

That being said, each upper bunk has a ladder with just a few easy rungs to climb. A slat kit is included, and the bottom bed can hold up to 450 pounds. The slats have 2.5 inches between them, leading to less mattress sagging and more support.

It isn't the sturdiest bed around, and the ladders can be uncomfortable on the feet.
Pros
Easy to assemble
Good for tight floor space
Works well for young children and teens
Affordably priced
Cons
Ladders might hurt the feet
Not the most solid build quality
Everton Triple Bunk Bed
Three twin beds one atop the other
The bottom bunk holds up to 450 pounds
There are two ladders included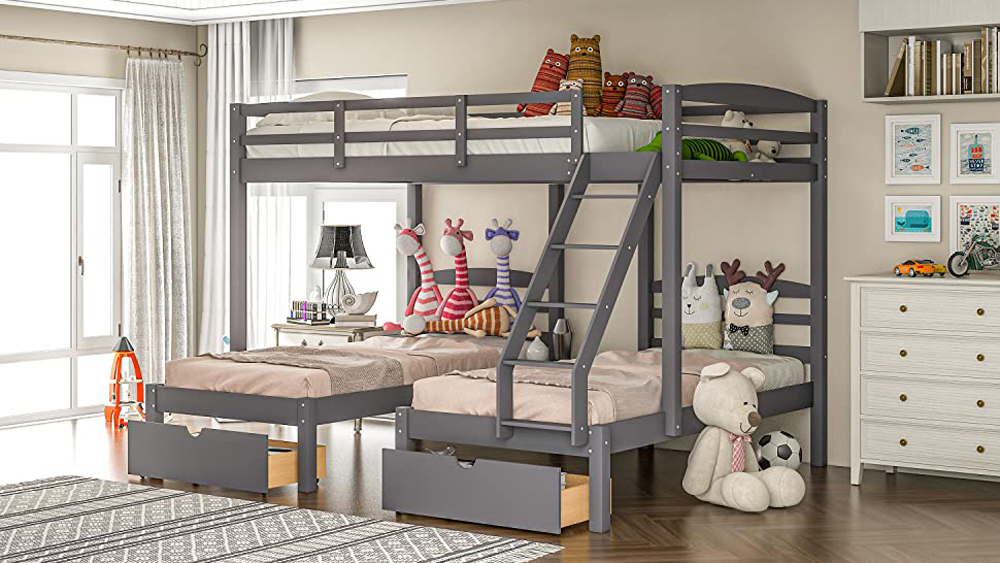 Common Types of Triple Bunk Beds
The Triple Decker
There are a few common types of triple bunk beds. Depending on your room size and sleepers, one style might work better than the others. The triple decker is the most common, with each bed stacked atop the other.
L-Shape 2 Up, 1 Down
With two beds on top and one on the bottom, this design leaves floor space open – perfect for a kids' play area or study space.
L-Shape 1 Up, 2 Down
With two bottom beds and one upper, this style lends a lot of security and strength. It works well for smaller children who need a short climb up to the top bunk.
Triple Decker Full
Full-size beds might be preferable for teens and young adults. This just stacks three of them, one atop the other.
The Partial Ladder
Got a kid who is an avid climber? The partial ladder leads to the second bunk, but there isn't a ladder to the top. While not the safest design, this climbable bed is fit for your little monkey.
The Extended Ladder
The extended has a ladder that goes up to the top. There's usually a second that goes up to the middle bunk.
With Storage
Some beds come with storage integrated below the bottom bunk(s).
Wood
Wood (usually a combination of plywood and solid pine) is most popularly used and comes in a variety of finishes.
Steel
Steel is strong, but can get noisy over time. It often presents a more affordable option.
The Quadruple (4) Bed bunk Bed
A quadruple bunk bed leaves space for four sleepers. Sometimes a triple bunk will feature a trundle, or there will be four bunks, two on either side.
Things to Consider Before Buying Triple Bunk Bed
Price
How much can you really afford? You might need to shop around a bit before finding something within your budget. Typically, these beds sell for $400-$600.
Weight Capacity
Most twin beds will accommodate at least 150 pounds. But you might need more, and the more they accommodate, the more likely a bed will be durable. Adults who intend to sleep on these beds especially need to keep their weights in mind.
Dimensions
Measure the area where you want to place a triple bunk. Always give more room than necessary and consider the bed's height. Getting dimensions right is crucial. If your ceiling is low, consider getting a quadruple bed that you can divide in two.
Assembly
Assembly is never a quick job and takes upward of two hours. Have an extra adult on hand to help; it shaves the time and workload down big-time. Make sure you have all the needed tools.
Storage
Think about getting a triple bunk with storage (or at least plenty of storage space) beneath the bottom bunk(s). You can also find some units that have built-in shelves.
Décor
You'll want to match your bed's finish and design to the room it is in. Can your kids add stickers? Can they build a blanket fort atop an A-frame roof above the top bunk? Think about how the bed looks as well as how your kids want to make it look.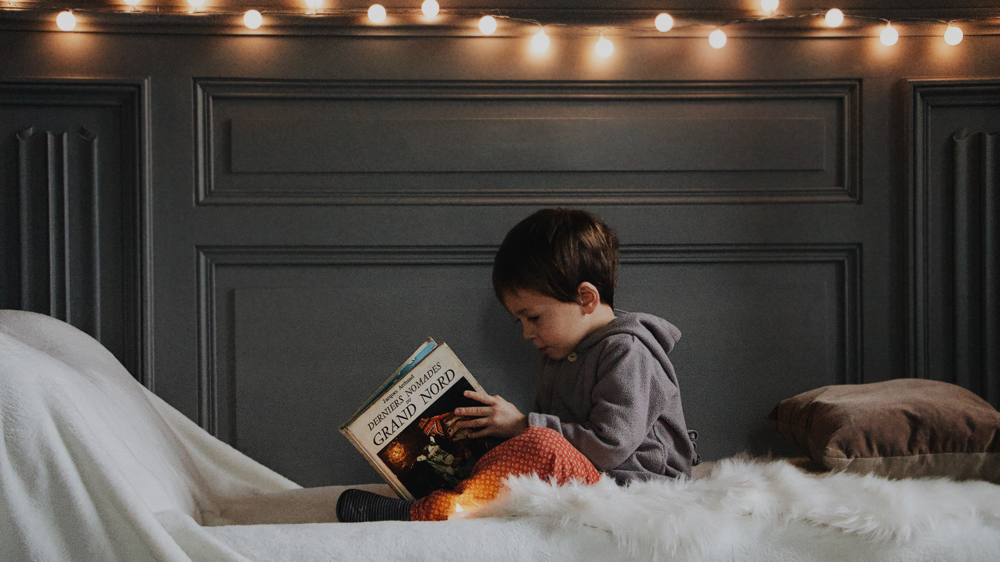 FAQ
Can adults use a triple bunk bed?

Yes, depending on the weight capacity of each bed.

What do you call a bunk bed with 3 beds?

This is called a triple bunk bed, a 3 person bunk bed, or a three bunk bed.

Can a 13 year old sleep in a bunk bed?

A 13-year-old can sleep in a bunk bed given their weight is below the max capacity.

How tall are triple bunk beds?

They typically fit beneath an 8-foot-high ceiling, but some (especially those meant for older toddlers) can be about 6 feet high.

How much money is a triple bunk bed?

You could spend anywhere between $400-$600 for a good-quality triple bunk bed.

Is a bunk bed mattress the same size as a twin?

A bunk bed can require a standard twin mattress, but some come in full or queen sizes. Pay attention to the specifications.

How tall do ceilings need to be for bunk beds?

They should ideally be 8 feet tall or higher.

How much should I spend on a bunk bed?

Plan on spending an average of $500 on a 3 person bunk bed.

How thick should a top bunk mattress be?

They tend to be 6 or 8 inches in thickness.

Can a 4 year old use a bunk bed?

Most 4-year-olds can use a bunk bed given its safety design and the child's climbing abilities.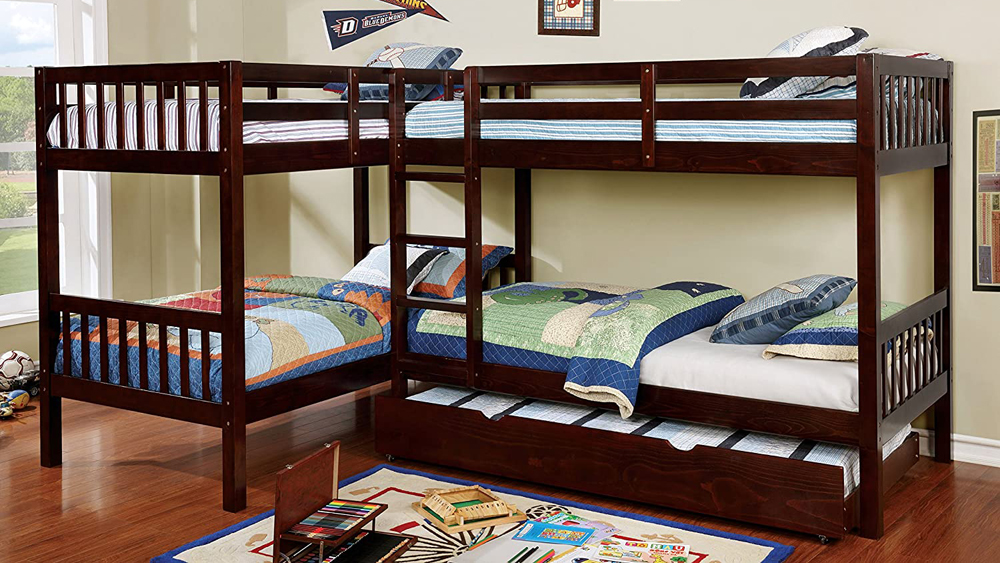 Final Thoughts: Three Isn't a Crowd
A safe triple bunk bed can also be a fun triple bunk. Just ask the thousands of satisfied kids out there – and you know they can be tough critics. Safety standards are high for any type of bunk bed since they're usually marketed toward children and teens.
That is one reason why the LXBB L-Shaped Triple Bunk Bed with Trundle is your best bet for a three bunk bed. When buying triple bunk beds for kids, you should be getting something that is easy to climb and low enough to the ground without crowding the lower bunks in. That's why I love the L-shape design and highly recommend it for parents of little kiddos. Your kids can have fun playing on and customizing this unique bunk with a trundle for their friends to sleep over on, and you can rest assured that they will all be safe.
LXBB L-Shaped Triple Bunk Bed with Trundle