Many of us love to camp, but not all of us can get up and down off a camping pad on the bottom of the tent. Additionally, you may be more secure sleeping inside your truck bed.
The truck bed mattress options in this review can work in trucks of many sizes and will keep you warm, dry, and more secure than being right on the ground.
What Size Mattress Will Fit My Truck?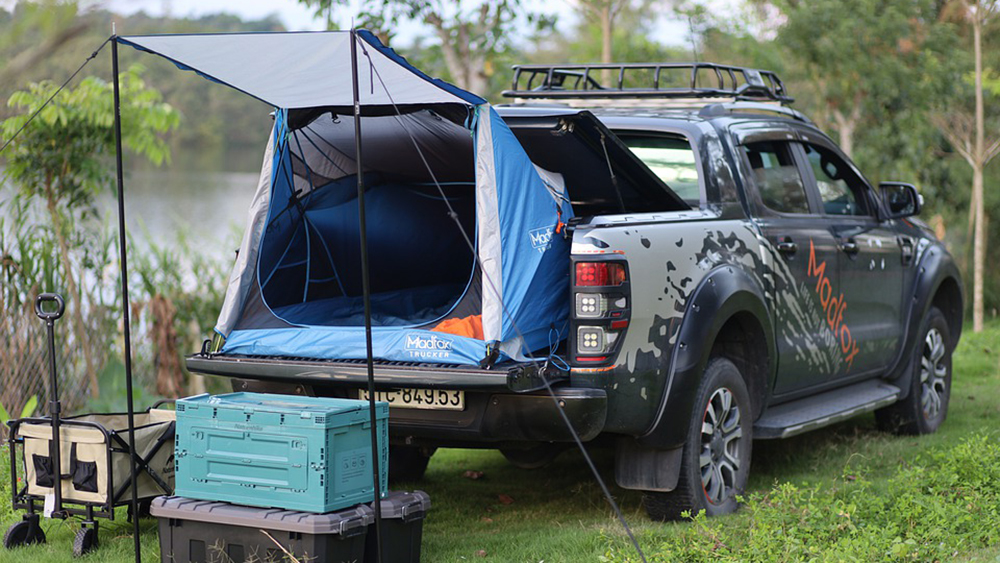 Wheelwells
Make sure you measure between the wheel wells before you make your purchase.
When working out what size mattress fits in a truck bed, you want to avoid putting your truck mattress into too tight a space; not only do you increase the risk of a puncture, but a squashed air mattress will be harder and less comfortable until you start letting air out.
This can lead to a lot of fussing, which is not what you went camping for!
Length
Your bed length and the size of your truck tent will have a huge impact on the size of the mattress that will work. Of course, your height will also make a difference!
Gear Needs
You may want to avoid leaving any gear outside or in the front of your truck. It's also nice to have some things near you in the truck bed. If you need space along the sides, don't get a mattress that will fully expand across the truck bed.
Truck Bed Mattress Top 5 Reviews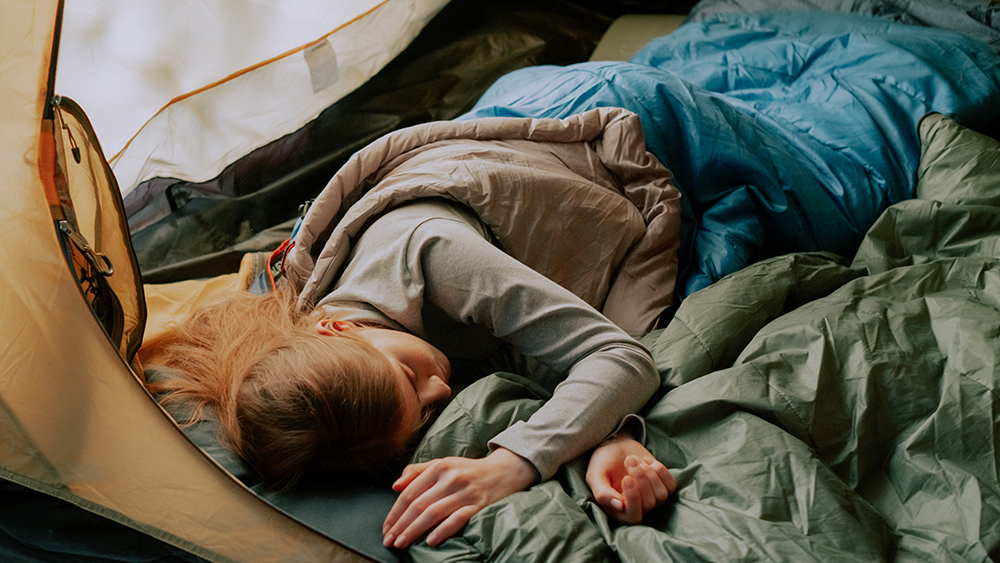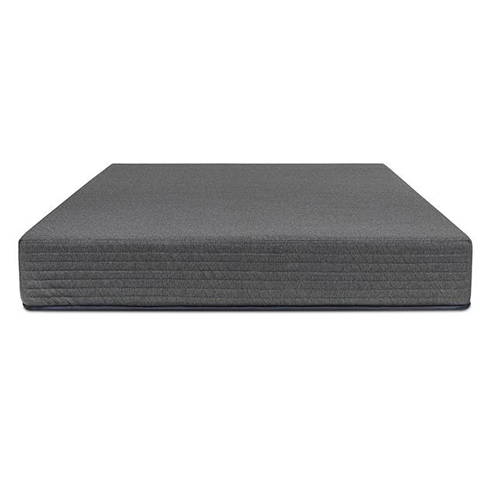 If you can't do an airbed, the Brooklyn Wanderlust Memory Foam Mattress is a terrific option.
This mattress has a waterproof, stain-proof cover and can serve as a couch or lounge with little risk. These mattresses are designed to work in an RV and offer moisture resistance as well as durable comfort for your next truck camping vacation! Like all Brooklyn products, you can use this mattress for 120 nights before you make your final decision.


Pros
If you need a soft, comfy mattress but still love to camp, this one may save your vacation
These are hard to damage thanks to the durable cover
Your Brooklyn mattress has a 10-year warranty
Cons
If you need it to fold up small, this is not designed to fold or bend
The thinner mattresses have a lower weight tolerance
These mattresses are not flippable
Brooklyn Wanderlust Memory Foam Mattress
This layered foam mattress provides both support and airflow.
You can get this in the thinner foam pad or go up to a 14-inch thick mattress for side sleepers.
These mattresses are designed to breathe thanks to the cooling gel layer.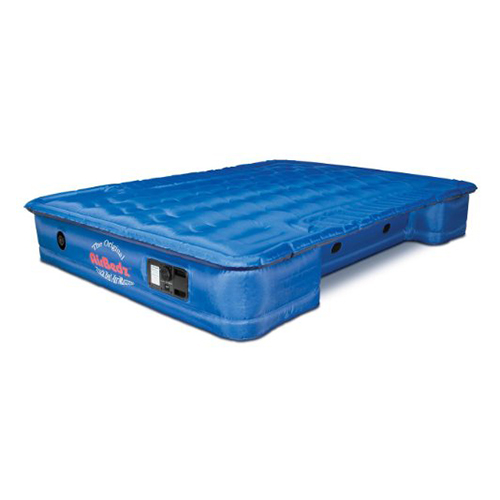 Summer campers will love the silky cover of the Pittman Outdoors AirBedz Original Truck Bed Air Mattress. This bright blue mattress is designed to extend the mattress cushion over the wheel wells. There's a built-in pump to keep this mattress fully elevated.

You can buy cushions to fit under the wheel well inserts if you choose to use this in your home. You can use this mattress for truck bed camping, in a tent, or as a spare sleeping spot.

Your AirBedz Original will come with a carrying bag, a built-in pump, and a patching kit to keep you comfy on your camping adventure.
Pros
These mattresses are quite durable and easy to care for
The lower profile of this mattress means you can use it under a tent or inside a shell
The silky material will make it easier to shake off dust and dirt
Cons
Winter campers may find this mattress too cold
Side pillows are not included; this is an extra purchase
If the pump dies, this mattress is not very useful
Pittman Outdoors AirBedz Original Truck Bed Air Mattress
This mattress kit weighs less than 17 pounds, so packing will be simpler.
The included patch kit is easy to use and cures quickly.
The built-in pump makes transport and setup easy.
If you love long-term travel but need more cushion than a pad on the ground, the Pittman Outdoors AirBedz Pro3 Air Mattress is a great choice.

This bed fits around and over the wheel wells and can hold up to 1000 pounds; if you have kids that love to do a bit of bouncing on your airbed, it will probably survive it! The top of this airbed is flocked for softness and warmth.

You can also use this as a guest bed at home thanks to the wheel well insert cushions. The pump is durable enough to keep your other blow-up items fully inflated as well.
Pros
These hearty mattresses can work in a truck bed or a tent
The fabric cover increases warmth after the sun goes down
The wheel well covers include a bit of cushion for mobility
Cons
This truck mattress is nearly 50 pounds; pack with care
Air mattresses tend to be cooler than a foam mattresses; if you're headed into the cold country, consider adding a foam topper
There is no room to place your gear beside the bed with this mattress in place
Pittman Outdoors AirBedz Pro3 Air Mattress
Your AirBedz Pro3 comes with a patch kit as well as a pump.
These mattresses are made of durable, woven, and airtight cloth, reducing the risk of puncture.
This is a nice, thick mattress; if you need a cushion to enjoy your camping sleep, this is a great choice.
Truck campers will love the Rightline Gear Truck Bed Air Mattresses. This low-profile air mattress comes with a 12-volt pump and a patch kit. The whole mattress, travel bag and pump weigh just over 10 pounds. This mattress for truck bed will support campers up to 460 pounds.

It's designed to fit between the wheel wells so you have space for gear and shoes along the side of the bed. The no-spill valve makes it easy to fill this up and prevent air loss until you can get it sealed up. The top of this mattress is flocked for warmth and sleeping bag grab; no sliding around all night!
Pros
These are really durable mattresses with baffle channels to reduce bounce; if you are restless, your partner will still get great sleep
The included pump and patch kit make your travels easier and worry-free
You can put a pad under this mattress to avoid getting too cool
Cons
Air mattresses are cooler than foam, which may leave you feeling too chilly
This is not a thick mattress; if you need cushion, something bigger may suit
Some users found the pump to be too weak to fill up the bed completely
Rightline Gear Truck Bed Air Mattresses
These mattresses are sized to fit a variety of pickup trucks; check out the size chart on the website for your best option.
If you don't need a lot of cushion, this is an ideal choice.
You can still keep your gear and personal belongings inside the truck bed with this mattress.
If you can't sleep comfortably on an air mattress, adding a Best Choice Products Folding Mattress to your camping kit can go a long way to sleeping warm and comfy.

These mattresses are foldable in a variety of ways; you can turn them into a lounging spot, a taller chair, or a bed. Each of these comes with a soft carrying case that you can use to transport it easily.

Additionally, the covers on these foam mattresses can be removed and laundered.
Pros
The softcover has enough grab that you won't spend the night chasing the sheets
The washable cover means you can strip this in the backcountry, fold up the mattress and bring home less dirt
You can settle this down on a tarp for a play area or comfortable seta in any outdoor setting
Cons
Hot sleepers may find this foam to be too warm
This comes compressed and may need to fluff up and air out for a time
Side sleepers may find this mattress to be too hard
Best Choice Products Folding Mattress
Truck campers who like to camp in the cold country will be warmer on a foam mattress than on an air mattress.
This can fold up and get tucked into a closet for a handy guest bed!
You get a lot of comfort out of this 4-inch mattress.
Truck Bed Mattress Types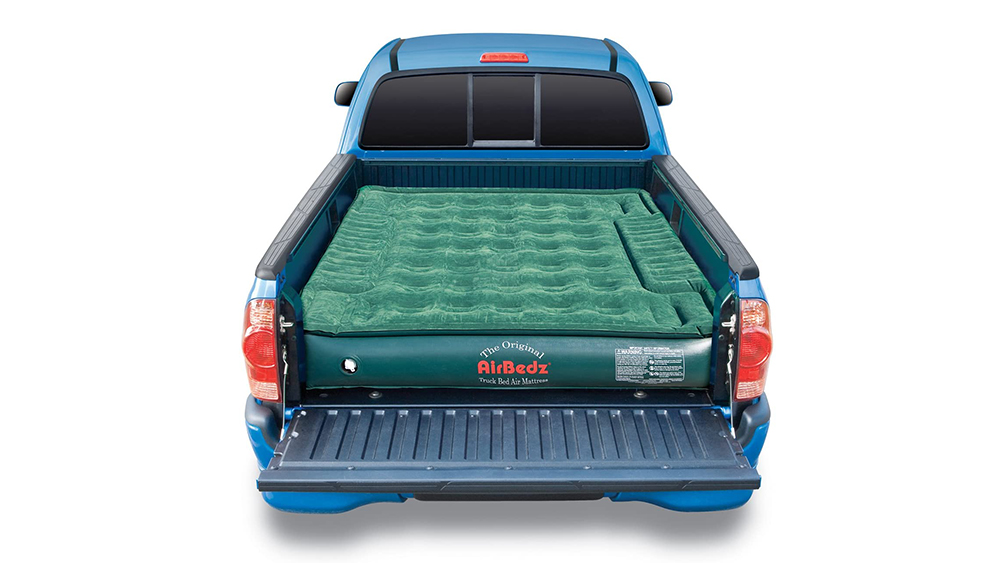 Which Truck Bed Mattress Type is For Me?
Foam Bed
A foam bed is a great option if you need more cushion than a standard camping pad. For those who like to camp with a partner, a foam bed will also reduce the risk of motion transfer. Of course, these mattresses are bulkier than an air mattress when you plan to store them.
Air Bed, Smooth Fabric
A smooth air bed can be a great tool for those who like to camp in warmer locations. Air mattresses are inherently cooler than a foam mattress; while a foam mattress can build up heat and lead to overheating on a warm night, a foam mattress will hold warmth.
Your air mattress may provide you with more cushion, but if you're staying in a cold climate, you may need a foam topper or a down alternative base to create your nest.
Air Bed, Flocked Top
A flocked top air bed can be a terrific sleeping spot for those camping in colder climates. Not only will the flocking hold heat, but you can layer up more warm bedding without having to work on slip and slide risks.
The grab of a flocked top mattress, combined with the wheel well covers, will give two sleepers plenty of room and comfort.
Things to Consider Before Buying a Truck Bed Mattress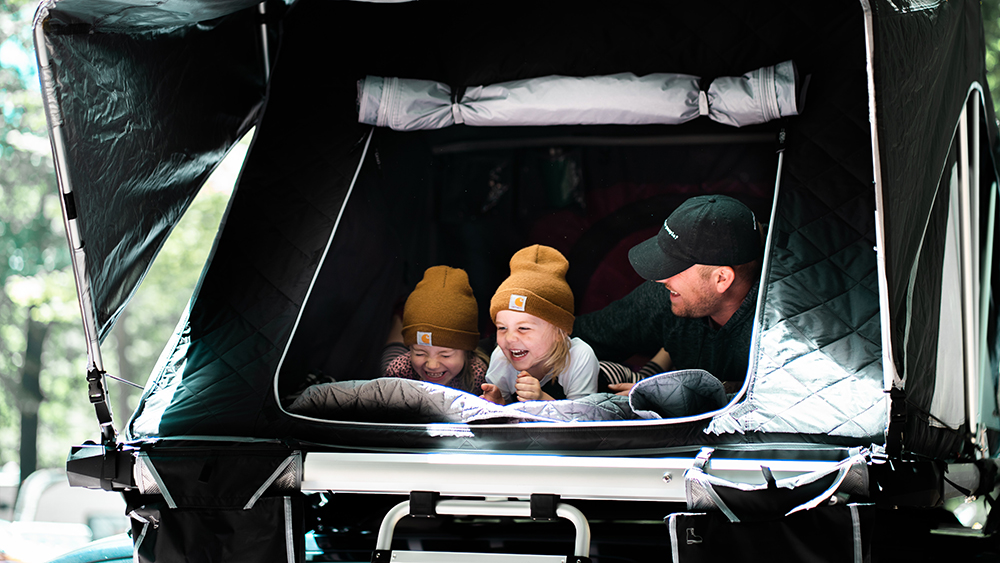 Comfort
If you love to get out and hike, swim or do other forms of exercise, you will need a mattress that will support you well all night long. If a warm sleeping spot is critical, consider a foam mattress.
Size
For those who camp with a partner, making sure you have enough space is critical. In this case, one of the Pittman air mattresses designed to fit over the wheel wells could be a great fit.
Carefully review how you will arrange your tent if you need to leave the tailgate down; cold air and bugs will not be good for your travel enjoyment.
Price
You can expect to spend about $200 for your truck bed mattress.
If all you need it for is to line your truck bed, an air mattress may be a great investment. If you need a foam mattress to sleep on when you get back home, one of the foam mattresses may be a better choice.
No matter which mattress you select, consider investing in a tarp to put down before you put down your mattress. No matter how careful you are about keeping dust and dirt out of the truck, that extra protection can save a lot of wear.
Weight
Air mattresses tend to be lighter. For those who plan to take their truck mattress into a tent away from the campsite, the Original Pittman may be a better choice as it will be much lighter to carry.
Do remember that you will need to purchase the cushions to fill in the wheel well gap to use your Original Pittman away from the truck bed.
Durability
A foam mattress will never deflate. However, you will need to take care to avoid letting moisture build up in your foam mattress.
Air mattresses, properly cared for, can last through several camping seasons. Do make sure that you test drive the pump and go through the patch kit before you get on the road.
Filling
An inflated truck air mattress can be quite comfortable, but it may be too cool depending on your sleeping need and the season you enjoy camping.
Make sure you invest in fleece and wool bedding that you can use to build a warm nest on top of your cool air mattress.
If you like a cool bed, bring fleece and wool for your sleeping partner; you'll both have a much nicer vacation!
Truck Bed Mattress Average Budget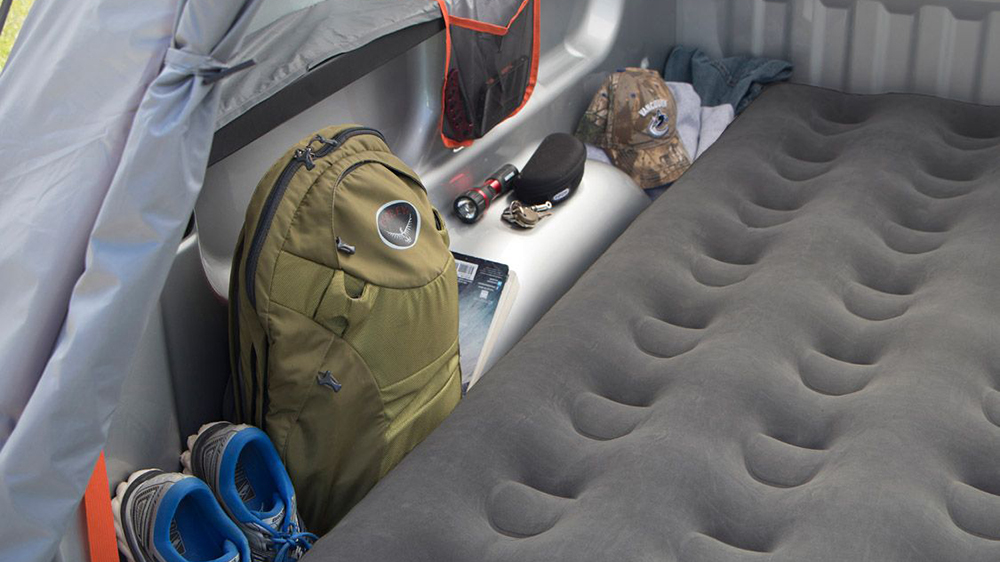 You can expect to spend about $200 on your truck air mattress and about the same for the foam. The benefits of an air mattress are obviously that it will fold down much smaller at the end of your trip.
Over time, you will probably get more use out of the foam mattresses, so your storage needs will have a large impact on your final choice.
FAQ
What size air mattress fits in a truck bed?

Depending on the width between the wheel wells, you will be able to get at least a full mattress in a truck bed.

Does a queen size mattress fit in a truck bed?

If you get a mattress tall enough to fit over the wheel wells, yes.

Will a full size air mattress fit in a truck bed?

In a short bed truck, you may have to leave the tailgate down.

What is a truck bed?

It's a mattress that fits inside a truck bed for camping and adventuring.

How to measure your truck bed for a mattress?

Measure the gap between the wheel wells, the gap between the side walls, and the space between the cab wall and the front edge of the wheel well.

What size air mattress fits in a Ford F150?

The PPI-101 will fit as long as it isn't a short bed.

How to make a truck bed comfortable?

Inflate on site with enough give for some flex. Always carry the patch kit. Don't overfill, and bring bedding so you can create a sleeping nest.
Get On the Road!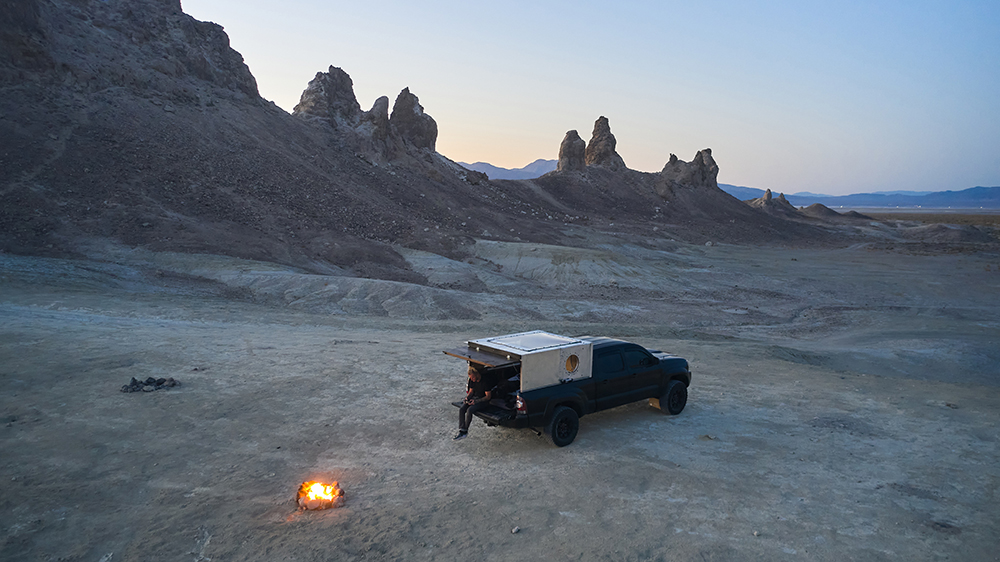 Once you've taken the measurements to figure out what size mattress fits in a truck bed, it's time to consider your sleeping needs and the temperatures in which you'll be camping.
The Brooklyn Wanderlust is a terrific option no matter where you plan to go. It can be safely used as a lounging space thanks to the durable cover.
Brooklyn Wanderlust Memory Foam Mattress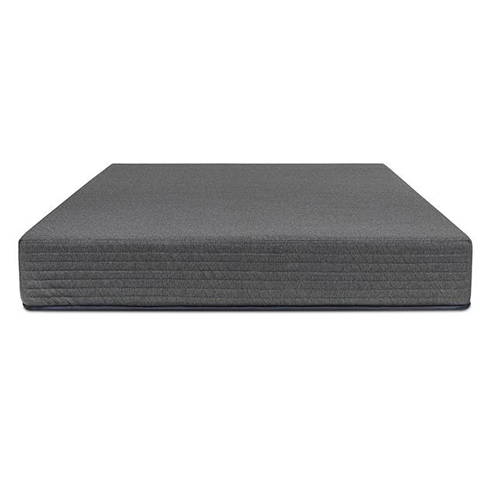 Finally, this mattress can easily be moved from your truck to your guest or bedroom. It will be warmer and more durable than an air mattress over time as well.