No matter your budget, you can find some great options on the best twin mattress for kids in the rankings below.
If you've got bunks, consider a lower-profile mattress. For those using a trundle bed, try to stay under 8 inches thick.
If you're looking for an RV mattress, make sure you choose a lighter-weight mattress for easy maneuvering.
Best Twin Mattresses for Kids Reviews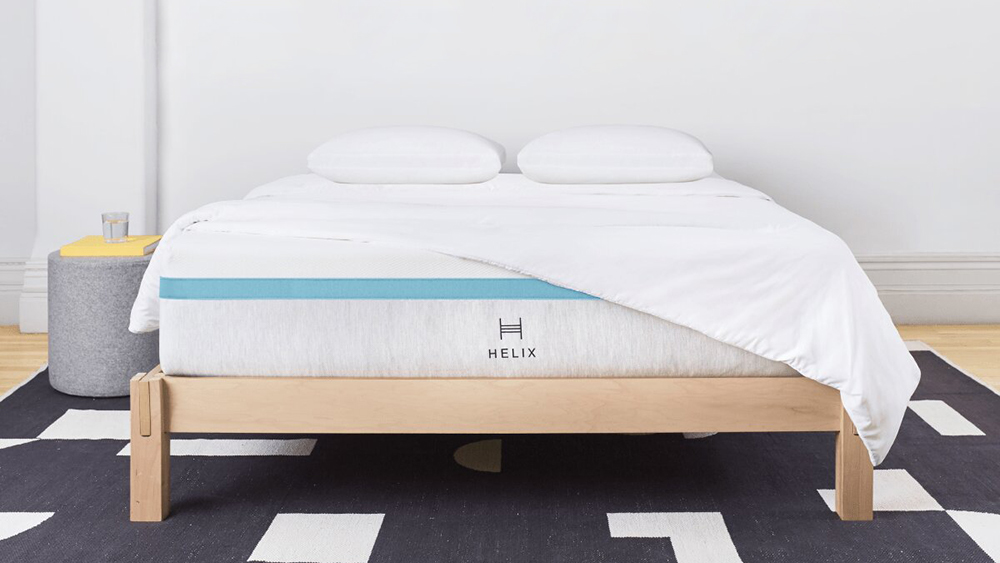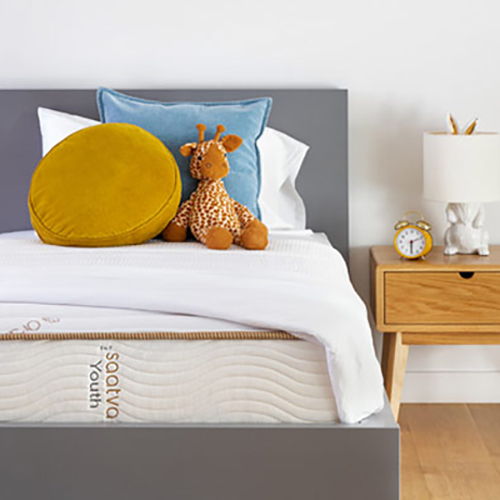 Sleep experts recommend the Saatva Youth Mattress as the best twin mattress for kids to use long term. This is an organic kids mattress and offers an organic cotton cover on both sides.

The firmer side features a 5 zone layer of support for your little one as they settle on their best sleeping position.

As your child gets older, you can flip the mattress and provide them with more foam support and lumbar support as they head for their teen years on one of the best twin mattresses on the market.
Pros
The springs on this mattress are firming but not tall; this mattress is only 10 inches tall
Your child can enjoy a 180 night trial to make sure this mattress is cool and comfy
The flame retardant barrier is naturally based; no fiberglass in these best twin mattresses
Cons
There is a $99 fee to return this mattress
There are only three places in the US to test drive this mattress; New York City, Washington DC and San Francisco
There is not additional coil support along the edges of this mattress
Saatva Youth Mattress
This mattress offers a patented botanical antimicrobial treatment to prevent mildew and moisture buildup.
There's a waterproof barrier built into this mattress.
Lumbar protection is built into the quilting on the 8 to 12 year side.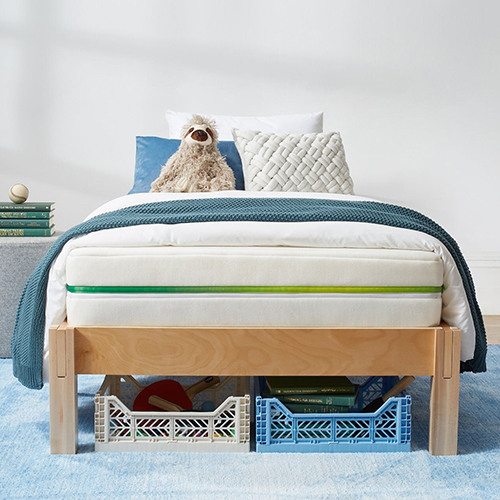 The Helix Kids Mattress will grow with your child thanks to the flipping feature that allows you to put a small child on a firm mattress and an older child on a mattress with a bit more cushion.

Both sides of these best twin mattresses include an antimicrobial, water-repellent cover. If your child is struggling with bed-wetting, you can get a waterproof cover for this mattress.

At the center of the mattress is a layer of individually wrapped coils with a more supportive edge to keep little ones from rolling out.

There are foam layers above and below the coils with a bit more support on one side than the other.
Pros
You can certainly put this mattress on a bunk and it may even work on a trundle
Adding a waterproof protector will keep these mattresses for kids in great shape for your child as they age
You can get additional damage coverage if your kids are prone to bouncing or playing on their bed
Cons
This twin mattress is 60 pounds; you will probably need help to flip it
These mattresses for kids should not be put on a box spring, but it will work well on a low platform
If you're transitioning from crib to bed, this mattress should not be used on the floor
Helix Kids Mattress
The Helix mattresses for kids offer a 10 year limited warranty.
The flammability protection is built into the foam layers.
Despite the flexible design, these mattresses for kids are just 8 inches thick.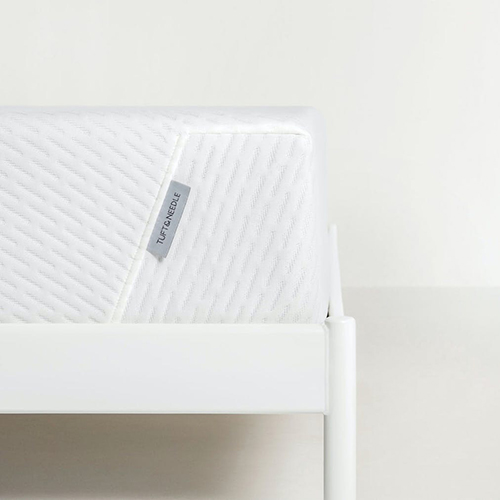 For those looking for a memory foam mattress for their child, the TUFT & NEEDLE Original Twin Mattress is an excellent choice.

The base of this foam mattress offers sturdy support for this medium mattress. The top layer of foam offers adaptive pressure relief; as your child moves or turns at night, the more pressure they put on the mattress, the more support they get.

Finally, the top layer of fabric on these mattresses for kids includes graphite and wicks away moisture and heat all night long.
Pros
This mattress is 10 inches tall and would be an ideal option for a platform bed or a captain's bed
Despite the hearty foam base and the plush comfort of this mattress, it's under 47 pounds
The graphite in the foam will cut down on bacterial build-up and moisture risk
Cons
This mattress may be too tall for an RV or a bunk bed
At 47 pounds, it may not work well on a trundle
If you need to return this mattress, do so well within the 100 night trial period
TUFT & NEEDLE Original Twin Mattress
This mattress offers a 100-night sleep trial. If your growing child has growing pains, a mattress they can test drive can help.
This foam mattress is GREENGUARD Gold and CertiPUR-US certified for comfortable sleep without a chemical smell.
The top layer of foam and fabric is designed to protect your child from overheating.
If your child sleeps hot but needs more cushion, the Modway Jenna 10″ Twin Innerspring Mattress may be an ideal choice.

This is a hybrid mattress that pairs individually wrapped coils covered with a felt pad for comfort and stability. There are two layers of foam above the felt for cushion and pressure response.

The top cover is tufted for even more cushion. This 10-inch mattress offers both airflow and a layer of plush comfort for a side or back sleeper.

Finally, this mattress offers isolated motion protection. If your family pet needs to sleep with your child, the pressure and motion of the pet will not disturb your little one.
Pros
This mattress is firm enough that your child will be comfortable on the bed without sinking into the mattress
You can easily rotate these twin mattresses for kids but don't need to flip it
The foam layers will keep the top nice and springy over time
Cons
There is no outer rank of supportive coils to make it easier to get out of this bed
The 10″ Jenna may be too tall for a bunk, an RV, or a trundle bed
It will take time for this mattress to expand and there may be a foam smell initially
Modway Jenna 10″ Twin Innerspring Mattress
This plush and comfortable mattress is still under 50 pounds.
The innerspring layer of these twin mattresses for kids allows for terrific airflow and prevents heat build-up.
As your child grows, they will be able to find a comfortable sleeping position on this versatile mattress.
If your child is a hot sleeper or a tummy sleeper (or both), the Linenspa 6 Inch Innerspring Twin Mattress with Foam Layer is an ideal choice.

These twin mattresses for kids are ideally sized for bunk beds or trundle bed. The mattress is built on a foundation of tempered steel, covered in a hearty felt pad to provide both insulation and protection.

Finally, there is a layer of foam covered by a quilted fabric topper for a layer of softness. These twin mattresses for kids are very firm but can be an ideal choice for a young tummy sleeper.

You may need a memory foam topper if you plan to use this in an RV or for an adult sleeper.
Pros
The ten-year warranty offers confidence; this is a fairly priced mattress, not a cheap bed
This mattress comes rolled up nice and tight for easy movement
The felt pad offers protection from the pressure of the coils
Cons
This is not a snuggly mattress; if you live in cold country, this may not be a comfortable choice without a memory foam topper
Once expanded, this is not a very flexible mattress
This mattress can't be flipped; it's only cushioned on one side
Linenspa 6 Inch Innerspring Twin Mattress with Foam Layer
These twin mattresses for kids include a fire-resistant barrier.
The low profile makes it easy to settle this into a low profile bed, an RV bunk, or a bunk bed.
This mattress is just 20 pounds. Even if you add a memory foam egg crate or topper, it will not add to the weight of your camping rig or your bunk bed set.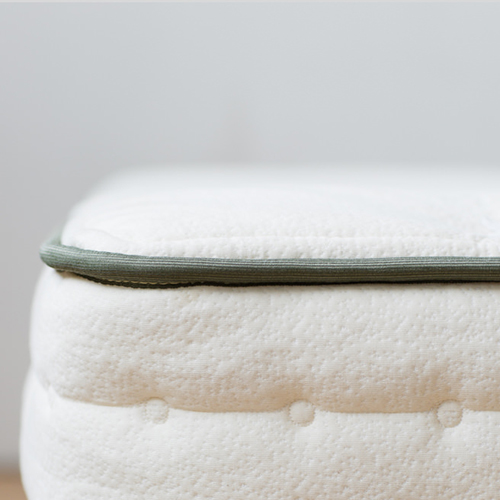 For those who want a chemical-free household, the Avocado Green Mattress is a wonderful choice.

The Avocado twin is a hybrid mattress that features individually wrapped coils with a reinforced perimeter.

This perimeter makes this mattress a great transition tool for children moving from a crib or trundle to a free-standing bed.

If your child is prone to rolling out, you may want to put this mattress on a very low platform; it's 11 inches thick for additional height.
Pros
Avocado offers an organic waterproof protector if your child is still working on bladder confidence
The toppers from Avocado offer a great deal of comfort and flexibility
If you love the look and feel of a taller mattress but your child needs a firm mattress, the Avocado offers 11 inches of the loft without a lot of squish
Cons
This is a thick and fairly heavy mattress; if you need a bunk or a trundle mattress, this probably won't work
The wool in this mattress may cause skin reactions for anyone with a lanolin sensitivity
There are no fire retardants in Avocado mattresses; wool is naturally flame retardant
Avocado Green Mattress
The medium firm Avocado option features a 3-inch layer of organic latex foam for heat wicking and support.
You can easily soften the medium-firm with a topper if your tummy sleeper transitions to a side sleeper over time.
If you are not comfortable using animal products, you can get this mattress with no wool. It's PETA-approved!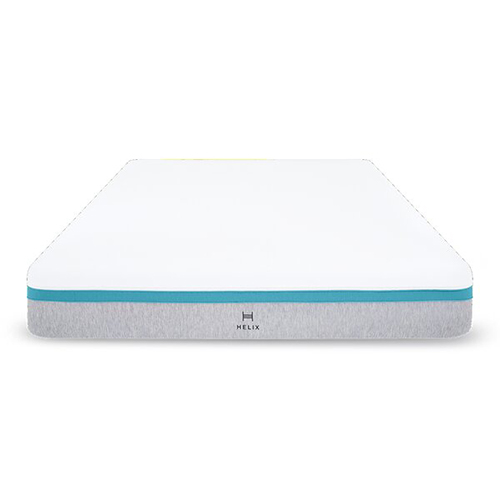 If your little one is a side sleeper or just needs a bit more squishiness, the Helix Sunset Mattress is a great choice.

This hybrid mattress features a durable base memory foam layer to protect the mattress over time, as well as individually encased springs in the next layer up for support and airflow.

Directly above the springs is a layer of dynamic foam which provides more support as it is compressed.

Finally, the top layer of cooling memory foam offers cushion and heat removal. The soft and slightly stretchy cover is designed to increase airflow.
Pros
Your Helix Sunset comes with a 10-year warranty
The additional waterproofing cover is cotton and quiet
Your snuggly little side sleeper will easily drop into a deep sleep on this memory foam mattress
Cons
This mattress is 12 inches tall; it won't work on bunks
The Helix Sunset is a sinker and may leave your child overheated and restless
Your base choices may be limited if you're worried about making the bed too tall
Helix Sunset Mattress
If your child can't sleep on a camping cot or a standard bunk bed mattress because they're just too hard, this is a great mattress.
The outer layer of coils provides extra support. If your child is transitioning from crib to bed, you can put this on a low platform and they can still easily and safely get out.
You can add a waterproof protector to reduce worries.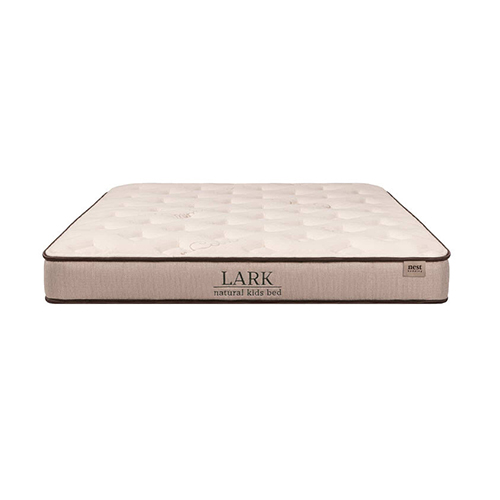 If your child is a tummy sleeper, or if allergies are a concern, the Nest Bedding Lark is an ideal choice. This is a dense mattress with a base layer of natural latex foam, ideal for wicking away heat.

The top cushion is a combination of wool and organic cotton. While this mattress is quite comfortable and offers motion isolation, it doesn't have a lot of giving.

Your child will sleep comfortably on, rather than in, this mattress. Hot sleepers will love this 45-pound twin bed.


Pros
While this is a very dense mattress, it's not terribly heavy at 45 pounds
The Lark offers a lifetime warranty
Comes compressed for easy placement and is very low odor
Cons
There is a fireproofing layer of silica; do not remove the cover
These mattresses are built when ordered; it takes a little over 2 weeks to get your mattress
The firm version is 7 inches tall; standard bunk bed mattresses are just 6 inches tall. If you need something softer, this mattress may not work on a bunk
Nest Bedding Lark
Thick foam base means this mattress will keep its shape for years.
The combination of cooling cotton and warming wool means that your child can snuggle in on cool nights and not wake up sweaty when it warms up.
You can add a wool and cotton waterproof mattress protector for more security.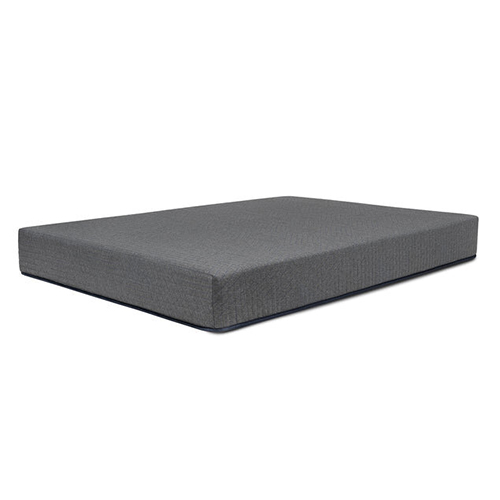 If your little one tends to be a hot sleeper, the Brooklyn Bedding Chill may be an excellent choice.

This all-foam mattress can be purchased in a 6-inch profile for bunk beds or a 14-inch profile for side sleepers who need a lot of cushion.

All layers of this Brooklyn Bed are formulated to wick away moisture and heat.

Another big benefit of the low-profile Brooklyn mattress is that they are lightweight for an all-foam twin mattress; these can easily be rotated every six months as recommended.
Pros
The bottom layer of foam adds great durability to this twin mattress for kids while the top layer of gel foam takes away heat build-up
All foams used in Brooklyn bedding are hypoallergenic
You can use this mattress on a platform, box spring, or a slatted base
Cons
Your child will need to try this mattress for 30 days but you have 90 more days to return it
Side sleepers may not be able to get comfortable on this bed unless you go thicker
The cover cannot be removed for washing
Brooklyn Bedding Chill
Dual-layer foam twin mattress offers firm support and gets softer as you go thicker.
These mattresses come with a 10-year warranty.
The cover is dark and easy to clean; these memory foam beds work great on a bunk bed frame or even in an RV.
If you're looking for a bunk bed twin mattress or a day bed set that will suit children that sleep on their backs or tummies, the Zinus Twin Mattress Set is an excellent choice.

This is an innerspring mattress with a dual-layer foam top for comfort and firmness. There are two mattresses inside the box and both of them are firm and durable.

These mattresses are low profile and will work well both on bunks or a trundle bed. Be aware that they come compressed; the unrolling can be dramatic!
Pros
This twin mattress for kids is built to stay cool; airflow is certain thanks to the large steel innerspring field
The foam layers easily carry away heat and moisture to keep this twin mattress from being uncomfortable
These mattresses can easily be maintained by rotating top to bottom monthly
Cons
This is a firm twin mattress; if your child is a side sleeper, this may not offer enough cushion
For children who get chilled at night, the foam layer may not be enough to stay warm
Some users find there's a "foam" smell; give this twin mattress for kids time to outgas
Zinus Twin Mattress Set
Low-profile twin mattress for kids with a soft jacquard cover for comfort and warmth.
This twin mattress is rated to 250 pounds and will suit your child for years.
The steel innerspring will help this mattress keep a uniform shape for years to come.
Common Types of Twin Mattresses for Kids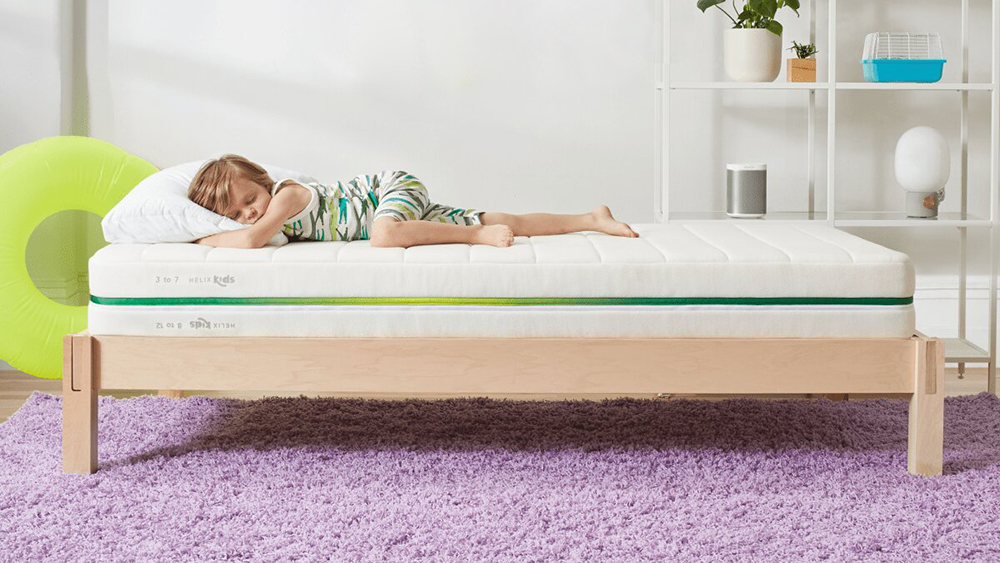 You can get a twin mattress for kids in the traditional innerspring, hybrid, or full foam.
When searching for the best twin mattress for kids, their age will often determine their needs. For example, a young child may be a tummy sleeper and need a twin mattress that is quite firm.
An older child may become a side sleeper and do better on a memory foam topper on top of an existing mattress a new hybrid twin mattress.
If you start your young child on a firm coil mattress and they need more cushion, they may do better with a memory foam topper as they get older.
Budget is obviously a consideration when trying to choose the best twin mattress for kids. If you need to start with a budget purchase, you can still create a comfortable bed for your child.
Adding a down alternative or memory foam topper to a firm mattress can warm up a bed in cold situations. If your child is prone to falling out of bed, you may want to choose a budget twin mattress for kids and put it on a wool camping pad or directly on the floor for a short time to avoid injury.
The best twin mattress is one that will grow with your child. The first two mattresses in this listing include an organic kids mattress and a memory foam mattress with a firmer side for a young child and a softer side for a pre-adolescent.
Carefully review your child's favorite sleeping position. If your child is a tummy sleeper at age 10, the best twin mattress for them as they age may not be one of the dual-sided mattresses or anything with a thick memory foam layer.
Things to Consider Before Buying a Twin Mattress for a Child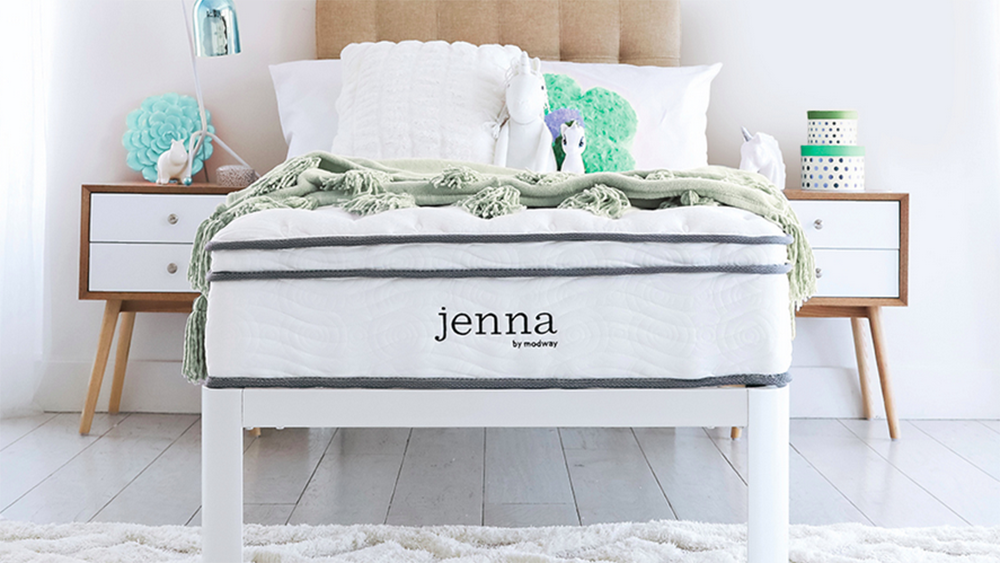 Comfort
The best twin mattress for your child is one that suits their most common sleeping position.
If your child loves to curl up and snuggle down on their side, a memory foam mattress can be a great choice.
There is no one size fits all twin mattress for kids, but firmer is better for younger children.
Size
Twin mattresses for kids are generally about a yard wide and about 6 feet, 6 inches long. Of the mattresses for kids in this review, the weights can vary widely.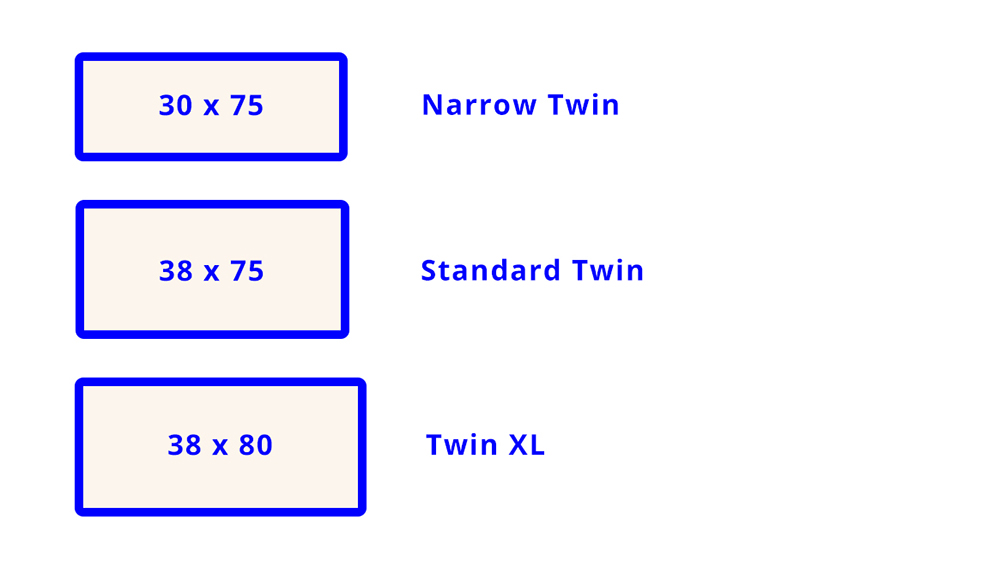 If you are looking for an RV mattress for kids, the 6 inch innerspring may be the best choice to protect your mileage and the structure of your rig.
Even carrying memory foam toppers will not add a great deal to your overall weight. Height varies widely among the best twin mattresses on this listing.
If you have a standing daybed with a trundle and need a mattress for kids or guests on the trundle, a lower profile mattress can work there while you put a taller, more plush mattress for kids on the top bed.
Price
Even if you can't afford the best twin mattress in this listing, you can still get a really nice twin mattress for your child.
One of the big benefits of the top two beds is that they can be flipped to suit an older child that needs a softer bed.
If you can only get one density mattress for kids to suit your child right now, consider a hybrid for steady airflow and coolness.
Portability
Generally, a mattress for kids weighs no more than 60 pounds.
If your child's bedroom is small, you're working on bunk beds, or you need a mattress for an RV, consider getting a mattress for kids that includes innerspring.
Yes, it may be heavy, but it will hold shape and be easier to rotate on the schedule to choose. A mattress for kids should be rotated every 6 months.
Adaptability
Generally, memory foam or hybrid mattress for kids should not be flipped top to bottom because the base of the mattress is about support, not sleep.
However, the top two mattress for kids options in this list are designed for flipping; one side is for tummy sleeping toddlers and one side is for side sleeping tweens.
FAQ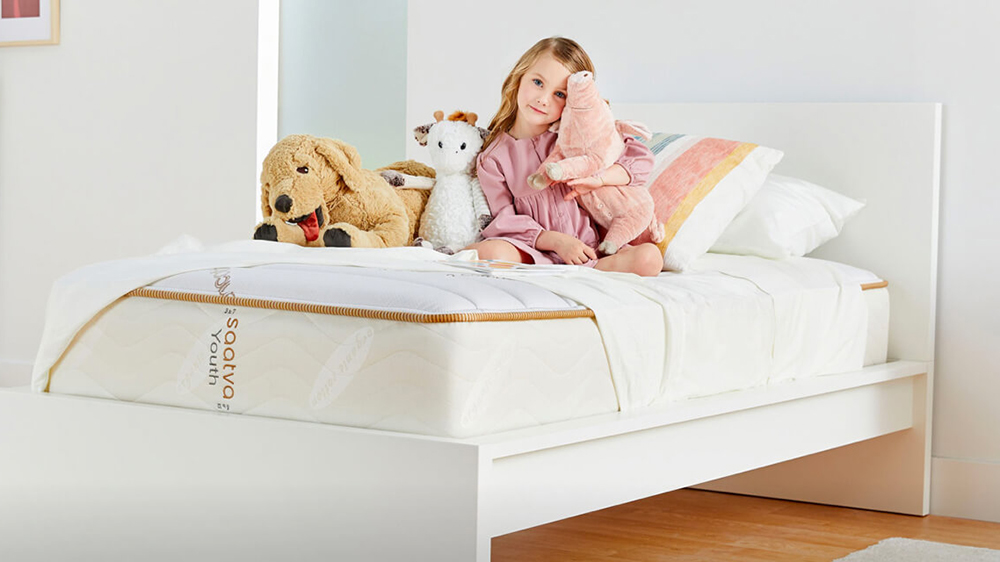 What is a good twin mattress for a child?

The one that suits their sleeping style and temperature needs. A hot tummy sleeper on a soft foam mattress will be miserable, and a cool side sleeper on a firm coil mattress will not sleep well.

What mattress firmness is best for a child?

Young children sleep better on a firm mattress; older children may sleep on their side and do better on something softer.

What is the standard size of a twin mattress?

75 inches long by 35 inches wide, with a bit of variation. If your child will be very tall, you can get a twin XL mattress for kids, which is 80 inches long.

How long should a mattress last?

You should expect 10 years of life out of your mattress if it gets rotated as required and doesn't serve as a bounce house.

What is the average twin mattress for kids pricing?

With a range from just over $100 to just over $1,000 in this listing, you can expect to pay around $500 for a quality twin mattress.

Is a twin mattress safe for a toddler?

If your toddler can get out of their crib on their own, they may be safer on a twin mattress on a low frame or on the floor.

What kind of mattress should a 4-year old have?

Until a child is 8 or 9, their sleeping styles may be constantly changing. A firm mattress is safer at this age.

When should I switch my toddler to a twin mattress?

Toddlers should be good to go from a crib to a twin when they can get out of the crib on their own.

Is a memory foam mattress good for a child?

It's a great option for an older child who is a side sleeper. As a general rule, mattresses made of memory foam have a deeper sinking feel than a coil mattress.

Which is better for a toddler, foam or spring mattress?

Toddlers are often tummy sleepers and may well do better on a spring or coil mattress.
It's Bed Time!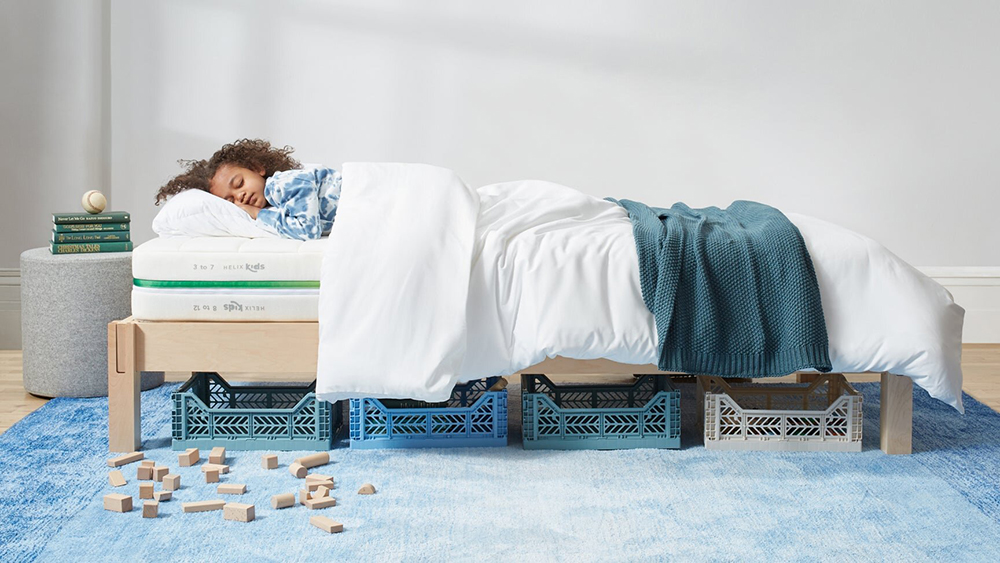 If your child is continent nearly all of the time and ready for a big kid bed, the Saatva Youth Mattress is one of the best twin mattresses for your growing child.
Saatva Youth Mattress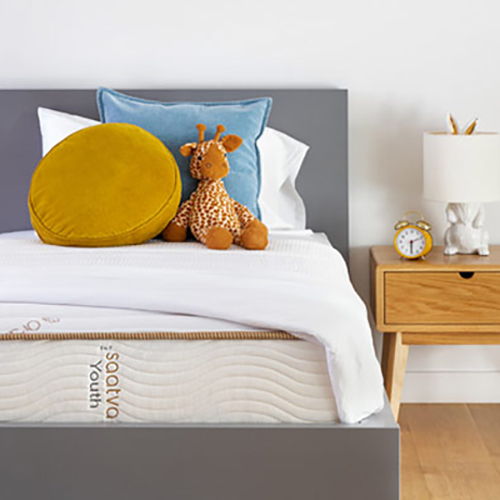 It has a firm side for your little one to sleep well on as they move through the tummy phase and a softer side for your older child to relax into as they get and go through growing pangs.
This mattress also does a terrific job of carrying away heat.
Consider investing in the breathable, waterproof cover if your little one has occasional accidents.