A Japanese bed frame is the ultimate in simplicity. These beds tend to be low to the floor and generally have airflow incorporated. If you like a minimalist look but aren't comfortable with a floor mattress, the many bedframes listed below should give you plenty of options.
What is a Japanese Bed Frame?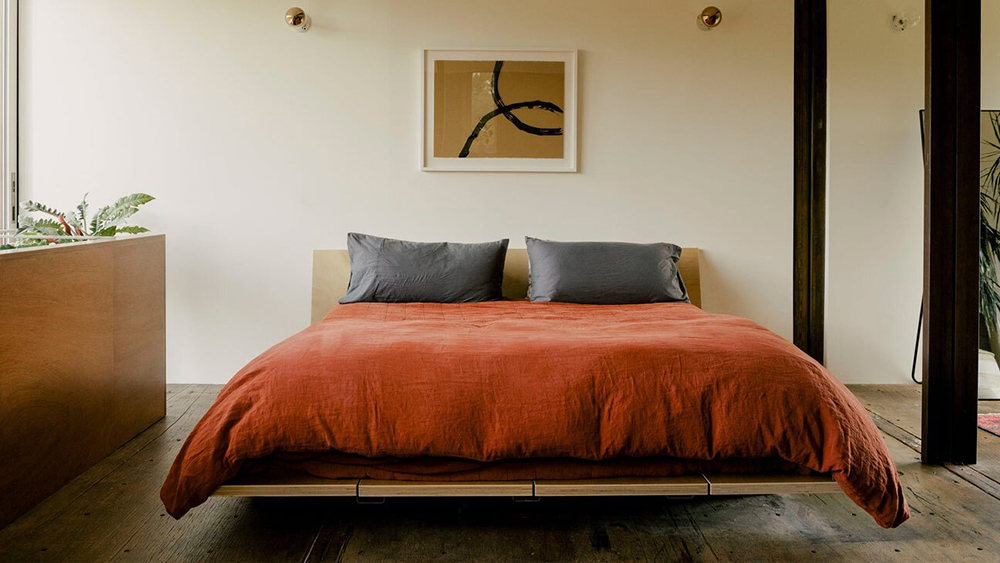 Historically, Japanese bedroom furniture was designed around futons. The traditional slatted platform bed provided an excellent platform for a tufted, dense mattress. Modern mattress construction also works very well on an aerated futon frame. If you prefer a foam, latex or hybrid mattress, you can get a great night of sleep on a Japanese style frame.
Why Buy a Japanese Bed Frame?
Ease of Use
As a general rule, these bed frames are quite simple to put together. Do be aware that some of the platform beds listed in this review are quite heavy.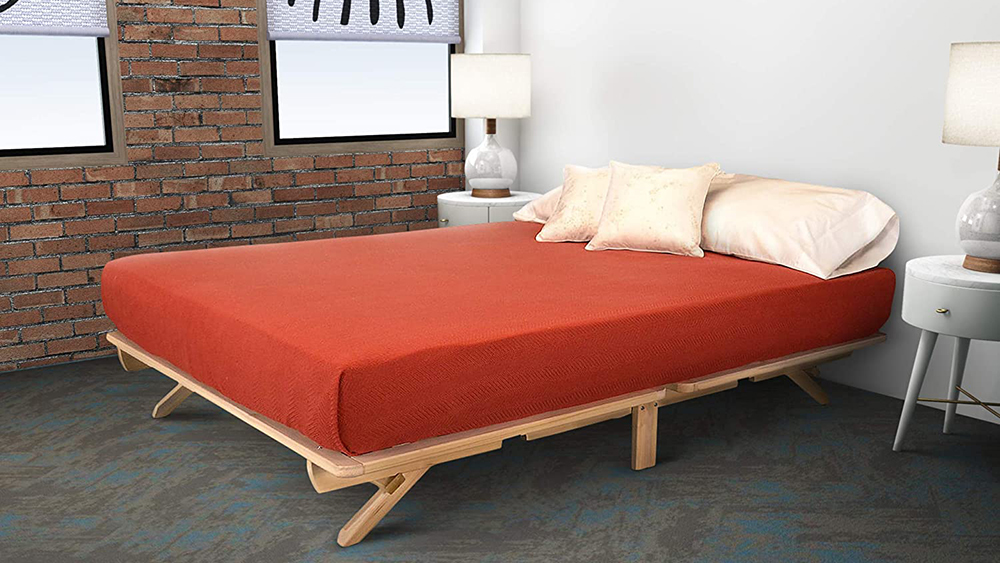 Comfort
Your Japanese bed frame is a stable spot for your mattress. If you need more cushions, you may need to add a topper or a box spring to get a bit more bounce. The slatted bedframe construction is designed to provide a stable, squeak-free sleeping platform.
Affordability
You can get a folding frame that is quite budget friendly, or you can splurge and get a large, all-natural wood frame that will become an heirloom over time. Budget will not be a barrier to quality sleep.
10 Best Japanese Bed Frames Reviews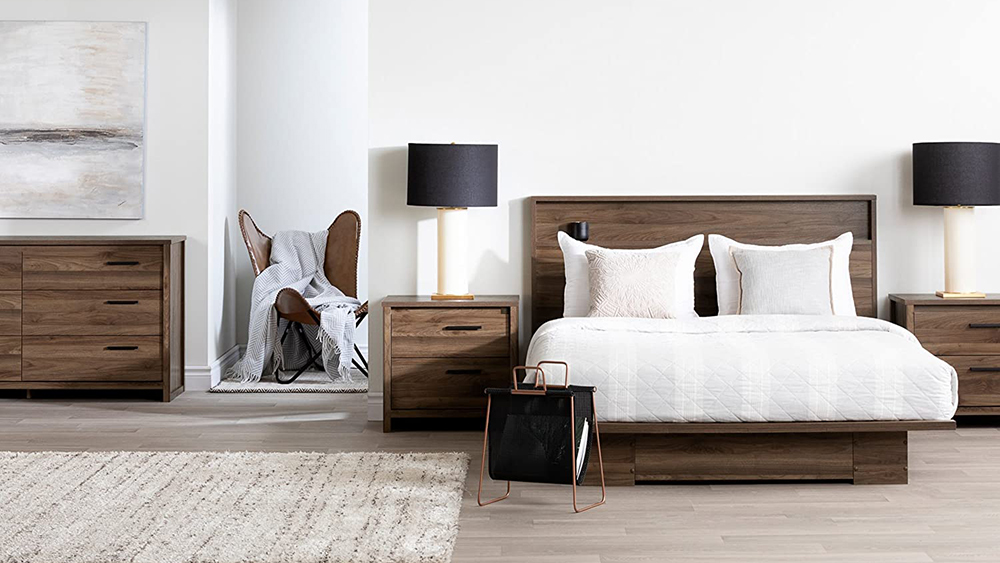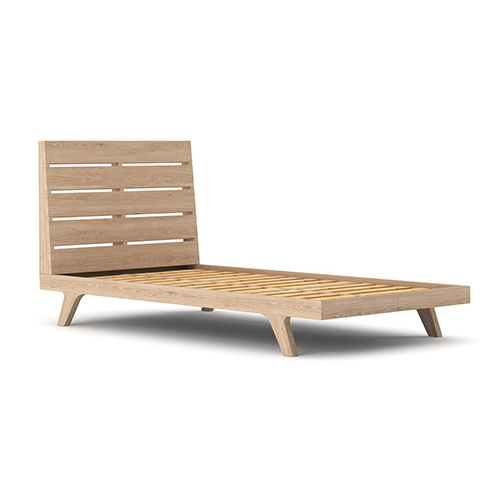 The light maple Palder Bed offers clean elegance, plenty of airflow, and natural charm. The slats are incorporated both in the mattress base and the headboard. The curved, slightly flared legs offer a lovely sense of mid-century grace. There is no headboard to this bed; the strength and clean lines of the maple slats stand alone.
Pros
Simple maple wood tone will work with almost any decor
The 10″ platform gives you some storage space if needed
The maple grain catches any stain or finish you choose
Cons
The headboard angle makes this bed rather deep and may take up more floor space than you can afford
The queen and king beds have center support that may make cleaning and storage tough
Do your best to get this delivered to the bedroom; this bed is quite heavy
The Solid Maple Palder Bed by Medley
Slightly angled headboard allows for leaning, reading, television viewing, and computer work.
No footboard gives this bed an open, airy look.
The slat construction base offers plenty of airflow to keep your mattress cool and comfy.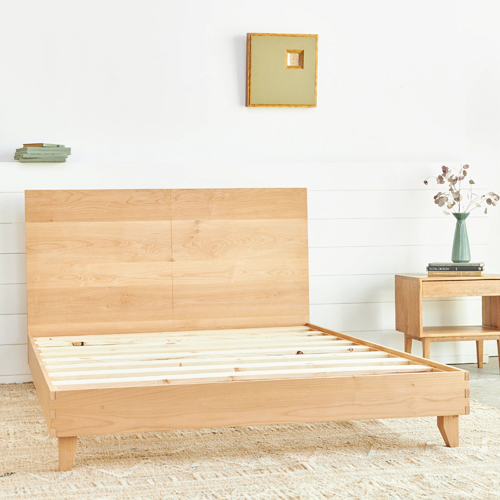 The City Bed by Avocado is a simple platform bed of extremely simple styling that features visible joinery. The slightly square off legs flair to the outside and offer excellent airflow. There is no headboard included with this version of the bed; the simple slatted platform stands alone. You can add a simple slab headboard to match the finish if you prefer. The platform features detailed grooves for the slats to lay in. These beds are designed to work with the Avocado mattress; the slat to opening ratio is nearly equal and may not fully support a basic foam mattress.


Pros
Plenty of clearance for a robot vacuum with flared feet for more room
Natural stains and finishes reduce toxic out-gassing in your home
No particle board or outgassing glues
Cons
The base of the mattress sticks out a bit and may bump the back of your leg as you get up
Easy assembly but may take two to get the finger joints lined up
The beech and Douglas fir lumber used to make this soaks up the stain on the end grain; consider the natural or blonde finish if you don't like a dark stain
The City Bed by Avocado
You can get this in blonde or brown. The finger joinery on the corners look great in either tone.
This bed is designed to move a great deal of air; the slat openings are quite large.
You can get an add-on drawer or small bookshelf to suit your needs.
The simple Solid Pine Wood Slatted Platform Bed Frame by EMOOR is an excellent option if you need a twin mattress support frame for a futon or a foam mattress. These slats are fairly close together and offer great support for any foam or non-spring mattress. Do take care in the assembly to add the slightly off-track support. The top and bottom legs tie directly into the log support rail while the center legs have a center block that accepts the center legs.
Pros
Very simple assembly with a small hex wrench
Space for storage with the taller legs
Designed for great airflow to protect a traditional futon; ideal for a foam mattress
Cons
Included instructions are in Japanese. Make sure you download the available pdf from the website
Be very careful about the center leg placement; avoid adding it to the side support rail
Make sure you lift, rather than push, this bed into place
Solid Pine Wood Slatted Platform Bed Frame by EMOOR
This bed comes with adjustable legs; you can leave it on the center supports, add short legs of 7 inches tall or add 12 inch legs for more clearance.
You can get this simple bed in plain finished pine, coffee-brown or retro brown for nearly any decor.
This weight will take over 400 pounds of weight.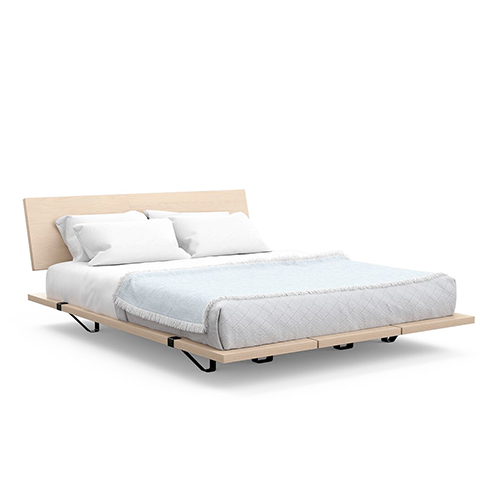 If you have a need for a large bed, The Bed by Floyd is a great choice. This bed is quite low to the ground and has an optional headboard. Other options include drawers that hang under the bed and roll out easily for storage. This bed is both modular and plywood. While the wood is sealed for durability, if you don't want the glues inherent in the production of plywood in your bedroom, this may not work.
Pros
This bed is easy to expand, add a headboard, or add a drawer
The wide platform makes it easy for little ones to get in and out of this bed
The wooden finish and metal framing look sharp
Cons
The wide platform can be hard on the back of your legs as you clear it when you get up
This bed sits low; tall people may struggle to get in and out
The drawer additions are very shallow
The Bed by Floyd
Instead of slats for airflow, this bed is built in modular panels that offer gaps for great airflow.
Once you open the frame pieces, you can easily expand this bed from a full to a queen to a king.
If you move a lot, this bed travels quite well.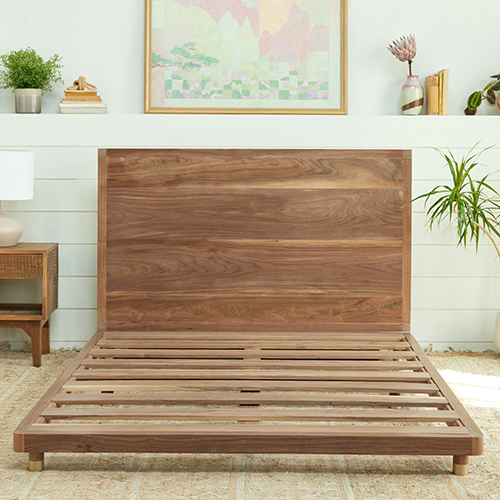 If you love a minimalistic look but love the look of wood, the Malibu Platform Bed by Avocado is a great choice. This low platform bed features 4 round visible legs with a mid-century ring of gold trim. The Malibu is built to support a tall Avocado mattress and would also be ideal for your box spring and mattress combination.
Pros
This platform bed is designed to keep your mattress elevated for airflow and stay unobtrusive. If you want a headboard, you can add it
The finish is non-VOC and will look great with simple cleaning
The round legs add a nice mid-century design touch
Cons
There's no access for storage under this bed and your robotic vacuum many not clear
If you want a headboard, you have to buy it when you buy the platform
The walnut lumber may take in stains inconsistently
The Malibu Platform Bed by Avocado
This platform bed frame can be easily put to use with your existing mattress and bedframe.
Slatted frame offers terrific support for an Avocado standalone or a hybrid mattress with a box spring; the slat ratio is quite open to keep moisture down and keep you cool.
Both walnut and maple finish are low-luster and quite elegant.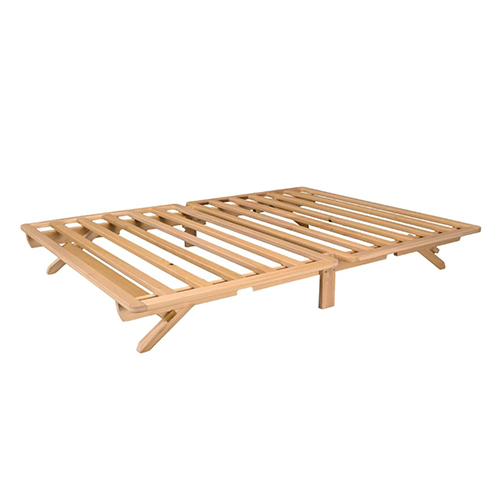 If you need a guest bed and don't want to deal with a rollaway, the Fold Platform Bed by KD Frames is a great choice. This pretty tulip poplar bed is quite easy to assemble and can fold up quite small if you don't need a full-time bed, though it is certainly sturdy enough to sleep on every night! The top and bottom legs of the bed are flared with angle cut feet for sturdy, squeak-free sleep.
Pros
Assembly instructions are very clear; cotter pins instead of bolts reduce the number of tools needed
When put together right, this bed is extremely sturdy. There are even dowel pins to keep it folded up!
There are just a few screws included to finish this assembly
Cons
The tulip poplar is unfinished; test cleaning products to reduce the risk of staining
There are ways to assemble this incorrectly. Follow the instructions
This platform is only 10 inches high. If you need storage, it may not work
Fold Platform Bed by KD Frames
This durable fold up frame is less than 9 inches thick.
The lumber is quite pretty and the light finish will work with many decors and themes.
The queen frame is just over 50 pounds; you get a lot of support per ounce with this bed.
If you love the look of a platform bed but need more storage, the Tao Platform Bed with Drawer by South Shore is an ideal choice. This bed is a solid platform with ventilation holes and a large drawer that pulls out from the center of the bed at the foot. There is a supporting center panel in the bed, but obviously no standing center support.
Pros
The ventilation holes will reduce your concerns about heat and moisture build-up
The finish of this bed is quite elegant and will work with most any decor
The assembly hardware is dark and unobtrusive
Cons
This bed is heavy; get it delivered to the room you plan to set up the bed
It will take two people to put together; one of them will need to have tools
The wide platform is a ridge that you will have to climb over every time you get up
Tao Platform Bed with Drawer by South Shore
This is a sharp looking bed and has an elegant dark walnut finish.
The drawer glides are quite sturdy and will stand the test of time.
This bed is made of veneered plywood; no warping to worry about over time.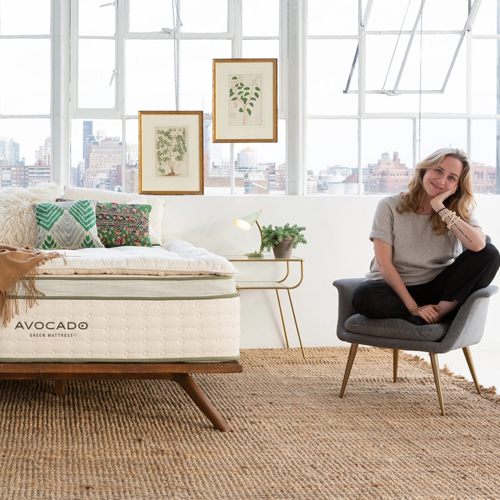 The cleverly flared legs of your Mid-Century Platform Bed by Avocado offer a great deal of style. This hearty slatted bed offers all the benefits of Avocado; this platform is toxin free and made of sustainably grown wood. There's a sturdy center support to reduce sag and squeak over time.
Pros
This bed comes with a ten year warranty for workmanship
The slats on this be are narrower than other Avocado frames in this listing; if you love your mattress, this one should work
Flared legs and clearance make this bed easy to clean around and under
Cons
Storage may be limited; the center support may get in the way
Assembly is simple but your old bed will not be hauled off
If you get a mattress with your frame, they may not arrive on the same day
Mid-Century Platform Bed by Avocado
This slatted bed is a sharp-looking addition to any decor.
This frame is quite lightweight; the California King frame offers great strength and weighs less than 140 pounds.
Each of these beds is unique; reclaimed wood items are always one of a kind pieces.
Those who love platform beds will adore the Freja Bed by Modway. You can get this with side mounting, floating nightstands. It also offers a padded headboard. The lustrous wood of the platform bed and nightstands gives this bed an incredibly elegant look. This is a platform bed; there are no legs and there is no clearance for storage if needed.
Pros
This bed is built to last. The wood tones are gorgeous
The hearty slat system will keep this bed stable for years to come
The padded headboard is an ideal spot for reading, computer use or television watching
Cons
Get this delivered to your bedroom; the total weight is about 250 pounds
This bed has a wide rim that you will have to climb over to get out of bed
There is no access under this bed; moisture may be an issue
Freja Bed by Modway
If you've got the room, this bed is an elegant, standalone piece.
There's a sturdy center support and slat system to hold your mattress; no box spring needed!
Floating side tables make it easy to clean along the edges of this bed.
If you're looking for a lightweight and easy to assemble Japanese be frame for a great price, the Justina Platform Bed Frame by Zinus is a great choice. This bed features classic round legs and a simple metal slat frame with a removable fabric cover. The assembly is quite simple and the whole frame can be knocked together with a mallet. Additionally, the assembly steps are numbered to avoid getting stuck. Once the slats are in place, you apply the cover and can enjoy support for your foam, latex or spring mattress.
Pros
Fabric cover looks sharp and softens the edge of the bed when you get up
No special tools needed to put this together
You can put this together all on your own and the videos are quite instructive
Cons
If you want to eventually add a headboard, there are no attachment holes
Getting the fabric cover on can be challenging
Some find that this bed squeaks
Justina Platform Bed Frame by Zinus
Lovely round legs give this bed a very clean look.
Fabric cover loops easily over the frame to provide a tidy appearance and give more support to your mattress.
Larger frames offer a row of center supports for squeak free sleep!
Types of Japanese Bed Frames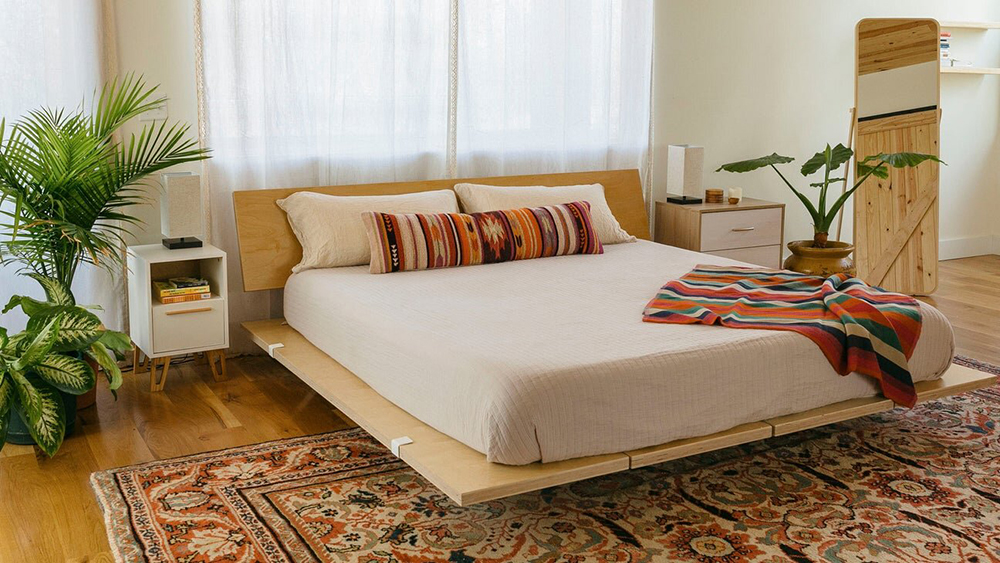 Slatted or Tatami
For single sleepers, a simple slatted tatami bed frame may be all that you need. For those who love a firm mattress, a slatted frame with a hearty futon mattress may be all that you need.
Low or Closed Platform
A platform bed or a low, legged bed offer great simplicity as you look across the real estate of your sleeping space. You can enjoy quality sleep on a very plush mattress without worrying about a bed that requires a ladder for your family.
Foldable Futon
Traditional Japanese households have smaller living spaces than Americans are accustomed to. The ability to fold up a futon bed frame and make up a sofa or lounge during the day adds greatly to the livability of a small house.
Things to Consider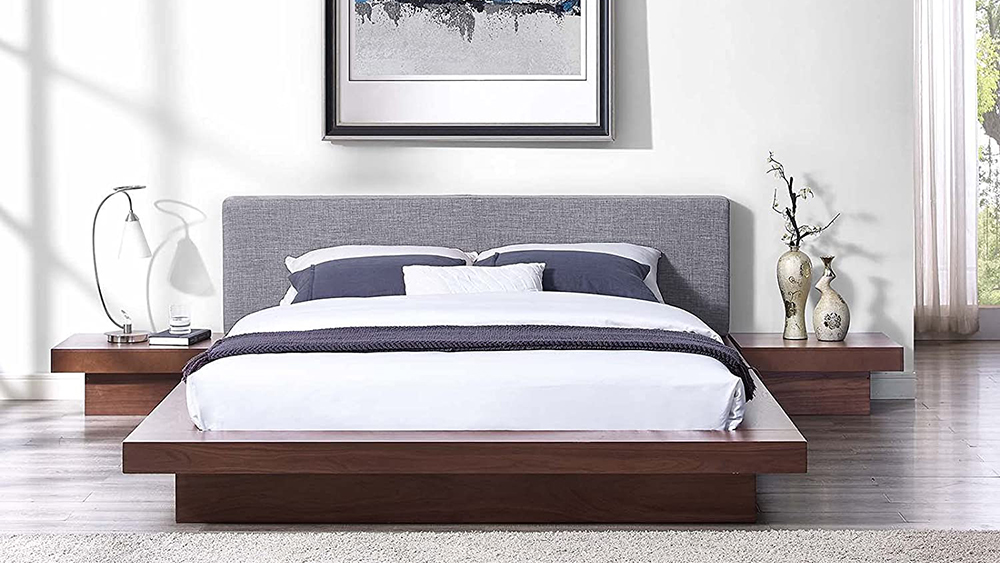 Comfort
A Japanese style bed frame is an excellent addition to a simple decor. If you have existing bedroom pieces and just need a bed, many of the beds in this review will suit your needs thanks to the simple wood tones and basic designs.
Size
A Japanese platform bed offers a lot of flexibility. If you need a tall twin, you can find it. If you need a very low king-sized bed for your whole family, you can find that too.
Height
Most Japanese bed frames are fairly low, and as a general rule, the larger the bed, the lower the frame. If you need storage under your platform bed, be prepared to work around a center support.
Price
Most Japanese platform beds are made of extremely high quality materials. You can expect to pay more for most of these beds than you would for a simple metal frame, but you can enjoy more solid construction and a much longer lasting bed from your Japanese bed frame.
Craftsmanship
You can enjoy the quality of visible Japanese joinery bed frame with many of these bed frames. The visible detail on many of these bed frames will be eye-catching for years to come.
Elegance, Calm and Rest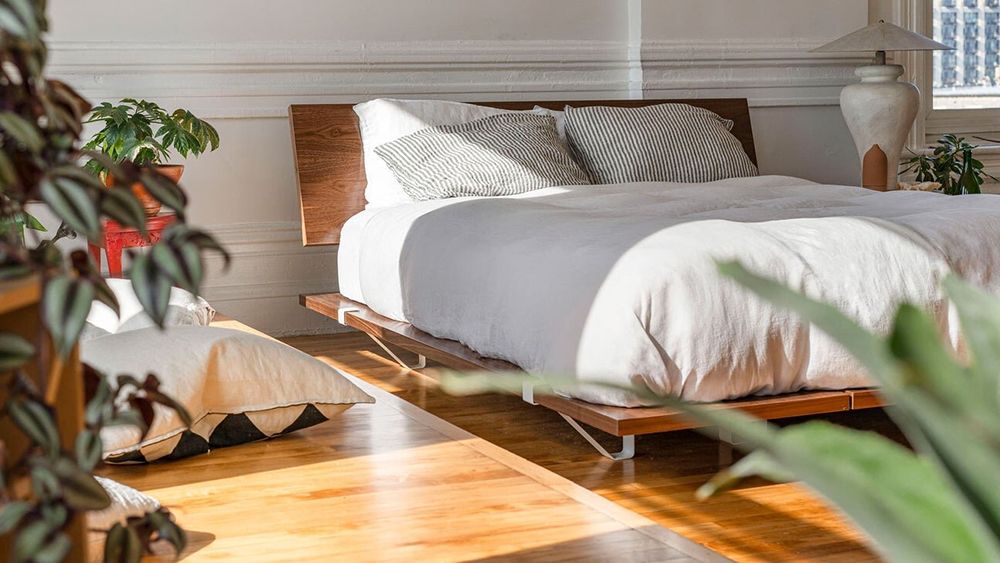 The Palder Bed wins this review! The styling of this bed suits several styles. The flared legs add a mid-century touch while the slatted back has a rustic look that would work well with cabin or country style. Finally, this whole bed frame is designed to let air move. No matter your favorite mattress, it will stay aerated and cool thanks to the generous slatted styling.
The Solid Maple Palder Bed by Medley