Ready to switch away from your standard box spring? Consider low profile box springs as an alternative. The low profile box spring is bedding's latest trend since it creates a high-quality design with a wooden frame shorter than what you get on a standard box spring.
Choosing the right one is just as important as selecting the right top mattress. In this review, we will go through the ins and outs of low profile box springs and show you which ones we like the best – and tell you why.
What Is a Low Profile Box Spring?
Low profile box springs are designed with a wooden frame that is shorter than that of a traditional box spring. Inside, you get metal rods installed for additional support. For external durability, the outer materials that cover the entire bed are thick and well put together.
How It Differs From a Standard Box Spring?
A standard box spring typically measures in at 9 inches tall. A low profile box spring model will come in at about 5 to 5.5 inches in height. They are both aesthetically pleasing and made to endure a lot of wear and tear, some even more so than your traditional box spring.
What It Is Used For?
Like a regular box spring, this low profile box spring version is essentially the foundation of your bed. It is what supports the top mattress and lends extra stability and comfort. This can additionally accommodate memory foam, latex foam, and hybrid mattresses. Not only does it act as a low profile foundation, but it keeps your top mattress from getting dirt and debris on it from the floor.
Why Buy One?
Buying low profile foundation helps support your top mattress and keep it from getting all grimy. Whether or not you use any sort of frame with it is up to you, but they can work with standard frames and platform beds. Buying one enhances overall comfort and can help you get a better night's rest.
Low Profile Box Spring Reviews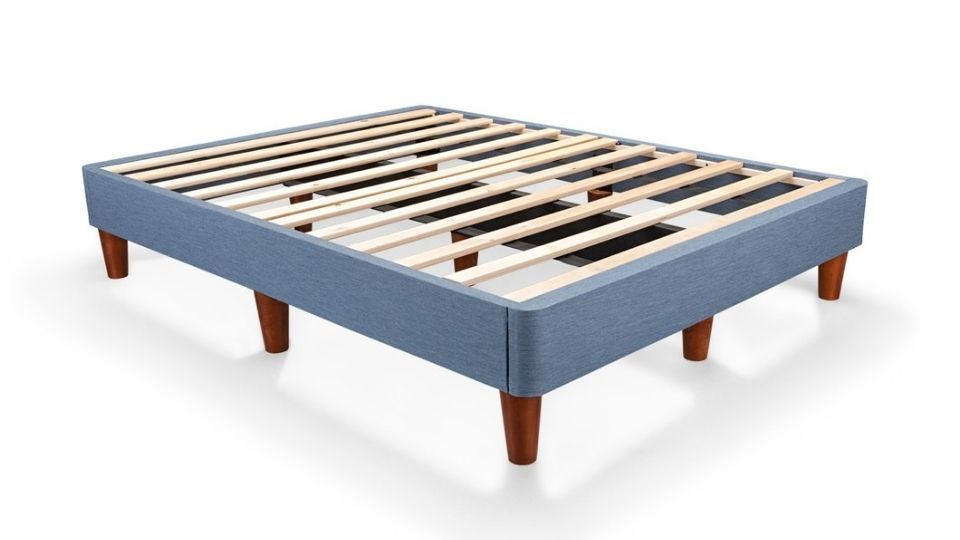 Winkbeds' Platform Low Profile Foundation lands at the top of our list for a few reasons. The biggest reason? This low profile box spring is actually quite easy to assemble. Most adults should have no problem getting this platform foundation together, as it has relatively few parts and is lightweight.

Its frame is made from solid Birchwood material and can be detached whenever you feel like changing up the bed's appearance. Since the wooden slats are fitted so closely together, the platform can accommodate quite a few different types of mattresses. You can plop down on the bed without these well-secured slats shifting around at all.

The upholstered fabric portion pairs well with different bedding and bedroom décor. Overall, the Winkbeds Platform Foundation is highly adaptable and chic in its design.
Pros
No tools needed for assembly
Sizes are Twin, Twin XL, Full, Queen, King, Cal King
Warranty coverage for 25 years
Durable wooden slats
Wood sourced in the USA
Cons
Packaging and shipping might leave marks on the birchwood
Might not feel supportive enough to some users
Platform Foundation by Winkbeds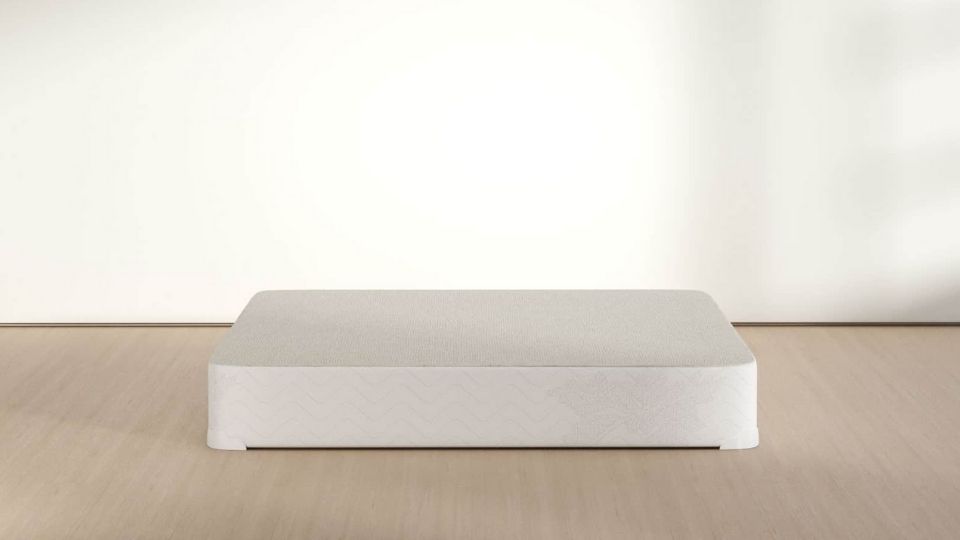 Natural Form's Natural Foundation is available in two different sizes: 5 inches or 9 inches in height. Therefore, you get to pick the height that will work best for you. Some people do just fine with shorter box springs while others need those few extra inches to help with stiff joints or a bad back.

If you are looking for a low profile box spring queen size, then the Natural Foundation offers it. You can get anything ranging in size from Twin to Split Cal King. The design is made from high quality wood and forms slats to promote durability and stability. The fabric also feels like it is made from high quality material and won't easily fray over time.

Natural Form's warranty is only good for one year, but there are some financing options available in case you cannot pay the full price outright. All shipping and returns are free within the United States.
Pros
Free shipping and returns within the US
High quality wood and fabric
Sizes range from Twin to Split King Cal
Two height options to choose from
Cons
Warranty is only good for one year
Foundations will not work with Natural Form's adjustable bases
Natural Foundation by Natural Form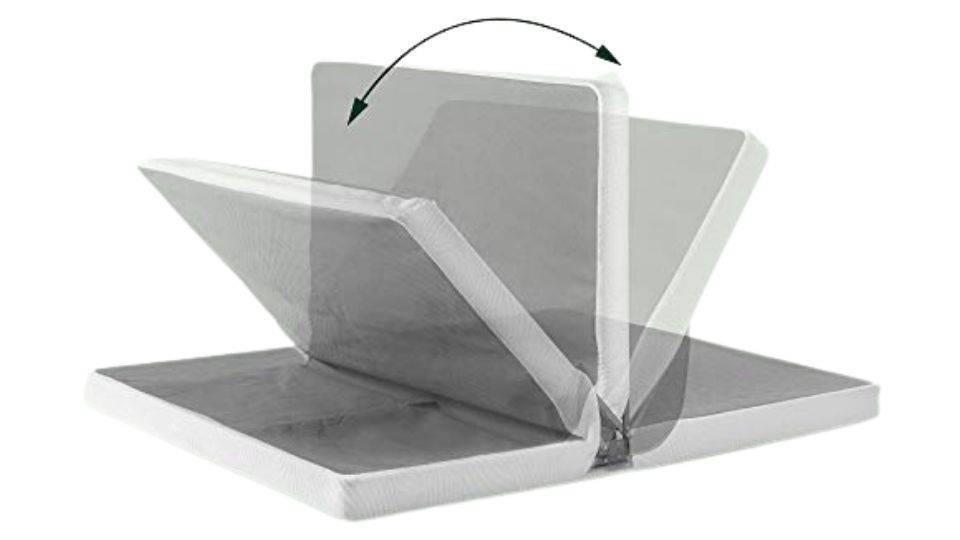 Looking for something with no assembly required? The ZINUS No Assembly Metal Box Spring 4 Inch has a design that lets you simply unfold and unwind. There are absolutely no tools required since this bi-fold box spring literally just needs to be unboxed, unfolded, and zipped up before the top mattress is placed over it.

You can also take your pick from three profiles. If the low profile box spring 4 inch design doesn't suit you, there are also the 7.5- and 9-inch options to choose between. Sizes vary from Twin to California King. The Twin and Twin XL are able to support up to 250 pounds of weight while the Queen, King, and Cal King can all support up to 500 pounds. The King and Cal King are both split designs.

Warranty coverage lasts for five years, and the prices are lower than some of the ZINUS' competitors. The sturdy steel inner frame should hold out for a long time. This low profile foundation can accompany any type of top mattress, whether it is made from memory foam, springs, or is a hybrid mattress.
Pros
No assembly required - just unfold and zip up
Sizes range from Twin to Cal King
Three height options are available
5-year warranty coverage
Cons
Some Amazon reviewers state that the wireframing is weak
Squeaking noises occur when moving around on the bed
ZINUS No Assembly Metal Box Spring 4 Inch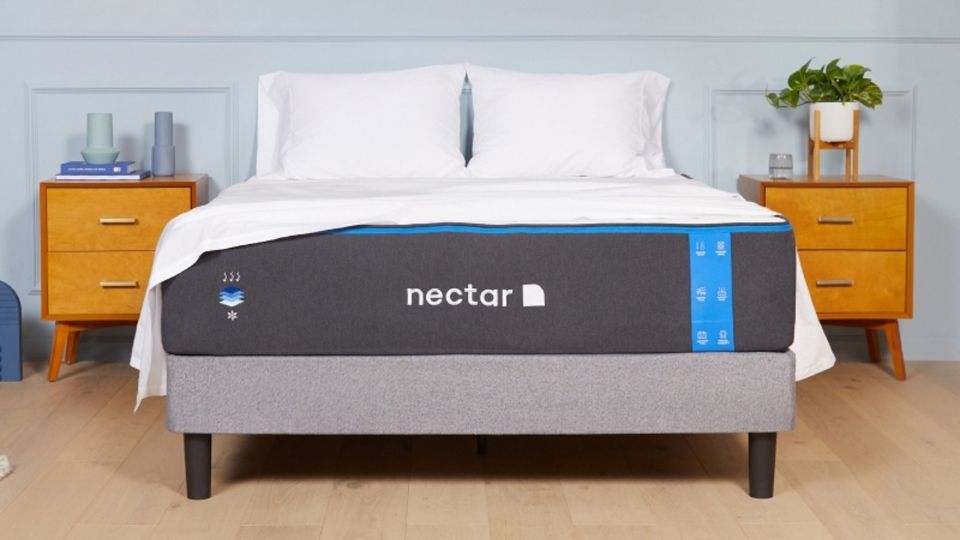 Want to give a low profile queen box spring a try without making a full commitment right of the bat? Nectar offers a 50-night at-home trial of their Mattress Foundation. If you end up not liking this foundation, you can choose to ship it back. And all shipping and returns are free.

This foundation is easy to put together and is manufactured from solid spruce and pine, both of which are known to be long-lasting and are naturally sourced. Also, this mattress is easy to assemble and move around as needed. The clip and lock frame is easy to use and allows you to put it together in just a few minutes. There are optional legs that can be attached if you need a few extra inches of height. You will not need any tools to attach them either.

Slats are spaced inside this low profile box spring so that you get the maximum amount of support. Customers report that this bed feels sturdy. However, some report that the optional legs bend despite the bed being well beneath the weight limit.
Pros
Strong, naturally sourced pine and spruce wood material
Easy assembly and movement
50-night at-home trial
Legs are optional
Cons
Legs might bend while the bed is under the weight limit
Legs might leave scratches on hardwood floors
The Nectar Mattress Foundation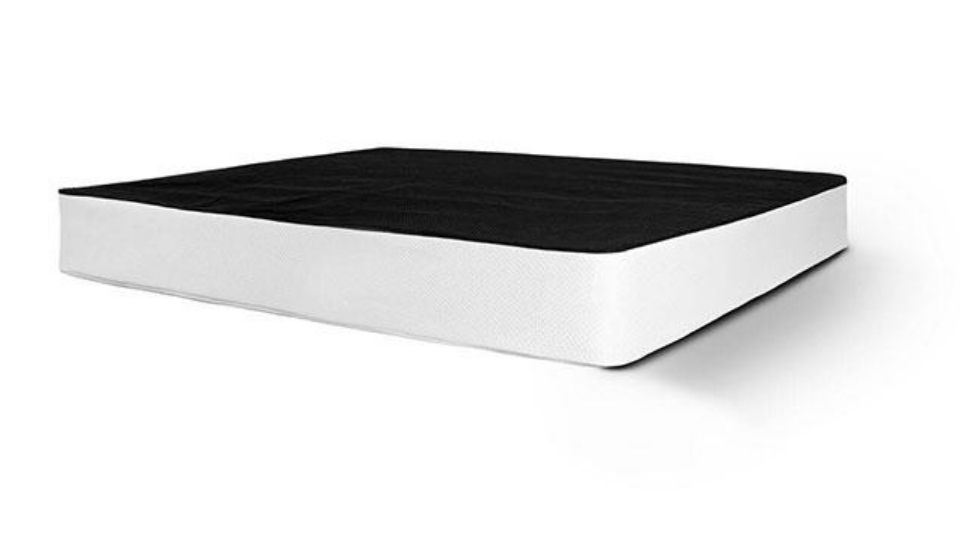 If cost is an issue for you, the Ascension Bi-Fold Foundation offers budget-friendly options on its Bi-Fold Foundation. Inside of it is a heavy-duty tubular steel design that amplifies support in the center and helps prevent the edges from sagging. This foundation is able to be used with any type of bed, combining the traditional look and comfort of a box spring with a simple zip-off cover.

Due to its design, this has the bi-fold capability and makes setting up quite effortless. You will not need any tools to put it together, and you can easily move this foundation from room to room and floor-to-floor. And, of course, it eliminates the need for a box spring.

The height on this foundation is 8 inches, which isn't exactly low profile but is low enough for most customers. Also, take note that the company offers a lengthy 120-night in-home trial. Don't like it? Just ship it on back.
Pros
120-night in-home trial period
The bi-fold design makes for easy assembly
Easy to maneuver
Emphasis on supporting the center of the bed as well as the edges
Cons
Only offered in a black-and-white color combination
Customers report that customer service is hard to connect with regarding returns
ASCENSION BI-FOLD FOUNDATION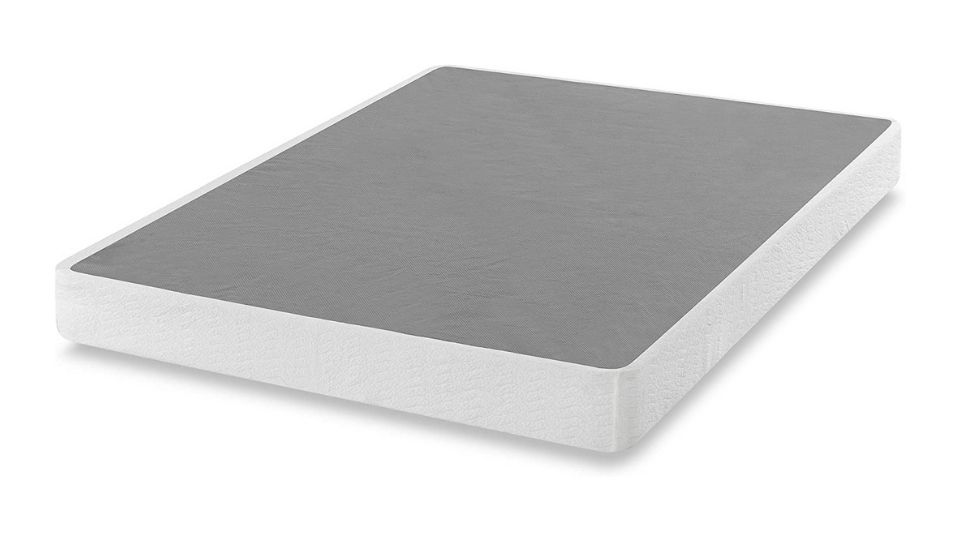 Looking for a low profile box spring king size that can support up to 700 pounds? The Zinus Armita 5 Inch Low Profile Smart Box Spring might be a good fit due to its short stature. Of course, if that is too low, you can opt for the 7- or 9-inch version.

Unlike a traditional box spring, the Zinus Armita has a smart box spring that is crafted from solid steel. This design is highly practical and seems quite sturdy. Its exterior is made from no-slip fabric, which means that your top mattress won't go sliding around when you move.

While this box spring does not require a handyman to come in and set it up, it can be a little more time-consuming than some of the other items on this list. Some customers have had their Armitas come with missing bolts, nuts, and instructions. The company did not simply send the buyers the parts needed. Instead, buyers had to re-package everything and ship it back, causing extra inconvenience.
Pros
Three height options to choose from
No-slip fabric covers the exterior
Accommodates mattresses sized Twin through Cal King
Cons
More time-consuming to assemble than others
The company makes customers re-package and return items over a few missing tools/instructions
Zinus Armita 5 Inch Low Profile Smart Box Spring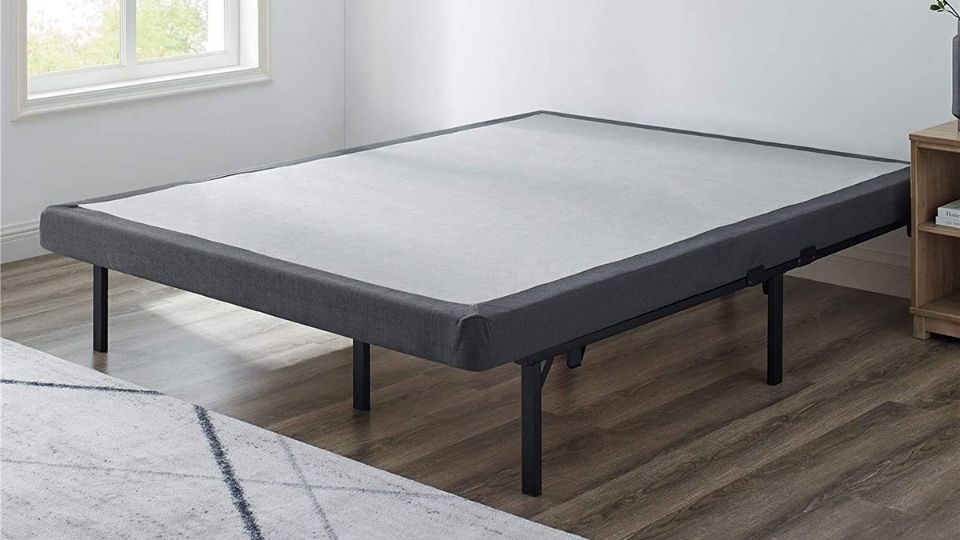 The Classic Brands Instant Foundation Low Profile is made from a natural wood foundation and has a design like a thin box spring. Its 12 solid wood slats are each spaced 3.4 inches apart and are held together by a sturdy strap.

This 4-inch, low profile design is noise-free since it is made from wood and not steel. This makes it a good fit for higher-profile mattresses. The durable pinewood structure is able to support up to 550 pounds on the Queen size. A neutral poly cover tightly envelops the wooden structure and attaches via Velcro in order to prevent any slippage. Since the tone is neutral, it works well with any mattress.

Assembly is easy and is even outlined in the product description as well as the included paper instructions. All hardware is provided. Also, if you're concerned about where the product is made, it comes from the USA - in particular, Amish Country, Pennsylvania. And the wood is all naturally sourced solid spruce, so you know you are getting some quality wood.
Pros
Sourced and manufactured in the USA
Slender profile works well for high profile mattresses
Extra slats can be added
Good quality materials
Cons
Not ideal for use with a memory foam mattress
Some pieces might not fit together
Classic Brands Instant Foundation Low Profile
Things to Consider Before Buying a Low Profile Box Spring
Bedroom Space
How much space do you have for this type of box spring? Think about whether your room can accommodate a low profile box spring king or queen mattress. While you might be tempted to get something bigger, your room might not be spacious enough for it. Plus you don't get much (if any) under-bed storage. If that is something you need, low profile box springs might not even be right for you. But, if you want your room to have a more open look, one can work well for you.
The Bed Frame
A sturdily built bed frame is essential for one of these low profile box springs. Setting them on the floor isn't really ideal since this not only dirties them but places you really, really low to the ground. Some companies do sell metal frames to accommodate their box springs while others offer optional legs on their low profile foundations.
Support and Comfort
Since this makes for a shorter bed, taller sleepers might not feel terribly comfortable getting in and out of it. Shorter folks will fare a lot better with a bed so low to the ground. Also consider how much support you need since these low profile box springs do not always lend enough of it to people with bad backs or joints.
Mattress Type
Low profile box springs can really only accommodate innerspring mattresses. If your top mattress is a hybrid or a memory foam mattress, then you will need to consider getting a different type of foundation. Pairing a low profile with memory foam or a hybrid mattress can lead to sagging and foam damage.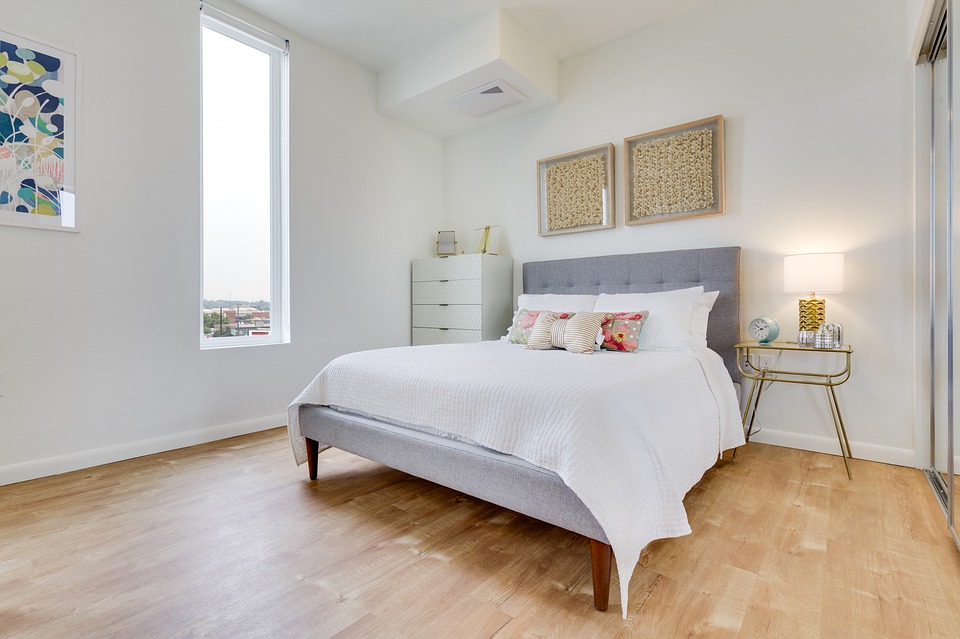 Pros and Cons of Low Profile Box Spring
Pros
Assembly is easy and quick, requiring only a few tools (like bolts and screws)
It places your bed at a lower height
The lightweight design makes moving easier
Getting in and out of bed is simpler, making it ideal for kids, shorter adults, the elderly, and folks with limited mobility
A lot of motion isolation
More even weight distribution
Works well within tight interior spaces
Cons
Not all sleepers want to be that close to the floor
They can feel uncomfortable and stiff at first since a break-in period is required
Those with joint issues might not do well in them
Taller people might not feel as comfortable getting out of bed
Not as much support as a standard box spring
Different Types of Low Profile Box Springs
Metal Box Spring
A metal box spring is the most common type of box spring out there. Metal alloys and steel are commonly used in its construction, which lends to its lightweight design (as the metal tubes have hollowed-out structures). Steel box springs can last quite a while when they are properly designed by the manufacturer. Since their slats are relatively thin, they allow for supple airflow.
The drawbacks? They're squeaky and only get squeakier with age. If the bolts aren't fully secured during assembly, they'll be even squeakier. Also, the assembly itself is usually quite detailed and, therefore, rather time-consuming.
Wooden Box Spring
A wooden low profile box spring has a lot less squeak (but can still be a little noisy if not pieced together properly). It is also relatively little in the way of assembly. You just get the box spring as a single piece and put it wherever you want. The drawback to that is they can be harder to move around.
Durability varies based upon the quality of the wood, and the price sometimes reflects this. Cheaper isn't always better here. Do your research, read a bunch of consumer reviews, then make your decision.
Combo Box Spring
The combo box spring comes with wooden slats and a metal bed frame. It does the best job at providing balanced comfort since the steel makes edges sturdy while the adjustable wooden slats stop sagging and adjust to the weight load better.
The problem here is that friction gets generated between where the wood and steel meet up, which can lead to some noise production.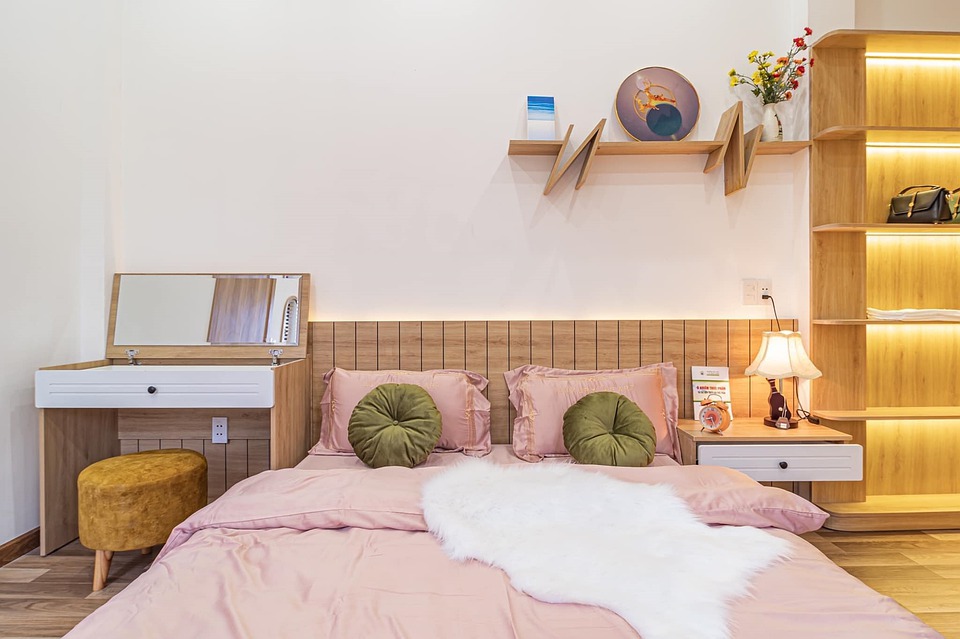 FAQ
What is a low profile box spring used for?

Low profile box springs are used as alternatives for people who need their bed to be lower to the ground, making them ideal for shorter individuals.

Do I need a box spring?

You do not need a regular box spring, but having a type of box spring beneath your mattress lends extra comfort and support.

Low profile box spring vs standard box spring?

The low profile box spring is lower to the ground, but the standard box spring is typically a bit cheaper and leaves room for under-bed storage.

Does a low profile box spring have enough support?

The low profile box spring offers support, but it might not be enough for people with spine and joint pain.

How high is a low-profile box spring?

 A low-profile box spring is typically about 4 or 5 inches in height, not to exceed 6 inches.

Is it bad to not use a box spring?

Not using a box spring can lead to mattress degradation and a lack of support. However, some mattresses do not require you to get a box spring.

How often do I need to replace my box spring?

Box springs should be replaced every eight to 10 years. If there are major defects (like sagging), then you need to replace it much sooner than that.

How many inches is a low profile box spring?

A low profile box spring usually measures in height between 4 and 5 inches whereas a standard profile is more along the lines of 7 inches.

Do you need a box spring with a memory foam mattress?

If you have a platform frame, then you do not need a box spring to go with a memory foam mattress.
Over To You
Low-profile box springs are, much like their regular box spring counterparts, all about build quality. Some of the cheaper ones won't hold up that well or provide enough support, but those that are solidly constructed can be great alternatives.
Platform Foundation by Winkbeds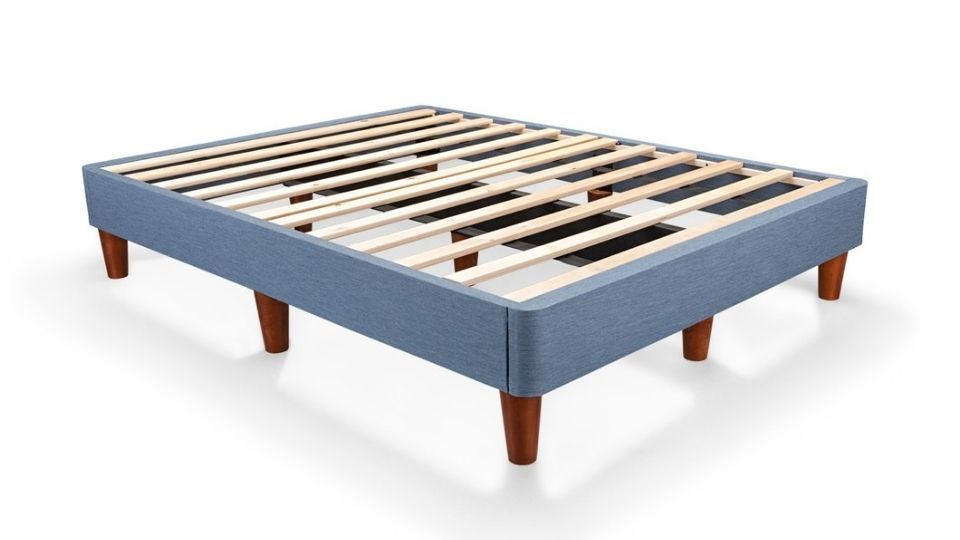 That is why we picked the Winkbeds Platform Foundation as our top choice. It takes almost no time at all to assemble, has sturdy wooden slats that can be adjusted, and is made from Birchwood that is sourced in the USA.
This platform foundation pairs well with various bedroom décor and feels comfy enough for a good eight hours' rest. And, with a generous 25-year warranty covering it, you can rest assured that if anything does go wrong with it, Winkbeds has your back (or stomach, or side – whichever you sleep on).