If you want to feel at ease and comfortable at night, the quality of your bed is important to give attention to as you put your bed together. The quality of your queen loft bed will directly influence the quality of your sleep. If you want to find the right loft bed queen size that fits your needs, there are a few products worth investing in because of their excellent construction and quality materials.
What is Queen Size Loft Bed?
A queen size loft bed sits high off of the ground and has space underneath it. This type of bed is often used in small spaces or rooms to make more space for other furniture items. This item can fit a desk or entertainment center underneath and can fit taller adults.
Queen size loft beds have a modern and contemporary design, which allows them to look stylish in any type of room, dorm, or apartment. They also have a small ladder that makes it easy to access the bed from the ground.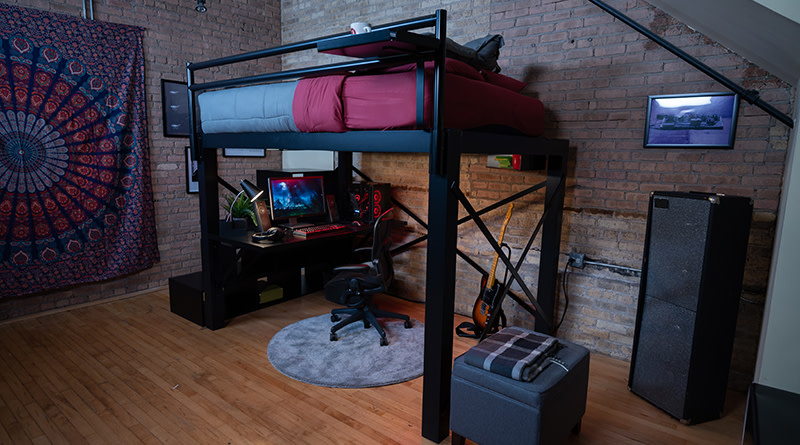 Why Buy a Queen Loft Bed?
There are many advantages that come with buying a loft bed for adults. They don't take up a lot of floor space, which makes them fit in small rooms and settings. The size of the mattress can also allow two smaller adults to sleep comfortably.
A queen size loft bed is also available in a variety of designs and finishes. This makes it easier for consumers to select a style that complements the interior design of their apartment or condo.
The pieces also make it fairly easy to assemble while following the directions. You can take it apart if you choose to relocate and move to a new home to ensure you can continue to use the furniture item. For teens, they're also a fun and unique type of bed to enjoy using and can create a cool and trendy look in bedrooms.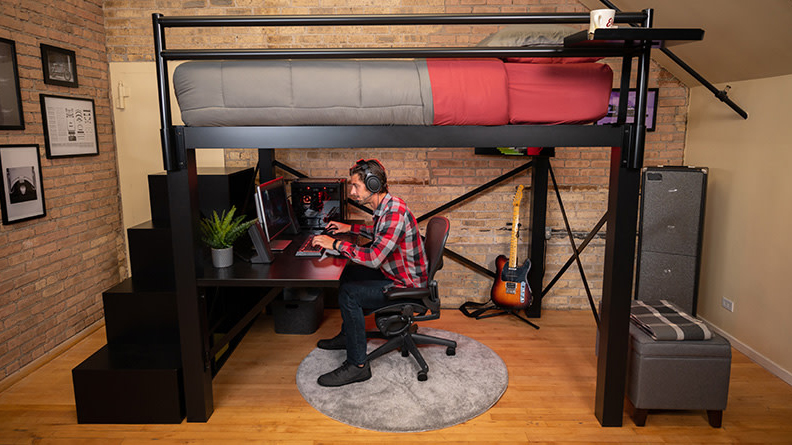 Benefits of Queen Loft Bed
The benefits of a queen size loft bed include:
Fits taller teenagers and adults
Trendy and cool design
Space-saving design allows it to fit in small spaces
Allows for additional furniture to be placed underneath the bed
Sturdy and durable construction
Best Queen Size Loft Beds Reviews
This queen loft bed frame by Francis Lofts & Bunk features thick and wide parts, making it look stylish and trendy. The bed frees up extra floor space in your apartment or bedroom and can fit up to two adults. It's constructed of high-quality aluminum, which allows it to remain stable and a lot sturdier. It has a weight capacity of 2,000 pounds and can support up to two adults. This adult loft bed also has an x-frame feature that helps support the weight of the sleeper.

The frame is available in five different finishes, making it easy to pair well with different types of decor. It even features a detachable ladder, which is easy to clip securely to the bed frame in seconds. The mature style makes it ideal to use for all types of adults and doesn't go out of style in the coming years.

Pros
Aluminum parts make it studier than similar brands
Each bed is built to order
Doesn't sway or move while it's in use
Sturdy rails on the side of the bed offer extra safety while sleeping
Comes with a metal bookshelf at the top for storing personal belongings
Cons
Takes a lot of time to assemble due to the different parts and pieces
Slats underneath the mattress are made out of wood
Some of the assembly process requires drilling your own holes into the parts
The finish can come off of some of the pieces on the steps
Queen Size Adult Loft Bed by Francis Lofts & Bunk
This queen size loft bed has solid aluminum construction and doesn't wobble or shake.
The clearance underneath the bed makes it easy to use the space for different types of purposes.
The steps also make it easy to climb up and access the bed.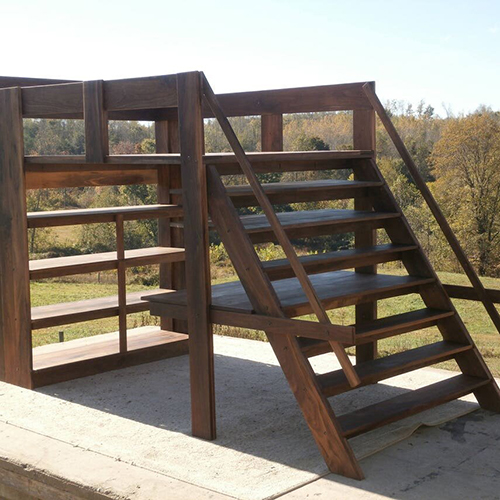 With a solid wood frame, this loft bed for adults is handcrafted in Appalachia and is constructed out of solid hardwood from maple, oak, and cheery. These wood options are some of the most durable wood materials for long-term use. It doesn't feature any veneers and has a wide range of dyes available.

This bed is built with 57 inches of head clearance underneath, making it easy to perform more functions and activities. Customers can request any dimensions to create a specific size based on their needs. It's also built to support up to two adults and is stable enough not to shift or move while climbing the steps.

The steps on this loft bed for adults are wide and short, making it easy to access the bed. The rails aren't parallel to the stairs to ensure children cause the steps, if necessary.
Pros
Customized to size
Comes with easy assembly instructions for building it
All of the pieces ship flat to avoid damage while in transit
Heavy, solid, and sturdy
Cons
Steps cause it to take up more space than other brands
Takes time to assemble all of the pieces
Queen Size Loft Bed by Solid Hardwood
This loft bed comes with a natural finish that is rustic.
This bedframe has a corner post and will suit most any bedroom decor and existing furnishings.
This frame is tall enough to allow you some storage under the bed.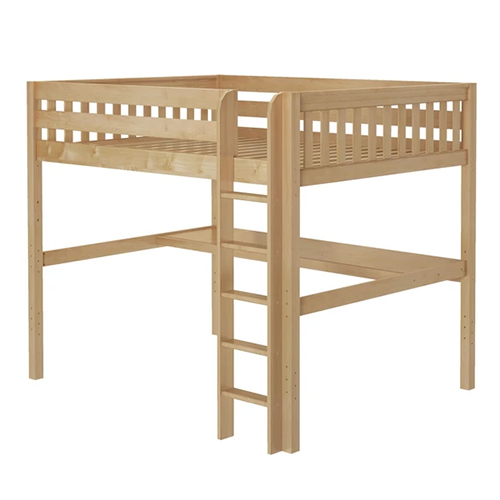 These queen size loft beds by MatrixKids are built with an angled ladder and are useful for both sleeping and studying. A sturdy wood desk is built into the space underneath the bed to free up more floor space in the room. The desk matches the bed and is easy to attach during the assembly process. If it's no longer in use, it can detach if you want to use the space for other purposes. It has over four feet of clearance under the bed, allowing tall teenagers to sit comfortably without bumping their heads.

The Queen Size Loft Beds by MatrixKids are available in three finishes and have optional storage drawers with the desk. The queen size of the bed makes it large enough to accommodate children and teens as they grow and allows them to stretch out while sleeping our lounging.
Pros
Clean and minimal design
White hand rail on the ladder makes the bed easier and safer to access
Supports up to 800 pounds
Cons
May not be large enough for taller adults
Doesn't have as large or tall of rails around the bed as similar brands
Queen Size Loft Beds by MatrixKids
These queen size bunk beds come with patented rock locks for extra stability.
The ladder can be assembled on the left or right side of the bed.
It's constructed of solid knot-free premium wood.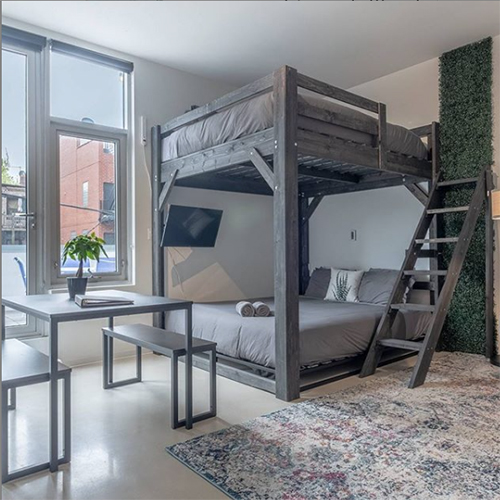 The Queen Size Loft Bed by Chicago Loft Bed Shop is made of construction pine and is individually spot sanded and inspected. Each bed offers a high level of stability because it features a four-corner post L-shaped design. The routered edges make the bed feel like upscale furniture.

The bed features pre-drilled holes and comes with all of the necessary bolts and nuts for a complete assembly process. Non-toxic latex paint is also used to ensure the wood grain is visible on each individual part.
Pros
Larger and thicker wood pieces
Solid construction doesn't allow bed to wobble
High ground clearance to allow tall adults to sit comfortably underenath
You can select the ladder placement and height
Cons
Ladders don't feature rails
Appears more homemade than other brands
Queen Size Loft Bed by Chicago Loft Bed Shop
Each piece is labeled, and detailed instructions are included in the packaging.
The latex paint is applied by hand to each piece of wood.
The ladder can be placed in a variety of spots to access the bed.
The Queen Loft Bed with Storage Shelves by SANON is constructed of metal and has a clean finish. It comes with a horizontal headboard and has a sturdy metal frame. Brown wood accent pieces create a modern touch to the bed and allow it to look trendy.

The integrated ladder has a clean design and doesn't take up additional floor space. The full-length guardrails around the bed offer added safety.
Pros
Trendy and edgy design
Takes up less space than similar products
Cons
Parts aren't large and sturdy
Included desk doesn't have a lot of tabletop space
Queen Loft Bed with Storage Shelves by SANON
This queen loft bed with desk has secured metal slats to support more weight.
A small desk is present under the bed.
A shelf is also built next to the desk for storing books and personal items.
Available Types of Loft Beds for Adults
Wood Loft Beds
Wood loft beds are constructed with solid wood materials and have different types of finishes. They have a traditional and rustic design.
Metal Loft Beds
Metal loft beds feature aluminum materials and can hold up well to moisture in the air without changing shape. They have lightweight designs and don't scratch or rust because of the powder-coat that is present on the different parts.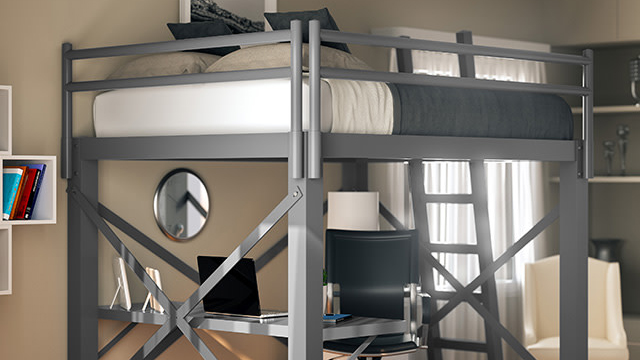 Open Space Loft Beds
Open space loft beds have a lot of ground clearance to allow the consumer to store another bed underneath or place a desk on the floor for a versatile design. These types of beds occasionally come with a built-in desk, shelves, or storage space where you can keep your personal belongings. Some of the desks even feature drawers where you can stay organized and easily access your supplies.
Things to Consider Before Buying a Queen Loft Bed
Comfort
You'll need to test out the comfort of the queen loft bed to ensure you can sleep well and don't wake up with aches and pains. The comfort you experience is influenced by the slats underneath. It's also necessary to look into the design of the bed and if it requires a box spring, which can offer a higher level of comfort.
Price
The price of each loft bed is one of the main factors to consider to ensure it fits within your price range. The materials and design of the furniture influence the overall cost. You should also consider tax that will be added to the price when you head to the checkout. It's also necessary to look into a warranty that may come with the product to ensure your investment is protected if any defects are present or develop in the future.
Size
You'll need to review the dimensions of each loft bed to ensure it will fit in your personal space. Research the height of the product to ensure it gives you enough space to lay down comfortably without sleeping too close to the ceiling in your room. The size should allow you to sleep comfortably an have enough space under the bed for for different activities without feeling cramped.
Design
The style of the queen size loft bed should complement the other furniture you have on display in the room. This will allow it to blend in well with the surroundings without sticking out. There are a variety of finishes available, whether you choose a metal or wood bed, to ensure the furniture matches other items on display in your space.
Features
Consider the different features that come with your new loft bed to ensure it's accommodating to your lifestyle. You may need a product with a built-in desk underneath or large steps to ensure your small pet can also safely access the bed. Some beds even come with shelves to make it easy to reach for your items.
FAQ
Is there such a thing as a queen loft bed?

These loft beds are similar to bunk beds but come with a queen bed for more space to sleep at night. These types of beds can sleep up to two people.

Are loft beds safe?

Loft beds are designed to be safe to use when the right materials are used, and they have a sturdy design.

Can you fit a queen mattress under a loft bed?

Yes, you can fit a queen mattress under a loft bed if a built-in desk is not present underneath.

How much weight can a queen size loft bed hold?

Most queen size loft beds can support 800 to 2,000 pounds, depending on the quality of the construction and their size.

How much clearance does a loft bed need?

Loft beds require an average of 57 inches of clearance to ensure adults can sit underneath without bumping their heads.

How do you strengthen a loft bed?

You can strengthen a loft bed by reducing the humidity in the room to protect the wood parts from damage.

Are metal bunk beds better than wood?

Metal bunk beds are considered to be safer than wood because they have more longevity and don't warp or lose shape over time.
Start Sleeping Comfortably on a New Queen Size Loft Bed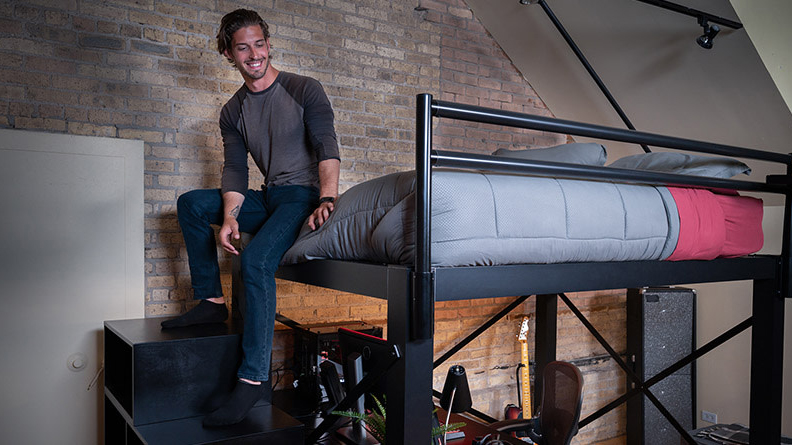 If you want to select a quality queen size loft bed, the Queen Size Adult Loft Bed by Francis Lofts & Bunk is the best option. This product has solid construction and remains stable with heavy use. It is also capable of supporting more weight and accommodating taller sleepers with its size.
Queen Size Adult Loft Bed by Francis Lofts & Bunk
The space underneath the bed doesn't feature a desk or any features, which allows consumers to have more options with how they plan to use it in their room or apartment. It can also support up to 2,000 pounds, making it sturdier than most brands in the industry.