A bedroom should be your own personal oasis where you can find peace and relaxation. Styling a bedroom is something many people take pride in, and with good reason. Personalising your room with your favourite colours, ornaments, and accessories will ensure you have a calming retreat to enjoy every night when you go to bed. We've written this article to guide you through how to style your own bedroom into a space you love.
Choose a Colour Palette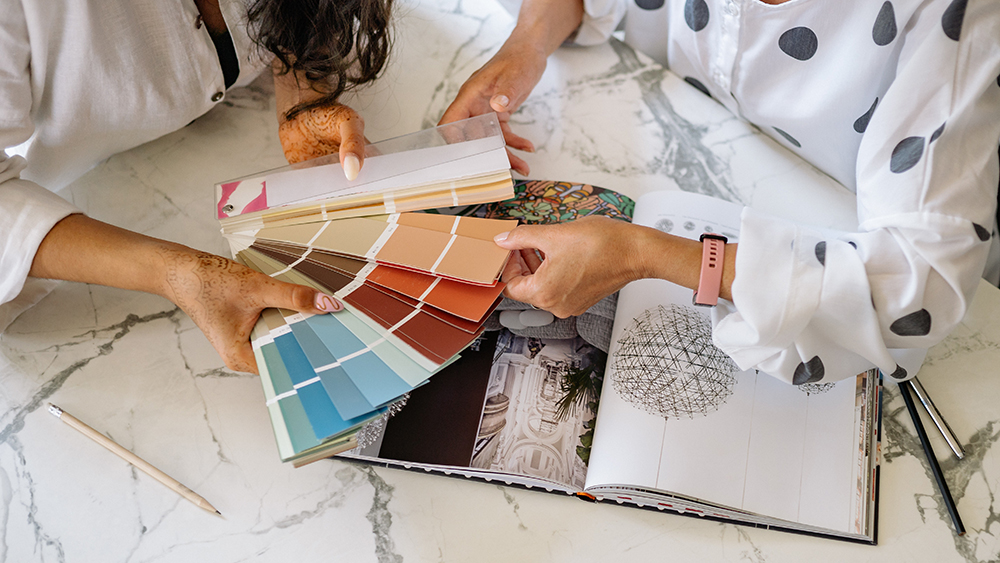 When it comes to choosing the colour scheme for your bedroom, it's a great idea to pick cool and soothing colours, such as gentle hues of blue, green or lavender which are considered to be calm and serene. Other great options include rich-toned hues like dusty orange or rich emerald, which will help to set the mood of comfort and cosiness.
If you prefer brighter pops of colour, use toned-down versions of your favourite colours in the bedroom. For example, instead of a bright pink: opt for a soft blush. Steer away from harsh colours. They usually stimulate the brain and energise you, even making you feel a little anxious – which is not the feeling you want before hitting the hay!
Stick to Simple Decor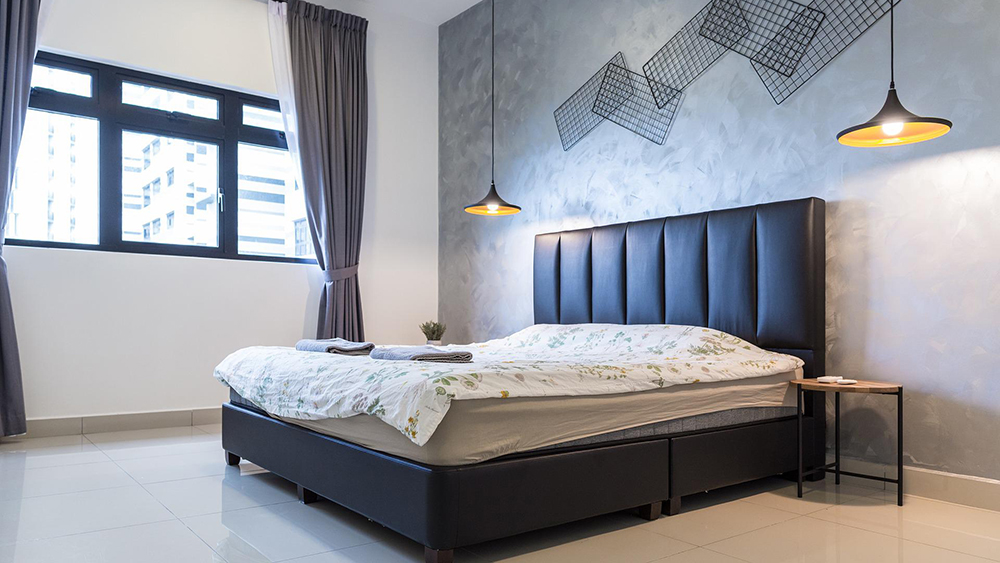 A bedroom can sometimes feel overcrowded, especially when you have more than you need. A bedroom should look clean, cosy and elegant, regardless of what decor style you choose. Leave a minimum of three feet between the bed and side walls or large pieces of furniture for ease of movement around your bedroom. If you need to manoeuvre around your bed or dresser to get to the closet or bathroom, think of how you can move the bed to make your room more efficient.
Beyond having enough moving space, furnish your bedroom with only what you need. Your bedroom staples should be: a bed, a bedside table or two, a dressing table – and possibly a chair if your bedroom has the space for one. Anything beyond this may be considered clutter and can easily add to the feeling of chaos taking place in your space. Accessories should also be kept to a minimum – perhaps a beautiful piece of artwork, some family photos, a vase of flowers or some minimal-look candles. Give your bedroom space to breathe.
Pick the Right Furniture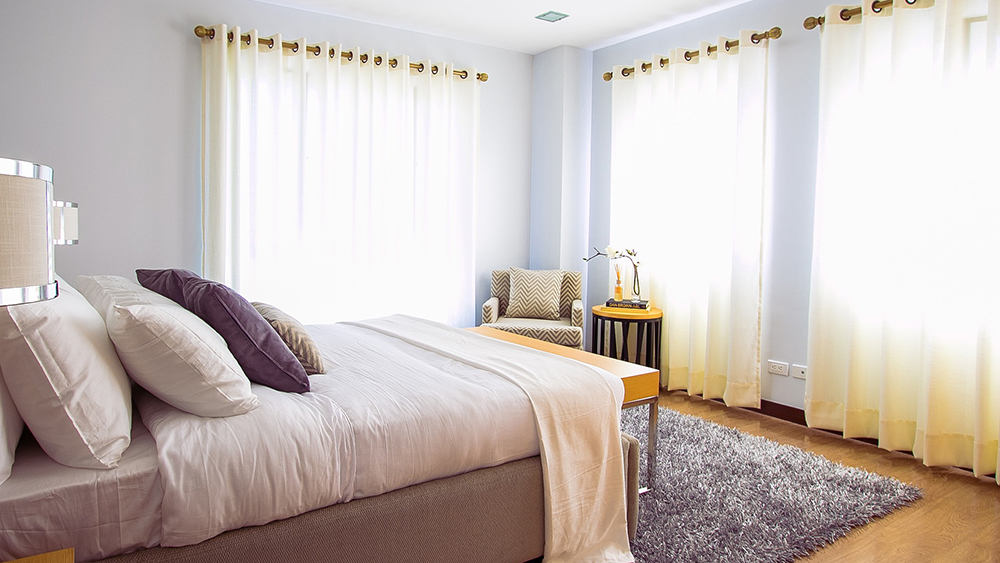 When you're ready to buy furniture for your bedroom, it is crucial to grab a floor plan with measurements of the space. Furniture should fit the room it's in – especially in a bedroom. Avoid choosing heavy furniture in a small bedroom – instead, opt for minimalist pieces that will give you that little bit of extra space. If the ceiling is particularly high, styling your bed with a tall headboard will help to visibly bring it down to size.
Alternatively, if your bedroom is on the large side, this is when you can choose those heavier, bulkier looking pieces that will suit a bigger space. Placing a chair, small coffee table or a storage trunk at the end of your bed will help to fill any extra space.
Include Plenty of Storage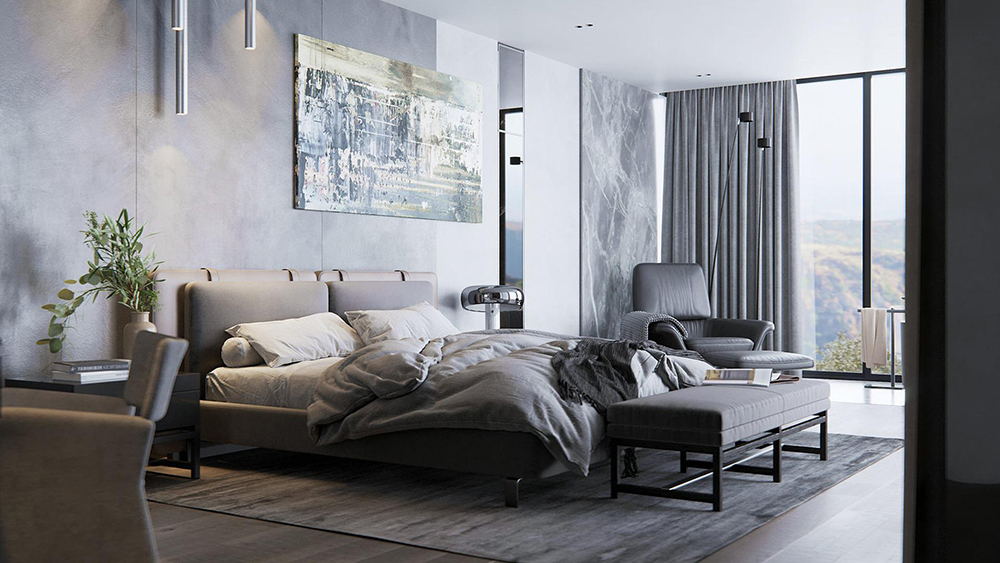 Storing clutter out of sight will add to the tranquil feeling of your bedroom, and help the room appear more spacious. Select a bedside table with drawers or doors where you can store your hand creams, reading glasses, or phone chargers out of sight but still within reach.
A storage bench or trunk at the end of the bed is a great place to store extra pillows, sheets and blankets for easy access. Underneath the bed, use shallow containers or boxes to store shoes, accessories or out-of-season clothing, hiding them with a beautiful bed skirt.

For overhead storage: use a headboard with built in shelving to store any books or to add some decor such as candles. Finally – having a custom-built shelving unit put into your existing closet can expand your storage space while keeping it out of sight.
Add a Dash of Luxury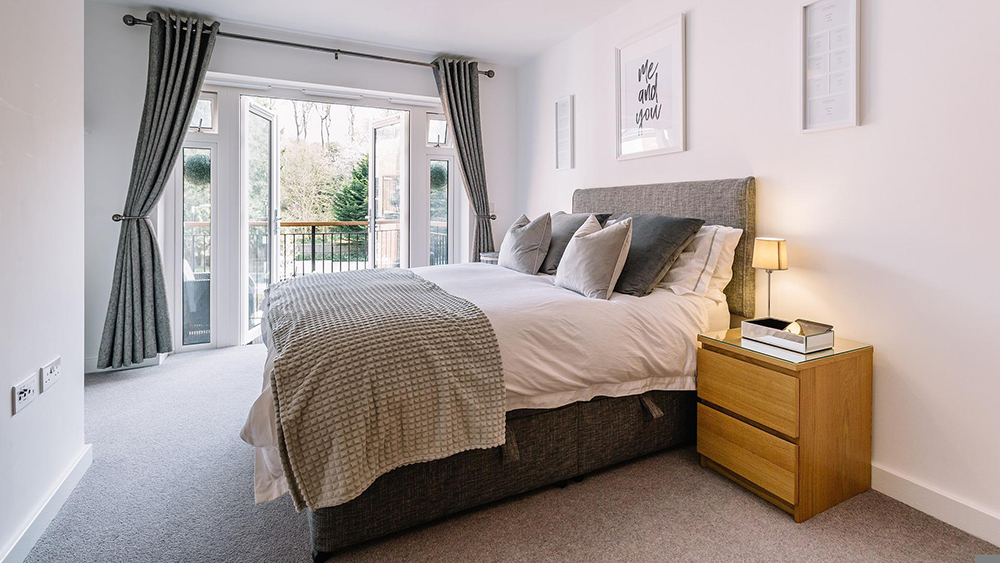 Outfitting your bedroom with a couple of beautiful and luxurious fabrics is a fantastic way to increase the comfort of your space. We recommend sheets that have high thread counts of 400 or more and are 100% cotton. Other great sensual-feeling fabrics you can add to your bedroom include a plush tatami rug, luxe curtains, a bed canopy or textured wall coverings.
Think of Lighting Options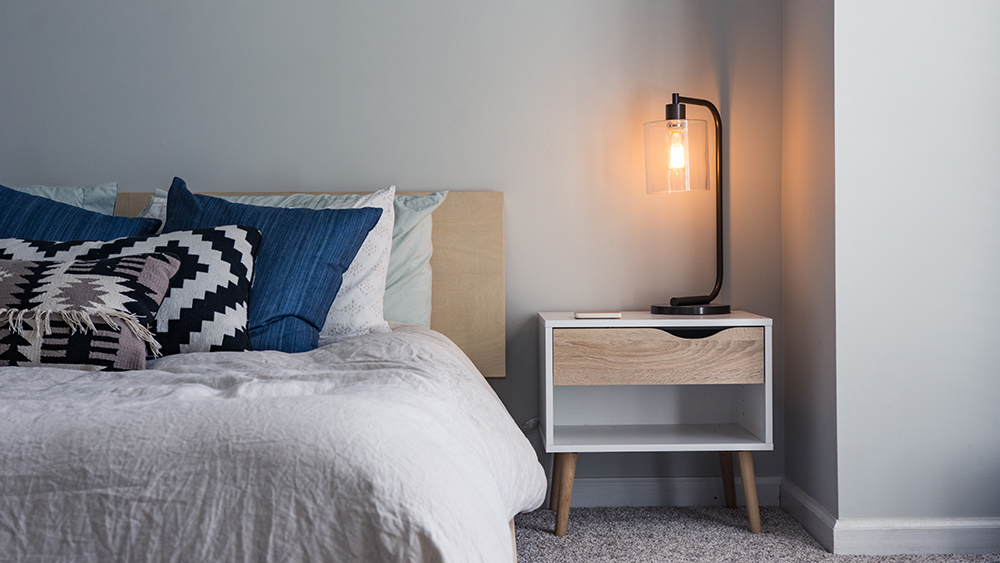 In a bedroom, it is important to have different 'layers' of lighting so that you can choose a level of brightness that matches your mood or activity. For example, having ambient lighting is great for when you're getting dressed or cleaning up, but when you're wanting to read in bed or do some late night work on the laptop, you'll want more precise lighting. – This is where 'task lighting' comes into play.
Task lighting is for activities that require a little more focus – like working on the laptop, reading and writing, or drawing. You can add task lighting by using bedside table lamps, reading lights, hanging pendant lights over the bedside tables or wall mounted lights on either side of the bed. Whatever option you choose, also consider the size of the light and the brightness of the bulb to suit the space.
Incorporate a Touch of Greenery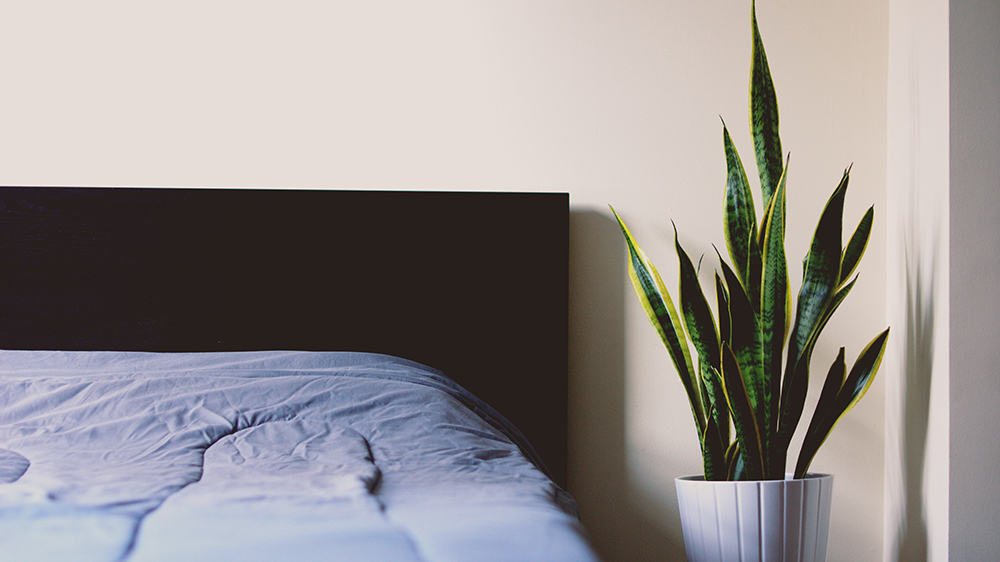 Consider low-maintenance houseplants that thrive in indirect sunlight. One of the best options for an indoor plant is the Ficus Elastica, also known as the 'rubber plant.' – This is a good choice as it will thrive in low light conditions and is quite forgiving when you miss a watering. Other than watering and the occasional wiping of leaves to remove dust and water spots, you generally don't need to do much to keep this beautiful plant alive.
Overall, no matter how you choose to style your bedroom, ensure it's a space that you love and feel comfortable and relaxed in. After all, humans do spend approximately one-third of their lives sleeping! Enjoy your styling journey!