If you're thinking about adding some decorative accents to your room, consider getting a wall mounted headboard. While they are not exactly as easy to come by as your traditional headboard, they often create a more appealing aesthetic. They do tend to price above the standard headboard, but if you're tired of the same ol', same ol', a chic hanging headboard (or, as it is also referred to, a floating headboard) can dazzle the eye with popping visual cues.
I've put together a list of the 10 best wall mounted headboards that can help you design a trendier interior space. We'll take a look at some different size and style options, and I'll fill you in on just why you should consider getting one of these headboards.
What is a Wall Mounted Headboard?
A wall mounted headboard is pretty much just what it sounds like. Instead of being part of a bedframe, you simply mount it onto the wall behind the head of your bed. You use the included mounting system to put it on the wall, slightly above where the top of your mattress touches the wall. It provides cushioning so that your head doesn't smack into the wall during the night (or a wild romp in the hay).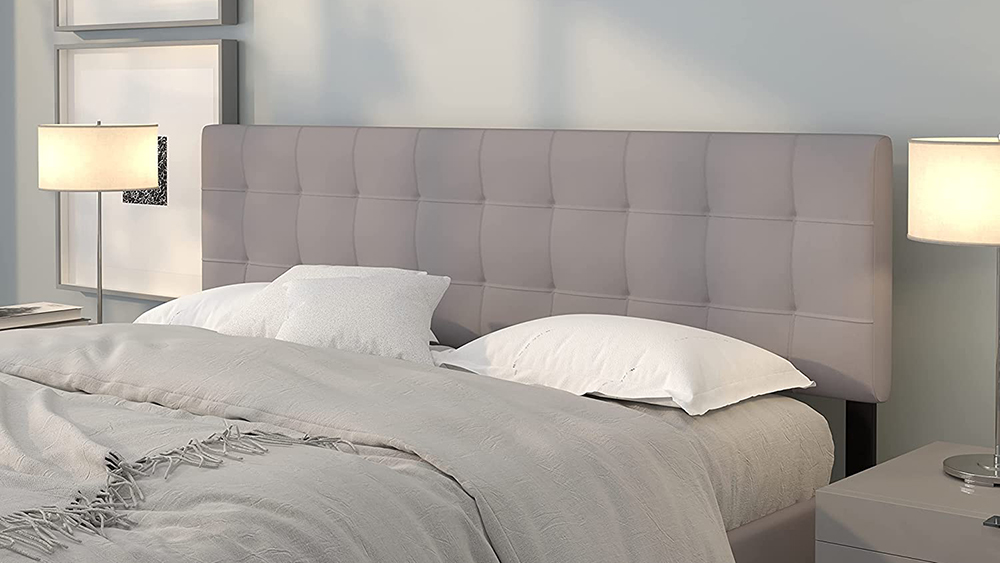 Why Buy a Wall Mounted Headboard?
Style
A wall headboard is a stylish alternative to the standard headboard design. A wall hanging headboard can come in a variety of sizes, textures, and color options. You won't be held back by the size or style of your bed frame, so you're allowed a greater degree of customization. You can cover just the wall space above your bed or go for an almost entirely wall covering design. It's up to you.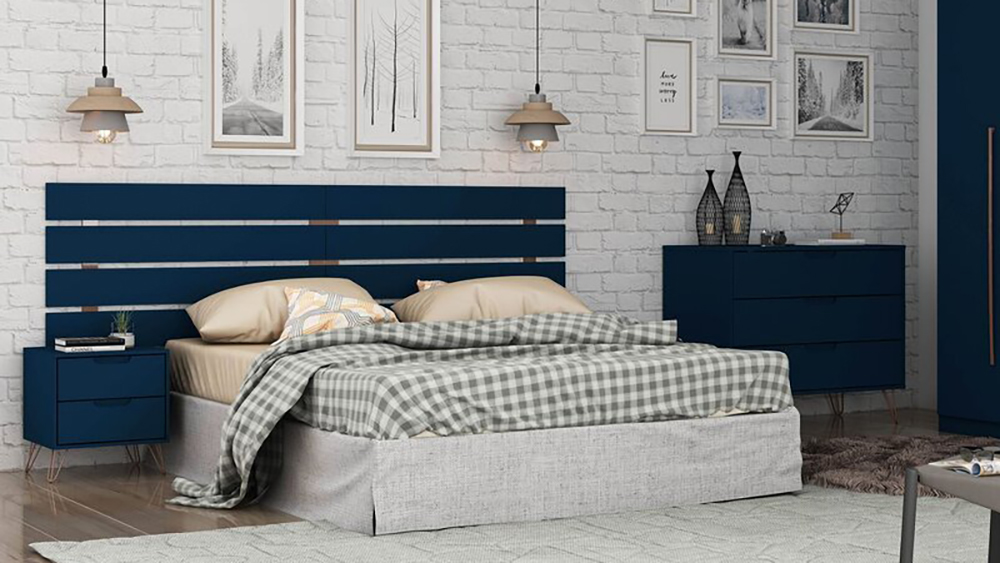 A Buffer Between the Bed and the Wall
Wall mounted headboards do serve a practical purpose. They provide a buffer between the head of the mattress and the bed. Instead of your head bumping into the wall while you're laying down, it will instead bump into the headboard, which will likely have a much softer texturing to it than the wall. Also, you won't have to worry about the headboard smacking into the wall and leaving scuff marks behind.
10 Best Wall Mounted Headboards Reviewed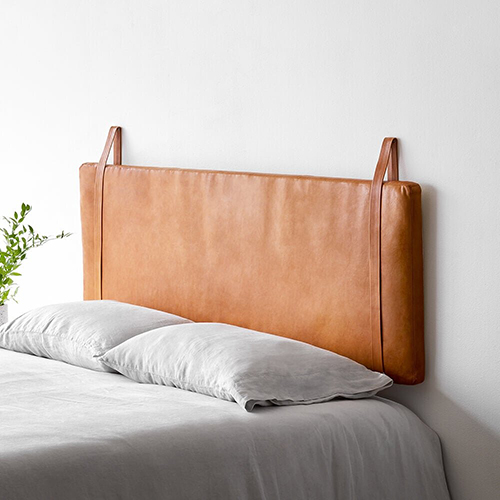 Let's jump right into the 10 best wall mounted headboards that you will find on the market by introducing my top pick - the Hanging Leather Headboard made by The Citizenry. If you're going for a slightly rustic, country-chic vibe, you can take your pick from natural or caramel toned luxe leather. This lightweight headboard is easy to install on your wall.

What's more is that you'll be supporting fair trade when you buy it. The leather is ethically sourced from cows raised in Alcanena, a tiny Portuguese town known as "The Land of Leather." And every last centimeter of this design is handcrafted by local Alcanenan artisans. There are two measurement options to choose from: Full/Queen (62"L x 28"H x 1.5"D) or King/Cali King (77"L x 28"H x 1.5"D).

Now, the downside is that this headboard is one of the more expensive options out there. It also takes some time to get to you once you place the order since it is handcrafted and internationally shipped. But it could be well worth the weight and price. Of course, many vegans will likely want to pass on this since it is made of real leather.
Pros
Materials are ethically sourced
A handcrafted design
Overall top-notch quality from the cow leather
Lightweight and easy to install
Cons
Obviously not vegan
Takes some time to get to you
Hanging Leather Headboard by The Citizenry
Two sizing options
Two color options
Hand-crafted, ethically sourced leather from Portugal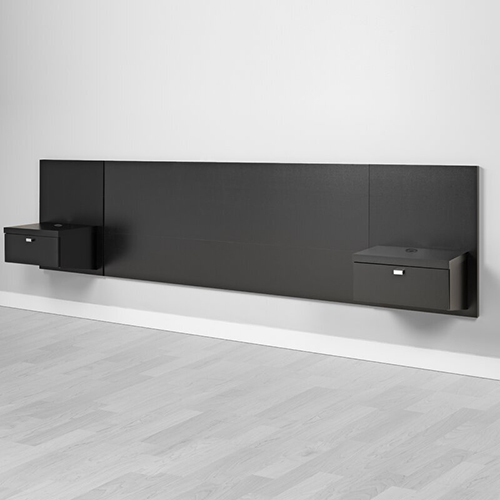 Okay, vegan friends, I've got you covered - especially if you're looking for a more versatile, 3-in-1 design for either a wall mounted headboard queen or king size. The Raphael Panel Headboard from Brayden Studio is a black painted wood option that includes a free-standing end table on either side. This leaves 75.75 inches of space for the bed between each end table and gives an overall front to back depth of 16.5 inches. This does make it compatible with an adjustable bed.

The innovative hanging rail mounting system makes installation easy enough, but it goes more quickly with two adults at the helm. The finished product should give a nice, sturdy feel, and it looks good with just about any type of room décor or bedding color scheme.

Some buyers note that assembly can be time-consuming due to parts not being properly labeled by the manufacturer. Also, you might have to do a few touch-ups on the surfaces after assembly if any of the wood got scuffed in the delivery/set-up process.
Pros
The black wood goes with most décor
Two end tables add storage space without taking up floor space
Heavy but easy to assemble
Usually gets delivered quickly
Cons
Might require touch-ups
Some pieces might not come with labels
Raphael Panel Headboard by Brayden Studio
Two end tables
Ability to accommodate adjustable beds
Black painted wood surface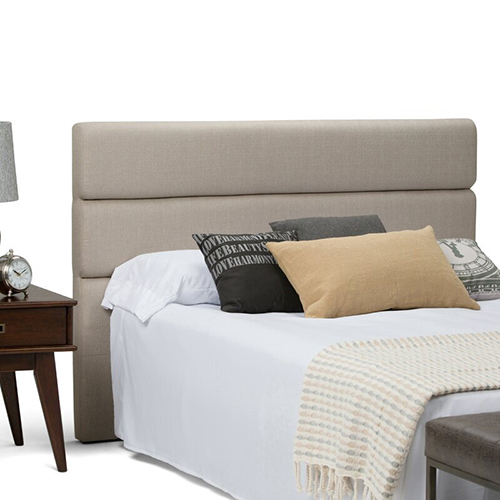 Looking for a headboard that extends down to the floor? The Dessie Upholstered Panel Headboard by Orren Ellis should do just the trick. With its camel linen look fabric made into three stitched panels, the Dessie has a subdued yet sophisticated look appropriate for a bedroom in which accent pieces aren't all that flashy.

This is a wall mounted headboard queen size, and it works well with adjustable beds. Its interior is made from dense polystyrene bead filling that holds its form over time and provides ample support. Whenever you do need to move it, there are handles that allow you to easily transport it. A one-year warranty covers any potential damage that might happen in the manufacturing and shipping process.

On the downside, this design might be construed as looking "cheap" with your selected bedroom décor. It does look more like something you'd find as a vintage piece, so it might not pair well with contemporary designs. Also, you only get the queen size option.
Pros
Has a vintage, understated vibe
Made from durable exterior fabric
Beads offer support
Moderately affordable option
Cons
Only one size option
Doesn't pair well with some more contemporary design elements
Dessie Upholstered Panel Headboard by Orren Ellis
Camel linen look fabric
Durable polystyrene bead filling
One-year warranty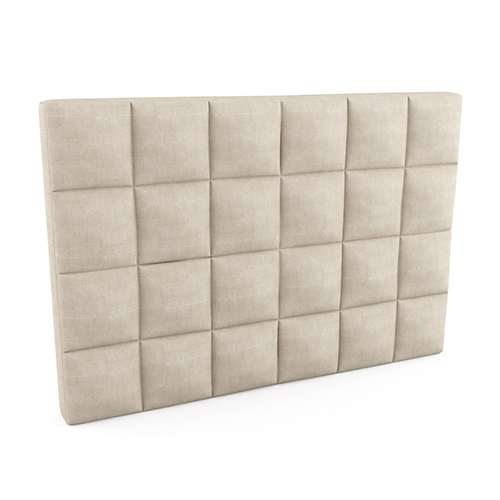 Medley's Ceremony Headboard is also understated in its elegance, but it matches pretty well with a wide array of décor styles and themes. This 60"x36" layout offers a solid panel finish and is complete with a versatile and soft performance weave design. Its Fibreguard yarn is kid- and pet-friendly, offering a high degree of repellency. Everyday spills are easy to clean up. This design offers kiln-dried domestic FSC Certified solid Alder hardwood, which is corner blocked for durability and strength.

The Ceremony Headboard is made from CertiPUR-US certified polyfoam on the seat cushions and has back pillows filled with polyester fiber. You are able to customize this design up to 96"x48", making this model able to be a wall mount headboard king in size. You can opt for the Smart Pure Fabric or go for colors like Shark, Ebony, Thyme, Melton Marine, or Macarena Red. You can also select from a tufted, solid, or quilted panel. The standard filling is polyfoam, but you can opt for latex for a more hypoallergenic approach.

The drawbacks? Your customization choices could cause the price of the headboard to skyrocket. A $500 headboard can quickly turn into a $2,600 headboard here. Also, a standard order can take 12-20 weeks to fulfill while modifications can add 1-2 weeks on. And then there's the 1-3 week shipping timetable. So don't expect to get this headboard in a week or less - it won't happen.
Pros
A high degree of customization
CertiPUR-US polyfoam is standard
Uses solid Adler hardwood
Elegant yet understated design
Cons
Options can get expensive
Manufacturing and shipping takes months
The Ceremony Headboard by Medley
Numerous size options
Few dozen fabric choices
Option of using latex instead of polyfoam
Vänt's Upholstered Wall Mounted Headboard Panels are able to span the majority of the wall behind your bed. With 27 different color schemes to choose from, there are quite a few options here for how you wish to decorate. You can also stick with the 30" wide panels or go bigger with the 39" version. Each box comes with four panels for a total height of 46". You can buy multiple boxes to fill up an entire wall if you want to. All of the hardware needed for mounting is included in the package, making for a relatively easy installation.

Want to reduce some of the noise that comes into your room? These panels have a 0.95 NRC rating, making the Cotton Weave, Velvet, and Suede Panels optimal choices for noise reduction. Also, these panels are manufactured with safe and sturdy materials and are expertly finished using high-quality upholstered material.

Note that the leather isn't as good at reducing noise as the other panel types. Also, there is some confusion on how many boxes you should get for a king size bed. If you are looking for a higher height, you should get six boxes instead of four, which makes the cost skyrocket.
Pros
Plenty of ways to customize your wall space
Eye-catching colors
Ideal for bedrooms and sound studios alike
Fairly easy to install
Cons
Misinformation from the manufacturer about how many boxes are needed for a king size bed
Leather isn't as great at noise reduction
Upholstered Wall Mounted Headboard Panels by Vänt
Multiple fabric options with noise reduction capabilities
27 different color/fabric combinations
Two different widths
Nathan James's Harlow Wall Mounted Headboard is available as a Twin, Full Queen, or King Size headboard and comes as either a brown or gray tone. This headboard is adjustable and modern, taking only 30 minutes to assemble. The vintage brown vegan leather panel can be hung with or without the suspension rail, making it ideal for small spaces.

The manufacturer offers a lifetime warranty, and most of the things you need for setup will be included in the package. Just make sure you have a Philips head screwdriver and some scissors. You can hang them in your bedroom or in other rooms that need decorative accents.

Buyer beware: Some owners report bedbugs accompanying their headboards. Some have also received two panels supposed to be the same color but that did not match.
Pros
Two color options
Three size options
Faux leather is vegan-friendly
Rail doesn't need to be used
Cons
Reports of bedbugs
Mismatched items sent to some buyers
Harlow Wall Mounted Headboard by Nathan James
Three size options
Two color choices
Vegan leather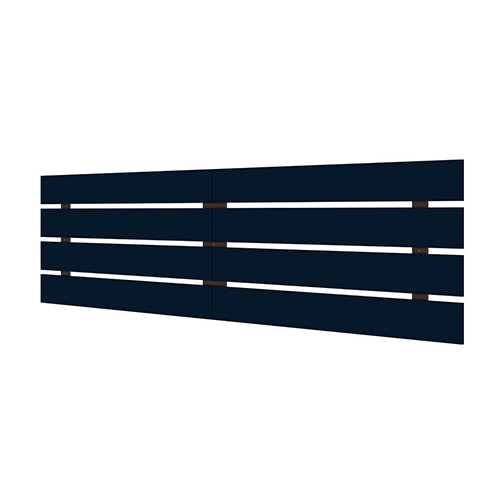 Want to keep it simple and avoid the possibility of bedbugs? The Gorski Slat Headboard by Wade Logan is affordable but also attractive. You just have to decide whether you want yours to come in navy blue, black, or brown. And you can just buy one or get several and cover the majority of your wall. It's up to you.

If you're going contemporary, this might not be the right look. These boards evoke a stronger sense of mid-century modern décor - perfect for those who like a throw-back look. Even if a few holes aren't pre-drilled (a common complaint among buyers), you can simply drill them yourself. It will be better if you can have a professional install it for you though.
Pros
Three attractive color options
Simple mounting brackets are included
Mid-century modern aesthetic
Functional for virtually any room
Cons
You might need to drill a few holes in the product
Setup can be difficult
Gorski Slat Headboard by Wade Logan
Three color options
Simple mounting brackets
Manufactured wood material
Another option from Citizenry is the Lokon Cane Headboard - but its aesthetic is totally different from everything else on this list so far. Handcrafted, this warm and inviting design is made from natural rattan and cane. Since these materials are lightweight, it eases up the installation process. Plus its woven design has the country-chic vibe those of us who live in the country (or just want to live in the country) enjoy.

You can choose between Full/Queen and King/California King sizes. Just be aware, the size of this headboard means returns for a refund require a $65 fee. Returns for store credit are free. However, from start to finish, the Lokon Cane is made by artisans in Cirebon, Indonesia via fair trade. This option is somewhat expensive and will take weeks to get to you, but the wait might be worth it. Also, note it can be difficult to install.
Pros
Fair trade friendly
Handmade by local artisans
Country-chic design
Timeless feel
Cons
Hard to install
Refunded returns take out a fee
The Lokon Cane Headboard by Citizenry
Manau rattan and cane weaving
Lightweight feel
Two size options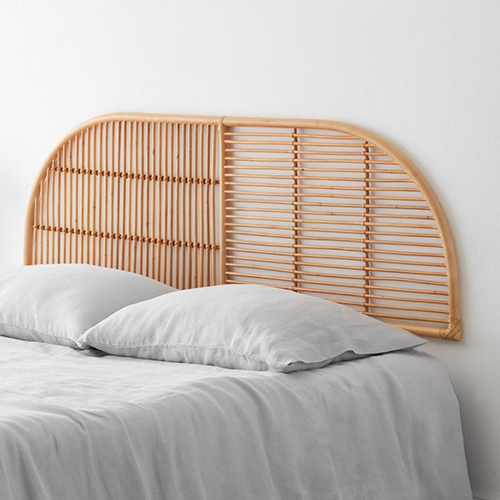 Looking for a Bohemian vibe? Citizenry's Java Rattan Headboard provides a laid-back approach to headboards. Manufactured in Cirebon from lightweight but durable manau rattan, the Java Rattan comes from a fair trade environment. It is easy to hang and move as needed.

Some people might feel like this product is overpriced despite its creativity. Fair trade prices are usually higher. While shipping and exchanges are free, a return for monetary reimbursement charges you a $65 due to the item's size.
Pros
Lightweight design
Easy to install
Fair trade manufactured
Bohemian style
Cons
Refunds charge a fee
Might seem overpriced due to being fair trade
The Java Rattan Headboard by Citizenry
Lightweight design
Manau rattan material
Being fair trade
Do you love old barns? If so, the Antique Wood Wall Mounted Headboard from Barn Walls might fit your aesthetic. You can choose from 16 different paint colors depending on what your room's color scheme looks like. Sizes range from Twin to California King, and this 3/4-inch thick wood comes from American forests. The wood is hand-distressed to look antique.

Buyers do report that the product is smaller than it appears in pictures. Also, there is a good chance you'll need to add 1x4s to your wall so you can mount the three pieces.


Pros
16 color choices
Hand-distressed
Sizes from Twin to Cali King
Cons
Smaller than appears
Might need to add 1x4s
Antique Wood Wall Mounted Headboard by Barn Walls
Real wood from American forests
3/4-inch thick slats
16 color options
Wall Mounted Headboard vs Standard Headboard
Cushioning
Standard headboards and wall mounted headboards both provide cushioning between your head and the wall. However, standard headboards aren't always the most cushy.
Style Preference
Wall mounted headboards allow for fuller wall coverage. They also come in a huge variety of styles, from stained wood to polyfoam-filled fabric. You get a lot of options for sizes and styles overall.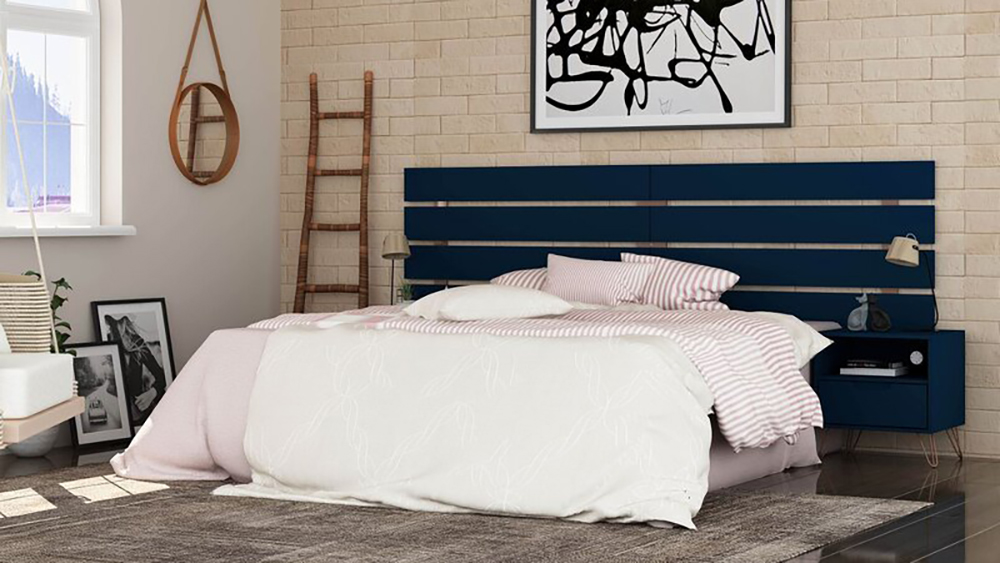 Purchasing
Wall mounted headboards are harder to find in brick-and-mortar storefronts. You will have to shop online to find a good variety. Standard headboards are much easier to find.
Things to Consider
Sturdiness
How sturdy do you want a headboard to be? Standard ones aren't all that sturdy, but many wall mounted ones are, even if they're lightweight. Do your research on the materials used before you buy.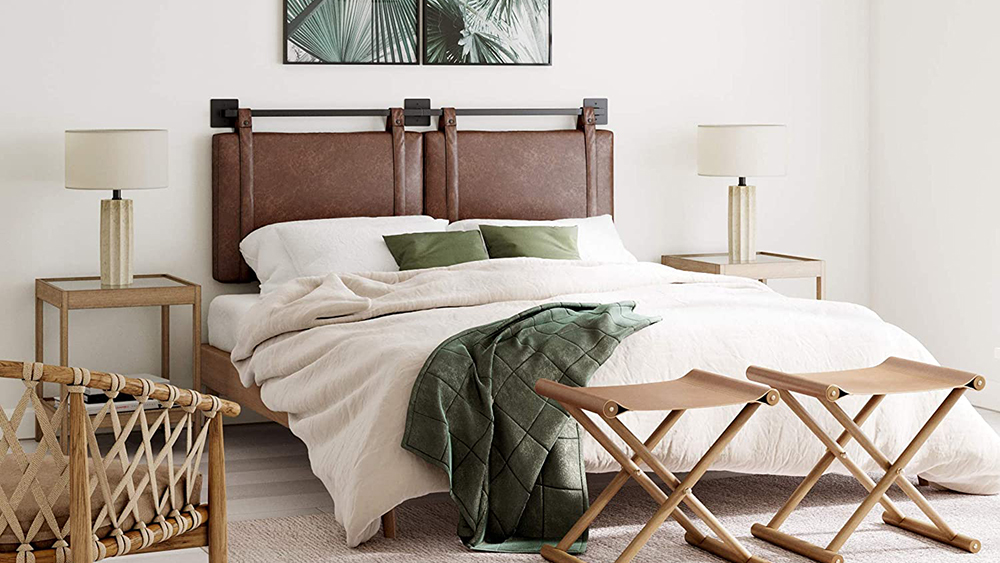 Cost
Some wall headboards are rather expensive, especially if made from fair trade, sustainable sources. If you need to buy multiple panels, the price jumps quickly. Standard headboards are cheaper, but quality and versatility aren't always there.
Design
Customization is the name of the wall hanging headboard game. You can pick and choose your design, finding a size that works for minimal or fuller wall coverage. There are many materials, styles, and colors to choose from.
Heads Up: How a Wall Mounted Headboard Can Inspire a Trendy Interior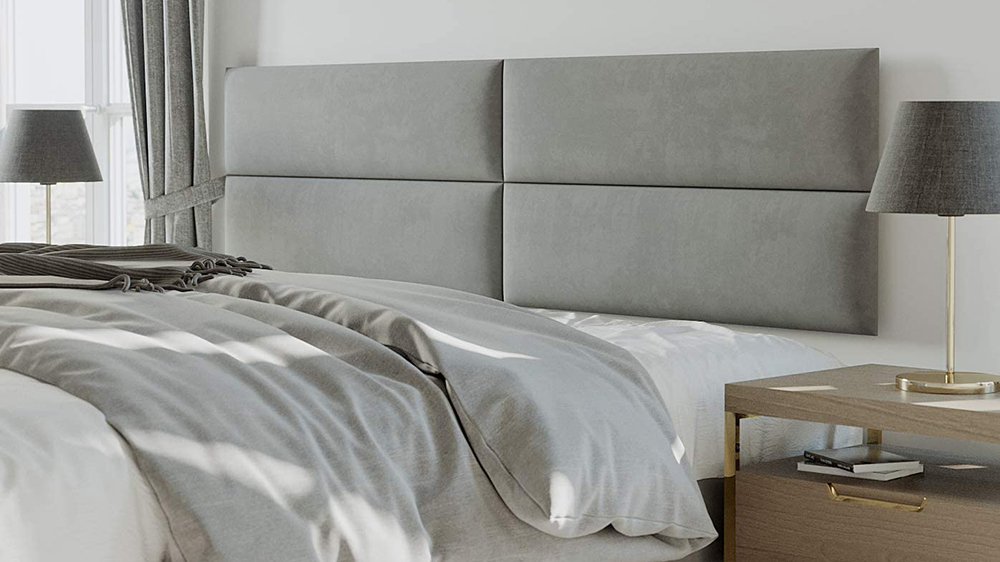 Spice up the wall behind your bed with a wall headboard. As you can see, there are a lot of styles to choose from. Some of these headboards make for great accent pieces, but they're also functional with their cushioning.
Hence why I picked the Hanging Leather Headboard by The Citizenry as the best wall mounted headboard. It looks sophisticated and expensive, living up to its price point. While you might think a cheaper option is better, saving up to buy this wall headboard might prove to be worth it for the quality and aesthetic appeal.
Hanging Leather Headboard by The Citizenry