Are you someone who needs a ton of extra bed surfaces? Got too many kids and/or critters crawling on you during the night? If you'd rather forego bulky bedroom furniture for more beds, the Wyoming King Bed is probably going to be the best option for you.
A Wyoming King mattress and bed frame can be difficult to find. It isn't a common purchase by any stretch of the imagination. The largest that people usually go, is California King. But if you need something bigger, the Wyoming King is the way to go. And this buyer's guide has a few reviews to help you get started with your shopping.
Wyoming King Bed Mattress
Wyoming King Bed From MattressInsider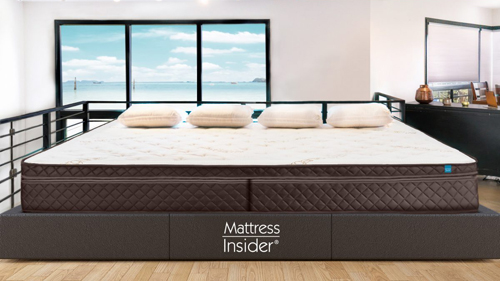 Organic Cotton Supreme 2 Memory Foam From RestrightMattress.com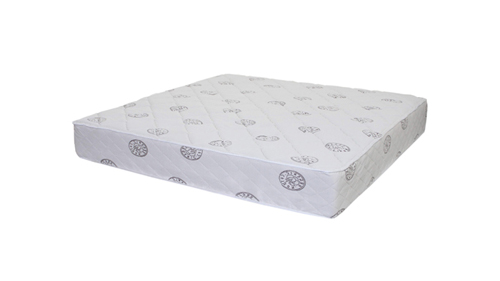 Wyoming King Bed Frames
Skye Ridge Wooden Bed Frame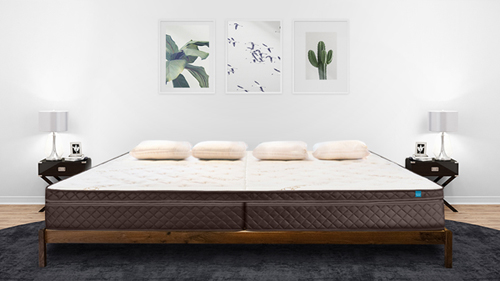 Kingship Comfort Bed Frame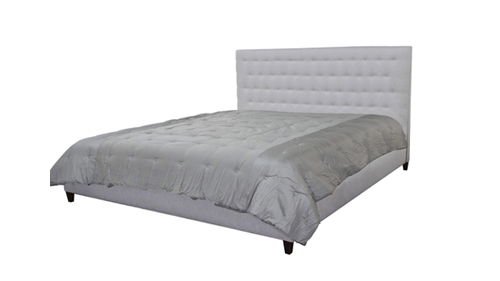 What Is Wyoming King Bed?
Just what kind of bed is this anyway? The Wyoming King Bed is a custom oversized mattress and bedframe. It measures in at a whopping 84 inches by 84 inches. It slates between the absolutely massive Alaskan King and the smaller California King. It can fit two adults and one or two children (or, let's be honest, pets). If you are a family of co-sleepers, this might be the best size mattress for you to share.
Wyoming King Bed Size Chart
This bed is sized at 84″x84″ (or 7'x7′). The Alaskan King Size is two feet longer (9'x9′). A standard king mattress is 76″x80″, and the California king is 72″x84″. This makes the Wyoming size 4″ longer and 8″ wider than the standard king mattress.
Wyoming King Bed Price Range
This bed isn't cheap. Expect to pay somewhere between $2,000 and $7,000 for a Wyoming king mattress. These beds are expensive since they have to be custom-made.
A few other factors can influence the price. Materials used, adjustability (as some mattresses come with an adjustable firmness function), and even the manufacturer's reputation can drive up the cost of a Wyoming King.
Remember, you will also need to buy a bed frame, blankets, sheets, pillow covers, and other accessories to adorn your new bed. Consider these additional costs when you set out to find the right bed for you.
Where to Buy Wyoming King Bed Mattress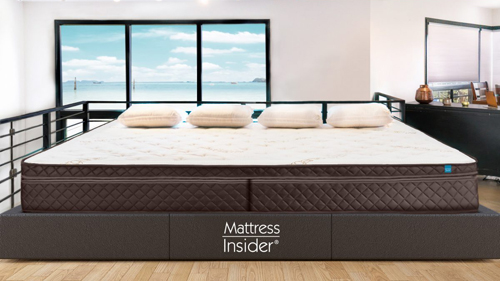 The Wyoming King Bed from MattressInsider is our top pick for a mattress. With this one, you can adjust the firmness feel in a matter of mere minutes. Like things extra firm? Cool, you can make it extra firm. And your partner can have their plusher medium-firm setting. Just flip or remove the mattress layers to get it exactly how you want it.

There are 2 inches of cooling gel memory foam on the top of the mattress plus another2 inches of temperature neutral Talalay latex. An organic cotton cover surrounds these two layers for optimal comfort. And, together, they all work to help regulate your body temperature, letting you sleep cooler.

The Zip In Place system will keep everything from shifting around. The top layer zips to the bottom one to prevent shifting over time. Bonus: everything is hand-made in the USA and is CertiPUR Certified. Easy to set up, easy to rotate, and easy to rest on, this mattress gets high marks all around.

The drawback? If you decide to cancel, you can't. You also can't return the mattress. This is due to the extremely high costs of production and shipping. You have to be absolutely sure that this custom-built bed is the one you want.
Wyoming King Bed From MattressInsider
2 inches of cooling gel memory foam and 2 inches of Talalay latex atop the support layer.
The support layer consists of a convoluted foam layer, foam-encased individually pocketed coils, and high density foam on the very firm side.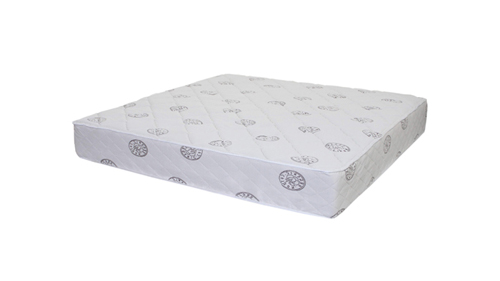 Another excellent option is the Organic Cotton Supreme 2 Memory Foam from RestrightMattress.com. This is a medium-firm mattress made in the USA with CertiPUR-US foam, so you know it is held to some high standards.

Its pillow-top organic cotton fabric cover is made from organic cotton, which happens to be naturally hypoallergenic. It is also pesticide-free, moisture-wicking, biodegradable, and stops bacteria from growing. The 4″ superior gel memory foam layer helps to regulate your body temperature so that you sleep cooler at night. That all sits atop a 6.5" high-density poly-foam base, which provides ample durability and support night after night.

A 15-year limited warranty comes along with this mattress just in case anything happens to it during that time.
Organic Cotton Supreme 2 Memory Foam From RestrightMattress.com
15-year warranty
Organic cotton cover
4 inches of superior gel memory foam for maximum comfort
The 6.5 inches high-density poly-foam base also proves to hold up well
Wyoming King Bed Frames Reviews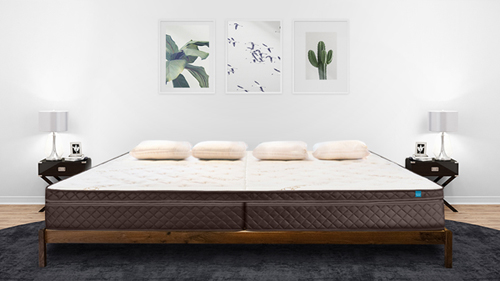 Now that we have looked at a few mattresses, it is time to go over the Wyoming King bed frame. One of our top picks is the Skye Ridge Wooden Bed Frame. It is manufactured solely from American-grown solid woods, which helps support many small US businesses. There is no slave labor or hazardous chemicals involved in making this frame.

Likewise, this bed frame is free from toxins. You get no chemical dryers, petrol chemicals, or heavy metals. The flexible and strong supports make this frame a safe and comfortable option for you and the rest of your family. The VOC- and petrochemical-free finishes bring out the wood's beautiful, natural grain.

The total height of this frame is 12.5". As it is a platform bed, the mattress simply sits atop it, not buried within it. Returns and cancellations are not accepted since the costs of manufacturing and shipping are high. Any small scratches can be repaired quite easily with some sand paper and pure linseed oil.
Skye Ridge Wooden Bed Frame
12.5 inch height
Toxin-free design
Stunning wood grain finish
Plus, you will supporting multiple small USA businesses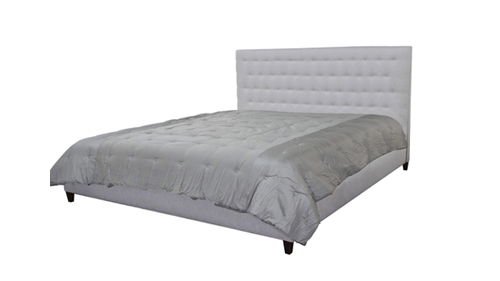 Another Wyoming King bed frame to consider is the Kingship Comfort Bed Frame from Rest Right Mattress. It is CNC machined and is built with quality in mind by a local artisan. The box foundation for the mattress is included with the bed frame. You get commercial/furniture-grade fabric along the headboard and sides of this frame for a cozy and modern look. No particleboard is included in the materials used to make this bed.

The headboard itself weighs a solid 125 pounds, so rest assured that this isn't some flimsy, lightweight bed frame. Together, the side boards and footboard weigh 100 pounds. Altogether, you have a 225 pound bed frame that looks and feels incredibly sturdy. Also, if you don't want the gray, black, brown, or natural tones offered, you can get a custom color done on the fabric.

This bed frame is made in the USA and ships out 60-90 days after you put in your order. Bear in mind that most manufacturers require at least a month to complete one of these custom-designed orders, and shipping tacks on extra days.


Kingship Comfort Bed Frame
Particleboard-free materials
Fabric adorning the heavyweight boards
Custom color option if the other four tones do not suit you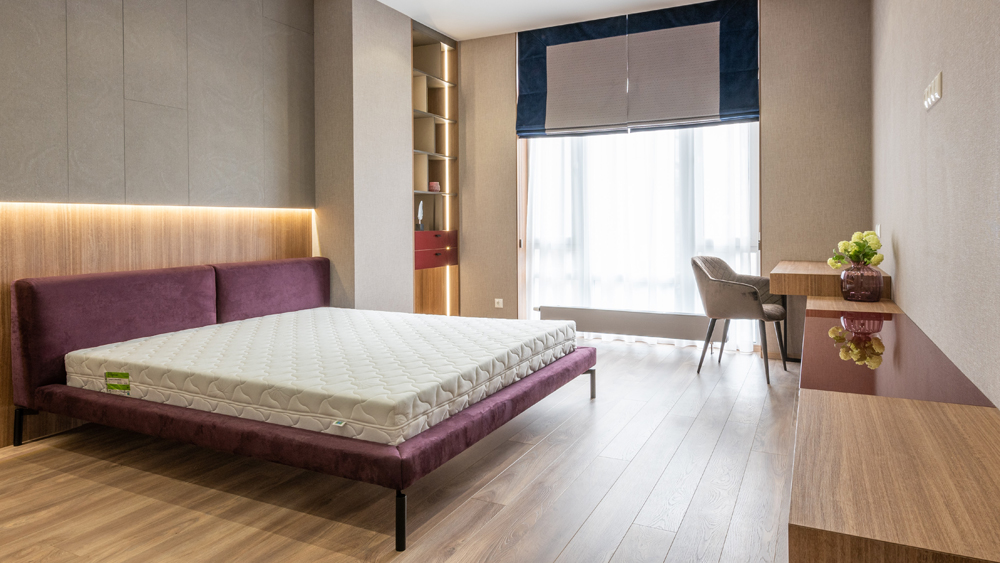 Wyoming King Mattress Types
There are several Wyoming King mattress types out there. What you buy is really going to depend on which type of mattress works best for you.
Innerspring
Perhaps it will be the common innerspring mattress that suits you. These have sturdy and reliable edges, a lot of air flow, and plenty of support. They won't restrict movement and are considerably responsive. They just don't have an abundance of cradling, which is a bad thing if you are a side sleeper. But, if you are a back or stomach sleeper, you should feel pretty cozy on one. They don't work well for co-sleeping since they are so bouncy, which might not make for an ideal Wyoming King.
Foam
Foam mattresses are really common these days… except on the Wyoming King. There are a few options available if you look hard enough. They are known for their adaptability and ability to move slowly. Since the foam wraps around your body shape, your heavier body parts will sink and fill in those curves. This reduces tension in the body and enhances weight distribution across the mattress.
However, if these mattresses do not have cooling gel layers or an open-cell structure, they will sleep fairly hot. They might also be too restricting for some back and stomach sleepers.
Hybrid
A hybrid mattress generally fuses a coil support system with either foam or latex. Sometimes, it has both foam and latex in addition to the coils. Hybrids tend to mix the best of both worlds. You get a lot of reliable support from the spring coils and plenty of cradling from the foam or latex.
But beware, a hybrid mattress on a standard sized king bed can be really expensive. The materials used make it such. On a Wyoming King bed size, the prices seem even more astronomical. They are also a lot heavier and, therefore, harder to move due to the fact that they tend to be taller than other mattresses.
Latex
Even more markedly expensive are latex mattresses. They are also insanely rare to find in the Wyoming King bed size. Buying one is difficult for those reasons and generally not recommended for a bed in this size.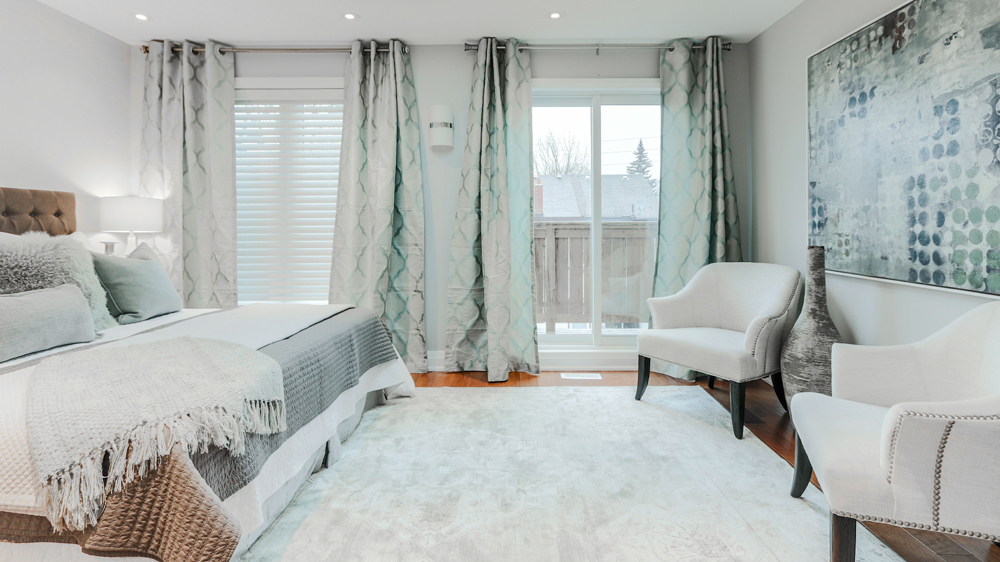 Things to Consider Before Buying Wyoming King Mattress
Mattress Type
Here's the catch: Buying a Wyoming King bed size requires you to consider your mattress type. You definitely will not want to go with a full latex mattress due to the cost and scarcity. Hybrids are comfortable but also pretty expensive. An innerspring or foam mattress is going to be your best bet, but you have to consider your sleep style and patterns before deciding which one will work best for you.
Price
Mattresses for this bed size can be insanely expensive. You will be shelling out several grand alone for just the mattress. Since it is custom-made, you have to have a lot of room in your budget.
Weight
These mattresses are insanely heavy and hard to move. If you've ever moved a queen size latex mattress, that will feel like nothing compared to one of these suckers. You will likely need at least one other able-bodied adult to help you move this mattress into position.
Timeframe
Timeframes are crucial in manufacturing these mattresses. Manufacturers ask for at least a month to create the custom order, sometimes up to 90 days for creating and shipping. You cannot expect this mattress to come to you in just a few days. You need to plan in advance.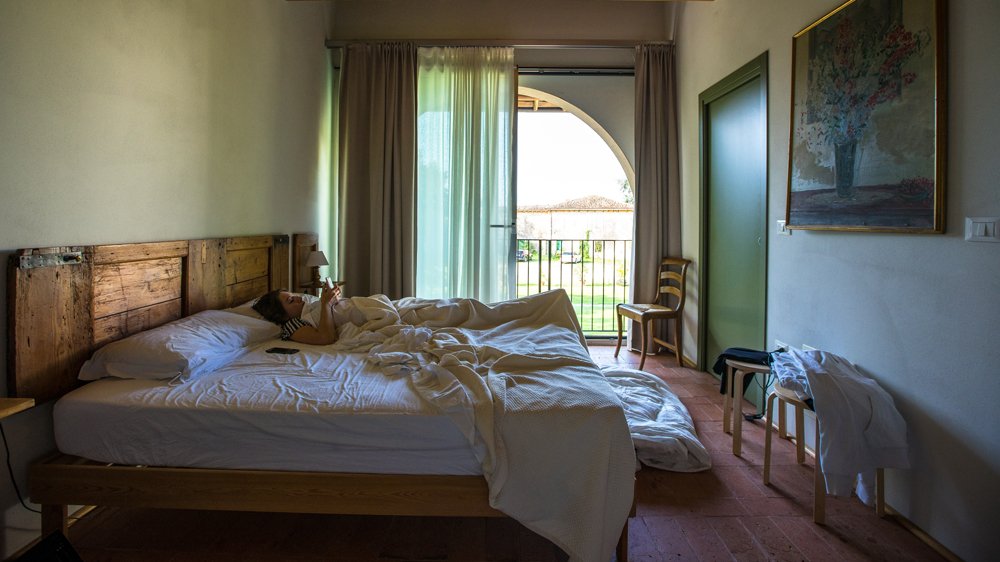 Things to Consider Before Buying Wyoming King Bed Frame
Room Size
Just how much space do you really have? The absolute bare minimum recommended room space is 12'x12′. Users feel more comfortable when they have a 13'x13′ space or larger for the bed. 14'x16′ master bedrooms are typically a good fit for a bed this size.
Price
A Wyoming King bed frame is expensive due to its size and the fact it is custom made. This also means they are non-returnable. So, if you cannot fit this bed in your room like you thought, you're going to be at least $3-4k in the hole. You do not want to spend any more money than you can afford here.
Accessories
You're going to need some accessories to spruce up your bed. You will have to get some Wyoming King sheets, which are not widely available and will therefore cost you even more. Be prepared to pay premium prices for non-standard sized accessories on this extra huge bed.
Setup and Shipping
Being as big and bulky as they are, a Wyoming King is incredibly hard to set up. Try to pick a company that offers White Glove delivery since they can handle the back-breaking work. They can even dispose of the packaging after they are done. Just bear in mind that shipping could take up to three months with some manufacturers.
Warranty Coverage
This bed is a massive investment. Therefore, you will want excellent warranty coverage for it. Take the time to read all of the warranty conditions – it is a "must" with something this expensive. Many limited warranties will only cover certain types of damage or disrepair for a specific amount of time.
FAQ
What is the recommended room size for a Wyoming King bed?

Your room should be 12'x12' at the very least. 13'x13' will feel more spacious, and a master bedroom that is 16'x14' will be optimal for this size of a bed.

Where can I buy a Wyoming King bed?

You will need to find manufacturers online who specialize in custom-making these beds. Many local bed and mattress stores do not carry them.

What is a Wyoming king size bed?

A Wyoming king bed is one that sizes at 84″x84″ (or 7'x7'). It can hold two adults and one or two children, depending on their size.

How much is a Wyoming King Bed?

One of these beds can cost you anywhere from $2,000 to $7,000 – for the mattress alone. The bed frame and accessories will further exacerbate the overall cost.

How many people can sleep on a Wyoming King bed?

You can probably fit four people on one of these beds, especially if two of them happen to be children.

What's the biggest bed in the world?

The biggest bed that you can find is the Alaskan King, which sizes at an astounding 108″x108″. It is definitely meant for a big family to enjoy.

Who is Wyoming King Bed For?

This bed is for anyone who has multiple co-sleepers every night and would like a few more inches of space to themselves. Parents of little kids and dog-parents, I'm looking at you.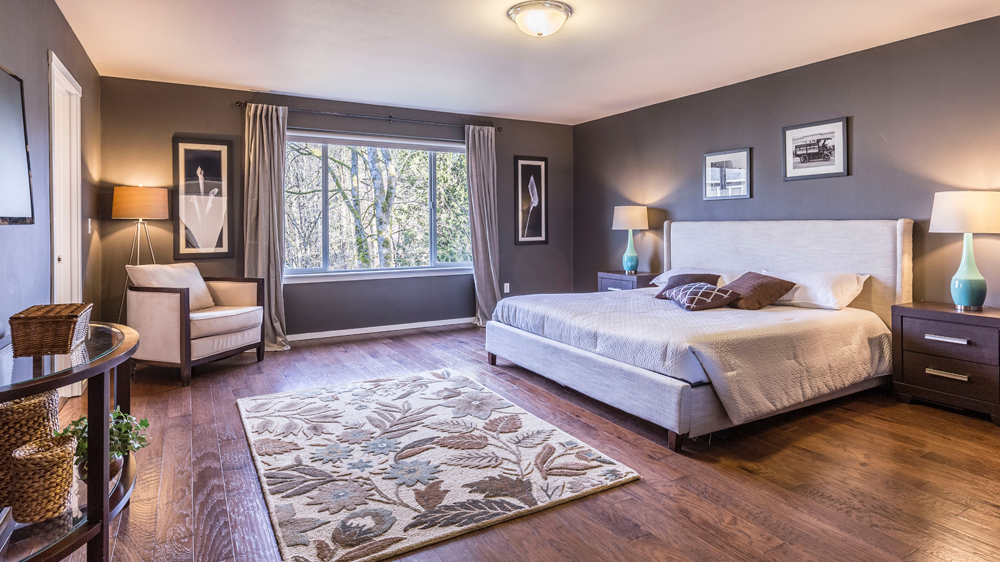 Wyoming King: A Good Fit For a Growing Family
Plagued by a lack of space on your bed at night? Getting kicked in the face by your toddler as you sleep? Think about upgrading to a custom-made Wyoming King bed. It is a big, long-term investment but one that might be worth making if you are constantly struggling for space. They are comfortable and come in different mattress types, so you have options for how you want your bed to be.
Just remember that these beds are not common, so finding the right one, ordering, and receiving it will take quite a bit of time.